Riding Gear
Let us help take the guesswork out of buying your motorcycle riding gear. We frequently feature the latest riding gear that's designed to appeal to riders of cafe racer, classic and custom motorcycles. From motorcycle jackets to helmets, gloves, boots, jeans & accessories, you can read all our riding gear reviews here.
The founder of the Australian riding gear company Saint had a clear goal. He wanted to create motorcycle jeans that...
When you visit your local gear store, you'll often see all of the big name brands on the hangars and...
These days people are spoilt for options when it comes to smartphone cases. But most phone cases serve a single...
All images courtesy of Black Pup Moto & Machines That Dream. Straight mates. We all have one. They're the ones...
The Kevins jacket is the result of a collaboration between renowned riding gear brand Dainese and the Italian designer denim...
The Roland Sands x Kriega 'Roam' collection is a new motorcycle luggage and accessory collaboration between the 2 iconic motorcycling...
When you're a motorcyclist living in a wet climate you soon get to know a thing or two about staying...
Shearling collar jackets have been making bold fashion statements for decades. During the 1930s, the style was commonly used in...
Motorcycle jackets have come a long way since the ton-up boys' heyday. Back in the '50s, it was all black...
A short while ago we caught up with the founders of the Australian motorcycle helmet manufacturer, Forcite. In our exclusive...
Over the years I've tried and tested a lot of Saint's riding gear. Today, I can confidently say these Unbreakable...
All images courtesy of Black Pup Moto & Machines That Dream. If you had to rank colours in order of...
These are the Rev'it! Volcano gloves. They are part of the brand's latest ADV collection of riding gear. Despite that...
These are the Oxford Kickback Air motorcycle boots inspired by hi-top style sneakers. These purposeful casually styled riding boots feature...
Lithuanian brand Pando Moto has quickly become a force to be reckoned with in the world of motorcycle riding gear....
We motorcyclists sure are a bit weird sometimes. We spend countless hours searching for the perfect riding gear, only to...
A helmet is by far the most important item of protective riding gear for a motorcyclist. Surprisingly, however, the tests...
Soon after the "new-wave" custom craze kicked off motorcycle helmet manufacturers began releasing retro lids. The Bell Bullitt was the...
True addicts of the two-wheeled persuasion don't let their rides sit idle an entire season simply because it's cold. All...
Most riding gear has one primary objective; to protect your body in the event of an accident. While that is...
Introducing the Navajo WP touring motorcycle boots, designed using equal parts form and function by Italian motorcyclist footwear experts Stylmartin....
Pin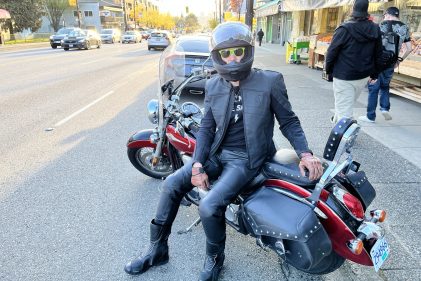 I love jackets, and I love motorcycling. I was also raised vegetarian. So when forward-thinking Spanish gear brand Andromeda Moto...
The safety level of riding gear available to motorcyclists has come a long way in the last 10 years. Manufacturers...
A few months ago I wrote an article about the MotoMAX Royal Enfield 650 Scrambler. It was created to fill...
Before we take a closer look at the new Merlin Outlaw Explorer Smock we first need to understand what a...
"We've spent years researching and improving every single feature on the Alpha Jacket. Put simply, the new Alpha 3.0 is...
Pre-distressed clothing is nothing new. Jeans baring torn knees and patches of worn denim have been readily available from retailers...
Making a great product doesn't always mean reinventing the wheel. Lithuanian riding gear manufacturer Pando Moto sell the customary range...
During the past decade, there has been some great riding gear designed and manufactured by resourceful Australians. One such Aussie...
All images courtesy of Black Pup Moto & Machines That Dream. Next time you're at a formal function, try this...
The Enginehawk Predator isn't strictly a hoodie, nor can you call it a jacket. It's a waist-length, water-resistant, hooded, pull-over...
Motorcycles are involved in rear-end collisions more often than you'd like to think. Infact in the USA, as many as...
A good set of motorcycle luggage will literally go a long way. Whether you're looking for a storage solution for...
In the past, despite retro bikes and cafe racers existing, gear manufacturers have pushed ever onward to newer materials and...
The Roland Sands Ridgeline CE Jacket is one of the newest additions to the brand's 2021 range of riding gear....
Nothing says bad-ass like a leather motorcycle jacket. But aside from its appearance, there are several other benefits that leather...
These are the Gordon Boots from Italian motorcycle footwear specialists Falco. Falco produces everything from full race spec footwear to...
If I was to be brutally honest finding a motorcycle helmet that ticks all the boxes for me has been...
Clutch Moto is a 100% Australian made purpose-built riding gear brand based out of Sydney. It was established by 3...
Never shall I ride cold again! In a recent article, I reviewed a set of Oxford premium heated grips. Since...
Looking cool on a motorcycle used to be effortless. Before the invention of Kevlar and tech fabrics, riders either wore...
Pin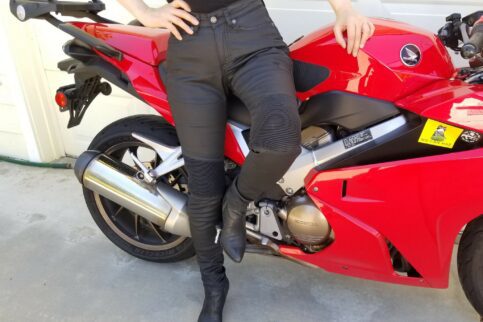 How many of us started riding because it looked cool to be on a motorcycle? You dreamed of being like...
We applaud moto brands that continually step up their game. One such brand that earned our kudos a long time...
Let's be honest. There aren't many things you can do in public that are as pleasurable as riding a motorcycle....
UK helmet manufacturer Ruroc has released the third edition of their Atlas motorcycle helmet. The aptly named Ruroc Atlas 3.0...
A spontaneous retro helmet party ignited and all the manufacturers were invited. Bell, like someone who arrives two hours early,...
EngineHawk is the newest company on the motorcycle gear market, launching in Q2 of 2021, with a mission statement of...
Hooded motorcycle jackets are a point of contention for some riders. Due to their design, they can generate a substantial...
We have to admit that seeing riders getting around on their motorcycles wearing trainers makes us cringe. But now, Alpinestars...
In today's high-tech world, a basic cell phone is almost non-existent, often being a legacy option offered for those that...
Denim Jeans with a Protective Punch Riding pants are often overlooked when taking the bike out for a quick ride...
Keeping yourself protected isn't the only reason to buy dedicated riding gear. Take for instance when the weather turns sour....
There have been close ties between skate and motorcycle culture for decades. Many esteemed names in skateboarding like Max Schaff,...
Icon 1000 have given us a glimpse of what the future of riding gear may look like with their new...
The Bell Eliminator Helmet hit shelves a couple of years ago and has been a huge success for the brand....
Named after the untamed mountains and wilderness of the Canadian northwest, these are the Rev'It! Yukon motorcycle boots. Inspired by...
When I lived in the city, cruise control was something I'd have never considered for my motorcycles. However, now that...
Specs Manufacturer: Pando Moto Price (When Tested): $375.00 (USD) €339.00 (EU) Made In: Lithuania Alternative models & colors: Black Sizes:...
This is the new Rev'it! Element Motorcycle Jacket a lightweight, versatile jacket offering all-weather compatibility and CE certified protection. The...
**This article was written in collaboration with Road Guardians, an organization dedicated to teaching motorcyclist first aid and accident scene...
If you're familiar with the MOMO brand it's most likely because of their steering wheels and gear knobs. The MOMO...
As the temperatures rise in Summer it's not unusual to see motorcyclists neglecting their safety in favour of staying cool....
On average it rains 164 days a year in Portland, Oregon. Not what you'd call the ideal climate for motorcyclists....
Every so often you come across a product that's so good you find it hard to part with it, even...
Someone once said, "Perfection is not attainable, but if we chase perfection we can catch excellence." For any brand, releasing...
It seems unlikely there would be any kind of connection between snow sportswear and motorcycling, but UK based helmet manufacturer...
The new 2021 Rev'it! Dirt Series riding gear collection is aimed squarely at the adventure rider segment. However, amongst the...
Serious motorcycle boots with serious motorcycle style. The Elsinore boots have been a stand out in the Icon range for...
I sink a lot of time and money into buying the right motorcycle helmet. And I don't know about you,...
If you're looking for a classically styled motorcycle jacket but don't want the bulk or weight associated with leather, waxed...
One of the greatest things about riding motorcycles is how they allow you to disconnect. Whether it's by disconnecting from...
Is it just me or is it getting hot in here? Down here in the southern hemisphere we're having one...
Australian brand Liberta Moto has established itself as a force to be reckoned in the women's riding gear market. They...
You can spend as much or as little as you want on your riding gear. There's a school of thought...
To bring in the new year our friends at 100MPH have just released a new range of moto-inspired t-shirts for...
The TCX X-Blend boots merge vintage looks with modern safety and steadfast waterproofing for year-round, any occasion wearability. They may...
Having good feedback and feel between you and your motorcycle is an essential part of riding. It allows you to...
If you're the kind of motorcyclist who rides rain, hail or shine you know how important purpose-built riding gear can...
One of our favourite advancements in motorcycle riding gear in recent years is the development of single layer riding jeans....
When you're on to a good thing stick to it! The third generation of the Rev'it! Fly Gloves takes everything...
Every motorcyclist needs a leather jacket in their riding gear collection. Protective motorcycle apparel manufacturer Alpinestars claims to have created...
As motorcyclists we know it's not about the destination, it's about the journey. But there's something to be said for...
Ewan McGregor and Charley Boorman are at it again with their epic cross-continental motorcycle adventures. This time in the new...
There was a time when we wouldn't touch camo riding gear with a ten-foot pole. During the nineties, camo was...
Thanks to the pandemic the world's going crazy for face masks, but if you ride a motorcycle, there's another really...
Belstaff doesn't have the race-bred reputation of their competitors in the motorcycle apparel category.  What they do have is the...
It's getting almost impossible to distinguish between motorcycle gear and regular streetwear. One brand who are experts at disguising their...
For a motorcyclist, nothing beats a clear blue sky, warm breeze and the open road. But one of the biggest...
If the third times a charm the fifth must be downright glorious! These Icon Superduty 5 motorcycle boots are the...
It's not often we veer away from our retro riding gear theme, but every so often there's an exception to...
We've seen a lot of great new riding gear from Pando Moto in 2020. With each new addition, they've refined...
Labelling a product as 'premium' tells customers you're offering something that's superior to other alternatives. Italian motorcycle riding gear manufacturer...
For the upcoming 9th Edition of Wheels & Waves, the French moto lifestyle festival will be heading home to its...
It's a rare thing when your first purchase for a new hobby or past time turns out to be one...
A classic silhouette, everyday versatility and modern safety. The Merlin Trance Jacket fuses 3 styles into one to create a...
Riding gear brand Icon are, without a doubt, experts at what they do. Their motorcycle apparel has proven its ability...
If you're a fan of Bavarian airheads, oilheads, water-cooled boxers or flying bricks you can now fly the BMW flag...
Sometimes a bit of extra storage space can make a huge difference. Motorcycle luggage experts Kriega have set out to...
Despite their hooligan antics on two wheels, Roland Sands Designs have established themselves as a riding gear brand that takes...