When you visit your local gear store, you'll often see all of the big name brands on the hangars and shelves. Arai helmets, Alpinestars jackets, Scorpion gloves, Dainese pants, and so on. Everyone knows of these brands, which is why establishing a new gear brand in the gear game is not only a daunting task, it's also one where you need to make a statement right out of the gate.
This is where Rusty Stitches found itself in 2017. Founded in 2013 by Joshua Nap in Edinburgh, Scotland, as a one-man company, it took him three years to draft up gear designs, create the monkey logo, and put in the legwork to visit manufacturers that would be interested in a partnership. He found that partner in Jopa Racing Products, who have been a name in the racing and motorsport gear industry for over three and a half decades.
Joshua's goal, which is now Rusty Stitches' main goal, was to provide high-quality motorcycle gear at affordable prices, while also stepping away from the established norms in terms of designs and colors. It wasn't just to be gear to protect you as you ride, but also be a statement that put a flag in the ground in between all the big names and say "Hey, I can play here too!"
2017 saw the launch of the first collection from Rusty Stitches, which was decidedly urban-oriented. Armored hoodies, colorful gloves, and retro-oriented leather jackets were just some of the products that broke onto the scene. This was expanded in 2021 with the establishment of sport and touring oriented lineups, so that even those that eschewed the standard gear tropes could find something that not only looked good, but gave them excellent protection at an affordable price.
It is because of this dedication to high quality at an affordable price that we here at Return of The Cafe Racers received a few pieces of gear that Rusty Stitches wanted our honest opinion on.
Jari Hooded V2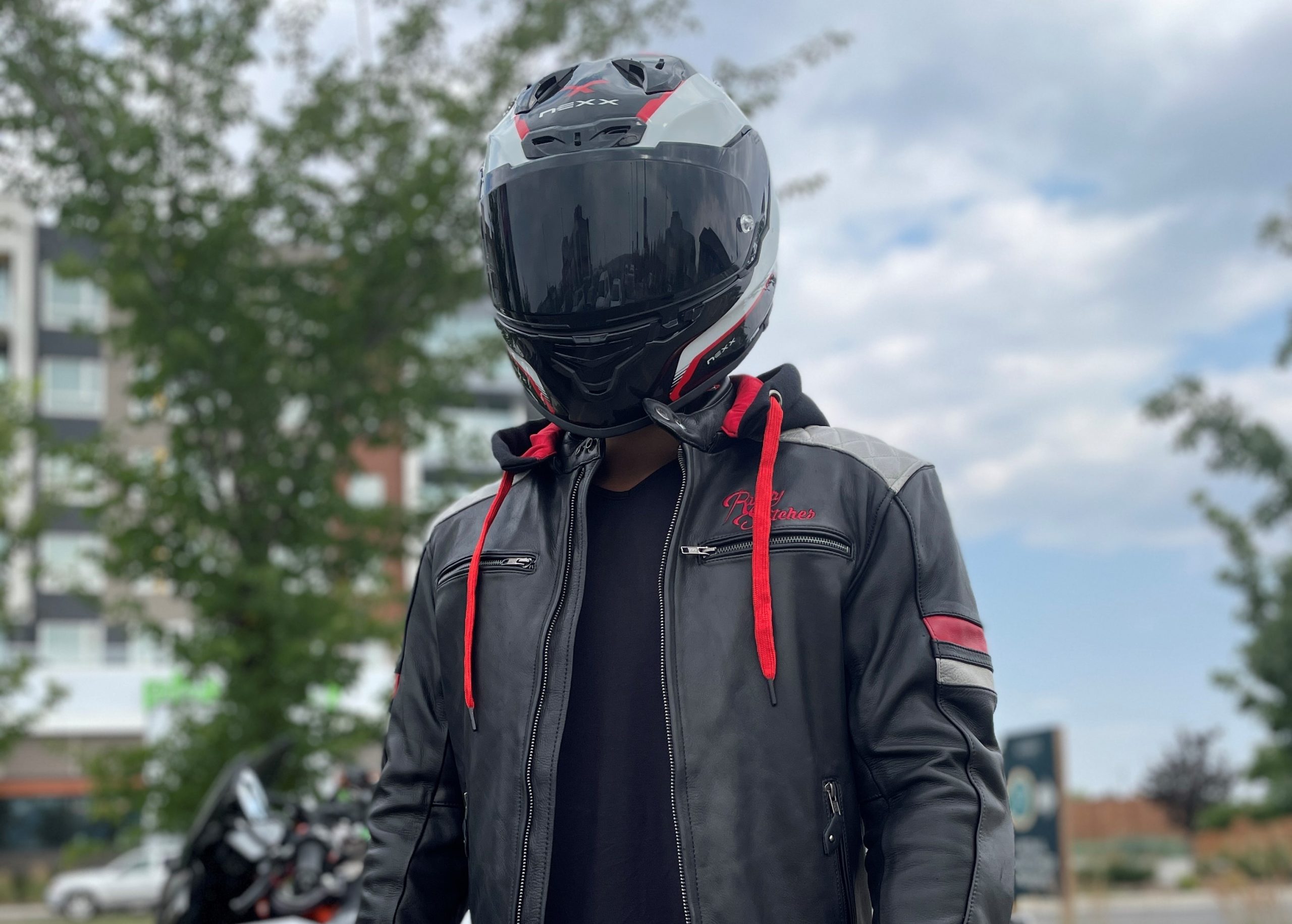 The Jari leather jacket was one of the original pieces of gear that announced Rusty Stitches to the world in 2017. While that jacket was definitely one for the cafe and retro riding crowds, there was enough demand for an urban version, out of which was born the Jari Hooded V2.
The jacket itself has a quality feel to it right off the bat. While some leather jackets arrive a little stiff in the elbows and shoulders, requiring a bit of break in before it becomes comfortable, leather on the Jari Hooded V2 is soft and supple from the moment you take the shipping back off and get it in your hands. It is also appreciably thick cowhide leather, at least 1.0 mm thick throughout.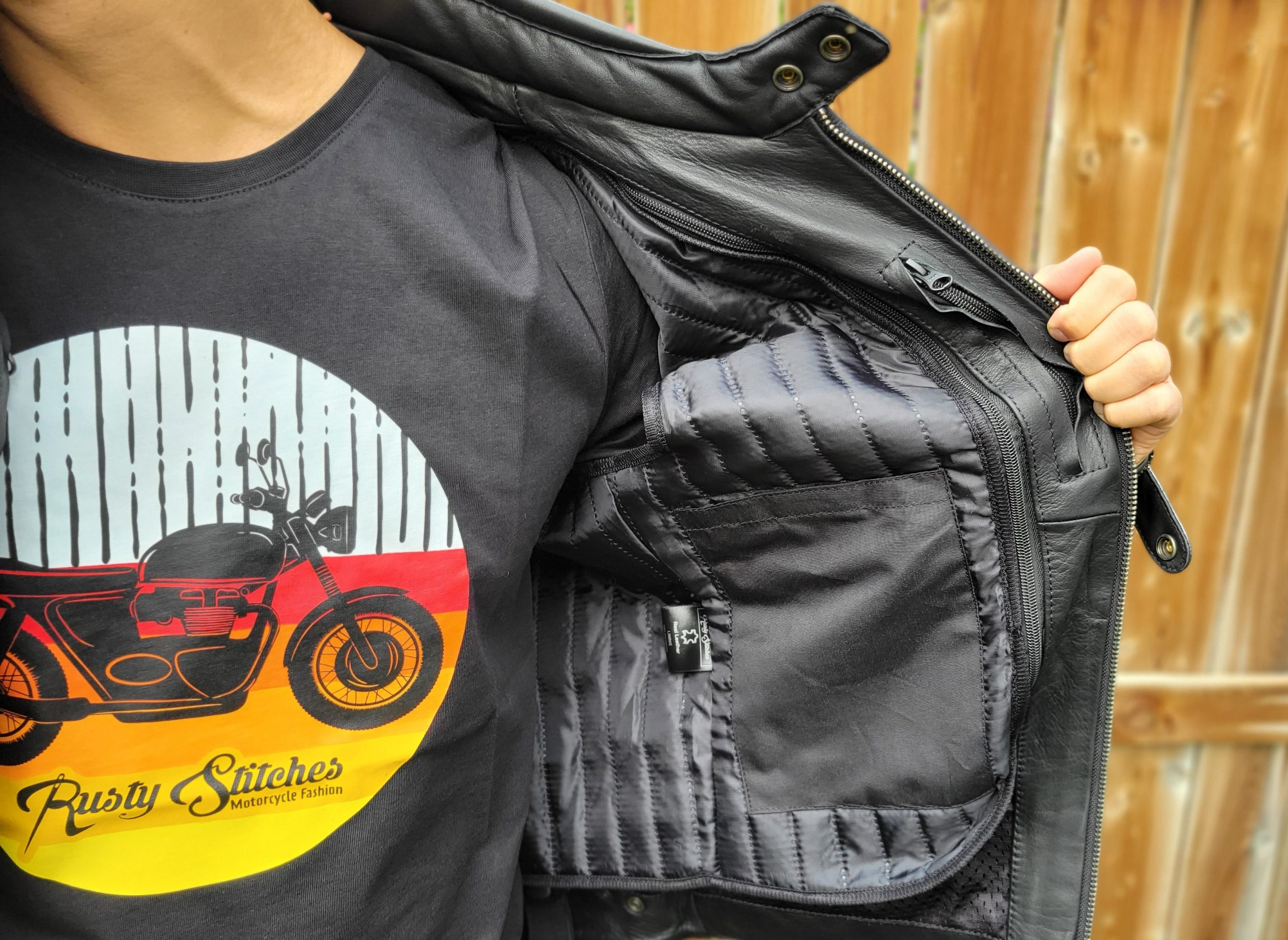 What we really like about the Jari Hooded V2 is that it is, in a word, subtle. To our eyes, and those of our enthusiast readers, it is obviously a motorcycle jacket, but to someone on the street that doesn't know what to look for, when you're off the bike, it looks like a normal leather jacket with a hood. That, as we understand it, is entirely the point. Without a helmet on and away from your bike, you just look like you have good taste in hooded jackets for a brisk Spring or Fall day.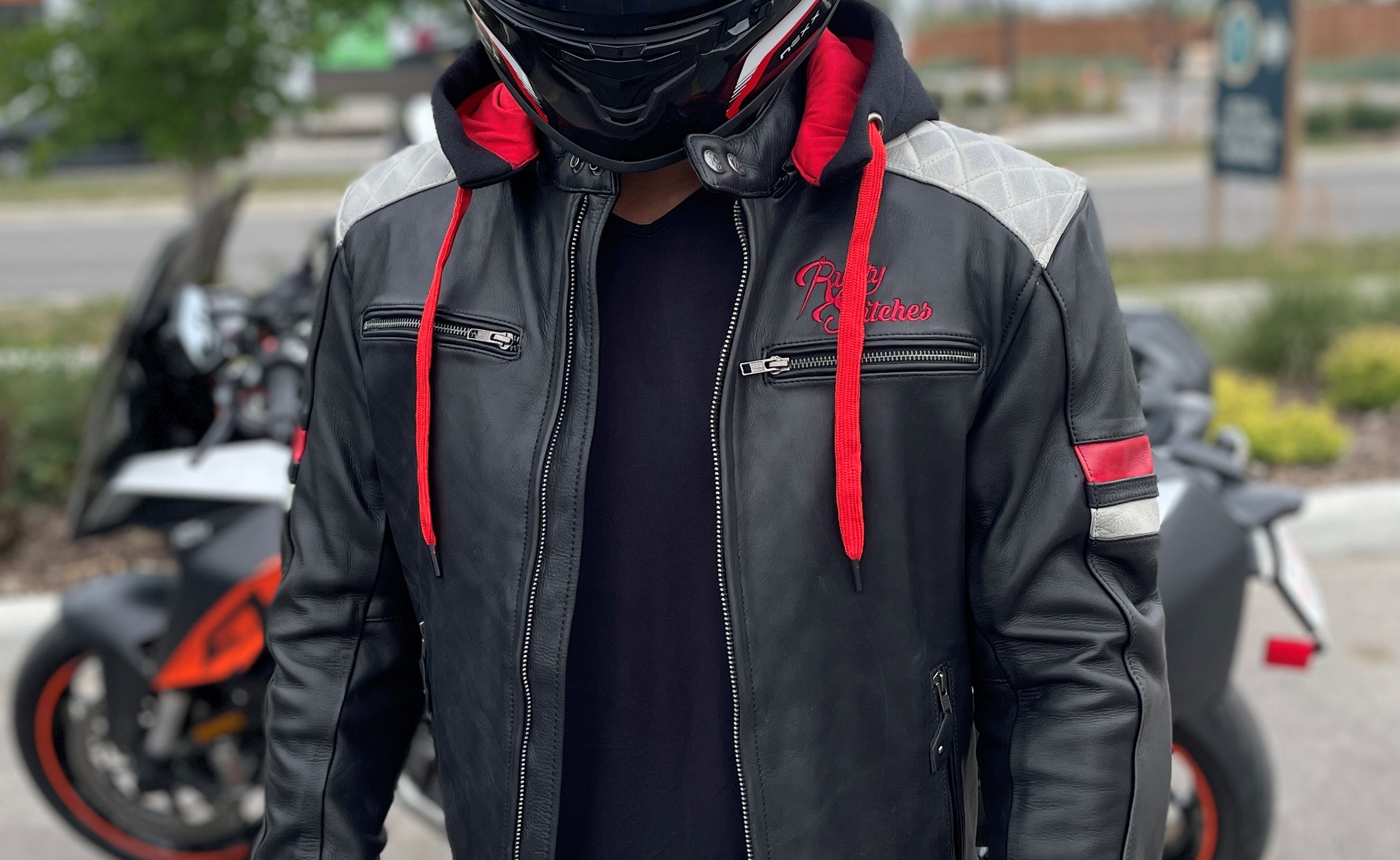 The jacket features two faux pockets at the top front which open to vents, with a full panel width rear zip exhaust between the shoulder blades. While the jacket itself is made of high quality leather, the shoulders receive diamond-stitched reinforcement panels, which hold the non-Newtonian foam CE level 1 shoulder armor in place. The elbows and upper forearms also feature the same armor.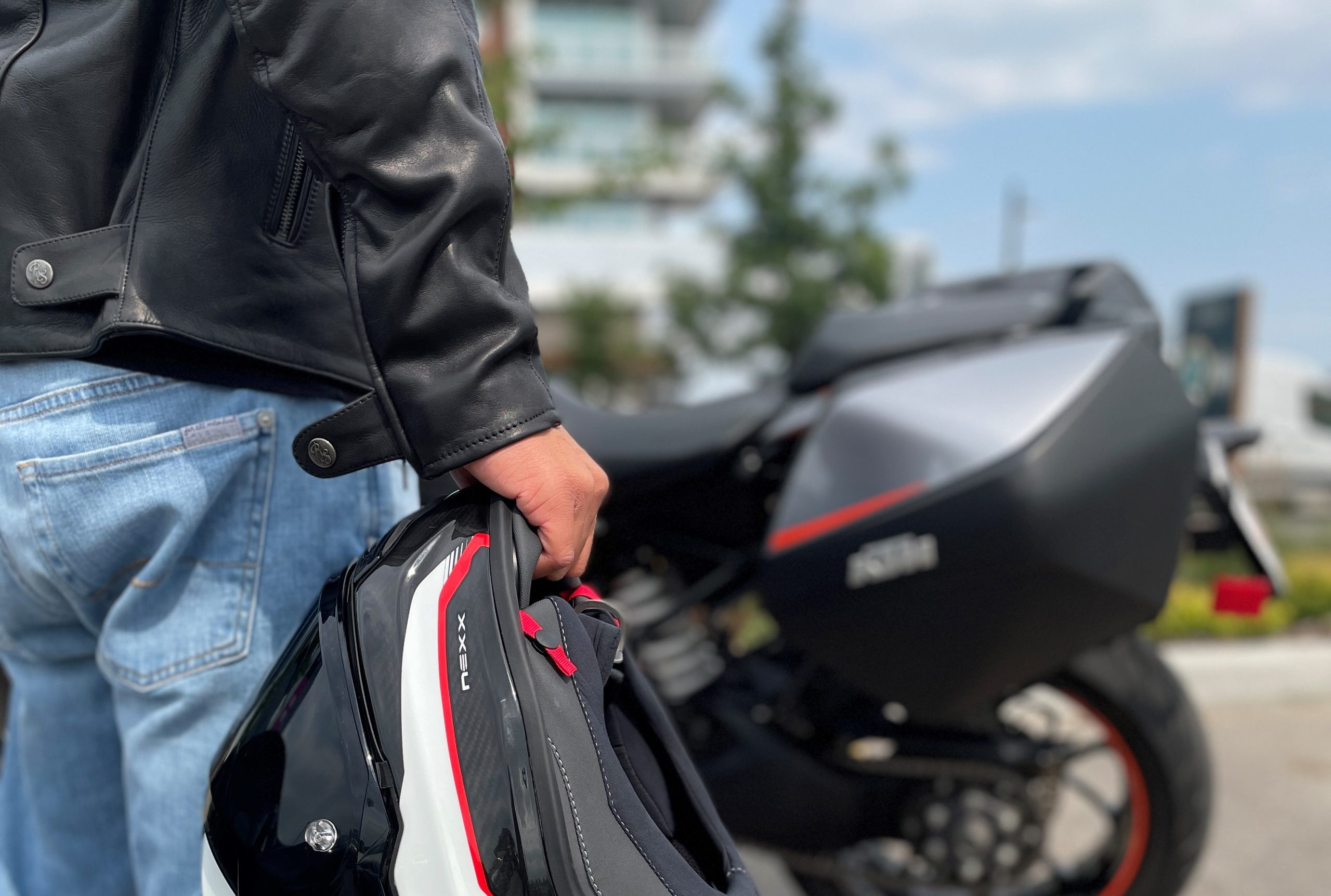 The wrists feature snap closures over a solidly mounted zip, allowing for a little bit of a customizable fit. The overall fit of the jacket is what we would rate as a sport fit. Not as tight as a race fit, but if you have a big breakfast, it does feel a bit tight around the waist. There is a full polyester lining, with a pocket for a D3O or compatible back protector.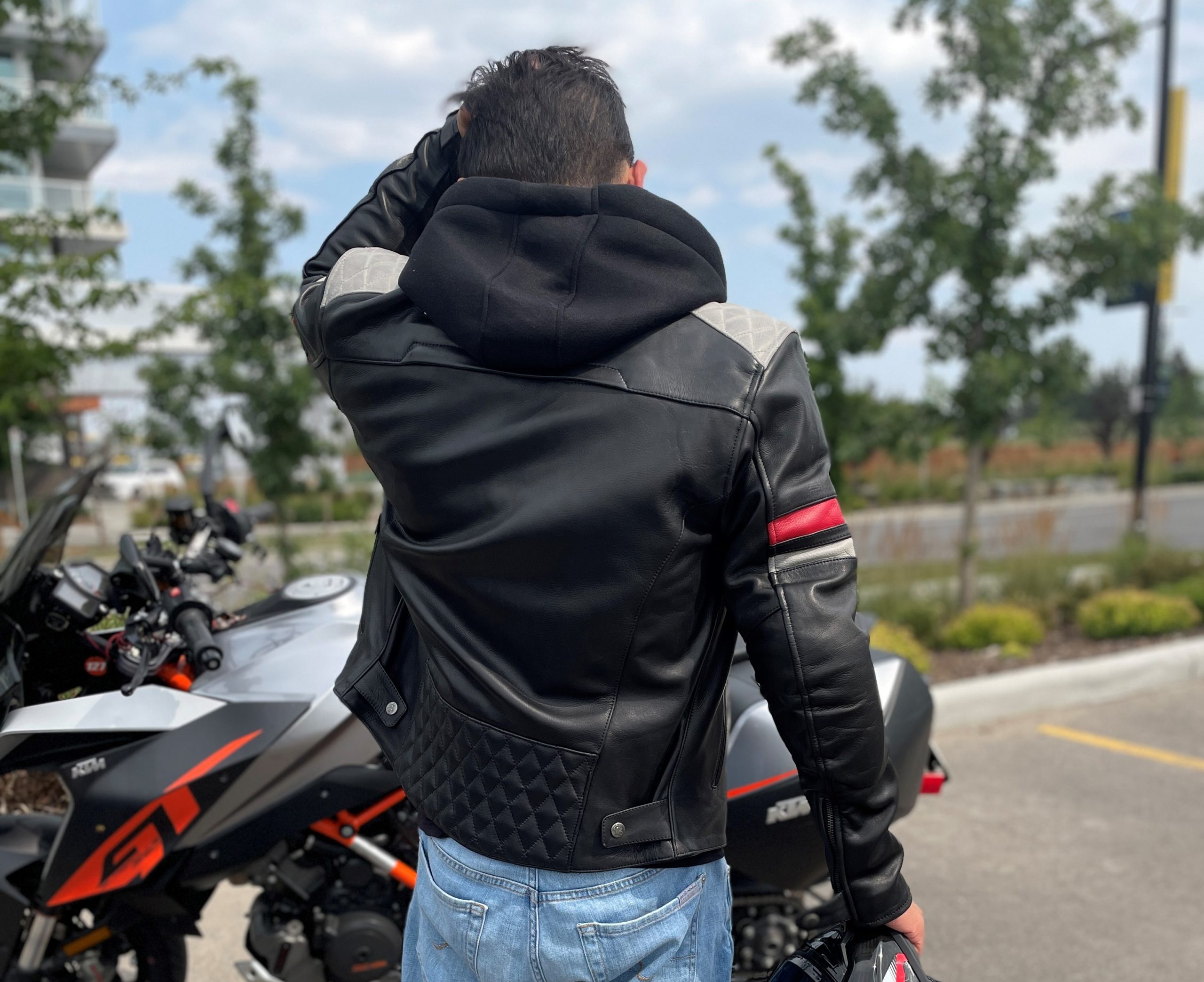 All in all, on first impression, it really does feel like a premium leather jacket. When we took a look at the price tag, however, we had to double check that it was accurate, because it feels like a $1,000 premium leather jacket, but comes in at less than $400 USD.
Buy the Rusty Stitches Jari Hooded V2 Jacket
Liam Sport Hoodie
This is a jacket that was designed for, and caters to, the urban crowd. When you're riding in the city, you can expect to have multiple stops, either meeting up with friends for a bite to eat, or needing to do multiple errands and deciding to take your bike to do them. Rusty Stitches recognized this need, and this is where we think they got their design bang on right.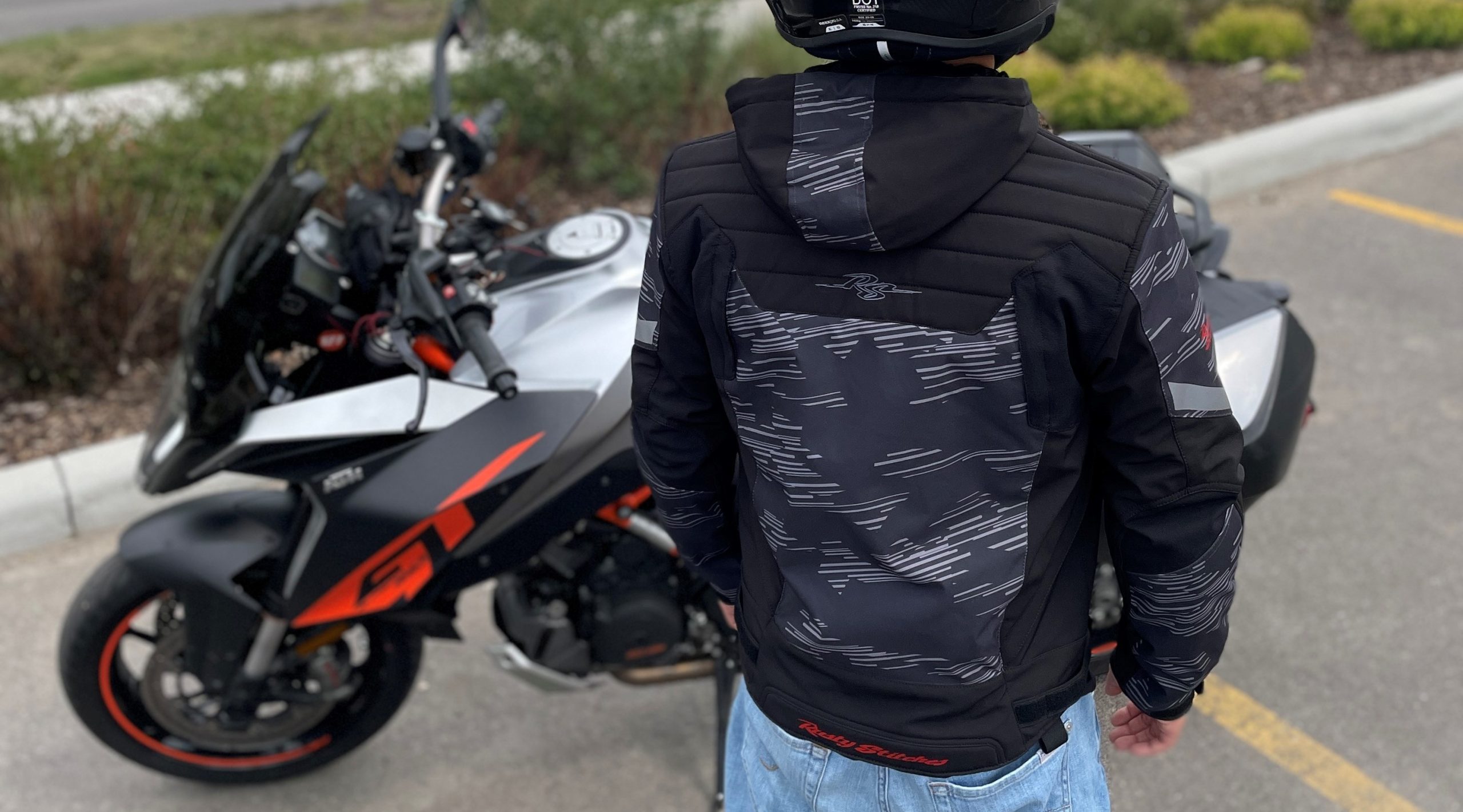 While it is not as subtle as some jackets, it is the materials that make up the Liam that are impressive. The outer layer is full polyamide, so you have quality abrasion resistance, but it is carried on a full polyester softshell, making it as supple and soft as your favorite hoodie. In fact, when we picked the jacket up out of the shipping box, it was shockingly light, to the point that one of us even commented that it felt like a fall jacket, not a motorcycle jacket.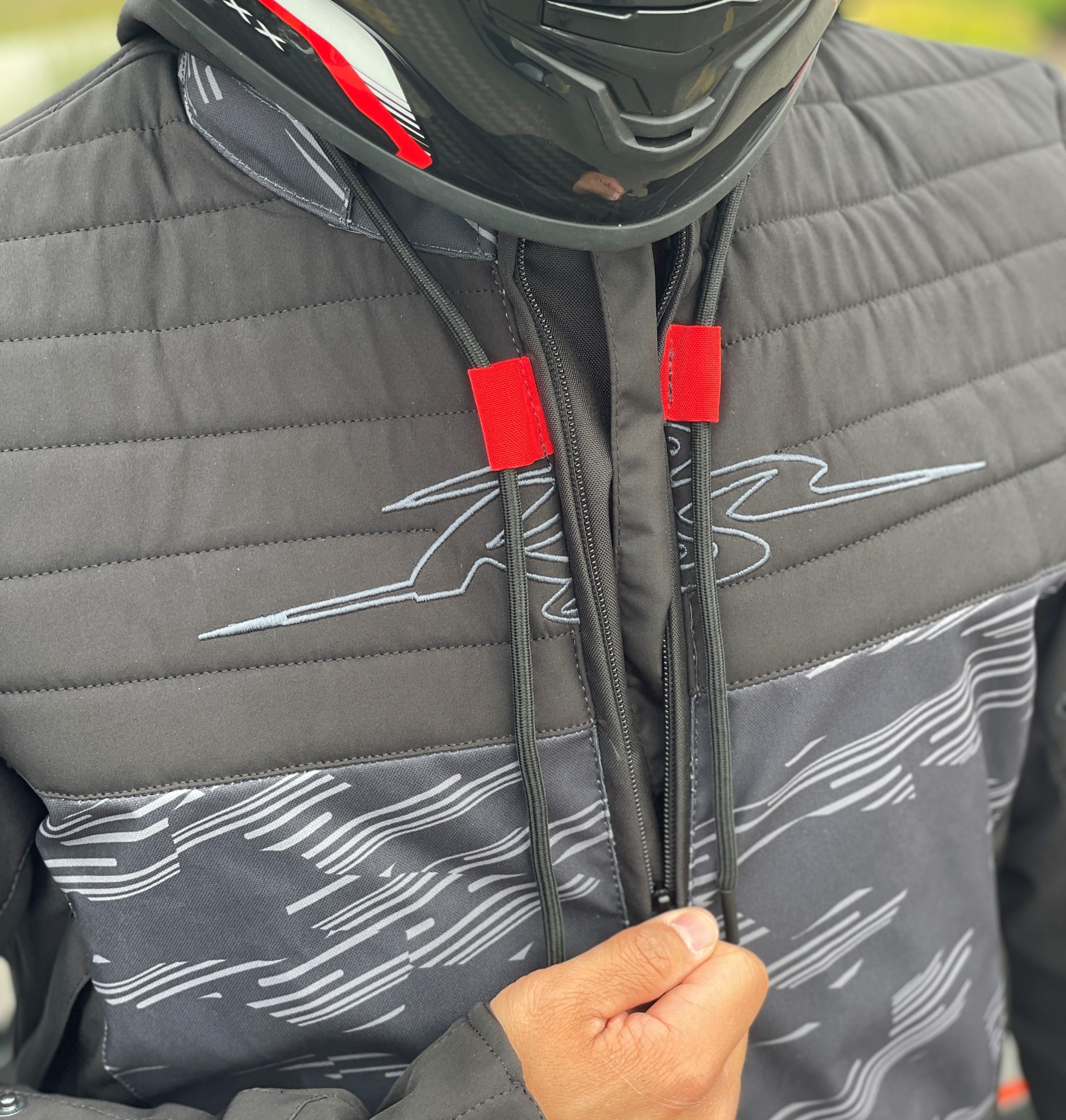 Yet, a motorcycle jacket it is. It has non-Newtonian CE foam armor at the shoulders and elbows, with a pocket in the lining for a D3O or compatible back protector. To access that pocket, you will need to lift or remove the inner thermal lining, making this a full 3 season capable jacket.
Despite the lightness of the jacket, it does have a full HUMAX waterproof membrane carried on its own dedicated softshell mid-lining. This makes it a bit warmer than a fully dedicated summer or extreme hot weather piece of gear, but the tradeoff is when that thunderstorm you're trying to outrun catches up to you before you can get home, you won't suddenly be drenched and shivering as you make ride the final few miles to the safety of your garage.
In fact, the membrane passes so much air that there are no dedicated vents on the front or back. When moving even at a walking pace, you can feel some airflow, so the HUMEX membrane definitely breathes just as well as GoreTex, and better than HydraTex.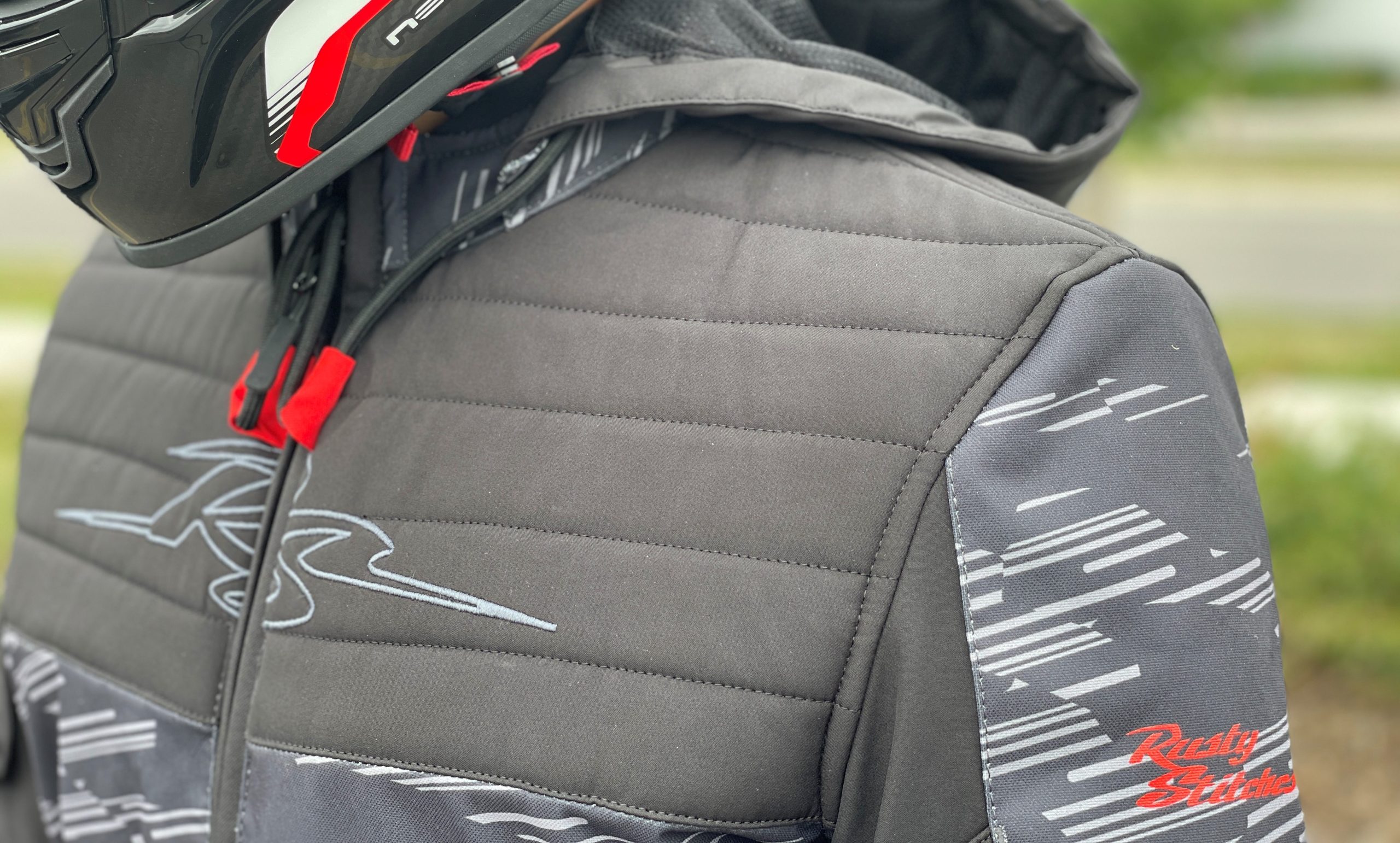 The hood is fully removable, as are the adjustment strings for it, something that impressed for a jacket that comes in at less than $200 USD. Yes, you read that right… with all of the features, waterproofing, breathability, and soft, light feel, this jacket is so affordable that it's less than a pair of designer jeans.
If that isn't catering to an urban crowd in price and features, we don't know what else is.
Buy the Rusty Stitches Liam Jacket
Zack Gloves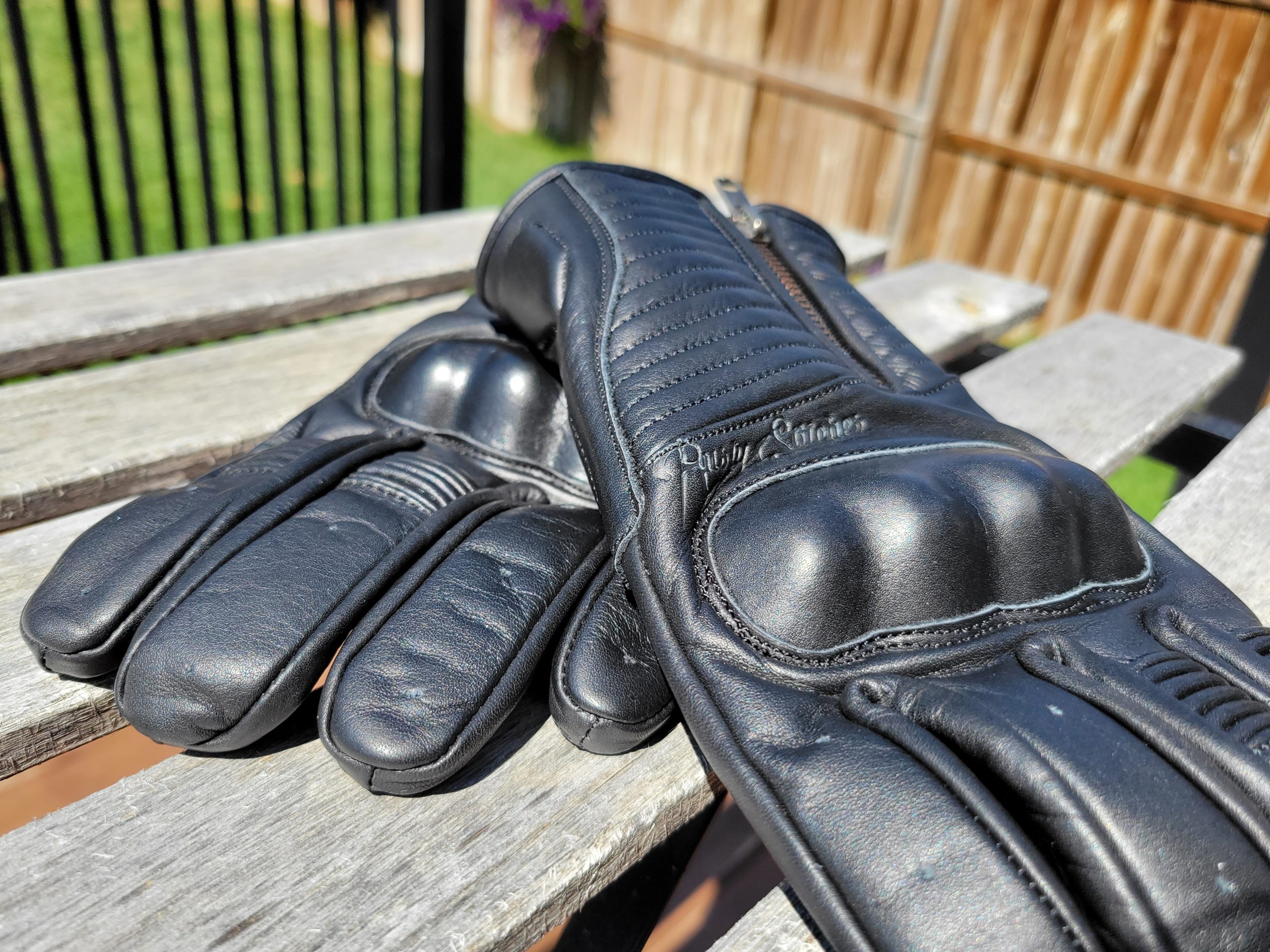 It may not seem like it on the surface of things, but gloves are one of the most competitive of all gear sectors. The main reason behind this is because your hands comprise two of the four major control points you have over the bike, namely the throttle/brake and clutch/signal controls. So, when we got our hands on, if you'll pardon the pun, the Zack gloves, we knew immediately who the target audience was.
Something that is shared between neo-retro riders and cruisers is that both crowds like to appear to not be wearing gear, and when they must wear gear that is obviously for riding, they want it to be as subtle as possible. This is where the Zacks fit in perfectly.
From a distance, they look like the kind of gloves you'd have found at the dawn of full PPE, back in the 60s and 70s, but up close, they are as bang up to date as you'd want. Made of 100% tumbled goat leather, they are soft and supple, but pass a great feel through the fingers and upper palm.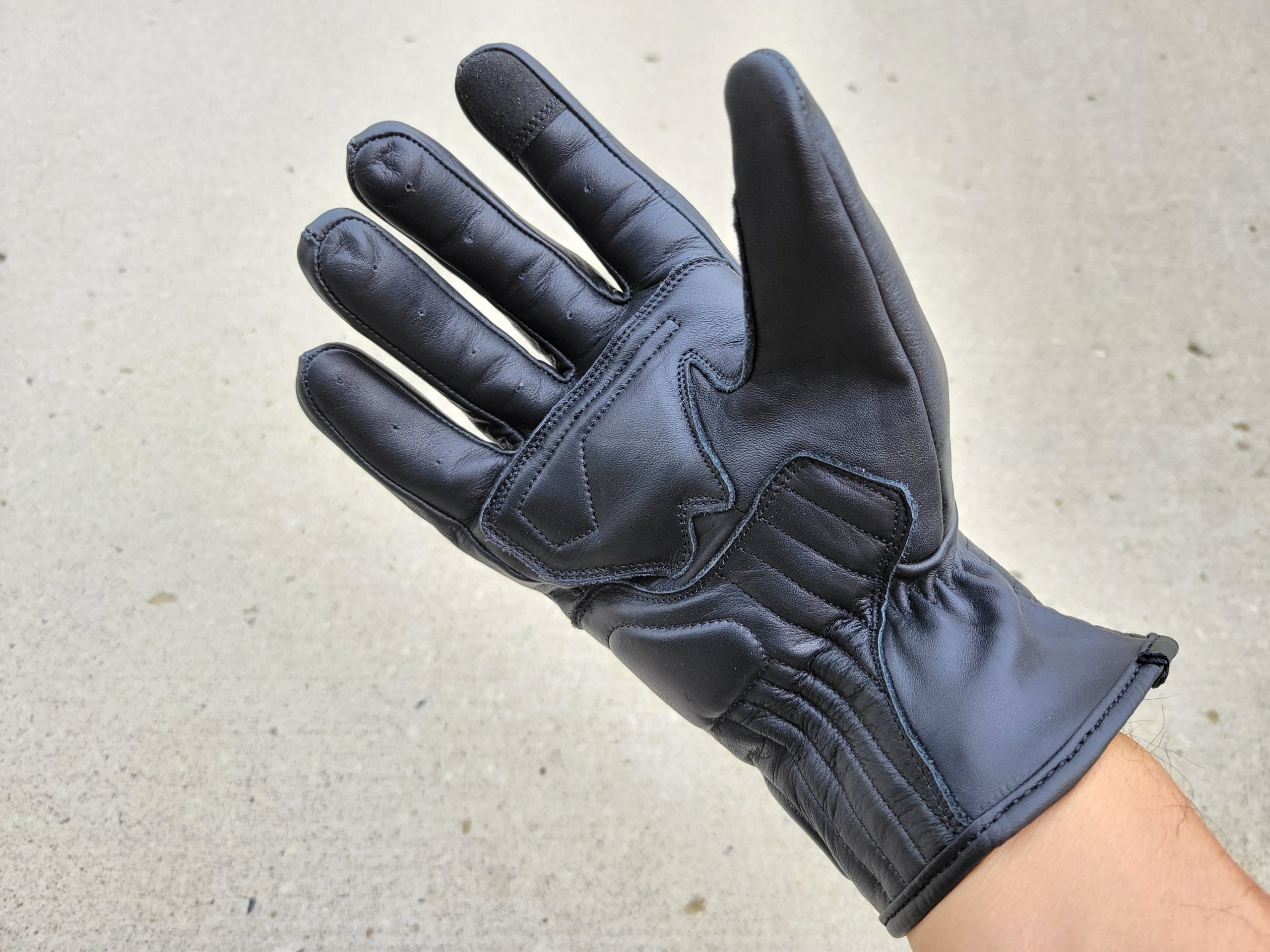 For the palm itself, there is the standard padded palm slider and double stitched, double layer reinforcement. There is also a thin strip in the palm of foam padding, directly opposite the knuckle armor, that sits exactly where the highest stress point of your hand is when gripping your bars, a nice touch that we really like. It doesn't dull any feeling, but it also should help alleviate some grip stress on longer rides.
Speaking of knuckles, you do have a full set of TPU knuckle armor sitting on an impact foam backing. There is no blade edge or thumb armor, something that we think is a bit of a miss, but when trying to be as subtle as possible, that is a tradeoff.
We particularly like the extended wrist closure, which goes far enough back to cover your ulnar bump, as well as the very positive feeling YKK zipper. When zipped up and tucked into the arm of your jacket, there is no way this glove is loosening at all, giving you good grip confidence.
Apart from the lack of extra side armor is that there are no microperforations in the leather, especially in the palm. Because of that, we think this is more of a cool to cold weather glove, as in warm and hot weather you can expect to heat up a bit more.
Buy the Rusty Stitches Zack Gloves
Clyde Gloves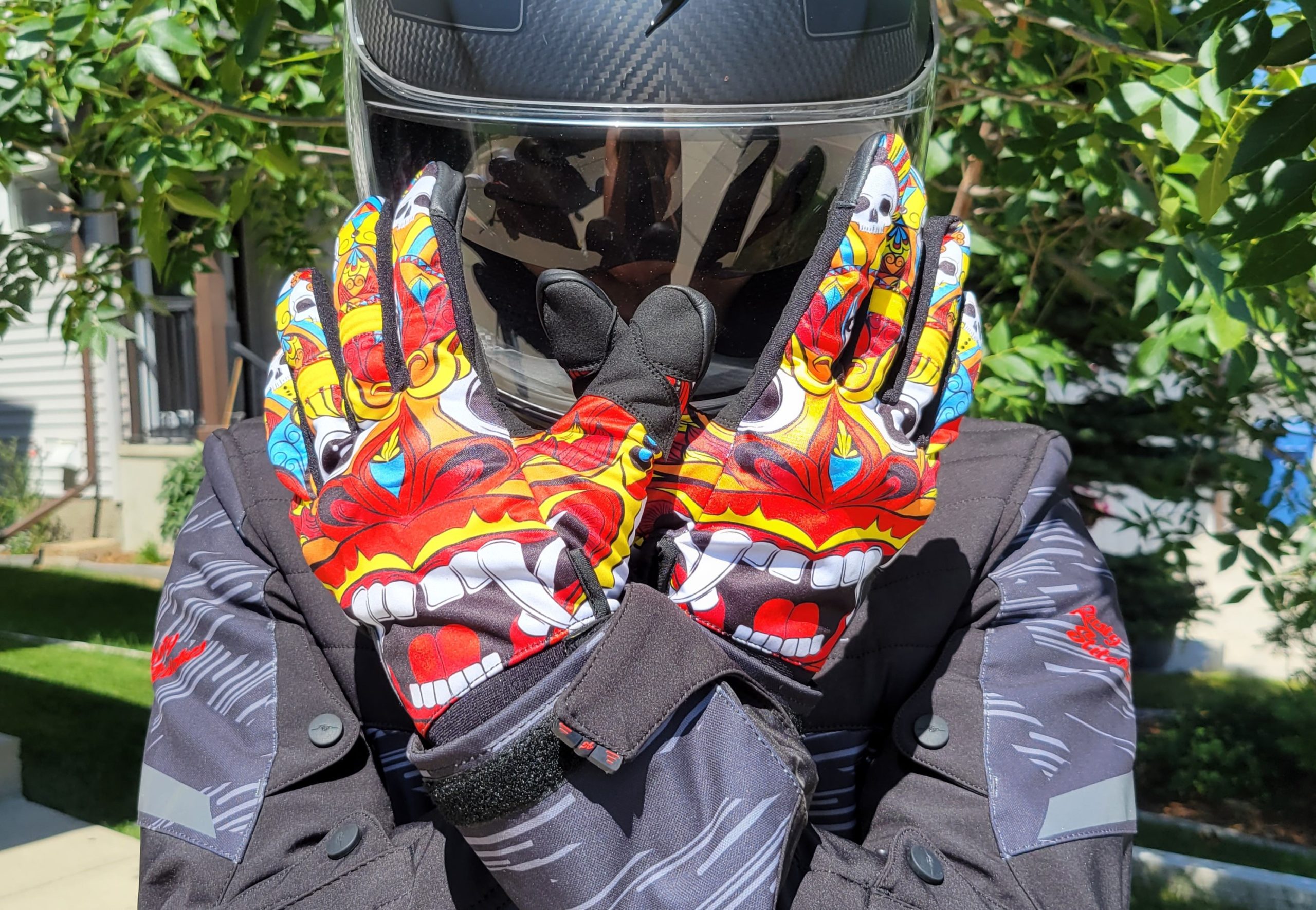 Speaking of warm weather gloves, this is where the not-so-subtle Clyde gloves come into play. Made from a combination of a textile upper with leather palm and under fingers, airflow is no issue at all. Yet, when the weather dips a little cooler, there is still enough textile to not freeze your fingers off in the wind.
The palm features double layered suede leather with a silicone lattice across the main grip area for extra traction. The palm slider uses goat leather over non-Newtonian impact foam for extra abrasion resistance and durability.
As with many gloves out there now, the Clyders are fully touch-capacitive, meaning you can use your GPS or smartphone without needing to take the gloves off. This is also aided by the fingers featuring hidden stretch zones, and the inter-finger cloth also being stretchy, giving you a good range of motion.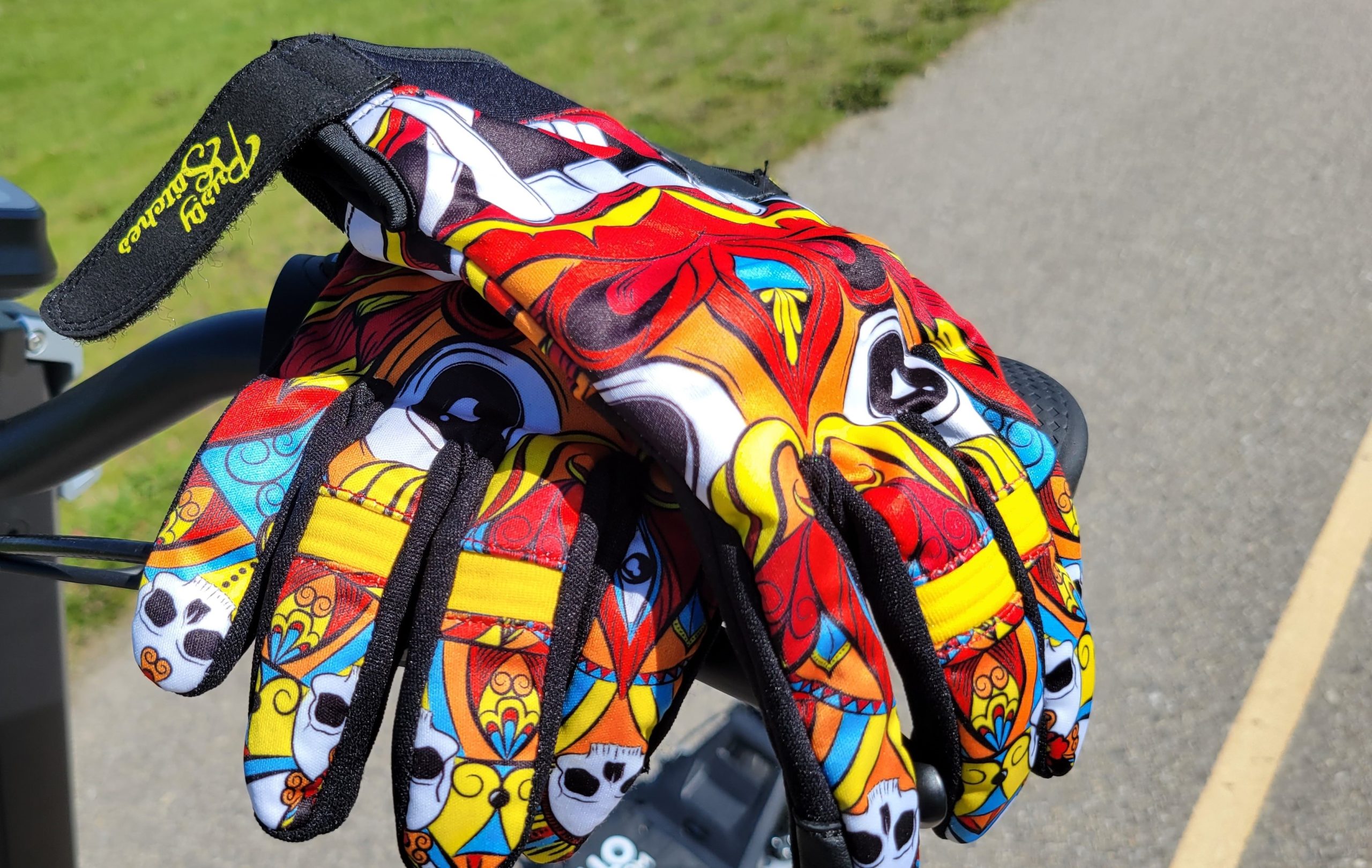 In terms of main knuckle armor, you have a full width section of non-Newtonian impact foam on a floating carrier area, so no matter how much you flex your hand, the knuckles are always covered.
There is also a small zone of reinforcement along the outer edge of the palm, and a double stitched zone along the outside of the thumb as well. These areas don't offer extra padding as it might impact just how much air moves through the gloves, so there is a small tradeoff there to keep the budget price of the gloves at just about $45 USD intact.
The Clydes come in 7 colorways ranging from S to 4XL.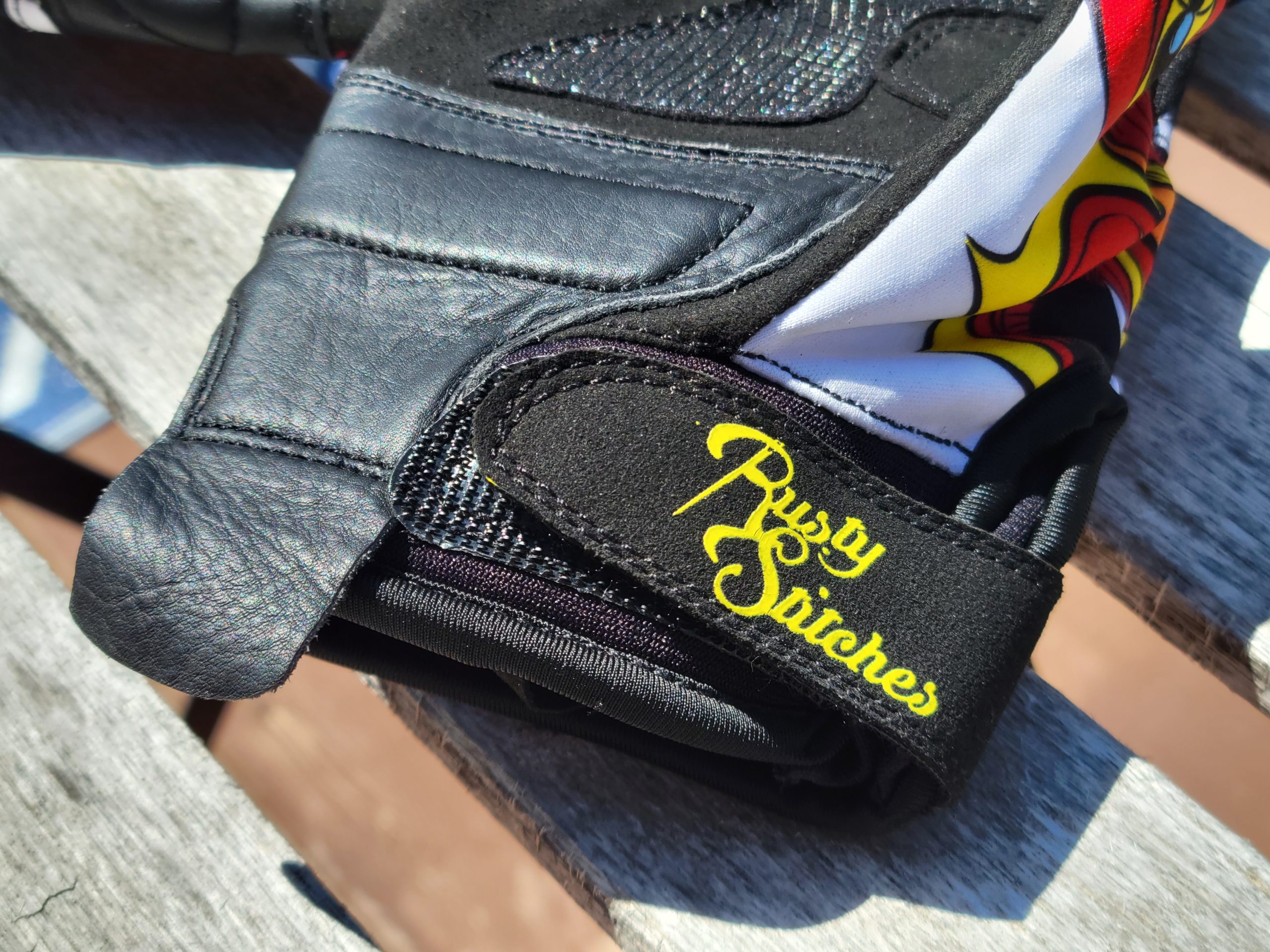 Buy the Rusty Stitches Clyde Gloves
Imaginative. Affordable. Cool.
While we still need to spend some time riding in the gear to get a full feel for them, on initial impressions, we were really surprised at how high quality each piece felt. Anywhere there's leather, it's also been pre-worked, so there is no break in period needed. The fit for the jackets are definitely in the sport range of tight, but you don't need a crowbar to get in them as with some race fit jackets.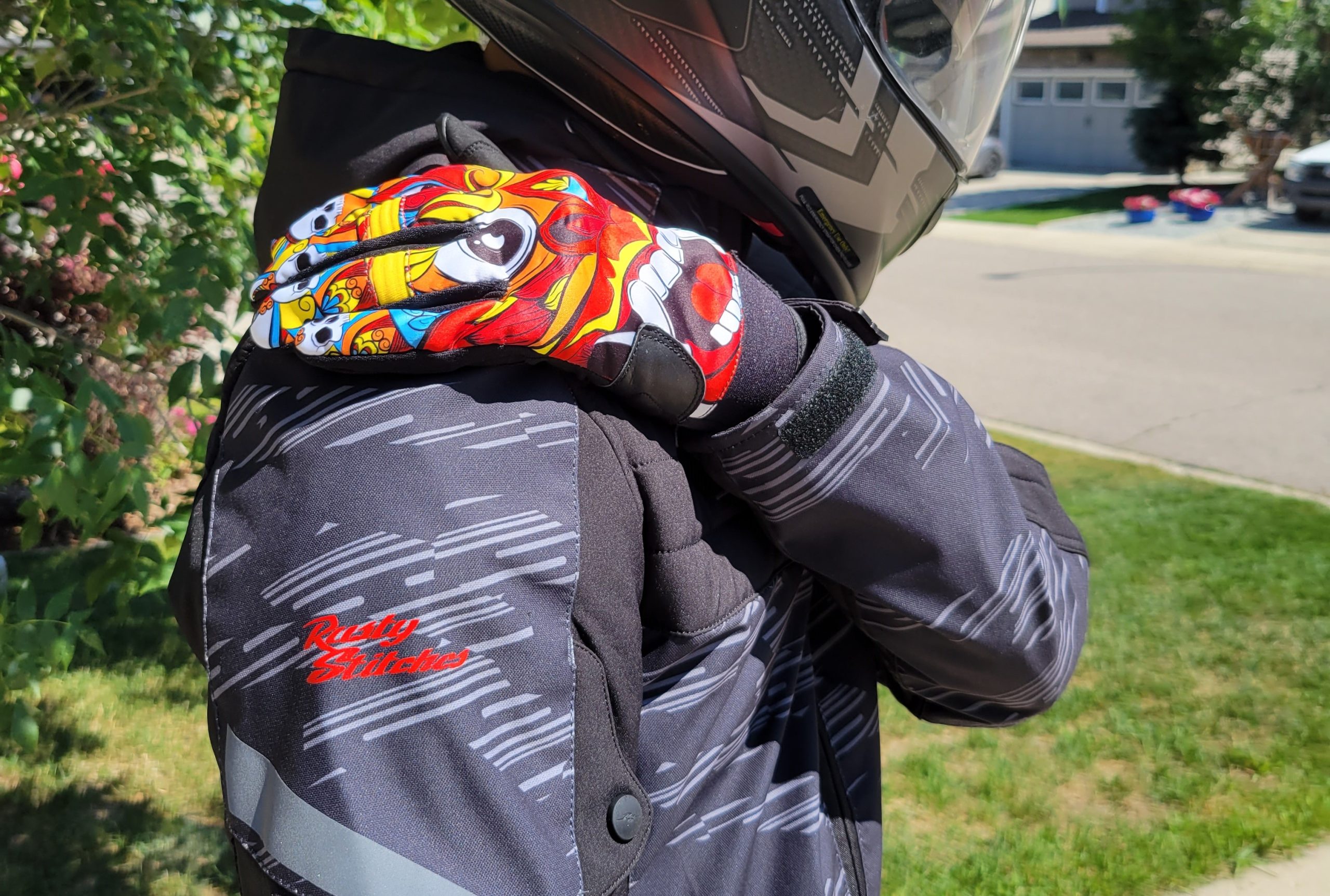 The bigger shock, however, was with the price of each piece. Up until now, the opinion around the office is that the value king, the budget baron, was Scorpion. Rusty Stitches has definitely thrown down the gauntlet in the budget to low-midrange gear field, and we're truly excited to see what is coming next. As the saying goes, competition breeds innovation, and Scorpion and REV'IT! have a new contender to fight against!
See more: Rusty Stitches Website | Instagram | Facebook