Is there such a thing as a factory built cafe racer? If you ask a purist they'll tell you no way, but Honda, Ducati, Triumph, BMW and several other manufacturers are determined to have you thinking otherwise. It's become pretty clear that this Cafe Racer fad is well and truly here to stay. Hell, I've been harping on about them for more than a decade now, and manufacturers want a piece of the action. As a result, many now have their own cafe racers for sale on showroom floors. So let's take a look at a few of them. Here are 10 off-the-shelf modern cafe racers available now from your local dealerships.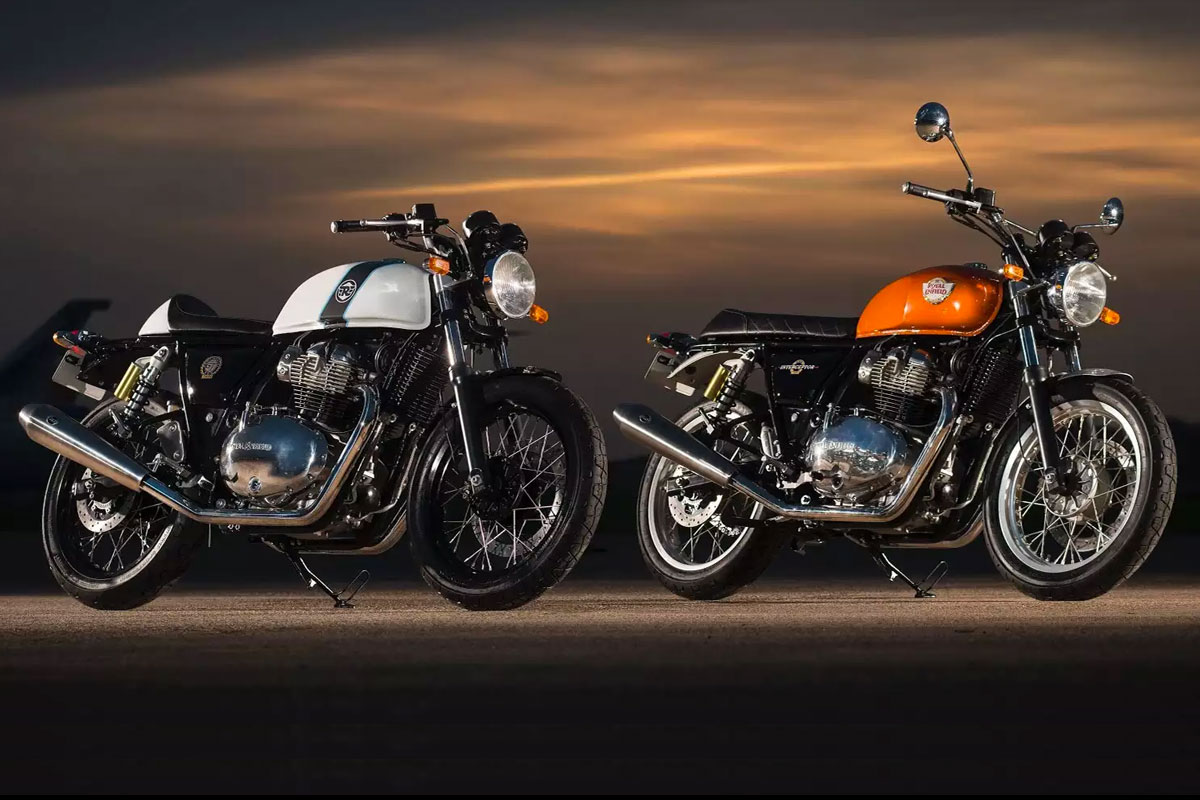 10. Royal Enfield Continental GT 650
Back in 2012, Royal Enfield unveiled the 535cc Continental GT and millions of Enfield lovers went wild. Six years later they've done it again. First, they opened a new development facility in England. Then they (reportedly) poached a team of engineers from Triumph's Hinckley facility and soon afterwards rumours of a twin cylinder Enfield were rocking the motorcycle world.
The new 650cc parallel twins are (almost) here and Enfield has really stepped things up. The new bikes come in two models, the Interceptor 650 and the cafe racer styled Continental GT 650. Some people may not find a 650 twin all that exciting, but these bikes represent the first twins in the Royal Enfield range since 1970. Both bikes produce a modest 47bhp and come with a slipper clutch, 6-speed transmission and ABS.
"A Ton of Fun" – Royal Enfield
The Continental GT version of the 650 will set you back a "few hundred dollars" more than the standard Interceptor. Its cafe styling is less aggressive than some other bikes on this list, but it satisfies all the standard cafe racer styling requirements. You'll find clip-on style handlebars, rear-set footpegs, a single seat with a wasp tail cowl and upswept mufflers "for better lean angles". Enfield has their sights set on international markets and this bold new move is sure to help, especially with such an attractive price point.
Price: $7,000 USD (rumoured) / $9,600 AUD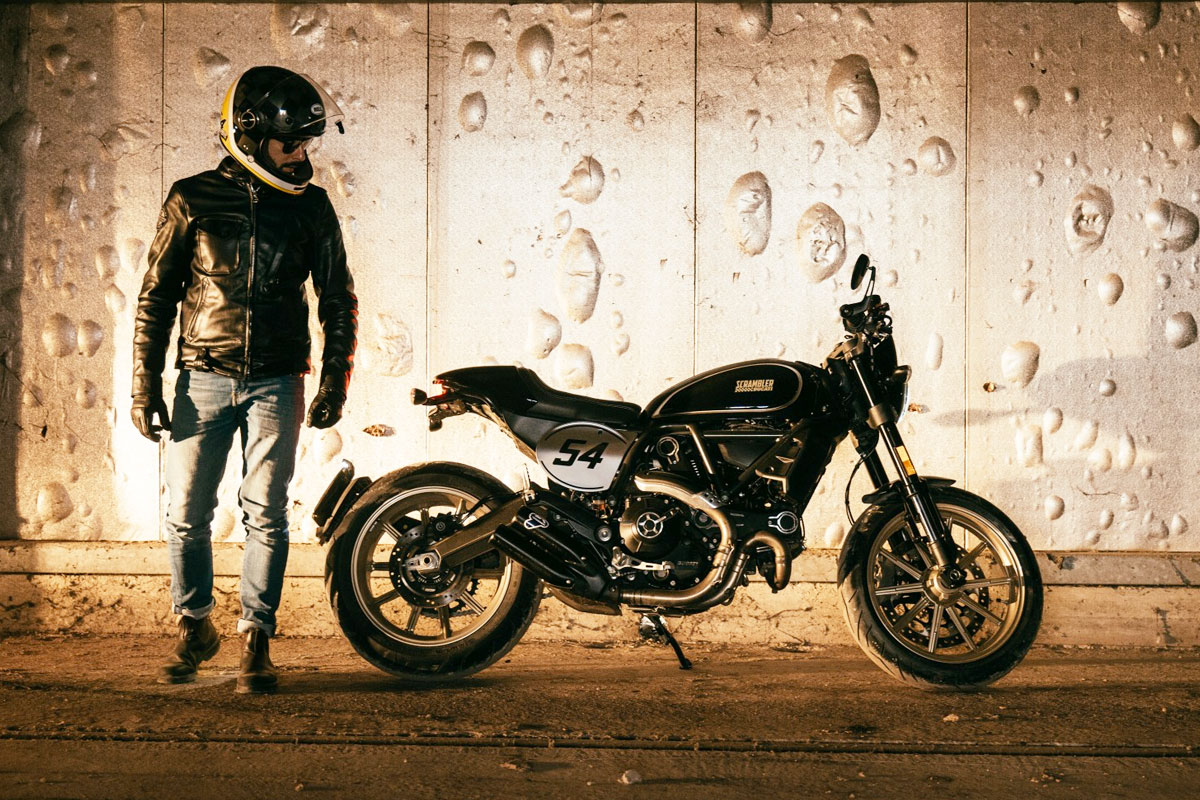 9. Ducati Scrambler Café Racer
How can one bike be both a scrambler and a cafe racer? Well, apparently it's not. According to Ducati, they applied the Scrambler moniker as a brand name rather than a styling exercise. Needless to say, the Scrambler is very Scrambler-ish, so, when they added the words cafe racer I wasn't the only person left a little confused. Naming conventions aside the Ducati Scrambler Café Racer does a decent job of capturing the cafe ethos.
"The styling is a clear reference to the style of the Rockers…"  – Ducati
As per my ride review of the Scrambler Café Racer, Ducati made a few odd styling choices with this bike. However, as a whole, the cafe'd version of Scrambler works well. What stood out to me the most between the standard Scrambler and the Cafe Racer version was the performance tweaks. Slung beneath the trellis frame is the same 75bhp, 803cc twin, but a few changes in suspension, geometry and brakes make this Scrambler my pick of the bunch. Don't run out and buy one just yet though. With the release of the new 1100cc Scrambler range, I'm sure a new Café Racer version will be making its way on to showroom floors soon.
Price: $11,395 USD / $16,990 AUD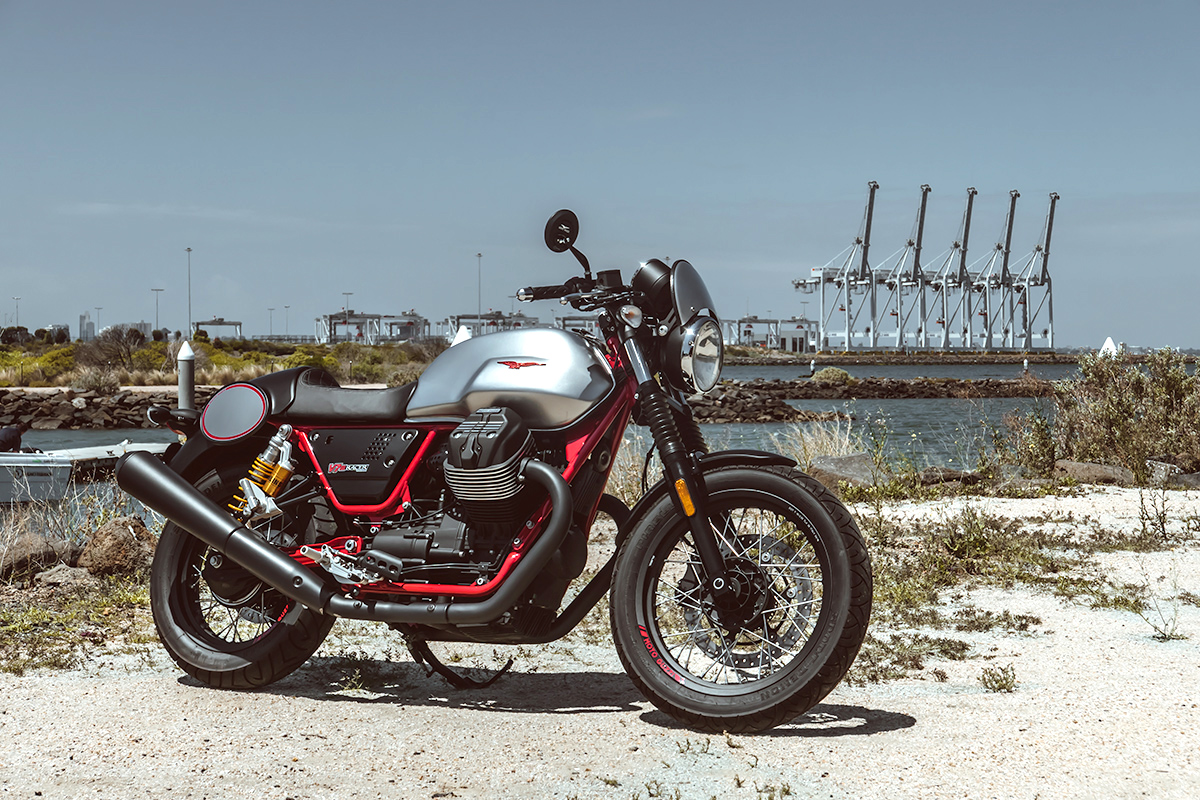 8. Moto Guzzi V7 III Racer
Another iconic Italian brand with their own Cafe inspired model. The Moto Guzzi V7 name first appeared in 1967. Clearly, since then a lot has changed. The current V7 range was introduced in 2007 with today's iteration being its third incarnation. The range currently consists of 8 variations of the V7 III including the cafe racer inspired 'V7 III Racer'.
"…not only the most sporty of the range but also the one with the most prestigious parts," – Moto Guzzi
What makes the V7 III Racer stand out from its seven siblings? Well for starters it's a limited edition with only 1000 units. As for performance, the Racer runs higher spec Ohlins shocks, but that's where the differences end. The bikes 744cc 90-degree v-twin is identical to that found in the entire range and produces a modest 52bhp. Unfortunately, the Racer is a little on the heavy side so a common gripe has been that it's a touch underpowered.
At the end of the day, the Racer is more of a styling exercise than anything else, but boy does it look good. A bold red frame, cafe styled rear end and beautiful matte silver paintwork go together to create one of the best looking bikes in the Guzzi range. The Racer is priced accordingly due to its limited numbers and uprated suspension at $1500 more than the base V7 III. For a more in-depth examination, you can read my ride review of the Moto Guzzi V7 III Racer here.
Price: $9,990 USD / $16,990 AUD
7. Norton Commando 961 Cafe Racer
This list wouldn't be complete without a Norton in it. Norton Motorcycles has seen it's fair share of hardships. The company first appeared back in 1898, well before anyone reading this post was born. Since then it's changed hands several times and even ceased production altogether. Thankfully since 2008 Norton has called Donnington Park home. Their current, hand-built range features a couple of cafe racers for sale. For this list, I decided to feature the one that bares the cafe racer name.
"…all modern components and engineering whilst maintaining a classic appearance and style." – Norton Motorcycles
The Norton Commando 961 Cafe Racer is the cafe styled variant of the current Commando offering. For those unfamiliar with the bike, it would be easy to mistake it as a Triumph Thruxton, but the current Commando has been in production since 2009. The latest version features a Norton 961cc, dry sump, parallel twin. The engine produces around 78 bhp and 90 Nm of torque which Norton has been paired with an impressive list of high-end performance parts. There's fully adjustable suspension front and rear from Ohlins. The brakes are Brembo with twin discs at the front. Brembo also provided the clutch gear and the exhaust is a bespoke stainless steel set up.
The 961 Commando already has a great classic look so the Cafe Racer version simply adds clip-on handlebars, rear-set footpegs and unique colour schemes. Only a few bikes in this list can claim they have true cafe racer heritage and the Norton Commando is one of them. The only issue is that the price isn't for the faint-hearted.
Price: $19,995 USD / $33,990 AUD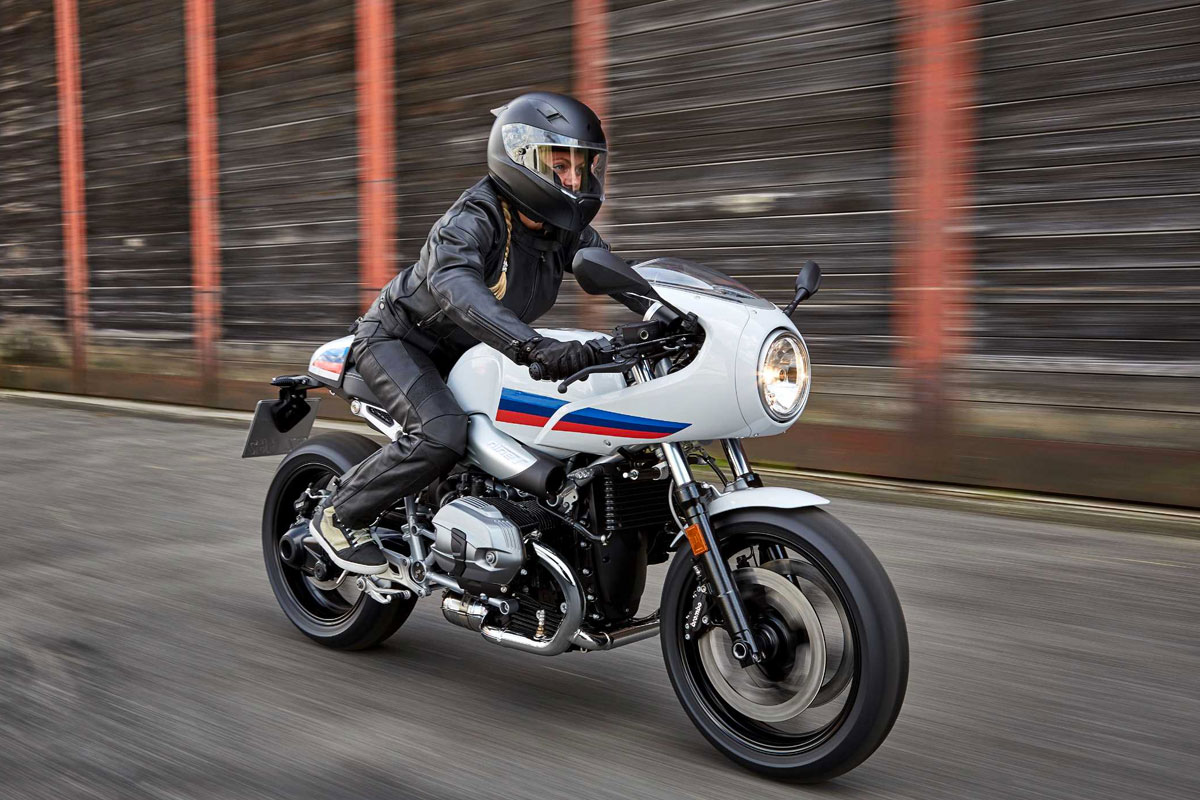 6. BMW R Nine T Racer
BMW made a cardinal sin when they created the cafe racer variation of the R Nine T. They down-graded its performance. For some bizarre reason, the Racer features lower spec suspension than the standard R9T. It's not all bad though. The performance difference for many riders would be negligible and it means that the Racer costs less than a standard R9T. Unfortunately, there's another issue that's been echoed by many reviewers. Apparently, the stretched out riding position of the Racer makes it uncomfortable on long hauls. Let's be realistic though, no one is ever going to tell you that cafe racers are comfortable!
"Style in the Fast Lane." – BMW Motorrad
So why would you consider buying the R9T Racer? Firstly it's a beautiful bike. Of all the factory cafe racers on this list, it sits at the top when it comes to good looks. Second, it's powered by a tried and tested BMW 1,170cc Boxer twin. And third, it wears the BMW badge which guarantees you unequalled levels of German quality and reliability. If you're on the lookout for an off-the-shelf cafe racer and you're flushed for cash, go test ride one now.
Price: $13,295 USD / $19,350 AUD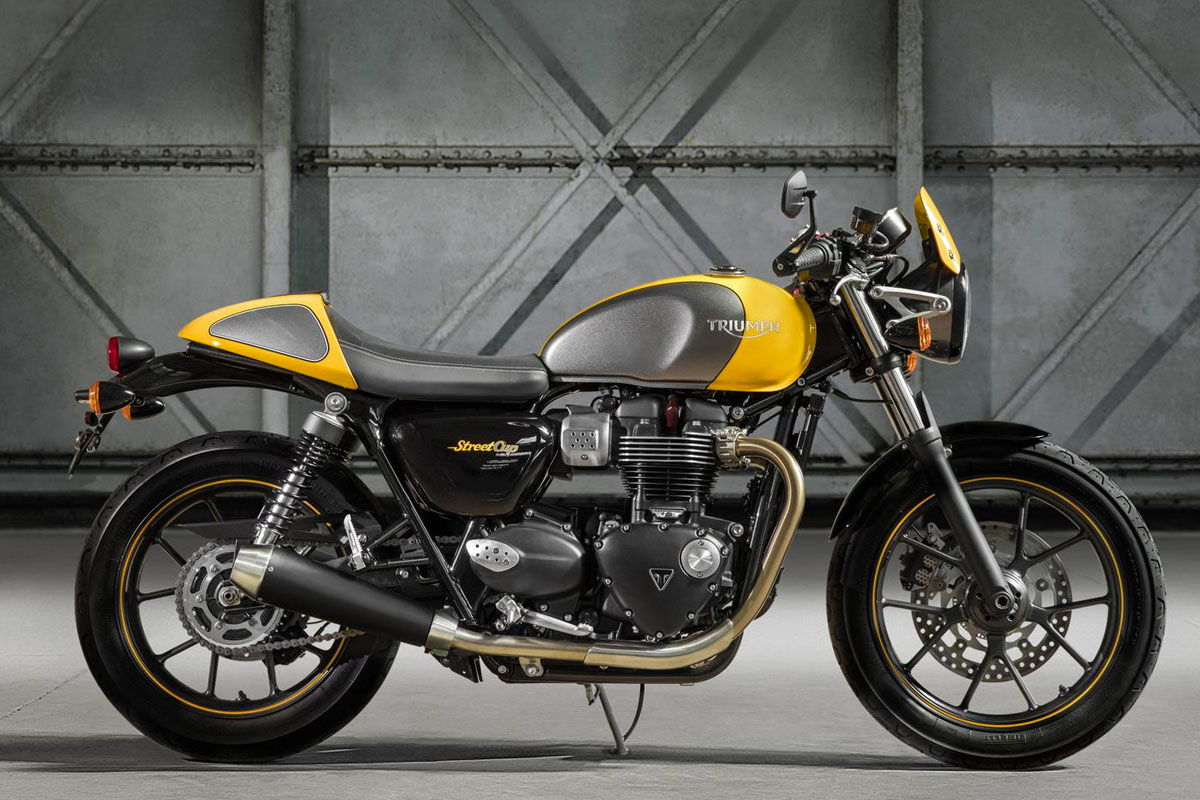 5. Triumph Street Cup
There's plenty to like about the new Triumph Bonneville range. Released in 2016 the range has grown exponentially since then to include 8 different models (soon to be 9 with the new Triumph Scrambler 1100). Amongst them are 2 bikes that fall into the cafe racer category, the top of the range Thruxton and the Street Cup. I attended an epic launch for the Street Cup in Tasmania. We rode the bike for 2 days around the island state and it did not disappoint. After all the Street Cup is a Street Twin in cafe racer attire and I thoroughly enjoyed my time riding that bike too. Despite having a smaller capacity than the T120 Bonneville these models offer more than enough power for your average commuter and will cost you less. The 900CC high torque, water-cooled twin produces 54bhp and has no problem hauling the bikes 200kg kerb weight around at an exhilarating pace.
"Street racer attitude and style." – Triumph Motorcycles
To give the Street Cup its cafe racer styling Triumph added a rear cowl, small windscreen and low clip-on style bars. A look they say was inspired by the vintage club racing scene. The Minion yellow version certainly isn't something I'd rush out to buy but there's a black and silver alternative that is much more appealing. As to be expected the lower bars aren't as comfortable as those on the Street Twin, but you're buying this motorcycle for its cool cafe looks.
PRICE: $8,999 USD / $15,590 AUD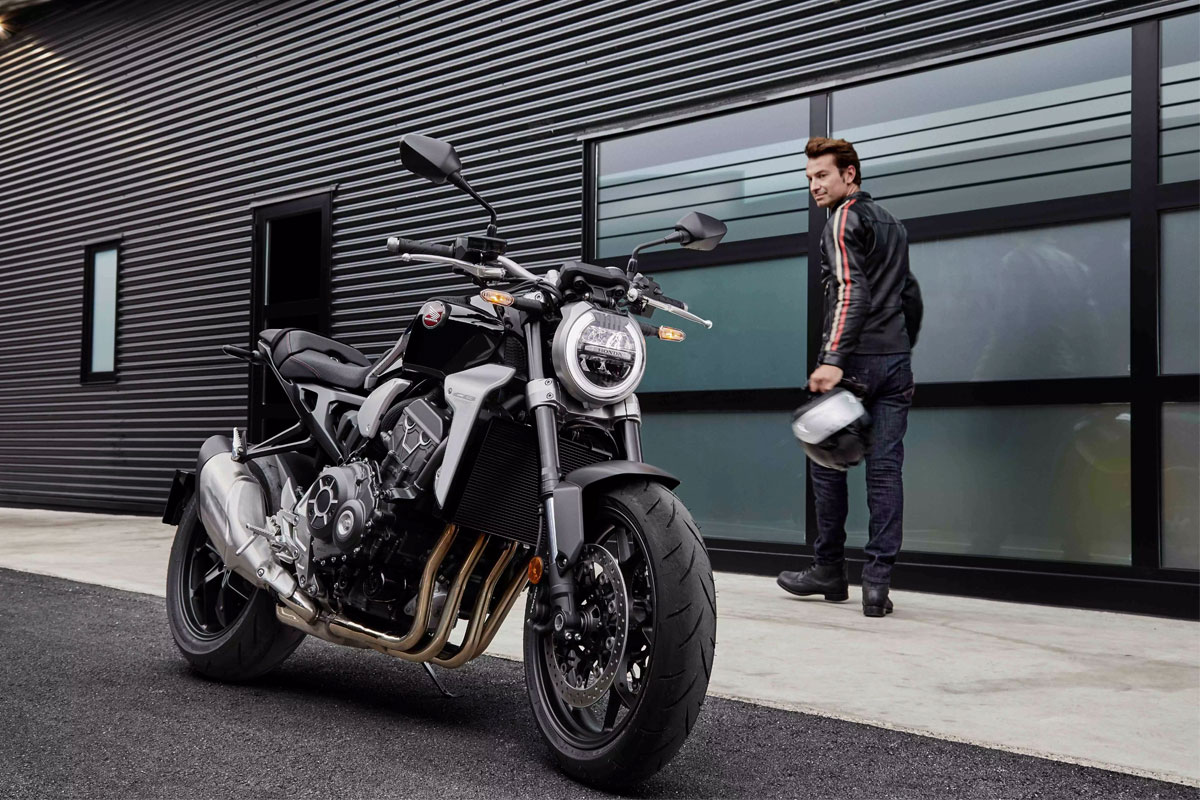 4. Honda CB1000R Neo Sports Cafe
The CB1000R Neo Sports Cafe is one of the newest kids on the cafe racer block. According to Honda, it's also the "King of the Neo-Sports Café Scene". That's probably because no one else has referred to their motorcycle as being part of a neo-sports cafe scene. So we'll just take their word for it. I've been waiting for Honda to release a bike like this for years. I've yet to ride the CB1000R, but those who have give it plenty of praise.
The CB1000R is powered by the 998cc 16v inline four that powered their Fireblade. It's had a slight overhaul to gain a higher 11,500rpm redline, 104 Nm of mid-range torque and 143 bhp. Combine this with fully adjustable Showa suspension and the latest in tech assisted ride technology and you've got a bike that MCN says "Kicks the butts of the latest crop of café racer-styled machines…"
"…bridges the gap between performance and bare-boned Café Racer inspirations." – Honda Motorcycles
If you've seen a CB1000R in the flesh you're sure to have been impressed by its fit and finish. As to whether it's a good representation of cafe racer styling I think not so much. I get where Honda was going with the neo-sports thing. Unfortunately, the cafe racer aspect of the bike, in my opinion, misses the mark. Regardless of that, it's a great looking motorcycle that stands out amongst the staid sportbike crowd. The CB1000R will be available in 2 versions. The higher spec CB1000+ adds heated grips, more brushed alloy bits, a windscreen, rear cowl, wheel hugger, and a quick-shifter.
Price: $12,999 USD / $16,499+ AUD
3. Kawasaki Z900RS Cafe
The Kawasaki Z900RS Cafe was released a short time after the highly anticipated Z900RS. On paper, both models are identical aside from styling tweaks. Both bikes feature a liquid cooled, 948cc inline four that produces 110 bhp. There's 98 Nm of torque, ABS, adjustable USD forks, a slipper clutch and selectable riding modes. The most notable differences come in the form of bodywork. Up front there's a retro fairing, the seat is restyled and it's finished in a bright green paint scheme.
"Great pains were taken to achieve the Z900RS Cafe racer styling look and feel…" – Kawasaki Motors
The styling of Z900RS Cafe is more of a homage to the 80s Eddie Lawson KZ1000R than a classic cafe racer. That's not a deal breaker for me though. Neither was that bright green paint or the incredibly wide fuel tank. I loved this bike when I had the chance to test it out. I never expected to be smitten with an inline four. However, the more I rode the Z900RS the more I understood the appeal of these high revving engines. I've had the opportunity to review both the standard Z900RS and the Z900RS cafe. They offer a great balance of power and everyday rideability which Kawasaki should be very proud of. If I was going to lay down my cash on a modern classic I would definitely be considering the Z900RS Cafe…but would probably opt for the slightly less ostentatious grey version.
Price: $11,490 USD / $18,299 AUD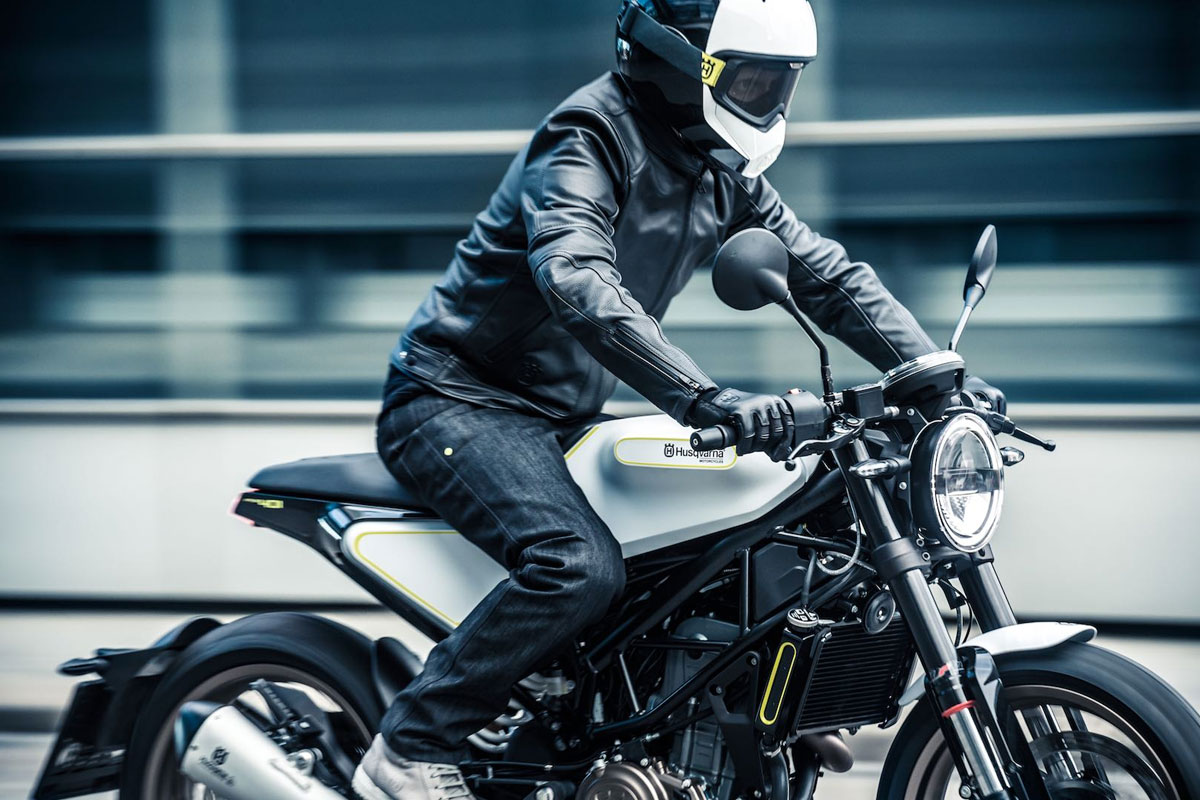 2. Husqvarna Vitpilen 401 or 701
If you haven't heard of the Husqvarna Vitpilen it's time to crawl out from under that rock. The Swedes first unveiled this futuristic looking bike back in 2014 and it's only just gone on sale. Along with looking unlike anything else on the street the Vitpilen marks a return to the street bike category for Husqvarna. Usually, you'd expect such a move to be met with some teething issue, but this doesn't seem to be the case. Every ride review of the cyberpunk single has been surprisingly positive. In a few weeks, I will have the chance to test the bikes myself and I'm expecting to come away feeling much the same way…fingers crossed.
For the development of the Vitpilen, Husqvarna enlisted the help of design firm Kiska. What they came back with was a bike that respected the company's rich past while propelling them well into the future. From the Vitpilen's uniquely shaped tank to the dividing line that splits it diagonally in half it's a rolling work of art. Is it a cafe racer though? Well, Husqvarna isn't claiming it is, but I am. The Vitpilen confidently ticks all the cafe racer styling boxes. It's got the telltale low handlebars and tight proportions, but more importantly, it has a bare-bones, purposeful style. Sure it looks like something off the set of the last Tron film, but there's no denying there are hints of 1950s ton up racers in the mix.
"A bike for progressive, freethinking riders" – Husqvarna
As for performance, the Vitpilen comes in 2 flavours, the 401 or the 701. Both are powered by a liquid cooled, single cylinder engine. The 373cc Vitpilen 401 produces an impressive 44 bhp and 37 Nm of torque. The 692cc Vitpilen 701 thumps out 75 bhp and 72 Nm. Both bikes feature the latest tech such as ABS, a ride-by-wire throttle and traction control. The 401 tips the scales at 148 kg while the 701 is a mere 9 kg heavier at 157 kg.
401 Price: $6,299 USD / $11,600 AUD  –  701 Price: $11,300 USD / $17,500 AUD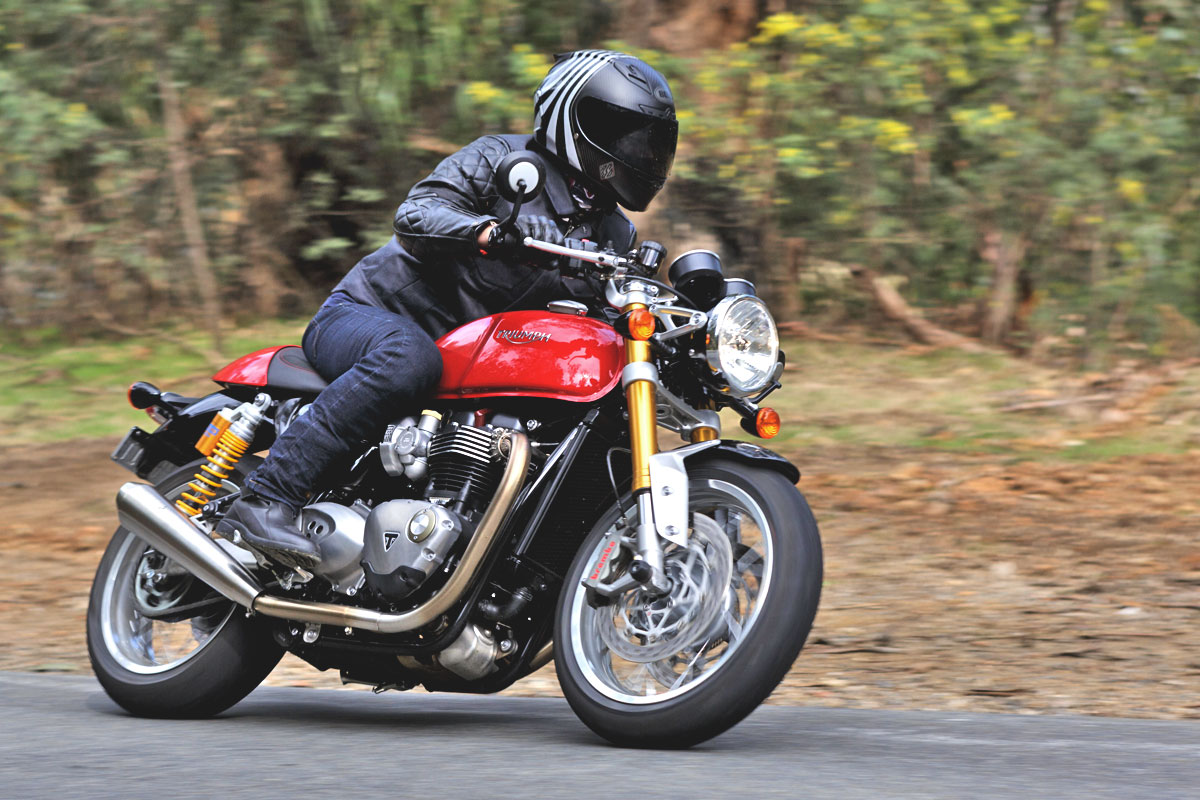 1. Triumph Thruxton R
If there was a king of the hill in the modern classic category it would be Triumph's Thruxton R. Triumph have been enjoying the fruits of their labour since the new Bonneville series was released back in 2016. Of all the bikes in the range it's the Thruxton R that is revered the most, and rightly so. The Thruxton R offers everything you'd want in a cafe racer package. It boasts the perfect balance of classic looks and performance. Where other bikes on this list offer mere styling tweaks and minimal performance upgrades the Thruxton R comes with the lot.
When it comes to styling the Thruxton R nails the cafe racer aesthetic. Triumph had a great starting point with that classic looking parallel twin so all they had to do was continue the retro vibe, and they did an awesome job of it. There are no repurposed components from other bikes in Triumphs range. Everything on the Thruxton R was created to suit the Modern Classic vibe and it simply looks great. Triumph has also put together a range of aftermarket accessories for the Thruxton that includes a slick half fairing that i'd definitely spend the extra cash on.
"Real poise, real power, real performance." – Triumph Motorcycles
Yes, the Thruxton R will cost you an arm and a good chunk of a leg, but every dollar is justified. The bike comes complete with top of the range Showa and Ohlins adjustable suspension. It is powered by the HP (high power) version of the Bonneville 1200cc water-cooled twin producing 96bhp. There's ABS, switchable riding modes, Brembo brakes, a multi-assisted clutch and the list goes on. This isn't a mere exercise in styling, this is, without a doubt a, performance focused modern classic. Don't get me wrong, it's no competition for the latest Yamaha R1, but the Thruxton R is a thoroughbred.
Price: $14,500 USD / $22,500 AUD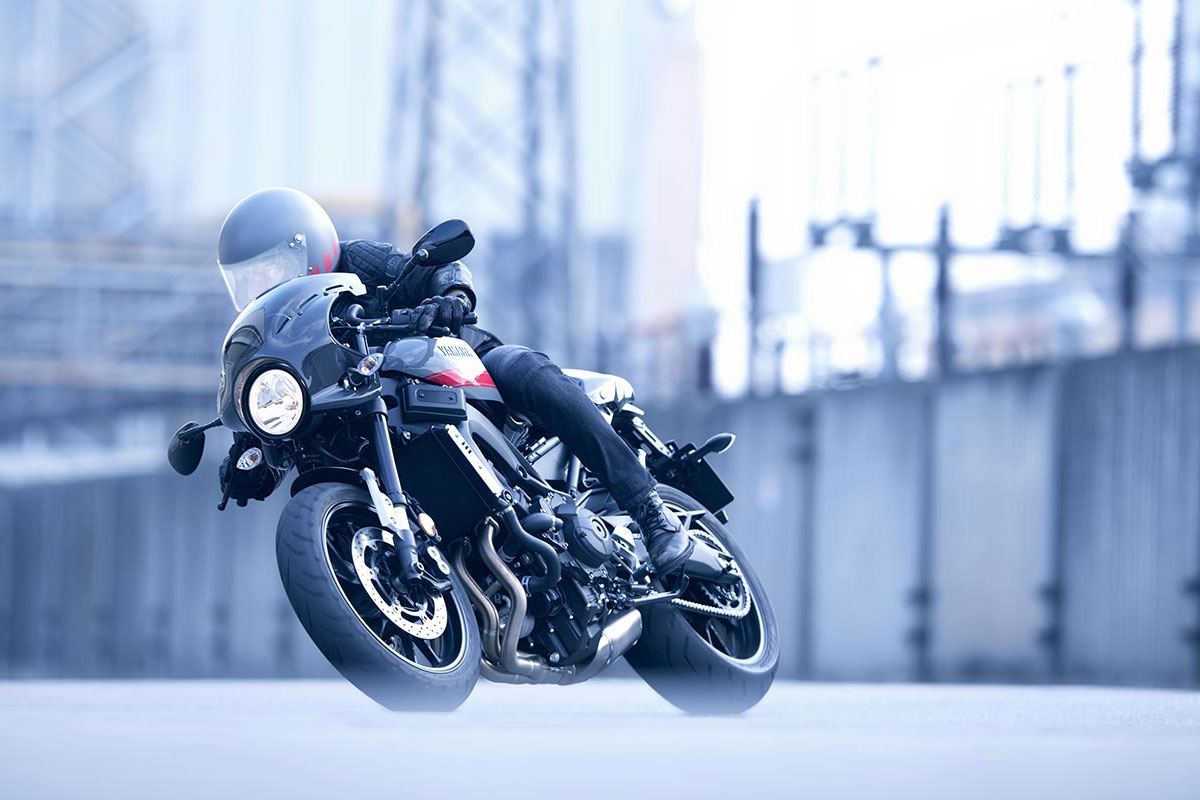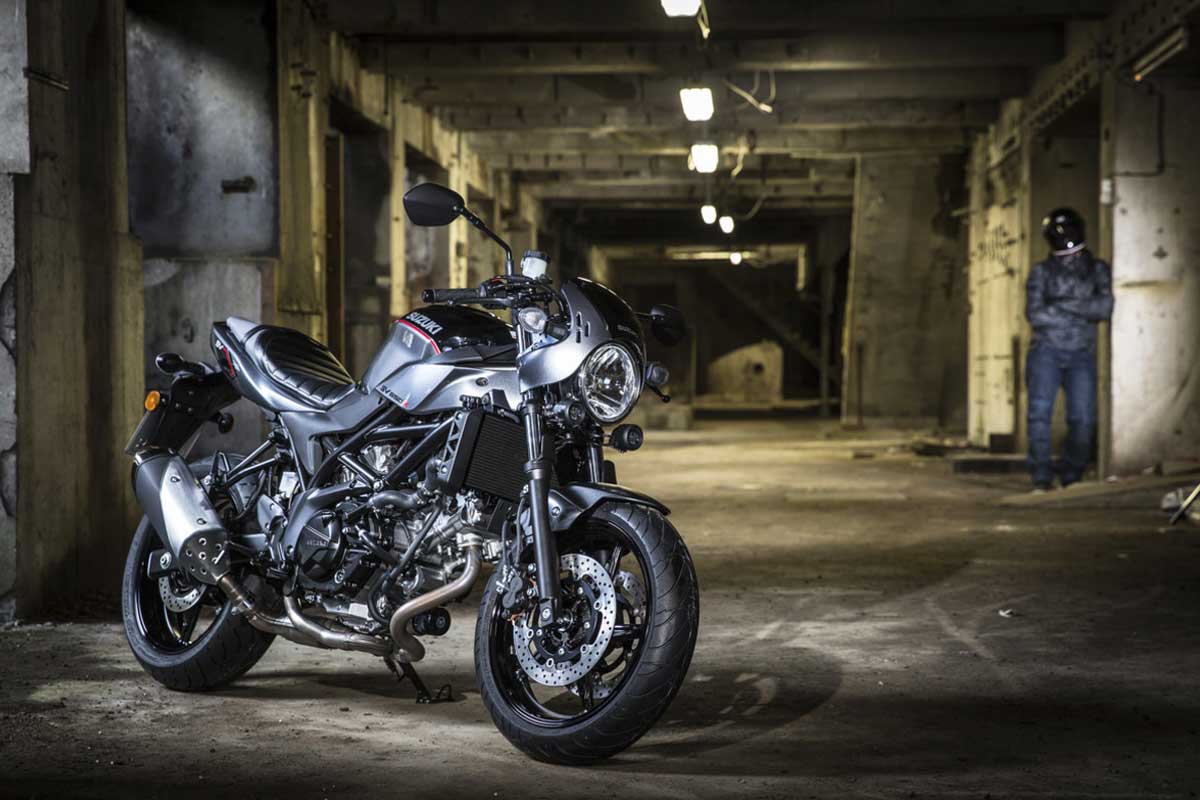 Other cafe racers for sale…
You can't love em all…but you can try. Here are two other modern cafe racers for sale. They didn't make my top 10 cut for various reasons…but they are still worth a look.
Yamaha XSR900 Abarth – Yamaha's XSR900 offers amazing bang for your hard earned bucks. Last year Yamaha teamed up with Italian racing brand Abarth to create a limited edition model. The big changes here are once again limited to styling with plenty of carbon fibre accents. Only 695 units were made and sold for around $12,000 USD. Unfortunately, your only chance of getting one now is in the second-hand market. The XSR 900cc triple won't disappoint however the Abarth version is reportedly rather uncomfortable to ride.
Suzuki SV650X – A cafe racer version of the long-running Suzuki SV650 platform. The SV650X features cafe racer styling laid over a stock SV650 powerplant. It's a well priced, decent performer that is positioned to take on the likes of the XSR700.
So there you have it. An impressive collection of off-the-shelf cafe racers for sale. Regardless of whether the naming convention is right or not these retro-styled rides are perfect for those who want classic looks and the latest in performance and safety technology.