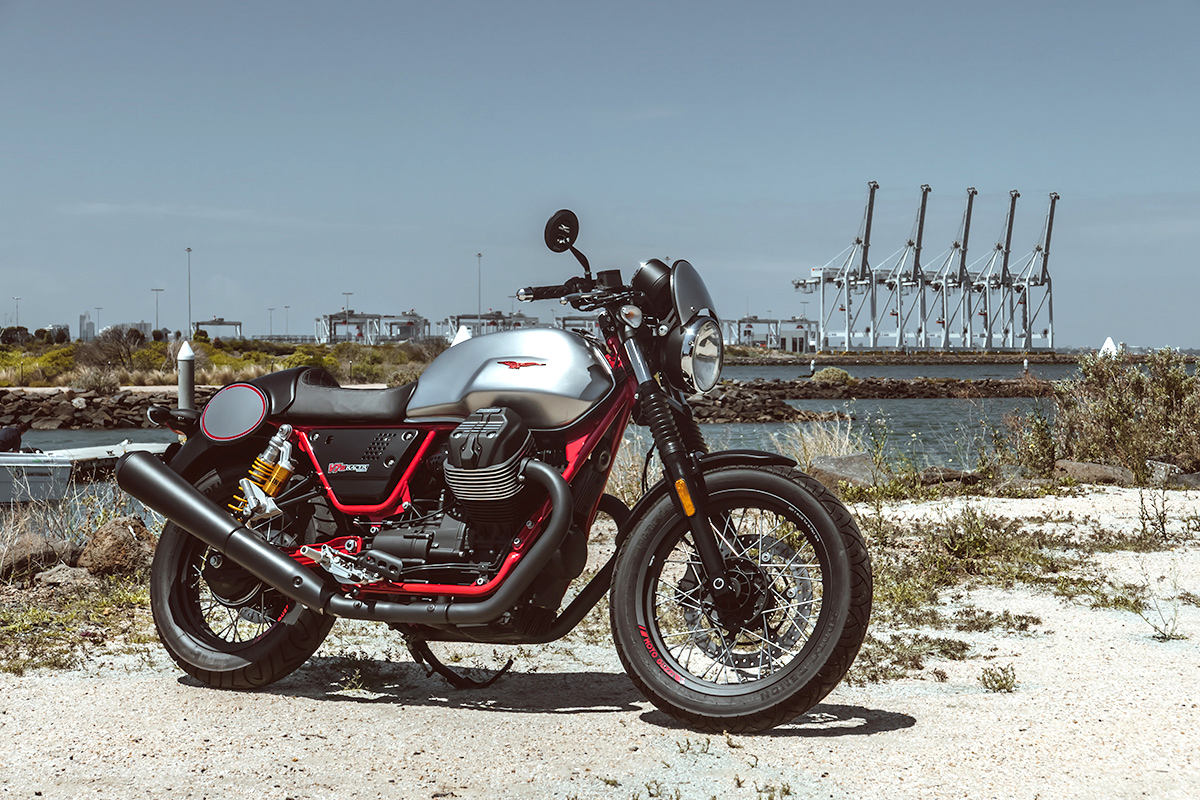 50 years and counting
It all began back in '67 when Moto Guzzi unveiled the V7 700, an air-cooled, 757cc transverse V-twin that laid the foundation for decades of big Guzzi twins. Five years later in 1972 Moto Guzzi unveiled the V7 Sport. The Sport featured a, for lack of a better word, sportier appearance with its low slung handlebars and racing-inspired bodywork. It wasn't simply about looks though. The Sport was the brainchild of Lino Tonti, an engineer with a passion for racing. He sat the v-twin within an all new double cradle frame that wore the latest in suspension and brake technology. Its performance was also sports-focused with a higher powered, slightly smaller capacity version of the transverse twin that allowed racers to enter them into 750cc classes and to top it all off it was capable of achieving a coveted 200kmh.
In 2007 Moto Guzzi reintroduced the V7 to their lineup. Styling was very much in line with the original bike but boasting the latest technology. True to its origins the 2007 V7 was powered by a modern interpretation of the 750cc 90-degree twin. This bike and its variations that followed became Moto Guzzi's best sellers. Now, 50 years after the first V7 we have the V7 III.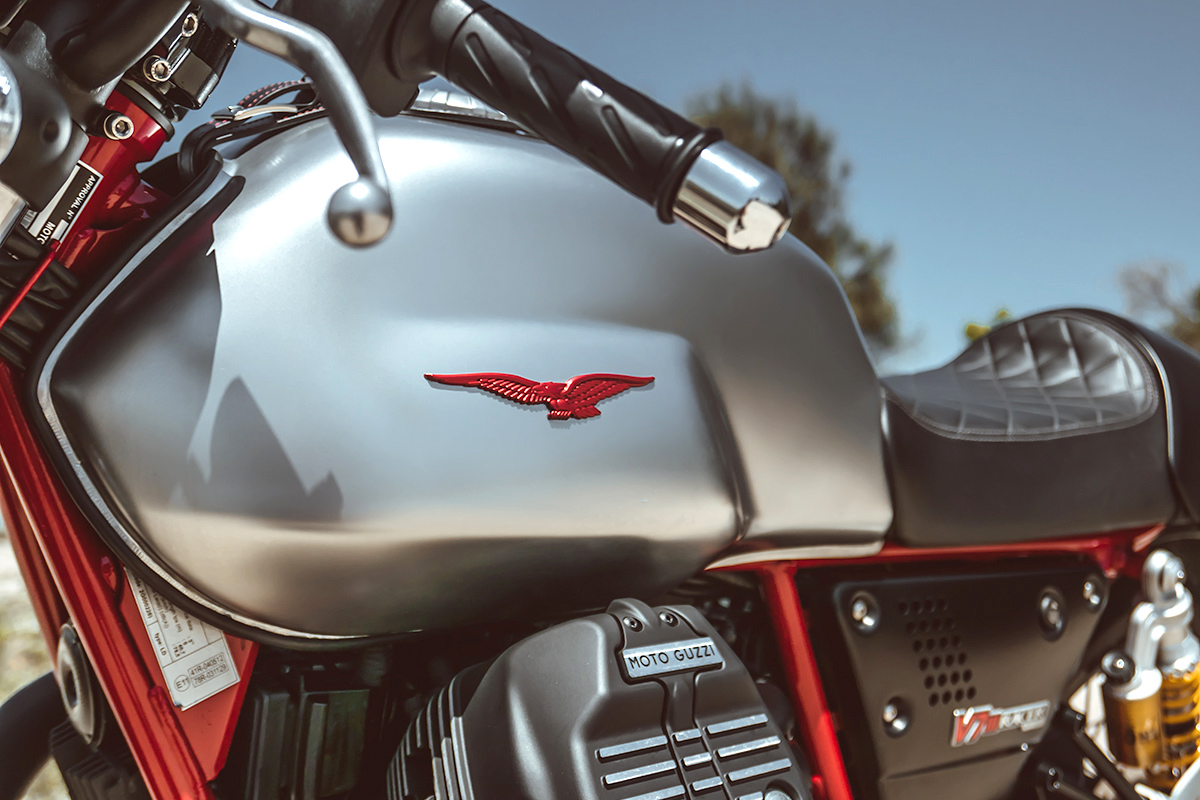 Racer styling
The V7 III comes in 4 flavours, the Stone, Special, Anniversario, and Racer. The key differences between each are primarily styling and accessory based aside from the Racer which features a few performance tweaks. These new models boast a 10% power increase over the outgoing models and the engine itself has been visually beefed up. Moto Guzzi has also upgraded the clutch for durability and tweaked the suspension using Kayaba adjustable rear shocks. Seat height has dropped slightly and there are 2 modes of traction control that can be completely switched off if desired, but you'll have to do it each time you fire the bike up.
When it comes to styling the V7 III Racer is the sportiest of the bunch and my pick for obvious reasons. Out on the street, it's also going to be the one that turns the most heads. Even alongside the chrome tanked Anniversario the Racer's striking Rosso Corsa red chassis demands attention. On the outgoing V7 II, they used a metallic finish for the frame which looked great, but you simply can't go past this classic color that is a hat tip to Tonti's original V7 Sports paint scheme. Satin black also plays a big part in the look of the Racer. Aside from a few touches of raw alloy the engine is entirely black as are the fenders, the wheels, and those awesome megaphone style exhausts. Not only does all that black draw your focus to the bikes best features it also adds plenty of attitude to this Italian stallion. The third color treatment you'll find on the V7 III Racer covers the tank and tail panels and it's so close to raw aluminum you'd swear that's what it is, but in fact, it's what Guzzi call matte chromium silver and it's bloody beautiful. Branding on the Racer has been kept to a minimum which is never a bad thing with the only Moto Guzzi stamps being small ones on the wheels, tail and filler cap. On the Racers fuel tank, you won't find any mention of Moto Guzzi. Instead, you get are a pair of very smart looking red anodized eagles and a trick leather strap that runs down its spine. Up front, there's also a small "fairing" which I could take or leave but the headlight, which has an unmarked clear glass lens has a great vintage feel to it.
Unfortunately, the tail of the Racer is where things get a little awry. While the rear cowl itself works well with the café aesthetic those number plates confuse things somewhat. To my eye, they give off a scrambler vibe that is a bit of a mismatch for this theme. Thankfully removing 4 small bolts lets you remove the entire hard cowl to reveal the hump of the diamond stitched saddle that looks great on its own and deserves to see the light of day. While I'm nitpicking I will also say that the rear light assembly looks like a bit of an afterthought (I'm sure someone is already creating up a tail tidy kit that will work wonders for the bikes bum) and there's a lower engine cover that's made from plastic which on a bike with such an exceptional level of quality is a bit disappointing. All up however the Racer is about as close to a cafe racer as you could expect from a factory bike; and that's a really good thing.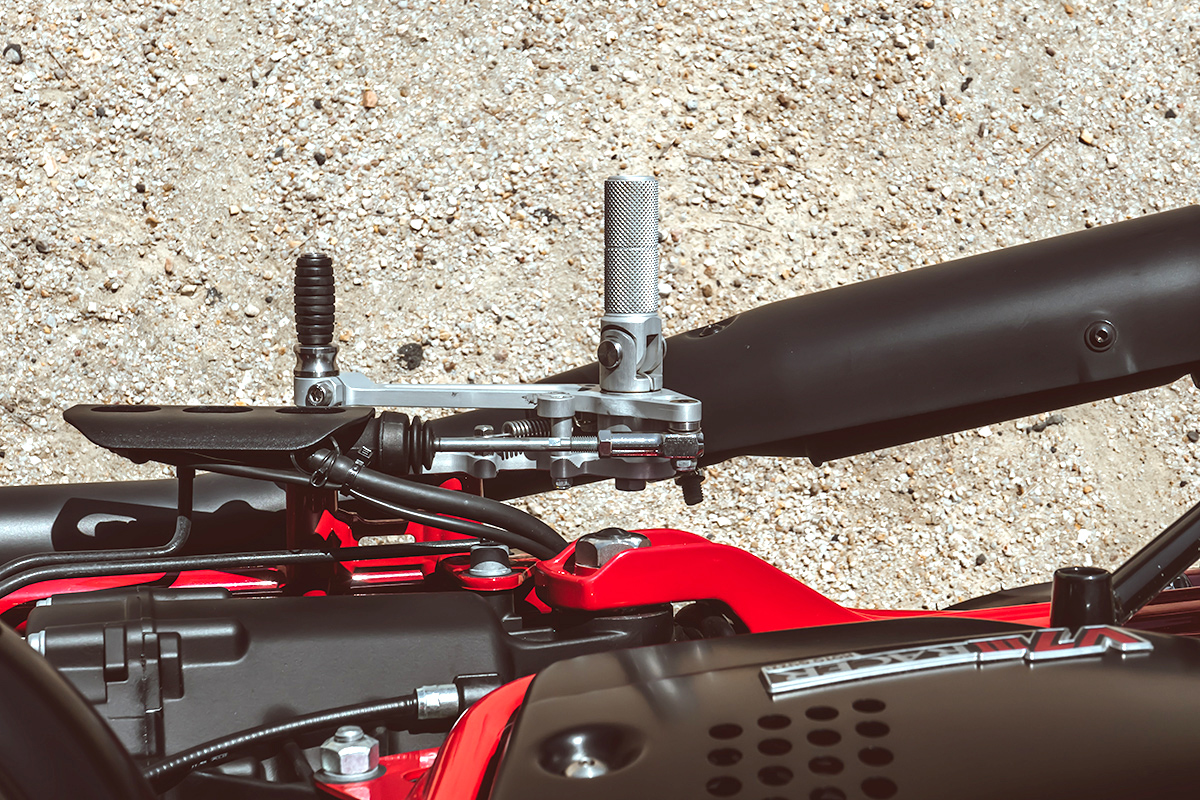 Sportier specifications
As I already mentioned this third iteration of the new V7 has a 10% power increase over the previous model but that's not the only improvement. The clutch feel has been lightened and shifting through the gears is smooth and effortless. That lovely red chassis has been redesigned to improve the ride and on the Racer, it's bolstered by a high-end suspension upgrade at the rear in the form of adjustable Öhlins shocks. Racer owners will also get a revised, more purposeful café racer riding position with lower handlebars and alloy rear set pegs which cleverly look a lot like aftermarket items.
In keeping with the Racers classic looks, Guzzi have opted for a twin-dial speedo/tacho set up. You get 2 different traction control settings and a load of information you can pull up on the digital display. Unfortunately switching between the traction settings is a lot more difficult than expected, but like me you'll probably just leave it alone most of the time. One other aspect of the Racer that makes it really special is that only 1000 of them will be rolling out of the Mandello factory. I had the pleasure of riding number 104, its a small detail that shouldn't mean a lot, but it does make you feel like your sitting on something extra special.
Riding the Racer
My first impression when I sat on the V7 III Racer was that it felt rather long and heavy. The Racer weighs 460 pounds and has a wheelbase of 57.6 inches. Neither of those figures is excessive so I put my feelings down to the riding position. After an hour or so in the saddle, the feeling remained but it wasn't affecting how I handled the bike at low or high speeds. The Racers suspension instilled confidence and thanks to its low center of gravity pulling a slow-moving u-turn in city traffic was a cinch. With 52 horses on tap, the Racer isn't the fastest modern classic money can buy. It will, however, get you up to speed with plenty of gusto and without quadrupling your local speed limit. Let's be honest though, if you're out to set lap records this isn't a bike that would be on your shopping list.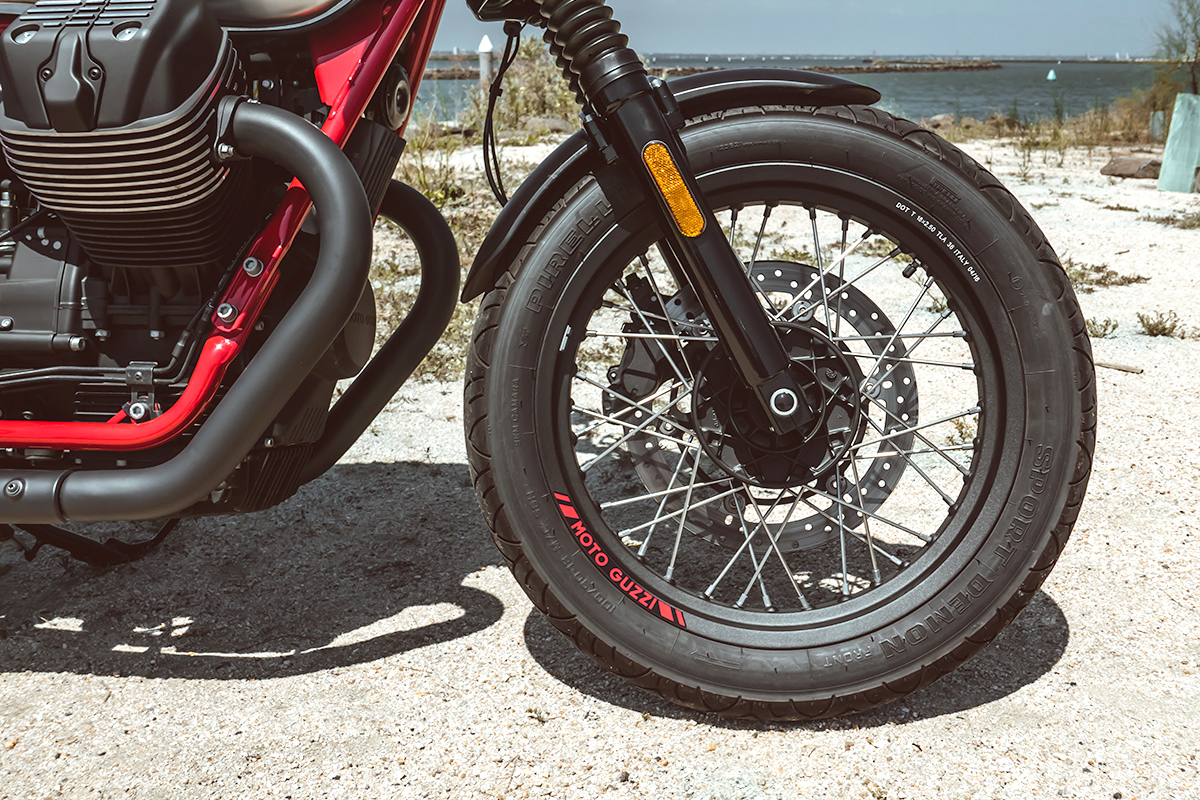 Many of the modern classics available on the market today possess all the visual cues required to link them to their ancestors, but that's usually where the similarities end. This isn't the case on the V7 III. There's no denying it's a modern motorcycle, it has ABS, traction control, and EFI, but it simply sounds and feels more like an old bike.
When you fire up the V7 III Racer you get a quick taste of the classic transverse twin twist. A characteristic synonymous with this engine and drivetrain configuration that pulls the whole bike to the right when it starts or you flick the throttle. Thankfully this is the only time you'll really notice it. Be warned, however, you may find yourself twisting that throttle at traffic lights for your own amusement.
Sound plays a big part in the experience of riding a motorcycle and the Racer sounds exactly as you'd hope. Despite their mammoth proportions, the mufflers put out a pleasant burble and as the 750 thuds away beneath you, it's harmonized by a symphony of purposeful clicks, clacks and the occasional mechanical whir of the shaft drive. These are the sounds I expect to hear from the engine of a bike that looks like the Racer. Whereas on other Modern Classics these sounds are replaced by buzzes and whines that simply don't evoke the same emotions as this engine does.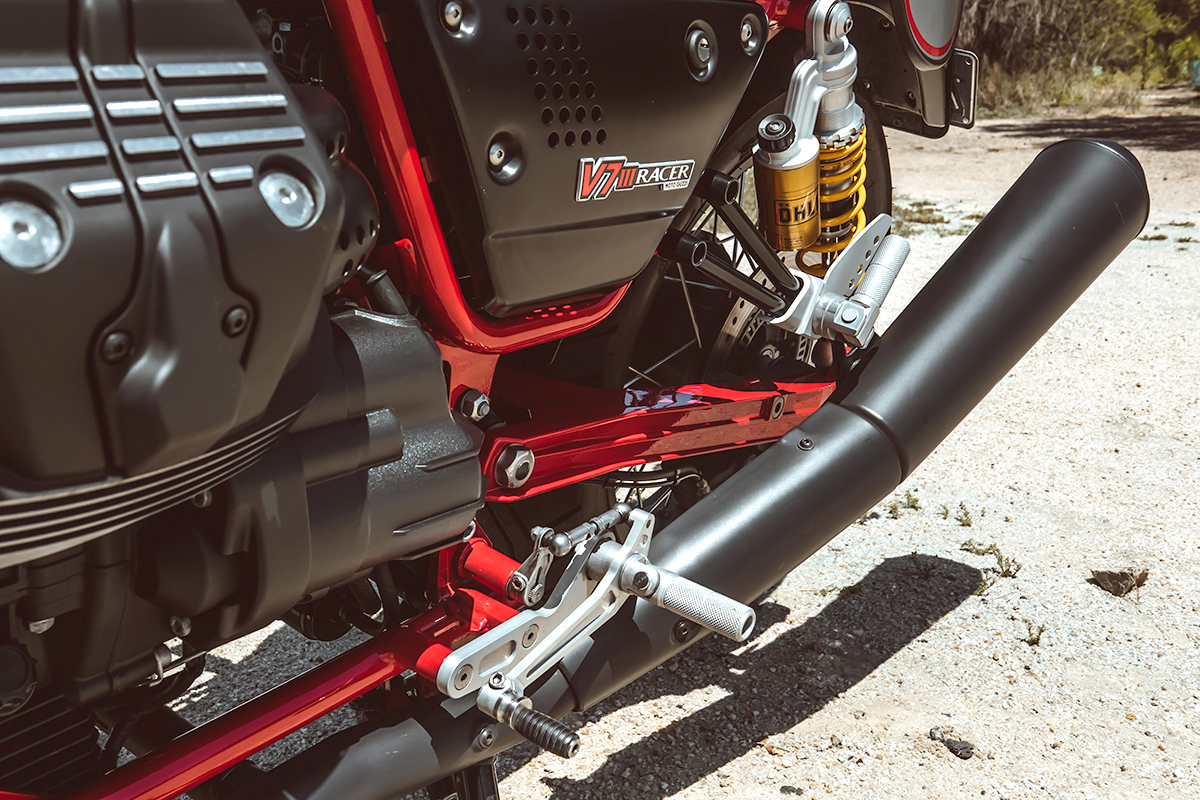 If you're in the market for a motorcycle with true retro appeal Moto Guzzi have created the perfect candidate. While there are aspects of the V7 III Racers appearance that I think it could do without there's no denying this is a very good looking motorcycle. Add to that an engine that sounds and feels appropriate and you've got an accurate definition of what a Modern Classic should really be.
THE BAD:
Tail end design confused
Plastic engine covers
First gear runs out too quick
THE GOOD:
Top notch paint scheme
Classic engine sound and feel
Limited run exclusivity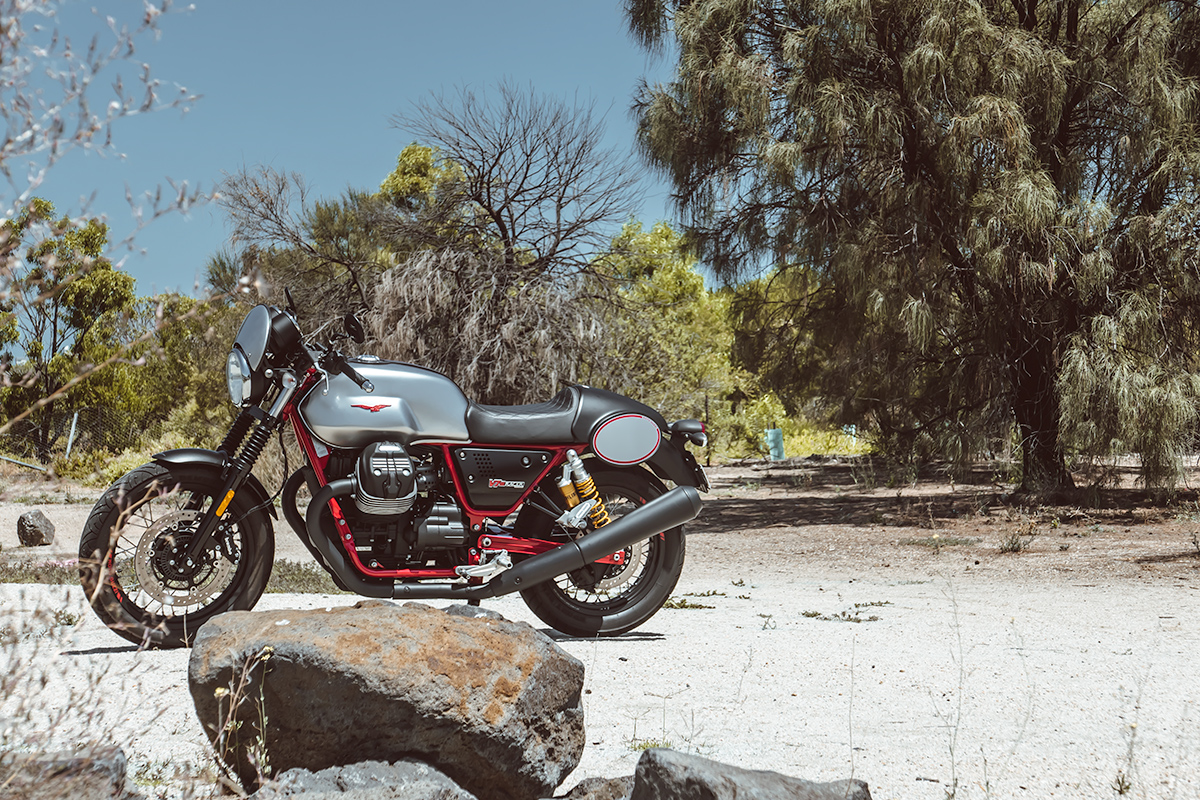 After being away from home for the last half of 2017 and without a motorcycle I was chuffed when <a href="https://www.returnofthecaferacers.com/category/moto-guzzi-cafe-racer">Moto Guzzi</a> Australia offered up one of their latest models for me to <a href="https://www.returnofthecaferacers.com/category/ride-review">review</a>. It's been a while since I'd been in the saddle of a Moto Guzzi. My last MG test bike was the first generation V9 Bobber which I reviewed for Tank Moto Magazine, this time, however, they were offering something much more my style, the V7 III Racer. The V9 had left me a tad underwhelmed so I had some reservations when it came to the V7 III, thankfully this cafe racer styled Italian did not disappoint. But first a quick look at the V7's history…