Back in 1997 Moto Guzzi celebrated their 75th anniversary with the release of a special and rather unusual motorcycle. Coined the V10 Centauro, after the half-man half-horse beast from Greek mythology, it was Mandello del Lario's oddball answer to the Ducati Monster.
By all accounts, the Moto Guzzi Centauro was a decent performer. Shoehorned into the bike's frame was a retuned version of the Daytona Sport 992cc 8 valve v-twin that produced 92hp and 92Nm of torque. Combined with handling optimized by WP Suspension the bike delivered an enjoyable riding experience despite a hefty wet weight of 242kg (533lbs).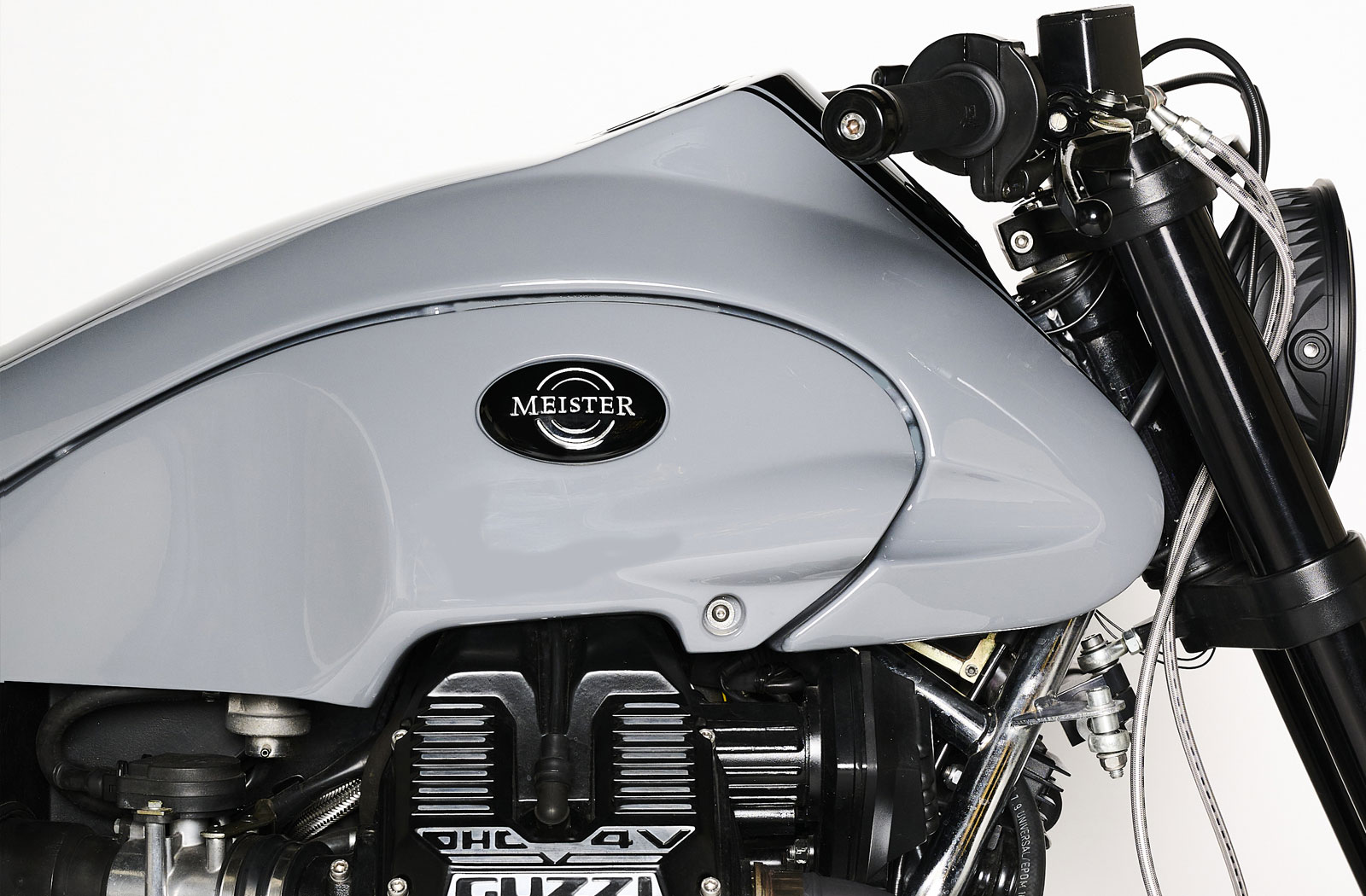 The Centauro was Moto Guzzi's late nineties attempt at a naked sports bike. Although only released 3 years earlier, the Ducati Monster had amassed a huge global following and Guzzi wanted a slice of the pie. Unfortunately, the Centauro was more aesthetically akin to a laid-back portly cruiser than the sporty naked roadster.
The front half of the Centauro was dominated by a huge sweeping fuel tank. The seat was a 3 part faux par that started halfway up the tank. And the tail unit and exhaust pipes bore an uncanny resemblance to Suzuki's yet-to-be-released '99 Suzuki Hayabusa. It was a unique-looking motorcycle, to say the least, and would attract a lot of attention out on the street, but not always for the right reasons. But now, over a quarter of a century after its release, Antoine Meister and his team at the Swiss workshop Meister Engineering, have proven that this ugly duckling has the potential to be highly desirable.
"This was a client project on a weird (or ugly?) looking '98 V10 Centauro Sport that was in original shape," says Meister Engineering team member Adrien Lombard. "But it came out quite good! It's also a pretty rare model too with only 401 units produced."
Meister's transformation of the V10 Centauro took 4 months to complete and was predominantly a visual overhaul. Based loosely on a design their client presented to them the finished result is much sportier and visually pleasing than the factory unit. And it's all thanks to a collection of well-planned and executed modifications and upgrades.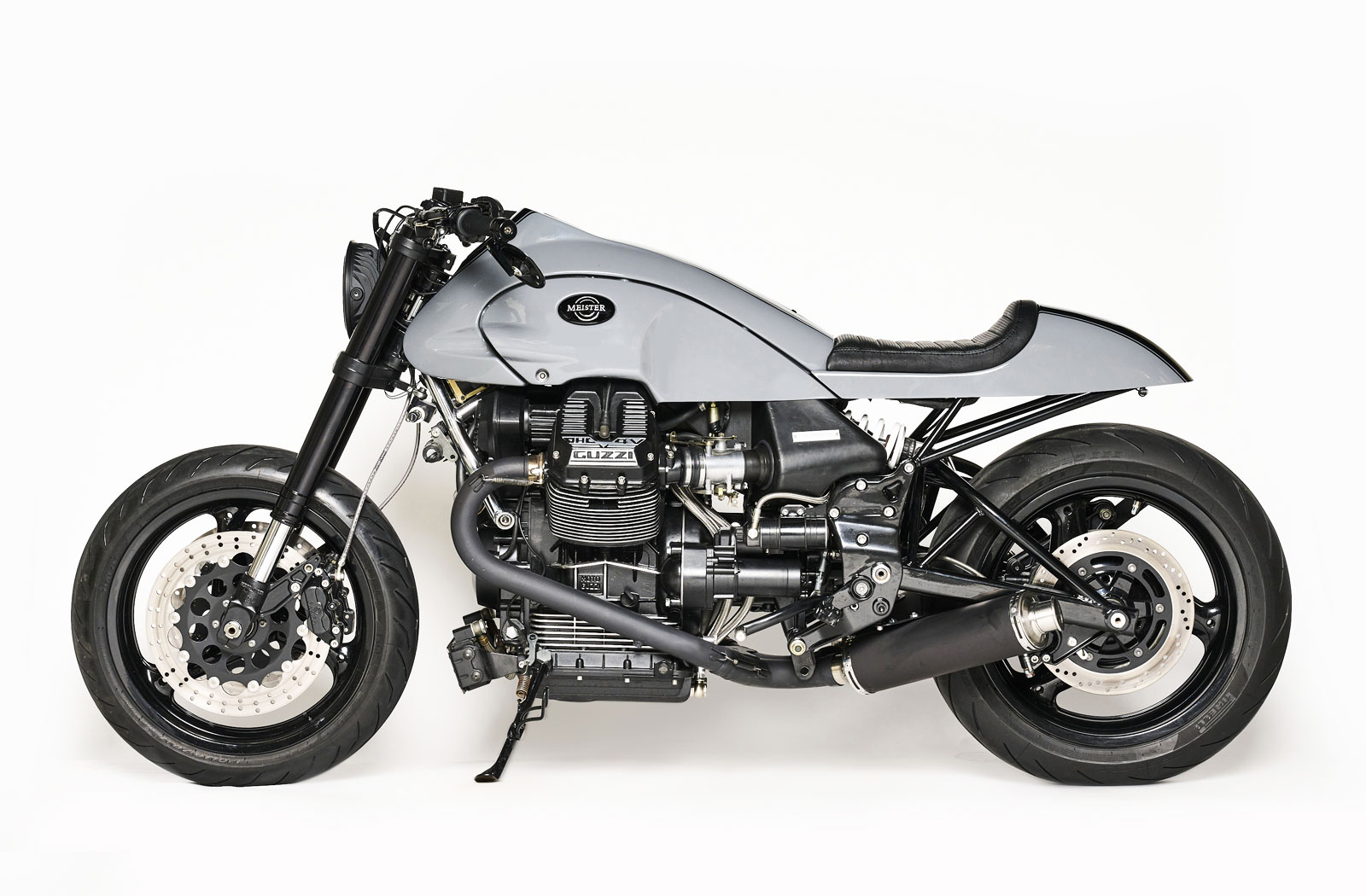 The biggest changes are of course to this Centauro's bodywork. Meister achieved the new look by reworking some of the existing components along with entirely replacing others. The fuel tank is one of the Centauro's defining features. Along with its unique shape, it features distinctive inlets on its side panels that draw air into the airbox. Seeing as the V10 Centauro is of historical significance Meister decided it had to stay, but not without some finessing.
The first step was to establish a horizontal bone line which is a common trait of Meister's work. This was accomplished by trimming the bolt-on side panels so they run parallel to the ground. This approach inadvertently exposed the factory air box but thankfully the one on this bike somehow manages to be visually appealing.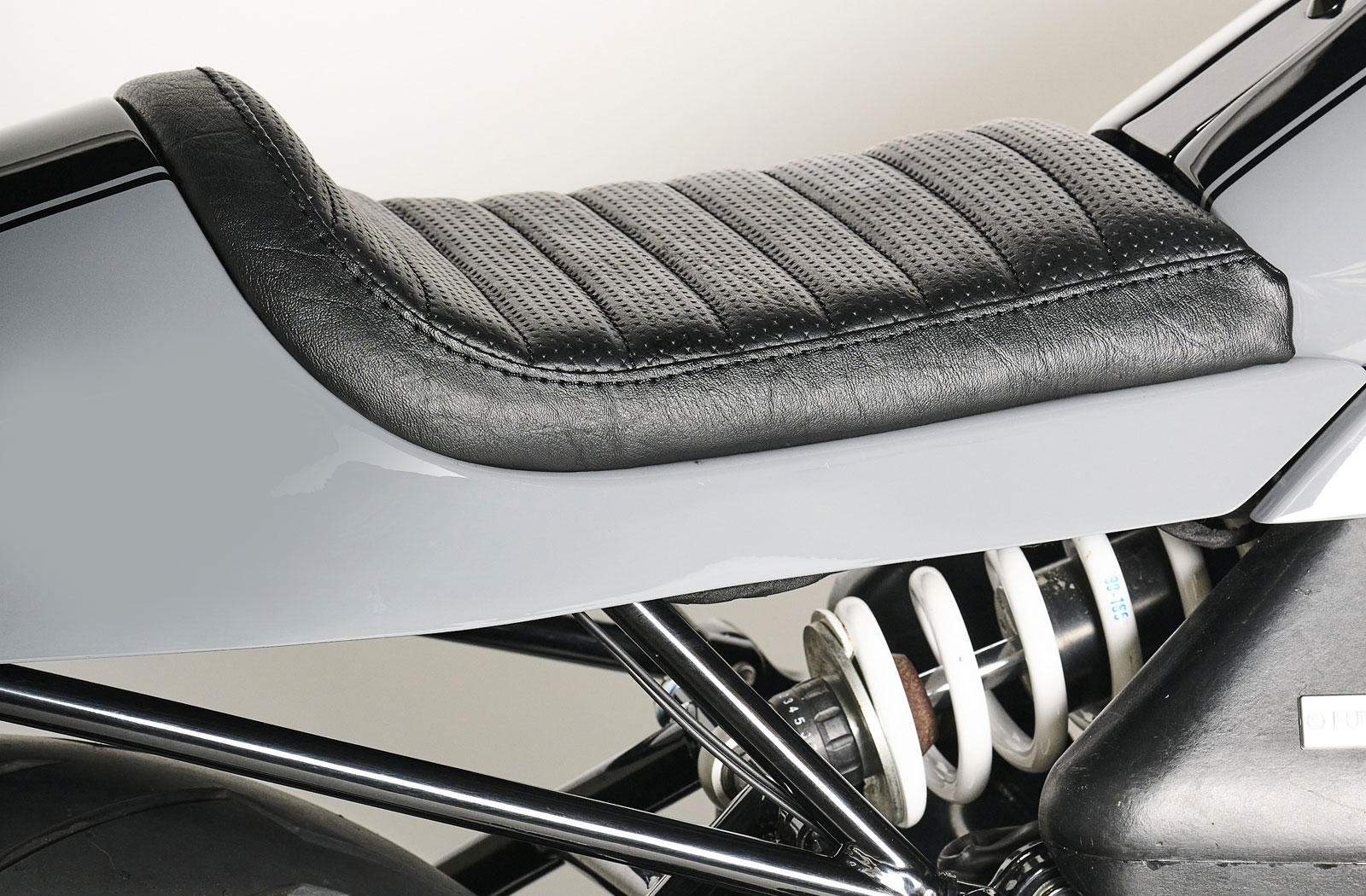 With the bike's rear end, the Meister team took a much more aggressive approach. Replacing the Hayabusa style haunches is a custom-made cafe racer-esque wasps tail cowl. Featuring a svelte tuck and roll leather saddle it sits level with the tank on an all-new subframe. Being based in Geneva Meister's work is subject to Europe's strict automotive homologation codes so the subframe and all other modifications on this bike have been certified and approved.
To keep everything looking clean rear-end lighting is provided by dual function ultra bright turn/brake signals and the license plate relocated to a custom-made, side mount bracket. Front-end lighting has also been given an overhaul with tiny LED turn signals mounted to the handlebars and a slim LED headlight nestled between the yokes.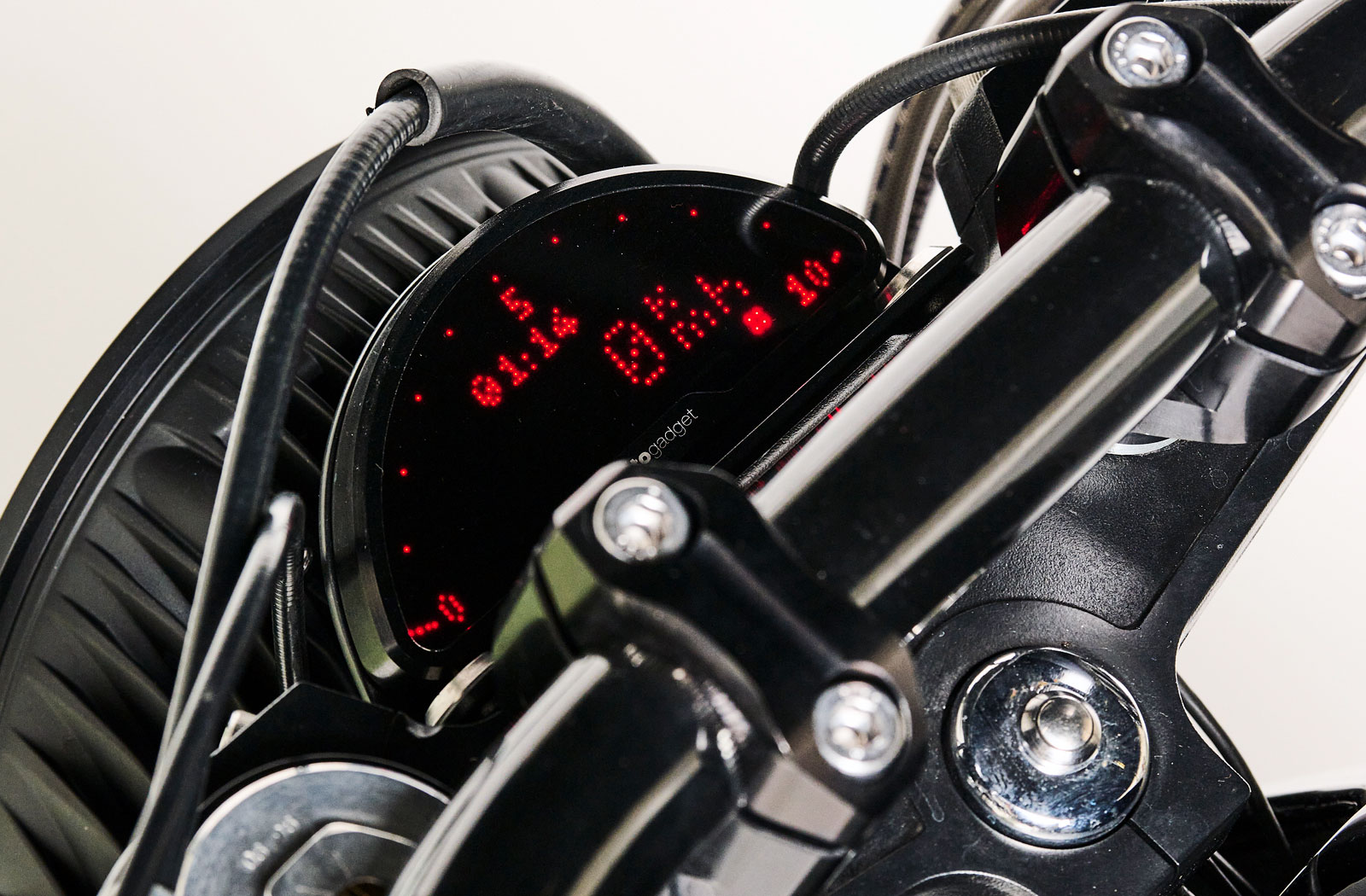 Accompanying the Centauro's new lighting arrangement is a collection of other modern accessory upgrades. Sitting atop the headlight is a Motogadget Motoscope Pro digital gauge. The new roadster-style handlebars sit in aftermarket risers and wear LSL grips, levers, and a quick-action throttle assembly.  A single bar end Motogadget mirror hangs off one end and there's all-new Motogadget switchgear too.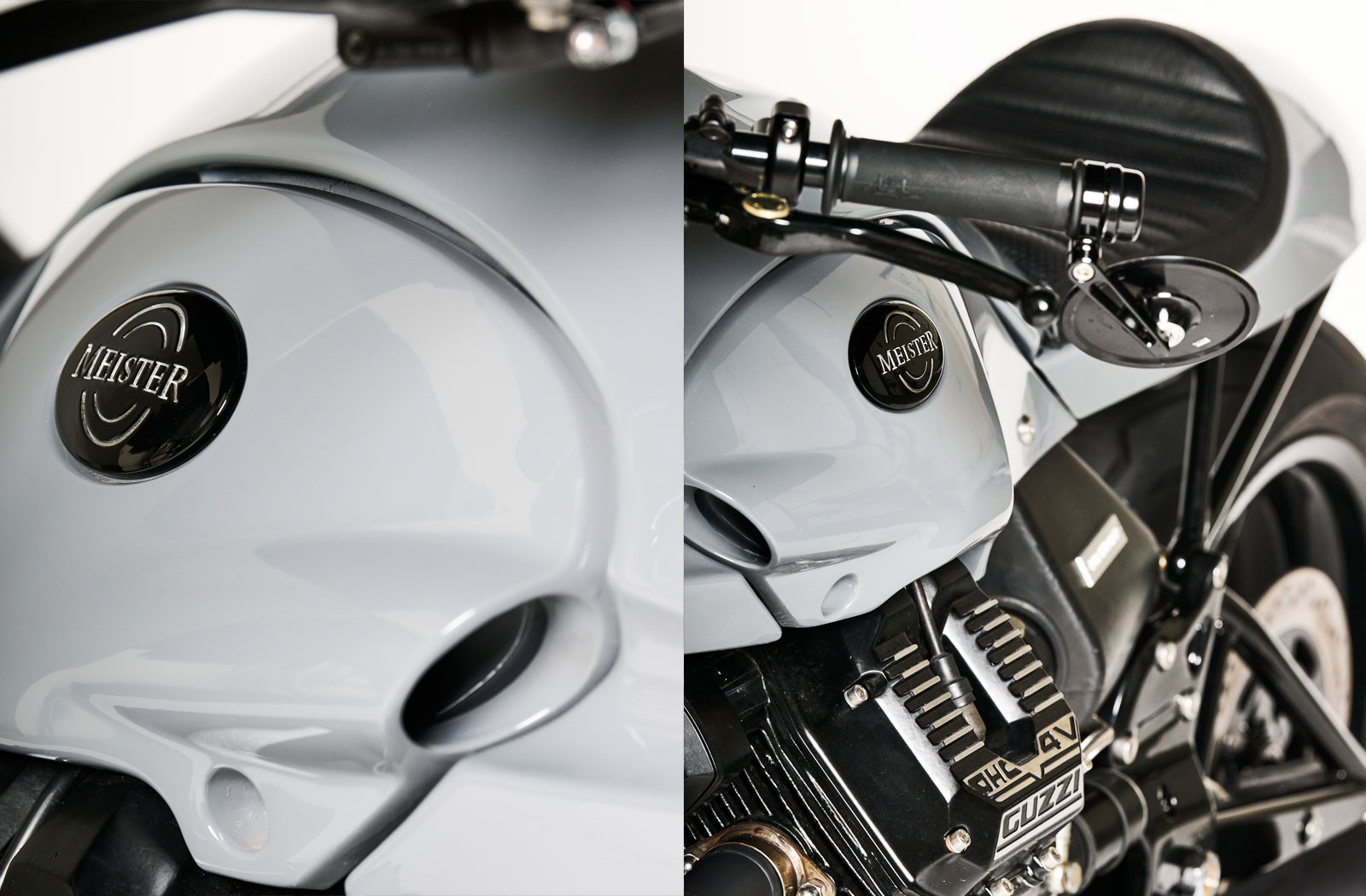 In regard to performance, Meister opted to keep things pretty much standard. Their V10 Centauro Sport donor was in near new condition so a custom exhaust and a carb retune are the extent of any power upgrades. The WP suspension and factory brake setup remains untouched too. However, to ensure the bike could live up to its sportier aesthetic there are Avia braided brake lines and high-performance modern rubber.
As they say "Excellence is in the details" and excellence is certainly what's been achieved here. To complete this project Meister gave the entire engine a fresh coat of high-temp black before painstakingly polishing all of the fins on the engine cases. The front end of the frame has been chrome plated, the wheels refurbished and the bodywork finished in a sleek modern grey. Even the fuel injection badges that once sat on the side panels have been relocated to the airbox and a set of one-off Meister Engineering badges fabricated for the fuel tank. So despite once being an Italian oddball, this Moto Guzzi V10 Centauro has exceeded all our expectations.