Building 2 identical motorcycles probably wouldn't sound all that appealing to most builders. But for Antoine Meister who runs the workshop Meister Engineering it was precisely what he set out to do with his latest project.
For the last 10 years, Antoine and his team have been building custom motorcycles from their HQ in Geneva, Switzerland. Anyone familiar with Swiss homologation laws knows that registering a customised motorcycle there can be a real challenge. So as part of his business model, Antoine has amassed a collection of certifications that allow him to perform approved modifications to frames, suspension, exhausts and brakes. This is of course a highly valuable thing to have in such a strict market and it's helped to attract many new customers through his doors.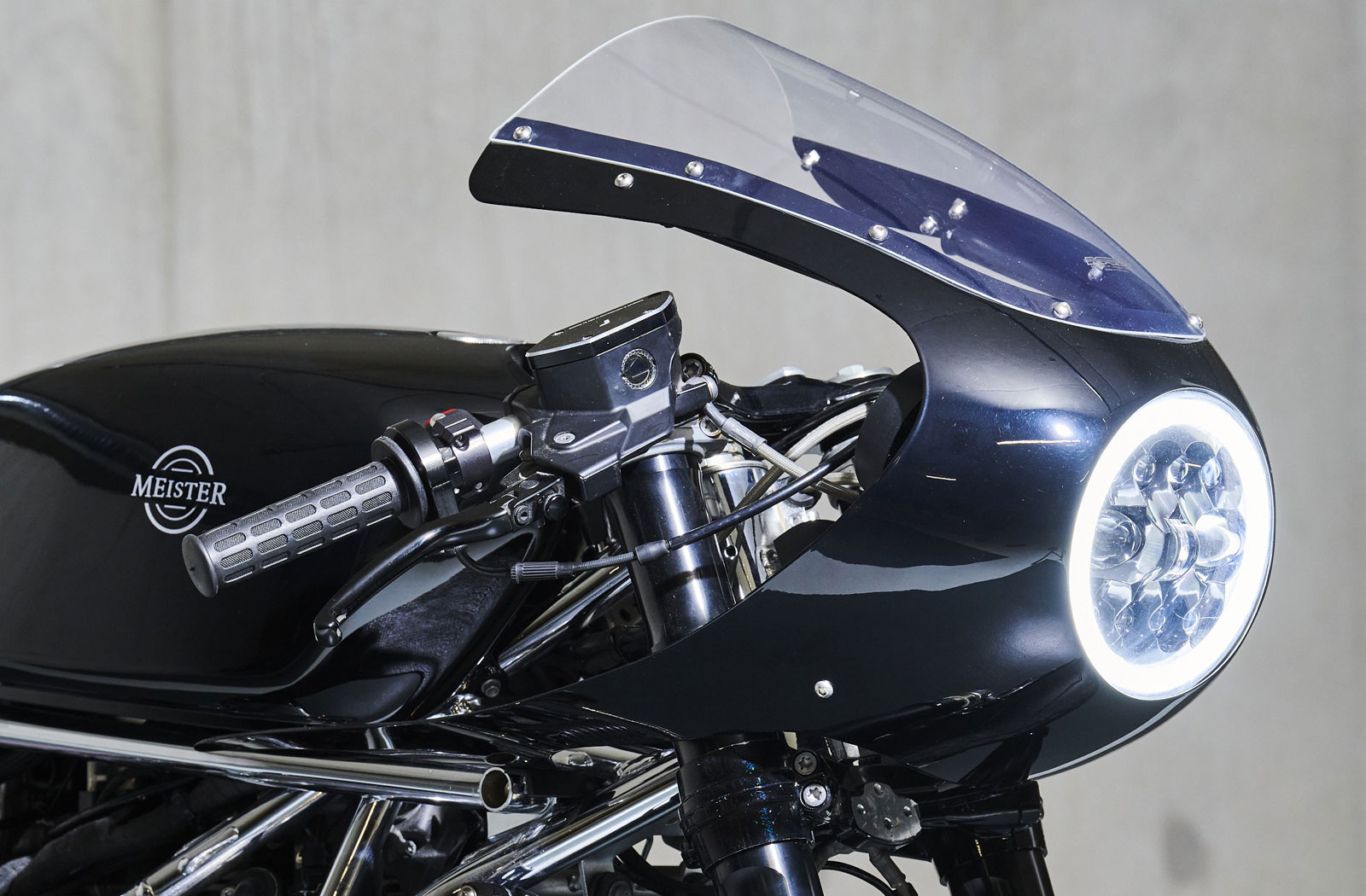 For this build, Antoine's end goal was a little different. Using a 2014 BMW R Nine T he set out to demonstrate how a timeless design can be applied to any era of motorcycle. To do this he took a look back at one of his past builds, a '77 BMW R100S cafe racer and used it as the style guide for his R Nine T.
"I built this bike for myself and the specifications were to make it look as similar as possible to my 1977 BMW R100S," says Antoine. "The bike had to keep a harmonious line and be 100% reliable. This is always my approach as this is what I feel characterizes BMWs."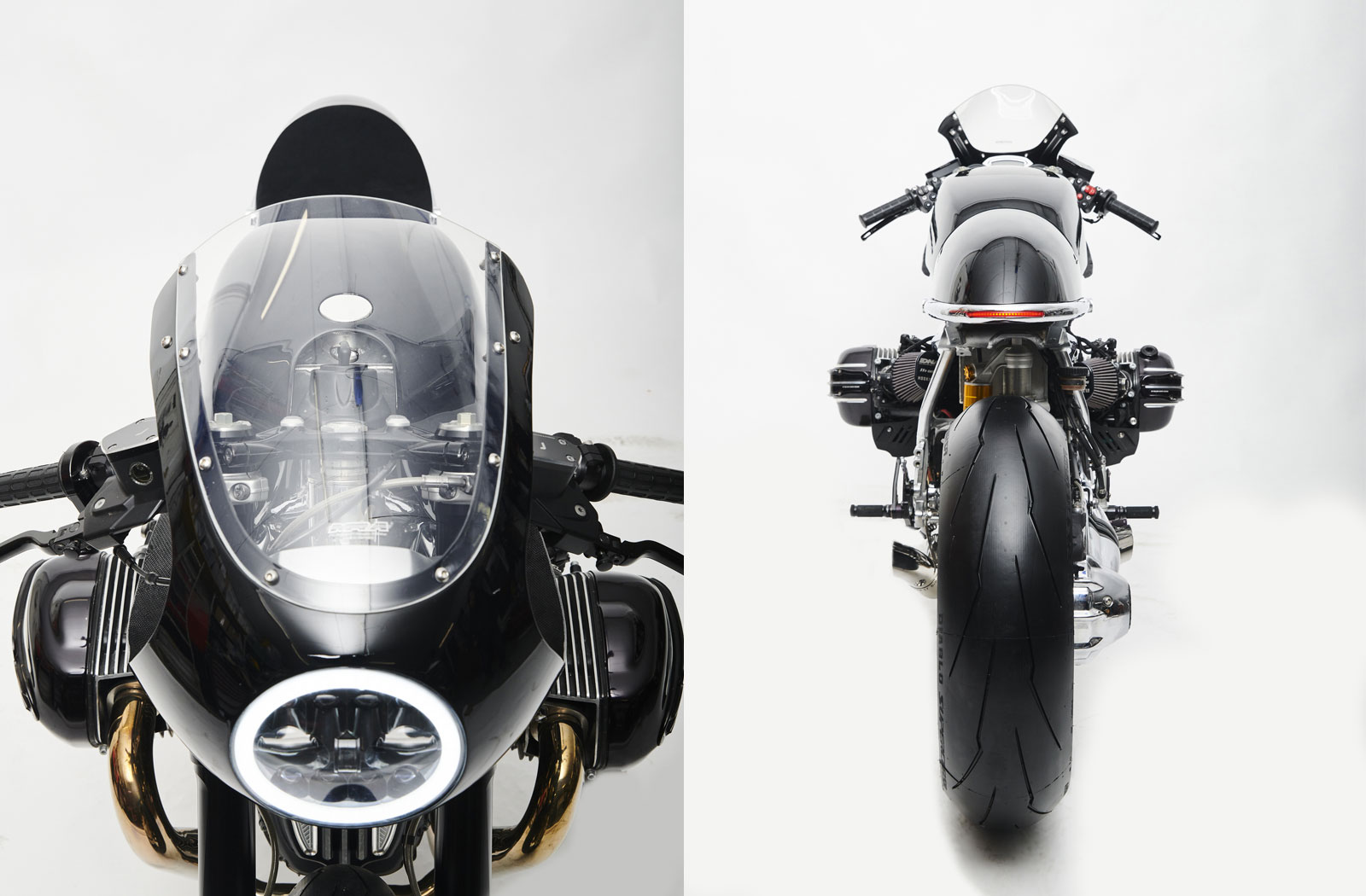 "The R Nine T donor for this project was found in Zurich," Antoine recalls. "I bought it for myself and rode it on trips around Switzerland with friends. But since I can't help transforming everything that passes through my hands, when I came back from vacation I completely disassembled it to reimagine it in my own way."
Despite an age gap of 37 years, the 2 Meister motorcycles bear a striking resemblance to one another. This is due largely in part to Antoine's approach with the bodywork and a handful of carefully considered styling touches.
Antoine began the build with a digital rendering. Using photoshop he overlaid elements of his R100S onto the R Nine T. Once he was confident everything was going to work he and his team wasted no time chopping into the R Nine T.
After a full tear down work began with modifications to the chassis. Similar to the R100S the stock R Nine T subframe was replaced by a custom version that levels out the BMW's bone line. Antoine dispensed with all of the modern brushed alloy trimmings and removed superfluous brackets and mounting points. Then to once again draw a connection to the R100S the entire structure was chrome plated.
The all-new bodywork draped over the R Nine T chassis is all original Meister Engineering equipment. The composite fibre front fairing, tail unit and fuel tank cover are a svelte alternative to the R Nine T's factory uniform and weigh considerably less. The matching profiles of the tank and tail create a cohesive design and everything sits low and level for a quintessential cafe racer silhouette. To complete the look Antoine had the panels shot in timeless gloss black and applied silver Meister Engineering tank graphics.
Along with transforming the look of the R Nine T Antoine set about optimising the bike's performance. The bike now wears a full Ohlins black suspension package. The rear shock mounts to the stock R Nine T single-sided swingarm which, like the rest of the frame, has been chrome plated. To shed some unsprung weight the BMW hubs have been laced to lightweight aftermarket rims and they're wrapped in purposeful Pirelli Diablo Supercorsa SC rubber.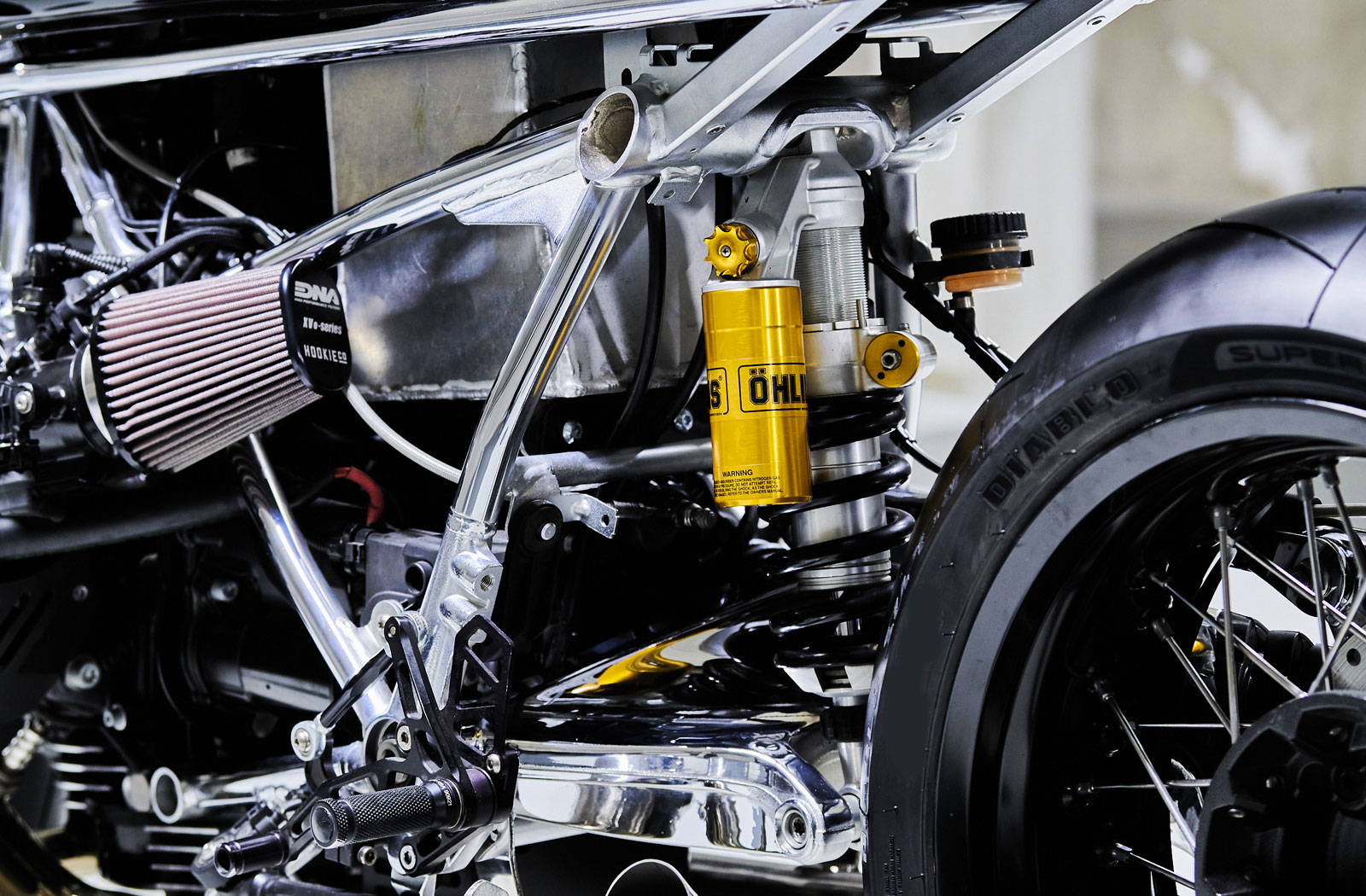 As for the Bavarian 1170cc flat-twin, it now inhales freely through a pair of DNA filters and barks out of a custom Mass Hot Road exhaust system. To get the most out of the new configuration Meister reflashed the ECU which resulted in 115hp at the rear wheel compared to the factory 100hp. On top of the 15% increase, the bike also weighs considerably less. From the fibreglass bodywork to the lithium battery mounted beneath the engine, everything fitted to the bike was carefully considered when it came to weight reduction.
To once again tie everything together Antoine has redressed the engine too. Along with hand brushing a handful of engine components, he's added a spattering of blacked-out RSD accessories that are perfectly suited to the bike's sinister scheme. CNC rear-set footpegs and clip-on bars set up and appropriately aggressive riding position and CNC machined switch blocks step up the finish a notch or two.
Despite the classic look of this R Nine T, there's no denying it's a modern motorcycle. So to complement the fact Meister has added a few modern lighting touches. The headlight is a LED unit featuring a halo daytime running light. At the rear, you'll find an LED brake light integrated into the tail hoop and there are inconspicuous LED turn signals to ensure everything is 100% road legal.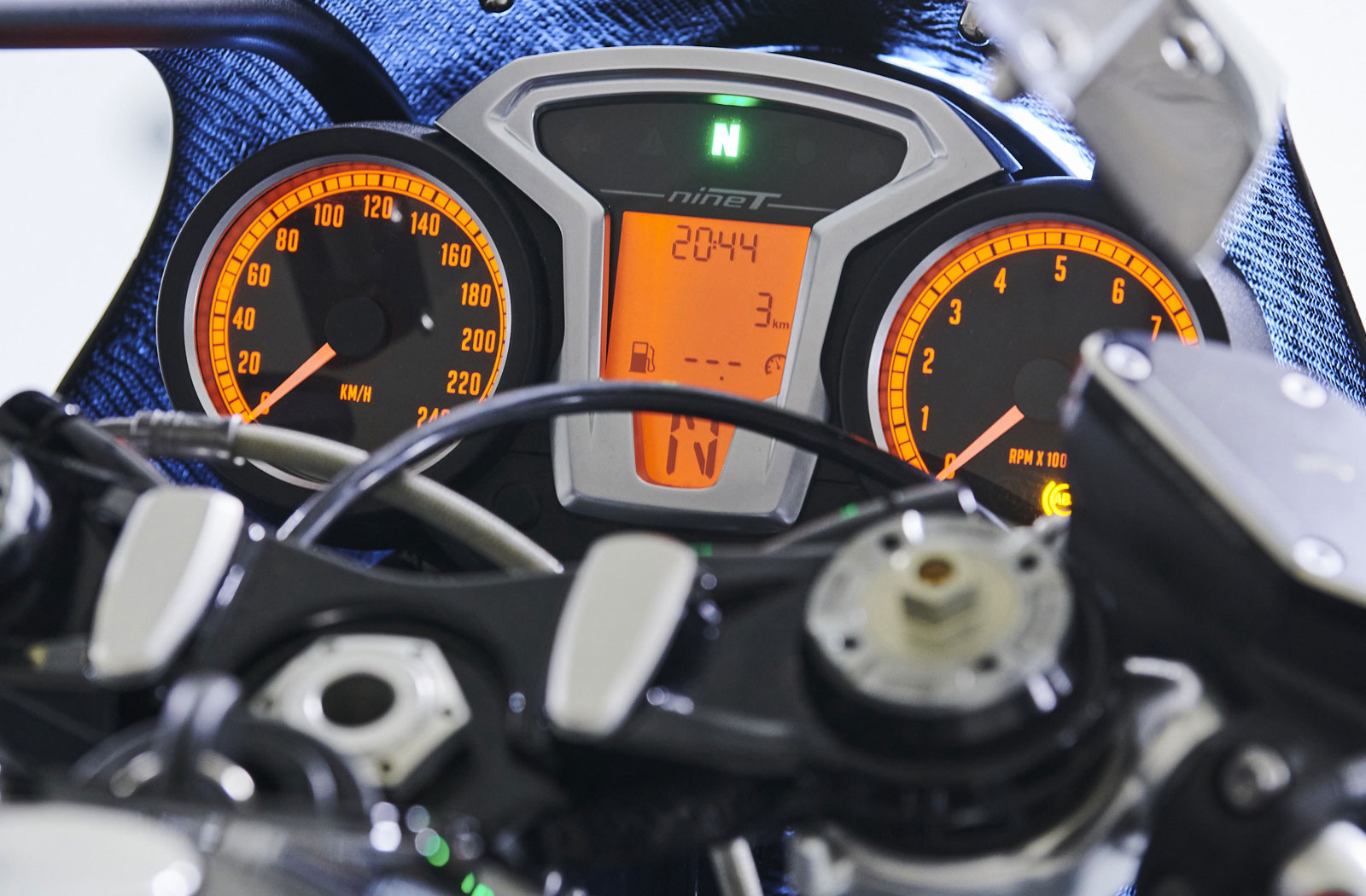 As for how this Bavarian performs compared to stock, Antoine tells us that "The Ohlins shocks make a clear difference compared to the original. The feeling of riding this bike is overwhelming. You have both a monster engine and improved agility that is unbelievable. The braking, acceleration, noise and especially the torque bring to the bike everything we like at Meister Engineering."
All up this classic conversion took the Meister team around 300 hours to complete and it was clearly time well spent. The finished bike has the same timeless appeal as Antoine's old BMW R100S but with all the benefits the R Nine T has to offer. We've already made up our minds but given the choice, which of the two would you want parked in your garage?