Jeans
Keeping your legs protected on a motorcycle goes well beyond just slipping on a pair of denim jeans. Our motorcycle jean reviews feature products that are designed to look good and keep your skin safe in the event of an accident. These motorcycle jeans will also look just as good as your regular streetwear denim so you won't feel out of place when you step off your ride.
True addicts of the two-wheeled persuasion don't let their rides sit idle an entire season simply because it's cold. All...
During the past decade, there has been some great riding gear designed and manufactured by resourceful Australians. One such Aussie...
Clutch Moto is a 100% Australian made purpose-built riding gear brand based out of Sydney. It was established by 3...
Pin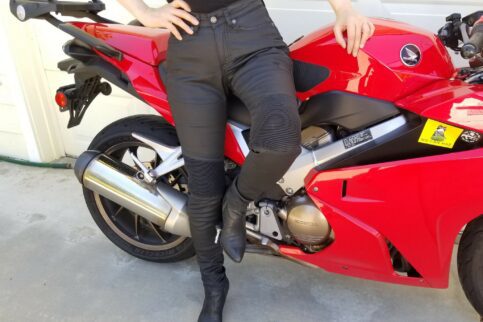 How many of us started riding because it looked cool to be on a motorcycle? You dreamed of being like...
Denim Jeans with a Protective Punch Riding pants are often overlooked when taking the bike out for a quick ride...
There have been close ties between skate and motorcycle culture for decades. Many esteemed names in skateboarding like Max Schaff,...
Specs Manufacturer: Pando Moto Price (When Tested): $375.00 (USD) €339.00 (EU) Made In: Lithuania Alternative models & colors: Black Sizes:...
These Pando Moto Mark Kev 01 pants add high abrasion resistance and armour to a classic cargo pant design. Whether...
One of our favourite advancements in motorcycle riding gear in recent years is the development of single layer riding jeans....
Similar to motorcycle riding gear, workwear has seen an increase in demand for stylish apparel. But simply looking good isn't...
We've seen a lot of great new riding gear from Pando Moto in 2020. With each new addition, they've refined...
If you're a fan of Bavarian airheads, oilheads, water-cooled boxers or flying bricks you can now fly the BMW flag...
Despite their hooligan antics on two wheels, Roland Sands Designs have established themselves as a riding gear brand that takes...
Pando Moto proved from the very early on that they are capable of making great looking riding gear. For 2020...
Anyone who has ever emerged from a sticky situation unscathed and had someone tell them how "lucky" they were, will...
When you're talking riding gear, leather has considerable protective qualities and generally looks great in a jacket. When it comes...
More and more riding gear manufacturers are catering to women these days, giving those who ride far better options than...
Call me a hipster, but if there's one thing I like more than my blue Levi's it's my black ones....
There are so many things to consider when buying new jeans for the bike. Cut, colour, style… but hang on...
The Karl Desert motorcycle jeans leverage the abrasion resistance of both Kevlar and Cordura to keep your skin safe. Despite...
Dean loved his old DT175. It was held together with electrical tape and orcish ingenuity. He mostly rode it from...
If you're the kind of rider who spends their weekdays on asphalt and their weekends on dirt these new riding...
Simply sign up to our newsletter list before December 25th, 2017 and you will automatically go into the draw. Want more...
"Obsessed with the mission of creating the perfect pair of jeans for on and off the bike, our Unbreakable fabric...
The exterior of the Scorpion Covert Pro jeans is made of Cordura 373 GSM (85% cotton, 15% nylon) fabric which...
As far as appearances go, the Suus 3066's are some of the best looking on the market. The cut is...
With a lower price point than their kevlar lined range, the Ugly Bros Ton-up jeans offer protection against hard knocks....
The Boss 105 jeans utilise a classic 5 pocket design with sturdy YKK zippers just like your favourite pair of...
Australian riding gear manufacturer Saint has succeeded in creating motorcycle riding gear that works well and looks great, but their...
   In layman's terms, UHMWPE is an ultra tough, abrasion resistant material that can be woven into other materials to...
What makes Saint's riding gear so special?   Saint has developed a process that allows them to weave Dyneema into...