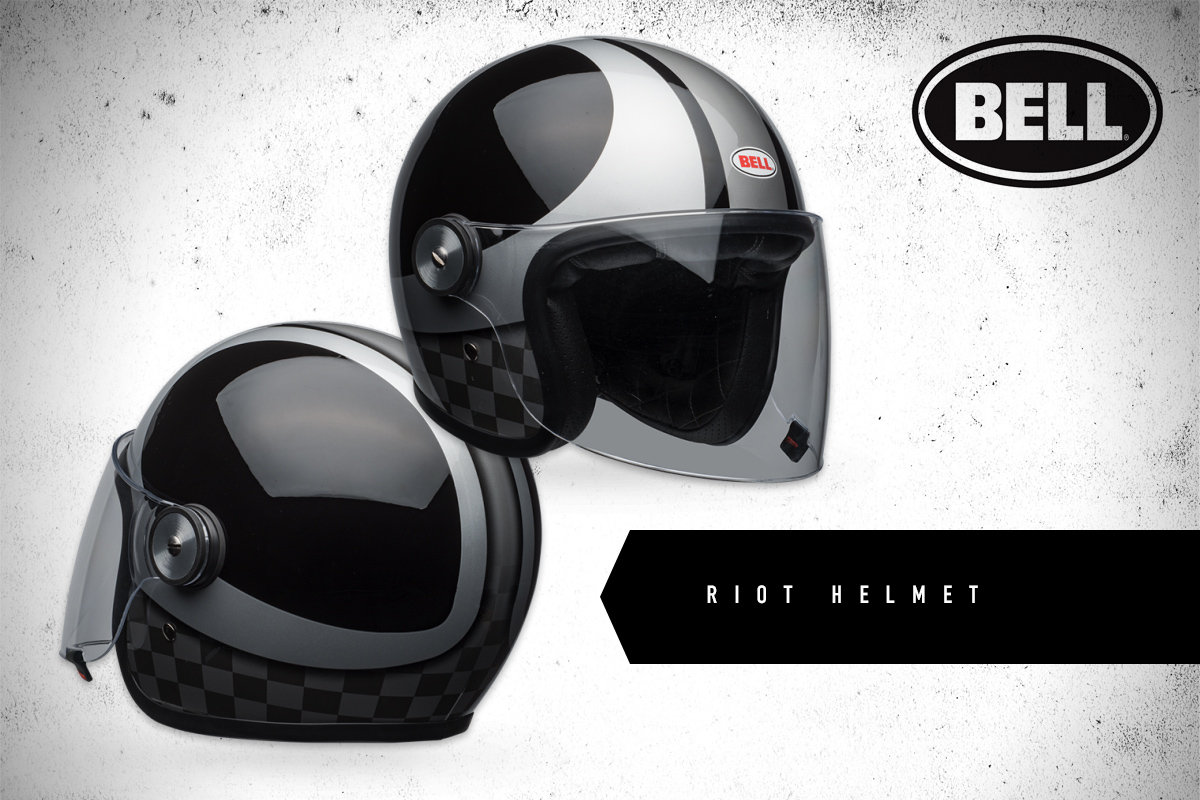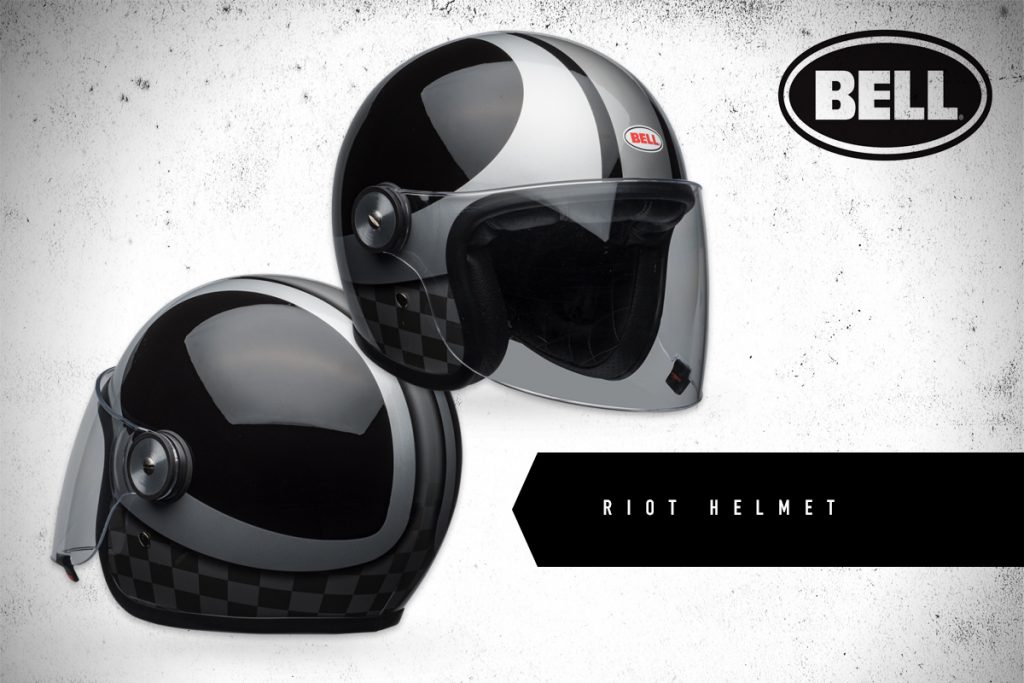 Simply sign up to our newsletter list before December 25th, 2017 and you will automatically go into the draw. Want more chances to win? Anyone who purchases anything from the 100MPH store before December 25th, 2017 will earn 3 extra entries. That's 3 more chances to take home over $1000 USD worth of riding gear.
Want to know more about these great prizes? Read on…
HELMET:
The Riot is Bell Helmets evolution of their open-faced Bell 500. The Riot retains the classic simplicity of an open face helmet while integrating the convenience of a flip-up, full face visor. By creating individual shell sizes Bell have eliminated the dreaded 'bobble head' appearance of other open face helmets without sacrificing safety. The Bell Riot helmet is both DOT and ECE certified and its unique visor utilizes their NutraFog II, anti-fog, anti-scratch and UV-protected design.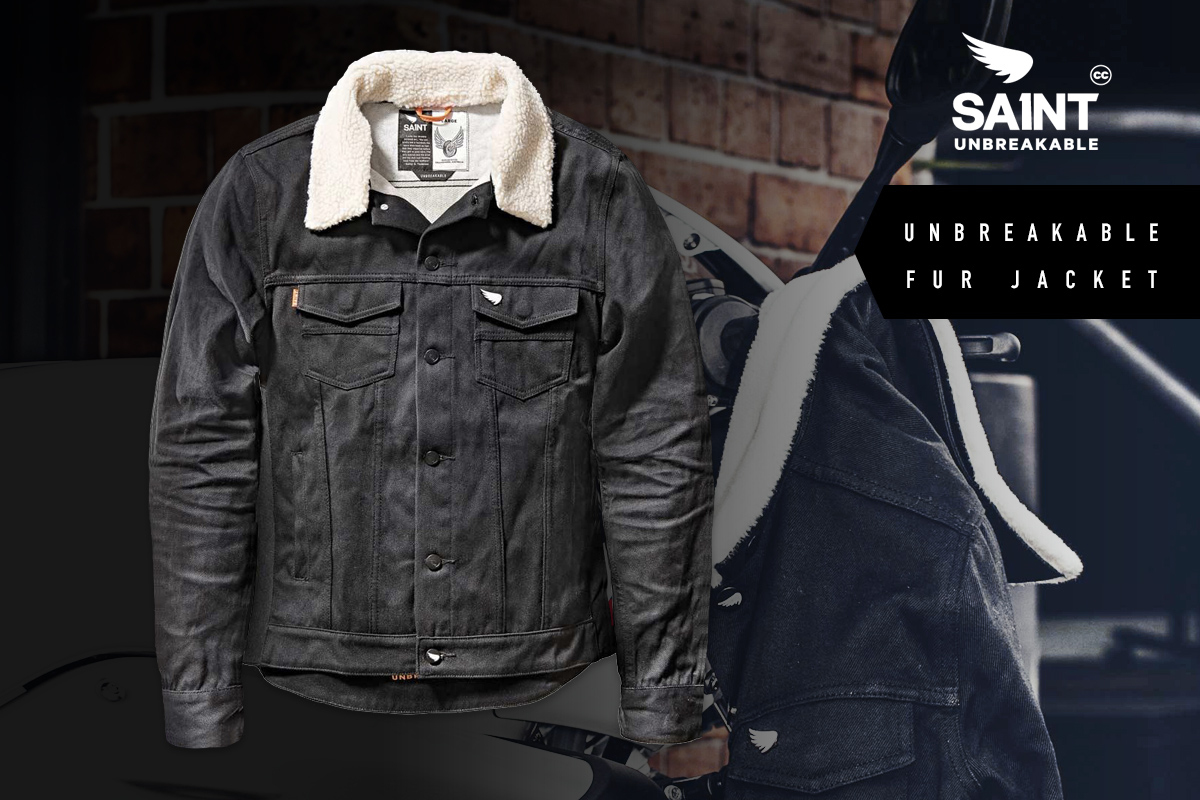 <
RIDING JACKET:
Saint has taken the motorcycling world by storm with their 'unbreakable' riding gear. Their latest Unbreakable Denim Fur Jacket features a classic US ranch worker fur collar and is constructed from their specially designed, UHMWPE denim blend that is both abrasion and burst resistant. If you like to look good without compromising safety this is the jacket for you.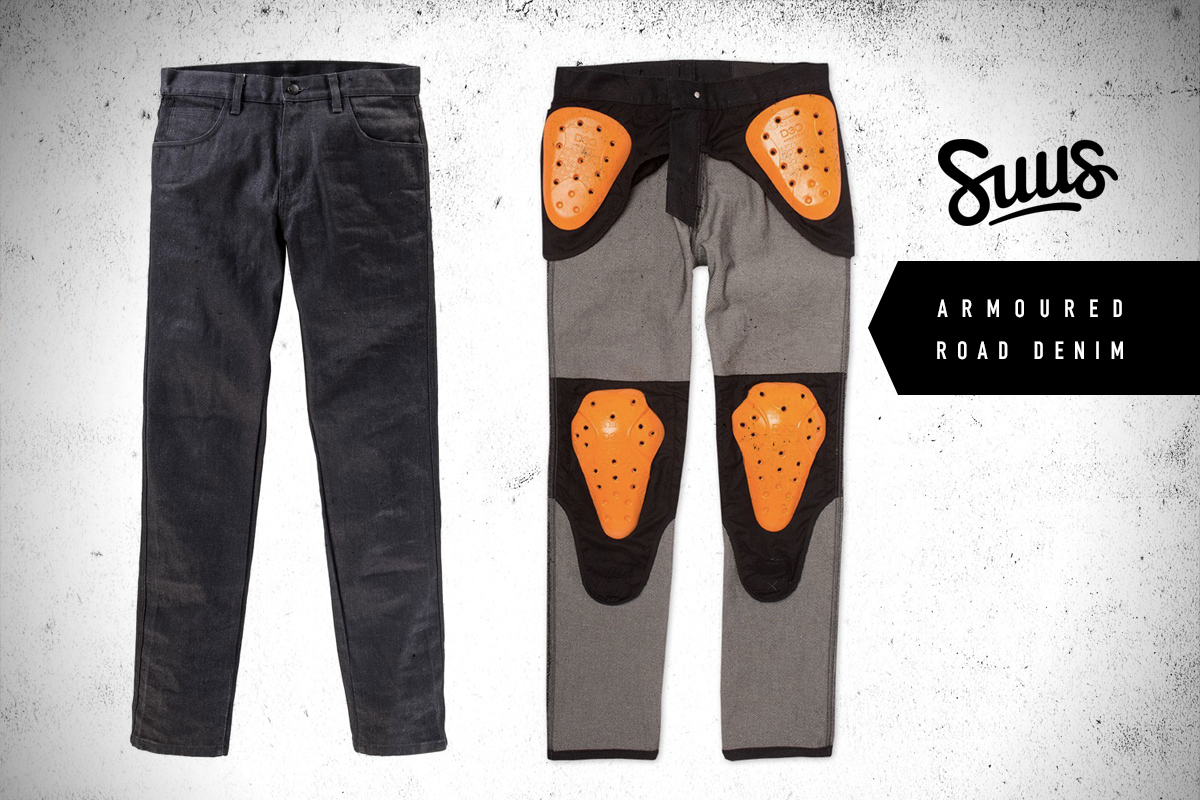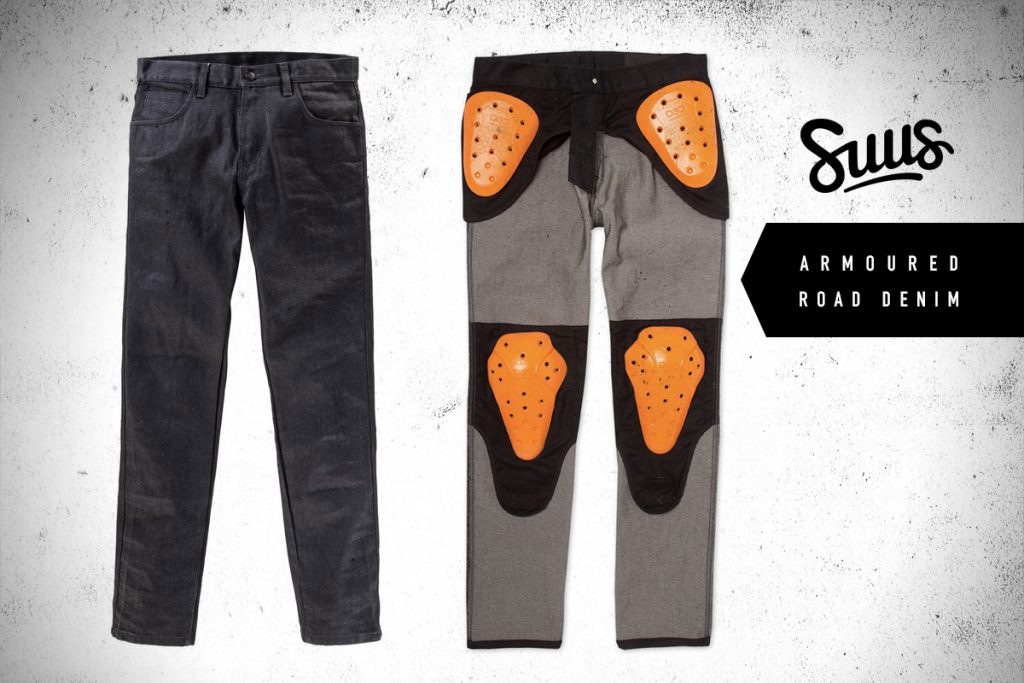 RIDING JEANS:
How do you make your favorite pair of jeans even better? You add armor! Suus have taken a classic denim cut and transformed it into the ultimate pair of riding jeans by integrating abrasion resistant tech fabrics and D30 armor into them. The 14oz denim jeans use a blend of Ultra-high-molecular-weight polyethylene (trying saying that 3 times fast) with a denim cotton blend to create a fabric that is capable of withstanding 4 second slide times and the included armor protects high impact areas against hard knocks.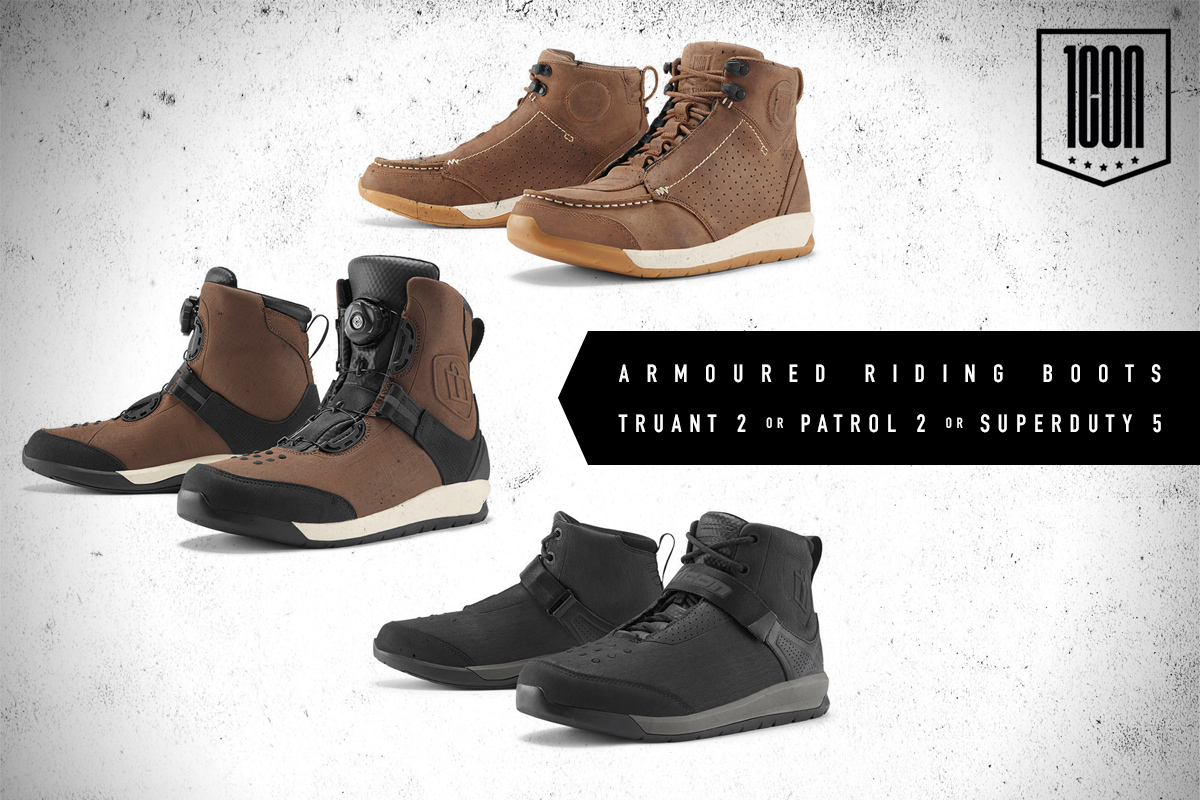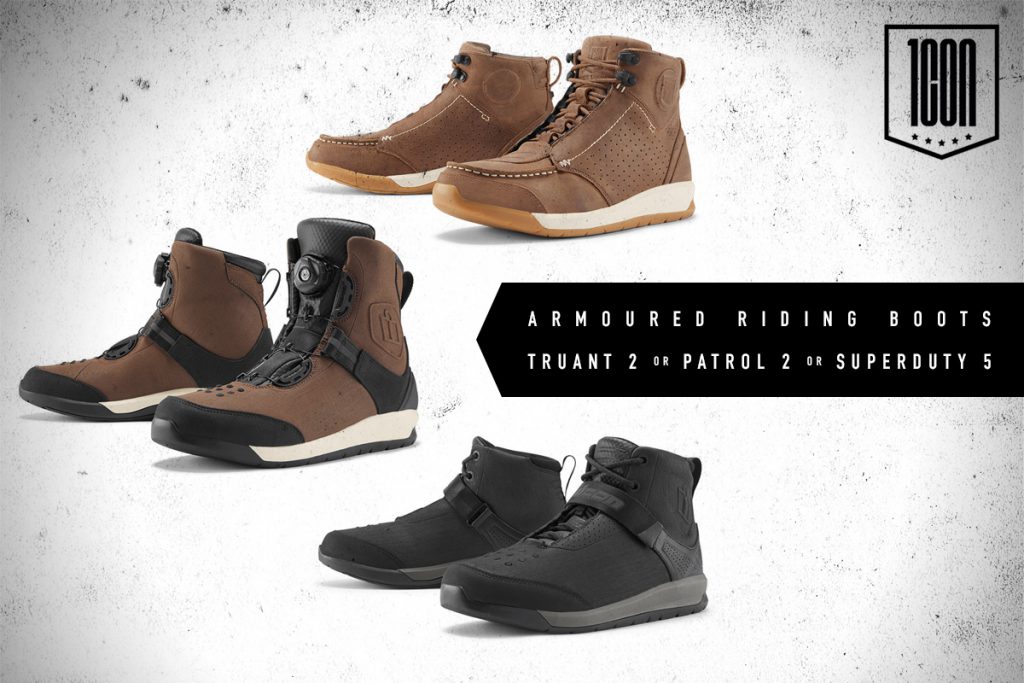 RIDING SHOES:
Looking for a pair of riding boots that don't look like you've just completed a moon landing? Icon has just the thing. The Icon Truant 2, Patrol 2 and Superduty 5 are 3 of their latest street styled riding shoes and our winner will get to choose which pair they'll be taking home. All 3 feature the latest Icon innovations in waterproofing, armor, and comfort to deliver excellent levels of safety and most importantly, style.
To enter simply subscribe to the Return of the Café Racers newsletter. To earn an additional 3 entries into the draw you can purchase anything from the 100MPH store before December 25th, 2017.
THIS COMPETITION HAS NOW CLOSED. TO AUTOMATICALLY GO IN THE DRAW FOR FUTURE GIVEAWAYS SUBSCRIBE TO OUR NEWSLETTER HERE.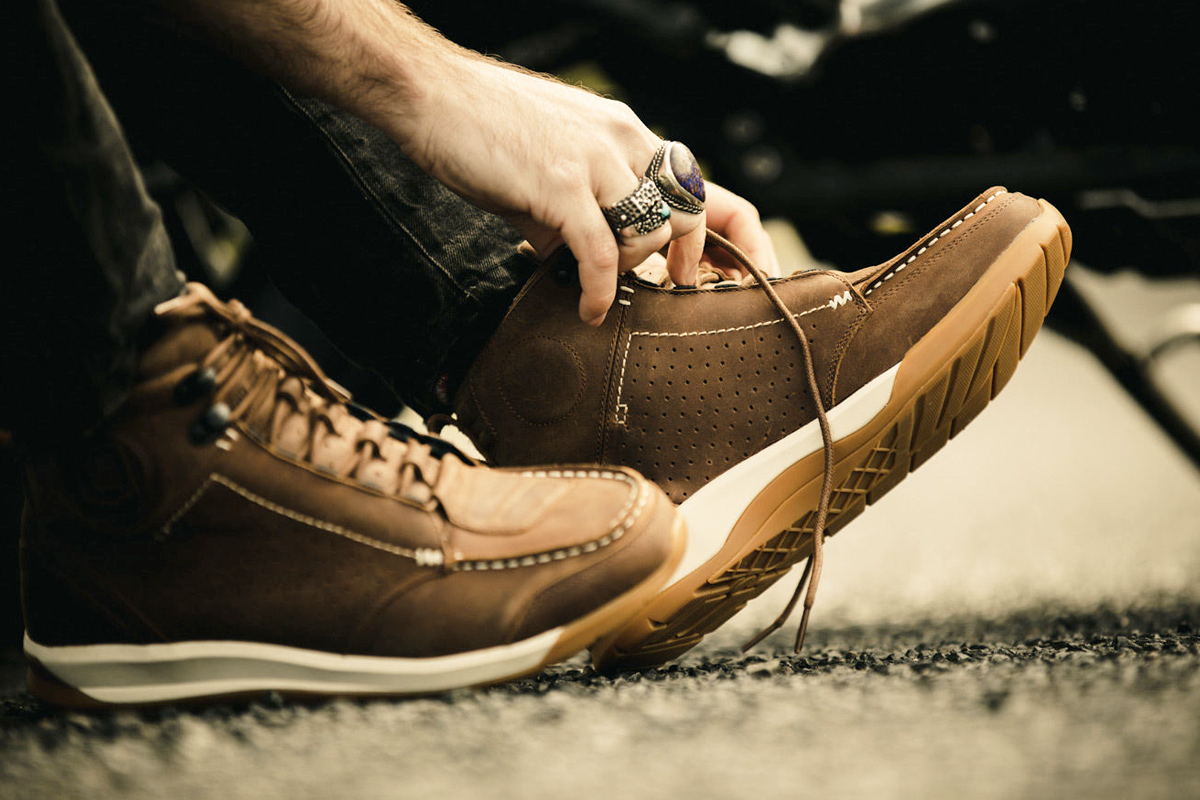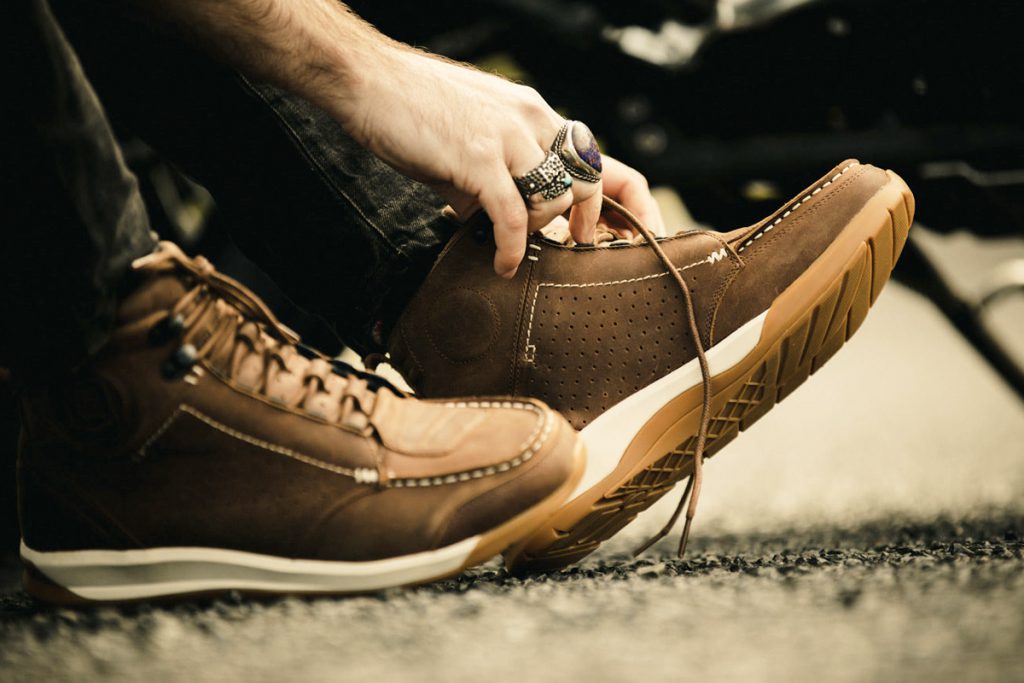 Christmas is about giving, well at least that's what my mother told me. So, here at Return of the Café Racers, we're getting into the festive spirit by giving away a full set of riding gear to one lucky reader.
Thanks to our friends at Bell, Icon, Saint and Suus you could be celebrating Christmas by adding over $1000 USD of new riding gear to your wardrobe. That's a brand new Riot helmet, a pair of Icon riding boots, an Unbreakable denim riding jacket and a pair of Armoured Denim Jeans and you're not going to believe how easy it is to enter…