Brown can be a challenging colour for a leather jacket; just think of a sleazy '70s pimp or your tragically unhip uncle at a wedding. But there's no doubt that Black Pup have nailed it here with an Aussie design that somehow manages to be even more minimal than their "ol Bobber" original. How is that even possible? I'm not sure, but there's no doubting the results. If you don't yet have a brown jacket in your all-black moto wardrobe, you can't go far wrong with Black Pup's Brown Nelson.
Pros
Timeless, understated and super minimal
Nicely pre-patinaed
Properly comfy and seasonally adjustable
Aussie-owned Company & Aussie-designed product
Great value
Cons
Not a "look at me" gear option
Some internal pockets tended to turn inside out
Non-adjustable collar might be a little tight on some necks
All images courtesy of Black Pup Moto & Machines That Dream.
If you had to rank colours in order of their comedy potential, surely brown would be at the top of the list. Right next to pink, purple and lime green. And on the flip side of the colour coin, you have black, grey, white and all those super non-committal shades that are classic and timeless, but also very background. That's right, brown can be funny. Be it a gag about bodily functions, warm chocolate or the 1970s, if the colour brown was a stand-up comedian, it'd be a natural crowd pleaser.
But there's a catch here. Brown can also outclass those other more dull colours if it's done right and that's because while you do take a certain gamble with brown, if you actually pull it off it can throw some serious light on the blacks, greys and other neutrals of the world.
Brown can be the colour of your tragically dressed uncle's jacket at a family wedding. But it can also (and WAS) the colour of Tom Cruise's bomber jacket out of Top Gun. And Indiana Jones's. And Tyler Durden's from Fight Club. And Leo DiCaprio's from Once Upon A Time in Hollywood.
So I guess the big question that remains is whether Black Pup's "Nelson" is the former or one of the latters. Let's take a deep dive and find out.
Meet the 'Nelson' Leather Jacket
The Nelson is a new leather jacket from Australia's Black Pup Moto who are based in Melbourne. Also designed in Australia by company owner Richard Brown (Brown by name…) and titled after the town in New Zealand where he was born, It's a "Distressed Light Brown Leather Motorbike Jacket in Classic Full Grain Leather".
Now after the minimal approach we saw from Mr. Brown with his last design, the "ol Bobber" jacket, he goes on to say that the Nelson is even more clean than its Bobber brethren. Exactly how that's possible is a feat in itself, what with the previous jacket being a masterclass in restraint, but here we are.
And in a way, I get what Rich is saying. The new jacket lacks the horizontal runs of leather between the shoulderblades and across the arms of the ol Bobber. It's also got no quilted shoulder stitching or breast zip pockets, either. But what it does have is a full-length cut, a timeless look and the ability to go into "non-bikie" undercover mode as a more casual leather jacket option for situations where you don't want people thinking that you're going to whip out a flick knife and flip a table over at a moment's notice.
Who's Black Pup Moto, Then?
Based in Melbourne, Australia, Black Pup moto is the lovechild of expat New Zealander and aforementioned moto leather guru, Richard Brown. Built on the cornerstone of classic and retro moto gear, Rich is rumoured to have signed an agreement on blood that he'd never wear, make or even consider another piece of poorly made, shouty, brightly-coloured moto gear. Clearly the Mighty Morphin' Power Rangers have left a big negative impression on Richard as a child.
The upshot is his sworn promise to produce clean, classic and understated moto gear with a minimum of branding and a maximum of cool with an added superpower of being suitable of a wide range of bikes with the possible exception of that neon green Gixxer sportsbike you have secreted way in your garage collecting dust. But if you instead happen to have a cafe racer, bobber, or any other style of classic bike that doesn't need hair gel or a man bag to look good on, Black Pup is probably right up your alley.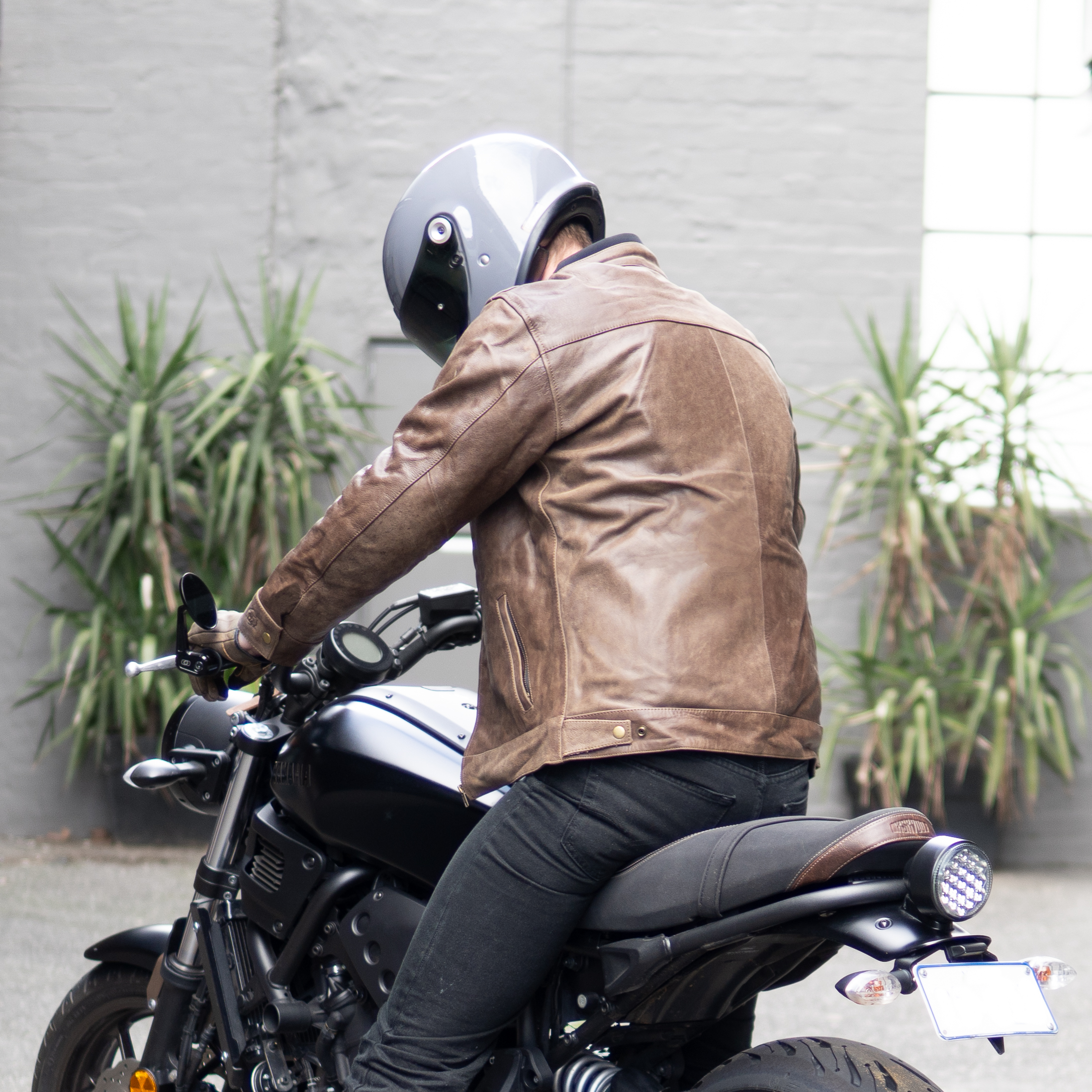 What Does the Black Pup Nelson Leather Jacket Look Like?
Brutally simple in its look, the jacket is riffing on classic designs of the '40s and '50s without shouting it through a cheap Chinese loudhailer loaded with fresh batteries. With a seam running right up the middle of the back, two lower pockets set at a jaunty angle above the hips and a "grandad-style" collar with zero lapels, there's precious little else on the exterior of the jacket apart from yards and yards of nicely distressed brown leather in a shade I'd probably call "Memphis Belle Brown" if anyone asked.
On closer inspection, you'll notice bronze zippers and press studs with a single fastening position on the neck and the choice of two on the cuffs. And while we're on the subject, the cuffs are split as you'd expect, but they haven't got zippers to hold them closed while riding. But what they have got is a nice flap of leather that means fresh air is welcomed while not in large amounts. Think cool arms in hotter months but without the ability to stop the chillier breezes in winter.
You'll also notice that there's adjustment studs on the hips for a tighter fit should it be required and an almost perfectly hidden seam on the underside of the elbow. Oh, and if you stare VERY closely, you'll also see the Black Pup Moto brand on the collar and a small dog's head motif on the left cuff.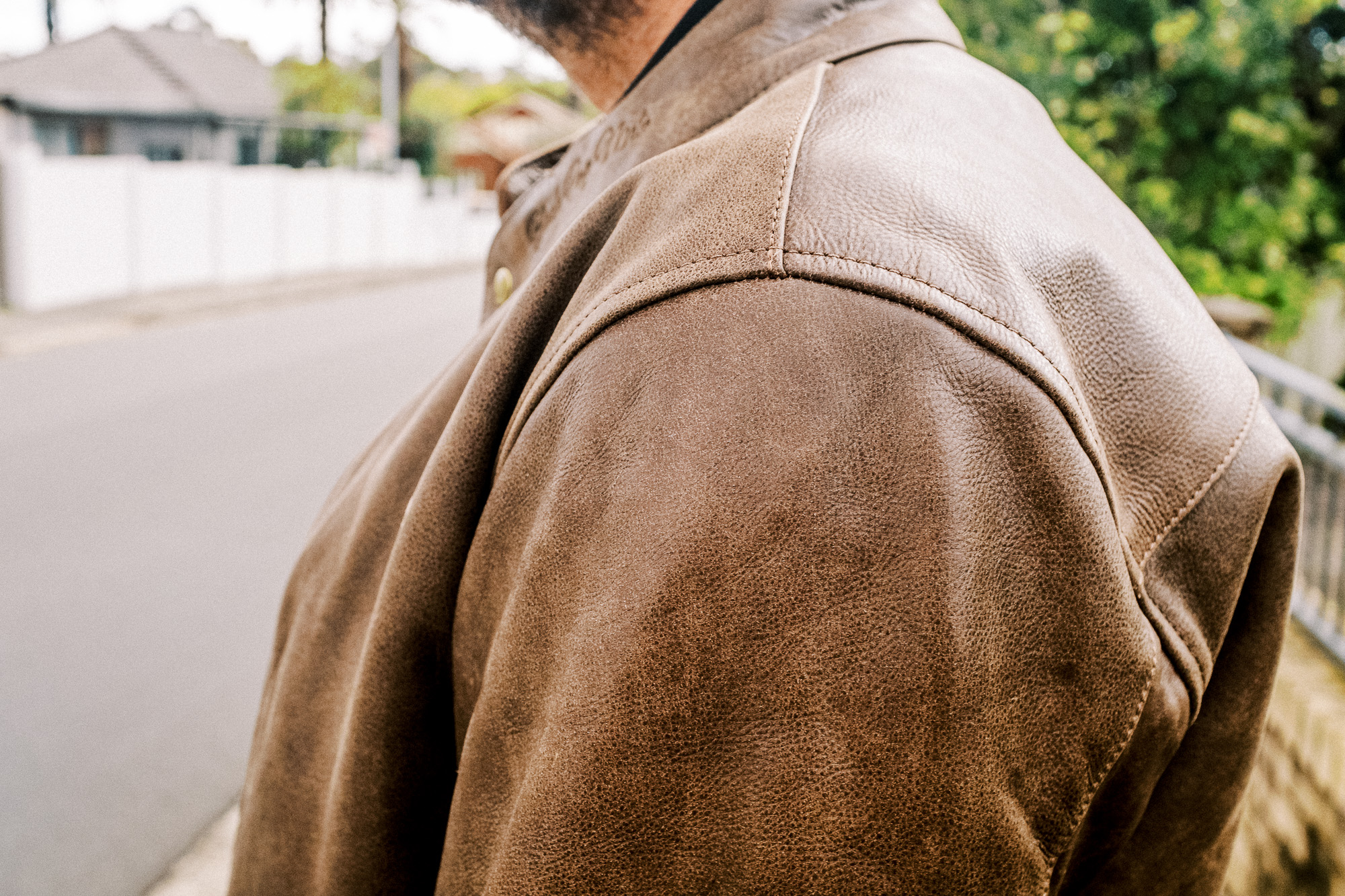 What's it Like to Wear the Nelson Leather Jacket?
With Richard previously proving to me that he knows how to size his own jackets better than I do (Who would have thought!?) I just got him to send me "my usual" Black Pup sizing – a medium. Like with most other people on this planet, I'm always wondering how we can put a man on the moon but yet we still haven't standardised clothing sizes. But here we are and the Nelson fits me just as well as the previous ol Bobber did.
On me, the jacket pretty much perfectly covers the top of my kevlar riding jeans and belt, making it – in my height at least – smack bang in the middle of the long and short jacket spectrum. And the two studs on the cuffs handle both over and under glove fastening or, should the mood take you, short gloves as well. Just note that even on the tightest setting, there's still plenty of room between my scrawny wrists and the jacket, so if you were ever to be caught out with short gloves and a cold change, you won't be able to stop the icy wind travelling up your arms easily.
With absolutely zero "wearing in" time for my old dad bod, the Nelson felt comfy and well-fitted right out of the courier's box that landed on my front door step. But I do have to note that when the collar was buttoned up with its single-setting stud, it was a little tighter than I would have liked. Thankfully, no-one else in the world will have the exact same neck as mine, so I'd suggest that this might be a case of "your mileage may vary". And while it'll no doubt give a little in good time, it did make me yearn for a second stud here that would have given my old neck a little more room to move. Please send all "fat neck" jokes to my business email address. Thanks.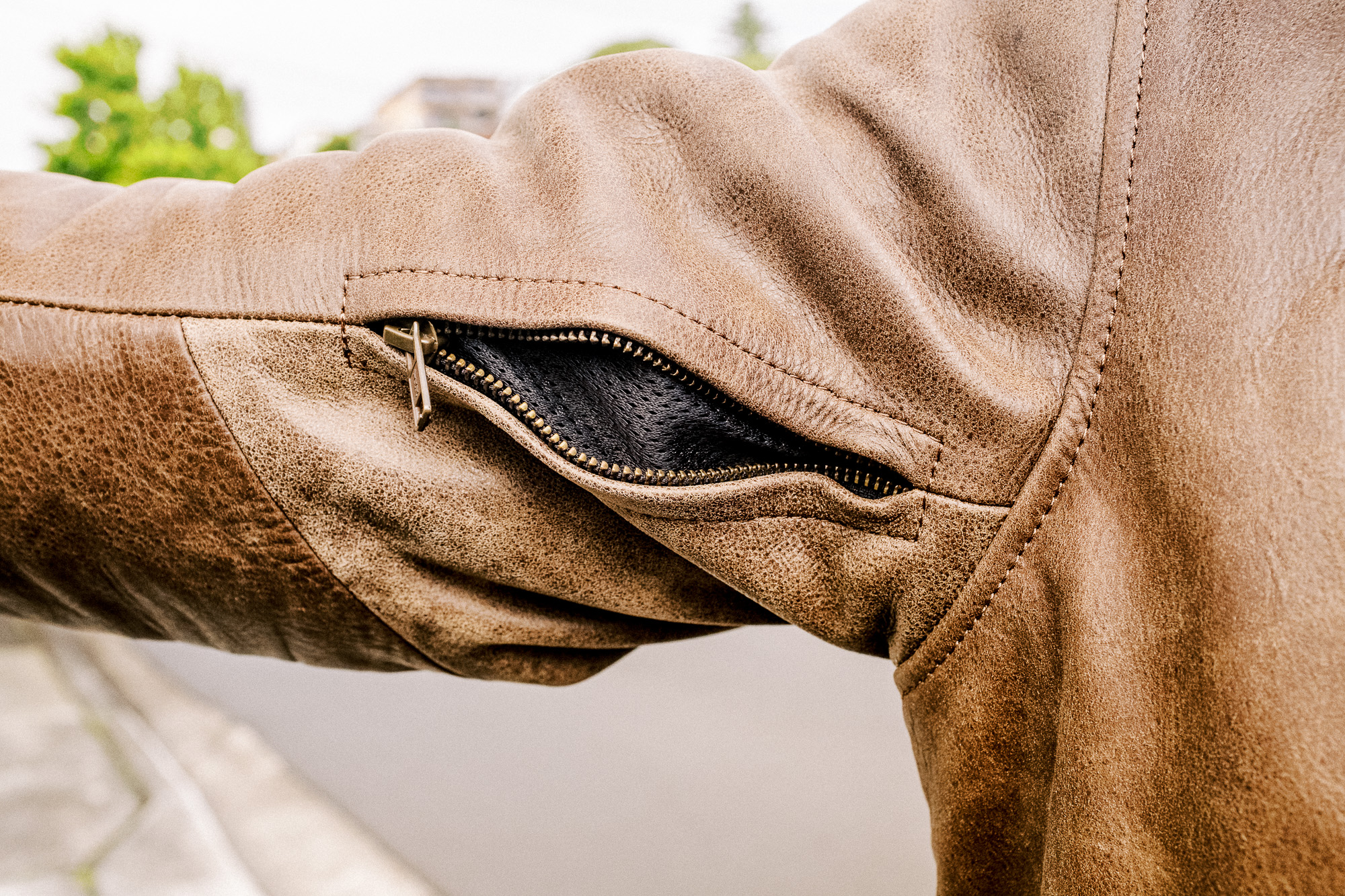 What's the Build Quality Like on the Nelson Leather Jacket?
If you managed to catch my ol Bobber review, you'll not be surprised to hear that the Nelson is made to the same quality standards by Black Pup's Pakistani suppliers as its older sibling. I found exactly zero loose threads or misplaced stitching even though I gave the jacket a thorough going over. And that included inside the thing and with the cold weather lining removed.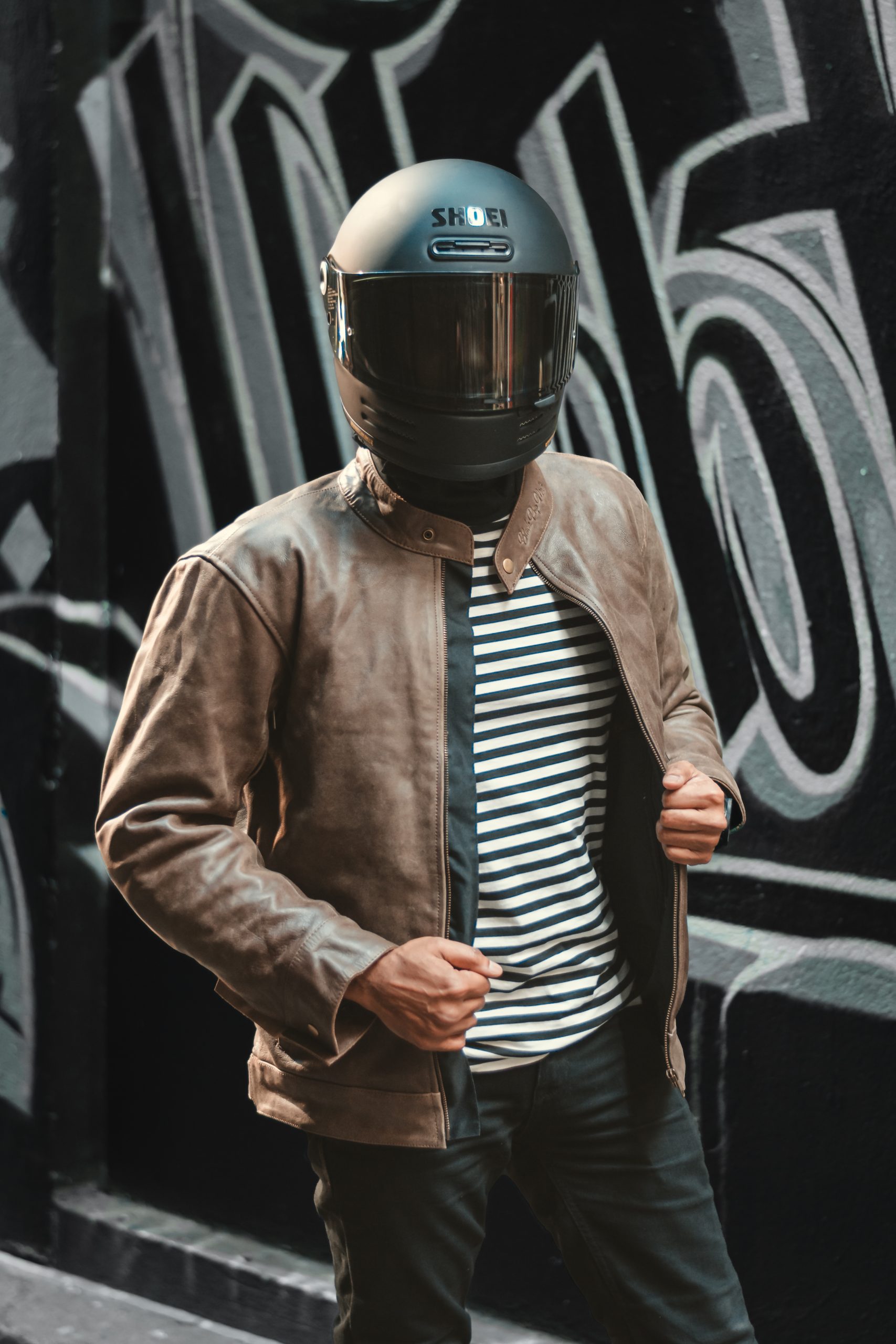 This is probably an opportune moment to mention that the jacket's internals are almost identical to that of the ol Bobber. And trust me when I say that's a pretty good thing. Zippers inside and out are all top shelf Japanese YKK items, and the press studs all fasten securely without too much or too little pressure.
The leather is damn good and you can just tell it'll age into something even better, more darker and probably more shiny, too. Speaking of which, I was properly tempted to have a go moisturising the leather a little to make it look a touch more dark and aged sooner rather than later, but I guess as with all good things in life it never pays to try and rush them. Come back here and ask me in a few years how it's looking after some wear, tear, rain and sweat. Gross, I know…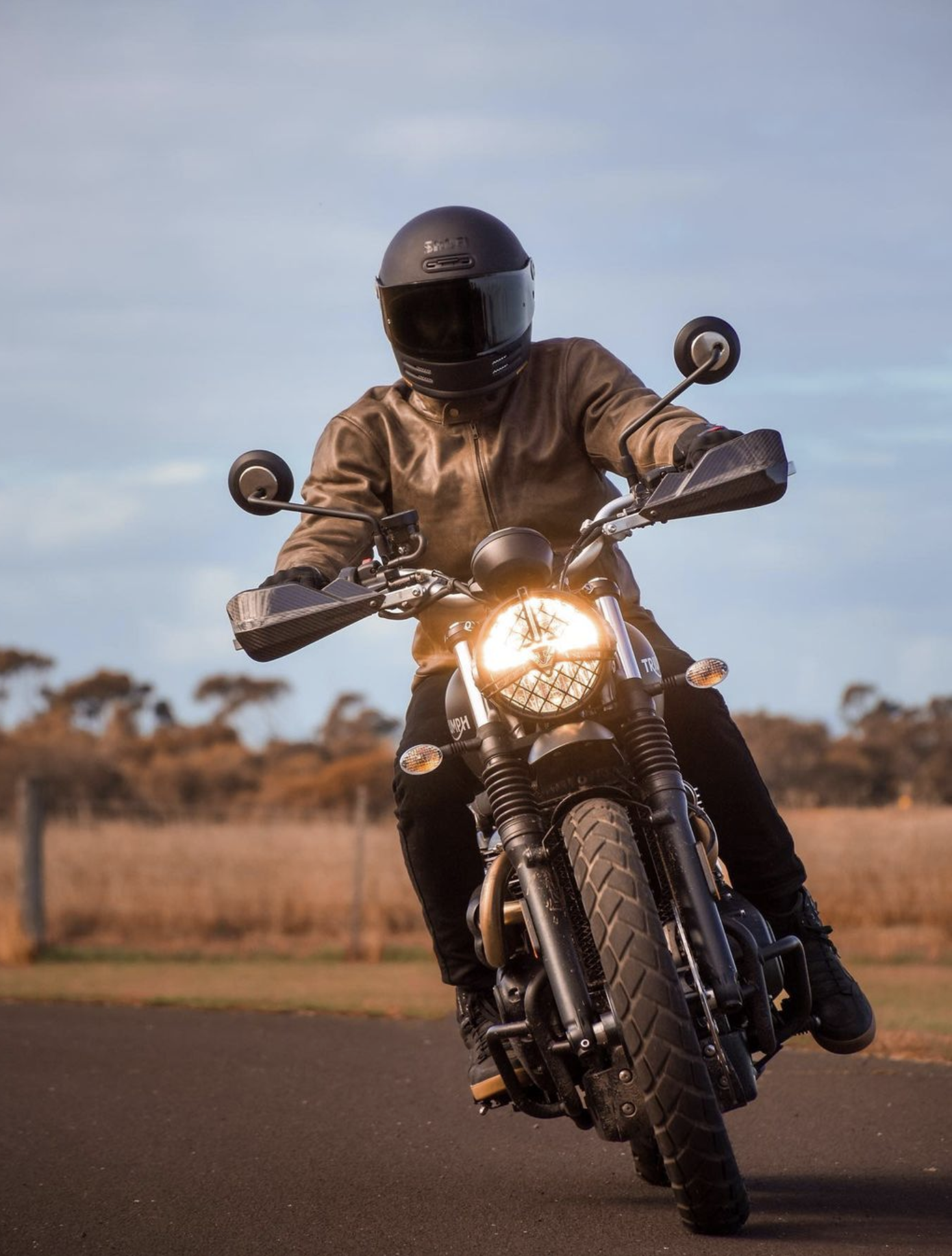 What Features Does the Nelson Leather Jacket Have?
Let's get trainspotty. The jacket has two external pockets and two zippered air vents that I only discovered after numerous rides. Being the start of spring here right now, air into my armpits is not exactly necessary but I love the idea and I also don't think I've ever seen air vents done in quite this way. Very clever stuff. Elsewhere on the jacket you'll find two internal pockets at breast height and a generous pocket on the inside lower left section that's marked with a red tag and big enough to fit the largest of mobile phones and then some.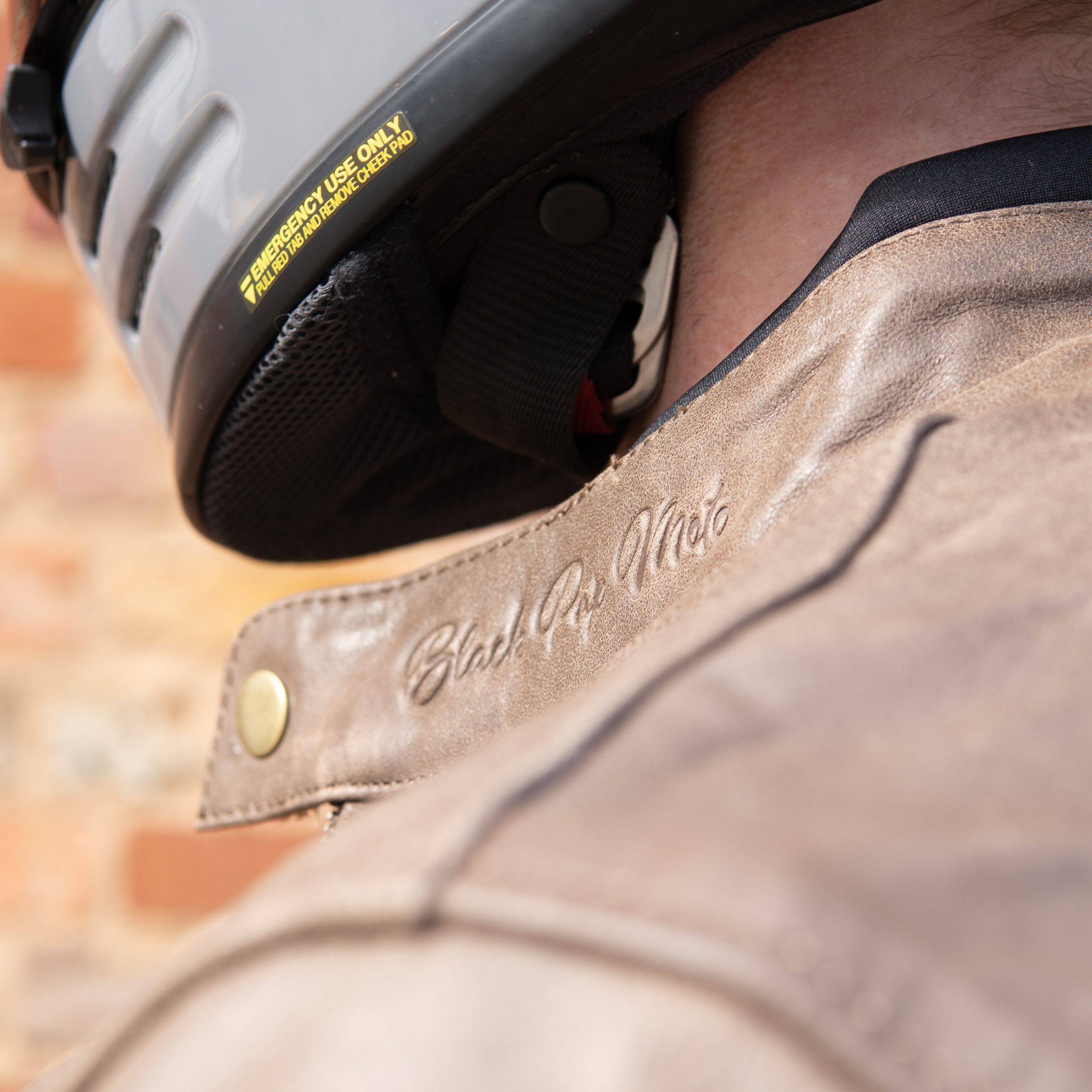 The jacket is supplied with CE approved armour, but it's nothing too fancy. Thankfully the jacket's competitive price means that you could quite easily replace it with something more 3DO-ish and still come in on budget. Back, shoulders and elbows are all covered off should the unthinkable happen and you manage to kiss the dirt before your bike stops moving.
The removable lining is banished by one fell swoop of the zipper along with the unfastening of two red buttons inside each of the cuffs. As with the ol Bobber, doing so sees all the pockets neatly replicated in their same positions so that confusion about which one of your personal goodies goes where is avoided as the seasons change. And remember that a really great way to lose sets of ear plugs, bandanas and pocket knives is to stash them in these pockets and then to reattach the winter lining without checking them first. Ooops.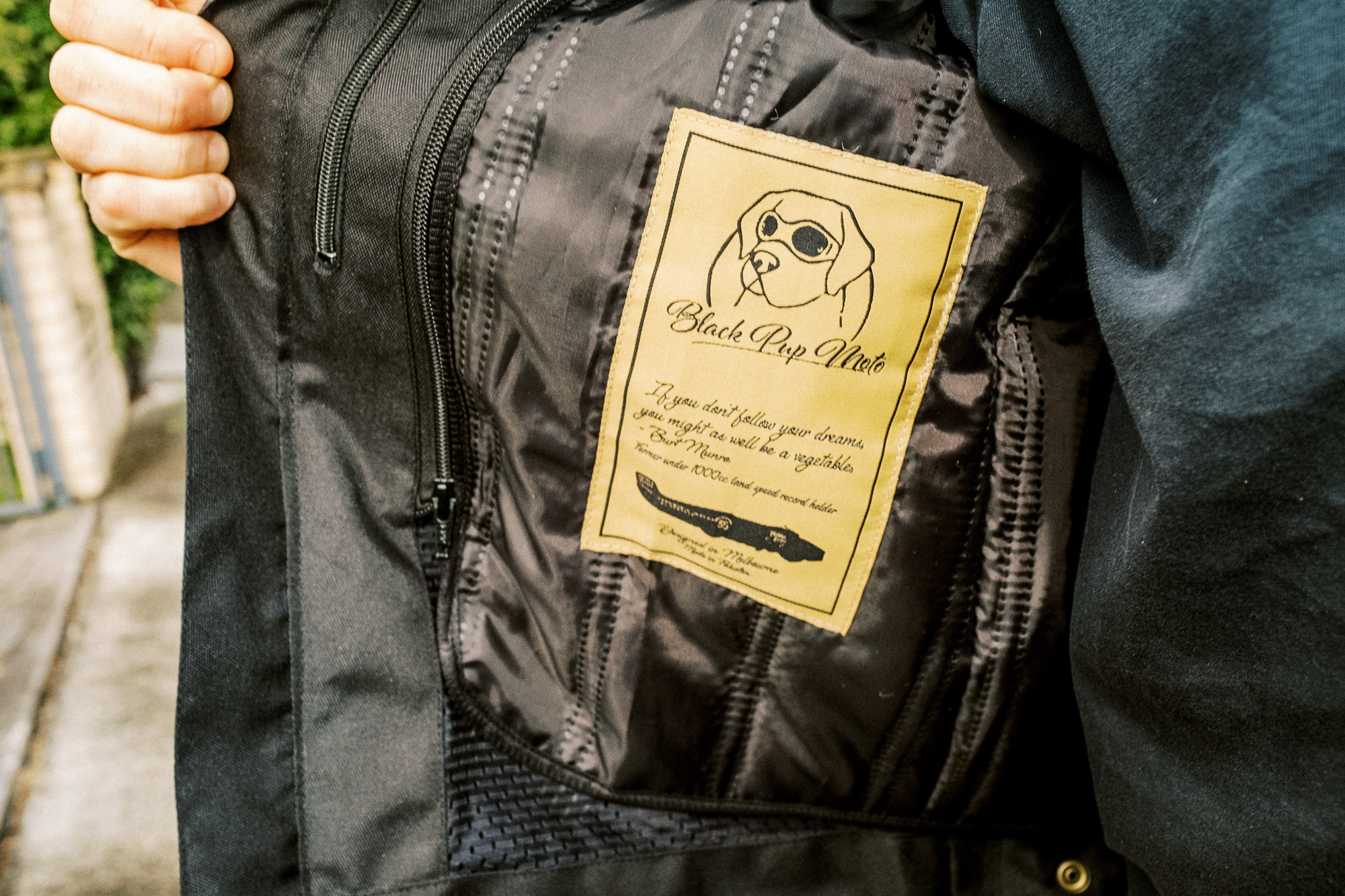 Should You Buy Black Pup's 'Nelson' Jacket?
If anyone is going to get a brown jacket right, it's someone called "Brown", so no surprises in guessing that this jacket is a worthy contender for your first "not a black jacket" purchase. And for those of you that already have a brown jacket, unless your name is Tyler Durden I'm guessing that it's probably not quite a s cool as this one.
With a superbly minimal design and a total lack of pretentious fripperies, it'll noy only look great on your bike, but you'll be able to whip out the armour and wear it out and about when you're off the bike without people assuming that you're a try-hard biker that doesn't really own a motorcycle.
And the "pre-patina" it comes with not only makes it look lived in, but it'll just look better and better with age once you start leaving your own marks on it through a little love, affection and countless insect impacts. To wrap things up, if you need a little more brown in your life – and in your 'drobe – you can't go far wrong with the Nelson.
PROS
Minimal, understated & timeless
Nicely pre-patinaed but still waiting for your input
Super comfortable and seasonally adaptable
Aussie-owned Company & Aussie-designed product
Great value for what you get
CONS
Not for those who want to stand out
Some internal pockets tended to turn inside out
Non-adjustable collar might be a little tight on some necks
Important Links / Where to Buy
Specs
Manufacturer: Black Pup Moto
Price (When Tested): Jacket – AUD$499
Colours: You can have any colour you want, as long as it's Distressed Light Brown
Sizes: Jacket – XS to 5XL
Review Date: October 2022