Black Pup Moto 'Rumbler' Leather Jacket Review Summary
Review Summary
Human sacrifice, dogs and cats living together… mass hysteria. That's right, Black Pup Moto have just dropped a new moto jacket with red highlights! Naturally, it's been done to their usual, minimal standards and after some pretty thorough testing, I'm happy to say that it's my favourite jacket of theirs yet. And that's coming from a guy that currently owns three of them. If you're currently in the market for something that's black, classic-looking and supremely understated, Black Pup's "Rumbler" jacket should probably be on your shopping list.
Classic, understated and well-made
Red highlights a lovely touch
Really comfy and seasonally adjustable with vents
Aussie company & Aussie-designed product
Very good value
Not a "look at me" gear option
Some internal pockets tended to turn inside out
Non-adjustable cuffs might be a little loose on some wrists
Black Pup Moto 'Rumbler' Leather Jacket Image Gallery
All images courtesy of Black Pup Moto & Machines That Dream.
Straight mates. We all have one. They're the ones that you can rely on come rain or shine. They'll always be dressed in a similar outfit. Maybe jeans and a white t-shirt. Their hair is always neat and tidy, with the same cut they've had for the past 10 years. They'll arrive on time to every event and they'll be the first one to put their hand up when it comes to being a designated driver. Sure, they aren't the life of the party, but boy-oh-boy, are they reliable.
But then one day they'll go and do something a little unexpected. Now because of their stunningly consistent track record, this can be the smallest, most subtle thing but it'll still cause a seismic reaction in your circle of friends simply because it's so unexpected. It could be a brightly-coloured t-shirt or even a new pair of shoes, but the effect is obvious. Everyone notices just because it is so unexpected. "Like a shag on a rock," as my Dad would say. And that's the bird, not the English slang for copulation.
So when I received the latest creation from Melbourne, Australia's Black Pup Moto I had a very similar reaction. And while it only scores a 1 on the scale of Zero to Red Bull Racing Leathers, it still knocked my eyeballs for a six. Colours! RED colours! Had the designers at Black Pup started smoking the Jazz Cabbage? Wow.
So with a long line of superbly understated jackets to their name, does this sudden flash of colour keep up their strong, minimal traditions or is it a new and radical departure for them? Let's find out…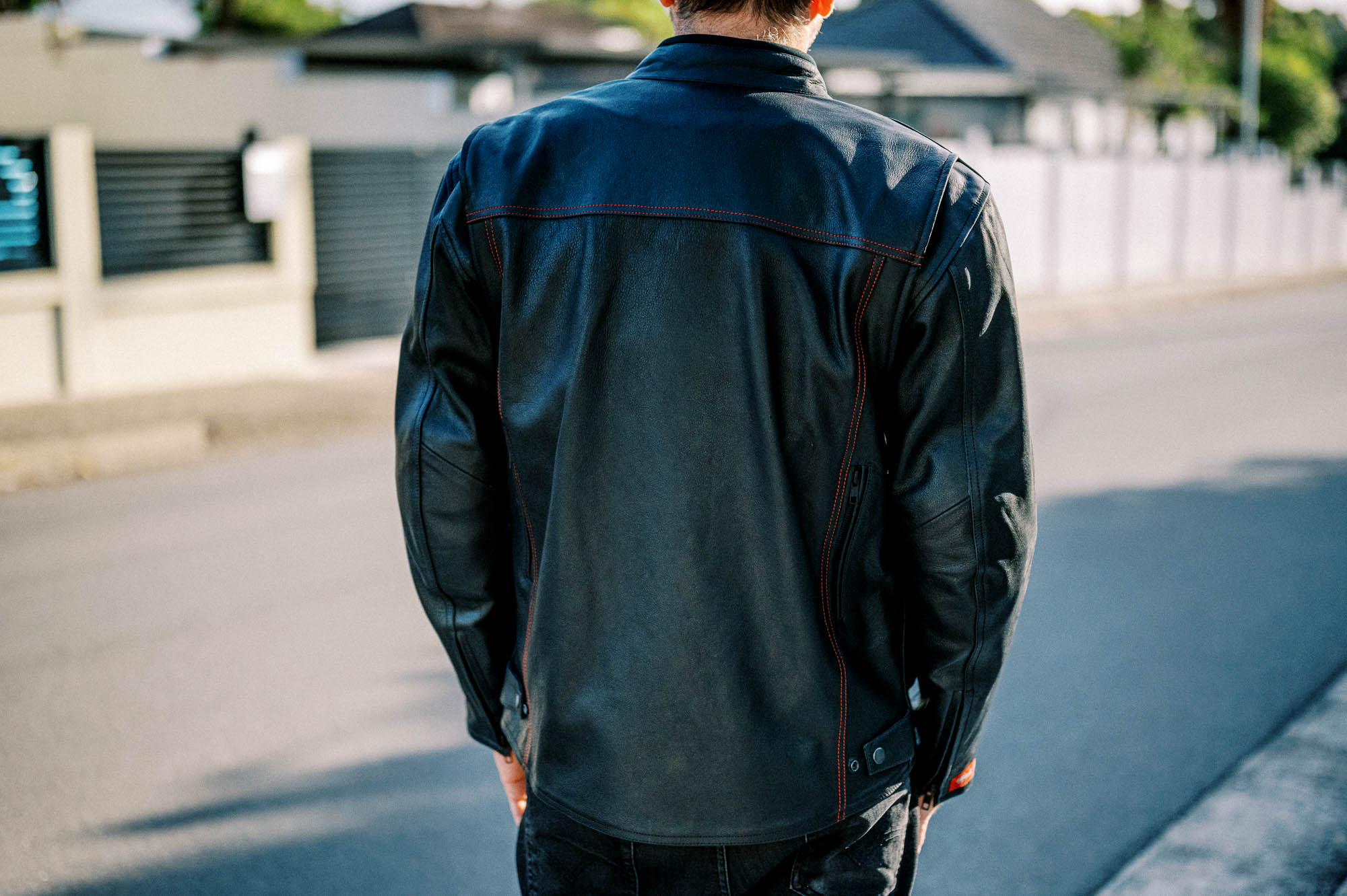 What is the 'Rumbler' Leather Jacket? 
Australia's Black Pup Moto are proudly Aussie and based in the suburb of Collingwood (Carn the Pies!); the gear is also designed in Australia by company owner Richard "Less is More" Brown. The jacket's name was derived from playing around with the word "scrambler" until something cool happened. But to call a spade a very smartly dressed spade, it's in fact a good ol' black motorcycle jacket in a classic full grain leather. Just like your Mum used to wear, then…
The gag I'll be hanging my hat on numerous times through this review is based on the fact that Dick's designs are usually so damn minimal, they make Japanese calligraphy look like a wall that's been graffitied by your local colourblind hip hop artist. In the past, if it wasn't brown or black, Mr. Brown (ahem) wasn't really interested.
But rules are meant to be broken, and that's just what Richard has down with the Rumbler. The new jacket not only has red piping stitched horizontally across the breast of the jacket's front, he's also gone for a few red stitches too – namely on the arm fronts and across the jacket's back section. "I've always wanted to do something with the black leather and red accents as I think it works well together and breaks up the jacket a bit," he noted when I spoke to him. Nice. The other new feature that's quick to make itself known to you is the rear-facing shoulder pleats (or an "action back" as Richard called it) that both allow for less restricted arm movements and less "riding up" in the back while also adding a certain little something sporty to the jacket's rear vista. And did I mention that unlike many of his designs, the leather he's used isn't already roughed up? Just look at that shine.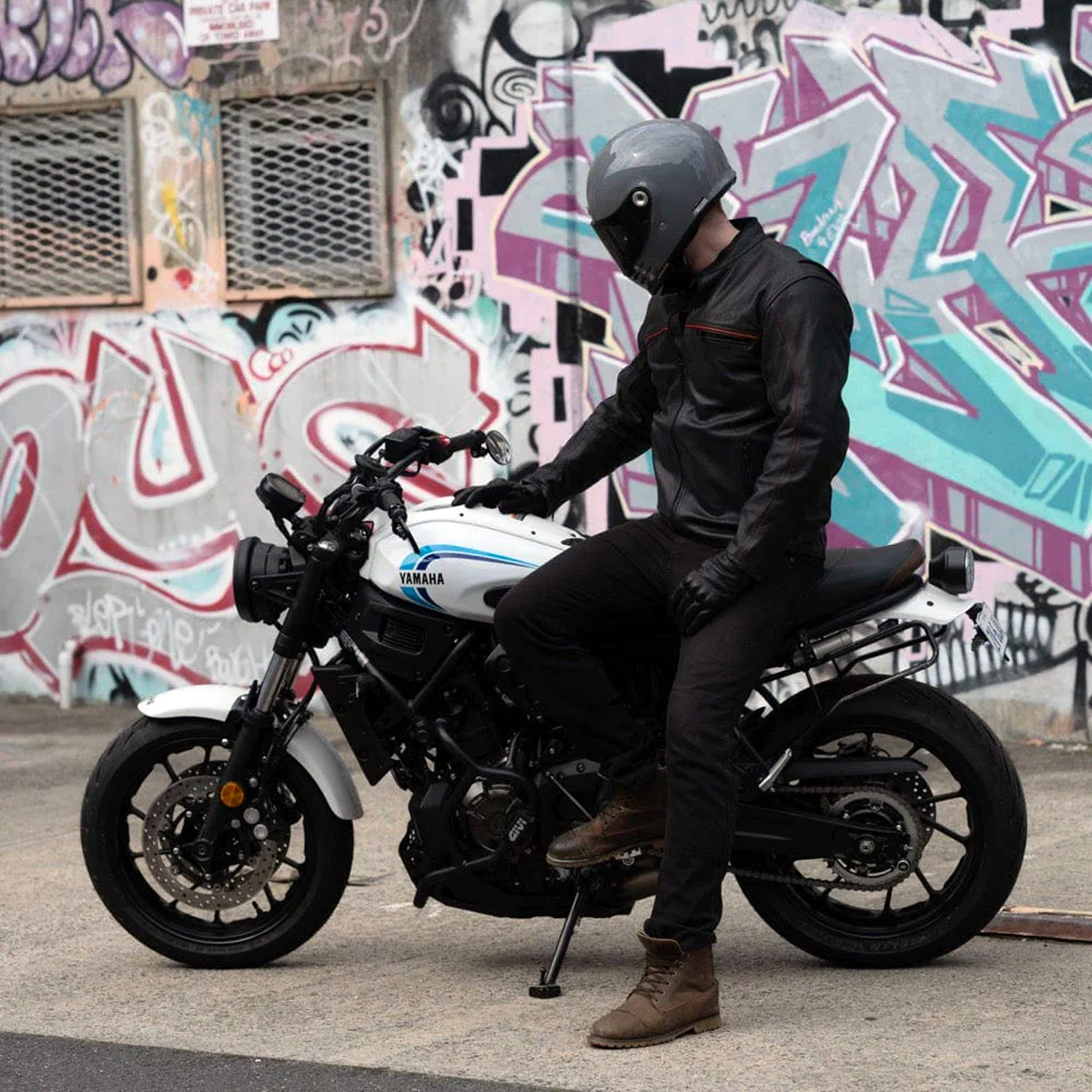 Who's Black Pup Moto, Then?
Black Pup is fronted by a New Zealender who – like all talented Kiwis that relocate "across the ditch" to Australia – has been claimed by us Aussies as one of our own. A Batman-esque figure who's sworn to fight motorcycling fashion crimes like his namesake fights crims, Richard's mission over the past few years has been to counter two-wheeled fashion faux pas using a very simple philosophy; less is more. A lot more.
Black Pup gear is always clean, understated and classic. If you're after flaming skulls and neon colours, then you're barking up the wrong tree entirely. Richard is the sort of guy who would deliberate over the colour of a zipper for days on end; I can see him in my mind's eye tossing and turning at night over whether the red touches you see here were in fact too much. Hell, I've even heard a story where a rider wearing one of his designs bumped into a bloke wearing a bright green Kawasaki Racing Team jacket at a cafe and they both exploded in a matter/anti-matter type cosmic reaction. But that's probably a story for another time…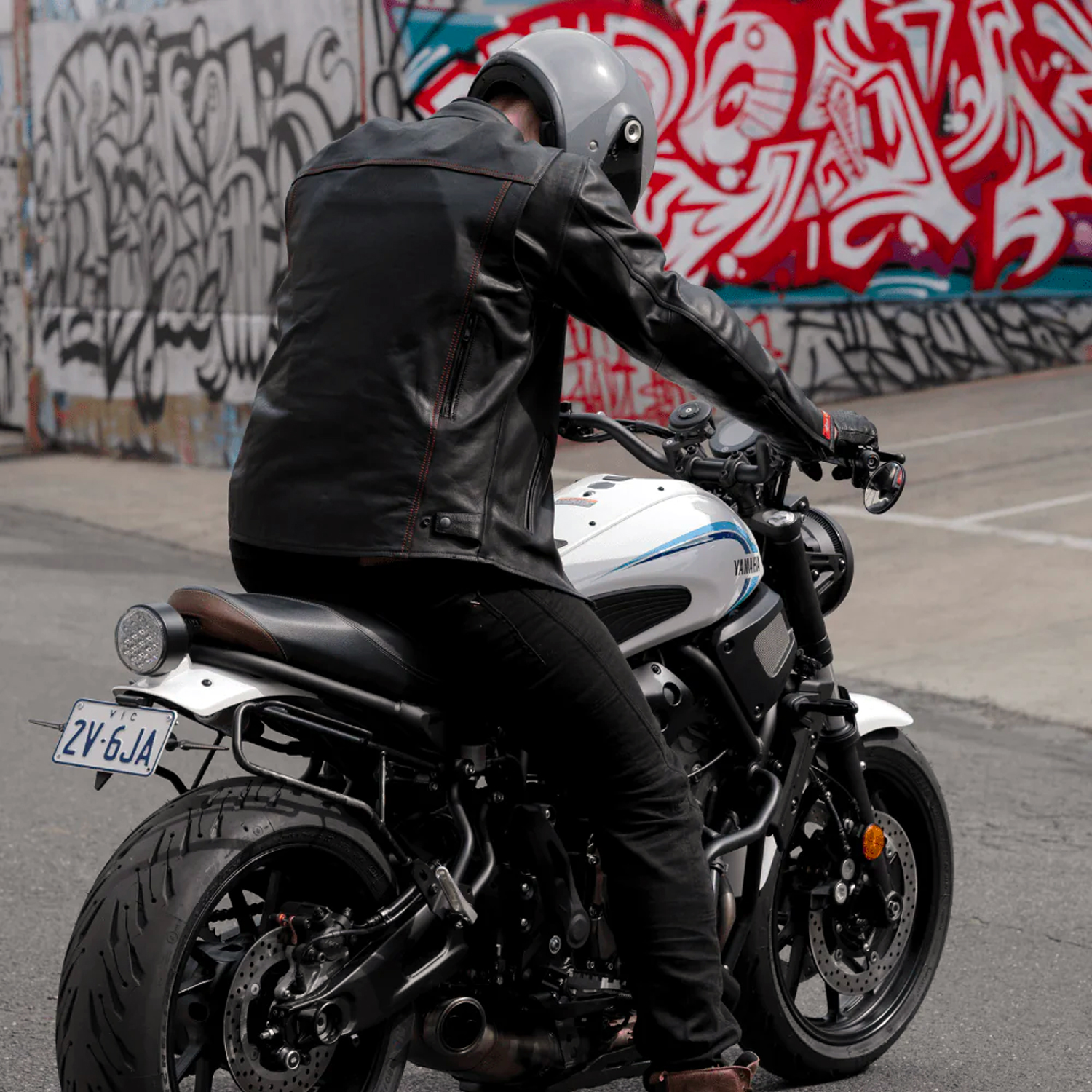 What Does the Black Pup Rumbler Jacket Look Like?
Simple as always, the black leather isn't one that's too shiny (or greasy) and it comes off as a kind of satin in real life. The addition of the red on the jacket doesn't change the jacket's timeless goals, but it does make me think of it as a little more at home in the '70s and '80s than Black Pup's previous offering, which to me could have been worn at a 50s bike meet with no one batting an eyelid. That's a soft '80s, mind you. We're not talking about Michael Jackson's Thriller jacket here. Not in a million years.
The red piping and stitching is complemented by a barely noticeable "Black Pup Moto" logo on the left breast panel, which has been relocated from the Grandpa collar area you would have found on their previous designs. But blink and you'll probably miss it, as it's really just embossed into the leather.
The last subtle touches are the jacket's vents and waist adjustments. While the second is a completely traditional two-push-stud affair, the vents are a Black Pup staple and they have been added to this jacket with an additional two sets over on the chest and over the kidney area at the jacket's rear. Now I might be mistaken here, but I haven't seen these on the brand's jackets before. But with that said, I did notice them on mate's summer version of their 'ol Bobber jacket a few days ago, so I think it's fair to say that it's not a brand new feature for their range.
"I've basically taken feedback from my customers who have wanted more ventilation in the jacket," notes Richard. "So it has the same arm vents as the ol Bobber, but now has the zippable vents on the chest to let in more cool air as well as the rear to let hot air out. I found that the Australian Moto Standards not only rates the gear on safety features, but also on ventilation which I thought was interesting. They do this because the weather being too hot was one of the main reasons people don't ride with proper gear on, so they made that a factor in their testing. Hence, I added more vents to make it more likely people will choose to wear it."
For Sydney's climate, they are a great idea; while we don't have the extremes that (say) some northern hemisphere cities might endure, these vents will also have a definite impact on increasing the jacket's summer usefulness and longevity.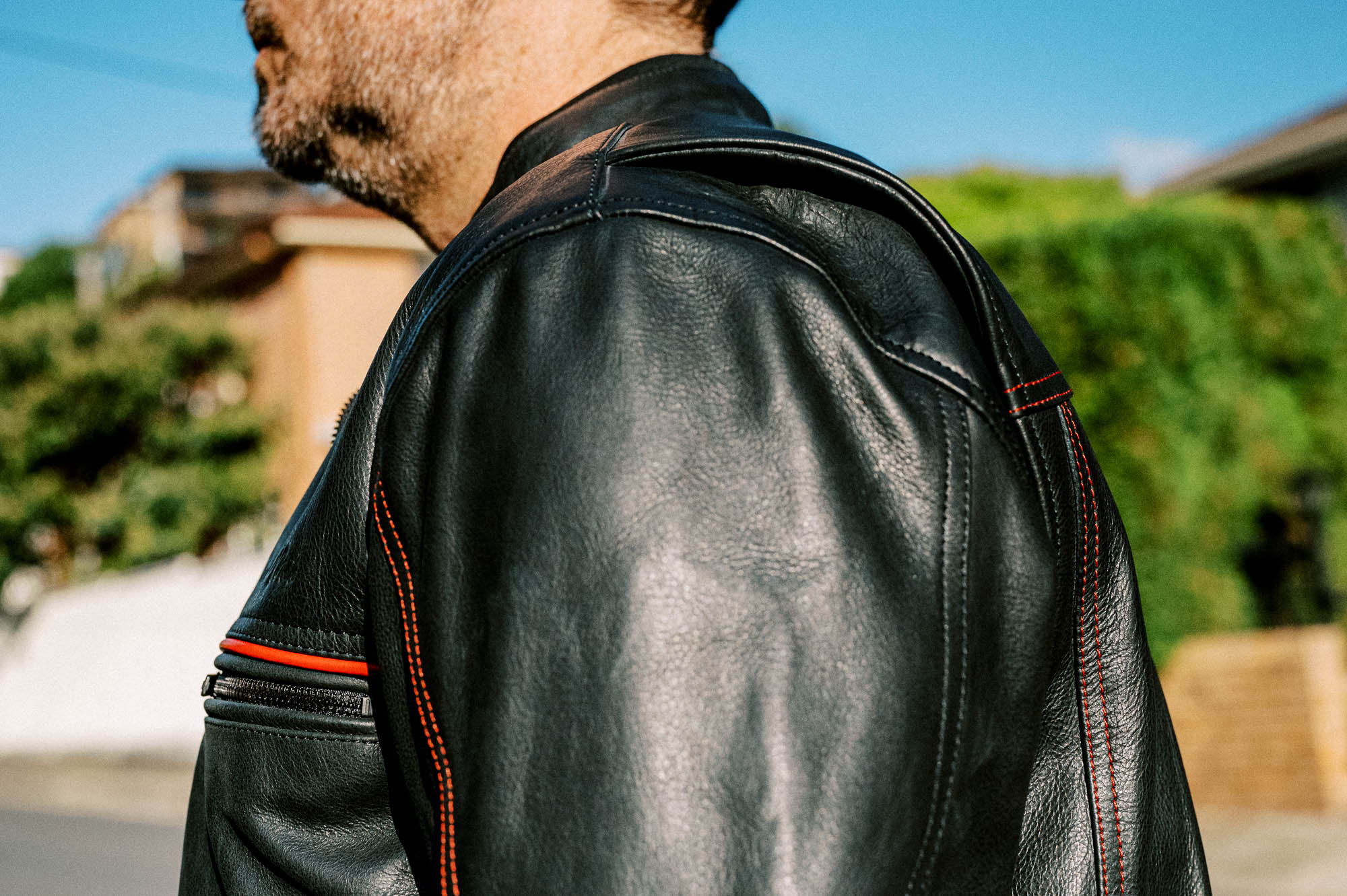 What's it Like to Wear the Rumbler Leather Jacket?
I've mentioned it in my previous Black Pup jacket reviews, but I feel it's worth repeating here because of the chance of purchasing a jacket from the company that doesn't fit as well as it could; I usually take a large jacket and I have more than a few competition brand names to prove it. But I take a medium when it  comes to Black Pup fits. If Richard hadn't stepped in and ensured that I was fitted correctly, I dare say I might have had something that didn't fit correctly but would've probably put up with in that very typical "it'll do" fashion that many of us riders so often do. But don't. If you are contemplating a purchase from Black Pup (or anyone else for that matter), make sure you get the jacket properly fitted first.
Longer in the back than the front. No, it's not a moto mullet – it is the way a proper biker jacket should fit. And that's' because unless you're riding one of the Harleys from Easy Rider, you'll probably be leaning forward to a greater or lesser extent. With the Rumbler, it's only a subtle tweak, but it's definitely there. And it looks great, too. As does the additional length covering your plumber's canyon in the warmer months.
Pleats allow more movement without the jacket riding up at the back. Also note rear vent zipper at the bottom of the shot.
So after three of Black Pup's jackets, I think I'm beginning to really appreciate just how well they fit me, or at least my none-to-pretty hunk of meat. In the past I've willingly handed out four stars in the review fitment ratings largely due to the incredibly minimal "wearing in" time the Black Pups have required.
Now whether it's me getting used to them or just a specific design feature of the Rumbler, but this thing melted away like hot butter about two and a half minutes after I put it on for the first time. No neck rubbing. No stiff arms. No riding up. We went from strangers to an elderly married couple finishing each other's sentences in non tempo at all. Of course, all bodies are different, but for me that's a worthy reason for a perfect fitment score if ever there was one.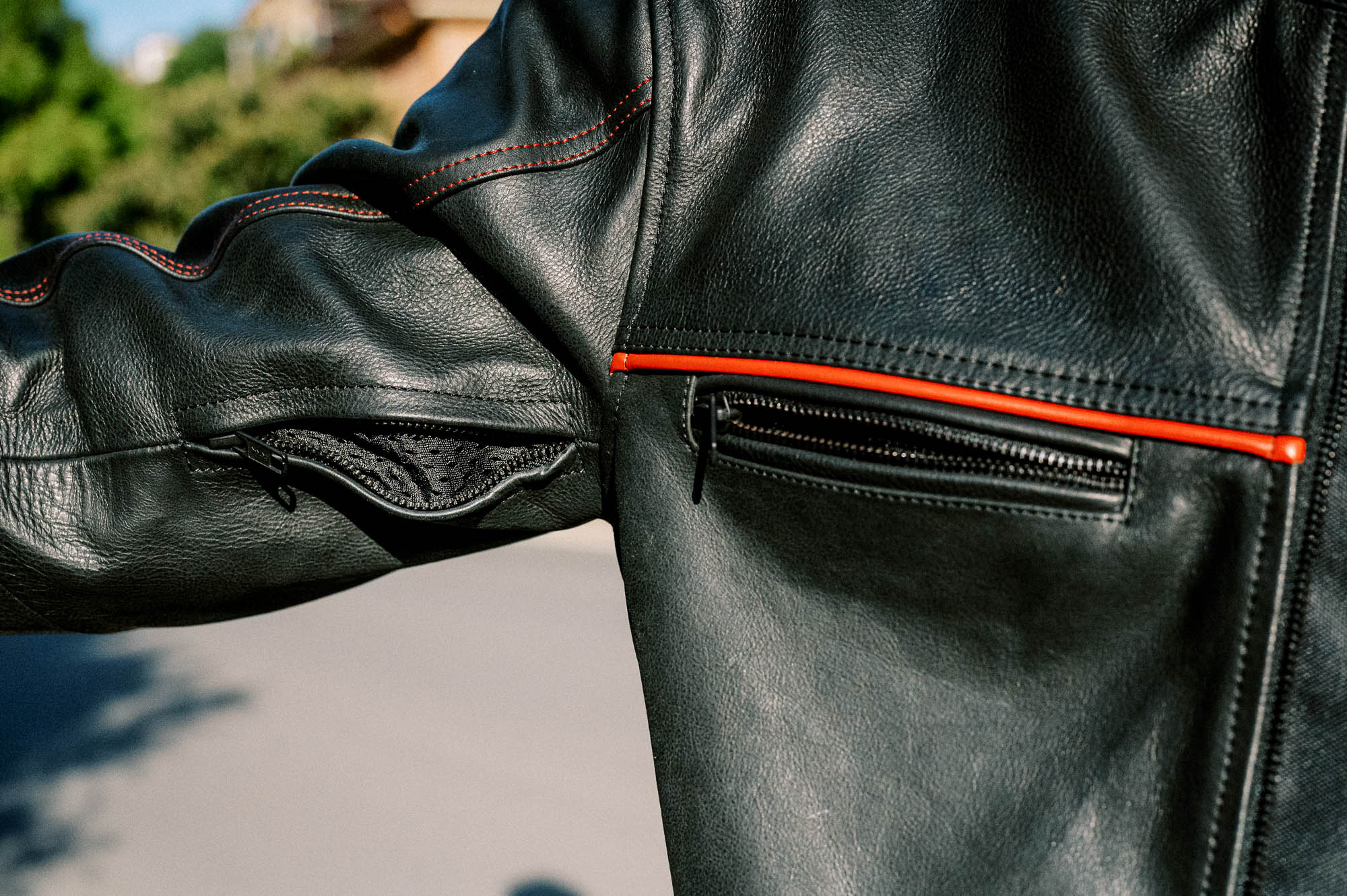 What's the Build Quality Like on the Rumbler Leather Jacket?
With a jacket design like this, there's really only four "weak points" where a failure could, erm, fail. And that is the stitching, the zips, the press studs and the buttons. We're not talking built-in airbags or USB heating elements here; as with all Black Pup's gear, it's just good quality cowhide and a black fabric lining with all the stitching and hardware necessary to make it move when it needs to move and stay still too. This being my third jacket from them, I can honestly say that I've never had a zipper fail (they are all Japanese YKK items, after all), a stitch come loose, a press stud refuse to press or a button fall off.
What I will say though, is that you will need to be careful in winter when the jacket's cold-weather lining is in place as it's not too difficult to snag it on a watch or wristband while you're extracting your arm and if your are particularly clumsy and/or brutish rider like me, there is a chance you might also remove one of the two red buttons hidden inside the jacket's cuffs that hold the lining in place.
Sure, it sounds a bit nit-picky to mention this and it's not strictly speaking a build quality issue, but I'd hate to be the person who removes their brand new Rumbler jacket after the first ride and precedes to pop buttons with their fashionably oversized wristwatch as it wreaks havoc on the jacket's thermal internals.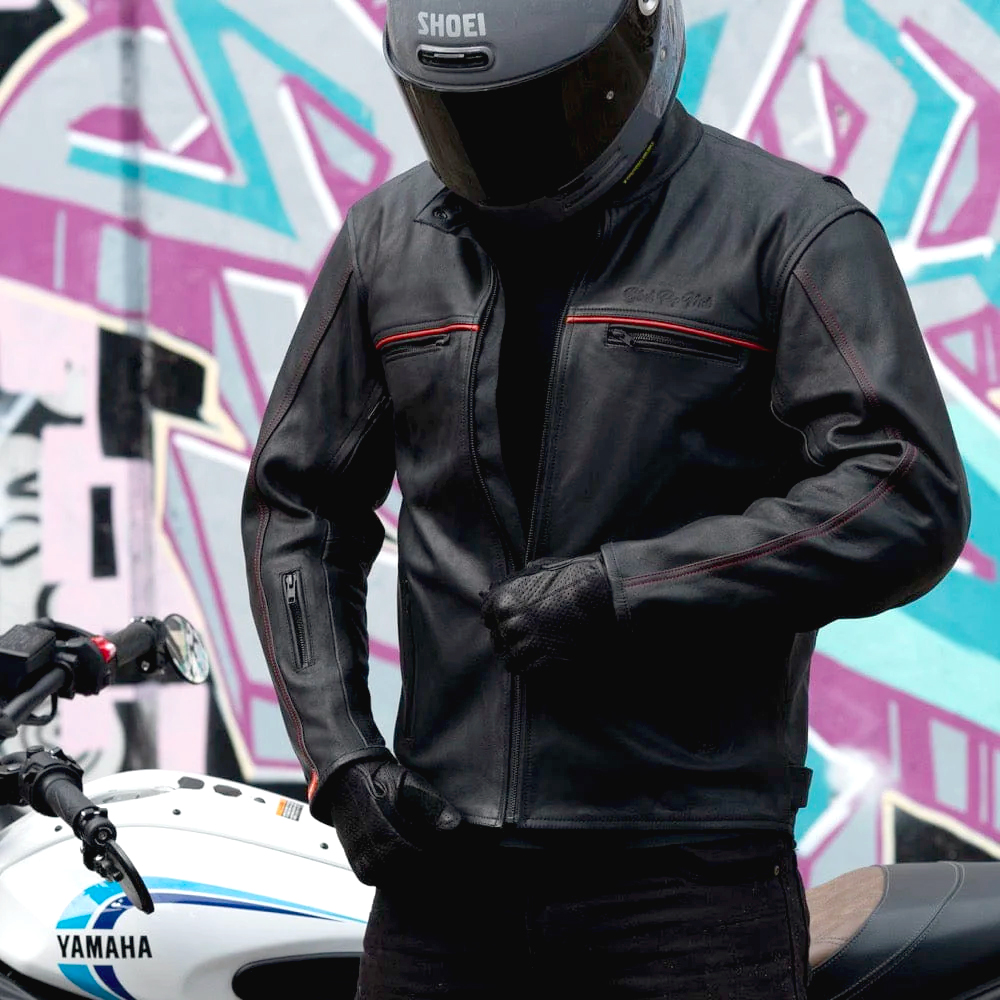 Design smarts mean that the jacket's liner replicates the internal pocket layout that you'll get when you remove it, so you won't be flapping around like a buffoon at the cafe or service station trying to find your phone, ATM card or wallet in a pocket that was definitely there a few weeks ago but has now been relocated to a less well known location for summer.
The leather looks good now, but like a decent pair of jeans, it will only get better and better with use and if you are lucky enough to be able to ride every day, the thing should look about as cool as a vodka bar in a Siberian snowstorm after a few years of wear and tear.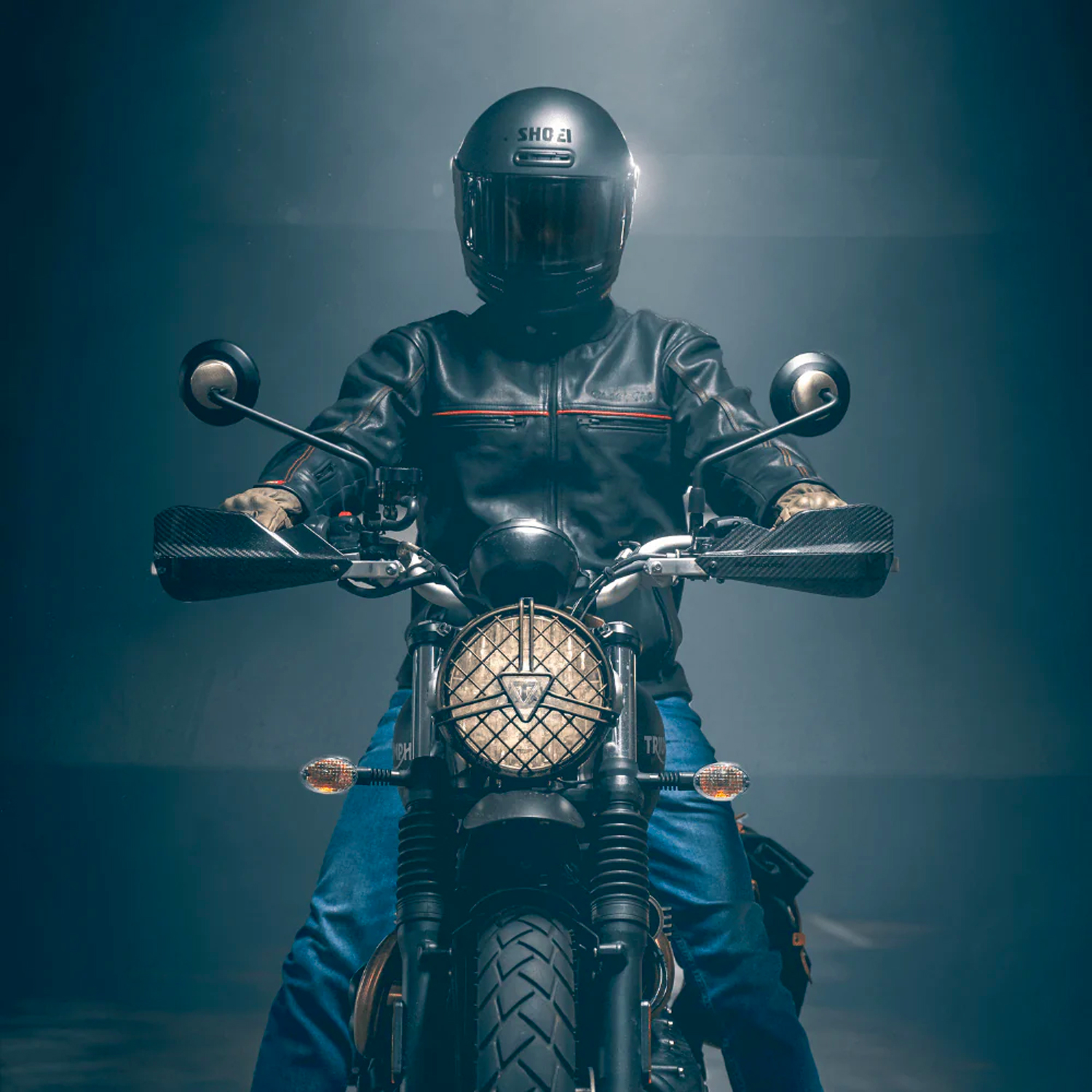 What Features Does the Rumbler Leather Jacket Have?
Yes, I know I've covered off some of them already, but "once more for the dummies," as they say. And no, I wasn't referring specifically to you. I was talking to that other guy over there. But seriously, this motorcycle jacket has a total of 11 external zips; three of those are pockets, six air cooling vents, two are for the cuffs and the final one is a spare change pocket on the right forearm. There's two more pockets inside including a phone pouch and another zippable one on the left breast side.
The collar is secured with two studs to allow for various neck sizes and likewise there's a two-stud adjustment around the waist for sizing and/or breeze blocking duties. Sadly, there's only one cuff size available with a zipper to transition them from open to closed. Black Pup state on their website that the Rumbler has "redesigned adjustable cuffs," but unless I'm missing something really obvious, they are simply referring to the ability a wearer has to position the zipper somewhere in between fully open and fully closed.
Nothing bothers me more in winter than a cold breeze ripping up my jacket's arms and cooling down my core. In the past I've actually stuffed newspaper inside jacket cuffs to stop the cold breeze robbing my warmth and just plain pissing me off. For that very reason, I prefer the ability to increase a jacket's cuff tightness with push studs or a strap. Of course, gauntlet-style gloves will make all this a moot point, but I felt it was worth mentioning just in case.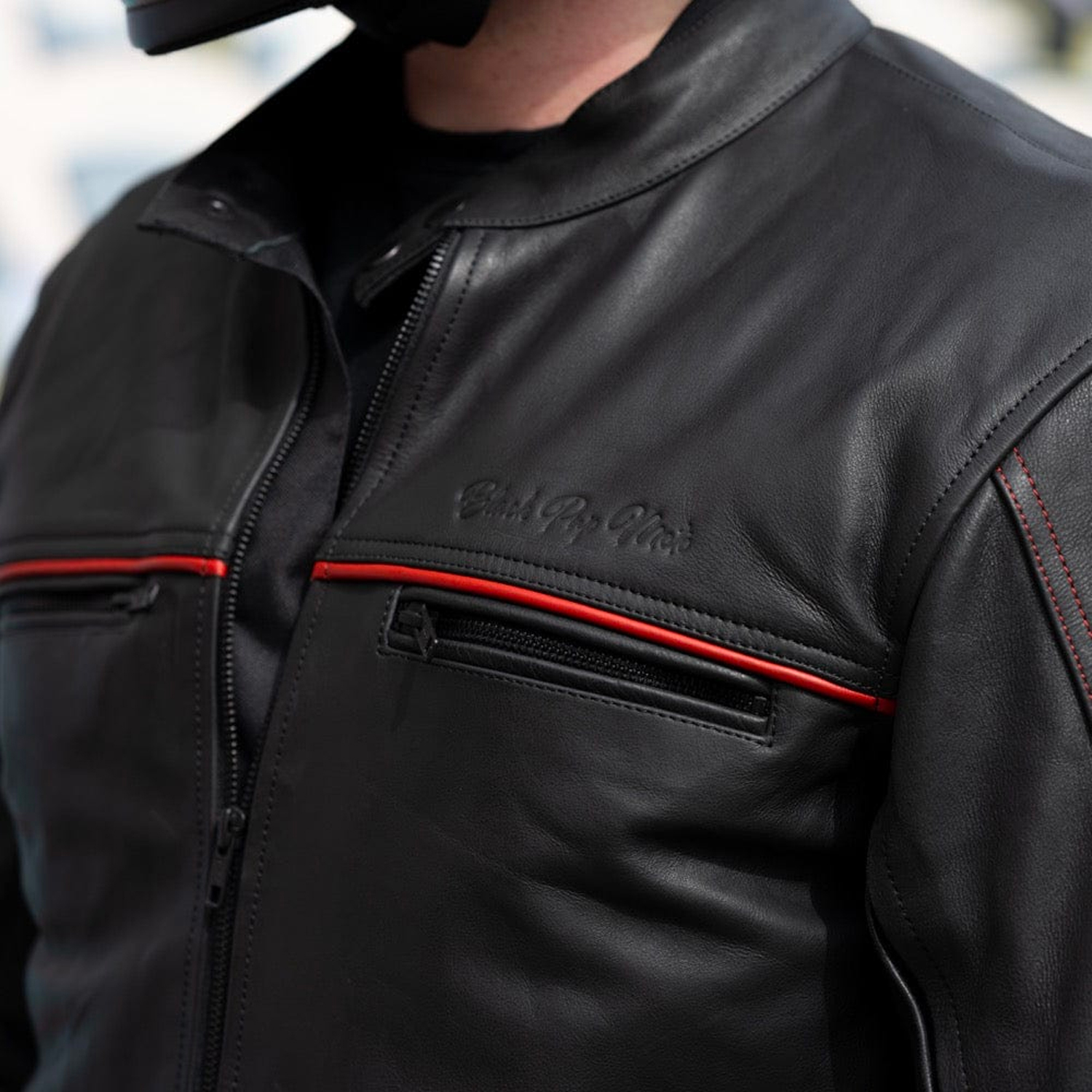 In Black Pup's world, this is like shouting "LOOK AT ME!" from the rooftops. While nude.
As you've probably realised right about now, Black Pup's creations are not about bells and whistles, so that's the be-all and end-all of the features list. Actually, no. No it isn't. Because I neglected to mention the armour. Included as standard, the non-CE smash mats are located on the jacket's back, shoulders and elbows. It's great to have as standard, but I'd suggest that for any serious, long, interstate rides, you replace that base model stuff with some approved CE armour just in case.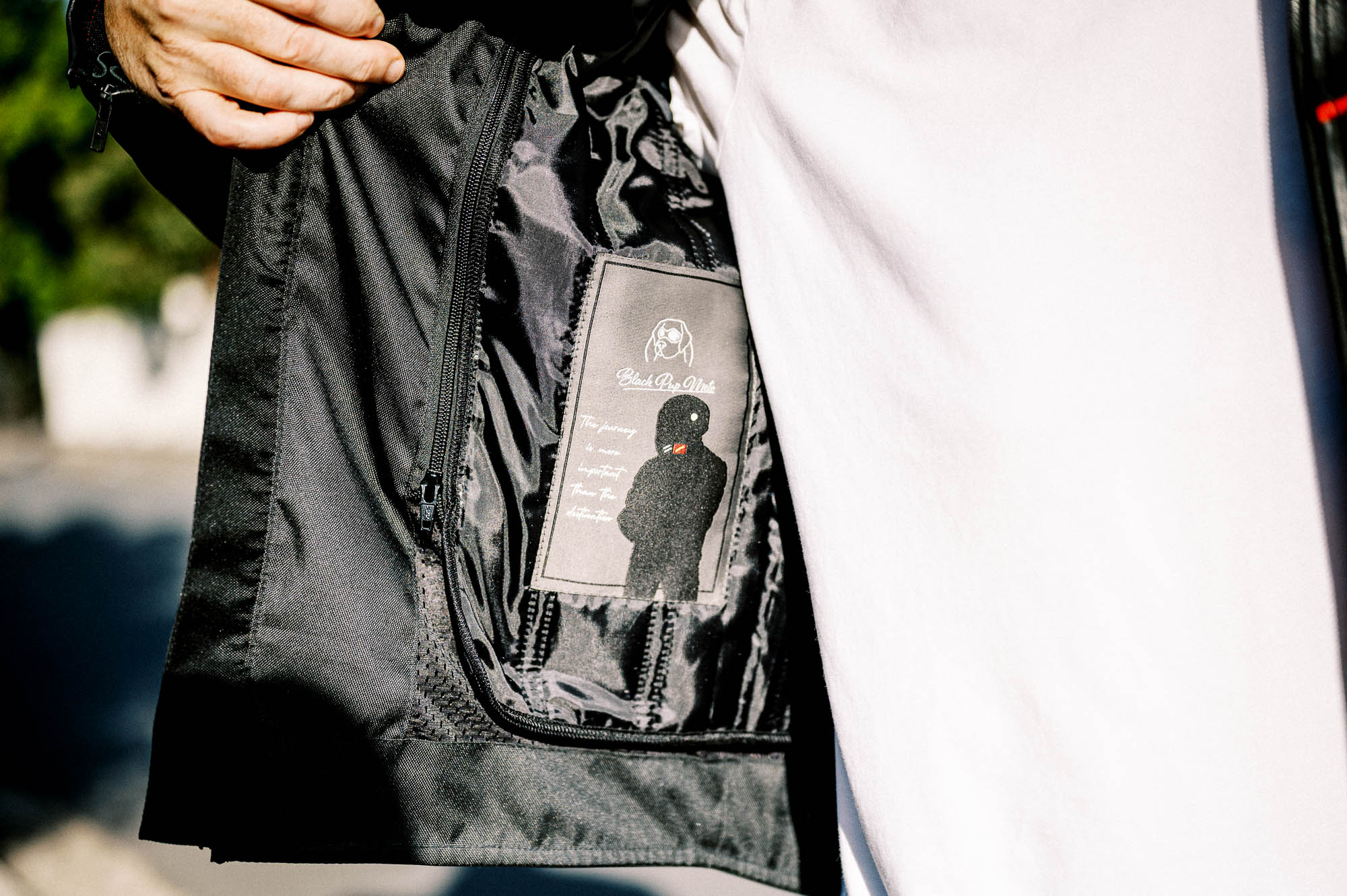 Should You Buy Black Pup's 'Rumbler' Jacket?
If you're in the market for a new black jacket that speaks very quietly and carries a big, anti-gimmick stick, then definitely check out Black Pup's Rumbler. It's a little bit Steve McQueen, a little bit 1970s, a little bit red and a whole bunch of satin black.
For someone who is now developing somewhat of a Black Pup collection, it'll take pride of place at the front of my garage clothes rack as my new medium-length jacket of choice and I'm more than a little excited to see how it looks after a bit of wearing in.
For those riders who love the odd rev bomb and can't help but rip a wheelie immediately after leaving their Sunday biker's cafe of choice, this jacket probably won't meet your needs. You'll be better off bursting through the door of your local moto gear shop with a wild look in your eyes and a sign around your neck that reads "GIVE ME NEON LEATHER OR GIVE ME DEATH!" But for their polar opposites who know that less is more and that classic lines and restraint is the best recipe for timeless looks, then I suggest that you drop Richard at Black Pup a line and ask him to hit you up. You won't regret it.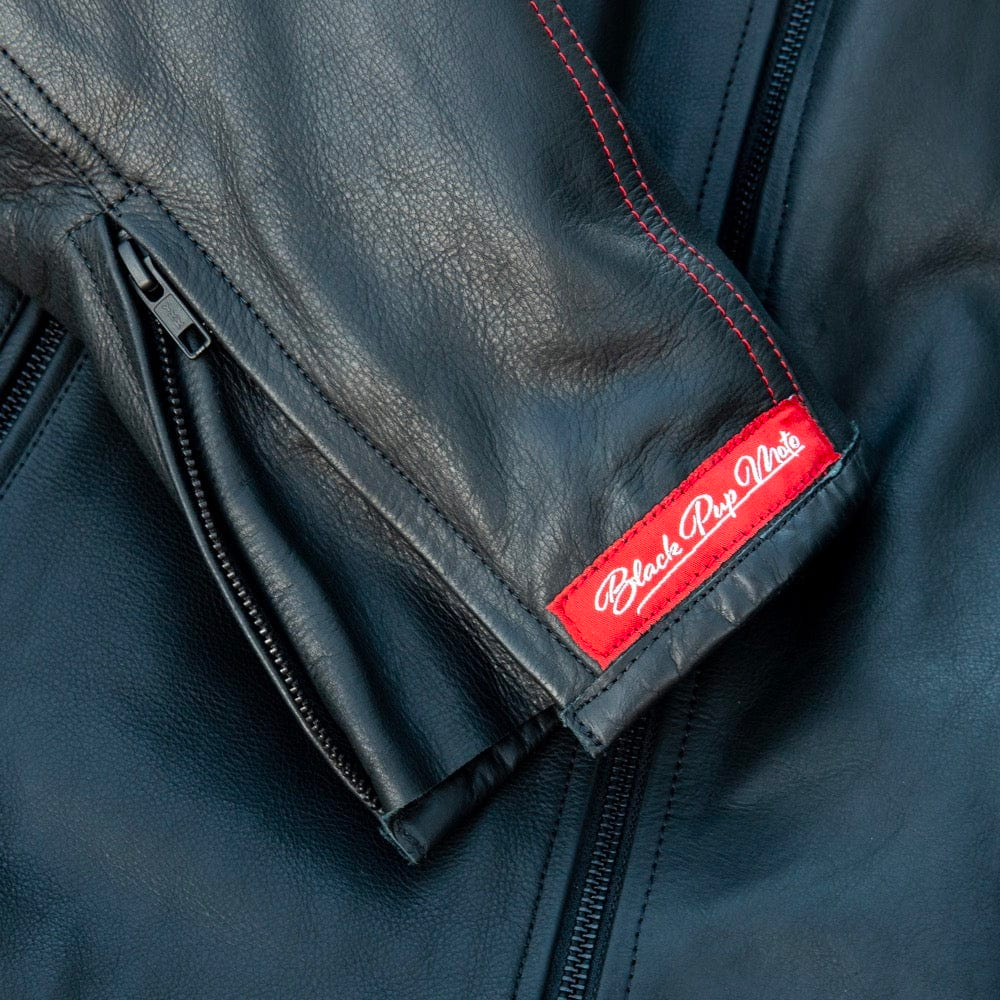 Pros
Classic, understated and well-made
Red highlights a lovely touch
Really comfy and seasonally adjustable with plenty of cooling vents
Aussie company & Aussie-designed product
Very good value
Cons
Not a "look at me" gear option
Some internal pockets can turn inside out
Non-adjustable cuffs might be a little loose on smaller wrists
Important Links / Where to Buy
Specs
Manufacturer: Black Pup Moto
Price (When Tested): Jacket – AUD$499
Colours: Charcoal Brown / Black with Red Accents
Sizes: S to 2XL
Review Date: April 2023