If you want a timeless, understated look when you're on your classic bike, cruiser, or cafe racer, then this is the jacket for you. Designed in Australia by real riders just like you and I, this jacket does everything it needs to without any pretenses, overstatements, or screaming logos. Most casual observers won't even be able to tell if it's new or if it was handed down to you from your grandfather. If you dig the 'less is more' aesthetic, this jacket (and the accompanying gloves) should be near the top of your list.
Pros
Minimal, understated & timeless
Nicely pre-patinated
Super comfortable and seasonally adaptable
Aussie-owned Company & Aussie-designed product
Great value
Cons
Not for those who want to stand out
Some internal pockets tended to turn inside out
All images courtesy of Black Pup Moto & Machines That Dream.
Next time you're at a formal function, try this little exercise. Stand back, and take a look at the crowd at hand. Now mentally divide the fashion on display into three categories. First will be the 'also rans'. The people in rental gear, thrift store rags, or just cheap-ass shopping mall threads. Feel free to ignore them.
It's the two remaining groups that we're interested in. They'll be the ones who've actually made an effort; the ones who own the suits they are wearing and have had them tailored—to a greater or lesser extent—so that they actually fit. You'll notice two distinct approaches here. The 'more is more' group and the 'less is more' group.
The 'more is more' crowd will be the ones wearing the brightly-coloured suits; the suits with embroidery all over them, or even (god forbid) animal prints. Sure, their suits will fit well and they will be made well, but they have missed a key point about looking good. Because in almost every situation—be it a casino, a funeral or a wedding—less is more. Like any good film, meal, or piece of poetry, it's as much about what you don't include as what you do that makes things memorable. But what's this got to do with leather motorcycle jackets?
Simple, folks: I'm talking about the value of minimalism. It applies as much to moto gear as it does to formal threads—and Black Pup Moto demonstrates that with two of their latest products.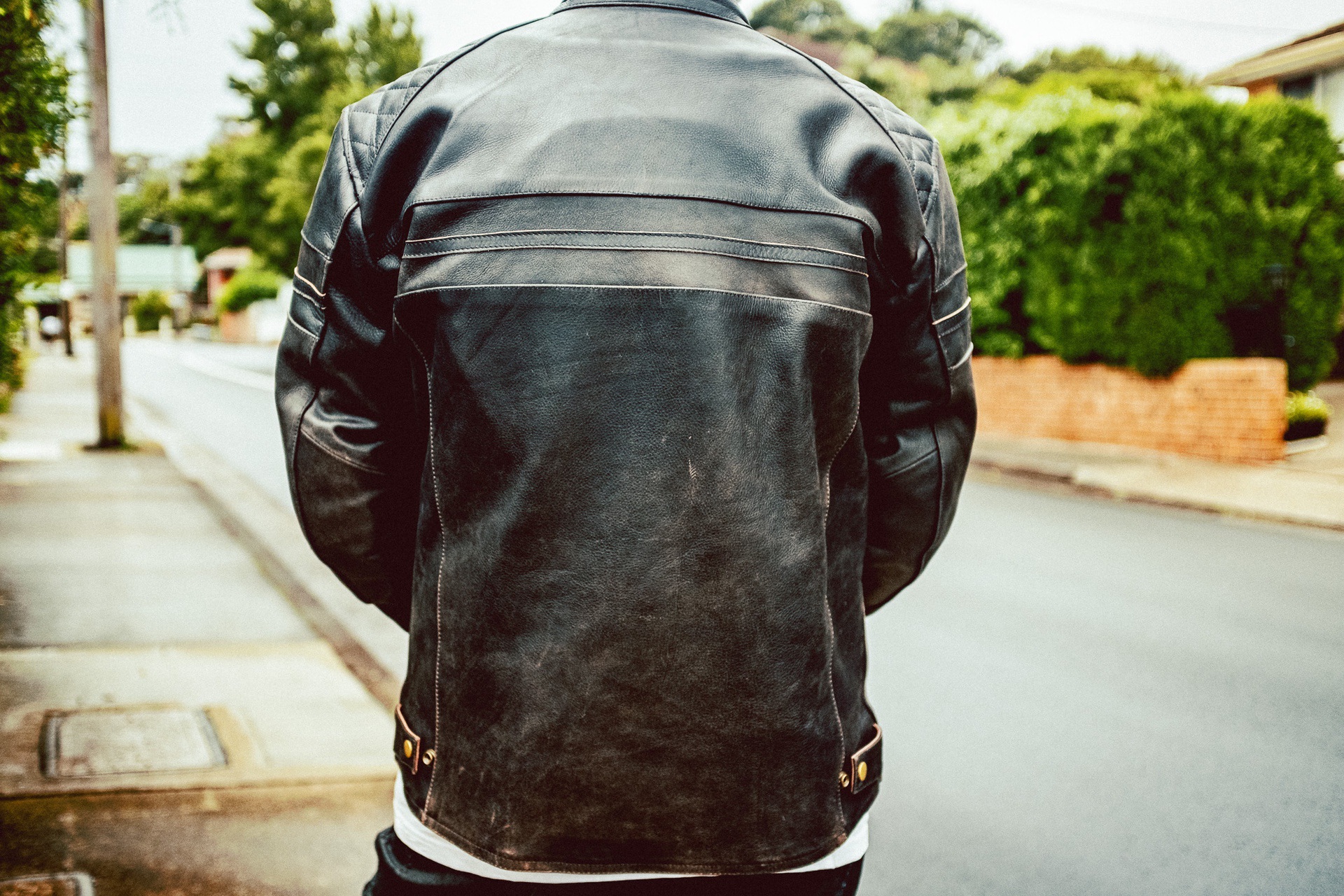 Nice patina, straight off the rack. Like a leather bomber jacket, but not as chocolately.
Meet the 'ol Bobber' Leather Jacket & 'Thumpa' Summer Gloves
Above, you can see the 'ol Bobber' leather motorcycle jacket from Australia's Black Pup Moto who are based in Melbourne. It's been dreamt up by company owner Richard Brown as a classically styled, full-length, distressed 'charcoal brown' piece for those who prefer more timeless bikes like cafe racers and cruisers. Yes, it also comes in satin black leather, but for the sake of this review (and to aid some more diversity in my moto wardrobe), we'll be looking at the brown version.
Alongside this, I'll also be attempting a brief review of the Black Pup 'Thumpas' short cuff summer gloves. While writing a full and engaging review for a lone pair of gloves can be a bit of a stretch (pun fully intended) for most journos, I've found in the past that pairing them up with a sympathetic piece like a jacket can make for a more interesting read and a helpful 'look book' for those who need both items.
These gloves are very reasonably priced; even more so if you are making a purchase in euros, pounds, or American dollars. And you'll be supporting a small Aussie business, to boot.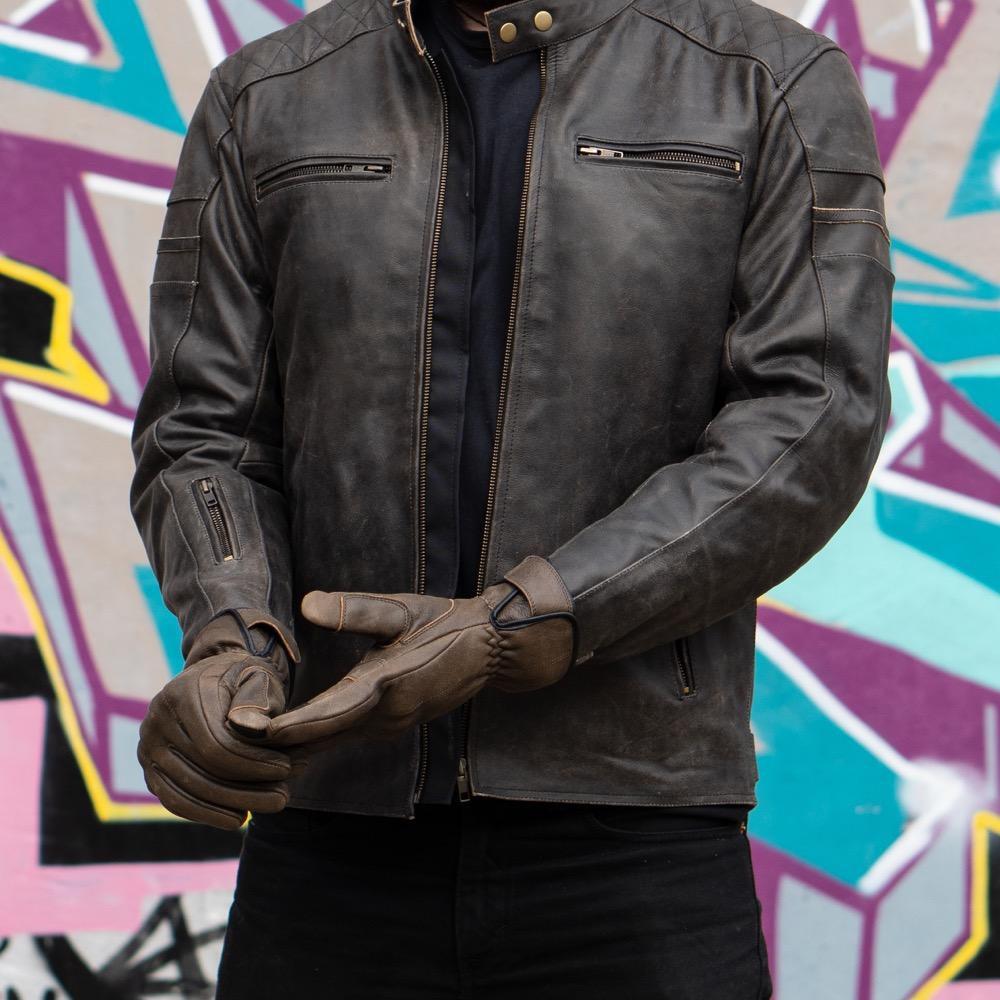 Brass hardware and black/brown leather work well together.
Who's Black Pup Moto?
Ever walked into a moto gear store and liked exactly NONE of the stuff on display? Yeah, I know it sounds a little fussy, but speaking from personal experience, I really get what Richard from Black Pup means when he says he was always frustrated by this experience.
Besides, some of us just aren't into fluorescent colors, flaming skulls, or looking like the guy who got the 'best dressed' trophy from the Sturgis Rally in 1979. People! Did we learn nothing from Steve McQueen? Sheesh.
Using the logic that he wasn't the only one who would appreciate a more classic, timeless approach to moto gear, Richard designed the 'Classic' glove to dip his metaphorical toe in the water and gauge the response. With something that was simply designed, well made, and which featured exactly no lightning bolts, the response was as instant as it was loud. And so Black Pup was born.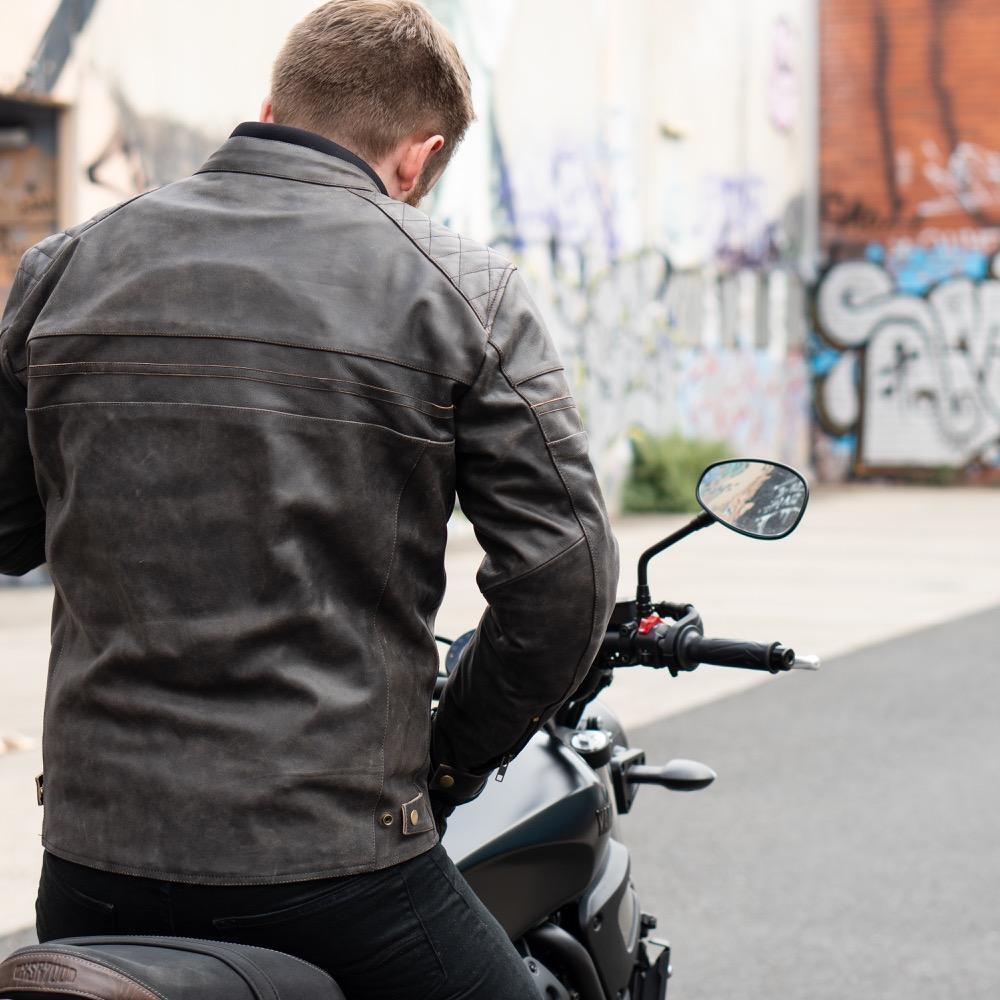 Subtle references to speed stripes without actually shouting, 'SPEED STRIPES!'
What Does the Black Pup ol Bobber Leather Jacket Look Like?
This jacket has a deceptively simple cut, and its pre-patinated finish means it not only looks like you've owned it for 50 years; it'll convince most people that it was designed some time in the 1950s, too.
With some very subtle nods to fashion in the shoulder stitching and the 'speed stripes' (if you can even call them that) across the arms and middle back, this is almost like some kind of moto camouflage for those who would rather the eyeballs be on their Triton or Shovelhead than staring at the migraine-inducing corporate branding plastered across their chest. And as it's pre-aged, you won't look like a noob, either.
Finished in a colour I can only describe as being bang in the middle of the black-to-brown spectrum, it's a shade that can appear to sway either way depending upon the light and the person looking at it. When I first got it, I was convinced it was black. But seeing it outdoors in varying light conditions, I'm now thinking it has a certain chameleon-like quality to it.
If you want a solid black, go for their 'Black Aniline' colourway in the same design. And if you want a real mahogany or chocolate brown, then I'm pretty sure this won't tick your boxes. Zippers on either breast and the right arm stand out, mostly because the rest of the jacket is so damn minimalist in terms of its aesthetic.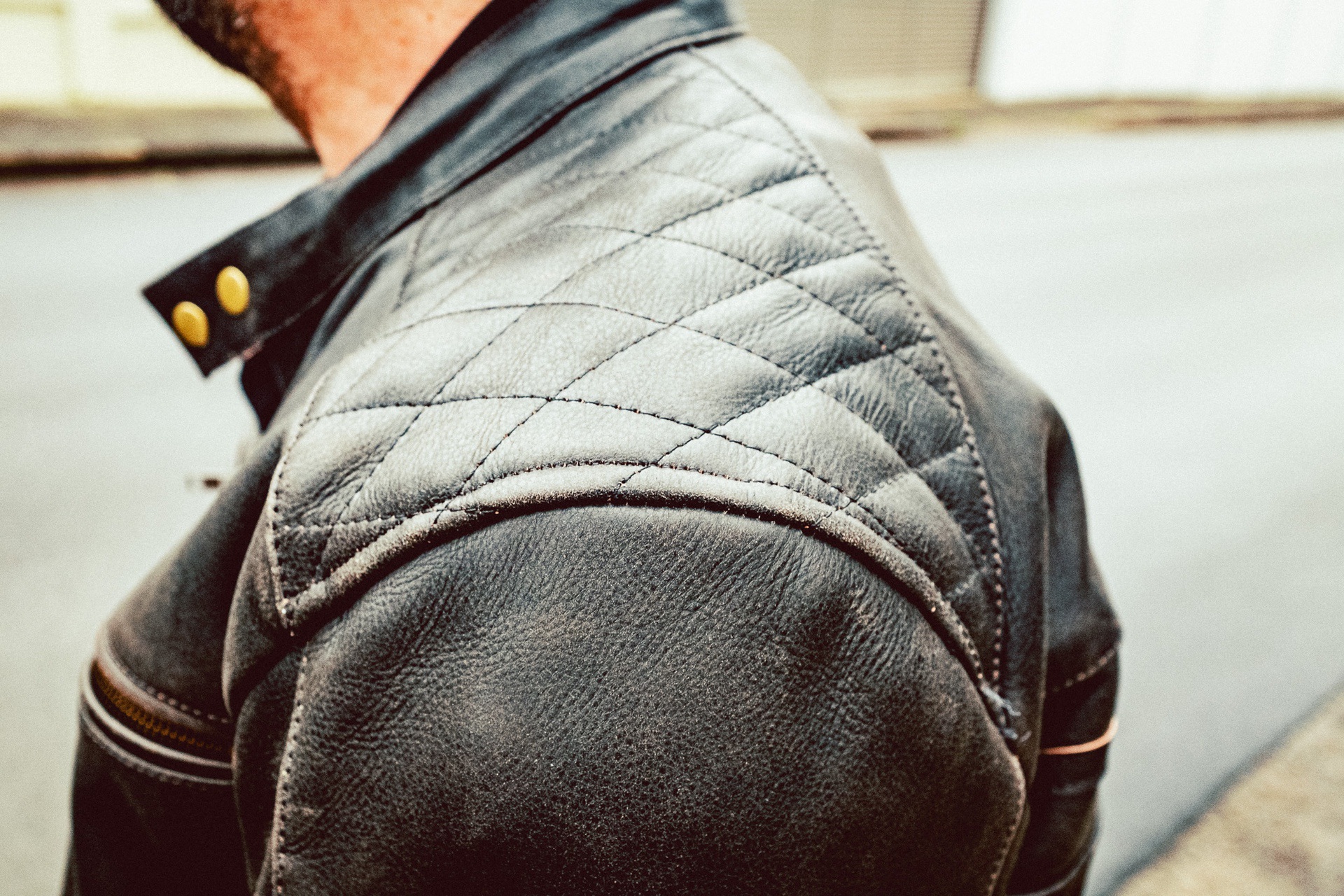 Shoulder stitching is the only real nod to decoration or embellishment here.
What's it Like to Wear the Black Pup ol Bobber Leather Jacket?
I think the best way to describe wearing this jacket would be 'hassle-free'. Or as Steve Jobs once said, "It just works." I had pretty much zero discomforts, teething periods or 'how the hell is this meant to work' frustrations. So I think it's fair to say that it wears like it looks: simply, and without any silly bells and whistles.
Richard took his time to fit the jacket to me in our email discussions, and I have to say that he really knows what he's talking about. Politely ignoring my, "I always take a large in jackets" comments, he sent me a medium and I couldn't be happier with the fit. And yes, I think he'll do the same for you too if you are serious about getting one.
It being Summer in Sydney, I immediately removed the jacket's lining, and so I won't be able to speak with any authority on either the comfort levels when the lining is fitted or the jacket's cold weather abilities—but I consider it more than suitable for spring, autumn, and mild summer day rides.
Classically-styled pop-studs on both the cuffs and hips allow a decent range of adjustments—especially with regards to wearing your gloves under or over your cuffs. And being a full length cut, your soft underbelly won't be exposed to surprise attacks should you dare to raise your arms a little.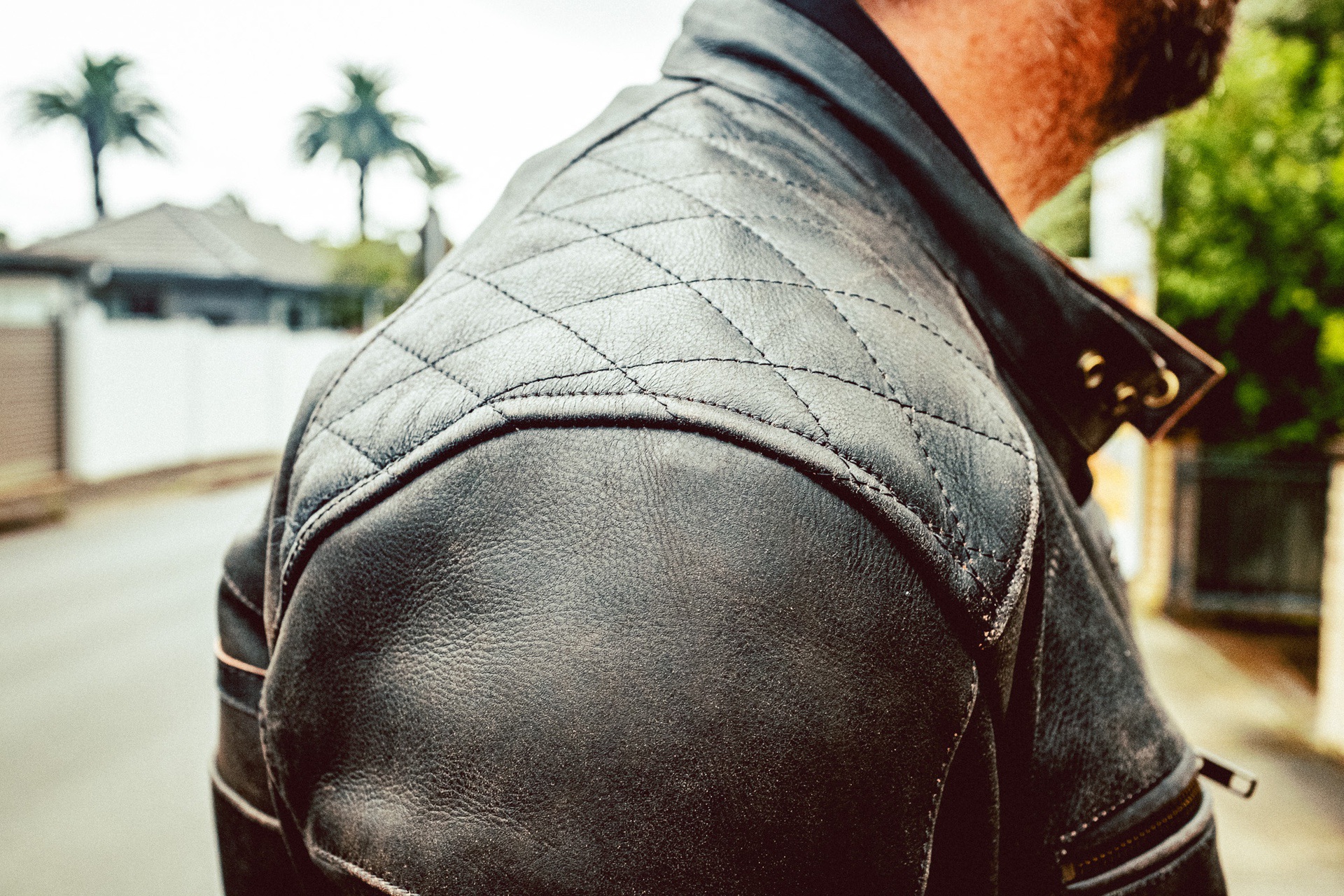 Note how the edges of the leather have a natural finish? Expect this colour to show through as the jacket wears.
What's the Build Quality Like on the ol Bobber Leather Jacket?
As with most jackets these days that don't require a second mortgage, this one is made in Pakistan. Brand snobs and xenophobes may talk your ear off as to how this means lesser build quality and cheaper leather, but much like the way China now owns electronics manufacturing, so too Pakistan is owning leather garment production.
Closer inspection of the jacket reveals a more than satisfactory stitching quality that's no doubt on par with bigger brands, mostly because they use these same Pakistani factories. Add that to the fact that it's been designed in Australia and that the profits go to a small local business in Melbourne (and not a multinational), and I'm sure you'll be more than happy with this thing's provenance.
All zippers are quality Japanese YKK items in brass, so they'll last and nicely complement the blackish brown of the leather. Speaking of which, the leather is a full grain 1.2mm cowhide, and the cut edges display a more tan (or natural) leather colour than the surface finish. I imagine that the leather has been through a 'surface-only' dyeing process, meaning that when it wears over the years, it'll tend to look more light brown.
All press studs work well, as do the internal zippers. On a slightly negative note, the inside breast pocket had an annoying habit of turning itself inside out whenever I removed my phone. Yes, my phone does have a silicone case that is a little grabby, but given the choice, I would have liked to see it secured in place.
What's the last thing you'd expect to see inside a moto jacket? How about a pooch wearing sunglasses and Burt Munro's Indian?
What Features Does the ol Bobber Leather Jacket Have?
With four zipped pockets on the outside and two internally, adding the cold-weather lining neatly replicates the jacket's hidey-holes to keep things where you expect them to be, summer or winter. The jacket also has two little red buttons per sleeve that ensure things stay where you want them when you're putting your arms through them. Their red coloring and smart, no-stitching design means they'll not only be easy to find inside the sleeves when you're replacing the lining in winter, but they'll also stay in place and not fall off as per one or two of my other jackets. Nice.
The armor supplied was generic (but CE-approved) foam jobbies for the back, shoulders, and elbows. No doubt they'd do a decent job of protecting you and your bits, but if the mood should take you, you can always upgrade to something more sexy (like 3DO) for not much money at all.
Also worth mentioning is the nifty little arm pocket sewn into the right sleeve; we've all felt the pain when you need to pay for a toll or street parking while wearing gloves and subsequently look like a doofus while you try and force fingers into too-small pants pockets. This, I daresay, could remove that hassle for good.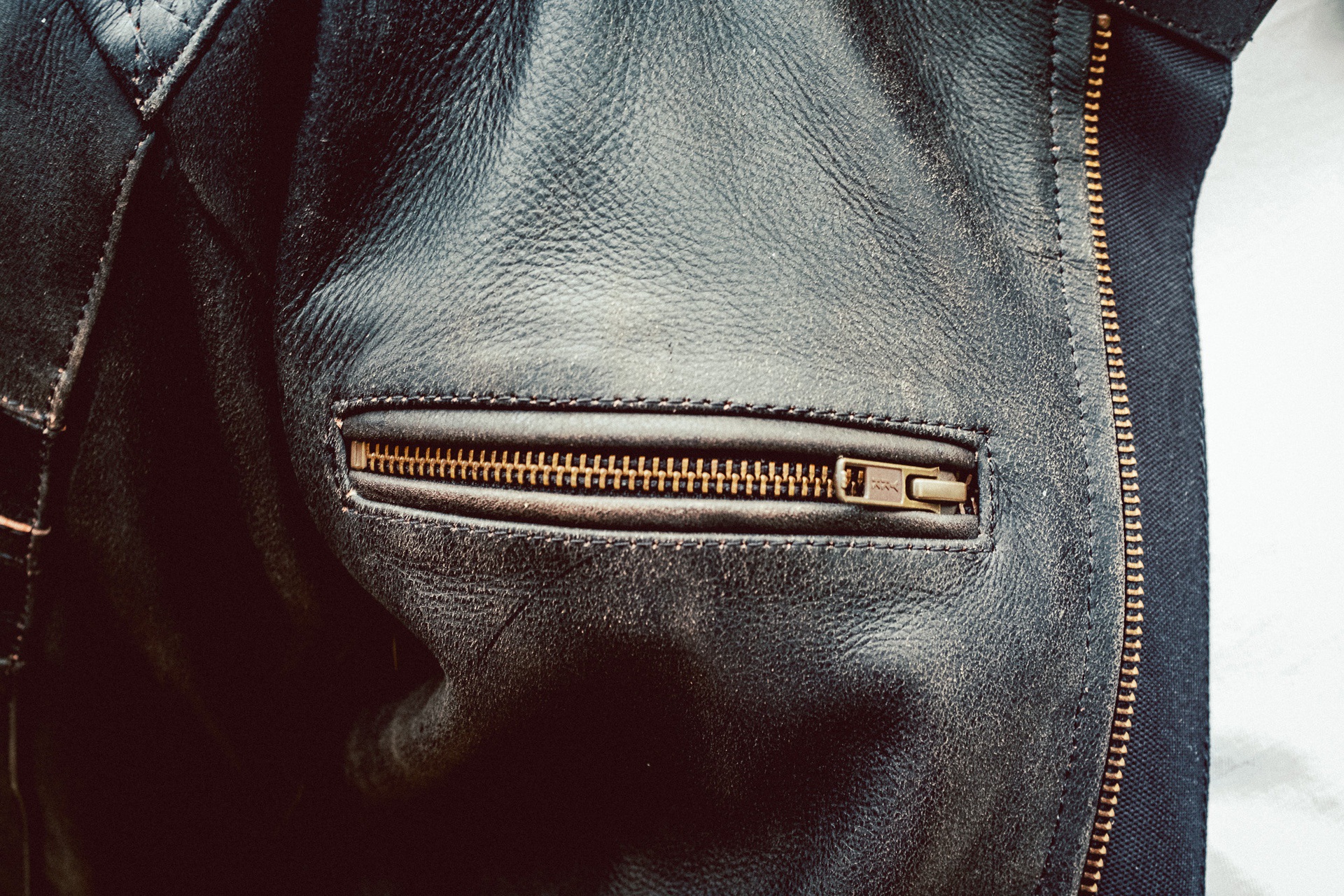 Is it me, or does this photo look a little B&D?
What about the Gloves?
Black Pup were also nice enough to include a pair of their 'Thumpas' short cuff summer motorbike gloves in a sweet 'Retro Brown' distressed leather finish. They matched the look of the jacket so well that I decided to give readers a 'two for' by adding a few extra notes on them here.
Chock-full of perforations to ensure your delicate little hands aren't too sweaty during summer rides, the other features of note include three fingers finished in a touchscreen-friendly material. These gloves also have decent knuckle protection, reinforced impact areas, a velcro strap for fastening, and they're made from high-quality, top grain cowhide. I also dig how the two shades of brown (the jacket and the gloves) work in tandem.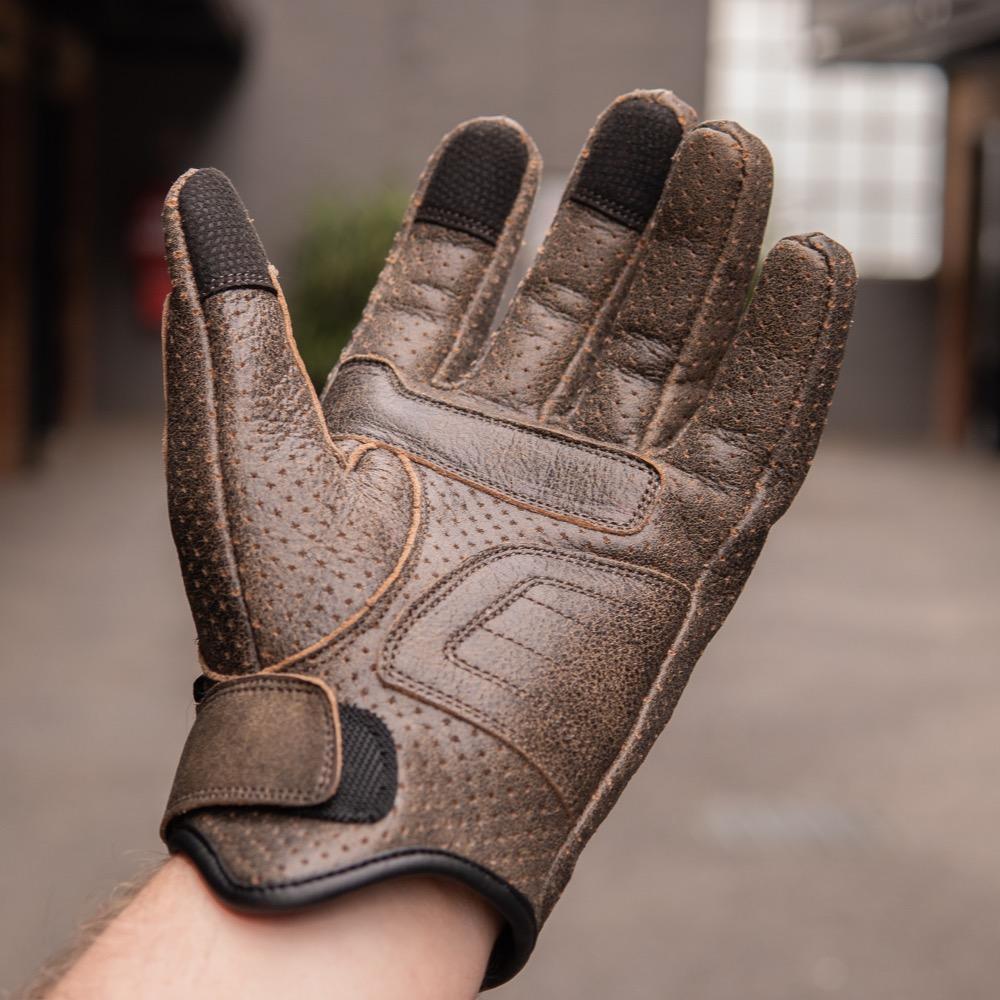 Fingertips are iPhone-friendly for virtual three-finger salutes.
As with the jacket, I've had ample time on-bike with the Thumpa gloves, and I've come away being fairly impressed in a similar fashion to the jacket; they are new but look timeless and are beautifully understated. Refreshingly (for a glove with retro pretensions), their knuckle protection and extra palm layers give me a tangible sense of protection that many similar products dispense with. Yeah, retro looks are great and all, but who wants to come off a bike at speed and have nothing between your hands and the road but one delicate layer of leather?
I get that including armor in gloves can often spoil the old school aesthetic, but remember: it wasn't until the '80s that the world started to take moto safety seriously. In my eyes, these gloves strike a pretty good balance between the free-wheeling good ol' days and modern safety concerns.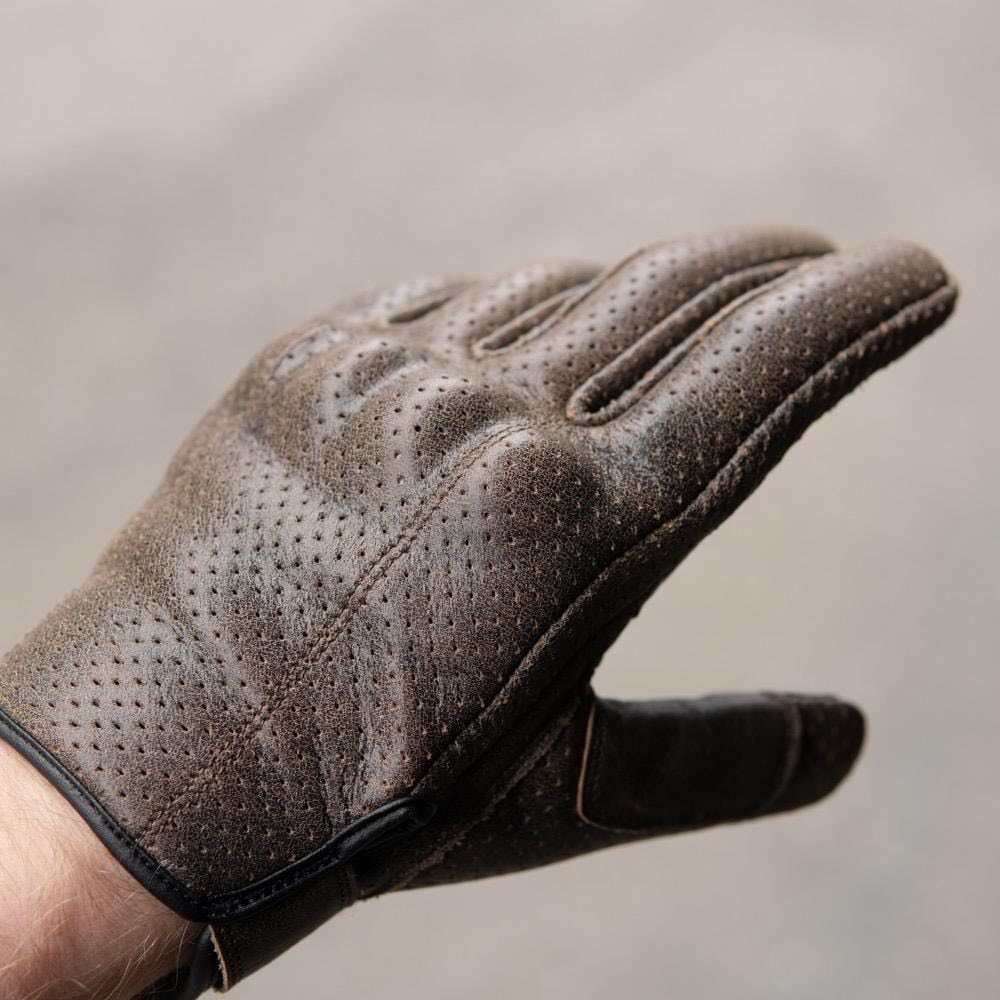 These holes aren't just decorative. A cooling breeze can be felt while riding.
Should You Buy the 'ol Bobber' Jacket & 'Thumpa' Gloves?
So, now we're back at that formal function I mentioned earlier. An Imaginary Steve McQueen walks into the room after tossing his Triumph's keys to the attendants. Naturally, he's impeccably dressed in a pinstriped three piece suit—but the leather jacket he masterfully removed and left at the cloakroom before making his grand entrance probably looked a lot like this one. His gloves, too. So if you get that less actually is more, and that sometimes in-your-face brands and name dropping can be a little tasteless, then this jacket and these gloves are probably for you.
The great price, the Aussie factor, and the fact that it's not lining the pockets of some faceless multinational are just cherries on top of an already great-tasting piece of cake. Yes, there may be times when you want to ride into a car park full of bikers and go off like a tactical nuke at a footy grand final, but for the other 99% of the time when you don't, here's a great option.
In summary, if you're not so interested in standing out from the crowd and you're more about standing away from the crowd altogether, I'd happily recommend both these pieces of kit. Nice work, Black Pup.
Pros
Minimal, understated & timeless

Nicely pre-patinated

Super comfortable and seasonally adaptable

Aussie-owned Company & Aussie-designed product

Great value
Cons
Not for those who want to stand out

Some internal pockets tended to turn inside out
Important Links / Where to Buy
Specs
Manufacturer:

Black Pup Moto

Price (When Tested):

Jacket – AUD$429; Gloves – AUD$89

Colours:

Distressed Jacket – Charcoal Brown & Black Aniline; Gloves – Retro Brown

Sizes:

Jacket – XS to 5XL; Gloves – S to 4XL

Review Date:

February 2022