It's no walk in the park for a custom workshop to stay fresh and original. Constantly pushing boundaries, reinventing styles or striving to be unique are common traits of those who can do it. But sometimes customers' requests contradict those practices.
For a workshop like Spain's Bolt Motor Co. which has a portfolio consisting of over 50 builds, it's common to get requests for replicas of their past projects. Anyone who runs a business knows turning jobs down isn't a good habit. So instead, when such a request comes in, Adrián Campos and the Bolt team search for a middle ground that will leave both the client and themselves satisfied.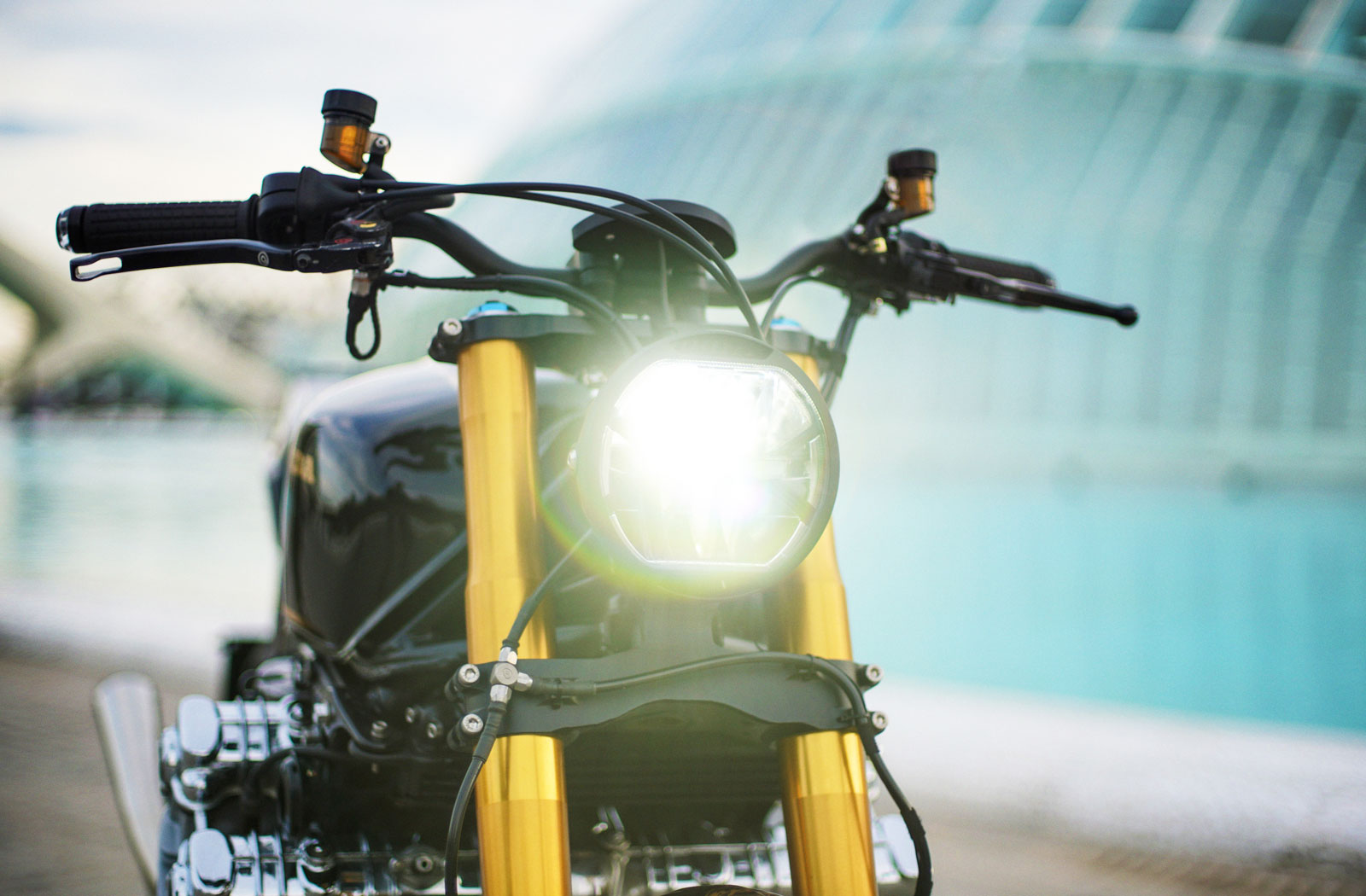 "Not long ago, we introduced #BOLT40, a Honda CBX1000 designed for Jorge Martínez Aspar, a five-times motorcycle world champion," says Adrián. "This bike is #BOLT50, another Honda CBX1000 customized for one of Aspar's best friends."
So the challenge was set. Adrián was not only building a bike with an identical donor and similar design brief, but he was also building it for the best mate of his highest-profile client. Knowing the pair would likely ride the bikes together meant they should not resemble one another too closely, but at the same time they should complement each other and possess similar levels of performance improvement.
Despite the challenging task at hand, this project wasn't without its benefits. For starters, the Bolt team was once again rubbing shoulders with one of Spain's greatest GP riders and secondly, thanks to their clients' racing connection they gained access to some very desirable components.
"For this project, we had the pleasure of having access to spares and parts used in the Motorcycle World Championship," explains Adrián. "For instance, the front wheel on this Honda CBX1000 used to belong to a bike that competes in the Moto2 World Championship."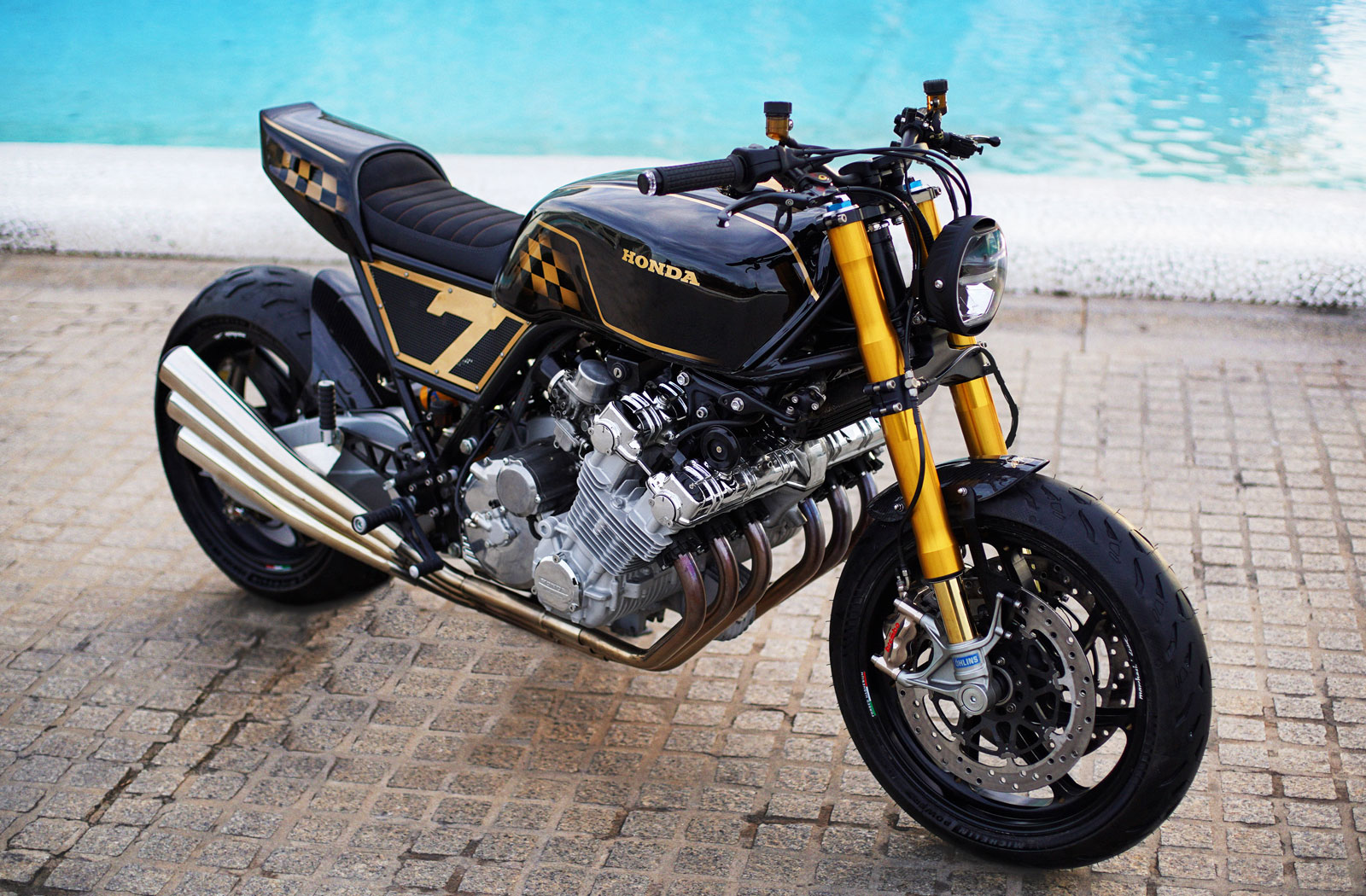 One area of this bike that has benefited most from its ties to the racing world is the handling.
Since Honda first unveiled the CBX1000 to the world in 1978 there have been vast improvements in suspension – and this bike is running some of the best components on the market. Starting with the front end it's a Moto GP spec set of Öhlins forks that offer full adjustability. In the rear, the modifications were a little more complicated…
"As we worked on the rear we started to realize how much effort we were putting into this Honda CBX1000," Adrián recalls. "Our team put in a lot of hours to attach the swingarm of a Moto GP bike and to hook up the race-tuned Ohlins shock absorber. Both the sub-chassis and the tailpiece were built by our crew too."
The CBX's entire brake package is also top-notch. It's been pieced together using Brembo Gold Series parts. The twin high-performance front and single rear discs wear Gold Series callipers and they're hooked up using racing-world quality hoses. Both the brake lever and clutch assembly are also by Brembo.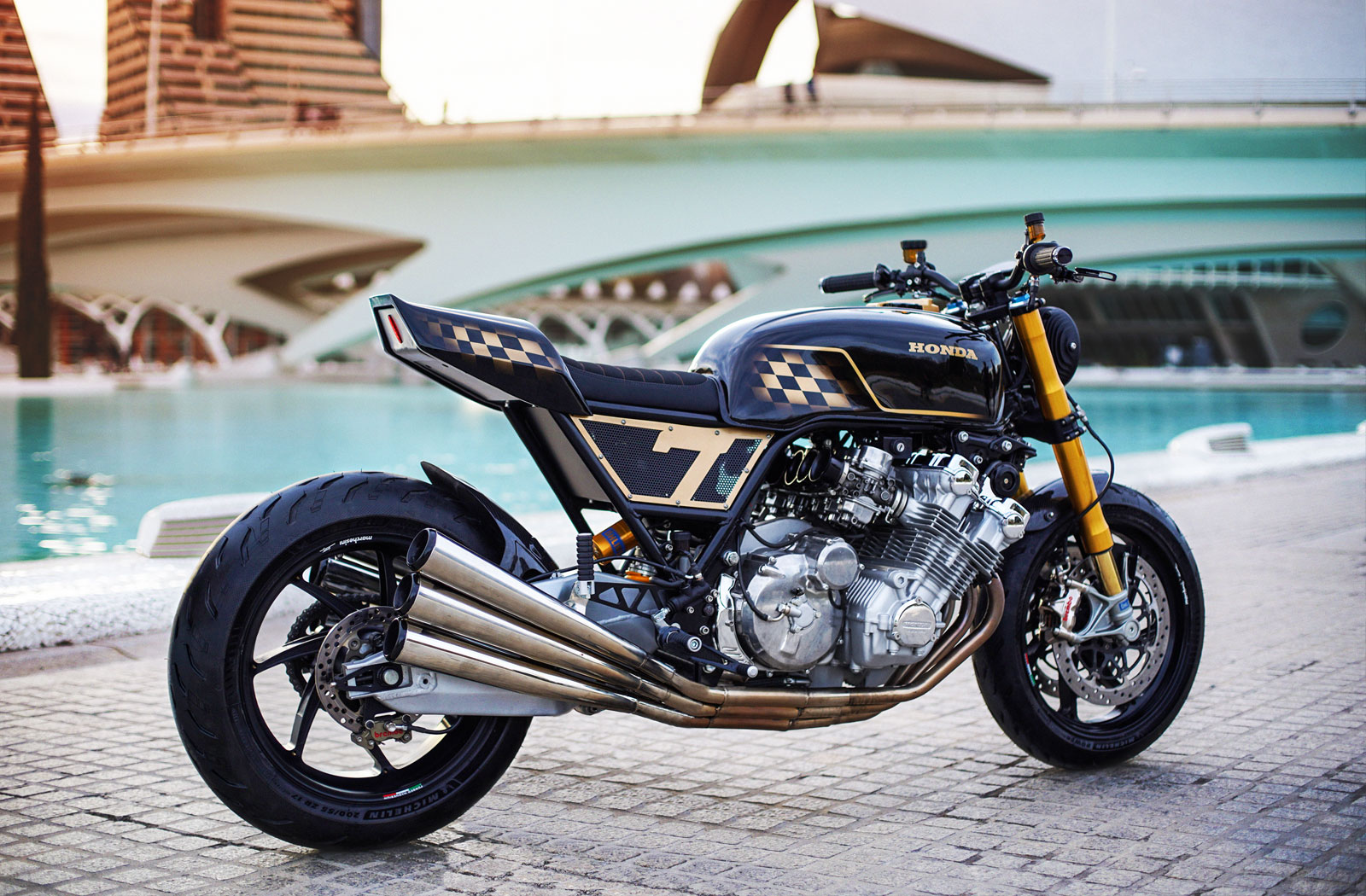 With over 40 years of use under its belt, the bike's iconic inline-six motor needed some attention. Bolt began the process by tearing down and fully restoring the 1047cc twin-cam engine. To entice some extra ponies out of the motor a sextuple of carbs wearing race filters and tuned by the Aspar racing team have been mounted to the barrels.
Completing the power upgrades is a striking 6-into-6 exhaust system that Bolt Motor Co. built and homologated. Despite adhering to local laws Adrián says the setup sounds like a Formula 1 car which is sure to put a smile on the face of its owner.
To complete the engine overhaul the exterior was given a thorough refresh with a fresh coat of paint and plenty of polishing.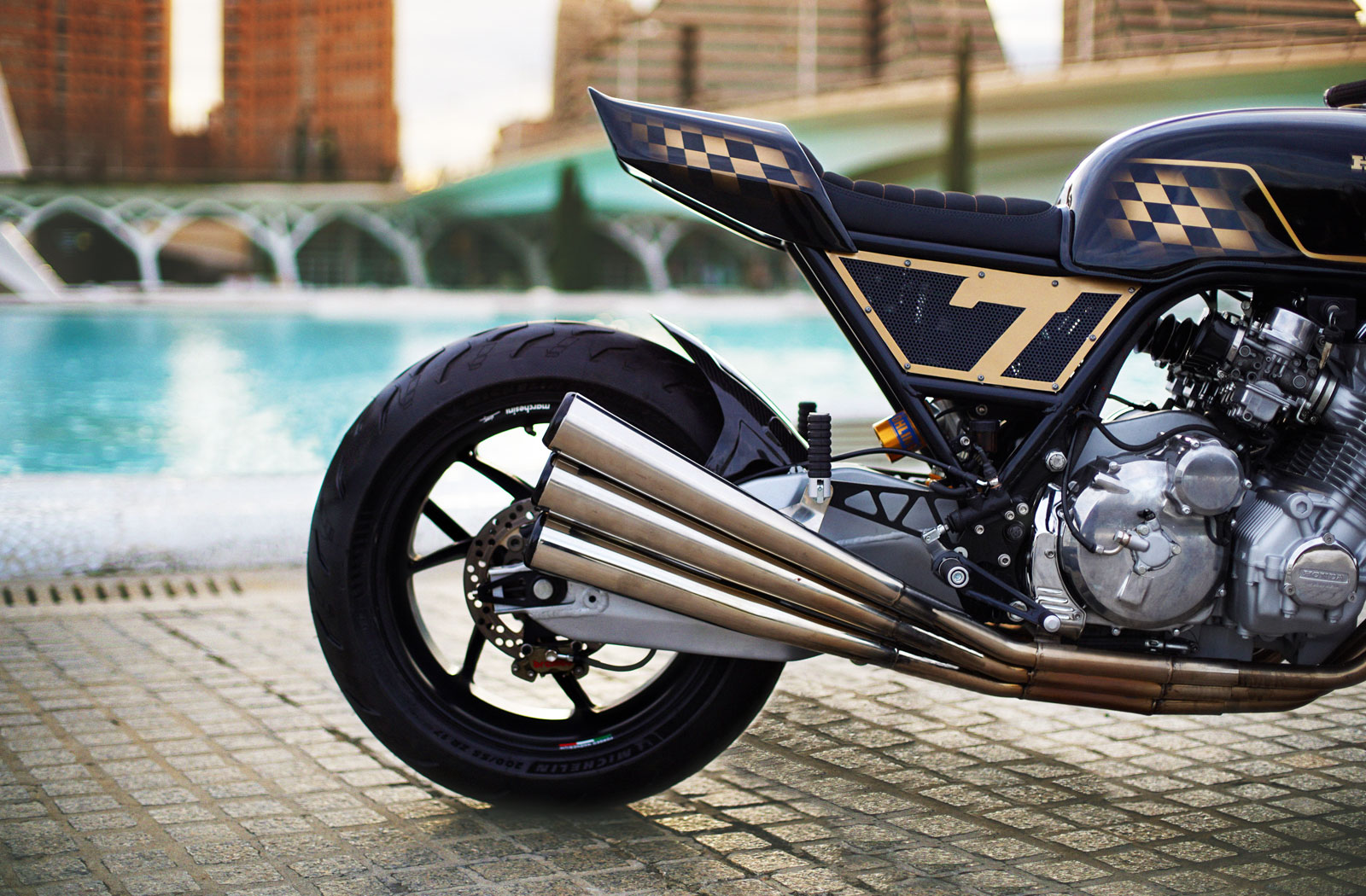 In terms of styling, there are many similarities between this bike and the CBX1000 Bolt built for Aspar. These include the front and rear carbon fenders, hugger style license plate bracket, the retention of the original CBX1000 fuel tank, the mesh 'racing plate' side covers and multi-adjustable Bolt Motor Co. footpegs. The custom made seat and tail assembly are identical too and are the work of build partners Tapicerias Llop. The saddle is capable of two-up riding and is made from suede that's undergone a rainwater repelling treatment.
The cockpit of this CBX is familiar too with a set of relaxed riding stance Renthal bars sitting in custom clamps. A collection of Motogadget components including grips, bar-end indicators and the brand's premium half-moon shaped Motoscope Pro digital gauge finish things off. But despite all these similarities, it's the subtle differences that make this build appear vastly different from the other.
A highlight for Adrián on this build is the LED headlight due to how different it looks from the one used on Aspar's bike. This bike also wears classic Honda decals on the tank and is sporting a number 7 on the side panels as opposed to Aspar's 5. When painting the engine Bolt opted for a silver finish as opposed to black and the black-tipped mufflers are unique to this bike too. As for the paint scheme, it is similar in many ways to the Aspar build, but a new colour palette has made a striking difference.
"The paintwork done on this bike is simply remarkable," says Adrián. "We knew we wanted it to be black, but we were looking for an exceptional shine. The author of this work is none other than Angel, from Airbrush Customs, who has managed to make the bodywork look like it's made of glass!"
Rather than the blue/white paintwork of Aspar's CBX1000 Adrián has opted for John Player-esque black and gold livery. This decision along with the use of the checkered flag motif on the tank and tail is a hat tip to the bikes association with racing and Adrián's own F2 and F3 race teams.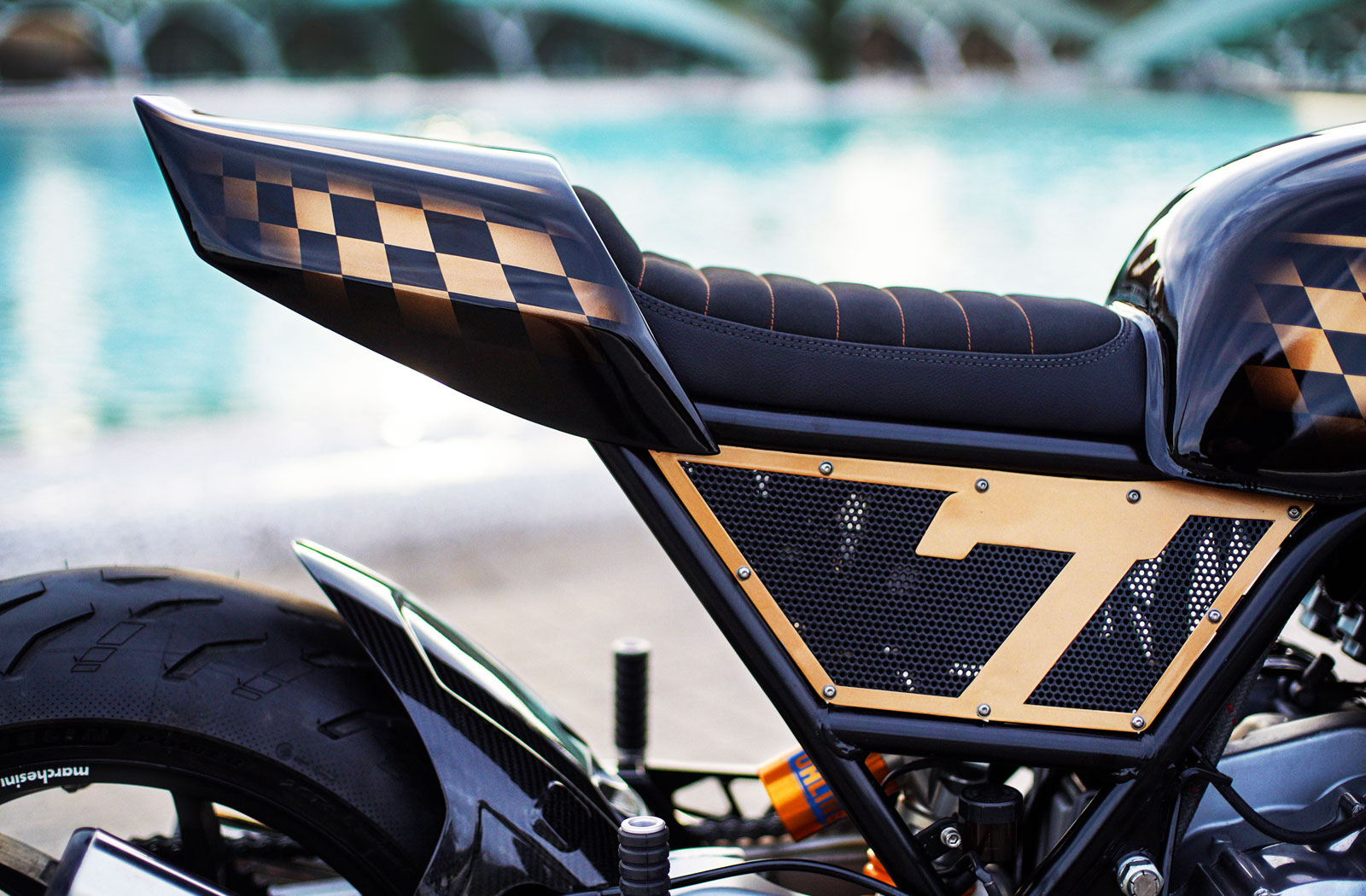 It's always a pleasure to hear a builder excited about a motorcycle they've built and by Adrián's admission, that's certainly the case here.
"As we progressed on this Honda CBX1000, we knew we had a diamond in our hands: a unique bike, with superior parts and a spectacular design. And what was our favourite part?" he says. "Seeing the reaction of its owner."
After laying eyes on his new Honda CBX1000 the owner has coined the bike "The Bellucci". It's a reference to the Italian actress who he says is mature and beautiful much like his new bike. We couldn't agree more.