The Honda CBX1000 needs no introduction. It is one of only a handful of 6 cylinder production motorcycles ever made and part of an even smaller collection of machines that were known as 'hyperbikes'. The hyperbike name was given to the CBX1000 due to its sheer size and impressive performance compared to other motorcycles of its era. By today's standard, 105bhp and a top speed of 130 mph (210 kph) aren't all that extraordinary, but in the late '70s, it verged on ludicrous.
Produced for only 4 short years between 1978 and 1982 there soon won't be a member of the CBX1000 family under 40 years old. That means it's well and truly a classic and the kind of motorcycle that doesn't go unnoticed. It was for this reason that French builder Dimitri of LSY Motorcycles chose the CBX1000 as the bike to showcase his capabilities at the venerable London Bike Shed Show in 2020. Unfortunately, a little thing called COVID 19 threw that plan out the window, but he didn't let that stop him from completing this incredible cafe racer.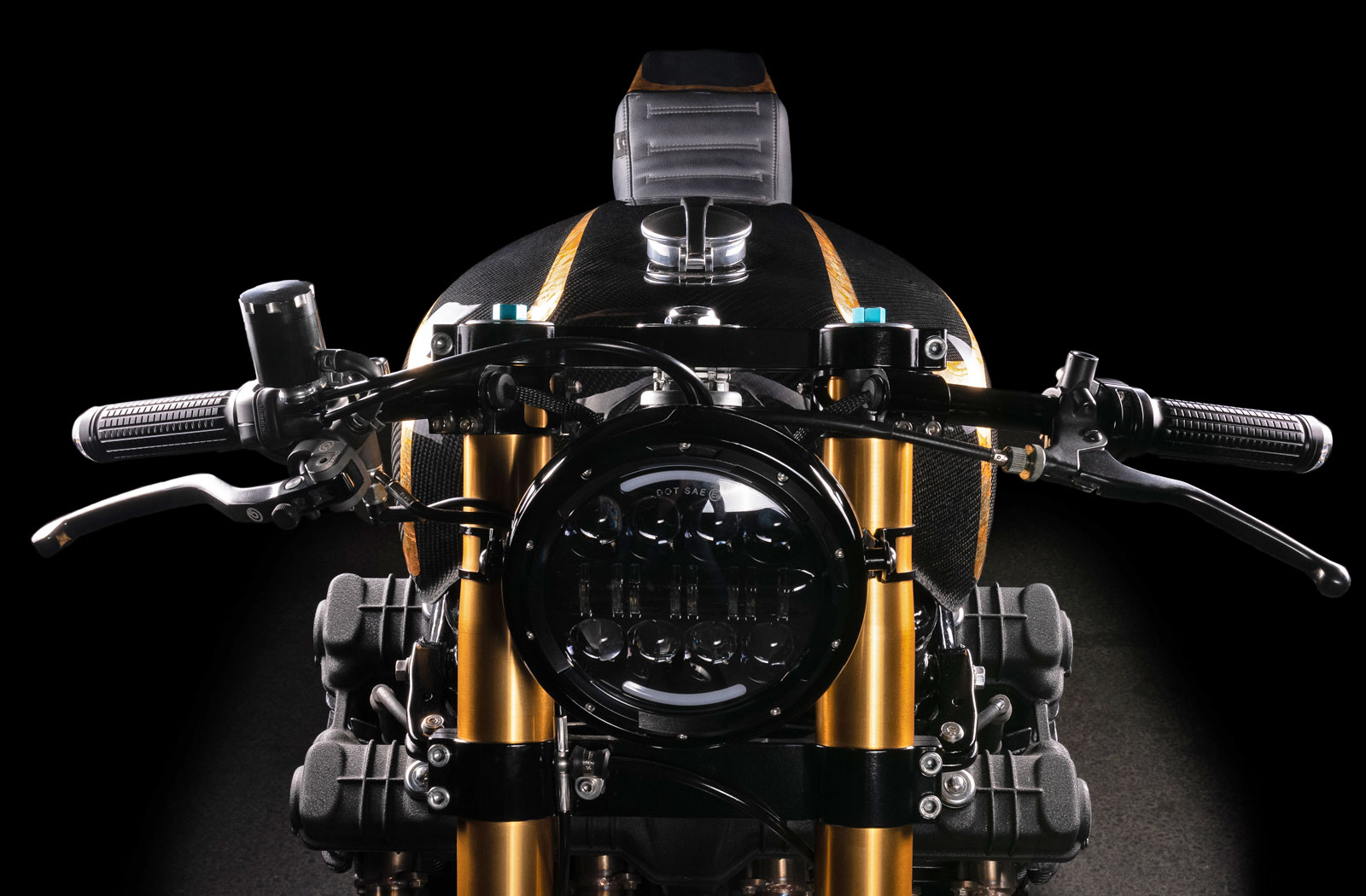 The donor for the project was a neglected '82 Prolink Honda CBX1000. Dimitri's goal was to perform a restomod on the bike, which would see it returned to a running state and improved using a slew of modern upgrades. "I like the mix between modern and old school," he says. "I wanted an 80's superbike but with modern parts and performance."
When Honda released the CBX1000 in '78 it was its 1,047 cc, 24-valve, twin-cam, inline 6 engine that took the spotlight. The rest of the motorcycle however was a pretty standard affair. The engine sat in a lengthy tubular frame, typical of the era, and its telescopic forks were nothing to write home about. The '81 CBX1000 Prolink edition saw the introduction of a monoshock rear and air-adjustable forks. But Honda also went and added more weight by bracing the frame for carrying panniers and they detuned the engine to 98hp.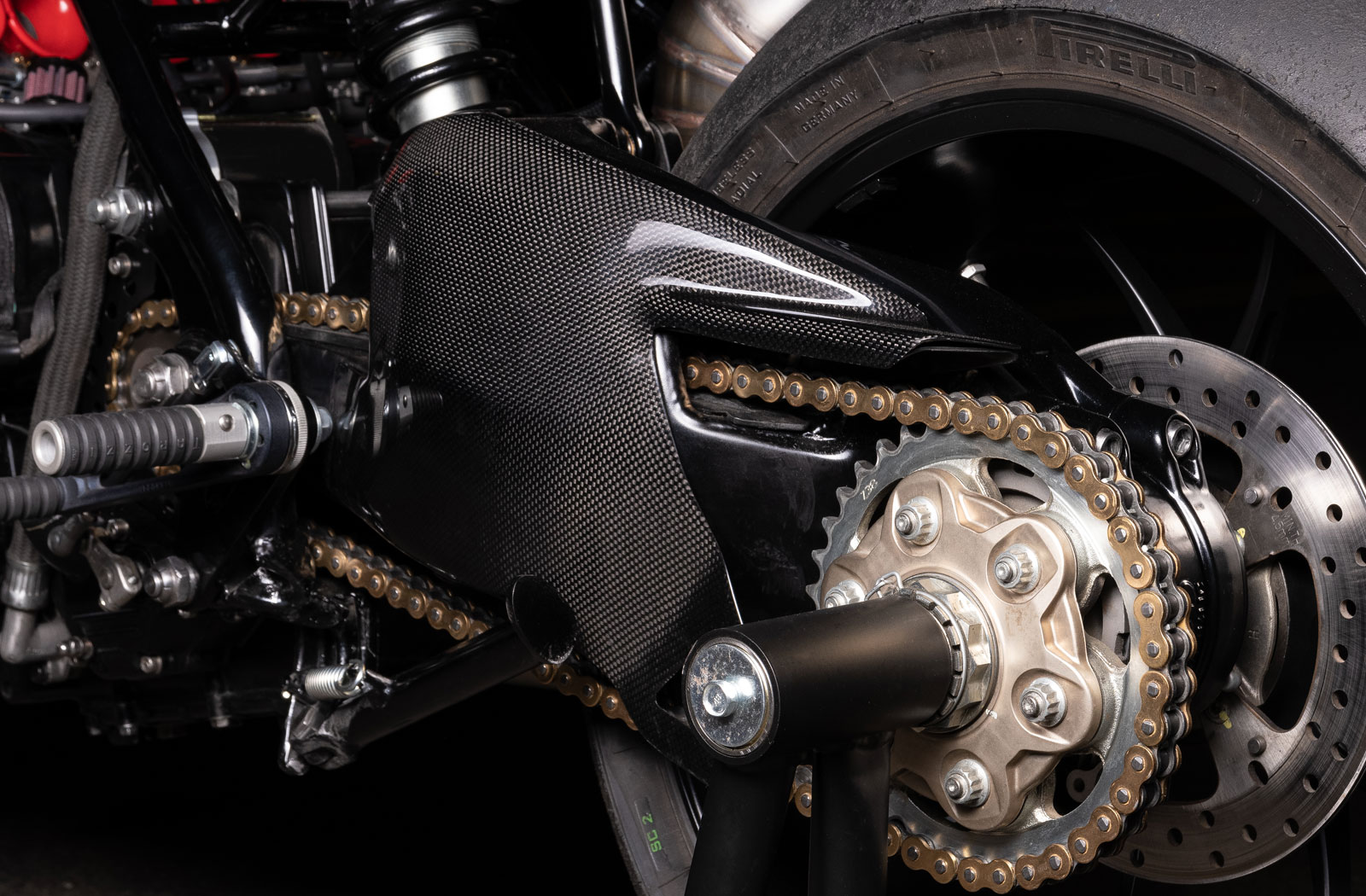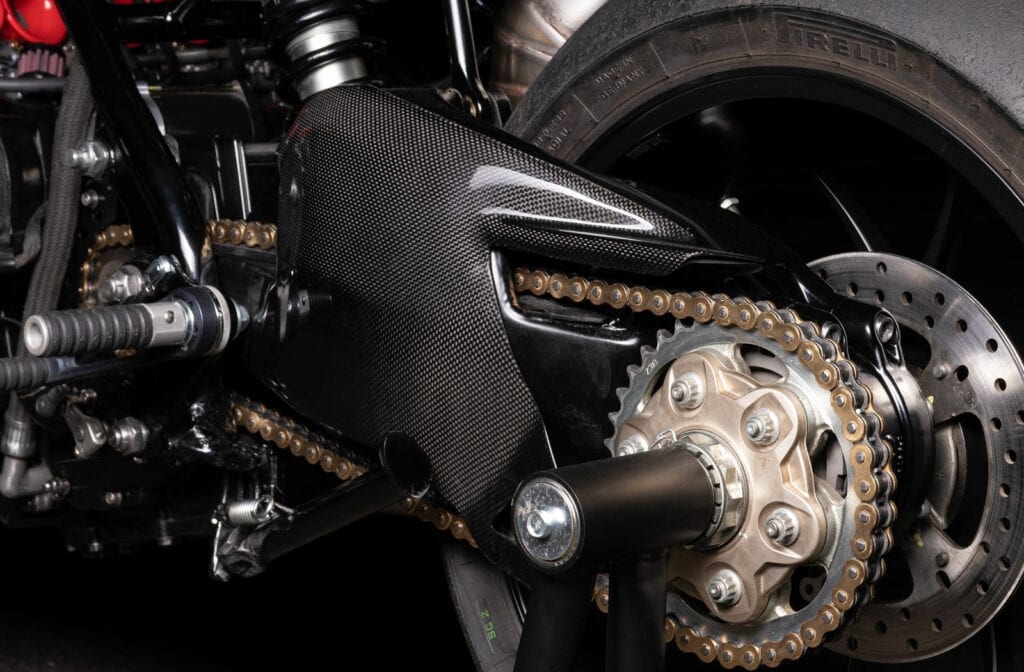 Dimitri devised a plan to completely overhaul the CBX to improve both its looks and performance. Starting with the chassis he focused his efforts on tightening the CBX's bloated proportions. The rear of the frame is now completely new featuring a svelte subframe designed to accept a vastly smaller tail unit. His work on the rear frame also paved the way for some extensive handling upgrades. Replacing the Prolink monoshock setup is a Ducati 1098 swingarm and Ohlins shock that Dimitri has shoehorned into the Honda frame. Getting it to fit was no easy task as it required the design and fabrication of bespoke mounting gear to get it sitting right. Differences in alignment also necessitated a custom offset front sprocket to get the chain running true.
At the pointy end of the bike, Dimitri's added more Ohlins ingredients in the form of Aprilia RSV1000r forks. Holding them in place are custom made triple trees by USV racing and both the front and rear end now benefit from a Brembo brake upgrade. As a result of all this Dimitri states that his CBX1000 now has a geometry similar to that of a Ducati 1098, a bike he obviously highly regards.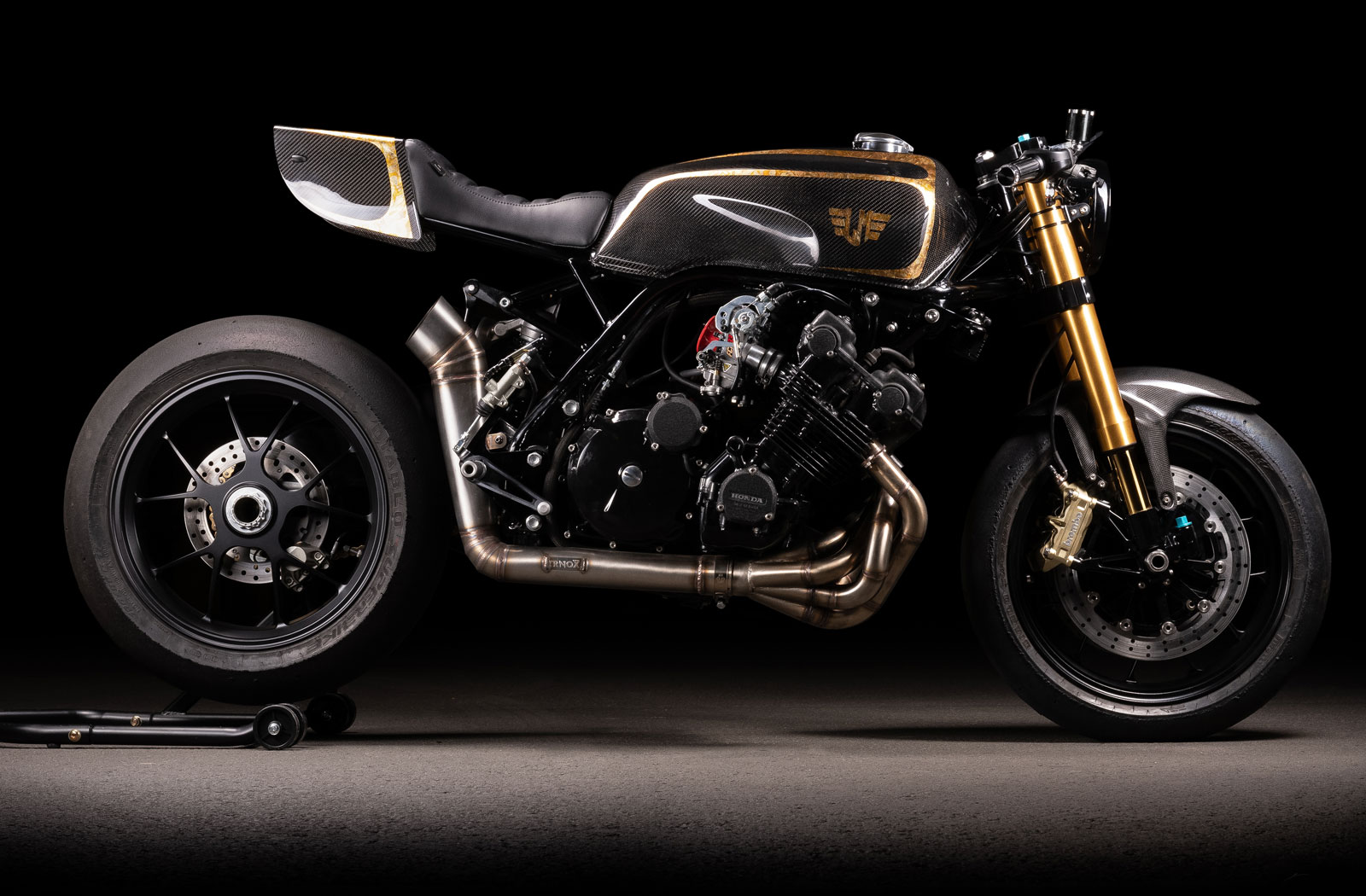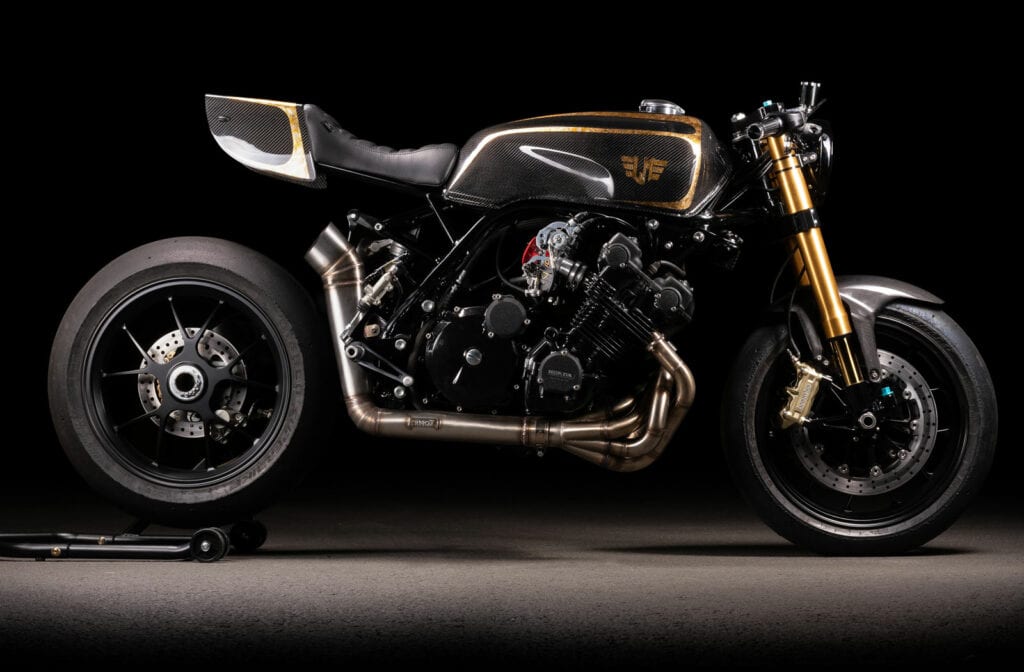 Forty-year-old electrics are a breakdown waiting to happen. To remove any chance of electrical failure this bike is running a completely new, simplified harness powered by the very latest in electrical doodads and doohickeys. Nestled beneath the saddle and rear cowl is a Motogadget M-unit, lithium battery and starter relay. Lift the tank and you'll spy the ECU and regulator and lighting up the road ahead is an LED headlight.
There are a plethora of other Motogadget upgrades here too including M-button switch blocks, M-grips and M-blaze indicators on the clip-on handlebars, a Motoscope Mini digital speedometer has been recessed into the top clamp and an M-lock keyless ignition module is sewn into the foam of the seat.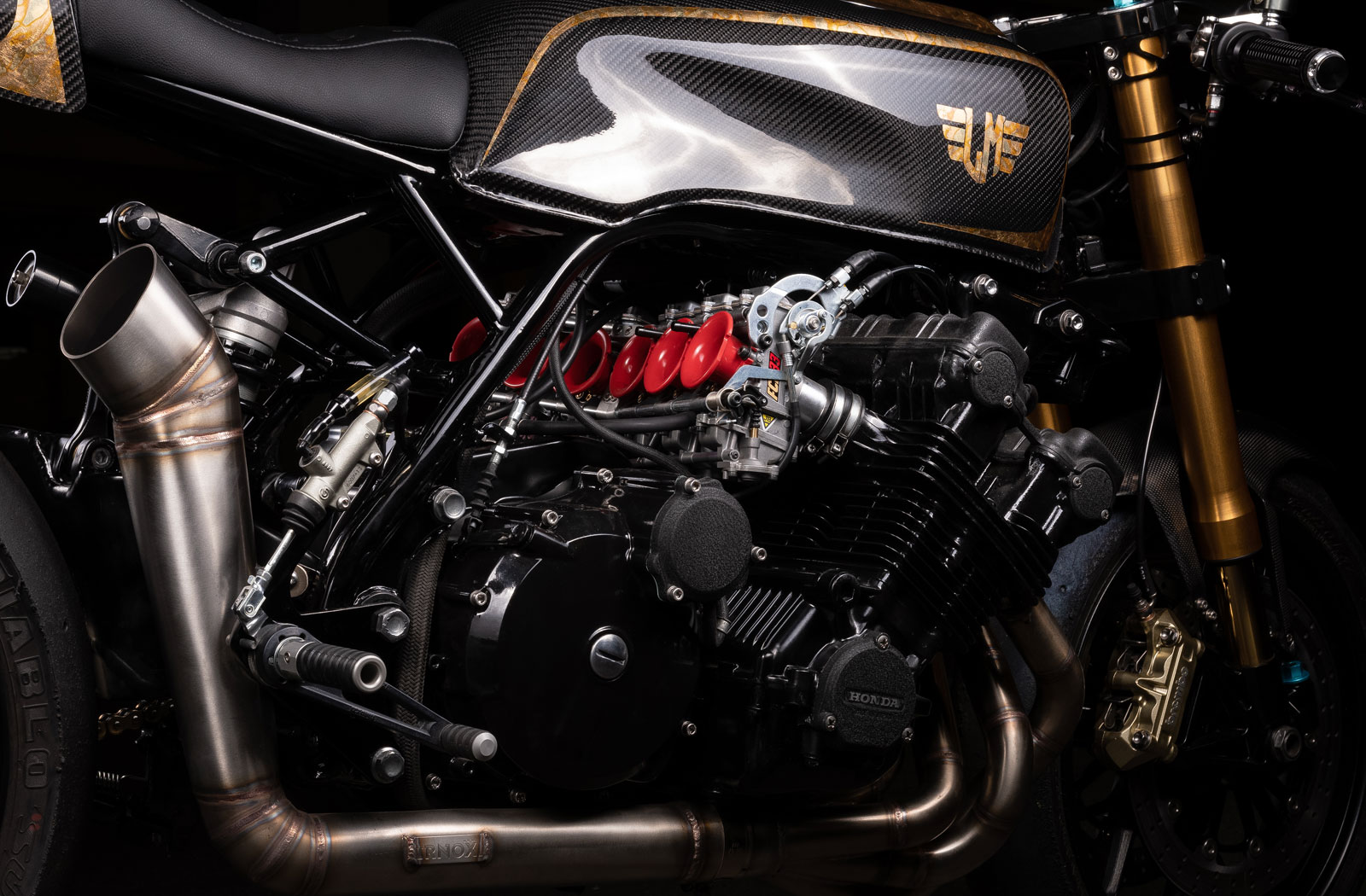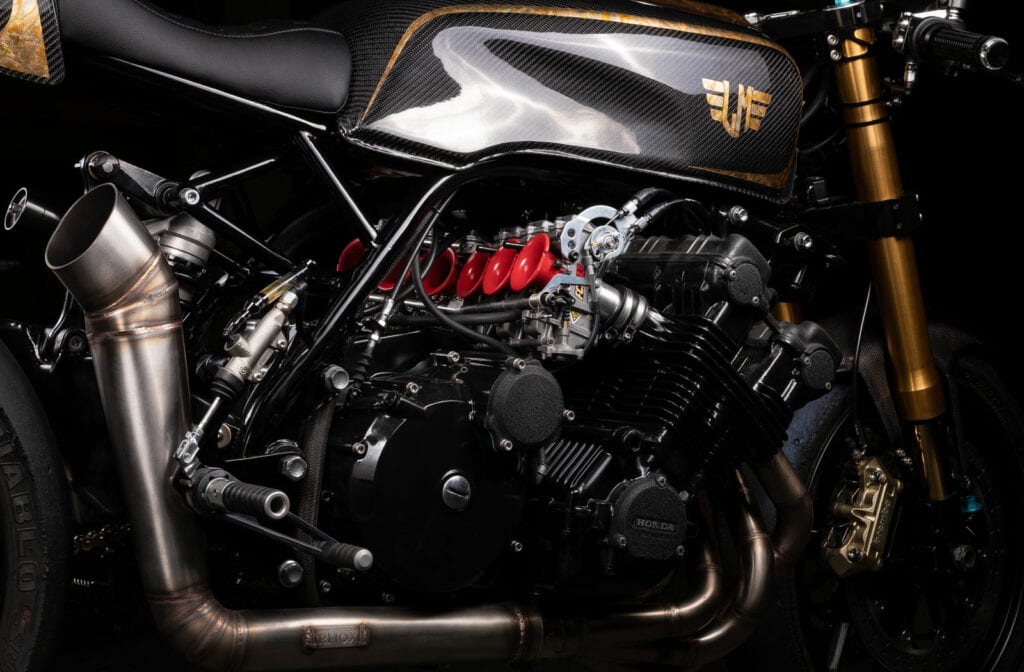 With such an impressive engine at his disposal, there was never any doubt performance upgrades wouldn't be made. To undo Honda's detune Dimitri first performed a thorough overhaul adding new gaskets and painstakingly checking and adjusting all 24 valves. To then unleash the engines true potential he added an eye wateringly expensive set of CBX1000 FCR33 carbs from Japan. It was the exhaust however that Dimitri was most excited about. "I wanted to have the 'F1 sound'," he says. "So the best combo is FCR carbs and a 6-into-1 exhaust." For this, he engaged the help of Irnox motors who designed and fabricated the stunning exhaust system from scratch.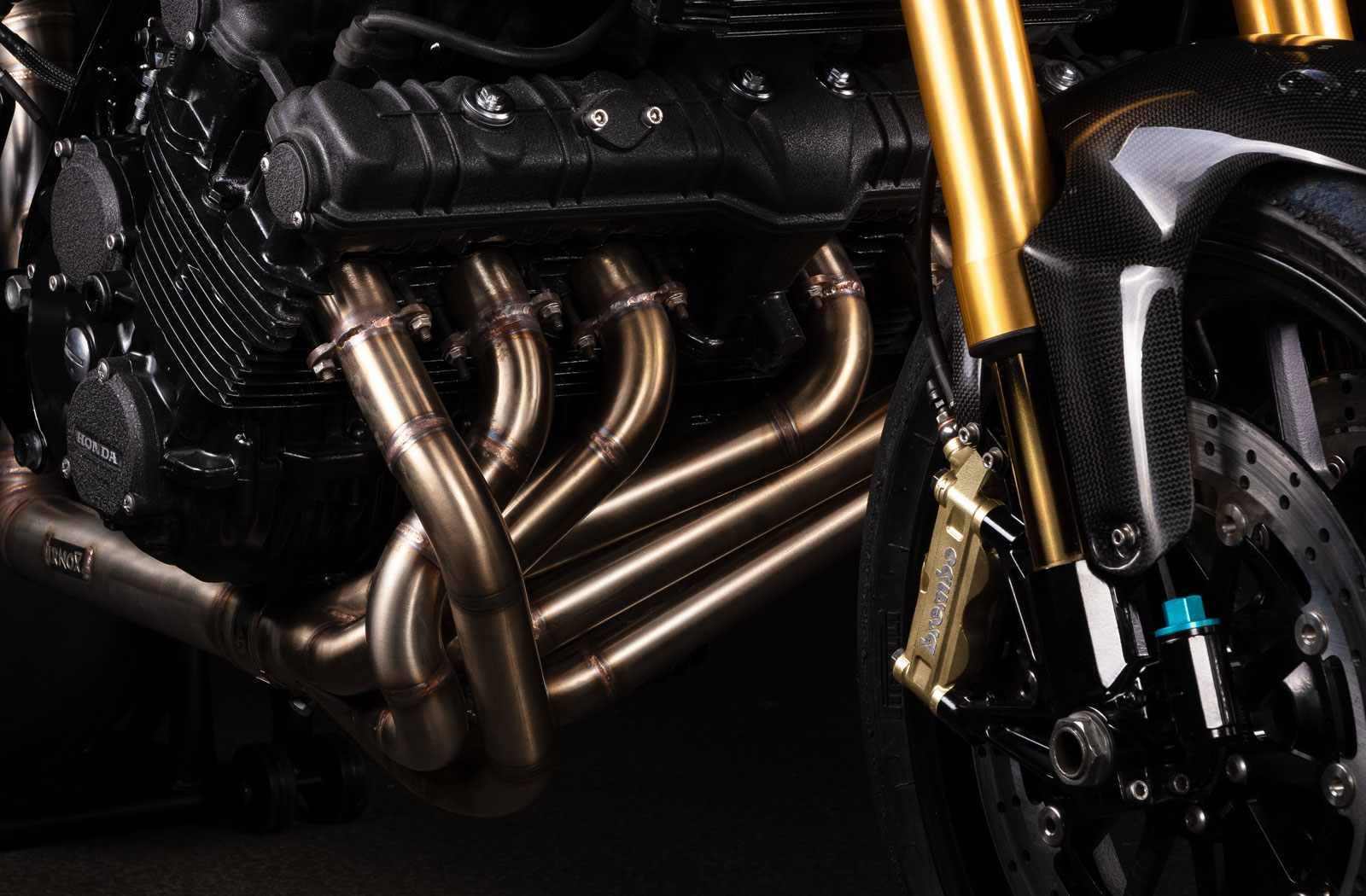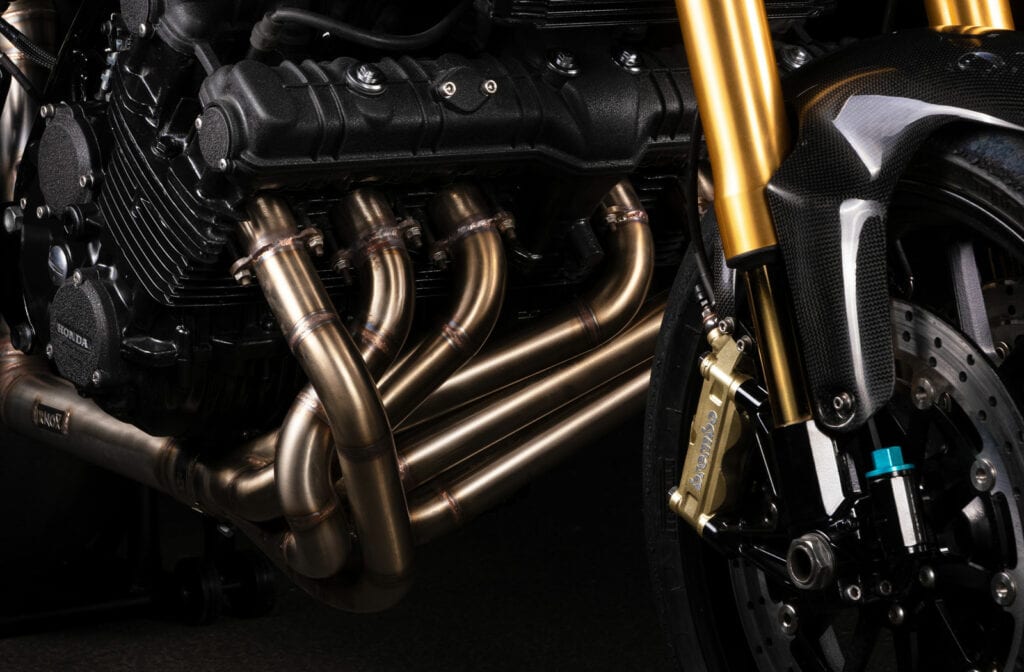 Despite a drastic change in appearance, Dimitri's CBX is actually running a modified version of the standard fuel tank. To achieve its new look he relocated the filler to the centre and fit a classic Monza style cap. After smoothing off the original filler hole he sent the tank and a buck for his revised tail unit to Composite Concept. The carbon composite experts then wrapped the tank in a layer of real carbon fibre and cast the tail unit. Dimitri's preferred painter, Didoo, laid the variegated gold leaf pinstripes and shot everything in a deep layer of glassy clear coat. Last but least another of Dimitri's go-to guys, Adcsellerie of ADC Sellerie, upholstered the bikes new saddle.
We're pretty sure no one has ever said the Honda CBX1000 is a slouch off the line. But now, thanks to Dimitri's hard work, this good looking CBX1000 cafe racer is sure to be beast through the corners too!
Photography by Ecris Moi Des Lueurs