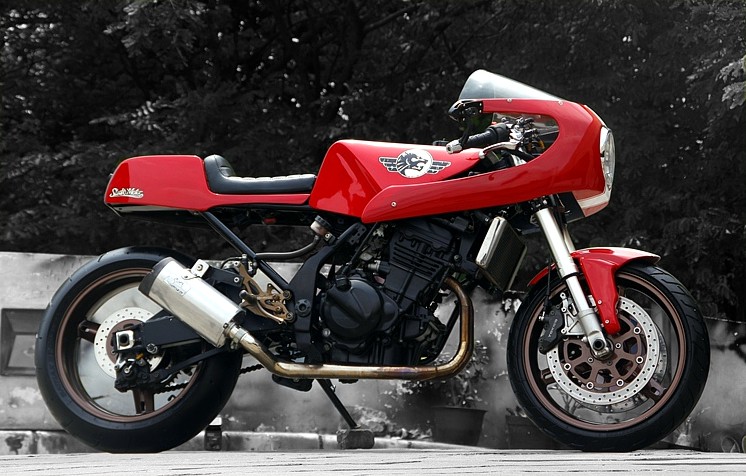 The motorcycle above it's a custom Kawasaki Ninja 250r from Donny in Jakarta, Indonesia. The time it takes to build a bike is always something I consider and this bike was no weekend task. It's an impressive feat of fabrication necessitated purely by a lack of alternatives.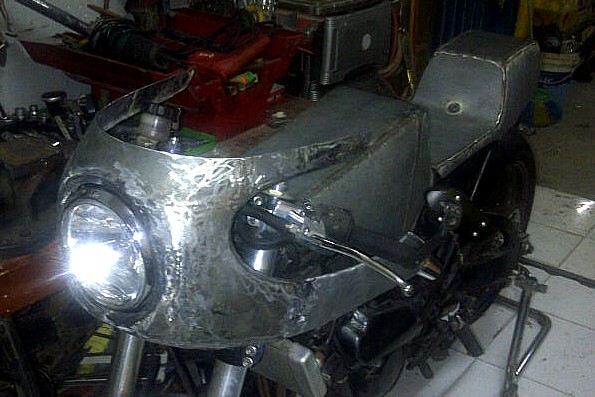 When I first saw this Kawasaki in my email I made the assumption that it was built up using prefabbed fiberglass components…boy was I wrong. Using galvanized 1and 1.2mm plate the bikes tank, tail and that lovely front fairing were all built from scratch; in the builders own words "we mostly do everything with hands, fire and hammer … seriously". Owner Donny tells us that the front fairing took 3 attempts before they even got around to making the acrylic windshield to go on top.
The front forks, rear swing arm and rims were all transplanted from a Suzuki GSXR750 to beef up the motorcycles appearance and add some modern performance improvements. A Sportisi exhaust and K&N filter improve the bikes ability to breath and the brakes have been upgraded to Tokico units. Paint was done by local shop Komet Studio who finished the bike in super red with a coat of Spies Hecker Varnish to get a super smooth finish.