Helmets
How much is your head worth? We take buying motorcycle helmets very seriously. Our motorcycle helmet reviews look at some of the best looking and safest new models on the market. If you're searching for a motorcycle helmet to suit your cafe racer or custom motorcycle we've got your head covered.
All motorcycle helmets are not created equal. The safety standards rating system introduced by the Snell Memorial Foundation is renowned...
A short while ago we caught up with the founders of the Australian motorcycle helmet manufacturer, Forcite. In our exclusive...
A helmet is by far the most important item of protective riding gear for a motorcyclist. Surprisingly, however, the tests...
True addicts of the two-wheeled persuasion don't let their rides sit idle an entire season simply because it's cold. All...
The safety level of riding gear available to motorcyclists has come a long way in the last 10 years. Manufacturers...
Pin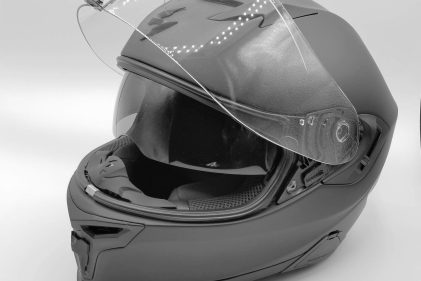 I reviewed Arai's Regent-X helmet last year. It is their entry-level helmet, yet it is still pretty expensive at $559.99...
In the past, despite retro bikes and cafe racers existing, gear manufacturers have pushed ever onward to newer materials and...
If I was to be brutally honest finding a motorcycle helmet that ticks all the boxes for me has been...
UK helmet manufacturer Ruroc has released the third edition of their Atlas motorcycle helmet. The aptly named Ruroc Atlas 3.0...
Back in 2015 Christian Möhring came up with a unique concept. It involved making helmet customisation accessible to everyone. To...
A spontaneous retro helmet party ignited and all the manufacturers were invited. Bell, like someone who arrives two hours early,...
The Bell Eliminator Helmet hit shelves a couple of years ago and has been a huge success for the brand....
Someone once said, "Perfection is not attainable, but if we chase perfection we can catch excellence." For any brand, releasing...
You can spend as much or as little as you want on your riding gear. There's a school of thought...
It's not often we veer away from our retro riding gear theme, but every so often there's an exception to...
For the upcoming 9th Edition of Wheels & Waves, the French moto lifestyle festival will be heading home to its...
Japanese helmet manufacturer Arai has a history dating back to the turn of the century. Their story began with manufacturing...
Bell Helmets set the benchmark in open-face helmet design with their Custom 500 helmet. The latest addition to the 500...
I've always fancied MX style road helmets. I felt they were well suited to the retro style bikes I like...
There's been a steady growth in the number of retro motorcycle helmets on the market over the past few years....
Extreme sports headwear experts Ruroc entered the world of motorcycle riding gear back in 2017. Their ATLAS helmet boasted an...
Continuing their six-decade mission of properly protecting a rider's most valuable piece of equipment (that's your head), Bell Helmets has...
It's a perfect collaboration. In 2016, renowned helmet brand Bell Helmets brought back their iconic full face Moto 3 after...
Brushed alloy is the new chrome. There are zero performance benefits from its use, but boy does it look good. ...
Biltwell has been upping its helmet game over the past few years. Improved features, more widely recognized safety ratings and...
Simpson has been producing helmets for motorcyclists and motorsports for over 60 years. You probably recognize them as the manufacturer...
If you're looking for retro riding gear with genuine heritage you can't go past AGV helmets. The Italian manufacturer has...
Deus Ex Machina has been instrumental in the growth of the custom motorcycle scene. They opened their first location in...
A helmet for any occasion. Whether you ride a cruiser, a cafe racer or an adventure bike the new AGV...
You don't have to put out a poll to know which colour riding gear wins out over all others. It's...
If we're being completely honest, the style of a helmet matters almost as much as its protection capabilities. That's a...
The Dutch have a rich history in Motocross racing that has produced a long line of champions. Inspired by their...
Brushed alloy is the new chrome. There are zero performance benefits from its use, but boy does it look good....
If you're already familiar with Sena, it's probably through their lineup of Bluetooth riding accessories. They've long been supplying riders...
If you have ever delved into the chopper scene you're sure to have heard of the brand Biltwell. Based in...
Any helmet company can build a retro-styled helmet. But Bell Helmets has the history to back up all claims to...
Biltwell has been producing retro styled helmets since before many of the larger manufacturers jumped on the bandwagon. Unfortunately for...
Economical, compromising, austere — these are not words you'll hear in relation to Ruby Helmets. Top-of-the-line, luxury, opulent? That's more...
I love a good collaboration. Take for example the Veldt Roars Original helmet. To create this unique design Veldt Helmets...
You might spend a few months (or years) customizing your motorcycle, but most helmets go on your head straight off-the-shelf....
If you want the weight advantage of an open-faced helmet but don't like the bugs in your teeth, French riding...
The current popularity of the café and custom scene has seen a proliferation of quality riding gear at the high...
At what point do you have enough helmets? Some might say one will do. Others might have a full garage...
I have a penchant for motorcycle helmets and I will be the first to admit I have too many of...
If you're anything like me and have a strange obsession with motorcycle helmets you would have noticed the green and...
Instead of the usual fold-down visor, the Husqvarna Pilen helmet features a goggle visor that secures with a rear latch—...
The compact, lightweight carbon fiber shell surrounds an EPS liner with an interior that features premium leather and an embroidered...
Stars Wars associations aside, the Scorpion Covert helmet is ready to battle the real world with its DOT approved Polycarbonate...
Simply sign up to our newsletter list before December 25th, 2017 and you will automatically go into the draw. Want more...
The Speed and Strength SS1600 Straight Savage motorcycle helmet utilizes a modern street bike design which is both ECE and...
The Bell Bullitt wasn't the first helmet to venture into this realm, but it was certainly the most talked about...
When I got the plastic and foam bags off the helmet, that Gloss Blood Red hit me square in the...
The Copperheads quilted microsuede liner offers great comfort and is anti-bacterial to ensure longevity. The helmet secures using a padded...
The Nexx XG100 Carbon tips the scales at a measly 1250 grammes including the helmets removable peak. The outer shell is...
Along with passing strict ECE safety requirements, the Lane Splitter was designed to suit the Biltwell teams own helmet needs....
First the Bell Moto 3 backstory… American racecar driver Roy Richter was obsessed with speed. After seeing firsthand how poor...
For this review, I'm going to break things down into first impressions and ride impressions because there's nothing worse than...
Launched by a former founder of Ateliers-Ruby, Jean-EtiennePrach, Veldt has set up operations at the mecca of motorcycle racing, the Isle of...
In the world of motorcycle helmets original Moto 3s had reached cult status. Despite brittle outer shells and decaying...
"The SEVENTYFIVE helmet is a tribute to a style icon of the 70's. DMD has introduced a new replica of...
First thing I always look for in my helmets is safety ratings and the Nexx XG100 ticks the boxes being...
Since I started riding I've been all about full faced helmets. While I'm the first to admit I don't have...
After more than a decade of being off our shelves, Bell Helmets are making their Australian come back! Rumour has...