A helmet is by far the most important item of protective riding gear for a motorcyclist. Surprisingly, however, the tests that all helmets undergo to obtain safety homologation aren't entirely representative of what occurs during an accident. The tests that assess the effect of a collision on the brain, for instance, are performed using a vertical impact. This means a rider would be falling straight down to reproduce the same result. That scenario is of course highly unlikely. In the majority of motorcycle accidents, a rider's helmet collides with the ground at an angle which can produce very different results. So how does a manufacturer address issues that issue?
Bell Helmets are serious about providing the best protection for motorcyclists' heads. As a result, they are constantly looking for ways to improve their products above and beyond homologation requirements. For the last few years, Bell has teamed up with MIPS to do just that. This has resulted in the integration of a specially made low friction layer within their helmets that is designed to decrease the damage from angular impacts.
What is a MIPS Low Friction Layer?
MIPS is a proprietary safety product that has been in development since 1996. It was created by the Swedish neurosurgeon Hans von Holst and his business partner Peter Halldin who is a researcher at the Royal Institute of Technology. Their product, MIPS, which stands for Multi-Directional Impact Protection System, is a patented low friction material that sits between a helmet's internal EPS foam and the comfort liner.
When a helmet connects with a surface at an angle it causes the head to rotate suddenly which can result in injury to the brain. MIPS explains this by saying, "The brain is more sensitive to rotational motion than linear motion because it has shear properties similar to water or gel. When different parts of the brain move relative to each other as a result of rotational motion, the tissues can stretch, which can cause concussions or other brain injuries."
The purpose of a MIPS layer is to reduce the severity of damage caused by rotational forces on the head and brain. It does this by allowing 10-15mm of rotational movement at the point of impact. It doesn't sound like much, but MIPS's own research has shown a significant decrease in strain on the brain in helmets featuring their technology. But don't just take their word for it, there are now some 120 brands who have adopted MIPS for their own products, including Bell Helmets.
How is MIPS integrated into a motorcycle helmet?
The addition of a MIPS layer into a helmet has very little impact on its overall look and fit. In fact, you probably wouldn't even know it's there if it wasn't for the bright yellow material peeking through the liner. As for weight, a MIPS system adds a minuscule 25-45 grams to the overall weight of a helmet.
A MIPS liner is integrated into the helmet by adding anchor points within the EPS liner. The liner is then installed during the construction of the helmet by looping specially designed tabs around the anchor points in the EPS. The helmet's liner is then fastened in place and the system is ready to go.
Most importantly MIPS will not approve the use of their technology in any helmet that doesn't meet or exceed their own stringent safety tests. This enables them to maintain quality control and to ensure consumers are getting the best safety product possible.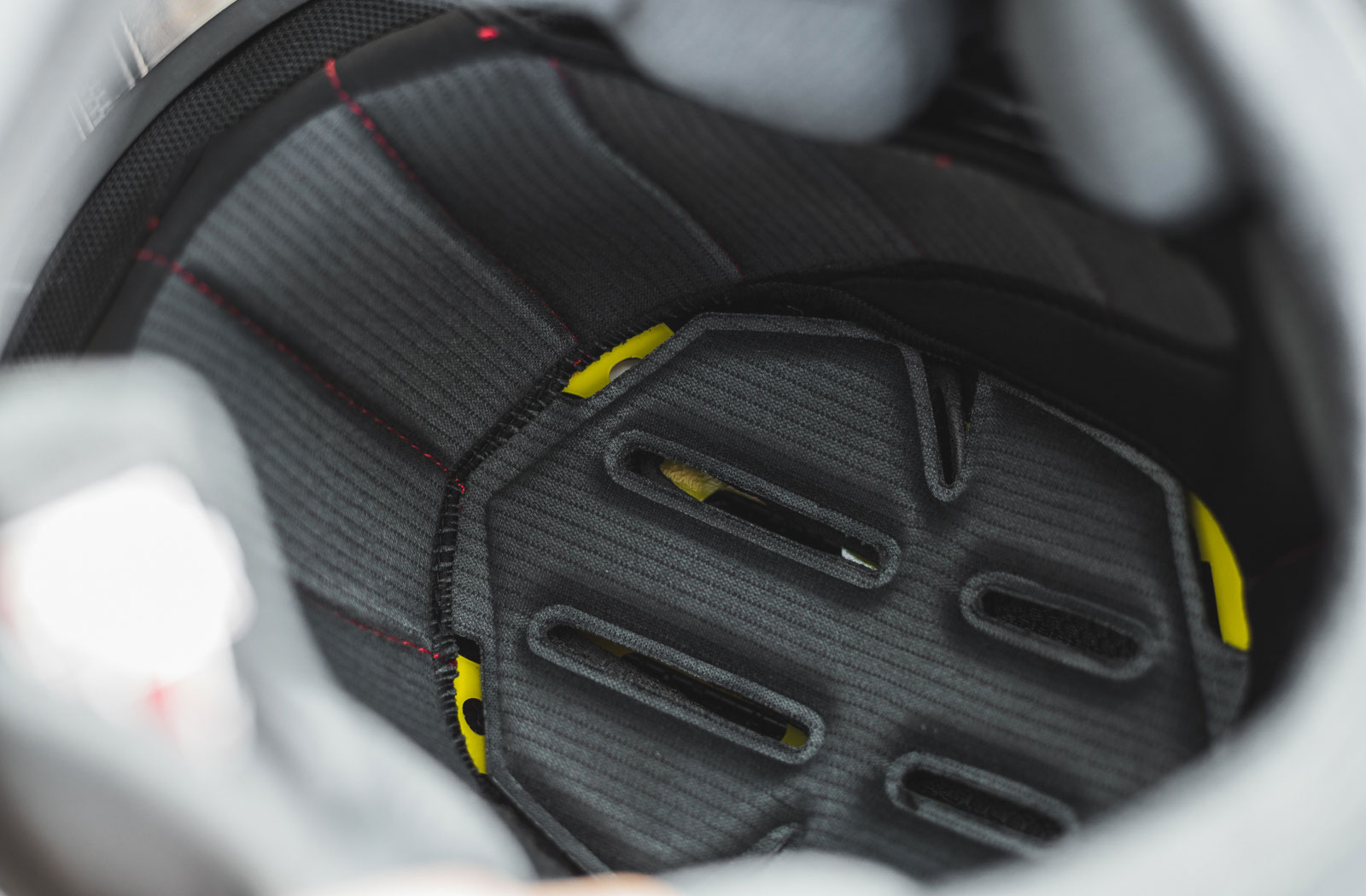 The BELL Star DLX MIPS helmet
Bell Helmets have integrated MIPS technology into a wide range of their street, off-road and bicycle helmet range. For the purpose of this article, we got our hands on a Bell Star DLX MIPS helmet.
The Star was Bell's first full-face helmet released in 1967 and is credited with setting a new standard in helmet safety. Since then the Star has come a very long way and continues to be one of the brand's halo products. Designed for street sports riders the Star DLX MIPS features aggressive styling and comes in a range of standard colourways and several striking pattern designs. The helmet shown here is the 'Lux Checkers' version.
The feature-packed Bell Star DLX MIPS is DOT, ECE and SNELL safety rated.  The helmet is constructed using the brand's TriMatrix composite shell (a mix of Aramid, carbon fibre, and fibreglass) with an EPS inner shell, MIPS energy management layer and a premium X-Static XT2 silver liner which results in an overall weight of 1510 grammes. To ensure the best fit possible Bell produces the Star in 6 different shell and EPS sizes ranging from XS through to 2XL.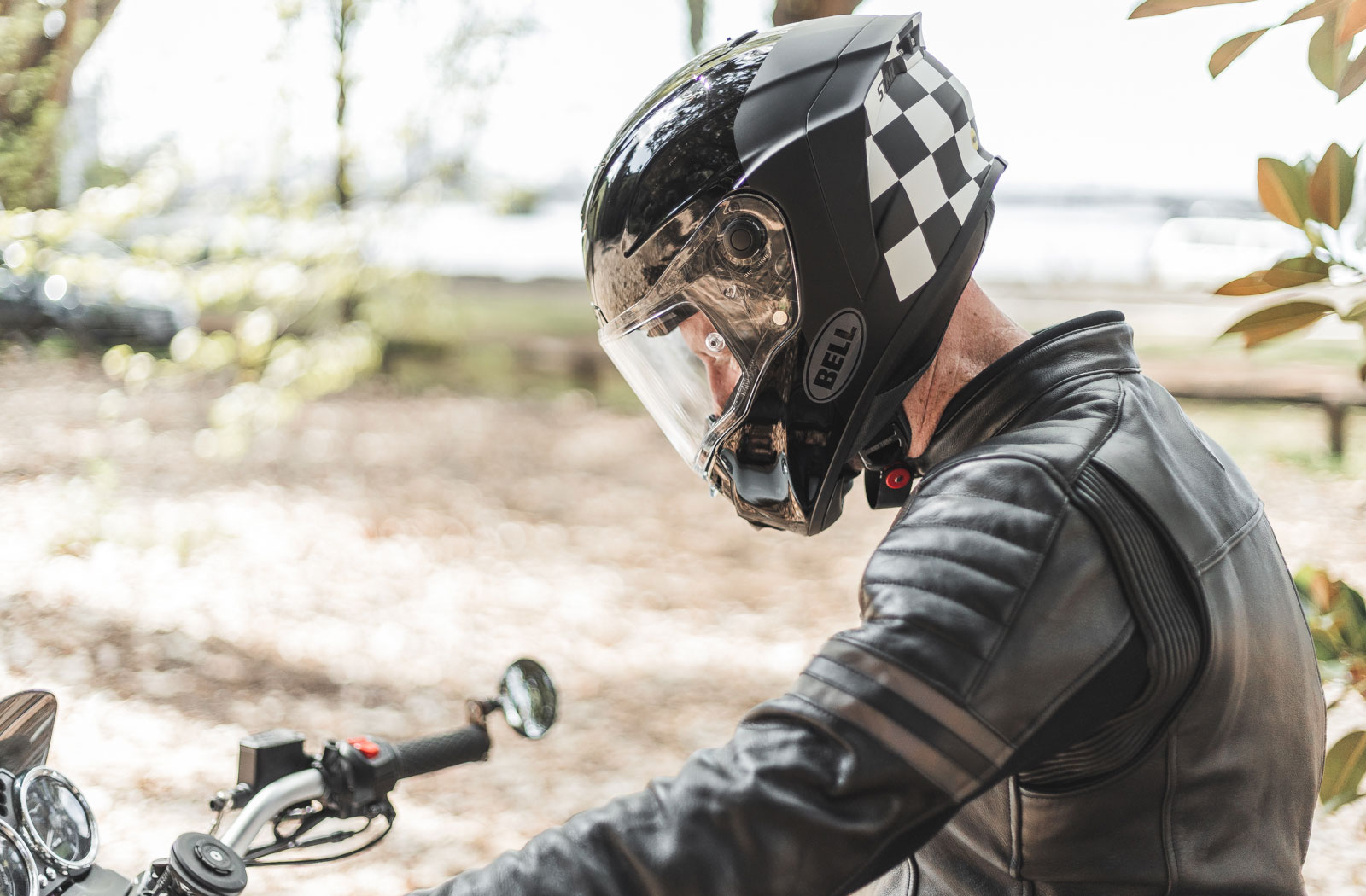 Feature-wise the Bell Star DLX MIPS has plenty to offer. Designed for street riders the shell shape is optimised for more upright, sport or touring position riders, and it features a wide Panovision visor that offers an excellent field of view. If purchased in the USA the helmet comes with a ProTint photochromatic visor that transitions between light and dark depending on ambient lighting conditions. The rest of the world gets a Pinlock clear shield and an additional tinted Pinlock insert.
Swapping out a visor on the Star is made easy thanks to a push button locking mechanism. Without the use of any tools, the visors can be swapped in a matter of seconds. Similar to the AGV K6 helmet I previously tested, the Street DLX MIPS utilises a central chin clasp mechanism to lock the visor closed. However unlike the AGV, the button on the Bell Star is very easy to operate requiring only a light push to release the visor.
For those riders who wear prescription glasses, the Star DLX MIPS  is designed to comfortably accommodate spectacles. The neck roll features a quick-release design to assist emergency workers and there are speaker pockets moulded into the EPS liner to accommodate a helmet comms system. The helmet secures using a double D style closure with a very convenient magnetic fastener to secure any excess.
On the inside, you'll find the MIPS low friction layer tucked away behind a plush X-Static comfort liner. Bell has developed one of the best liners on the market using clinically proven anti-bacterial and odour protection. This has been achieved by bonding pure silver (99.9%), which is a natural antimicrobial, to the fibres of the liner.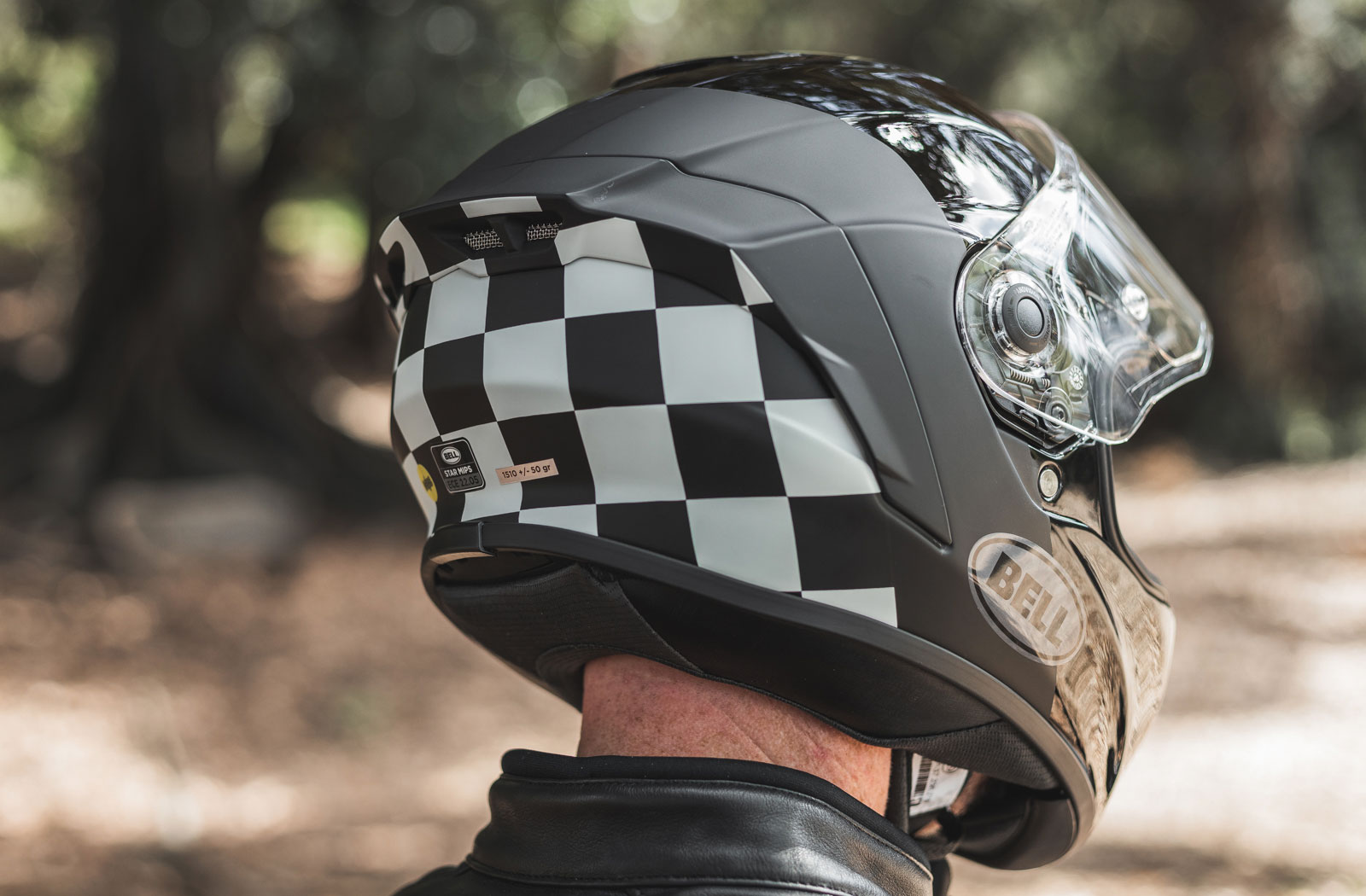 As for the fit, the Bell Star DLX MIPS is designed to fit tight. So tight I was worried I had the wrong size at first, but it was not a sizing mistake. Bell explained that the Star's neck roll and cheek pads are designed to fit extra tight to help mitigate wind noise and movement, which it does very well. Over time the padding will apparently compress up to 20% in order to form the best fit possible for your specific head shape. This helmet also features plenty of ventilation. There are 3 wide ventilation points that can be closed on the chin, forehead and top of the head. Two sets of vents on the rear assist with evacuating hot air and the upper can also be closed. The helmet's visor also has several step positions so it can be opened partially while riding.
Thankfully I haven't had the displeasure of testing whether the MIPS system does its job or not. Just knowing it's there and that it's another thing designed to keep my head and its contents safe is very reassuring. You'll pay a slight premium for a helmet with the MIPS system installed but in my opinion, it's well worth the investment.
Available from: Revzilla / Amazon
Helmet photography by Regular Moto