If I was to be brutally honest finding a motorcycle helmet that ticks all the boxes for me has been harder than it was choosing my wife's engagement ring (sorry honey). That isn't to say all the motorcycle helmets I've owned in the past aren't any good. They've all had their advantages but in one way or another, they didn't quite satisfy my specific needs. I am happy to report however that I think I may have finally found what I've been looking for.
As a motorcyclist, you'll find that over time your taste and needs evolve. One day you're obsessed with cafe racers, the next you're planning a cross country trip on a kitted out adventure bike. Although my taste in motorcycles hasn't changed quite so drastically, my circumstances certainly have.

For the past 20+ years, I lived in cities and commuted regularly on a W650 cafe racer. Today I live 2 hours from the closest city. What does that have to do with my choice of motorcycle helmet? The major difference I experience day to day riding in the country vs the city is a huge increase in wind noise.
In the city, I was averaging speeds of around 40mph – aside from the occasional freeway blast or weekend escape. Out here every time I swing a leg over the bike the needle is soon sweeping past 60mph. At those speeds, wind noise can get pretty uncomfortable – especially on my 2-hour haul to town.

Choosing the right motorcycle helmet
After trawling helmet manufacturer websites, reading reviews and talking to other riders I took ownership of my first ever AGV helmet. The K6 retails for a touch under $500 USD (standard colours).
Based on my research the AGV K6 appeared to pack some pretty impressive features. For starters, the K6 weighs next to nothing. At 2.95lbs I was almost concerned there wasn't even a helmet in the box when it arrived. This is all thanks to a carbon aramid shell construction, a super small visor hinge mechanism and the helmets streamlined geometry. AGV also offer the K6 in 4 shell sizes so if you've got a smaller head you don't end up with an oversized shell packed with larger internal padding to get the right fit.
Another selling point of the K6, which really appealed to me, is how well it deals with wind noise. AGV achieved this result through extensive turbulence and aerodynamic testing. Adding to the helmets ability to protect you from wind noise is a neck roll. By forming a better seal at the base of the helmet around your neck the neck roll prevents wind ingress and removes the turbulence usually created in this area. AGV has also included a removable chin curtain that completes the wind barrier.
As for styling, the AGV K6 isn't a retro-styled helmet. It is however less aggressive than other sports bike helmets out there, especially in the plain colour options. This once again made it a great choice for me on my Kawasaki Z900RS Cafe.  As for colourways the K6 has been around for a while now and AGV have released quite a few variations to choose from. Seeing as I was after something that was less showy and complimented my pearl storm grey Z I went with a Nardo Grey K6.
It is of course also worth mentioning that the AGV K6 is both DOT and ECE homologated. ECE is one of the most stringent safety tests out there and as a result, helmets bearing an ECE mark are acceptable for use on some race tracks. The K6 earned its rating thanks to its Carbon Aramid shell design and a 5x density EPS liner.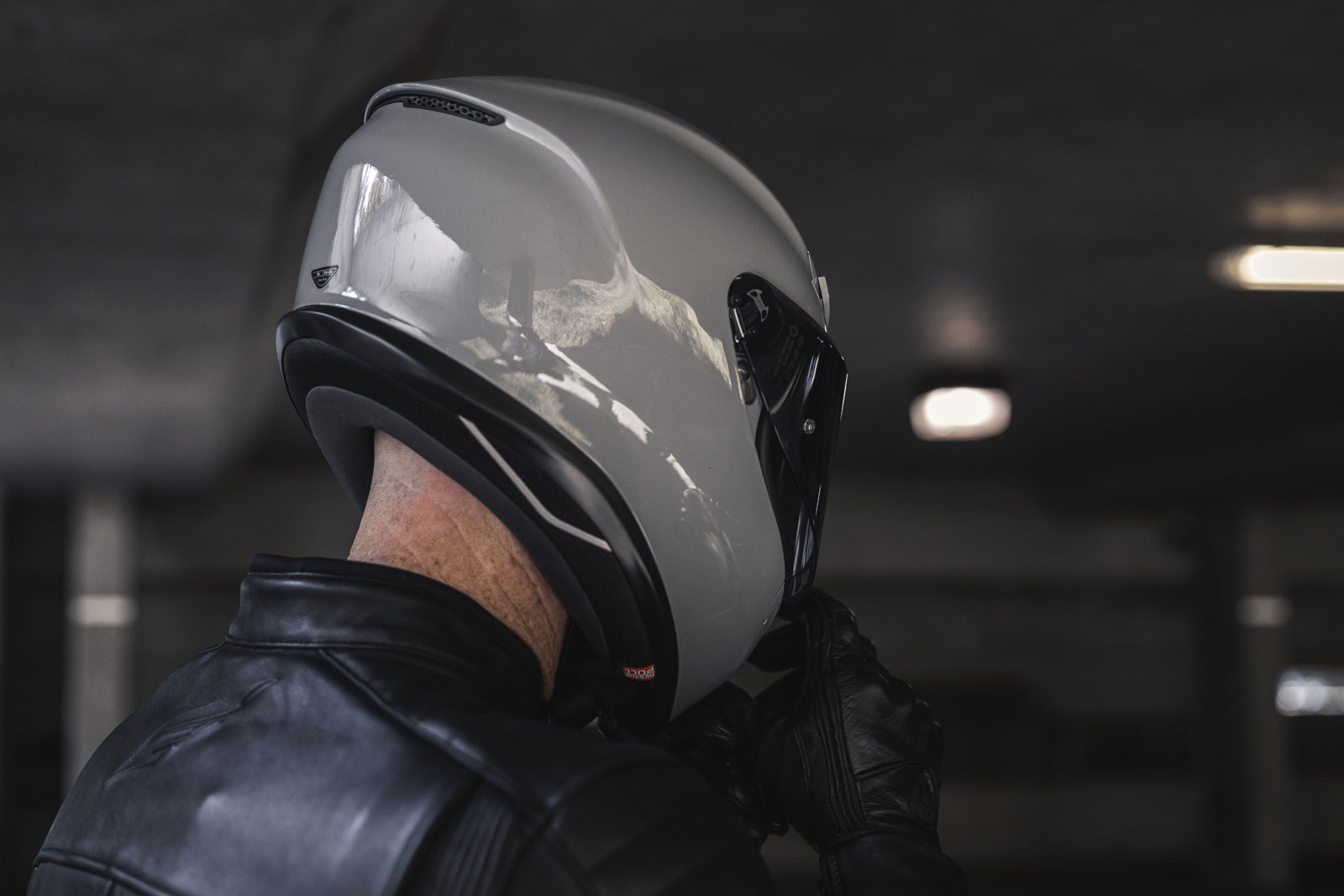 AGV K6 first impressions
My first impressions of the K6 were all good. Like I said I'm new to the AGV brand so I spent some time looking over the helmet for any faults or defects. Gladly I didn't find any.
I carefully measured my head and checked the sizing chart before placing my K6 order. The first fitting proved to be rather tight, which is generally a good thing. Since then the helmet has relaxed to fit nice and snug just as it should. I'm also pleased by the fact that the helmet doesn't leave any indents or lines on my head from the liner. This can be a rather embarrassing issue I have experienced many times with other helmets…like the time I had one helmet manufacturers logo embossed onto the top of my bald head while out for lunch with friends.
Out of the box, the AGV K6 came with a clear visor and a pin lock insert. I swiftly replaced the clear visor with a tinted one I purchased separately and installed the pin lock. And when I say swiftly I mean it. The clever little clasp on the K6 visor opens using a fingernail and secures in seconds. It really is an impressive little contraption. The visor also offers great visibility and has a nice range of open positions for those who like to have the option of letting the wind in. I've also tested the seal around the visor in different conditions and can confirm it does a stellar job of preventing rain and wind ingress.
So far I haven't experienced riding in the K6 in really hot weather. When this time comes I will definitely remove the chin curtain as it stops cool air from getting in. For internal airflow, the K6 has a total of 5 forward-facing vents which are operated by a myriad of slides. The rear vents can't be closed. While I suspect the vents will provide adequate ventilation their small size is likely to detract from their effectiveness.
The not so good and the great
Of course, the AGV K6 isn't without its flaws. The biggest dislike I have for this helmet is its visor mechanism. It's a style I've seen other manufacturers adopt and I feel some have done a better job of it than AGV.
Basically, the front lip of the visor features a latch that locks into a mechanism located at the centre of the chin bar. To open the visor you push in on a button that releases the latch. Unfortunately, it can be a little fiddly at times. This issue has been made worse with my helmet by the fact that the mechanism sticks and can be a bit hard to push in. After struggling with it for a while I added some dry lubricant around the button. Thankfully that alleviated the issue, but I'm not confident it will be a permanent fix.
I have also had the 2 buttons clasps on the inner liner that sit on my forehead come loose a few times. When this happened I suspected the issue was caused by the stubble on my head acting like velcro and pulling the liner material. It's only happened a handful of times and is likely an issue that is only limited to those, who like me, shave their head.
Additionally, I'm not a big fan of how the excess length of the chin strap on the K6 is secured using a button. Other helmet brands have moved from buttons to magnetic clips and it's a far superior setup. I would have liked to see AGV implement this with the K6.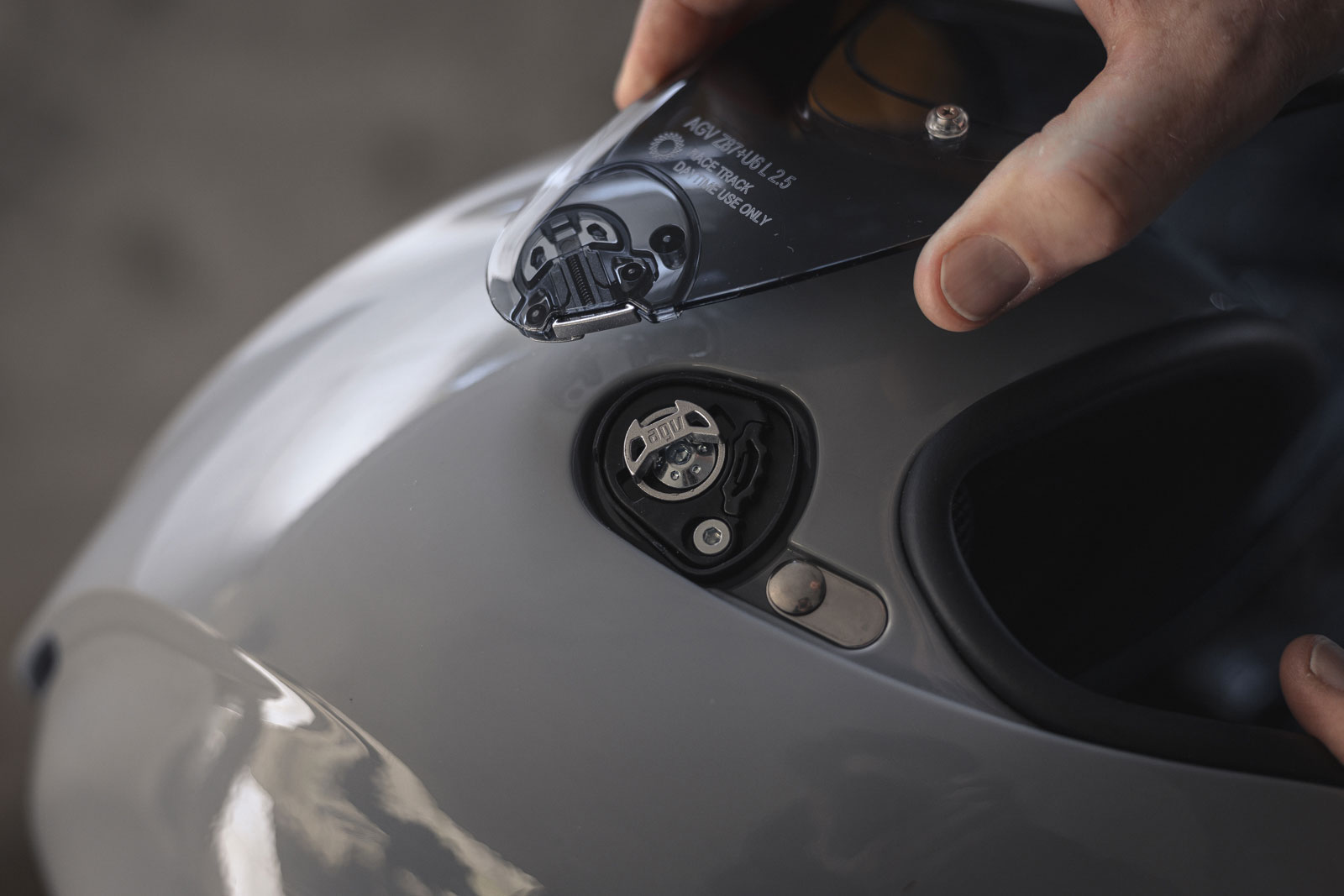 My only other complaint is the price of the optional visors. The high price is most likely due to the fact that the visor hinge mechanism is built into the visor rather than the helmet, but if you want to buy an iridium visor you'll be spending a quarter of what the helmet costs. That's a bit hard to swallow considering they are are just standard finishes and not photochromatic.
Luckily, aside from those small gripes, there's a lot I do like about the K6.
As I already mentioned a huge deciding factor in getting this helmet was its ability to reduce wind noise. I have to say that everything I read about how quiet the helmet is was true. For city riding, I probably wouldn't even consider wearing earplugs with the K6. I always wear them at higher speeds and when combined with the design of the K6 I can easily ride all day in comfort.
Another factor contributing to this helmets comfort level is its weight. The helmet is so light that you hardly notice it's there. This combined with great aerodynamics and a comfy liner means less fatigue and that translates to a better riding experience. Infact I've found the K6 so comfortable that even after a 380-mile haul at an average speed of 60mph I wasn't in a hurry to take the thing off.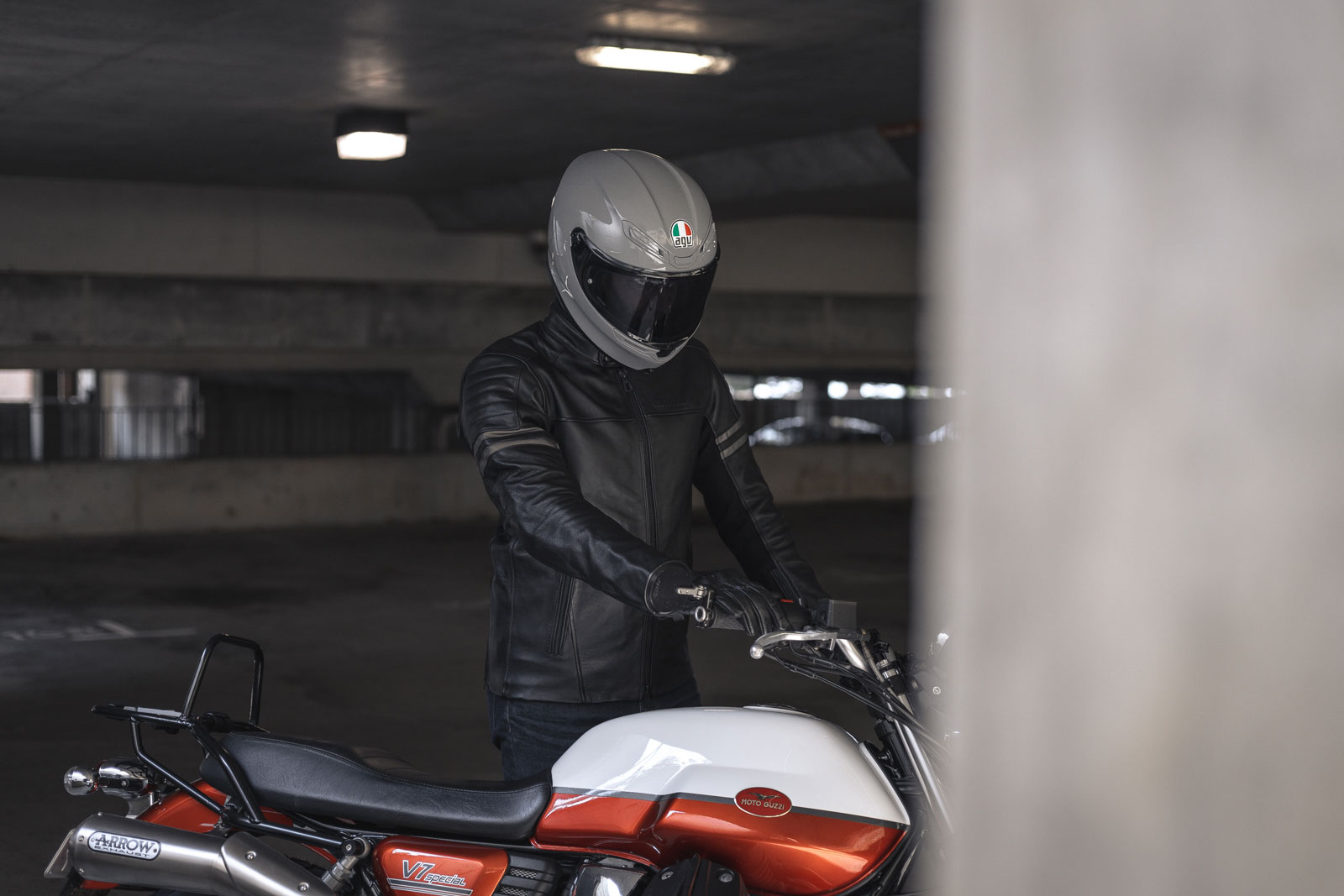 The AGV K6 also has excellent aerodynamics. TheyAGV claim it's suitable for all riding styles. My Z900RS Cafe has more of an upright riding position than an aggressive sportbike stance and I think this position is where the helmet excels. Riding at country road speeds I don't feel any drag or strain on my neck and head checks don't result in my noggin being thrown around by turbulence.
So while there are a few small things about the AGV K6 that I can complain about the benefits outweigh them tenfold. So for better or for worse, the K6 is my new riding life partner.
Available from: Revzilla / Amazon
All photography by Regular Moto