It seems strange now, but Kawasaki actually beat Triumph to the punch when it came to retro-styled motorcycles. First released in 1999, the Kawasaki W650 was a complete anachronism in the world of water-cooled, high-revving street snarlers that dominated the late 90's motorcycle scene.
So while the rest of the world was obsessed with surf swirls on cars, electronic music and a passing fad called 'the world wide web' Kawasaki championed an air-cooled, bevel driven twin with spot-on retro styling and a level of build quality that has rarely been seen since. And if you're in the US – rarely seen at all.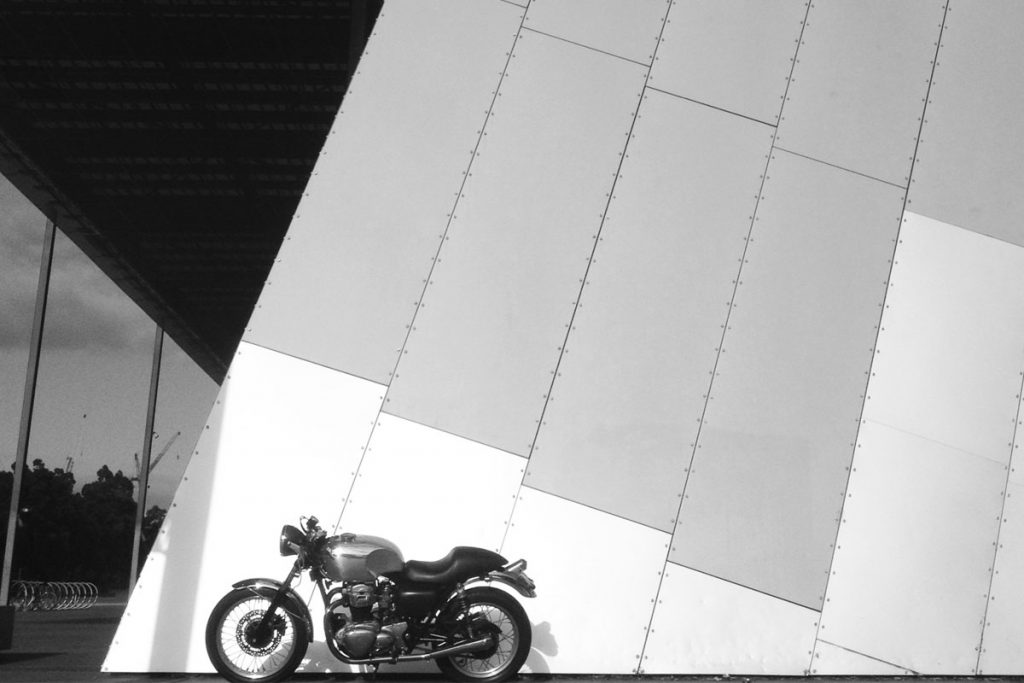 Shortly after the release of the Kawasaki W650 in America Triumph launched their retro classic line. Sales gravitated to the more 'genuine' model instead of the W650. Despite this, in the States, it's still made an impact in the custom scene – largely boosted by the incredible W650-based cafe racers flowing steadily out of Europe and Japan.
But what are they like to own and work on? Is it worth investing the considerable time, effort and increasing amount of money to start working on Kawasaki's famed retro ride?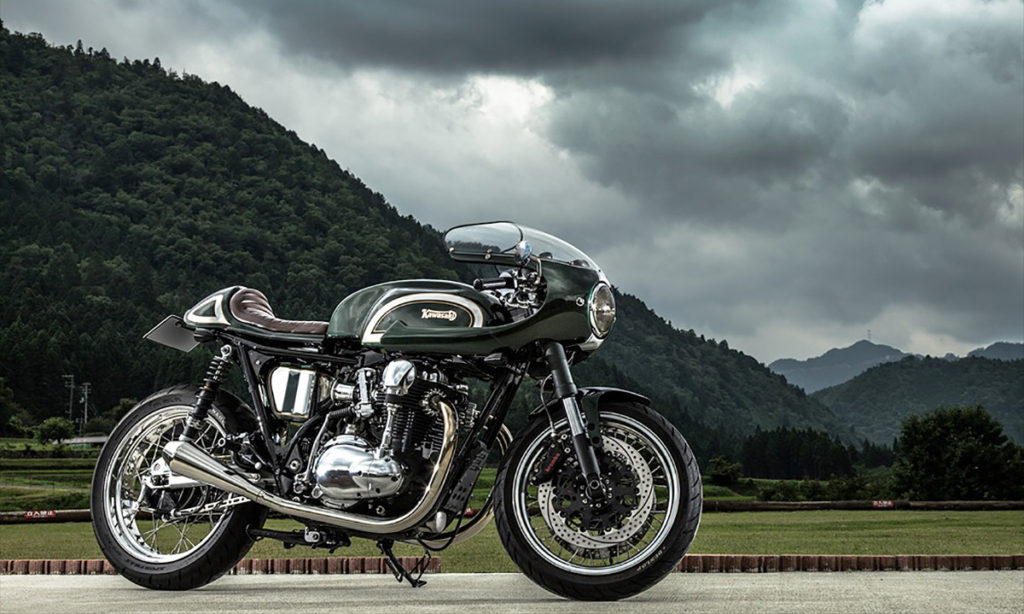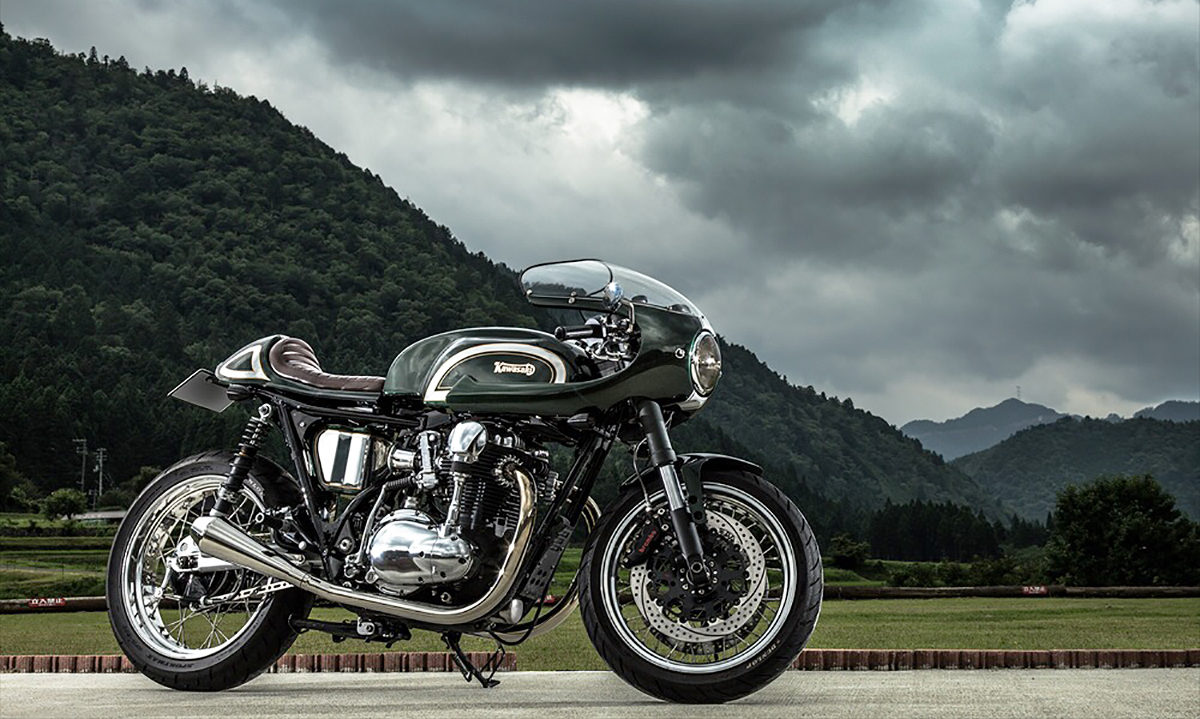 Berrybad Motorcycle's gorgeous custom W650
Kawasaki W650 Styling
The first thing you'll notice when looking at the W is that it already looks absolutely bang-on in stock trim. Despite Kawasaki squealing a narrative that the W650 descends from their 1960's W1 model (itself a riff on the BSA twins of the same period) the engine cases and proportions all scream late Meriden's finest – it looks a lot like the old Triumphs. And that's a good thing.
Compared to Hinkley's efforts of the same time it looks more like a Triumph than a Triumph does. The engine is proportionately perfect, the fuel tank has all the right curves, and the wheel sizes are bang on. Even the side covers have a better shape to them than those of the Bonneville. Overall the bike appears lighter and more in keeping with a 60's ride than the bulbous Triumph line.
This means that very little needs to be done to have it looking like a cafe racer. Straight away a set of Clubman bars transforms the bike, but the most authentic look will require some clip ons and rearsets. Unfortunately, that'll leave you with some great big handlebar mounts jutting up out of the triple clamp so they'll need to be machined down or another clamp fitted altogether. If you can find one. But more on that later.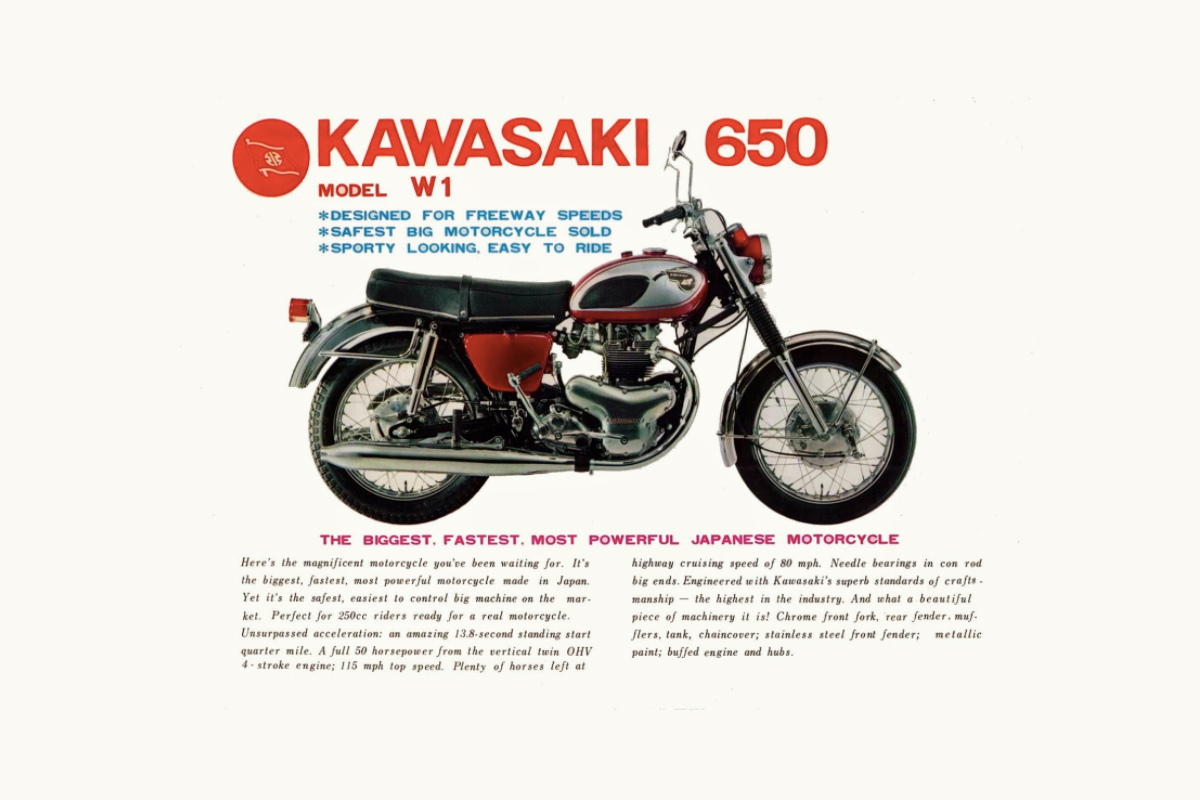 One thing to consider is that when looking at ace bars is that the W650 runs a bizarre type of handlebar that starts at 1 inch in diameter at the risers and tapers down to 7/8ths at the controls. Take a look for some spacers from bicycle shops for a cheap, easy way to run more universal 7/8 bars on the bike.
Everything else about the bike is straightforward. A smaller headlight will have you replacing the pressed steel headlight ears and finding an alternate way to affix your indicators. Thankfully, unlike the Bonnevilles, the ignition sits right up top on the triple clamp. As God intended.
In front of the key (which is the old fashioned 'dumb' key without any electronic wizardry in it) the gauges are small and, despite the plastic dash, actually look pretty damn good. The controls are quite slim and unobtrusive and sometimes pop up on other custom models, being a good compromise between being low-profile and actually usable.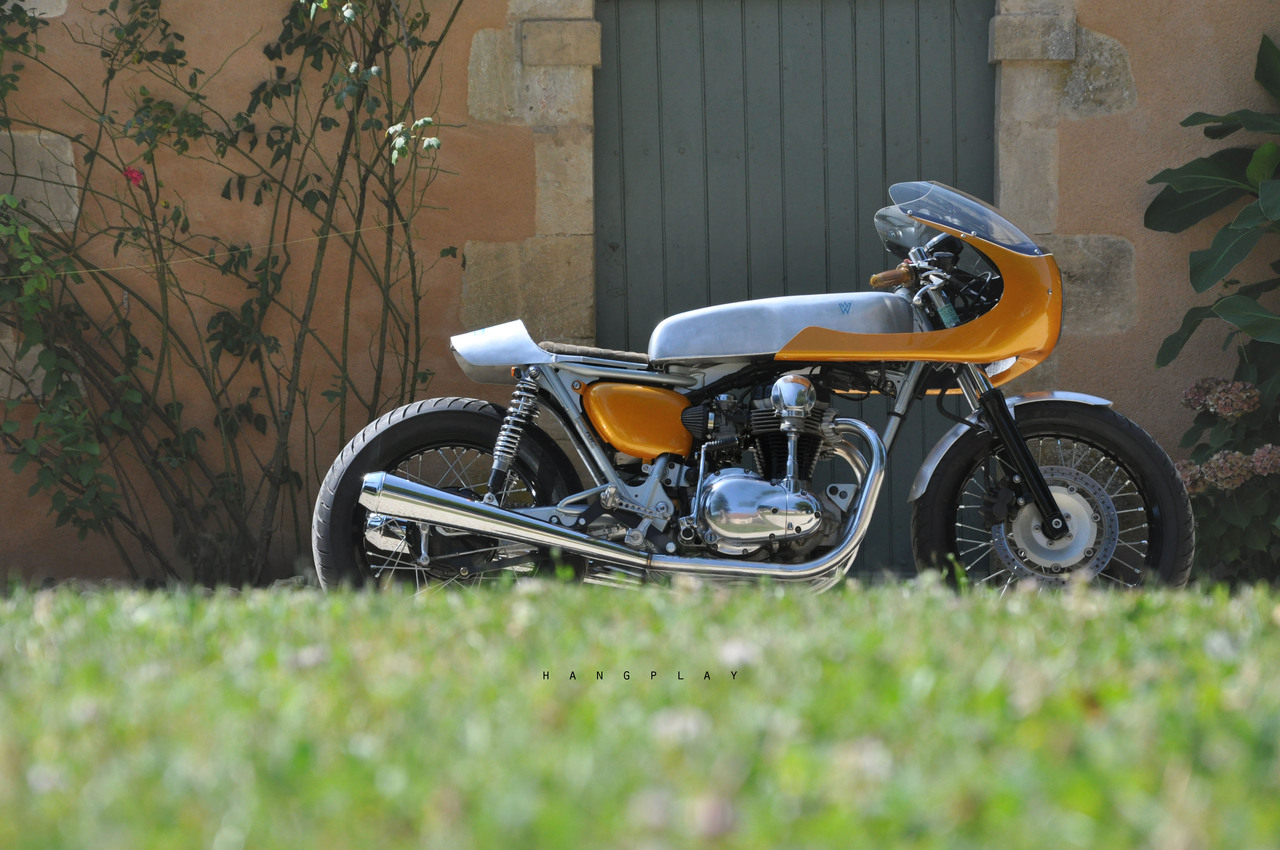 The happy news continues when you look at the conventional single cradle frame. It's largely free of unnecessary bracing or welds and the rear of the subframe is actually nicely rounded and finished – you don't see too many people snipping off the tail and adding a loop, and, the welds look pretty damn good as far as factory work goes.
Customising the W650 is straightforward and pretty damn easy to get good results quickly and with minimal cost. Take a look here at Maria Motorcycles 'Hurricane Jane' W650 for an example of how close the W650 is to a damn good looking cafe racer already. A lick of paint, a new headlight, ace bars, re-covered seat and new exhaust and you're good to go.
But if you're looking to make the bike pop a little bit more you're going to have to look at the engine and airbox.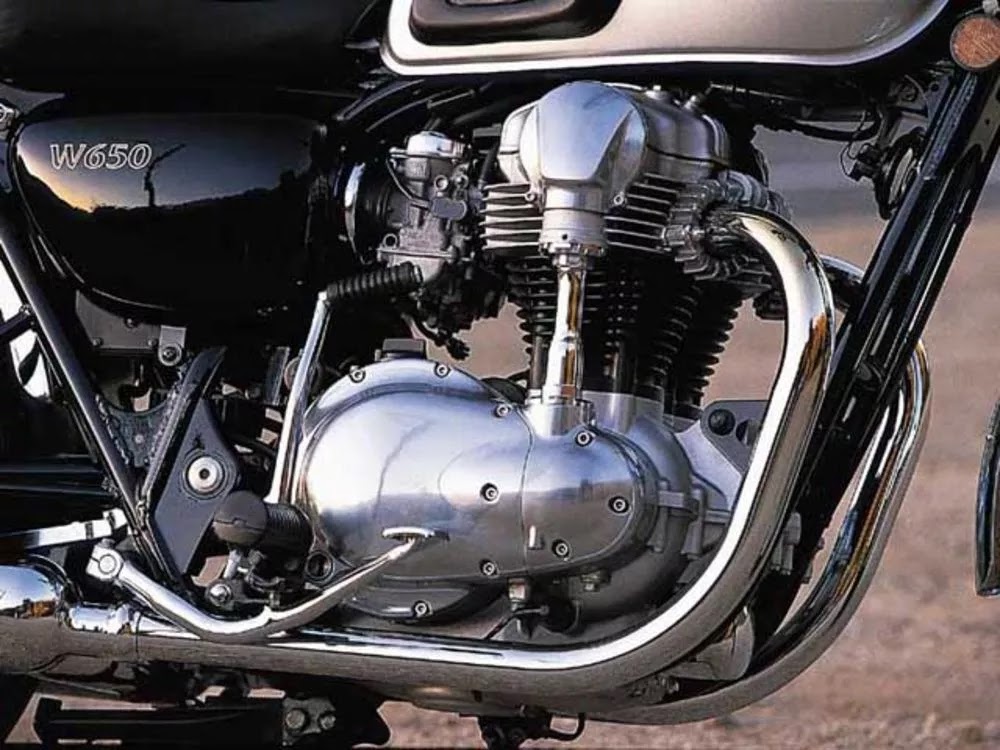 The W650's perfectly proportioned parallel twin
The W650 Parallel Twin Engine
Many custom W650's run pod filters, with a large open area behind the bevel-driven twin engine. This requires the electronics to be stripped back and hidden away under the seat area or mounted in a separate battery box. All that open space goes a long way to making the bike look lighter, even if it doesn't shed that many kilos.
The guys that really chase weight savings remove the electric start altogether, opting to rely on just the kicker. But the W650 isn't the heaviest bike to begin with and its 195kg (dry) weight is handled nicely, with the ride feeling exceptionally well-mannered at all speeds. So instead you might be tempted to look at some engine modification…which are rarely done.
Compared to most custom rides people tend not to touch the W650's internals in any meaningful manner. This is surprising because in standard trim the engine is lovely, but not inspiring. It's low compression, undersquare and designed for high mileage with easy servicing due to its shim over bucket design. As a result, many people who fit flat slide carbs and open exhaust systems tend to be disappointed with the results. To get the most out of the bike you'll need to go with higher compression pistons, a new cam, a bore and some head work.
I've ridden a worked W650 and it was lovely, but it was just lovely. It wasn't a fire-breathing, snarling twin like the end result of similar work applied to a Meridian Triumph. And at the end of the day, you're potentially sacrificing the W650's greatest strength – it's reliability. People routinely do over 100,000kms on the bikes without any problems at all.
The main thing to be concerned about when looking to modify the engine for the W is the cost – or time and expense – of fitting an exhaust. Annoyingly, the headers and mufflers are pinned together which means that you can't just slap on a slip on and call it a day. You either have to cut the standard headers and fit your own or purchase a full set of pipes, headers and all. I would recommend you stay away from costing this up online if you're suffering from any kind of heart condition.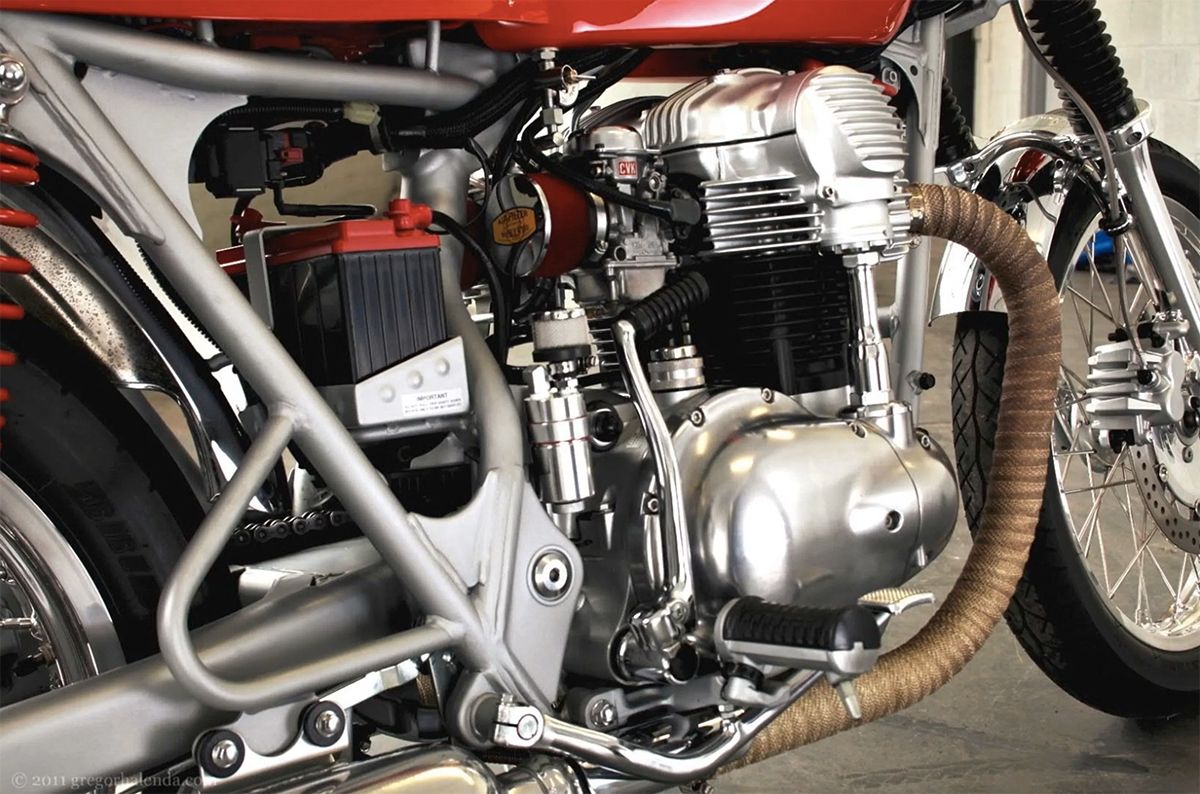 Handling
The Kawasaki W650 is the very definition of neutral handling. Compared to the era of bikes in which it emulates, it's positively gorgeous. But it could still do with some tweaking. Thankfully there isn't much that needs to be done to really improve the ride – a set of twin shocks at the rear and a good set of progressive springs up front makes a world of difference.
However, the brakes are trickier. The front twin-pot is anaemic but can be firmed up with a good set of pads and most importantly, a stainless steel brake line to get rid of any flex in the system. There are conversion kits to run larger discs and a Brembo master cylinder but this isn't cheap.
At the rear, the drum is nothing to be scared of and with a good set of shoes and adjusted correctly it offers decent stopping power. It's still not ideal but oddly enough, I prefer the rear drum on this model over the rear disc offered by Triumph of the same era.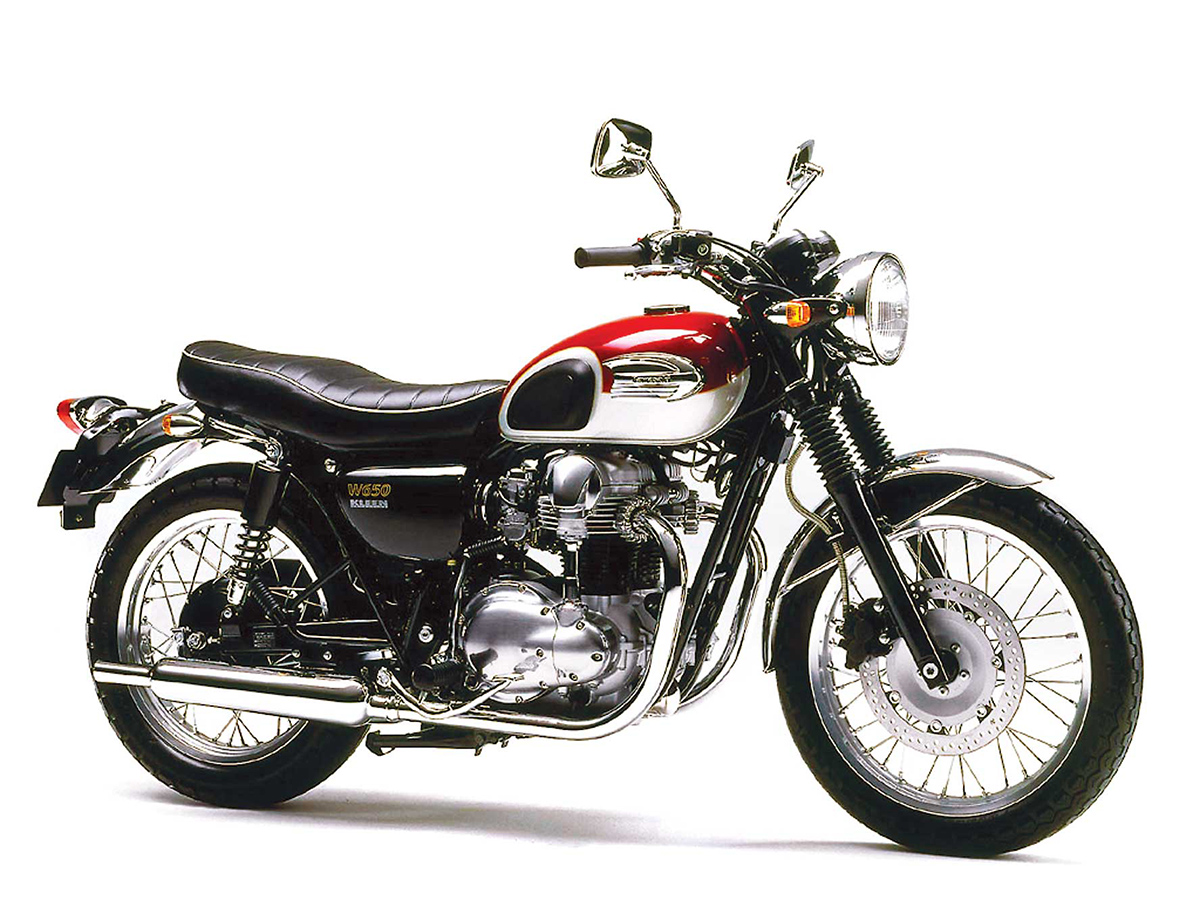 Sweet looking stock as a rock W650
The Aftermarket
Without the benefit of a truly obsessed American market, the W does lack a huge host of custom parts to outfit your ride. Most accessories and replacement shiny bits will come your way via a dwindling supply of farkles from Japan or from the increasingly prevalent South East Asian market, where tanks, fenders and the like are still affordably produced in small batches. There's still a host of Nitrohead seats and exhausts available, but I'm noticing that many online stores that supported the W650 have less and less items available for you to spend your hard earned money on.
Using entirely aftermarket parts will make it hard to get the W650 looking truly unique. Those Japanese parts are well made but expensive, and if you're living further than Osaka shipping can be exorbitant and slow. Like any ride, indicators and lights can be had for cheap as with most other parts that aren't particular to the W. But if you're really planning on modifying the Kawasaki you should be prepared to do some fabrication. Sooner or later you'll need to strike out on your own and break out the grinder and MIG welder to get the best results.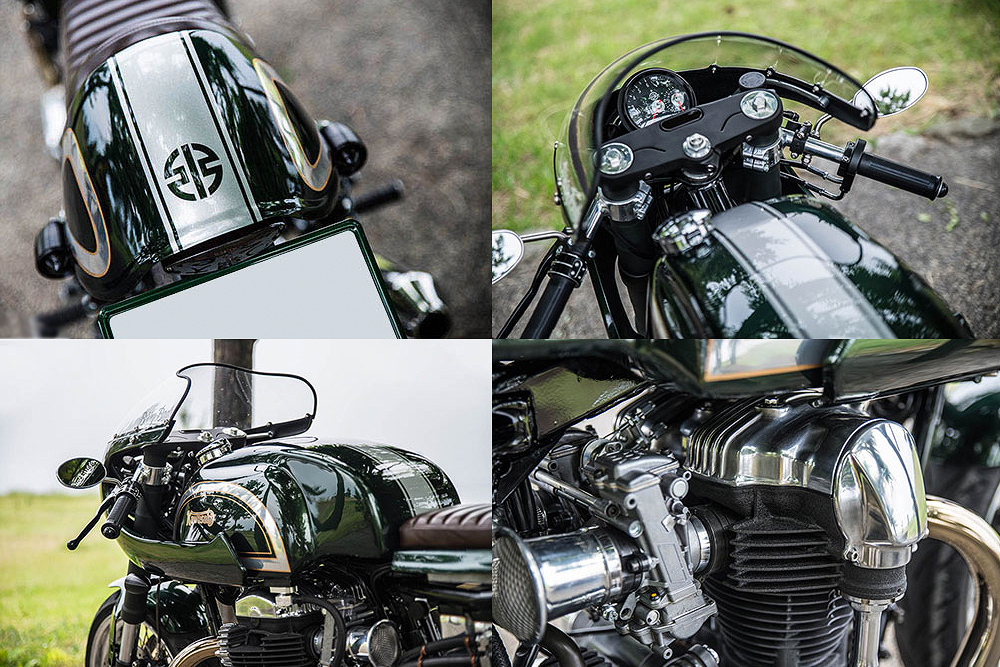 When buying a Kawasaki W650
So you've been going through this page and decided, quite rightly, that the Kawasaki W650 is one of the best bikes you can build a cafe racer out of. And now you're going out to hunt for one. What should you look for? What is there to be concerned about when getting an old Dub? Thankfully – not much.
The only real known problem is a clutch assembly that isn't half as solid as the rest of the engine – they seem to go through plates and especially springs quicker than many other models. The clutch is shared with a number of other Kawasakis from the time period so parts are easily available. While you're there get some high-strength springs.
Not much else is particular to the Kawasaki. Have a close listen to the bevel drive and look for any oil weeping or unusual sounds coming from the top and bottom end of the shaft. The process to adjust the bevel drive is quite different to Ducati's and many people tend to stuff it up royally when servicing their bikes. Over the years the guys with the highest mileage on the bike tend to believe it's best to leave it well enough alone – making no adjustments at all throughout the life of the engine.
Early production models (up until around 2001) had some issues with the rear fender developing a crack on either side that if left unchecked will snap it off completely. To some this might look like the bike has been given a light shunt from behind – but really, it happens to most of them. It's nothing to be concerned about and nothing a quick bead of weld can't fix.
Aside from that, it's hard to find one thing, in particular, to be wary of. The W650 is so easy to service and maintain and its owners have been fastidious with them over the years it's hard to find one that is in anything other than exceptional condition. Which is where the W starts to fall down as a donor bike.
Deus Ex Machina 'Fiddler' Kawasaki W650
The Downside
Being in such exceptional condition and so well looked after means that the Kawasaki W650 has plateaued in price. There are some exceptionally ambitious owners out there trying to move their bone stock bikes with pricing that range from the optimistic to outright ridiculous. While they can be ignored you should be prepared to pay higher than you would for a Triumph Bonneville of similar vintage and condition. That's if you can find one in the first instance.
Very few W650s were sold in the US and the owners that have them seem to be accumulating more of them. On the bright side, the average age of an owner of a Kawasaki W650 seems in the US seems to be around 65. So there might be a slight increase in a number of W650s popping up on Craigslist in the years to come.
Meanwhile, in the UK, Australia, and Germany the W is a much more common ride with many of these markets benefitting greatly from second-hand Japanese imports. These should be approached cautiously, with many sitting idle for years in Japan. But with a good change of oil, tires, pads, and rubber there shouldn't be any concerns about getting one of these as a starting point for a cafe racer build.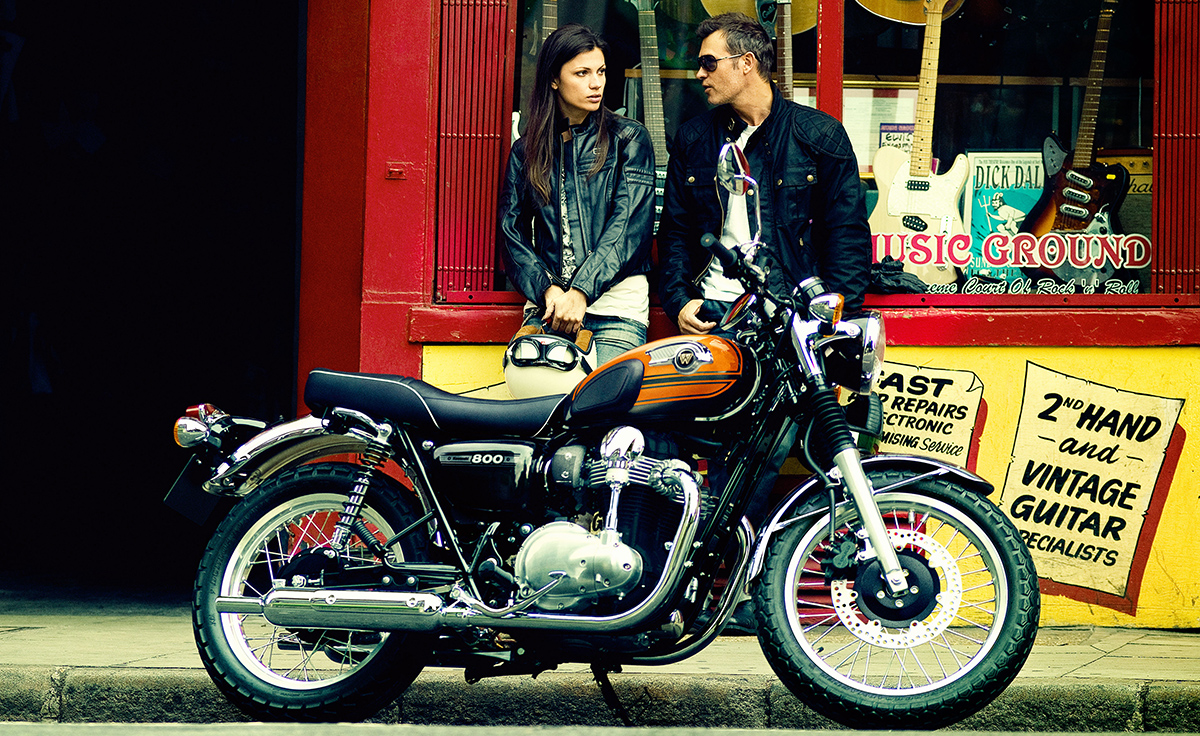 Kawasaki's W800… disappointing.
The Kawasaki W800
While ostensibly the same bike with only a few more CC's the 800 feels very different to ride when compared to the Kawasaki W650. It has noticeably more torque and pulls harder from lower. While on paper this means you should all be scrambling to find one, the reality is different.
The W800 runs a fuel injection system that has been subject to a number of recalls and fuelling can be choppy and sluggish at times. The mass of wires and electrickery also means it's harder to strip the bike back – and even when you do you're left with an ugly, very modern fuel injection system.
And as a sidenote – the W800's don't seem to be as well built as the W650. That doesn't mean it's poorly put together, it just means that it's subject to the standard wear and tear and degradation of other, more mortal bikes. That'll mean a level of corrosion, paint flake and lack of sheen that would have made the original Kawasaki design team blush in the late '90's.
The Kawasaki W400
Don't bother. It's a turd.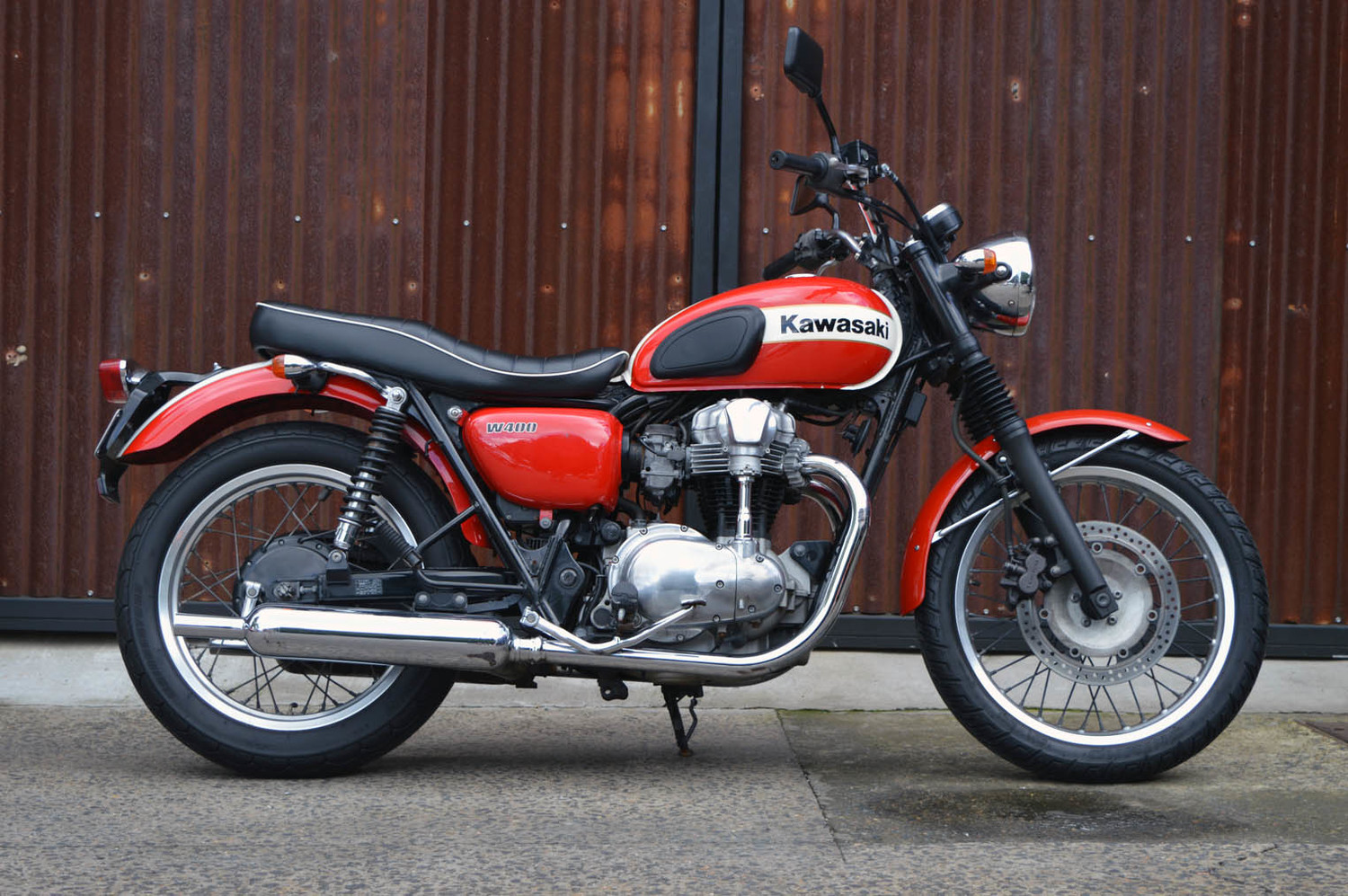 Kawasaki W400. The little engine that couldn't.
Conclusion
The Kawasaki W650 and W800 are exceptional bikes in stock trim. They're proportionately correct, exceptionally well built and reliable. While not scarily quick or exceptionally well-handling they more than make up for that with their ease of ownership. As a result, they can be cafe'd easily with minimal effort, despite an aftermarket parts selection that is rapidly drying up.
The bikes are exceptionally reliable, good-looking, they handle well and are a joy to service and maintain. If you can find one in your area being sold for a sensible price you'll be kicking yourself if you don't pick up what is, in my opinion, one the best retro-styled bikes ever built.