Thanks to its long warm summers and mild winters California is the United States motorcycle mecca. If you're looking for a European equivalent, you'll need to head south where the climate is dictated by the Mediterranean. Portugal is located in the Mediterranean Basin and on its southernmost tip is the Algarve region. Each year Algarve's Mediterranean climate provides its occupants with more sunny days than California. Algarve also boasts 200km of picturesque coastline and mountain ranges to the north making it an ideal playground for motorcyclists.  The region's biggest city is Loulé and as you'd expect there's no shortage of motorcycles cruising its streets.
Since 2017 Francisco and Vera Correia have run the workshop Rusty Wrench Motorcycles in the heart of Loulé. Their business began as a motorcycle workshop and a retail store offering a range of moto-lifestyle clothing. Today their space has grown to include a tattoo studio, a barber shop and a bar and cafe. It's a place where the cities many motorcyclists frequently gather and their doors are always open to curious visitors.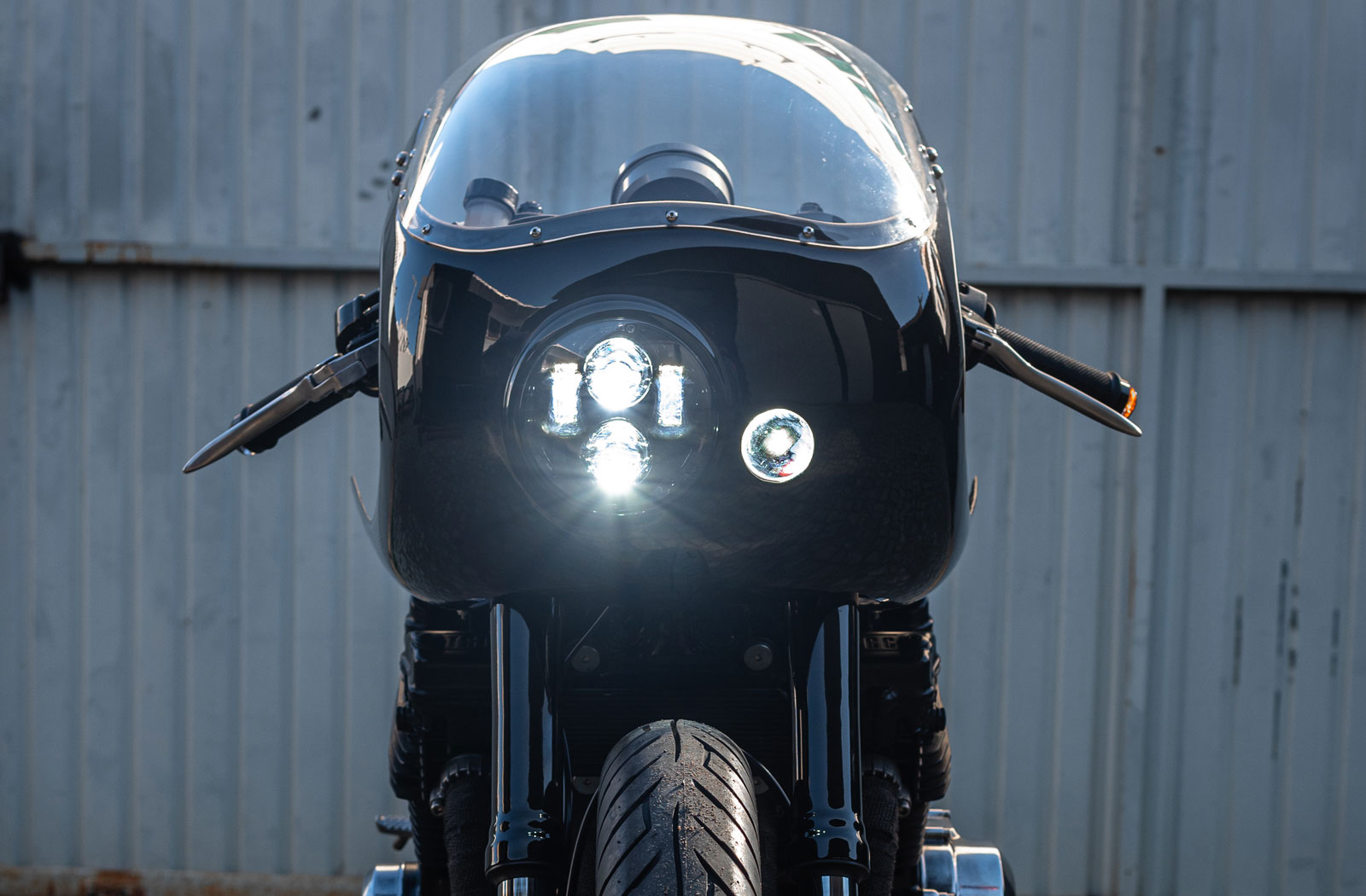 Although his Rusty Wrench venture has grown and diversified, Francisco is still passionate about building bespoke motorcycles for his clientele. This '87 Suzuki GSX750 ES is his latest cafe racer project. Built for a discerning customer the build had 3 main goals; to give the Suzuki a facelift, increase its performance and make it safer to ride. Adding to the challenge was that the Suzuki was in a sorry state. So bad infact that Francisco named the project Fenix (Phoenix) since this GSX had to be risen from the ashes to return it to the street.
In its day, The Suzuki GSX750 ES was at the top of its game. It was faster, lighter and better equipped than its predecessor and it sold in droves. But on paper, as with any motorcycle this age, its specs are showing its age. To make matters worse this bike had been badly neglected so the obvious place to start was to bin anything beyond repair. In this case, that meant most of the motorcycle.
Replacing the bodywork was the first cab off the ranks. None of the GSX's original tinware or plastic body panels remains. Starting with the new fuel tank it's a Honda CB750 unit. Despite not being made for this bike, the tank looks right at home atop the Suzuki chassis after Fransisco massaged it into place. At the rear is an aftermarket FRP tail assembly sat on a modified subframe. And up front, there's another reproduction classic fairing which is held in place by brackets and supports made by the Rusty Wrench team.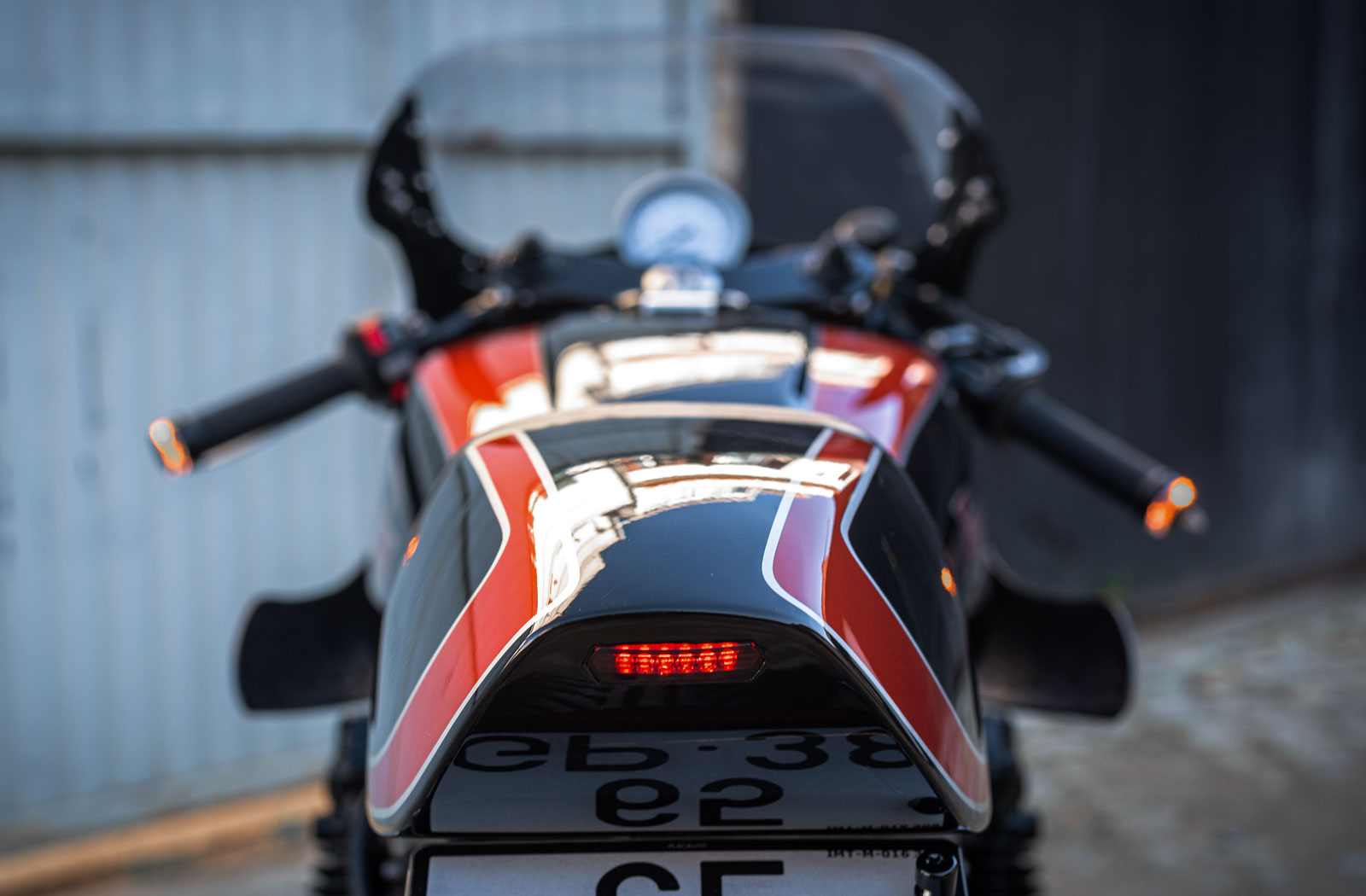 Complementing the new bodywork is an exhaustive lighting revision. Front-end turn signal duties are managed by Motogadget's clean and tidy bar-end mo.blaze discs. In the tail sits an ultra-bright LED assembly that handles both brake and turn signal duties. Lighting the road ahead is a thoroughly modern LED headlamp that sits off-centre. And to step things up a notch in regard to night vision, Fransisco has added an auxiliary spotlight.
Completing the aesthetic overhaul are new clip-on handlebars, grips, switch blocks and an aftermarket gauge. Sitting low on the frame rails is a custom-built seat and the license plate is held in a custom-made tidy tail bracket. To keep things looking clean the ignition has been replaced by a Motogadget m-lock RFID keyless ignition. The engine start button has also been relocated to one of the small side panels that cover an electrical box hidden beneath the seat.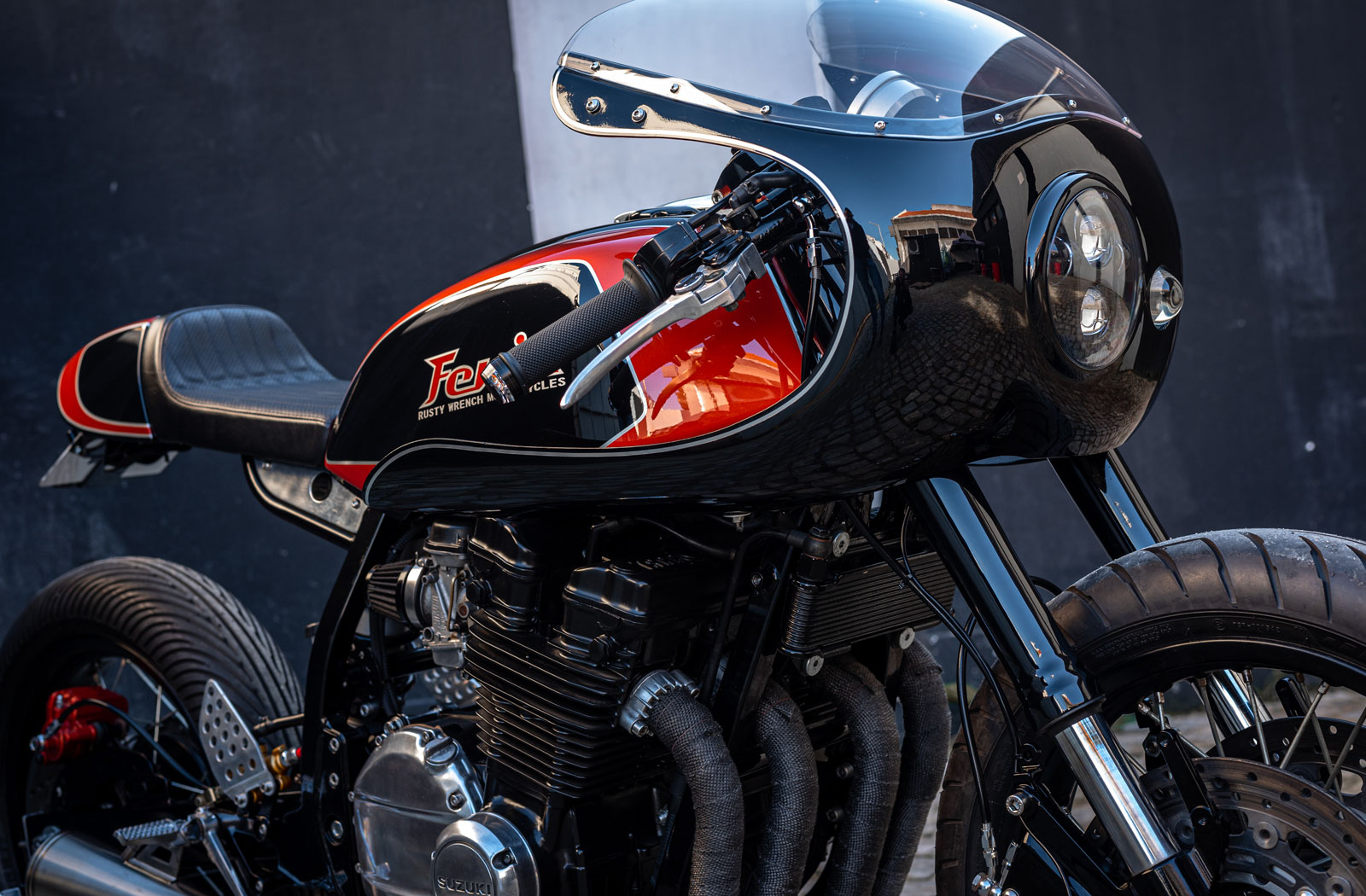 Next Fransisco addressed performance and safety and once again he and his team didn't pull any punches.
None of the new suspension on this GSX750 was intended for use on a Suzuki. The front end comes from a Yamaha R1. As you'd expect the R1 upside-down forks and twin disc brakes dramatically modernise the bike's handling. In the rear is an equally competent solution which utilises a Honda CBR600 swingarm, shock and brake. Since neither the Suzuki nor its donors wore wheels befitting of their retro theme, Rusty Wrench has fit the GSX750 with suitably styled aftermarket spoked wheels.
Despite the sorry state of the rest of the bike, the GSX750 four-banger tested well, which is a testament to Suzuki's engineering. So a basic service and thorough clean had it running and looking like new. To step things up a little, the carbs now wear pod filters and aftermarket mufflers. For steadfast reliability, the wiring is all new too and managed by A Motogadget M-unit.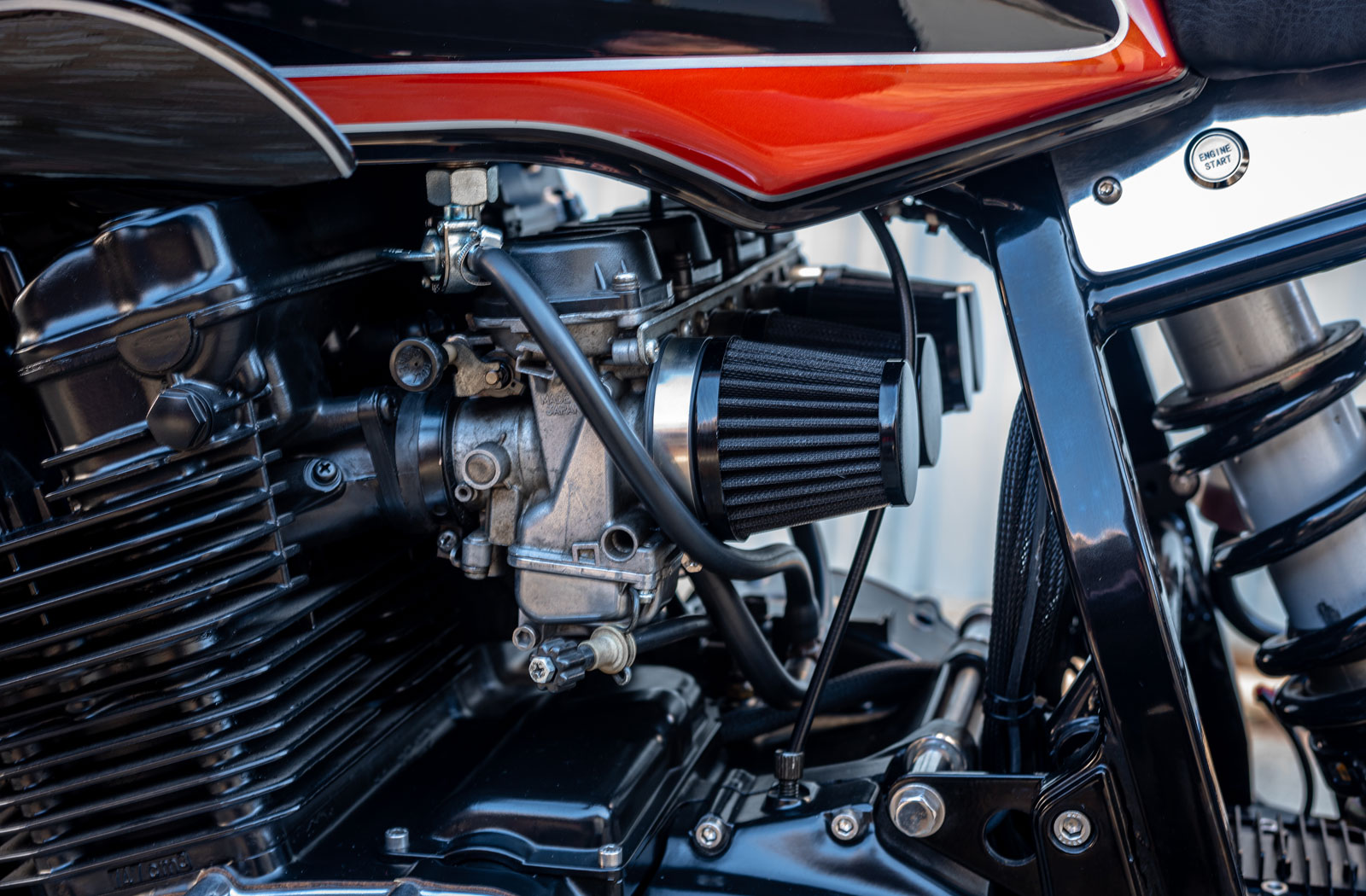 Despite '80s angular styling coming back into vogue, the classic lines and timeless good looks of this Suzuki cafe racer will never go out of style. Finished in bold orange and black livery befitting of its name, the Phoenix is a beautifully executed restomod. In the eighties, Suzuki hit a home run with the GSX750ES and Rusty Wrench has repeated that effort with this timeless transformation.
Photography by Paulo Teixeira