It's that time of year again when I look back over the past 12 months of articles and somehow pick out the 10 best cafe racers of the year. This is by no means an easy task. As the late great Dean Martin said, 'You can't love 'em all, but you can try' and while these 10 cafe racers certainly deserve their place here on the 2022 Top 10 List, there were so many more that could have easily found their way here.
Don't expect to see a list based on social media stats or website analytics here. As the motorcycle features editor of this site, I take great pride in handpicking each and every custom motorcycle we feature. This list is a handpicked selection of the motorcycles that either displayed serious commitment or skill to create or simply had my jaw on the floor when I laid eyes on them.
This year cafe racers with fairings have dominated the list with 8 of my Top 10 Cafe Racer selections wearing one. Asian workshops have also made their mark on the list with 5 of the 10 coming from either Japan or Thailand. There's a good mix of brands and makes with only 2 manufacturer double-ups and I've even thrown a movie prop motorcycle in there. Scroll down to see the full list and remember if you've got a project in the pipeline be sure to get in touch when it's done and you too could find your pride and joy appearing here with the best of the best.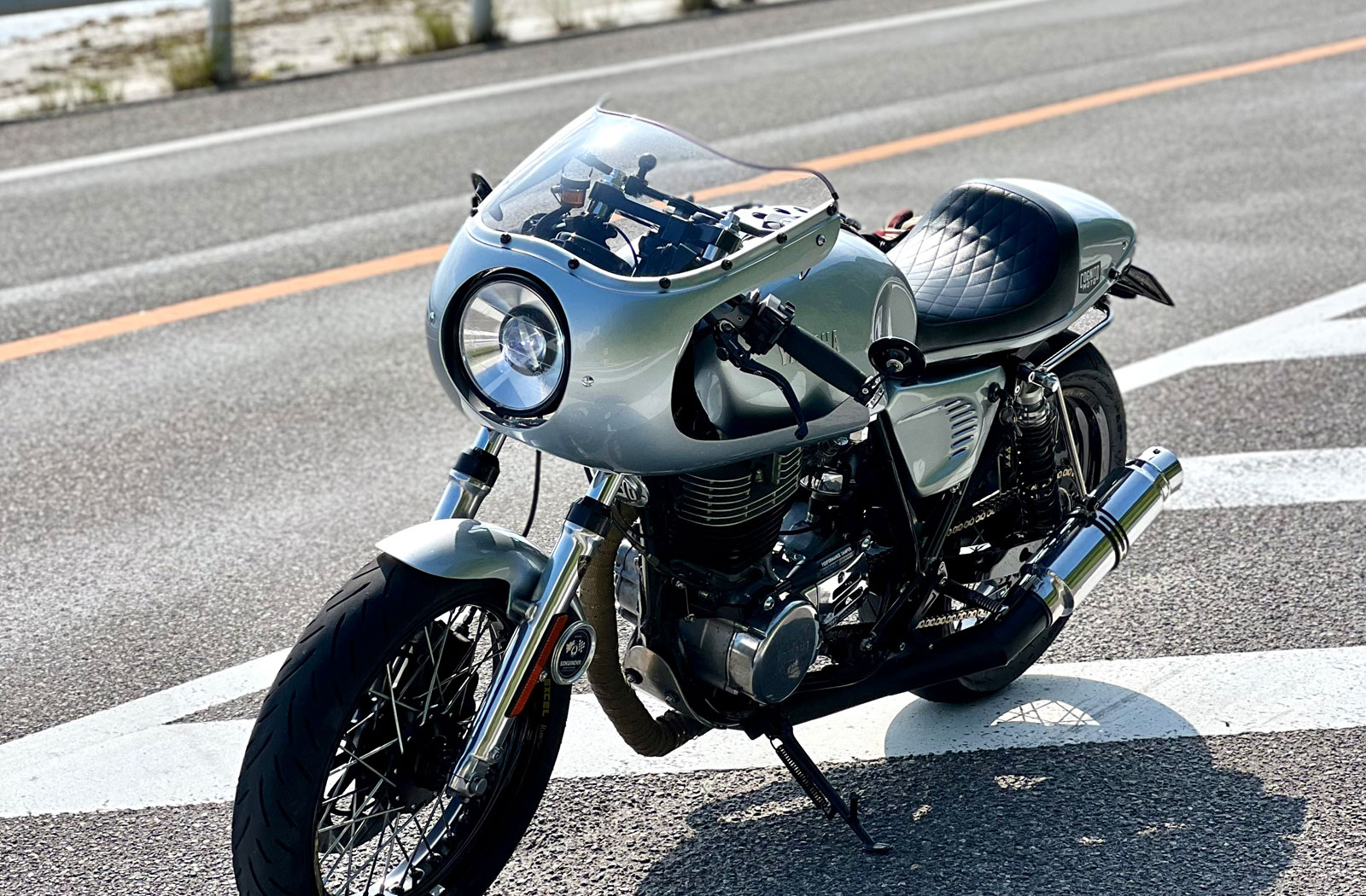 10. Makato Endo's Yamaha SR400
The Yamaha SR400 was the poster child of the "new wave" custom scene back in '08/'09. Thanks to workshops like Deus Ex Machina and the multitude of stunning custom SRs built by Japanese enthusiasts, the evergreen thumper left a lasting impression on custom enthusiasts worldwide. Unfortunately, Yamaha put an end to the SR's impressive 43-year production run in 2021, but that hasn't made the Japanese icon any less appealing. Cafe racer styled builds are a hot favourite with SR owners and this beauty by Japanese SR enthusiast Makato (Mac) Endo is an excellent example of how it's done right.
Mac has owned his beloved 1996 SR400 for more than 20 years. This latest iteration of the bike was 7 months in the making and has seen it reimagined as a "neo-cafe racer". Mac kicked things off by handpicking a long list of aftermarket parts to fit to the bike. He then took his SR along to the workshop of Flakes Customcycles. Under Mac's instruction, Flakes tore the SR down and began rebuilding it using his trick new parts.
Some of the stand-out features of this SR400 cafe racer are the rubber-mounted BSA Brooklands alloy fuel tank and a Peyton Place cowl. There's also a custom twin exhaust system and a set of Imola-style side covers. And the Cognito Moto and Motogadget gauges behind the fairing sit in a custom-made dash of Mac's own design.
Although the complete build list on this striking Yamaha SR400 runs as long as your arm the finished result is impeccably clean and uncluttered. Its custom builds like this beauty that will have people seeking out Yamaha SR400s for their own projects for years to come.

9. FatBoy Design x Slayer House Sportster
Speeding on to the website just in time to make the Top 10 cut was this wild Harley Davidson Sportster from Thai builders FatBoy Design and Slayer House. Built to display at the 2022 Bangkok Hot Rod Show the Sportster Forty-Eight was rebuilt over a 60-day timeframe and is the brainchild of Chakkaphan (Mark) Rungsukcharoen.
Mark's inspiration for this project came from his father's Lamborghini Murcielago SV. The influences can clearly be seen in the sharp angular lines of the bodywork and the blatant Lamborghini branding on the bodywork and brake callipers. What's most impressive though is how he's managed to completely revise the Sportster's stance without any major modifications to the frame of the motorcycle.
Although Mark's ultimate goal with this project is to take this bike to the track, the work so far has been mainly aesthetic. But with his ultimate goal in mind, he's reduced the portly Forty-Eight's weight as much as possible with the help of carbon fibre experts Slayer House.
To create the Sporty's new bodywork Mark and Slayer House frontman Nattapat sketched their ideas out on paper. Nattapat then performed a full 3D scan of the stripped-down Forty-Eight and modelled the bodywork directly onto the scan with millimetre-perfect precision.  The 3D models were then used to create a set of moulds which were in turn used to create each of the vacuum-formed carbon fibre body panels. To top it all off this wild Sportster wears upgraded suspension, lightweight CNC machined wheels and a spattering of custom accessories.
I've featured many Harley Davidson cafe racers on these pages in the past but none have left me quite as enamoured as this. The Thai custom scene is relatively new territory for this website but rest assured, with motorcycles of this calibre being built we'll be keeping a very close eye on them from now on!

8. Cherry's Company Kamen Rider CB750F Turbo Battle Hopper
This insectoid-looking CB750F Turbo is easily one of the most unusual Honda cafe racers featured on these pages in 2022. It's the work of Kaichiroh Kurosu of Japan's Cherry's Company and was built as a prop for the new Kamen Rider Black Sun series on Amazon Prime Video. Rest assured though this turbo-charged Honda isn't just a fanciful onscreen ornament; it's a fully functional, street-capable ride.
Kaichiroh-san was approached by the Kamen Rider Black Sun producers who, upon the director's direction, were looking for a custom motorcycle builder rather than just a prop company to build the bike. As luck would have it Cherry's Company was located near the studios where shooting was taking place and he was given the opportunity to be involved.
After accepting the project Kaichiroh-san was presented with the concept for the motorcycle by the art department. Together they refined the design to make sure everything could be fully functional including the elaborate lighting and steampunk-esque accessories.
In keeping with the age of the motorcycle in the series, Kaichiroh-san selected the CB750F Turbo as the donor. The motorcycle in the story has been ridden by the character Black Sun since 1971 so he wanted it to look the part from both an engineering and aesthetic point of view. Along with creating all of the Battle Hopper's elaborate bodywork from scratch Kaichiroh-san aged everything by hand to give it a realistic patina. Taking into consideration the fact that this bike had to actually be ridden during shooting, the Honda's turbo-charged engine has also been carefully retuned to suit.
This isn't the first movie motorcycle Kaichiroh-san has built. He also put together the motorcycles for the 2022 film 'The Batman' which you can check out here.

7. Grey Lightning Vincent by Godet Motorcycles
Custom Vincent's are becoming an increasingly rare sight, but if you know where to look (and have the money), anything is possible. This stunning 1300cc Vincent cafe racer made a splash here on Return of the Cafe Racers back in February of 2022. It's the work of the French Vincent specialists Godet Motorcycles who coined the bike the Grey Lightning.
Godet is one of the few remaining Vincent specialists in the world. Consisting of a 4 man team of highly specialised experts they have acquired express permission from Fritz Egli to reproduce Vincent's revered chassis design.
This Vincent cafe racer was built for a new customer who originally wanted a Black Lightning replica. After learning their customer planned to ride the bike often the Godet team recommended he go with something more friendly and fun to ride. After some convincing, he gave them the go-ahead to create the Grey Lightning which is based on a previous Godet project.
At the heart of Grey Lightning is a 1300cc replica Vincent v-twin made in-house by the Godet team. The bespoke engine sits in a custom-made chassis which is based on an original Vincent frame design. The Godet frame is optimised for handling and ride comfort making it ideal for street riding. The Grey Lightning also features a custom suspension setup with unique girdraulic forks and a monoshock rear, a custom brake assembly, hidden battery and electrical components and hand-made bodywork. The resulting motorcycle boasts double the horsepower of an original Black Lightning and triple the braking power.

6. Stu Lloyd's Honda CX500 Cafe Racer
Hobby builder Stu Lloyd became somewhat of a regular on this website back in 2021. He honoured us with his presence once again in 2022 with his latest CX500-based build. This impressive Honda cafe racer is the first custom Stu's built for a non-family member. It was put together for a friend who entrusted Stu with modifying his motorcycle, and I'm sure it's a move he will never regret!
After tearing the bike down and stripping away anything deemed unnecessary, Stu completely transformed the CX500. The Honda now wears a drastically revised and upgraded suspension package consisting of GSXR1000 RR forks and a mono-shock conversion rear end wearing a CBR600 RR shock. The brake system is all new too, featuring Tokico callipers, a Brembo master cylinder, braided lines by Hel and Arashi rotors. As for the motor, it's been spotlessly cleaned and detailed, rebuilt and given a power boost using K&N filters, retuned carbs and a one-off stainless exhaust by MAD exhausts.
For the styling, Stu has gone with an all-aluminium set-up. The handmade front cowl comes courtesy of Omega Racer in Thailand, the tank is a svelte BSA Lyta unit and the cafe racer tail unit hails from Tuffside. Beyond these changes, there's also a very long list of premium aftermarket parts. Another stand-out for me on this Honda CX500 cafe racer was the off-centre headlight configuration which was inspired by classic Endurance racers.

5. The Alloy Guzzi by Revival Cycles
In recent years the Revival Cycles crew have been building some seriously out there customs. While I love seeing builders thinking outside the box I still have a soft spot for classical styling and this beautiful T3 Moto Guzzi cafe racer coined the Alloy Guzzi is simply stunning.
When we featured this beauty the Revival crew informed us that it was never meant to be such an extensive transformation. The owner brought it to their shop seeking to have a 'few tasks' completed, but after fitting a new tank, reworking the suspension and bracing the frame things quickly snowballed.
In the end Revival Cycles completely redesigned and upgraded almost every aspect of the T3 from the chassis through to the suspension, brakes and wheel package. The engine has been bumped up 100cc and fitted with upgraded internals, beefier carbs, a specially designed clutch and an incredible all-titanium exhaust. As the bike's name suggests its bodywork is now all made from aluminium which has been shaped by hand at Revival HQ in Austin, Texas. During the build Revival also balanced out the use of old and new performance components to create a custom Guzzi any Italian motorcycle lover would surrender a kidney to own.

4. 1230R GT-M Kawasaki Z1-R by Bull Dock Japan
There's no hiding the fact I have a bit of a soft spot for classic Kawasakis. So when this highly modified Z1-R from Japan's Bull Dock workshop appeared on my radar I couldn't publish it fast enough. Built through a collaboration with Bull Dock and Nitron Suspension the extensively rebuilt and modified Kawasaki is what Bull Dock refers to as one of their GT-M (Genuine Tuning Machine) projects.
As is to be expected this '78 Z1-R now benefits from a complete, top-of-the-range Nitron suspension package, but there's a lot more going on here than just some new springs. Bull Dock owner Masashuiko Waiku has specialised in classic Kawasaki customs for more than 20 years. So using his own tried and tested chassis and engine formula this Kawasaki is nothing like its former self.
Topping the list of upgrades on this build is a completely custom-made frame using Bull Dock's own specially-made jigs. The Kawasaki inline-four has had its capacity bumped up to 1230cc and it's fed by a quartet of Mikuni TMR carbs. Along with the capacity increase, Bull Dock has added an uprated oil cooling system, dual ignition, 6-speed gearbox, quick-shifter and performance clutch to the engine, and the whole setup is managed by an onboard computer.
To make the most of the Nitron suspension Bull Dock also opted for a set of Lavorante carbon fibre wheels that reduce unsprung weight to a bare minimum. The icing on the cake for me though is the application of Nitron's trademark turquoise blue over the bike's aluminium, FRP and carbon fibre bodywork.

3. Beeley Westlake Triumph Classic Racer by BerryBad Motorcycles
The classic motorcycle racing scene in Japan has attracted several high-profile custom builders to its ranks. Amongst them is Kyohey Sugimoto of Berrybads Motorcycles. Sugimoto-sans latest entry into the race series has proved to be a force to be reckoned with. It's dripping with hard-to-find go-fast bits, turns heads at every track meet and most importantly, wins races.
Sugimoto-san has nicknamed his race bike Beeley Westlake. The name is a mash-up of Berrybad and Seeley who made the frame and Westlake (Sugimoto-san's home town) and Weslake Nourish who originally built the motor.
The motor powering this bike is an 8-valve Triumph-based engine built by respected British motorcycle racing experts, Weslake Nourish. Despite being in great condition, Sugimoto-san fully rebuilt the engine to suit his racing style and familiarise himself with its internal workings. The MK4 style frame is the work of Colin Seeley and is arguably the best chassis design he ever designed. Sugimoto-san meticulously inspected and cleaned the frame and then had it freshly nickel plated for the project.
For optimised handling the front end of this bike sits on 35mm Ceriani forks and there are Nitron NTR R1 classic shocks in the rear. For the bodywork, Sugimoto-san hand-shaped the fuel tank and front cowl from aluminium. The tail however is made from FRP plastic. A fact that Sugimoto-san has managed to disguise by painting the unit in very convincing chrome paint.

2. Yamaha R1 Cafe Racer by Robert Catanese
Every once in a while I receive a motorcycle in my inbox that stops me in my tracks. This R1-based Yamaha cafe racer by Chicagoan Robert Catanese is one such motorcycle.
Rob has had a lifelong obsession with two wheels. He's done everything from Motocross to drag strip racing and it's taught him a thing or two about what makes a great performing machine. These days his obsession for two wheels is centred on GP bikes and cafe racers. So when he decided to build a cafe racer of his own he knew it had to perform well in order to keep him satisfied. The solution Rob came up with was to build a cafe racer using a 182 hp 2012 Yamaha R1.
Beyond the engine, there was little about the R1 that could be labelled as classic. To remedy this Rob took the bike to chassis experts Framecrafters. Under Rob's direction, Framecrafters built an entirely new, stressed member frame and swingarm for the R1 made from aviation-grade chromoly tubular steel. Once it was done Rob had the frame nickel plated as a hat tip to the legendary frames built by Rickman.
Next Rob turned his attention to the bodywork. The R1 now runs a replica Ducati 750SS front fairing and tail unit while the fuel tank is a one-off aluminium item that'll hold 5 gallons of go juice. The GP influences on this build are evident in Rob's performance part selections. Some of the highlights are the carbon fibre wheels, Berringer brakes, Ohlins suspension and GP hand and foot controls. So although this cafe racer may be dressed like a classic, there's nothing old school about its performance.

1. Mitch Witkamp's BMW K1100LT
Sitting in the pole position on this Top 10 Cafe Racers of 2022 list is this one-of-a-kind K1100LT BMW cafe racer by Mitch Witkamp. Mitch completed his K1100LT Cafe Racer just in time to enter the 750cc to 1199cc class of the 2022 RSD Dream Build Off which it very deservingly won. The bike had been years in the making but the build-off provided the incentive he needed to get the job done.
When Mitch decided to build this bike he wanted to push his fabrication skills. This meant building all of the bike's new bodywork himself from aluminium which was either formed by hand or machined on a CNC. The extensive list of custom-made aluminium parts includes the fork covers, headlight cowl, side panels, seat pan and tail unit. He also machined his own BMW roundels to match the raw alloy theme and fabricated several small details such as the choke pull, injection cover, coolant reservoir, radiator cap and a billet subframe of his own design. All of that is of course impressive, but what won this bike its first-place ranking is only revealed when the lights go out.
Throughout the new bodywork, Mitch has integrated panels of white acrylic. During the day these blend in with the aluminium bodywork but at night they take on a totally different appearance. Using custom-made LED arrays Mitch has wired the panels to illuminate at night. These transform the cafe racer into a real-world light cycle. Mitch has also cleverly wired the lights to function as turn signals so all of the panels on either the left or right sides flash amber when he's approaching a corner.
Beyond the trick lighting, there's no shortage of well-thought-out modifications and upgrades to Mitch's impressive flying brick conversion. Hit the link below to read the full story and you'll understand exactly why this BMW has been awarded as the Return of the Cafe Racers' best cafe racer of 2022.