In 2021 Stu Lloyd became somewhat of a regular on these pages. We featured not 1 but 2 incredible custom builds by the UK ex-pat who resides in Calgary, Canada. The first was a jaw-dropping Yamaha SR500 cafe racer that made the cut in our Top 10 Cafe Racers of 2021 roundup. The second was a Pro-Am racing-inspired Yamaha RD350LC dripping with the best go-fast Bits he could get his hands on.
For most, completing 2 ground-up custom builds successively in their spare time would be enough, but not Stu. Today he's back again with yet another stunning cafe racer project. This time however he's departed from the Yamaha platform to have a crack at customing a Honda CX500.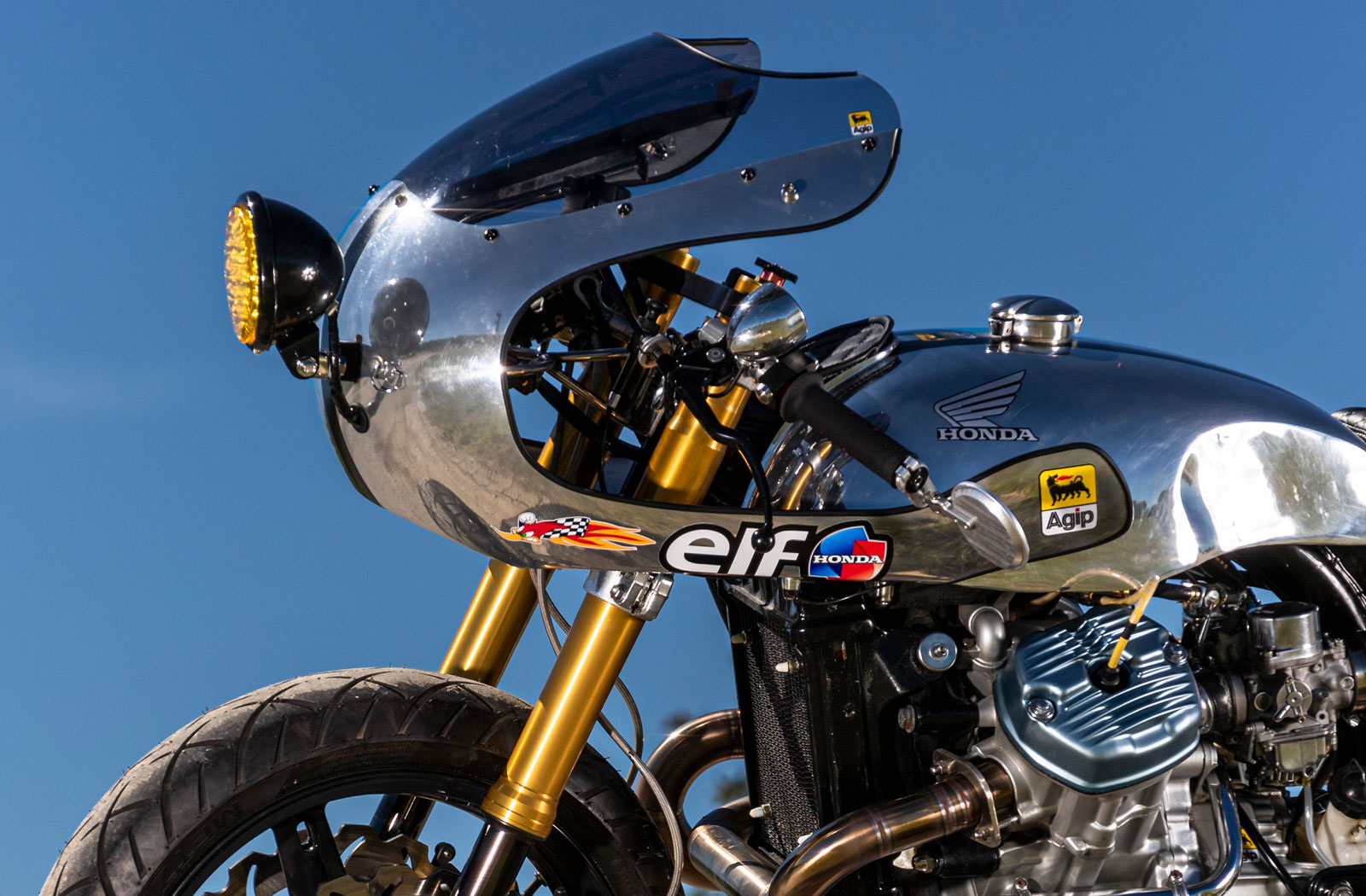 "I'm still OCD!" jokes Stu. "I don't have customers just family and friends. Unfortunately, I've run out of family members to build bikes for and according to my wife the cat doesn't count. So it was time to make more friends!" Thankfully Stu's prayers were answered when a family friend entrusted him with the task of modifying his '82 Honda CX500 Custom.
Similar to the SR500 project Stu's taken a traditional cafe racer approach with the CX. Along with stripping away anything non-essential, he's upgraded every aspect of the CX that he felt let the bike down, including its appearance.
"As always, it was all in my head," Stu explains in regard to his design process. "According to my wife I spent countless hours 'in that garage staring at that bloody bike again!', and I did a few sketches for the new owner to approve before we got started."
For this project, the Honda's original bodywork has been replaced by a collection of predominantly aluminium components. Starting at the pointy end there's an Omega Racer ¾ aluminium fairing. The unit is held in place by polished upper and lower fairing mounts that are welded to the headstock. "The CX frame doesn't allow for the traditional race fairing attachment and bracing around the headstock," says Stu. "We had to get creative, but this gave us flexibility on its height positioning."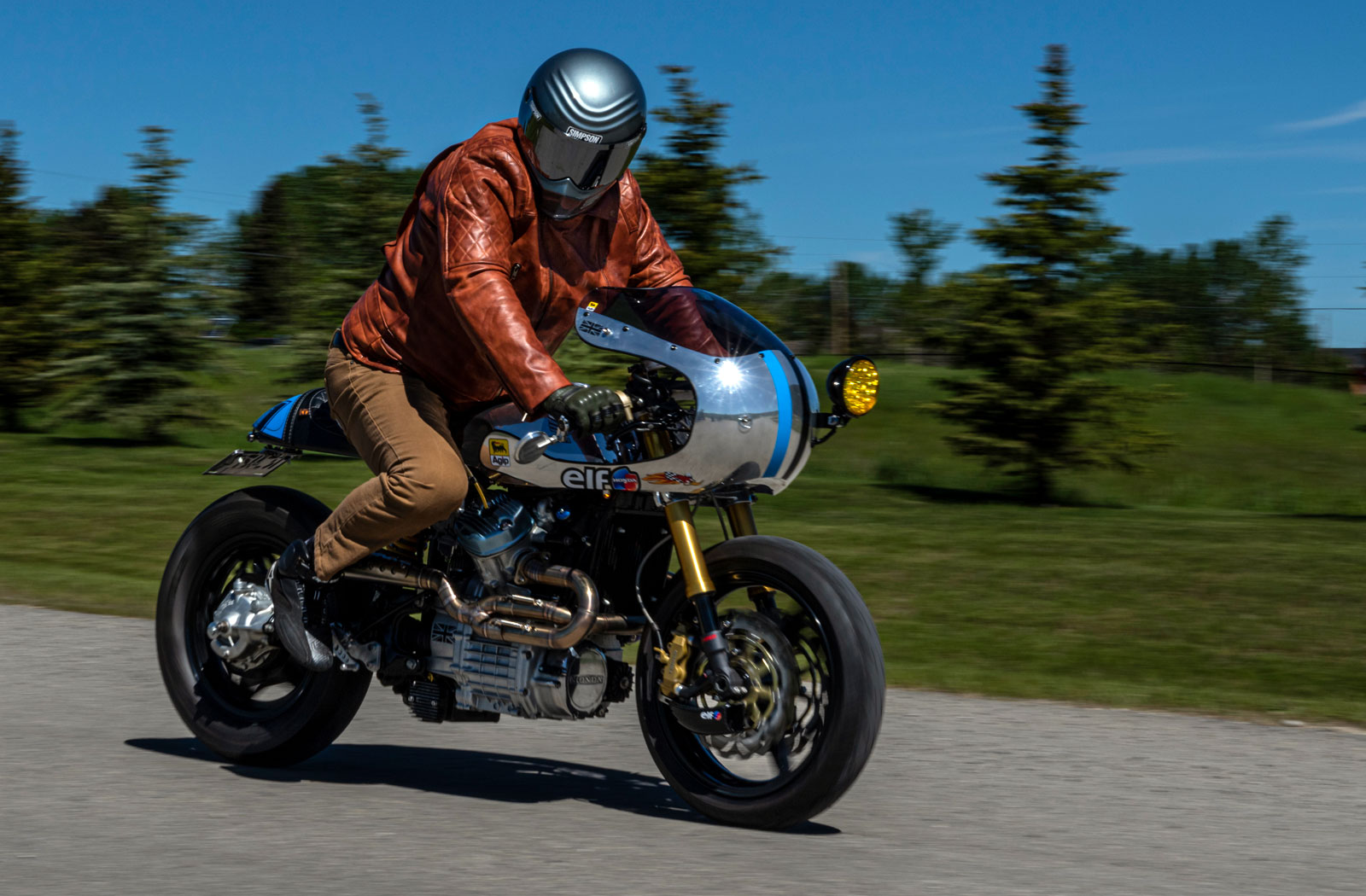 Perched on the hunched backbone of the CX frame is a BSA Lyta-style sprint tank that feeds the carbs via 2 fuel taps. "The 1960's BSA Lyta tank is arguably one of the nicest looking gas tanks ever made. So we thought, hell let's buy one and see if it fits. Its lines sit perfectly with the engine, and most importantly nobody has ever put a BSA Lyta tank on a CX500 that I know of." says Stu and we can confirm it's the first time we've seen it done too.
Rounding out the rear end is a Tuff Side cafe racer seat and cowl assembly. In order to get the seat sitting right, Stu cut away the subframe and welded in a Tuff Side hoop; and while he was at it, he removed the rear shock mounts too. Now that may sound a little extreme, but Stu had a solid plan in the pipeline for the suspension. "Important as always when I build a bike, it must handle well, and it must stop!"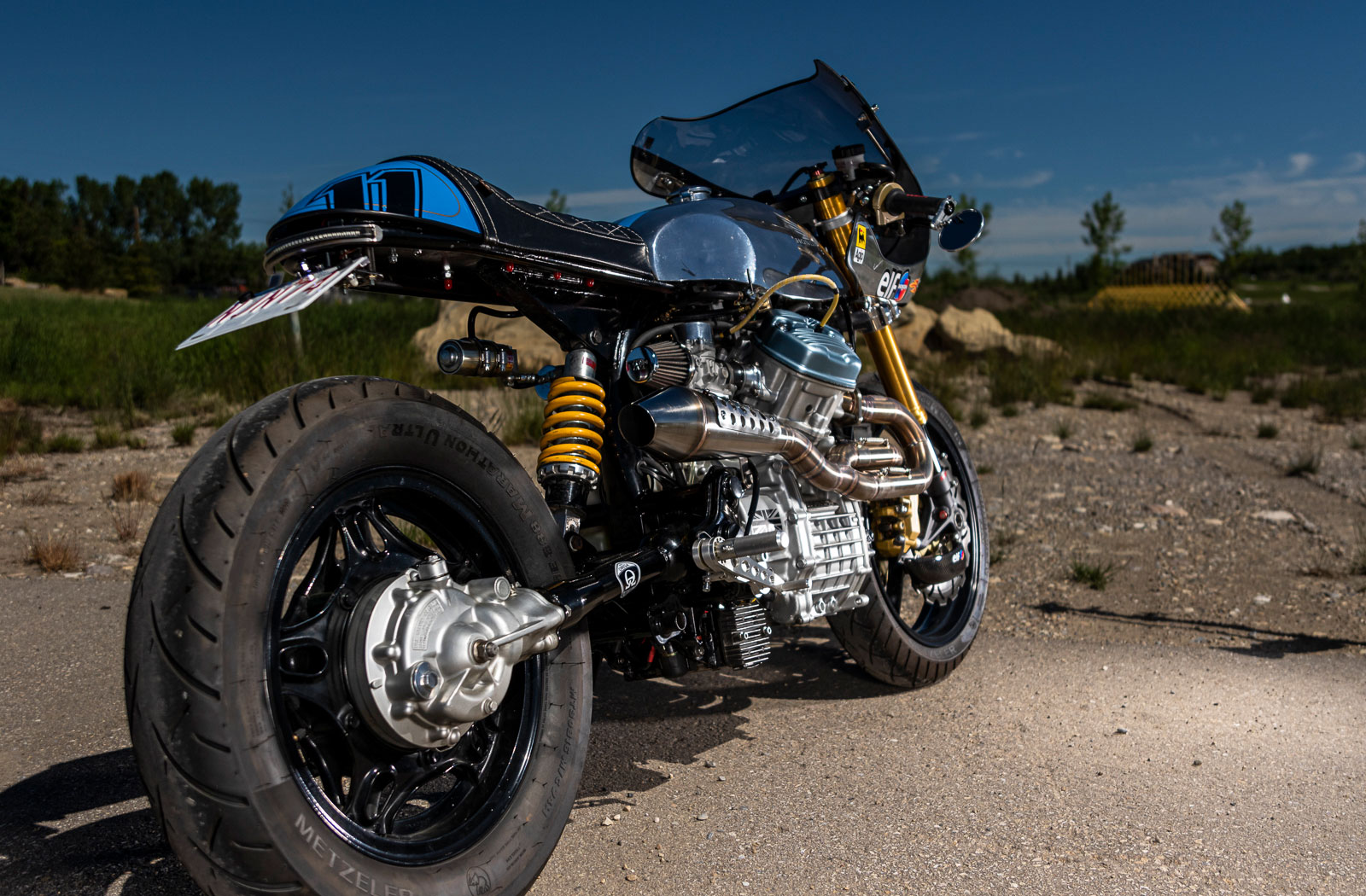 "Removing the twin shocks and going for a mono-shock setup was a relatively simple choice as there are a few vendors who provide kits with the look we wanted. It's just a seat and a wheel; which was further improved by the fact there is no chain on the CX to clutter things up."
The revised rear suspension configuration was achieved using the Showa shock from a Honda CBR600 RR. In order to fit it to the CX500 Stu lopped the CBR shock mounts from its donor and welded them to the Honda frame and swingarm.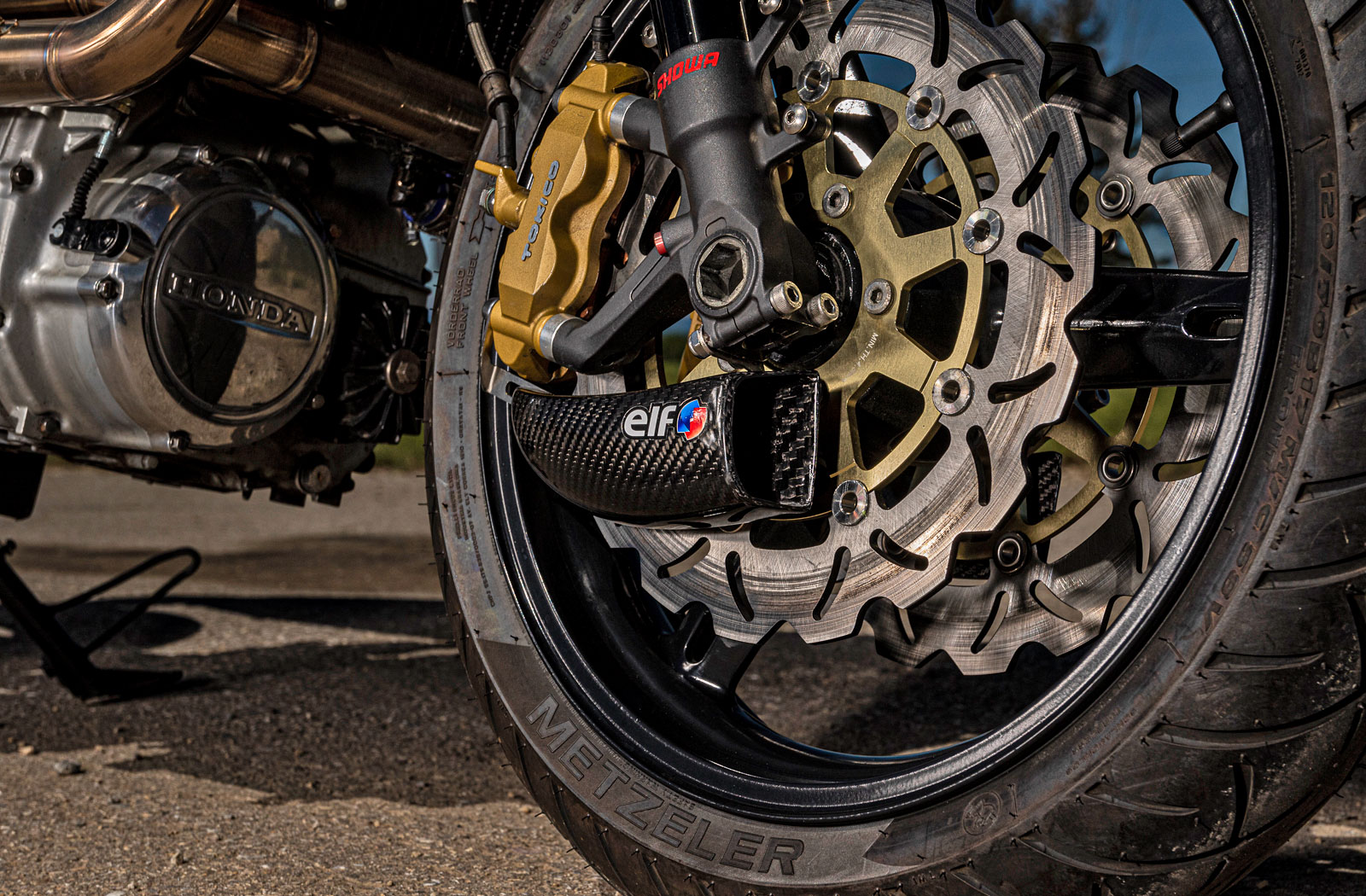 The CX front end has received a full suspension overhaul too in the form of 2011 Suzuki GSXR1000 RR forks. To make this conversion possible Stu dipped into the Cognito Moto fork conversion parts catalogue. The top clamp is a Cognito Moto machined top triple clamp and the lower clamp has undergone a Cognito Moto steering stem and bearing conversion.
To complete the handling package Stu added a Brembo RCS19 Corsa master cylinder to actuate the GSXR1000 RR Tokico callipers. Premium Hel braided brake lines carry the fluid and the callipers bite down on Arashi rotors.
"People think the CX500 was a big heavy bike, but once you strip away all the plastic and OEM equipment, she becomes remarkably light and centred," Stu explains. "By raising the seat height and bringing the rider's weight over the bars and central mass of the engine we have turned what was a slug to ride into something sublime."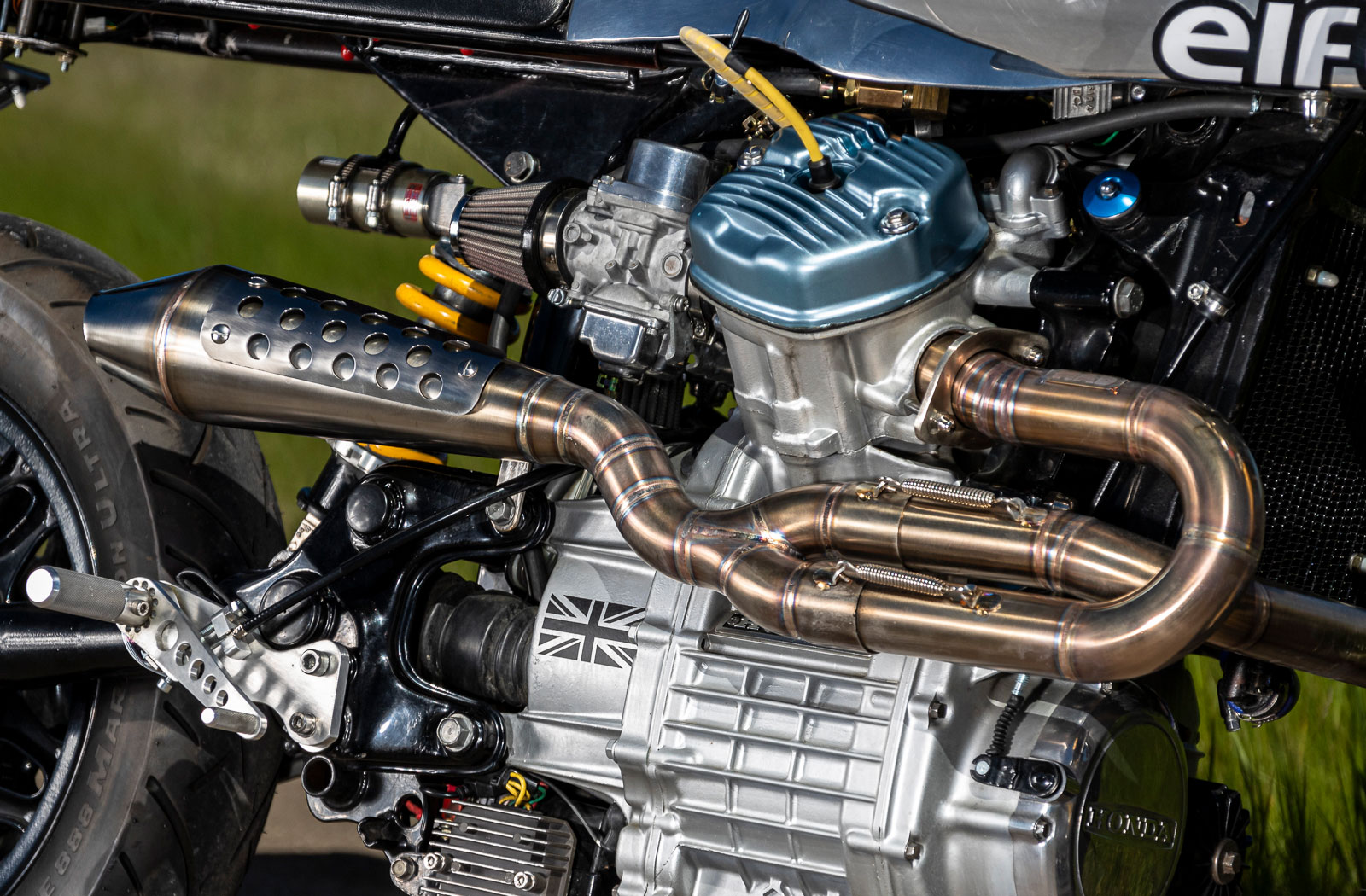 The CX's hallmark longitudinal v-twin has been given a well-deserved update too. Performance improvements come in the way of K&N pod filters and retuned carbs. There's also a custom-designed and fabricated SS exhaust by MAD exhausts in Amsterdam, which provides additional power and a more befitting tone.
"The engine on a CX500 is an icon but a bit of a lump, to be honest. It's not ugly so we simply looked at a way of subtlety accentuating it," Stu says. He's done this by getting every engine surface as clean as possible and by applying a sleek blue finish to the cylinder head covers. Stu's also made the electrics more reliable with the help of a Motogadget M-unit Blue and a customised Motogadget wiring loom.
Finishing touches to Stu's creation can be found in the form of a modified Yamaha R1 number plate mount,  Motogadget 3 button switch blocks and a tiny speedo, carbon fibre front brake cooling ducts, and CRG levers and bar end mirrors. Lighting is provided by the custom-mounted, Endurance style headlight perched off the fairing and an LED brake/turn signal strip integrated into the rear loop.
"From a bike that was ignored and used in London to deliver parcels in the '80s, to one that now literally stops the traffic in 2022."
All up, Stu spent 12 months completing this wild CX500 cafe racer and it comes as no surprise that his friend is very happy with the result. So much so that Stu now has his lime-green Kawasaki 1978 KZ750 up on his bench awaiting cafe racer treatment too.
Photography by Adam Gregory