Some people find it a real struggle to sit still. Take Stu Lloyd for example. It hasn't even been 4 months since we featured his Yamaha SR400e and he's back again with another stellar custom. This '81 Yamaha RD350LC is Stu's homage to the 1980s Pro/Am series bikes that he loved in his youth. It's a brash yet subtle, classic yet modern amalgamation built with the clear intention of raising eyebrows and inducing smiles.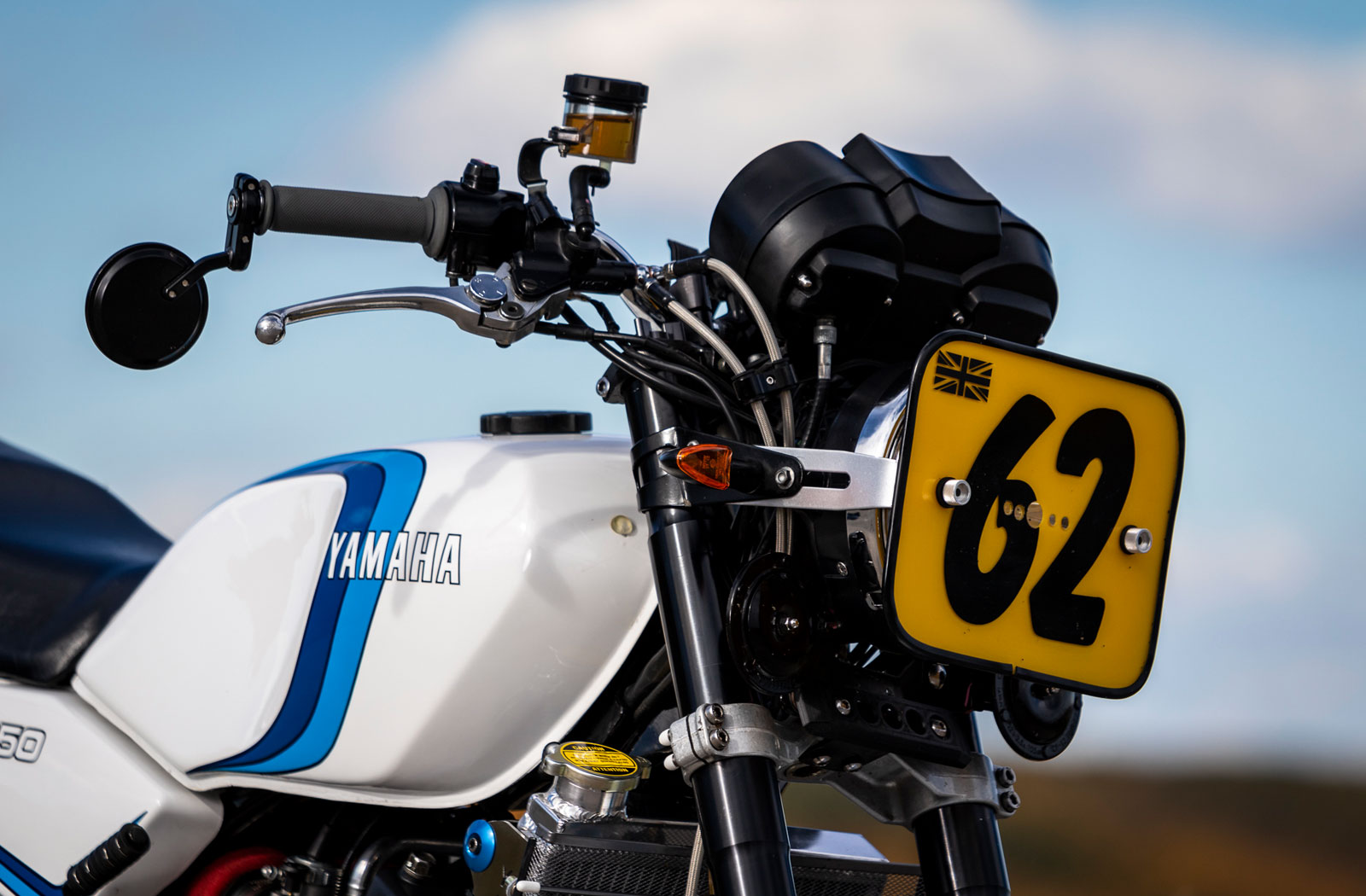 "For 12 years I've been keeping my eye out for a Yamaha RD350LC to build a hybrid out of that didn't cost the world," says Stu. "Last summer my 15-year-old son asked if I could find him a dirt bike. I sourced a yellow and black '78 YZ400 in need of some TLC. It was purchased, restored and ridden for the holidays. On returning from our holidays, we decided that having the YZ sitting around all year was a waste so when a matching number's Canadian RD350LC came up for sale locally, we sold the YZ and grabbed it."
With that Stu's dream RD project was underway. Destined to be a family heirloom he didn't waste any time (or money) creating something really special.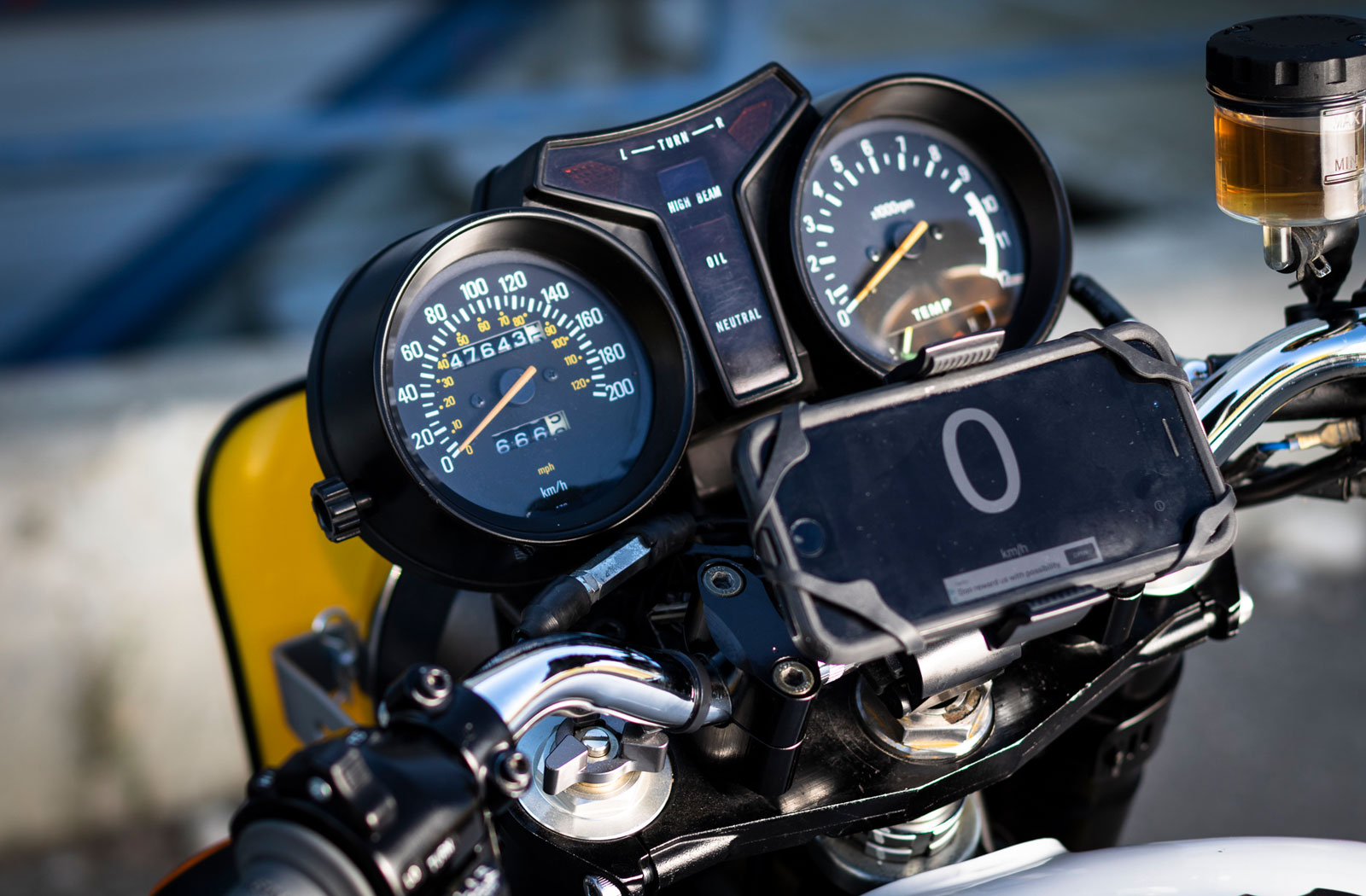 "It had to look clean and crisp, be upgraded using subtle newer technology and still be unmistakably an RD350LC," says Stu of his design approach. "As with all my builds, it's all in my head. That and standing in the workshop staring at it for hours on end. From the type of exhaust to the overall design, shape, lines, stance and colour."
Stu's aesthetic goal for this project is what he calls "OMGWTF"  Why? Because that's how he wants RD enthusiasts and two-stroke noobs to react to his creation.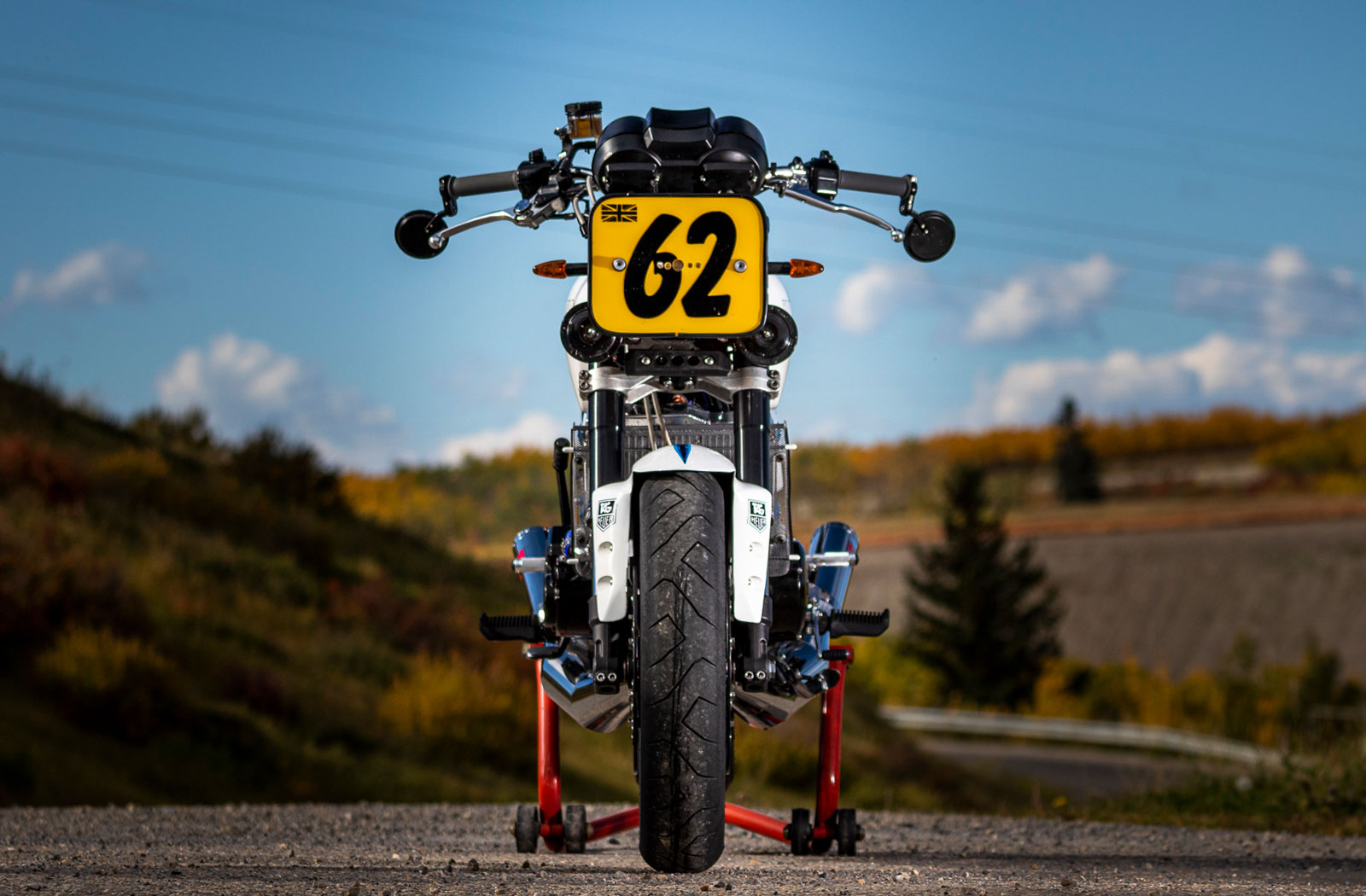 Aside from getting the bikes new look nailed Stu paid special attention to which upgrades and improvements to make. High on the priority list of things to improve were the RD350LC brakes.
To ensure the Yamaha had adequate stopping power, Stu began the overhaul by completely redesigning the rear end. To do this he acquired the rear wheel, brake carrier and calliper from an '01 Suzuki SV650. Stu then invested a small fortune on an all-new, custom made swingarm.
Styled to mimic the original RD350LC unit the bespoke swingarm has been fabricated from 6061 T6 billet aluminium. The new unit slides straight into the original mounting points so there wasn't any need for frame modification. With the new swingarm in place, Stu hopped up the brake system using Yamaha R1 gold spot callipers and a race-spec titanium rotor. In the front, you'll find similar improvements thanks to the fitment of a '99 Yamaha R1 wheel and gold spot brake assembly. To complete the new system he's installed Wes Moto stainless steel brake lines.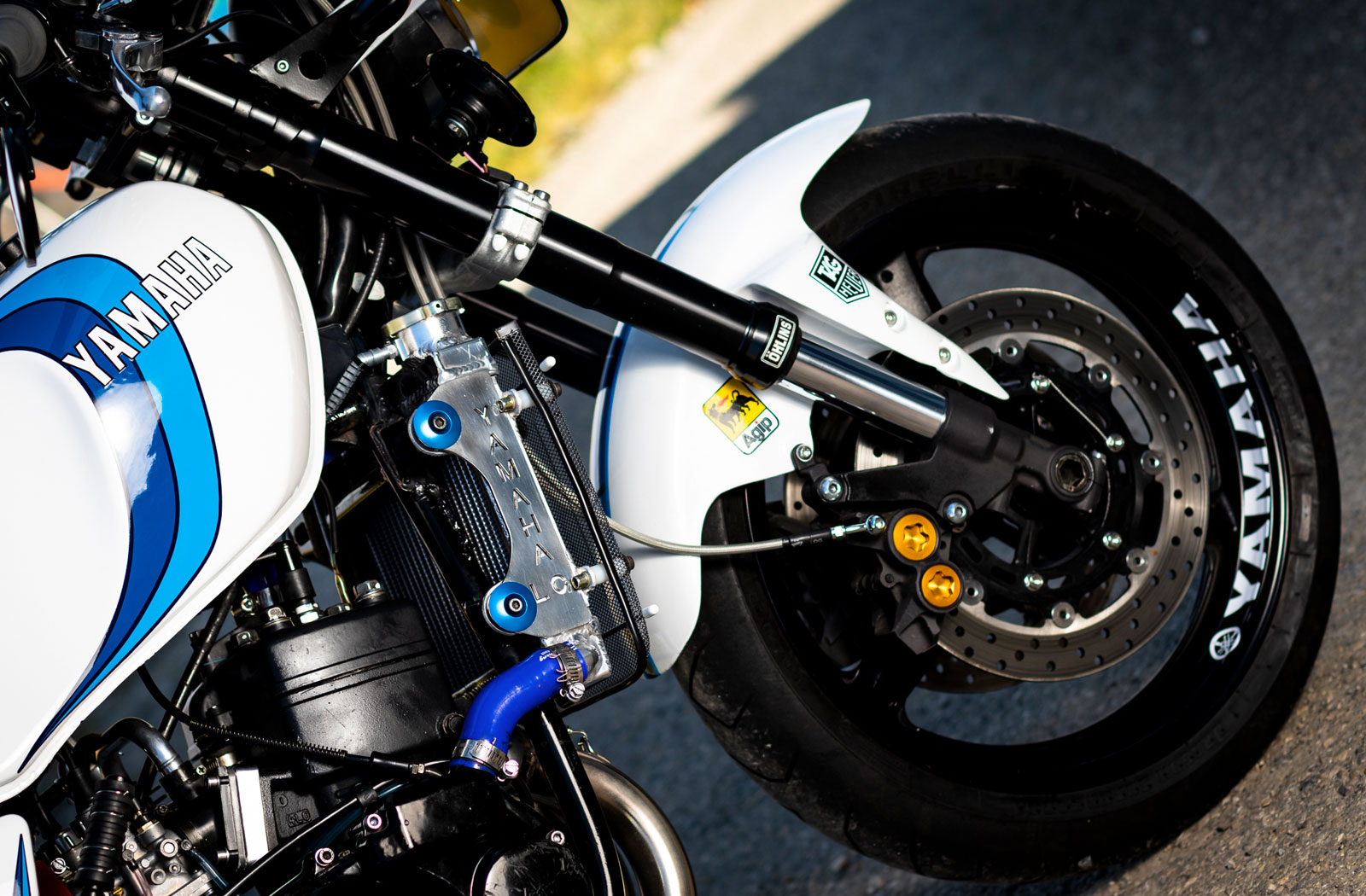 The next cab off the rank was the Yamaha's outdated suspension. Stu again leant on R1 technology for a solution. So along with the wheel, the front end now wears a set of upside-down Yamaha R1 forks in their original triple clamps, an R1 fender and brake master.
Stu is the first to admit that the R1 forks are overkill for the RD, but they gave the front end the beefy look he wanted are an undeniable improvement.
For the rear end, he wanted to lift the bike's tail by 10cm to give it the sportier, race-bred stance he was after. To satisfy that need Stu's added a taller and more capable YSS rear shock that is height adjustable.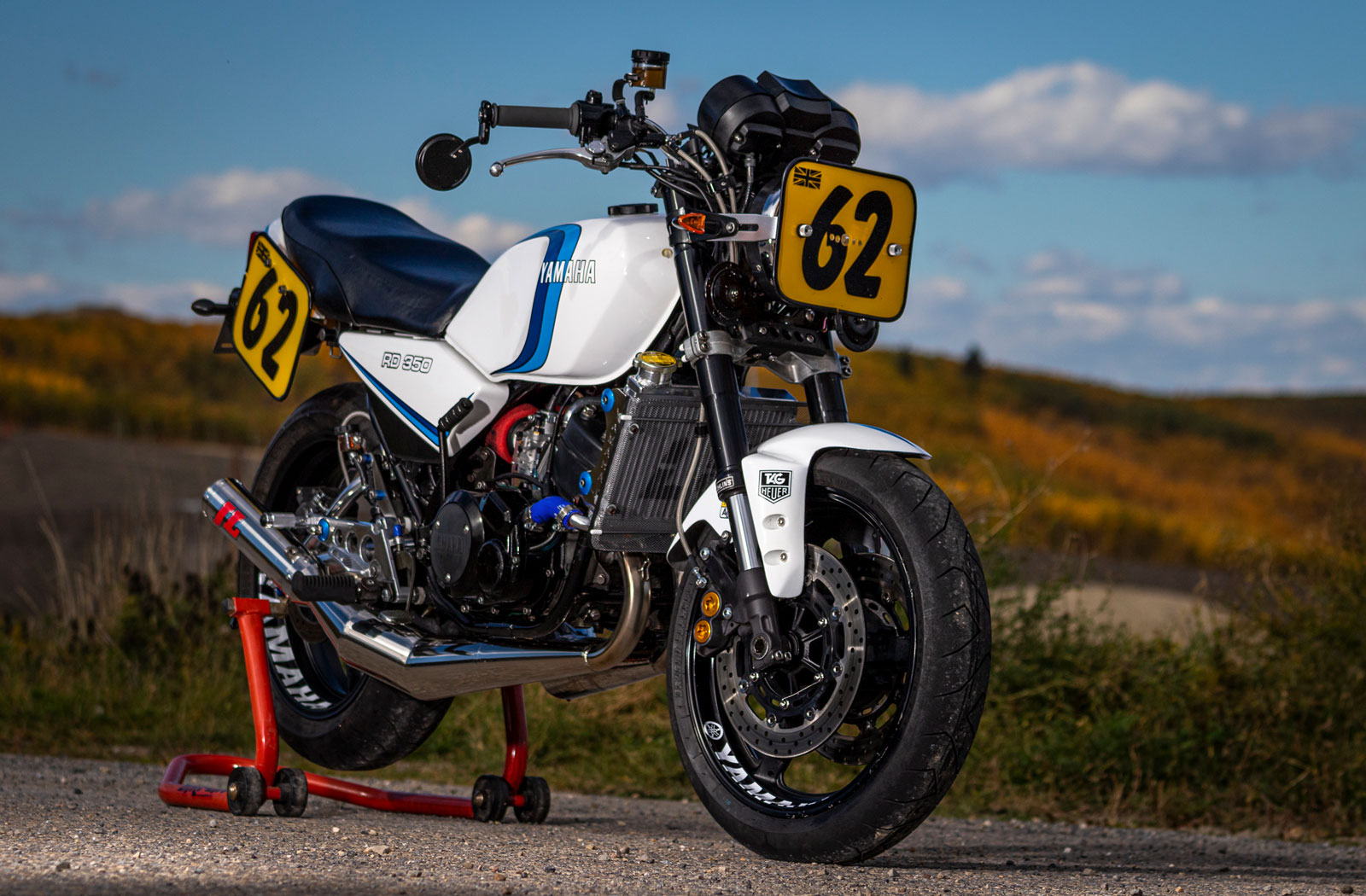 After upgrading the RD's brakes and handling, putting some time towards engine improvements was the logical next step.
"Two strokes are finicky at best when it comes to the engine performance upgrades," says Stu. "I decided to limit mods for the engine and went with a tried trusted approach." What Stu settled on was a set of bigger Mikuni VM28 carbs from a 76 RD350, Uni red foam racing filters, a lightweight RD/TZ aluminium radiator and Banshee racing coils. To finish things off the engine was treated to a sparkling 2-into-2 Jim Lomas Race Street expansion chamber exhaust system.
Stu's engine approach didn't prevent him from overhauling the internals. Inside the 347cc two-stroke parallel twin, you'll find a new crank, rods, barrels and pistons.
As custom motorcycle builds tend to go, despite Stu's intention to stick to proven engine upgrades, his inquisitive nature lead to some experimentation. "I wanted to try different reeds and use the RZ350 reed cage. So I put in a 10mm spacer and honed out the inlet to take the bigger cage before fitting carbon fiber reeds." he says.
As for how that little experiment went, Stu had to remove the seat and fuel tank 56 times (yes he counted) to get the carb jetting and adjustment just right. A task made even more challenging by the fact that he lives 3000ft above sea level. Thankfully his dedication paid off and his RD sings a sweet two-stroke song that's sure to twist the neck of any petrol head.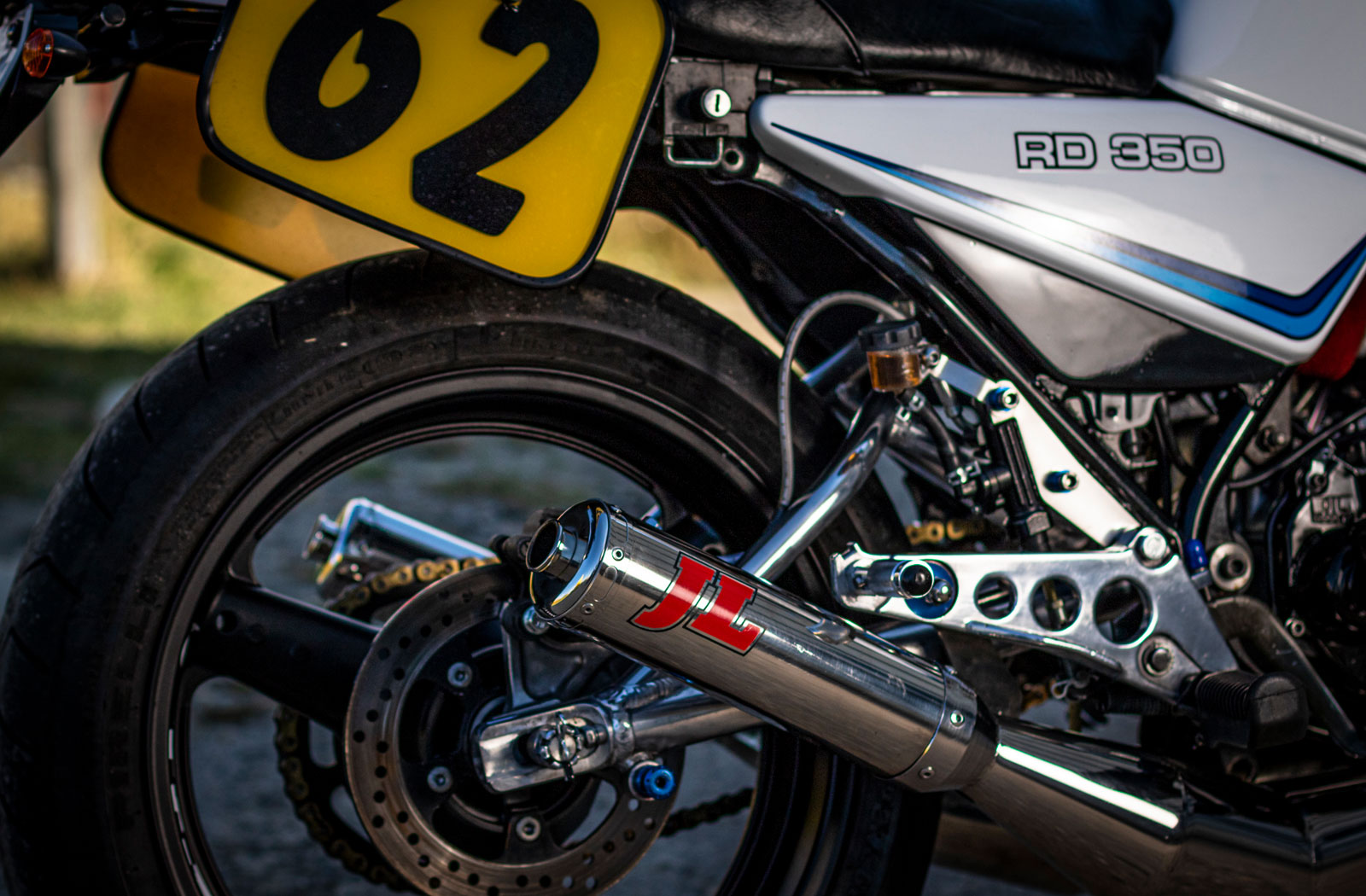 As for how he expects people to react to his custom RD350LC project Stu says, "Purists won't like it, but anyone can restore a bike by putting new OEM equipment back on. I follow the 'I wonder if that will fit' design approach. I wanted to build the bike in the true nature of the LC Hooligan from back in the day. Loud, nasty, snarly, some say annoying and cool. After riding it around the local area I can safely say it meets that criteria!"
All up it took Stu 11 months to complete his Yamaha RD530LC. He says it would have been done sooner if it wasn't for Covid related postal delays. Whether you consider 11 months to build a bike of this calibre slow or not, this resto-mod classic is anything but tardy.
Photography by Adam Gregory
Stu would like to say a special thanks to Derek from Trillion Industries for all his fabrication and welding work on this project.