Stu Lloyd grew up in the UK during the late '70s and early '80s.  As a young boy, his leisure time was devoted to wrenching, tuning, and crashing two strokes. He was what the British press labelled as a "two-stroke hooligan" causing mischief on his Kawasaki KH 250s and Yamaha RD LCs. Back then life was all about maximising his time on two wheels.
"We would hang out on street corners listening to punk music with the smell of Castrol R in the air" he recalls. "We'd pour over the MCN classifieds and Bike magazine every Wednesday which was the only place you could find cool go faster stuff back in the day."
After his school years, Stu's passion for motorcycles was shelved while he focused on his career. "I had a choice between graphic design or engineering. I chose the latter and learnt to turn a wrench correctly in the Royal Air Force as an aircraft tech," he says. "After 12 years and some cool stuff in hot, far away locations, the Air Force and I parted ways." After that, Stu relocated to Saudi Arabia where he worked as an aircraft instructor. There he rekindled his love for motorcycles racing MX bikes in the desert. Since then motorcycles have once again become a huge part of Stu's life. In his private workshop in Calgary, Canada, he tinkers on his V- Twin superbikes and RZ350 projects. His latest and greatest achievement however is the completion of a 1978 Yamaha SR500 e built especially for his very lucky daughter.

Thanks to Calgary's bitterly cold winters and the time constraints of family life, Stu's SR took around 3 years to complete. But we suspect the timeframe was also drawn out due to his obsessive attention to detail. And it's the details that make this bike really special. At first glance, this Yamaha SR500 e looks like a clean race bike. But in actual fact, the finished bike is a roadworthy mash-up of parts from 9 different motorcycles. Curious to learn more about this Yamaha SR500 cafe racer we decided to ask Stu a few questions…
What inspired you to build this bike?
This was a personal project that I decided to build for my 12-year-old daughter. It is an heirloom, so to speak, that she can ride when she is old enough. The caveat being when she can start it, she gets to keep it. Anyone who has tried to kickstart a Yamaha single will know it's not as easy as you'd think.
It is a homage to the British Cafe Racer and how I think the Cafe Racer should look. Built the old school way, as they did in the 60's/70's/80's. Not with a thick wallet and credit card. And no custom shops to build this, machine that or give me the whole thing back finished. Basically, I wanted to do as much of the work myself as possible, in my shop, on a bench, with spanners and a vice.
This was a return to the past nostalgia build for me. I've spent the last 14 years riding and modifying V- Twin superbikes. Machines like the RC51, Sp1 & Sp2 Nicky Hayden Rep, Ducati 998, 996s, 1198s, Aprilia RSV4, and KTM RC8. They were all very distinctive, and all design Icons. So this project allowed me to take all the things I have loved about bikes from my 40 years of being around them and build an icon of my own.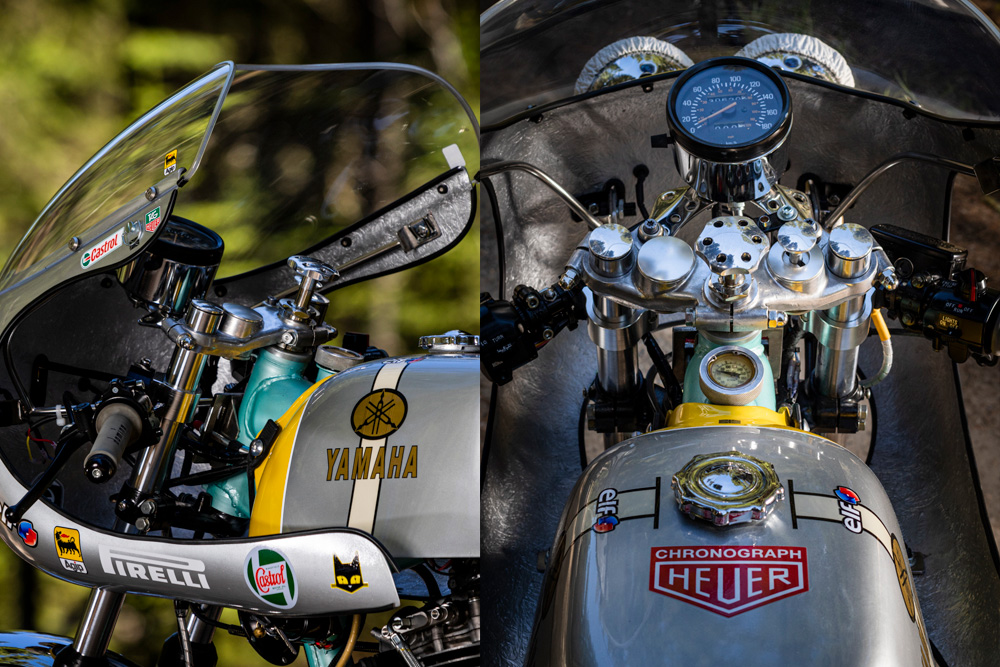 What was your concept for the Yamaha SR500?
It was all in my head and in a few sketches. There were multiple things I thought most important when designing and building this Yamaha SR500. Firstly, how to get an alloy wheeled SR500 to look long and classic. It has a very complicated back wheel and rear brake area as opposed to the spoked SR with a more traditional drum design. I also stuck to the rule of go no further than the front axle and had 5 distinct design features I wanted to incorporate.
I love the Paul Smart Imola Ducati and the story behind it as well as the Factory Paul Smart, so I looked at how to incorporate components of that bike into the build.
Similarly, my design was influenced by the 1978 Ducati 900ss. In my opinion, it was the ultimate 1⁄2 faired cafe racer.
The mystique and look of the 60s, 70's and 80's endurance racers also came into play. XTR Pepo is currently my favourite bike builder so his work heavily influenced me.
A motorcycle should look like a machine that can be ridden. Things being open, moving, spinning and
loud are sometimes more form than function. Take for example my SR's exhaust. It will burn your leg if you forget it's there, but who gives a shit. It looks cool.
Finally, the bike had to be multi-functional. I wanted to be able to change the look of it quickly while still keeping it road legal.
What was the most challenging part of the build?
It was convincing my 12-year-old "future owner" daughter that cafe racers are cool. And that "they're like totally …not pink" and certainly did not have cell phone mounts and WIFI.
Secondly not going too crazy with the modifications, but there is a 2008 Suzuki GSXR600 front end, that will fit, lurking in the dark corner of the garage quietly calling to me!

How did you decide which performance upgrades to make?
This is a tough question. I've been burned on this before with my 2 strokes by doing too much, making things too complicated, and doing them too quickly.
I tried to not go too crazy here. It is after all a kickstart 500cc single Cafe Racer. The goal is obviously doing 100 mph but increasing the compression ratio too much could result in not being able to kick the thing over! I limited myself to getting it to breathe better, feed it more fuel and tweak the gearing. It also had to be reliable. All the mods were tried and trusted…ish.
So how does your SR500 perform now compared to stock?
It performs well for a Yamaha SR500 that's 42 years old & a single cylinder. It is capable of doing 103 mph but loves to be ridden between 50 and 80 mph in the twisties and on the pipe. It's nice to ride a slower bike quickly for a change, and just enjoy the experience.
---
As for exactly what performance modifications Stu used – the list includes a K&N filter on a Mikuni VM36-4 carb which has been jetted to suit his local height above sea level. Additionally mild porting has been done at both ends of the combustion chamber and the free-flowing exhaust is an Omega Racer SS high mount type II Scrambler setup.
Stu also followed in the hallowed footsteps of Lotus Cars founder Colin Chapman who is credited with saying, "To add speed, add lightness." Here Stu has done exactly that by dispensing with as much excess weight from the Yamaha SR500 as possible. The battery, for example, is now a Zero Gravity Lithium-Ion unit and the steel fuel tank has been replaced by a Benelli fibreglass one. The shorter tail unit is fibreglass too and the tail loop has been reduced to suit. He also shaved any redundant tabs from the frame and drilled out excess steel from anywhere he could – such as the frame gussets and brake discs.
Then there are the changes made for handling improvements.
Tightening up the Yamaha's handling started with the suspension. In the rear, you'll find a set of high spec piggyback shocks while the factory SR500 forks contain upgraded internals. To stiffen up the rear even more Stu braced the swingarm and the brakes are sharper thanks to braided lines.
In respect to the other 8 motorcycles that contributed to this build, they include a KTM 50 SX rear brake master cylinder,  a Yamaha R1 brake pressure switch, number plate mount and LED brake lights. The switchgear all hails from a Yamaha RD400, the levers and top clamp are of XS650 lineage and the classic tank decals are OEM TZ350 items. As for the half fairing, it's a Universal Imola replica wearing an MRA windscreen. Stu also hit up Markus at Omega Racer for polished Ducati SS style fairing mounts and retrofit the bike with SS style oil lines.
The list of modifications continues with a plethora of aftermarket items. There are signature cafe racer style adjustable clip-on bars and custom mounted rear-set footpegs.  The svelte chromed fender is another Omega Racer accessory while the Retro steering damper nut, finned oil cover, polished cam chain tension cover and sump guard are by MotoLana. Motogadget even got a look in here in the form of MBlaze LED turn signals. The rest of his Yamaha SR500's lighting is all-new too. In the rear, you'll find an LED strip integrated into the frame. Up front there's a hat tip to endurance racers in the form of a pair of 4 1/2 inch spotlights. The lights function with the high beam switch but are usually concealed behind modified Marchal covers. Low beam duties are carried out by a uniquely positioned 6 1/2 inch headlight that's mounted to the lower right of the frame.
And then, there's everything that Stu painstakingly made from scratch. Things like the off-set gear shifter linkage and modified kicker to clear the new footpegs. He's added special mounting points for the fuel tanks rubber straps to affix to and built his own chain guard from scratch. Additionally, the wiring loom has been shortened and extensively modified and Stu fabricated an under-seat electrical tray and battery relocation plate.

Last of all Stu fulfilled item 1 on his list of design features with some iconic livery. As a nod to the Paul Smart Ducati Imola he loves so much, the SR's frame was painted green and the bodywork silver. A final spattering of race-style decals completes the bikes track-ready appearance.
Whether Stu's daughter appreciates all the effort that has gone into this bike or not, he's definitely got our approval. We can only hope that she too will someday fall in love with this sublime single.
Photography by Adam Gregory
Stu would like to thank Jon at Bragg Creek Powersports and Markus at Omega Racer for their invaluable help and advice during this build.