After more than 35 years of production, the Yamaha SR400 has had little in the way of design modifications. The air-cooled, 4 stroke single has more than proved itself as a solid little performer and as such has built a massive global following despite only being available in Japan in recent years. Yamaha recently announced that they will be bringing the latest iteration of the legendary SR400 back to the European market in 2014 which is causing quite a stir amongst the SR loving community. As part of their come back Yamaha handed over one of the new EFI SR400s to the team at Wrenchmonkees to see what they could do with it. The result was the Yamaha SR400 Yard Built 'Gibbon Slap'.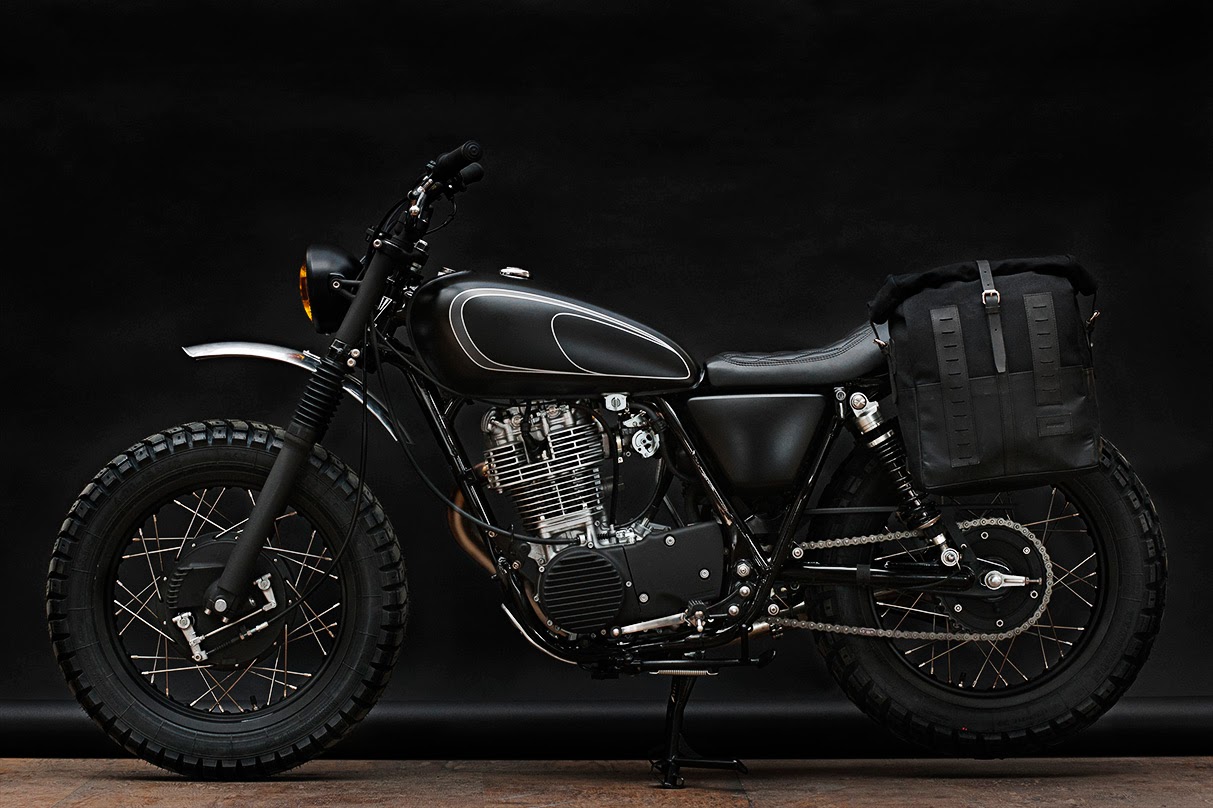 With an open brief and a brand new European delivered 2013 Yamaha SR400 at their disposal, the Wrenchmonkees set about applying their unmistakable style to the bike. The functional aspect of the design was aimed at creating an urban warrior, a utilitarian workhorse capable of challenging any surface while providing improved comfort, performance and the ability to carry a load.
The motor remains stock with the only performance modification coming in the form of a Kedo exhaust header and a Wrenchmonkee Spark stainless muffler. In partnership with the Wrenchmonkees for this build German performance parts manufacturer Kedo provided a range of custom accessories. The front and rear alloy fenders, XT500 replica yellow lens headlight and the Magura levers are all items from the Kedo catalogue that went onto the Gibbon Slap.
The 18″ wheels were torn down and powder coated in satin black before being re-laced with stainless spokes and wrapped in chunky Hedenau K60 dual-sport tires. The front end was lowered to level out the bikes stance and a set of YSS shocks fit to the rear to handle bumps when the bike is carrying a heavy load.
Major design modifications to the SR400 'Gibbon Slap' come in the form of a Kedo single seat conversion and the addition of a custom made luggage rack, Sandqvist pannier bag and tool roll on the rear to increase the bikes capability as a commuter workhorse. The standard bars have also been replaced by WM Motocross style bars with Biltwell Kung-fu grips and a tiny Motogadget speedo. The triple trees have also been simplified by relocating the ignition to the rear side cover and the stock stop light swapped for a Wrenchmonkee unit. Finally to finish the bike off it was given a liberal coat of satin black paint while leaving a nice balance of raw finishes to complete its urban warrior attire.
To coincide with the re-release of the Yamaha SR400 in Europe the Wrenchmonkees are also currently working on a kit to allow customers to modify their own bike to suit their needs. These DIY kits are in production now so keep an eye on the Wrenchmonkees website for updates about their release.