There are countless failures throughout automotive history. All of the big motorcycle manufacturers have at least one they'd prefer to forget about. For Yamaha, one such failure came with the release of the TX750 in 1973. The twin-cylinder UJM was slated to become the successor of the esteemed XS650 but soon after its release, it became apparent that was never going to happen. Unlike the XS650's bulletproof parallel twin the Yamaha TX750 was plagued with engine issues and worse still, complete failures. The TX botch-up was so vast that it lead to the first-ever recall by a motorcycle manufacturer; an event that marked the end of the TX750s shortlived production run.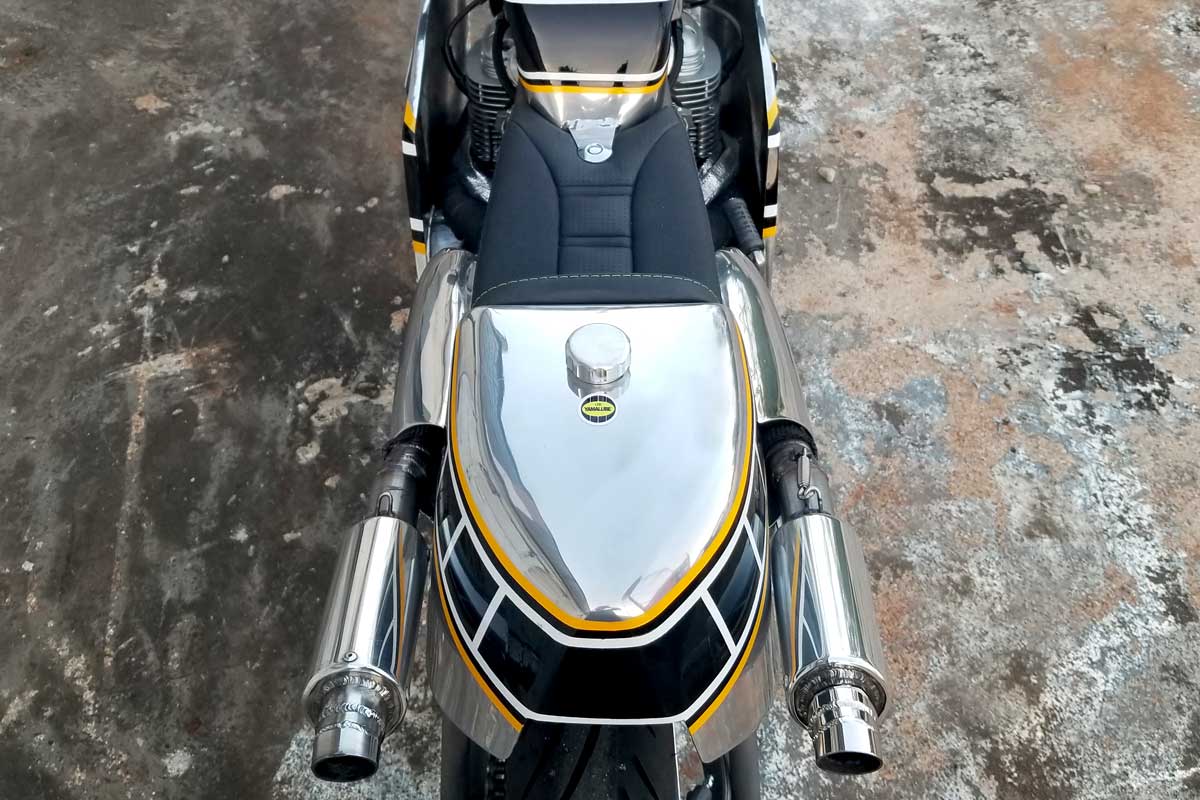 Choosing a motorcycle with a history like the Yamaha TX750 for a custom project would send most builders running. But when Chicago based hobby builder Ron George was offered one by a friend he did some due diligence. What he discovered was that after the recall, rather than scrapping the TX altogether and forgetting it ever happened, the Japanese released an updated version of the bike. In 1974 the Yamaha TX750A was released with more than 18 significant improvements to the engine. After stringent testing, the TX finally lived up to Yamaha's initial expectations. Unfortunately, the public had already made up their mind and the bike was discontinued in 1975. Fortunately for Ron, his donor was stamped a TX750A so knowing he had a reliable runner he jumped into the build head first.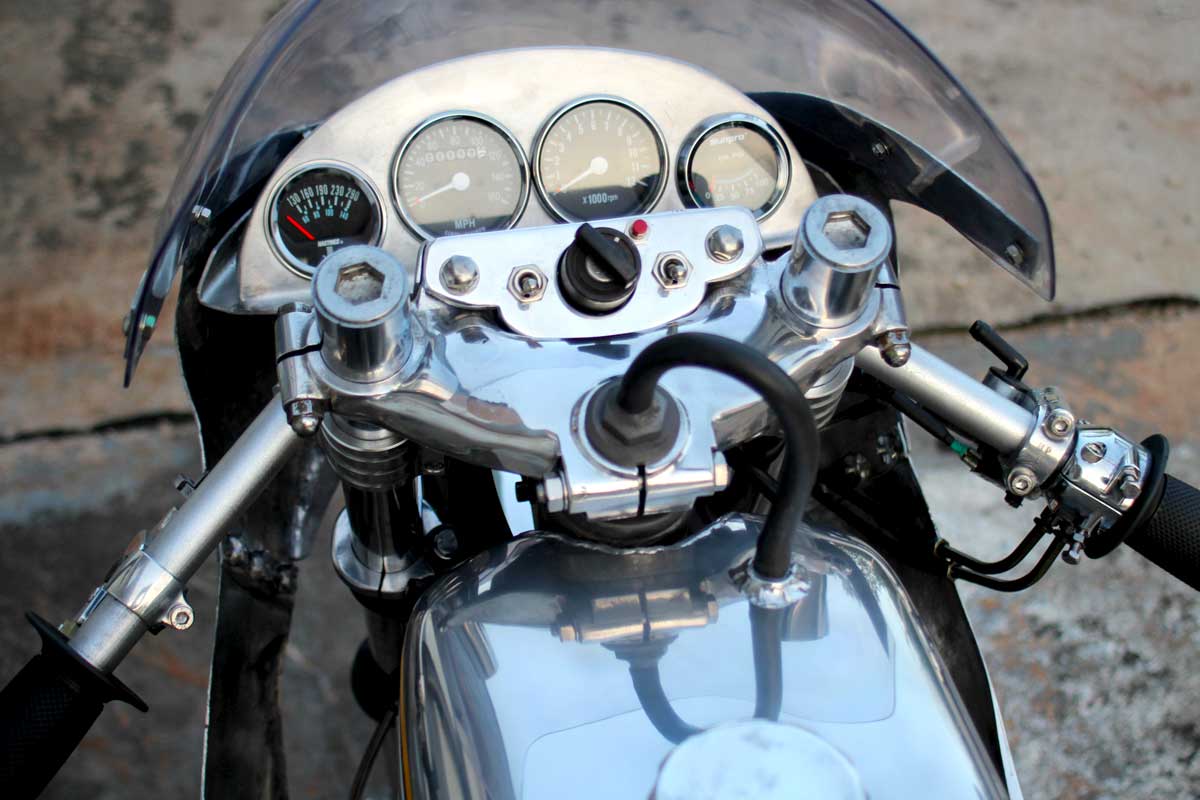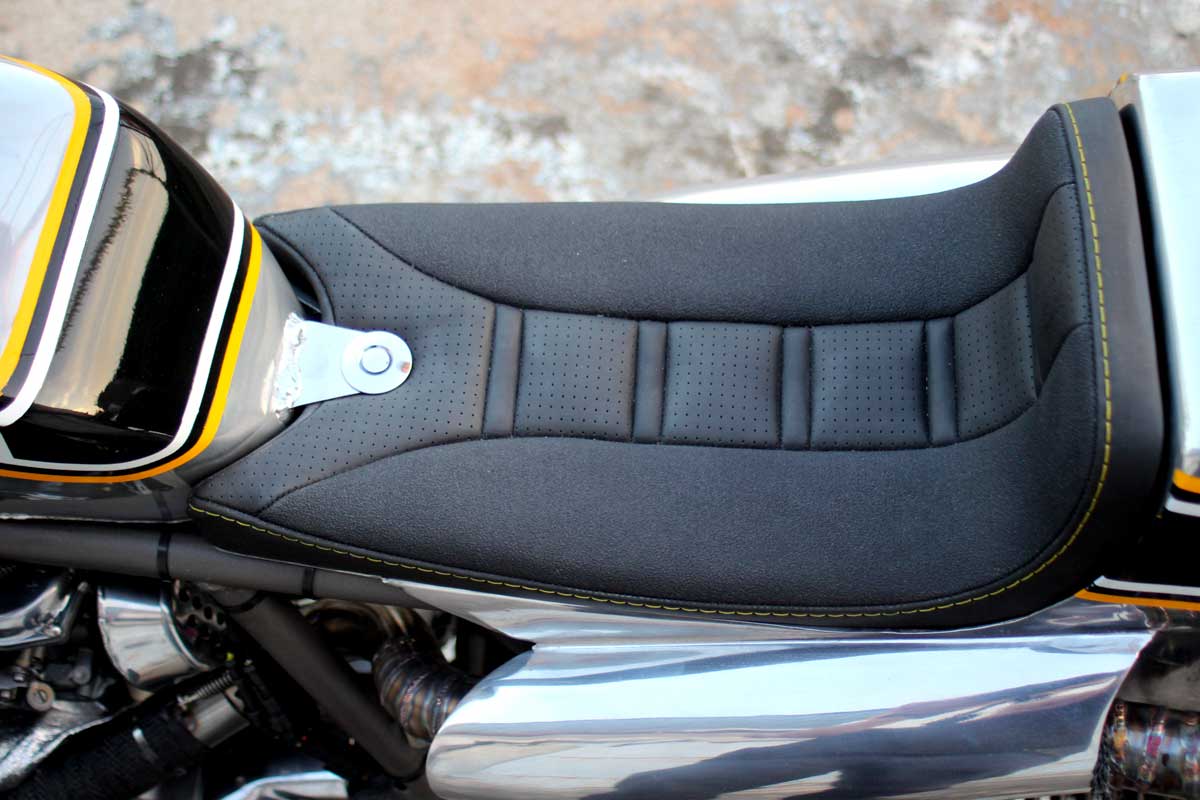 "I received the bike as a gift from my buddy Aaron Collins," says Ron. "It was an abandoned project that he received but had no interest in. It was in very rough shape and was the first Yamaha TX750 I'd ever seen in person. After learning more…I had to give this thing some redemption. Anyone that remembers these knows that they have a bad history. They were a massive failure for Yamaha so I had to see what I could do with one!"
A steel mill worker by trade, Ron discovered his passion for motorcycles in 2012 and soon began modifying his rides. Taking around 2 years to complete and countless hours of labour, he worked on the TX project after hours. "I work out of my 2 car garage at home. It's modest but I have most of what I need to get by," says Ron. "I don't sketch or do any computer renders. I get an idea in my head and go with it."
Ron's vision for his Yamaha TX750A was to create a machine inspired by Kenny Robert's YZR500. "I really tried to improve some of the shortcomings of the original model while also just trying to add some good modern upgrades," he says. He kicked things off by overhauling the Yamaha's brakes and suspension. To replace the bike's twin shocks Ron designed a bespoke, fully adjustable mono-shock setup. Again inspired by the bikes ridden by Roberts the design is akin to Kenny's TZ750 and utilises a Yamaha R6 shock. The mono-shocks height and angle are both adjustable in addition to its default preload and dampening settings. The front forks are the standard items which have rebuilt and filled with GP quality Motul fluid.
A significant increase in stopping power comes from the adaption of dual discs up front with R6 callipers on Suzuki rotors. "I dreamed up an idea for a hydraulic rear drum brake to make up for the loss of leverage using rearsets," Ron explains. "My past experience with rearsets and a rod activated drum hasn't been favourable." The new system again uses R6 components in the form of a master cylinder and small slave cylinder. The wheels are the original set up relaced, polished and wrapped in Metzeler Sportec Klassik rubber.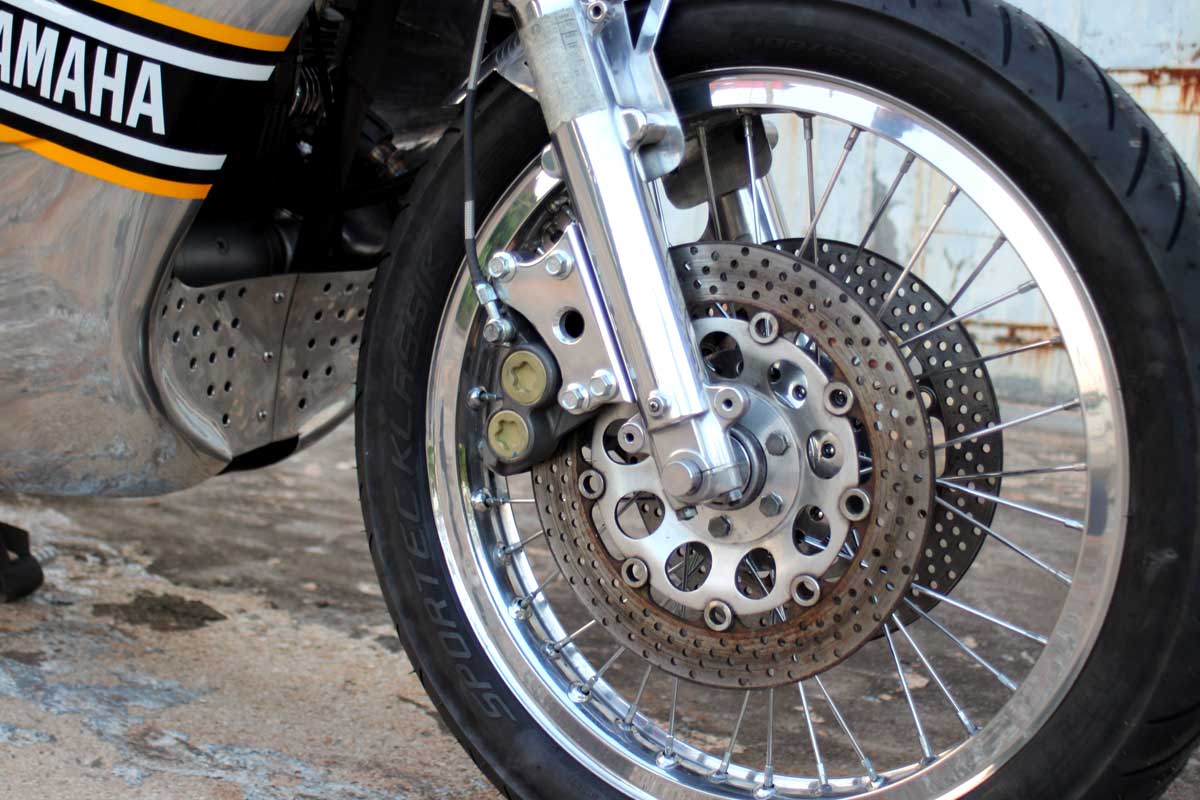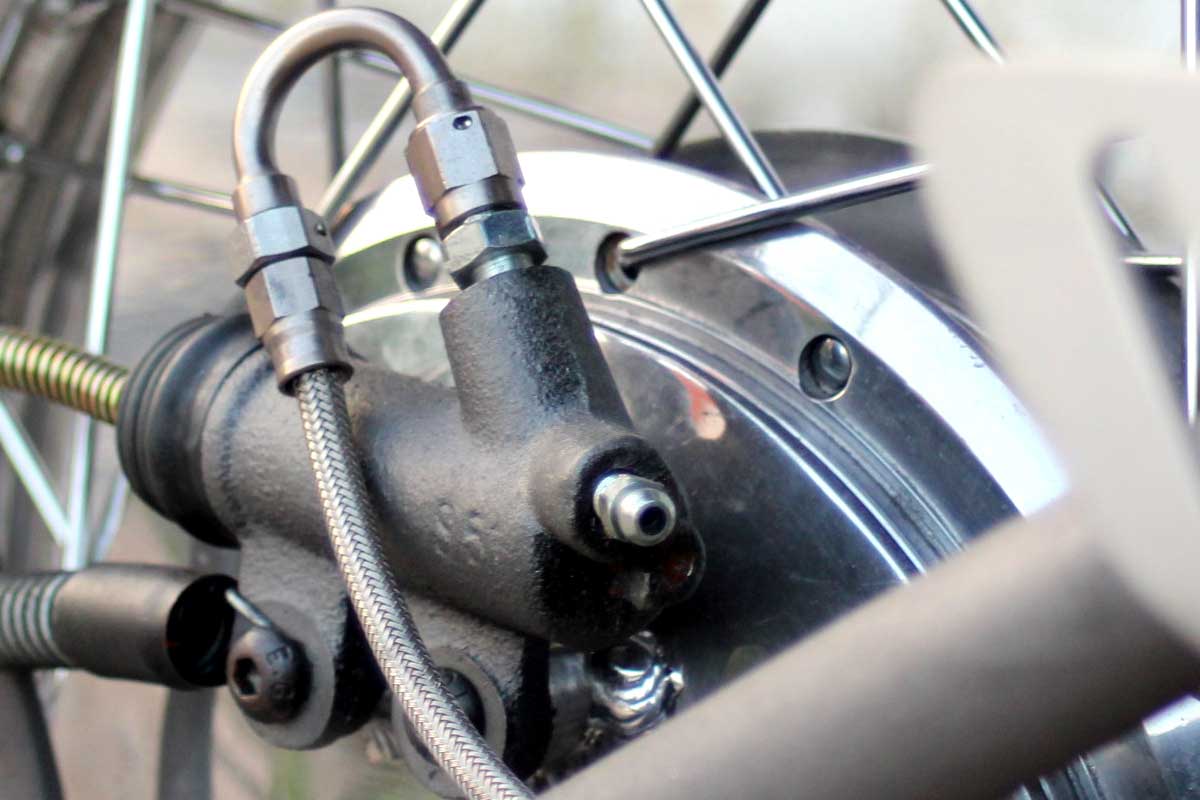 After close inspection, the low mileage engine required little more than a good service to get it running smoothly. Knowing that the oil system of the early model TX750 was attributed to many of its failures, Ron decided to make sure it wasn't going to be an issue for him. "These bikes have a strange and near unattainable oil filter design" he explains. "So I machined up an adapter than uses a BMW cartridge style filter." Feeding oil into the dry-sump engine is a custom made oil tank which is housed inside the tail unit. There's also an oil cooler sitting in front of the engine to keep things running cool. A custom configuration of AN fixtures and stainless braided lines carries oil around the entire system.
In search of more power, Ron made the obvious improvements to the flow of air and gases. After a comprehensive clean and rebuild the original Mikuni Solez carbs went back on the bike wearing a one-off airbox. For the exhaust, Ron built an impressive new system from tig welded stainless pipe. The 2-into-2 system sweeps up from the engine towards the tail. It passes through the walls of the tail unit before exhaling through a set of 2 stroke-esque handmade mufflers. The similarities here to Kenny's YZR500 are unmistakable.
Ron, understandably, did away with the Yamaha's 1970s wiring. In its place is a scratch-built harness using modern connectors, a modern reg/rec, lithium battery and H3 headlamp. A comprehensive set of aftermarket gauges occupy the space behind the windscreen in a custom made alloy dash. Some of Ron's other handmade additions include hand made clip-on bars wearing R1 controls and alloy rear sets.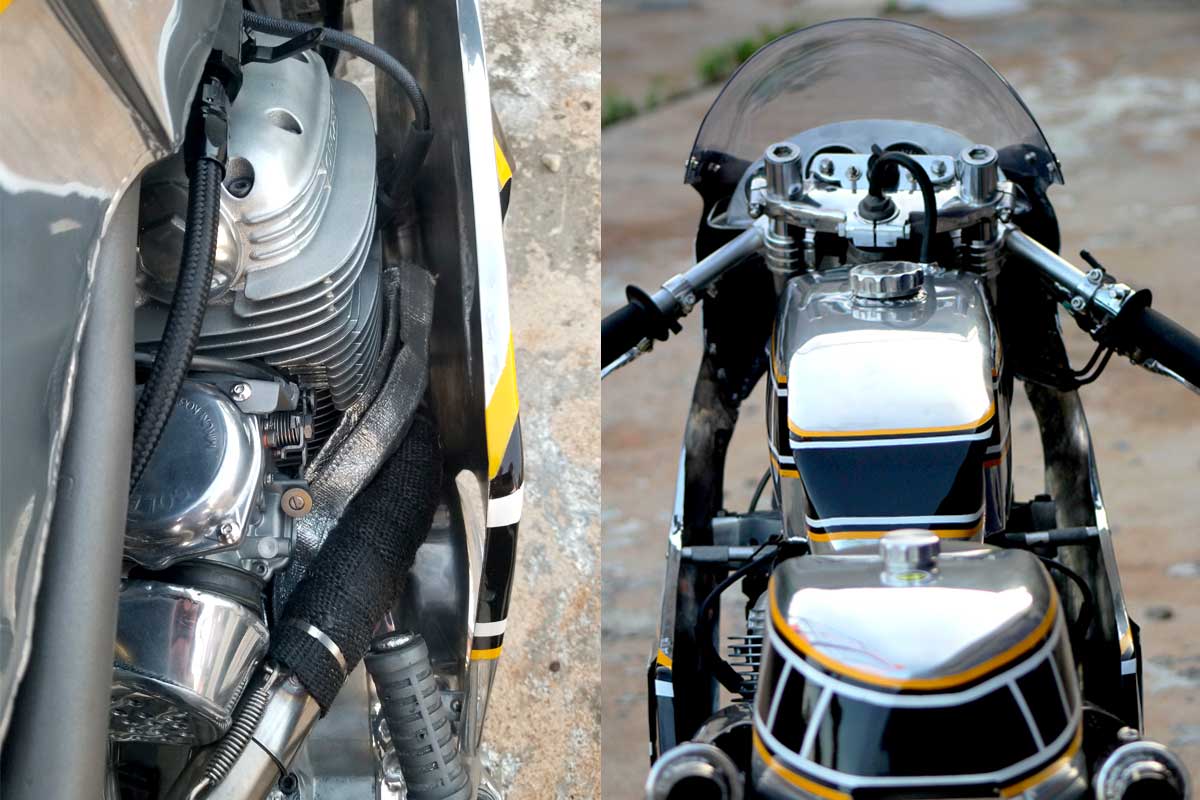 Of all the work done, it is, of course, the Yamaha TX750A's bodywork that figuratively and literally shines brightest. Believe it or not, this was Rons first time shaping aluminium. Taking cues again from Kenny Roberts YZR500 the fuel tank, fairings and fenders were all shaped from 3003 aluminium. Described as the 'worst job ever' Ron polished each component to a mirror finish himself before applying his take on the classic Yamaha speed block livery. To finish things off he entrusted Dane Utech with completing the only outsourced task of the whole project, upholstering the seat.
Ron's decision to angle the speed blocks on the fairing to follow the line of the exhaust is an inspired touch on this comprehensive build. To whoever said it's impossible to make a silk purse from a sow's ear here's proof it can be done!