Buying any customised or incomplete motorcycle can be fraught with danger. That's why we recommended against it in our 10 cafe racer mistakes article. Unfortunately, some "bargains" are too hard to resist. Occasionally you might get lucky. More often than not you're inheriting another person's mistakes. Sadly this is how this story begins. A '78 Yamaha XS750 triple was sold under the pretense it was a completed cafe racer with a rebuilt engine and "everything done". Unfortunately, it wasn't long before the bike started showing signs that indicated otherwise.
Ron Czeiger of Sydney's FlyWheels Motorcycles is used to seeing this kind of thing. He's been fixing other people's mistakes for a decade and a half. "It was a classic cut job, and it wasn't done very well," says Ron. "Each time Matt brought the bike back us it felt like we were putting a band-aid on a broken arm." After several attempts to get the Yamaha XS750 to run right, it was clear that it required a lot more than another tune-up. With no other option left Ron convinced Matt to let FlyWheels build him a proper cafe racer. Matt agreed and it was a decision that definitely paid off.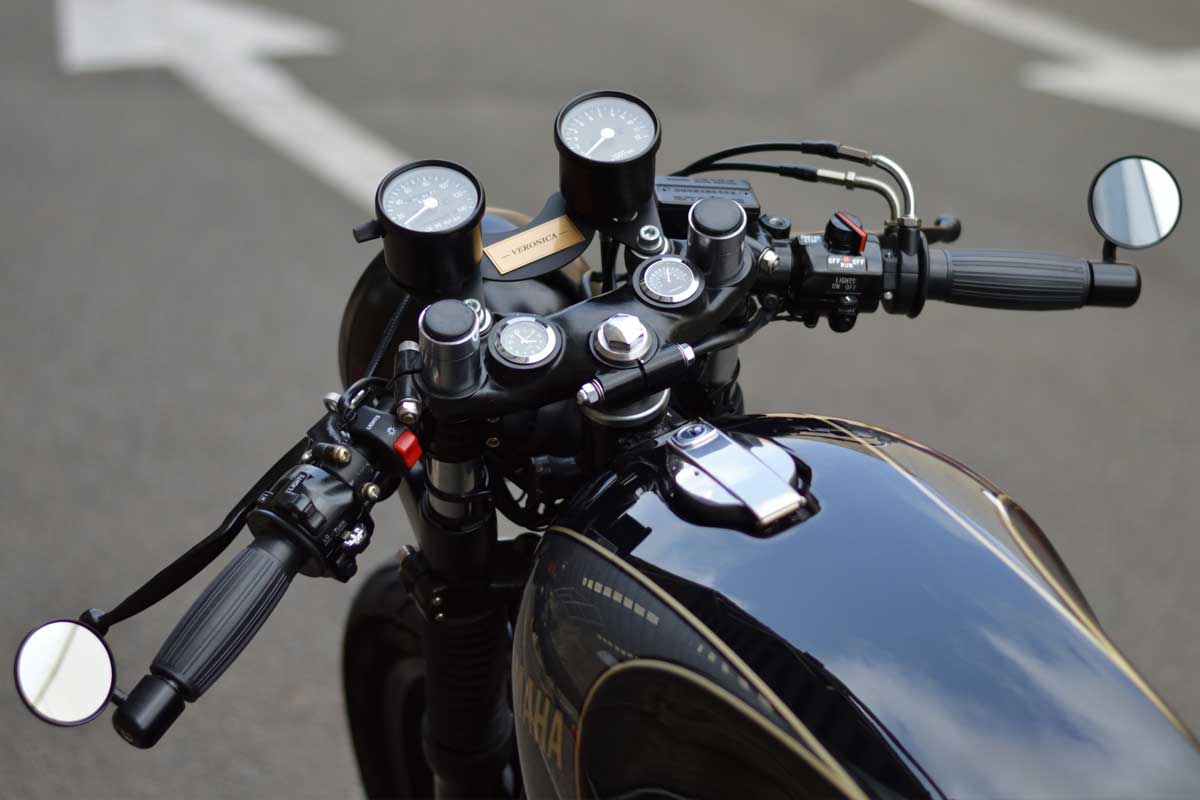 A complete teardown confirmed Ron's concerns. The bike had more than a few issues that would need addressing. But his work would first focus on the temperamental triple. Matt's time riding the XS750 had been plagued with gearbox issues, mysterious knocking sounds, oil leaks, and smoke. Once he'd figured out the causes Ron tasked Matt with sourcing hard to find parts while he soldiered on with the rest. The engine was stripped and the shells sent off for bead blasting and fresh satin black paint. New pistons were installed along with porting the heads, reseating the valves and installing a new primary chain. After his extensive online search, Matt returned feeling proud as punch. He'd purchased a complete NOS gearbox assembly, clutch basket, and a big-end and main bearing which Ron promptly put to use.
Another issue plaguing Matt's XS was the lack of an electronic starter. "For some reason, the starter had been blanked off to give the bike an authentic old kick-starter feel," recalls Ron. "So every time it broke down, Matt's leg would be broken trying to start the thing!" Thankfully when the engine came apart Ron found the starter motor was still intact. To get it running again he simply gave it an overhaul and connected it up. Unfortunately, the wiring that it was attached to was a complete disaster.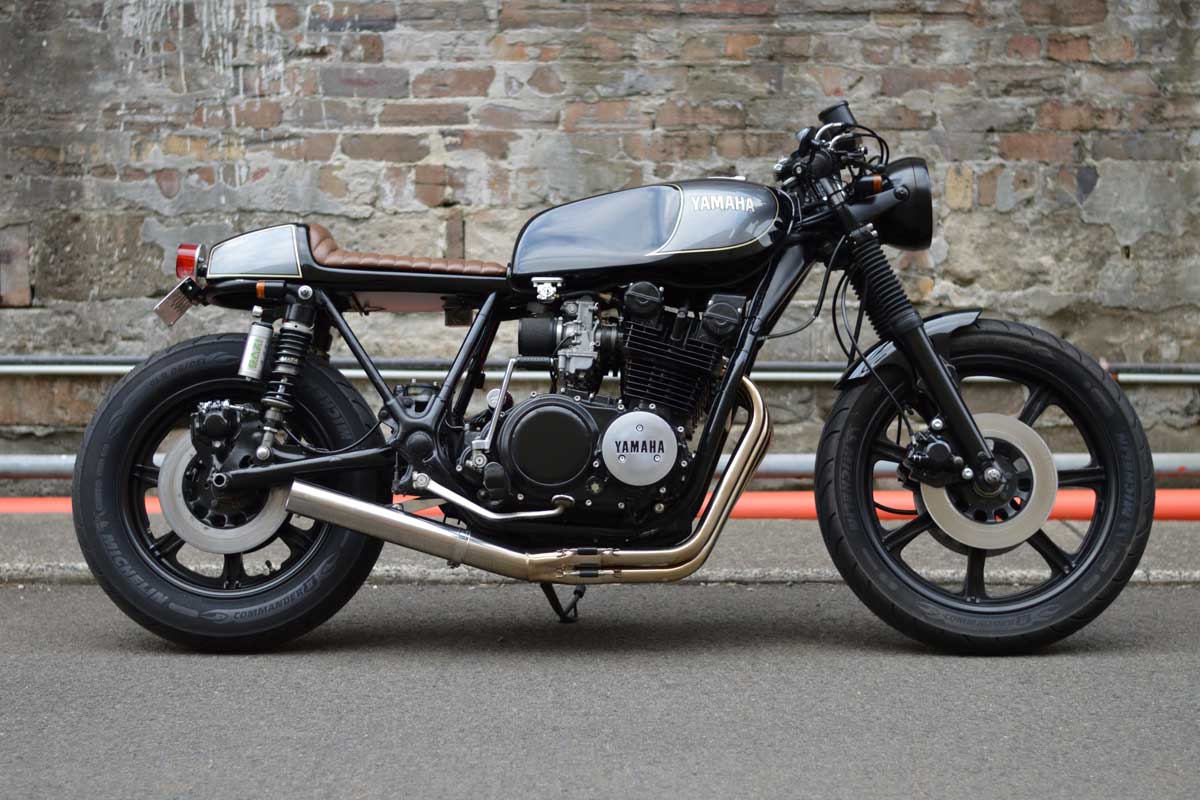 "My God, the electrics! They were rubbish," says Ron. "I had to build a whole new wiring harness from scratch. Allowing for a few modifications and accessories." Ron's updated electrics include a new alternator, Bosch RE55 regulator and an electronic ignition system to replace the outdated breaker points. The clip-on handlebars wear updated switchgear and there's a keyless ignition system since the bikes original ignition barrel was nowhere to be found. Ron's new harness is limited to only the essentials for a clean finish and it's powered by a lithium battery that's stashed within the tail.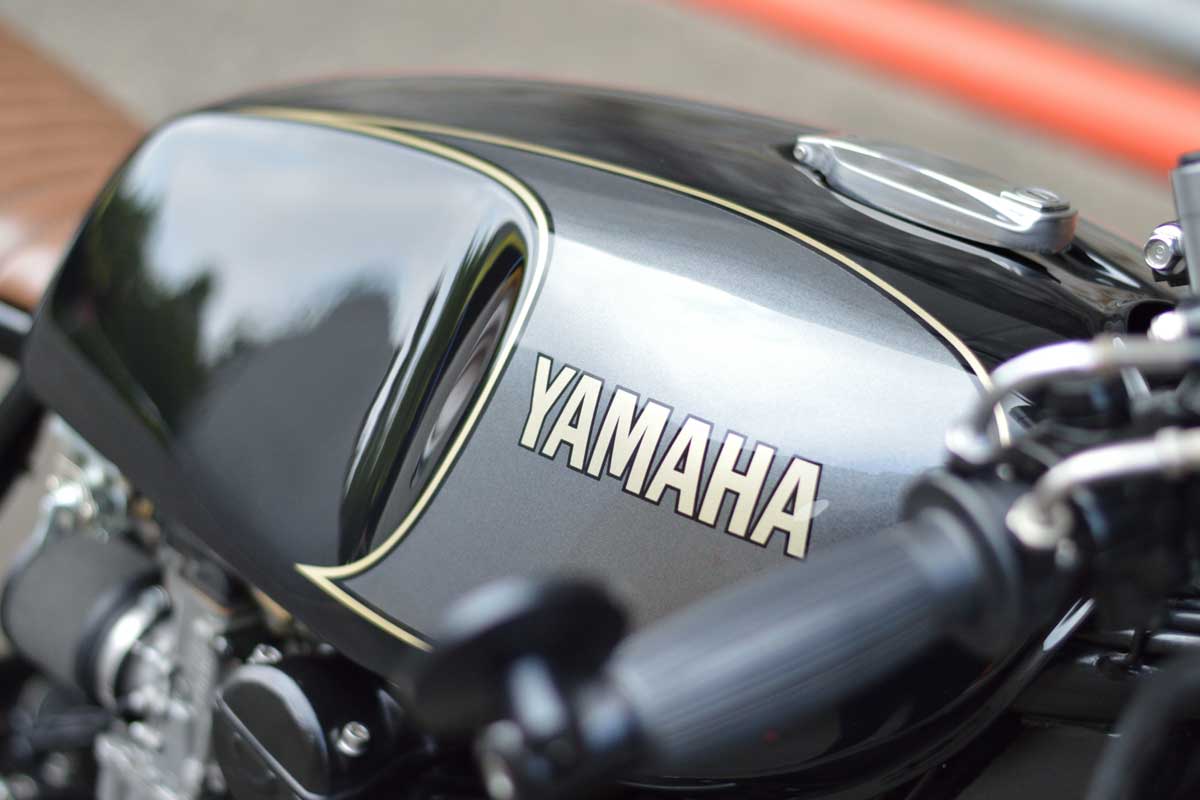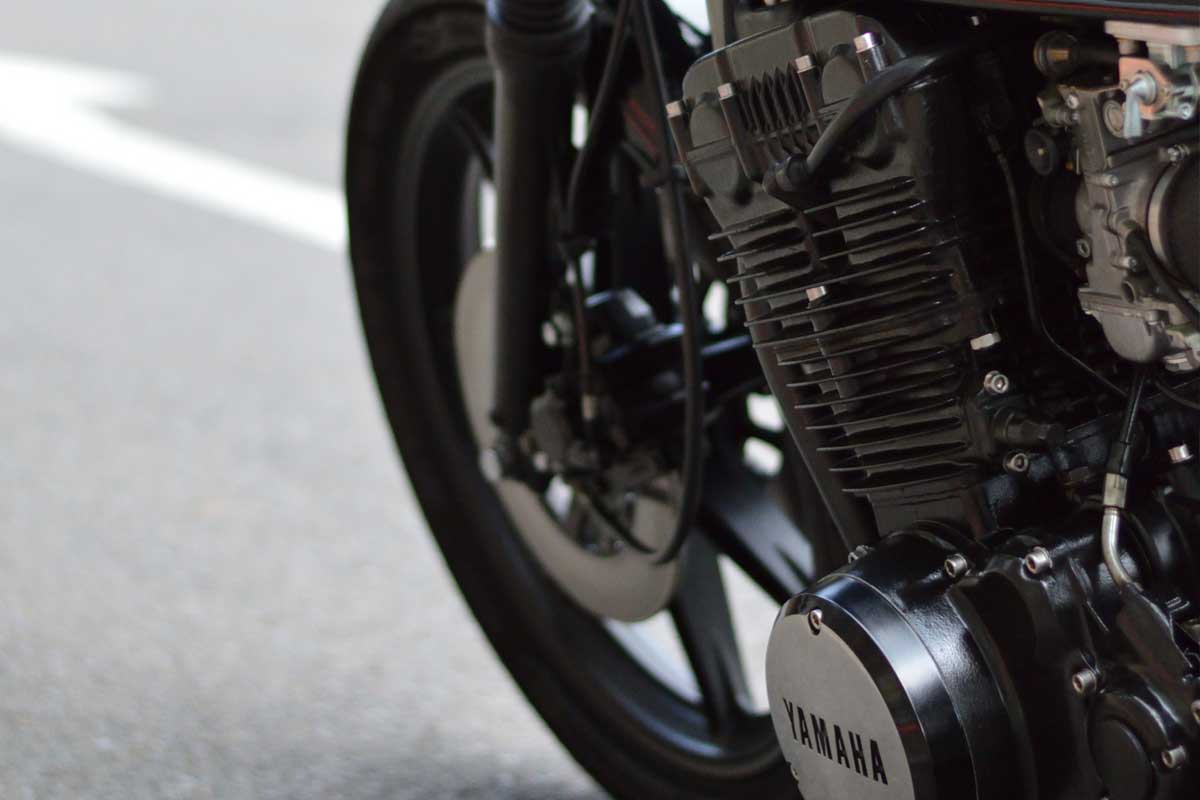 Things didn't get any easier when attention was turned to the chassis. A dodgy backyard frame chop was corrected using a custom hoop that's been welded in place by a pro. Ron overhauled the Yamaha's handling using adjustable shocks from Gazi suspension and rebuilt the forks – adding fresh rubber gators for a touch of classic styling.
As for the wheels, they presented Ron with more challenges, but this time it was due to Matt's demands rather than the previous owner's omissions. Although the new wheels are original Yamaha XS750 items, they were from a slightly different model. This meant a ton of extra work for Ron to get them installed but it was par for the course on this extensive overhaul. New brakes and fresh Michelin rubber round out the handling package.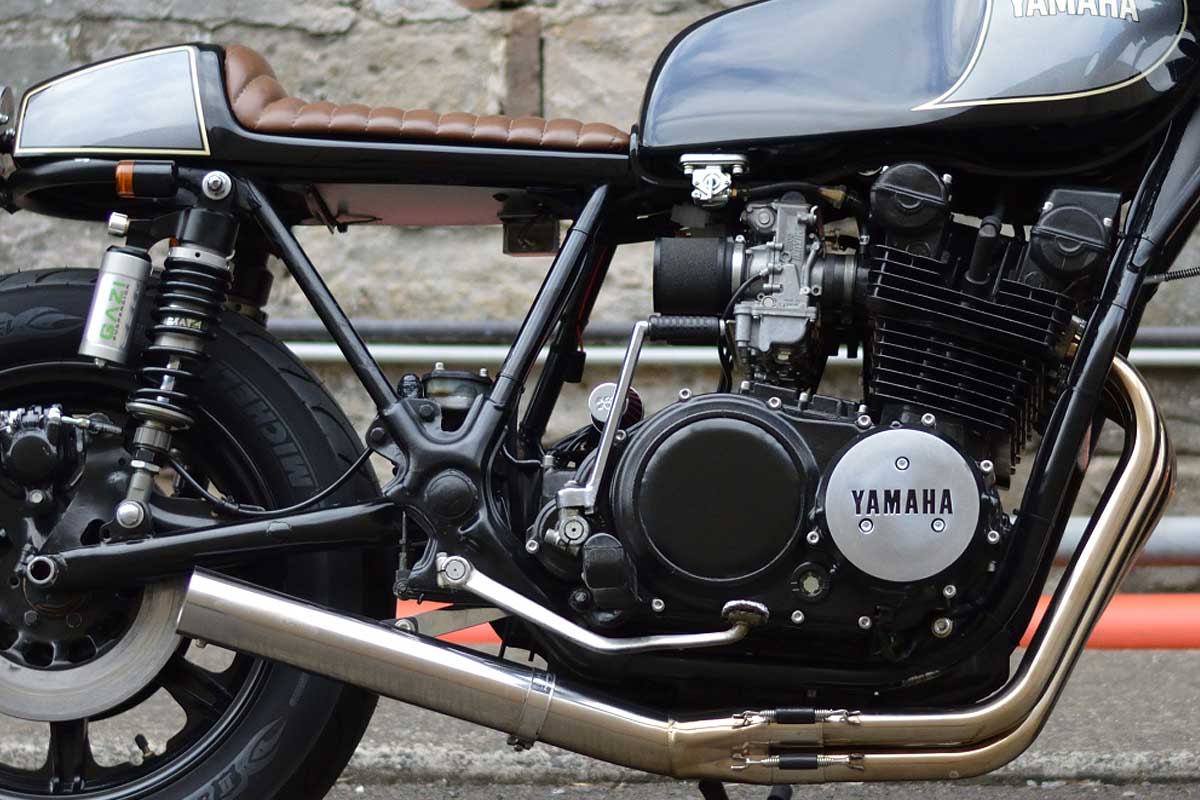 Turning the XS750 in a proper cafe racer meant it had to have all the right visual cues. For this Matt placed his trust in Ron. It was clearly the right thing to do.
The new tail unit is an aftermarket item trimmed to suit the XS750's frame and it's wearing a professionally upholstered saddle. The original Yamaha tank already looked the part, but Ron added a new filler cap and taps for good measure. Clip-on handlebars set up an appropriately aggressive riding position and all the lighting has been replaced by retro-styled items. The same goes for the dash where you'll find a pair of retro gauges, classic Beston GT grips and bar end mirrors. Attention to detail is one of Ron's strong points evidenced by his treatment of the stock handlebar mounting holes in the top clamp. He's repurposed the holes to hold a clock and temperature gauge that look like they could have been original factory options.
For the paint, Ron sent everything off to his mate Sam and Colourfuel who laid the timeless black, silver and gold pinstriped scheme. To give this Yamaha XS750 cafe racer a performance bump worthy of its appearance, it's running premium round-slide carbs from Mikuni and a unique Delkevic exhaust system.
Although it shares space in Matt's garage with his DRZ400 and Panigale, his 'Veronica' XS750 holds a special place in his heart. It's very easy to see why.
Shop This Look
| | | |
| --- | --- | --- |
| Image | Product | Buy Now |
| | Classic headlights | |
| | Aftermarket gauges | |
| | Cafe racer grips | |
| | Cafe Racer mirrors | |
| | Clip-on handlebars | |
| | Custom turn signals | |