In 1988 the Japanese feature-length film Akira took the world by storm. For this, it is often credited with popularising the Anime animation style. Both the film's artistic direction and the story itself made Akira unique and its influence can still be seen today, more than 30 years after its release.
Anyone who has watched Akira, motorcycle fan or not, will remember the character Shotaro Kaneda's motorcycle. Kaneda's bike was supposedly a mash-up of design details from a MiG-21 fighter jet and an early model Harley Davidson. It featured bold red paint and consumer brand livery, a recumbent riding position, enclosed wheels and a tilting front end for ease of entry. It was, and still is today, a distinctly futuristic-looking machine that played a major role in the film's storyline.
Over the years there have been many working replicas of Kaneda's motorcycle built by die-hard Akira fans. Although undeniably cool, they are generally impractical and more of a novelty than something that could be used daily. Inspired by Kaneda's motorcycle, Cyberpunk style and his love of Japanese culture, Jan Hrbek of the Czech Republic has built his own, fully functional and everyday practical Neo-Tokyo style ride.
"I just wanted to create a machine for me to occasionally escape the greyness of reality," says Jan. "I was looking for a suitable motorcycle with the magical V4 sound and also some reliability – turned out the 2001 Honda VFR800 5th gen was perfect for me."
By trade, Jan is a freelance 3D graphic designer working for clients in the architectural, industrial and transport industries. Outside of his work, he combines his design skills with a passion for motorcycle design to build custom bikes. This radically styled neo-retro Honda VFR800 is Jan's latest achievement and he's baptised the bike 'Kamaitachi'.
Kamaitachi is the name of a creature from Japanese mythology. It is a weasel-like Yokai, a supernatural entity, that is carried by a devilish wind and has long sickle-style claws. "I am a huge fan of Japan and its culture," Jan explains.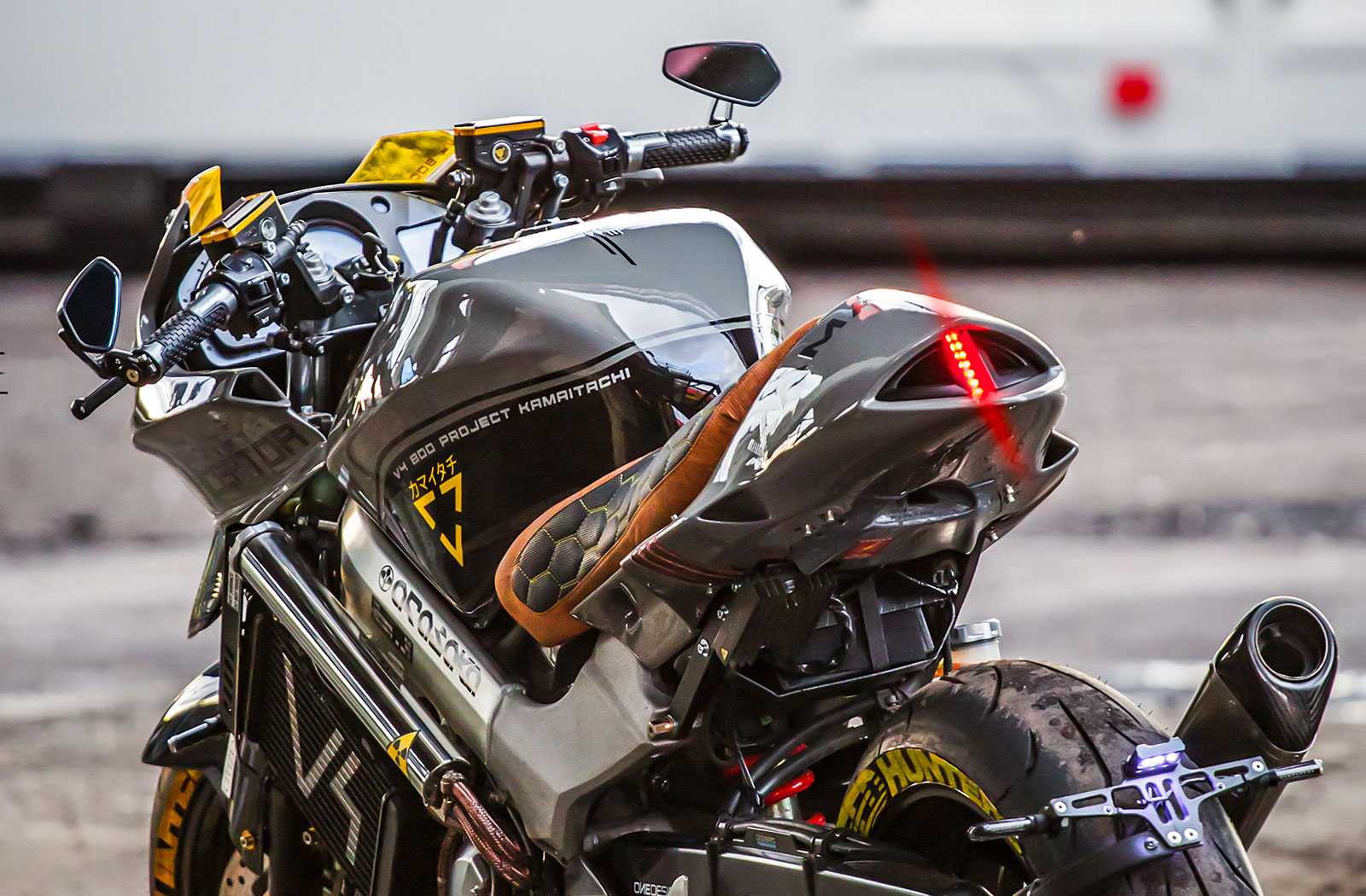 As a 3D designer, Jan's creative process takes place mostly in front of a screen. "Everything starts in a 3D virtual space so I can create all the shapes I want," he says. "Sometimes my first thoughts have to be sketched on paper to catch the idea before it evaporates."
Once a design is finalised on the computer Jan begins the process of realising it, which takes place in his modest home workshop. The build of the Honda took around 8 months and almost everything aside from the paint and some fabrication Jan completed himself.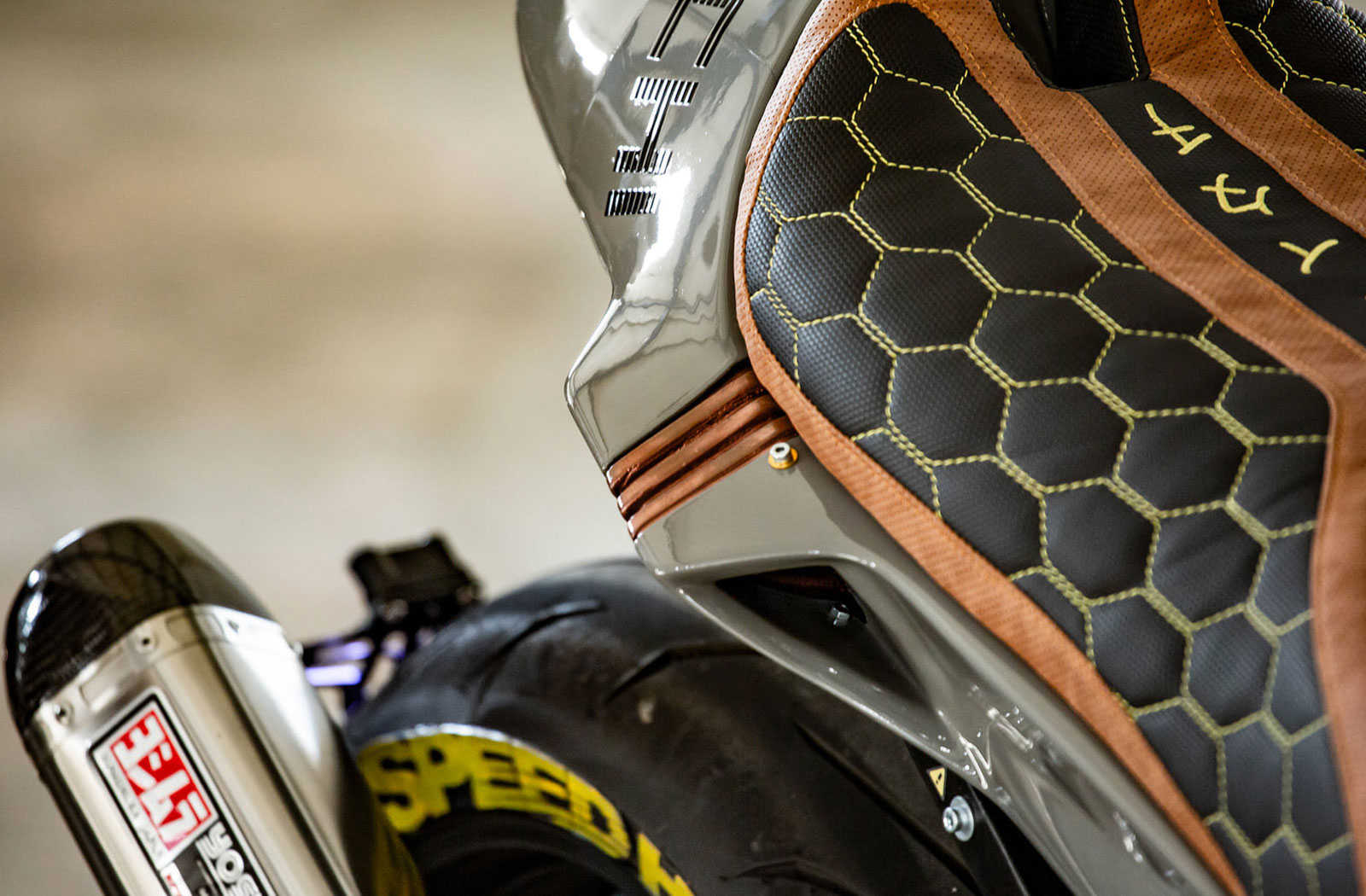 Along with being adept in computer-based design, Jan has developed an interest in rapid prototyping and it has played a major role in the creation of this bike. The most obvious application of this technique is the Honda's bodywork. Both the front fairing and rear cowl were created in nylon-carbon using 3D printing technology. Metal details on the side panels were formed using a laser sintering process and the custom aluminium filler on the fuel tank was cut on a CNC mill. As for the hugger style license plate holder, it was cut from 10mm aluminium plate using a water jet cutter.
Jan completed the front fairing with the installation of a suitably modern-looking LED headlight which features a halo daytime running light. The yellow-tinted screen is a modified item lifted from a Honda CBR1000RR and behind it sits a repurposed computer motherboard which forms a cover for the original VFR800 gauge cluster. To fit the new tail unit Jan redesigned the subframe which has tightened up the VFR's proportions. The unique seat with its contrasting honeycomb stitching and brown suede inserts was created using the original seat which Jan trimmed down to suit.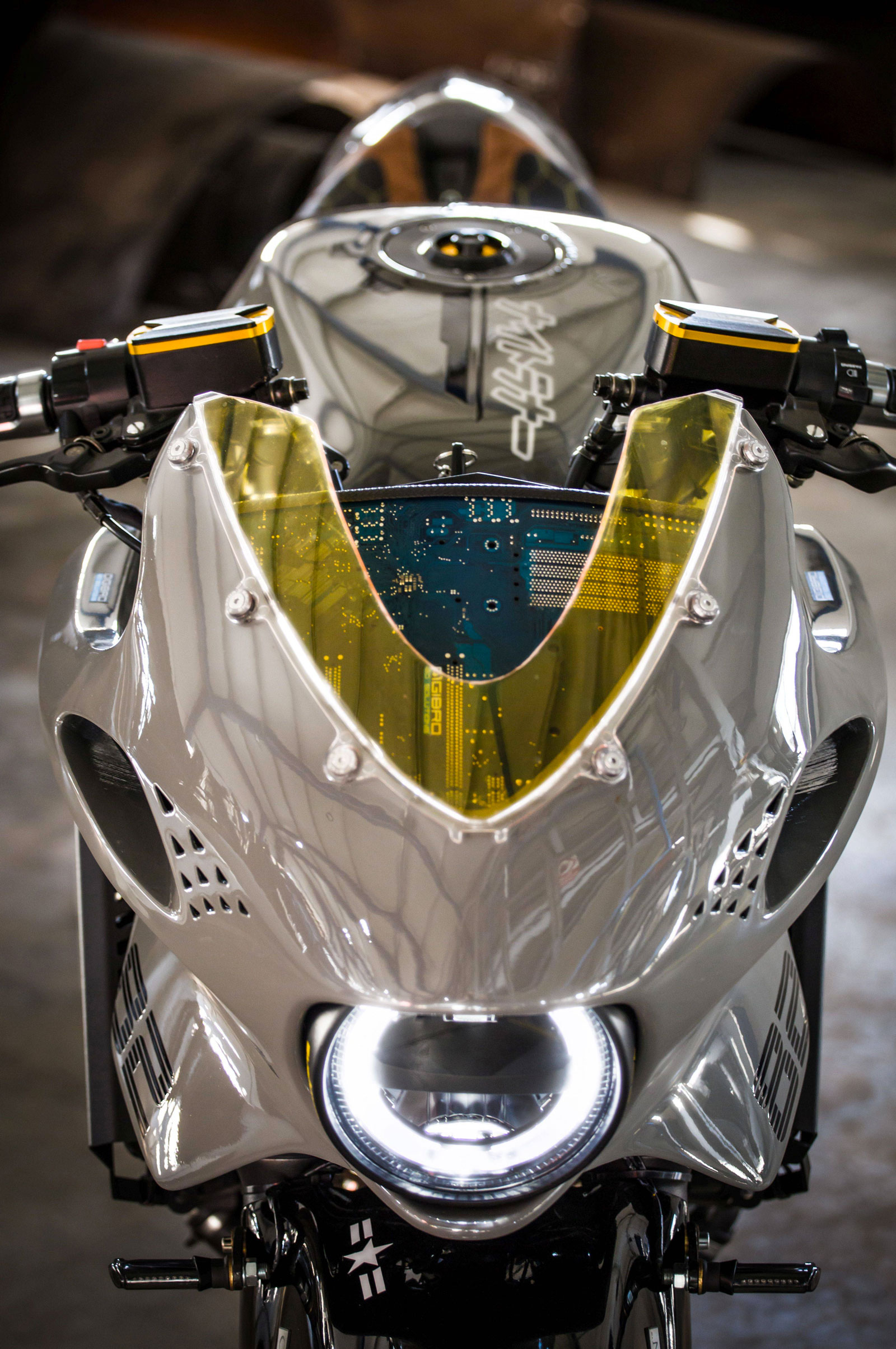 Tthe VFR has also been fitted with a long list of appropriately styled aftermarket parts to create the Cyberpunk look Jan was after. These include a full set of LED turn signals by Highsider Germany and a custom-made LED brake light that sits inside a 3D-printed housing in the tail. A pair of angular bar end mirrors look right at home on the handlebars as do a set of aluminium grips and custom brake and clutch fluid reservoirs.
Additional one-off features of this unique build come in the form of a custom-made, stainless steel coolant reservoir which bears a tongue-in-cheek radioactive warning label. With the removal of the VFR fairing, the Honda's radiators were exposed so Jan sprayed them black to match his colour scheme and added Yamaha MT-09 radiator guards to dress things up a bit.
Jan confesses that performance modification were not a focus of this project. As such he limited modifications to a K&N air filter and Yoshimura exhaust can. The front end also sits slightly lower than stock to get fine-tune the Honda's stance.
Interestingly, the most challenging of all the modifications made to this VFR800 was the see-through clutch housing. To create it Jan had to very carefully and precisely cut an opening in the engine case. The sight window was cut using a water jet and it's held in place by an alloy bracket that was turned on a lathe. To complete the look the alloy housing was anodised black before having the project name and details laser etched onto it.
Similar to Kaneda's motorcycle in Akira, there's no shortage of consumerism-style graphics that are a common feature in Cyberpunk films. They are emblazoned on the bodywork, chassis and even the wheels and were all designed by Jan (sans the Speedhunters logos on the wheels). Each was produced as a decal which then went to Jan's painter with very specific details for their application and location. Most notable is the number 82 on the front fairing. It's a hat tip to Jan's year of birth which coincidentally coincides with the release of the Akira comics and the original Blade Runner film.
Jan's Kamaitachi Honda VFR800 is one of the most unique bikes we've ever seen. Motorcycle fan or not there isn't a head that wouldn't turn as this bike passes by.