From building show cars to display at the hallowed halls of the Las Vegas Sema show to tinkering on Honda Rukus bikes with his sons – Ron Dey isn't your average backyard builder. After years of working on four-wheeled BMWs, he turned his attention to the Bavarian's 2 wheeled alternatives. However, rather than heading down the airhead route, he started out with a four-cylinder BMW K series bike and never looked back. Today he refers to his after-hours and weekends, one-man workshop as K-Bike Cafe and this stunning 1985 BMW K100RS cafe racer is his latest work of art.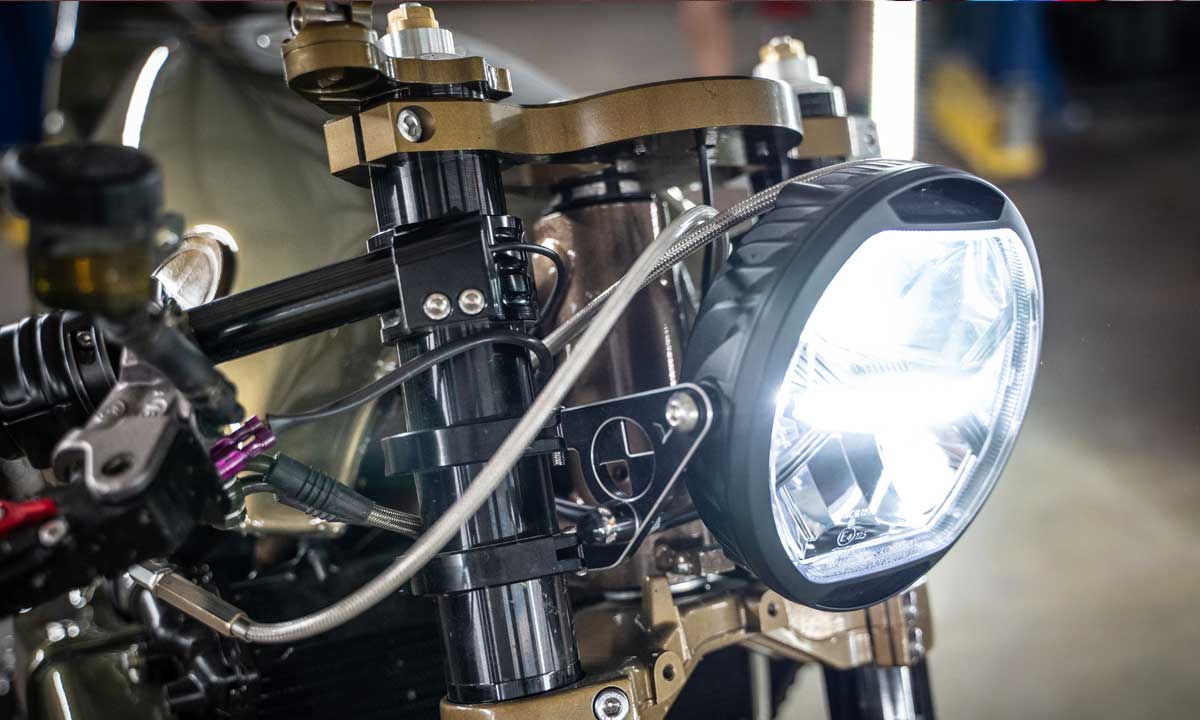 Why did you decide to build this bike?
This bike was built for a couple of reasons. I built a K75 last year and was then invited to the Handbuilt Show in Austin Texas. I started the K100RS for the show. I wanted to build a 100 and pull out all the stops. I've got two sons as well so I'm going to start another K-build this winter in order take a road trip with them in the spring and hopefully take the trio to the Handbuilt Show.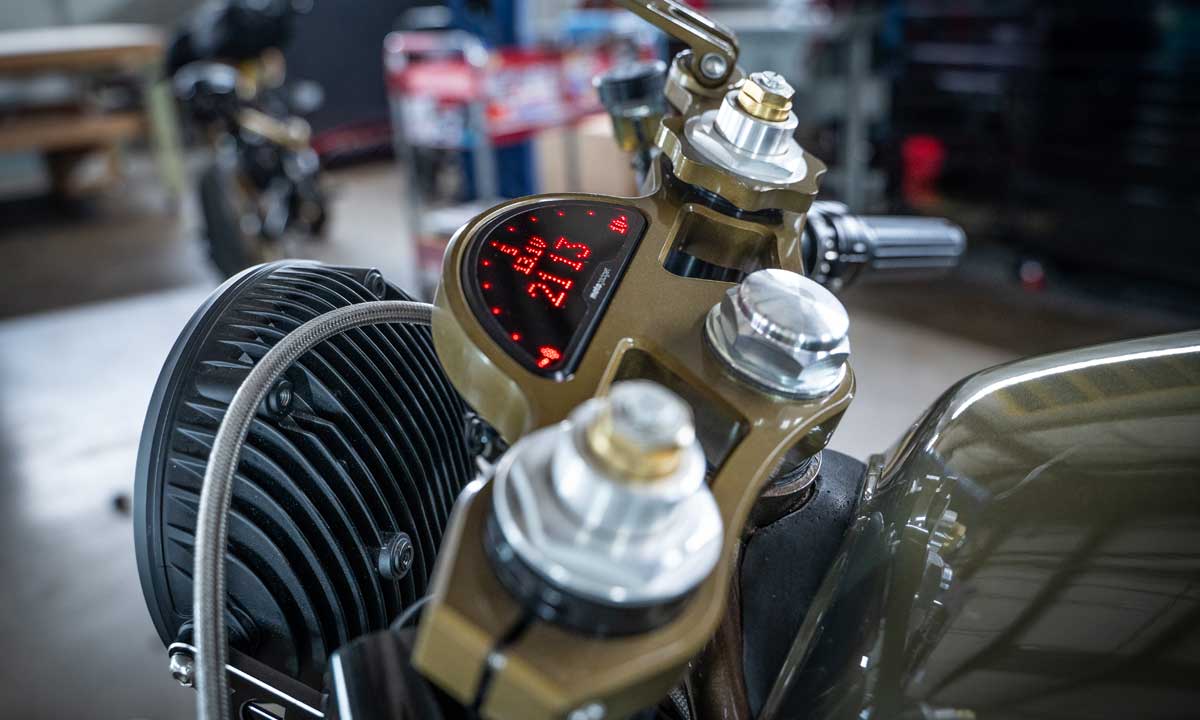 Where did you find the donor for the project?
I started searching for a BMW K100 in September 2019 and soon realized that my part of the country (Conway, Arkansas) isn't running over with K-bikes. I finally found a bike in Missouri and took a road trip to check it out. It was a one owner bike that had made the trek to Sturgis for 21 years in a row before Father time crept in and it needed repairs so it was parked. The bike was in decent shape despite sitting for a few years. It needed a fuel pump, starter relay, and all the typical stuff. So I loaded up the non-running K-bike and headed home.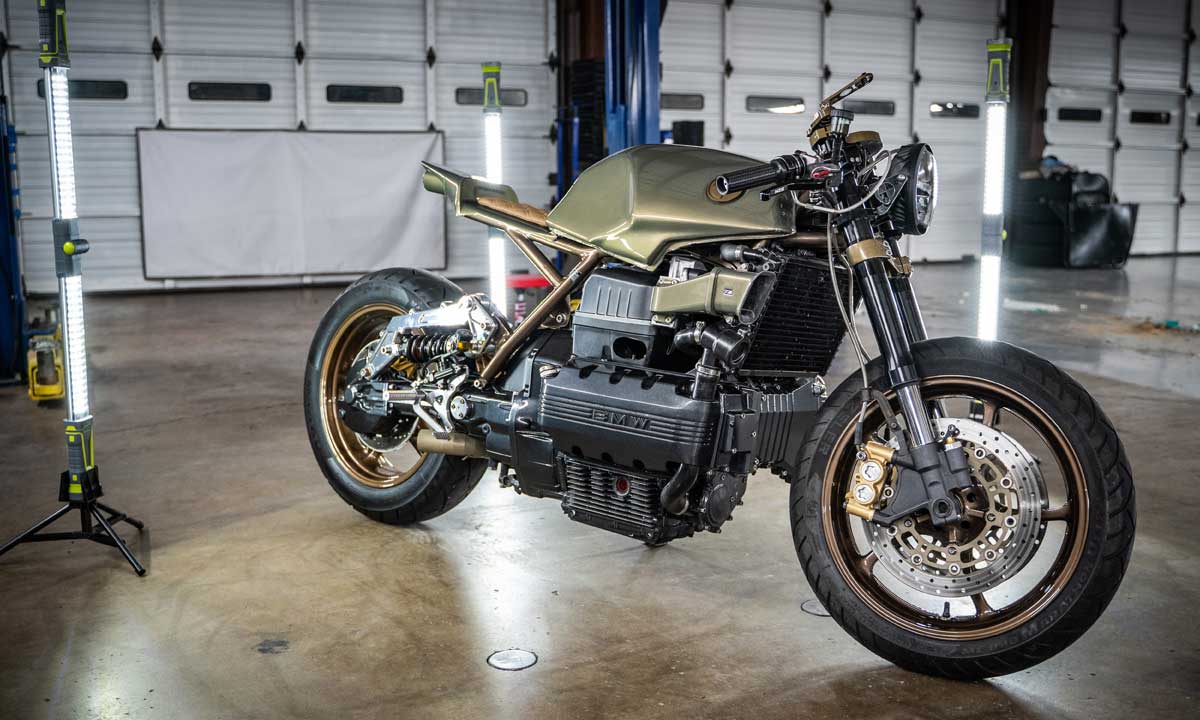 What was your design approach with your BMW K100RS build?
My design approach was to build a bike that required serious attention to even realize what it was. I wanted the K100 to appear as though it was incomplete. It was to appear as though it was missing crucial components and make people ask, how does it run? Where's this, where's that? It was my Bumble Bee approach. The laws of physics tell me this shouldn't work but it clearly does. I also wanted it to be super clean, super tidy and as stealthy as possible.
As far as design, I knew I wanted to steer as far away from the stock BMW K100RS as humanly possible. I never liked the way the frame angled down then back up at the rear. I wanted the frame to maintain the same lines from the bottom of the tank. In order to do this, there had to be some serious frame modifications. Thanks to Retrorides rear suspension I was able to achieve what I wanted with the frame.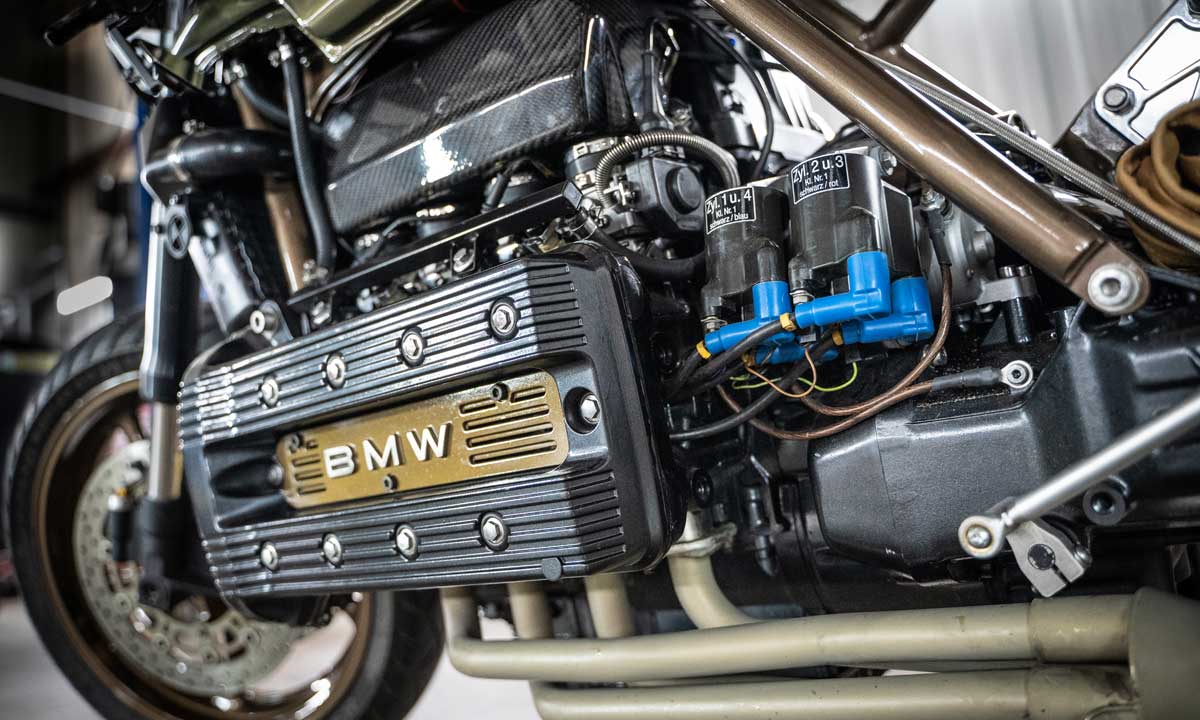 How did you decide on which performance upgrades to make?
The major performance upgrades were a Yamaha R1 front end, the Retrorides rear suspension and a complete electronics overhaul. I chose the R1 forks in order to lower the front 3 or so inches and give the bike a sportier feel. The rear suspension as I said was a necessity in order to make the frame modifications I wanted. I chose Motogadget for the electronics due to the fact that there's no longer enough room for BMW's huge and redundant wiring harness.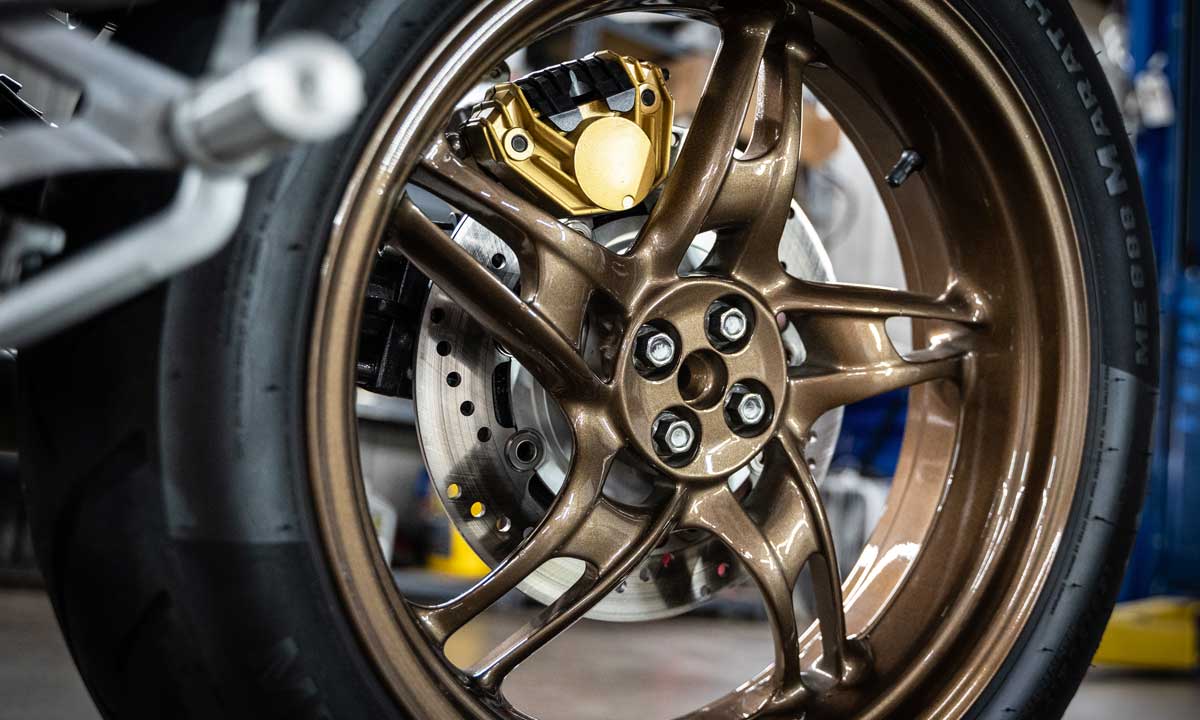 Walk us through some of the work you've done.
I'll start in the front and work to the rear. As mentioned I went with the Yamaha R1 front end on this bike. I ordered a replacement fork stem from Cognito Moto to press into the R1 lower clamp. I used a Dixer parts top triple clamp in order to have a custom mount for the Motogadget Motoscope Pro. I chose a BMW K75 fuel tank for the bike due to it having a wider turtleback appearance. The 75 fuel tank is slightly smaller top to bottom but wider side to side. I topped the tank off with a custom power brick gas cap and custom sight glass since fuel gauges are overrated. I opted for clean customs tank badges to finish it off.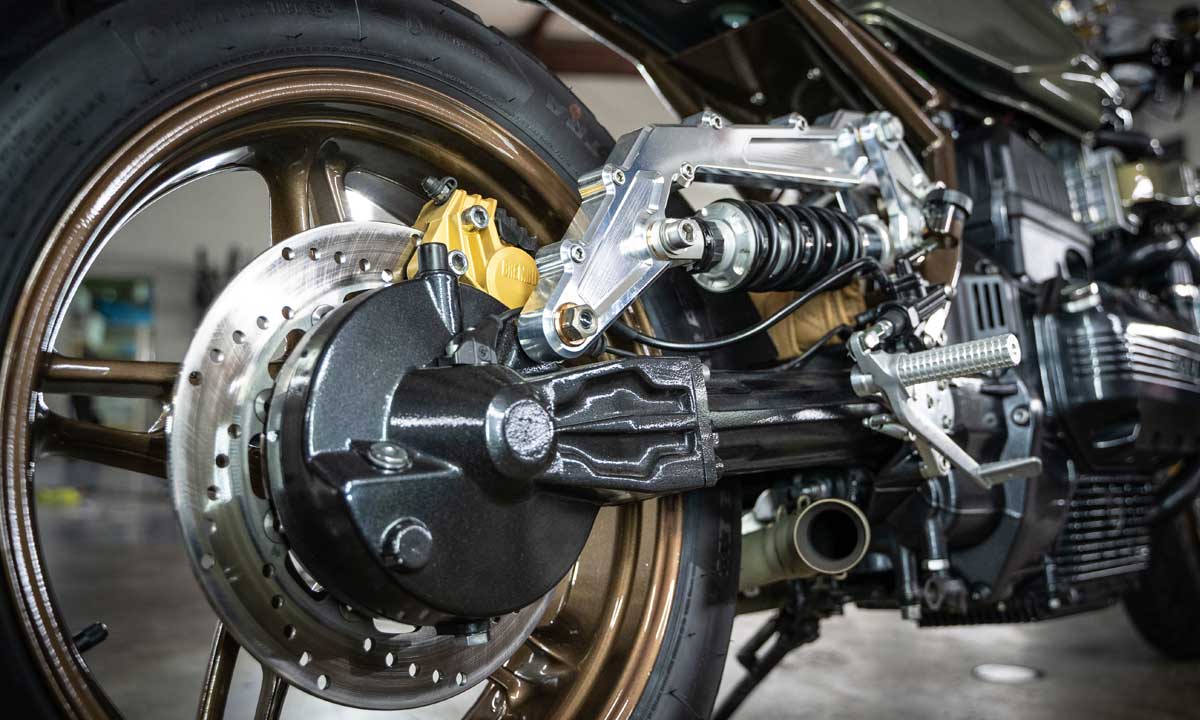 I chose all Motogadget goodies. There are m-Mini buttons, m-Grips, m-Blaze blinkers and Motogadget mirrors. The cockpit also required custom choke and throttle cables from Revival Cycles. A Koso Thunderbolt headlight takes care of lighting in the front using Max Inc mounts. A Motogdaget m-Unit blue was used to handle all the electronics on the bike which required a new wiring harness to be built from scratch. The mass airflow was moved under the tank and mated to a custom 3D printed intake. The ECU and battery were moved into the airbox where the MAF used to live. The motor was left alone as I did get it running before the teardown. I sent the throttle bodies to Trevor Ditstang in Arizona for a full rebuild and polish. The throttle bodies were completely dismantled, cleaned, deburred, polished and reassembled. A full carbon fibre intake plenum was then mounted to the fresh throttle bodies. The alternator and starter were both rebuilt, although the starter did let go a few days before this photoshoot.
The rear frame was completely chopped off and reworked using the Retrorides suspension. Like I mentioned, I wanted to make sure the frame was a continuation from the lines on the bottom of the tank. This also gave it more of a sportbike look as well. The rear of the frame was designed around a custom 3D printed tail section.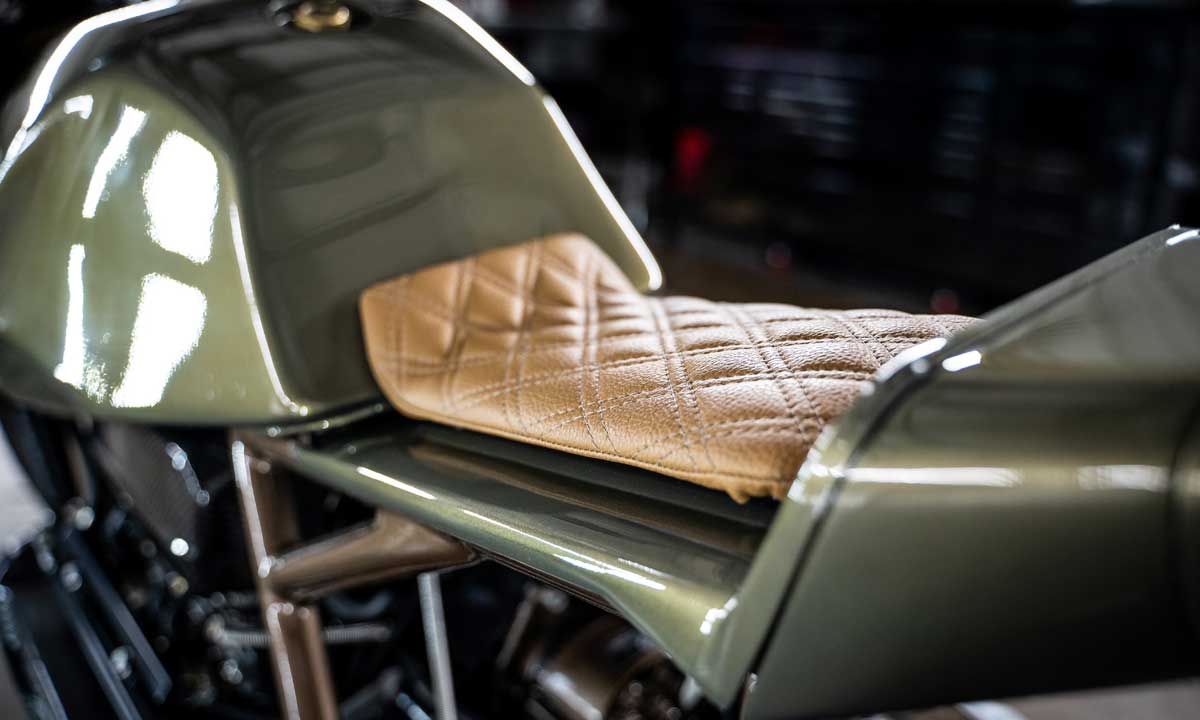 At this point, I needed a seat pan to tie the tank to the rear tail section. Olof from Ardent Fabrication took a look at it and came up with a killer seat pan that I think works perfectly with this bike. We decided to dimple die 3 holes in the pan in 3 different sizes, from biggest in the front to smallest in the rear, to mimic the geometry of the bike. I still needed a place to sit so he designed a removable pan that reached up the rear of the tank kind of like the original BMW K100RS seat did. The seat pan and tool pouch are both bespoke items made by a local upholsterer in double diamond stitched tan leather. In the tail section, I used diode dynamics multi-function halos for brake lights. They're crazy bright and that's exactly why I wanted back there. For the paint, I chose BMW messing metallic paint on the tank, intake, seat pan and tail section. I chose a Lexus bronze for the frame and wheels. For the rear end, I used Dixer Parts rear sets and a K1200 single-sided rear wheel, which in my opinion is the best-looking wheel BMW has ever put on a motorcycle.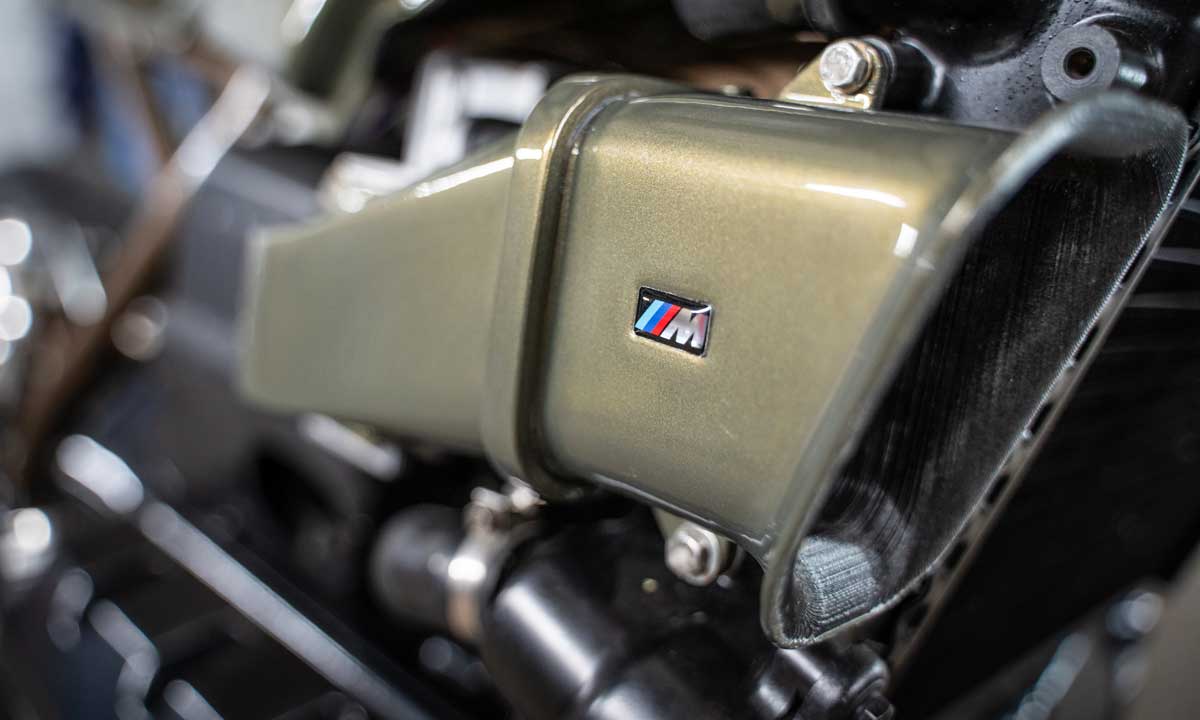 What's the finished bike like to ride?
Overall I think the bike is a much sportier ride than a stock BMW K100RS. You obviously won't be riding this bike across the country but that wasn't my intention. I wanted to be able to take this bike to the twisties and have fun with my sportbike buddies.
It was amazing to me how many people were willing to answer questions, build parts, design parts, perform services and more for these bikes. I've got to give a shout out to Euro Moto Electrics, they didn't supply any custom parts but every OEM part that got replaced came from those guys.
Photography by Lin's Marketing & Design