I recently stumbled across the Instagram profile of Cyu-G and his Yamaha SR400 cafe racer. Despite a language barrier we managed to communicate enough to put together the following interview to share the story of how his cafe racer came to be…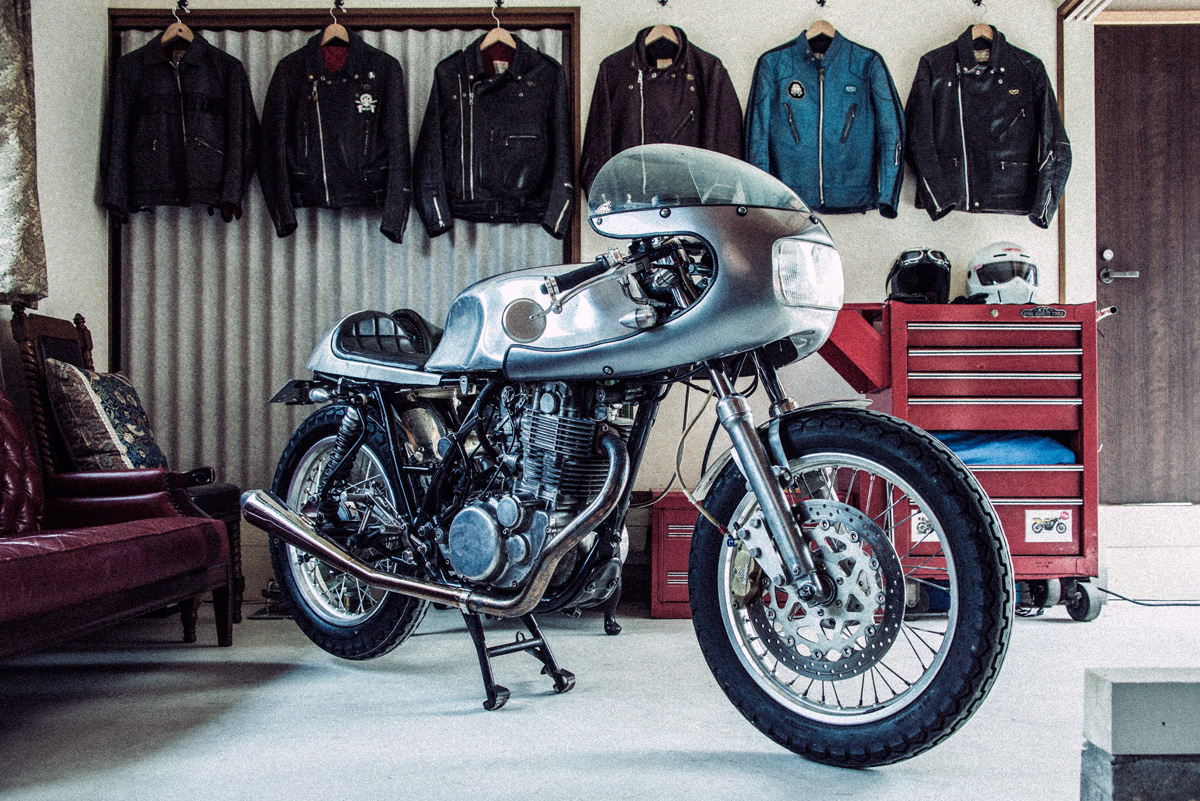 Why don't we start with a bit about yourself and your history with motorcycles?
CYU-G: I live in Nagoya, Japan, I am 49 years old and have been riding for 33 years. Some of the bikes I have owned in the past are Kawasaki Z400FX, Suzuki RG250, Honda CT110 etc. When I customise them I usually get secondhand parts from auctions or shops and I build my bikes in my home garage when I have days off work.
I'm also into British vintage leather jackets and I repair and customise leather wear. In fact the blue Lewis Leathers I wear in these photos were originally a one piece race suit that I split to make a separate jacket. My skills are self taught with both leather and motorcycles.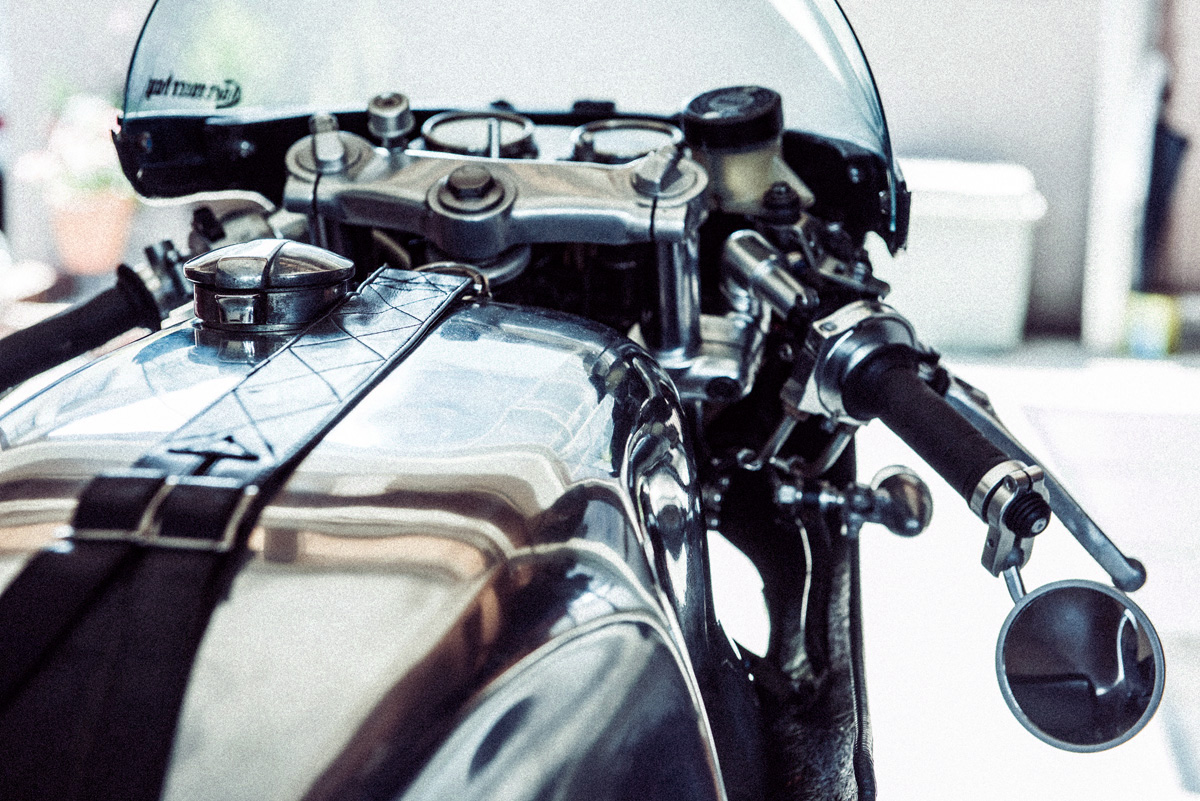 What was your concept for this bike?
As I collect and customize vintage leatherwear I thought that a cafe racer styled motorcycle would suit these leathers. So I built this cafe racer using a 1994 Yamaha SR400. It took me about 2 years to custom like this and I did all myself apart from the silencers, which were modified by Motor Rock in Nagoya.
What custom work did you perform to transform the bike into a cafe racer?
I replaced almost everything, apart from the frame, engine and wheels. The fairing is a secondhand MINANI item, which I restored and mounted to the frame, using modified brackets from a different fairing. I also fabricated the mounting system for the instruments.
The long alloy petrol tank was hand formed from Aluminium and I made the petrol tank retaining strap using the buckle from a vintage British leather jacket as a fastener. The alloy seat was originally from an unfinished Harley Davidson project which I bought a while ago and customized by myself. The original subframe was shortened, and a new one constructed that also holds the tail light, indicators, and fender.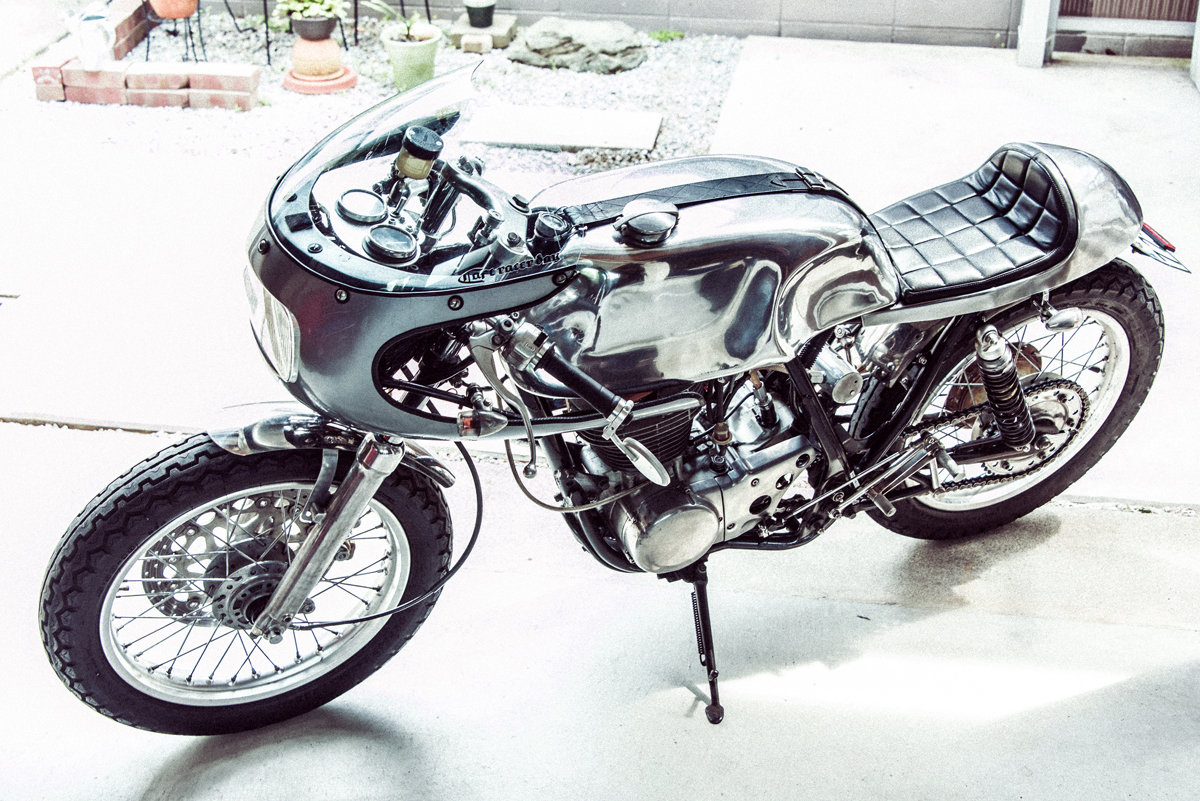 The battery and electrical system are hidden under the alloy seat. The seat base was moulded from FPR and then upholstered by myself in real leather. I spent a lot of time designing my ideal cafe racer, and also in making the many brackets that hold it all together. A portion of the exhaust pipe was cut off and extended using a 20cm section of pipe, which is angled at 15 degrees to kick up the muffler.
I designed the bike more for style than outright performance. However, the engine was still mildly tuned thanks to a racing carburetor and the modified exhaust. The front drum brake was also changed to a disc brake setup, and the front and rear suspension were updated.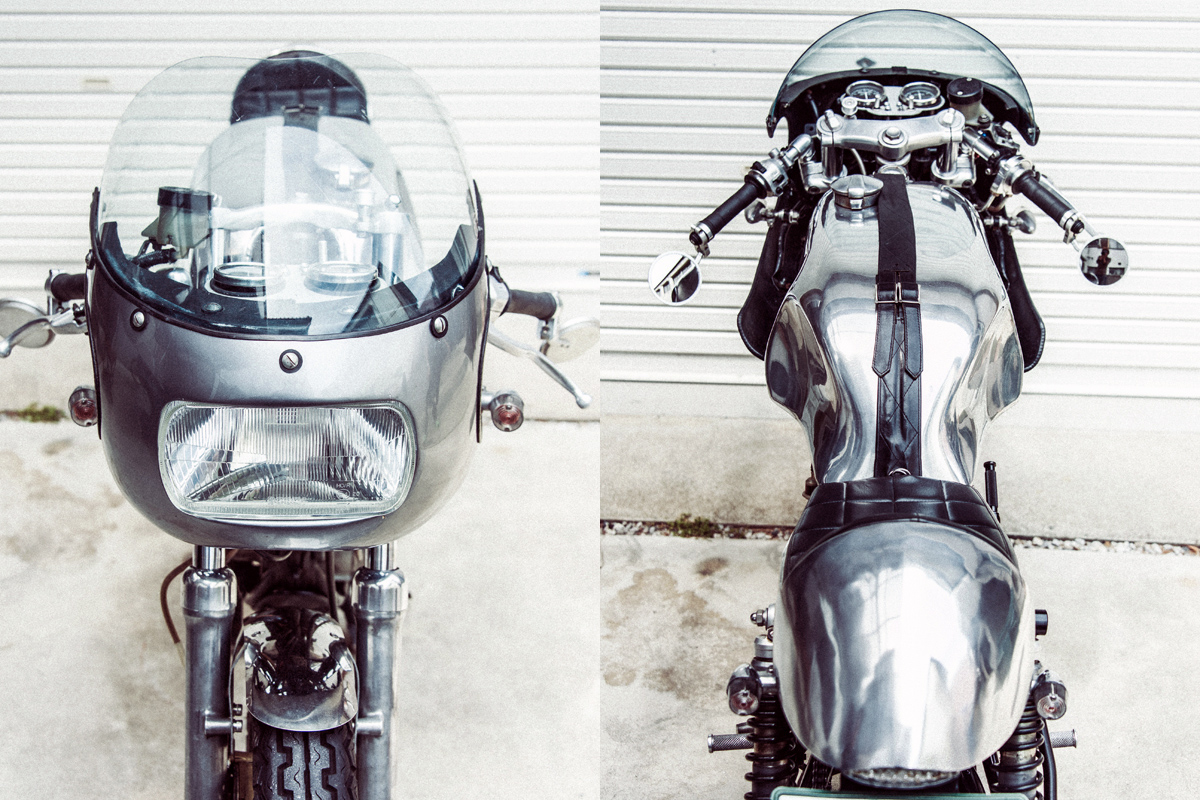 What do you like most about the finished bike?
The way the lines of the classic fairing and its rectangular headlight flow into the streamlined alloy petrol tank. I'm also really fond of the matching aluminum alloy petrol tank and seat, with my hand made leather seat upholstery. The Silver finish on everything looks great with leatherwear of any colour.
It's the perfect bike to combine my two passions.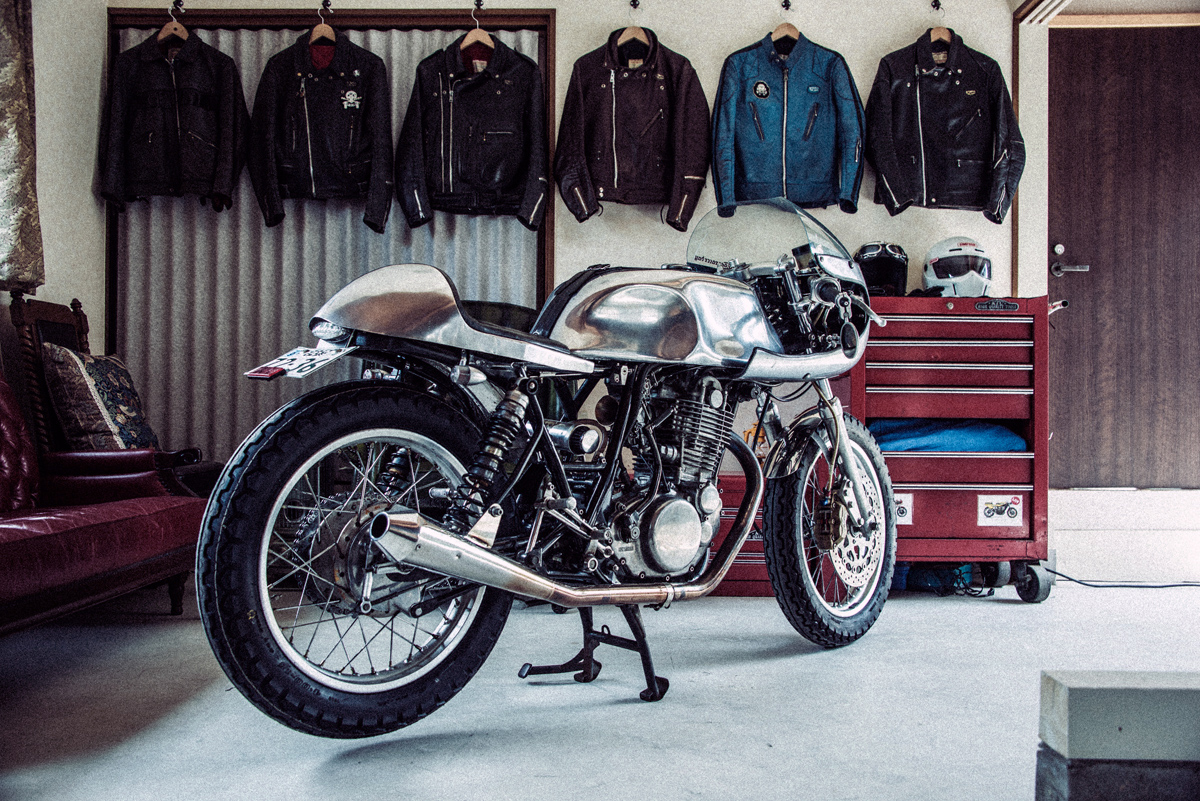 Build sheet:
Faring:  MINAMI
Petrol Tank: Stinky
Alloy Seat: One off custom
Handlebars: TOMMASELLI
Front Brake:  320mm Disc, with Brembo 4 Piston Calliper & Nissin (Active) Master Cylinder
Rear Suspension:  OHLINS
Silencer:  Peyton Place (Customised by MOTOR ROCK)
Carburettor: Yoshimura FCR39 MJN
Fenders:  Peyton Place
Speedo and Tachometer:  DAYTONA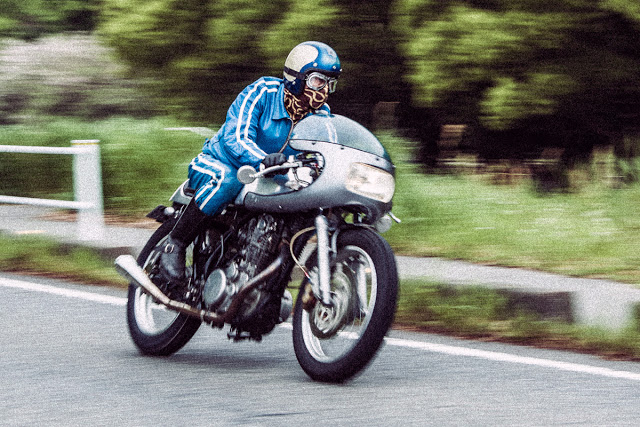 The Japanese custom motorcycle scene is arguably one of the most influential and progressive in the world. Japanese workshops like
Cherry's Company
, Brat Style,
Custom Works Zon
and
Ritmo Sereno
have inspired builders around the world. In recent years that have also been commissioned by motorcycle manufacturers to modify their newest models. In the past, it has been difficult to get in touch with Japan's backyard builders and enthusiasts, but all that's slowly changing thanks to these collaborations and social media.