Last year I had the pleasure of attending the Mooneyes show in Japan. The builder that took out best of show (for the second year running) was Kaichiroh Kurosu and his workshop Cherry's Company. Their 'Left Bond' Harley chopper showed a level of finish and detail that was mind-blowing. Earlier this year BMW Mottorad had the brilliant idea of handing over several new BMW R Nine T's to some of Japan's most recognised builders and Cherry's, of course, made this list. Although Kaichiroh's preferred base for custom builds are Harley Davidsons he took the challenge and as you can see the result is jaw-droppingly brilliant. Behold the Cherry's Company BMW R Nine T "Highway Fighter"…
While all of the builders who were invited to customise BMW R Nine T's produced stunning results I have to say Cherry's is my personal favourite, followed closely by Hide Motorcycle's "Boxer" (watch out for a feature on that soon). While it's no Cafe Racer (in a traditional sense) it's one helluva mean looking machine. With all the original BMW bodywork gone Cherry's gave themselves a blank canvas to start with and from there put together a masterpiece.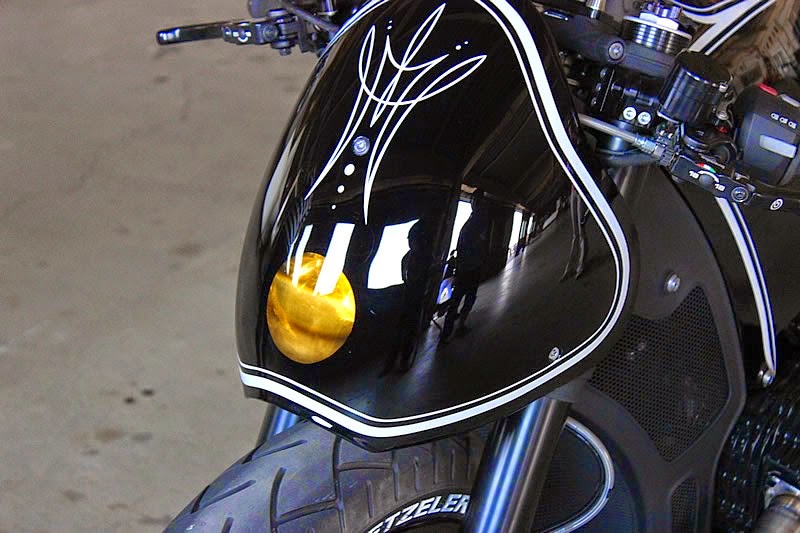 Influenced by BMW's racing past Kaichiroh hand fabricated the 70's race-inspired fairings by hand out of aluminium. The front cowl features a tinted LED headlight that disappears into its black surround when the light is off giving it the appearance of a solid, full race fairing. The belly pan and side covers were shaped using traditional metal shaping techniques on an electric planishing hammer and English wheel. To close the space behind the front wheel Kaichiroh also designed a ventilated surround that allows air through to the engine and oil cooler. This gives the entire bike a front-heavy appearance accentuated even further by the tiny hand formed tail end that is so short the rear wheel looks as though it's extending out from the bike.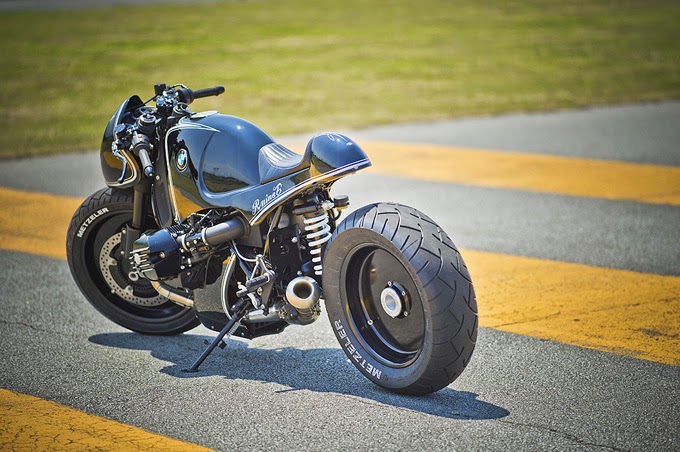 The R Nine T's wheels have been swapped out for a different diameter, solid RevTech rims (18 front and 16 rear) and have been wrapped in Metzler Marathon rubber. Suspension mods come in the form of a full front end swap using the fork from BMW's Superbike inspired S1000RR that has been lowered 2 inches. The triple trees feature a PSR steering damper giving the rider full control over the bikes handling characteristics (as demonstrated below).
Brembo braking upgrades help to pull the bike up hard and there's a set of custom-made foot controls and clip-on bars for a more aggressive riding stance. All lighting is LED powered and concealed as best as possible and the original gauges are tucked away neatly behind the front cowl giving the bike a lo-fi, stripped-back race appearance. To finish off the Highway Fighters' bad-ass looks everything was either shot in gloss black or anodised black and hand-laid white pinstripes added for a retro custom touch.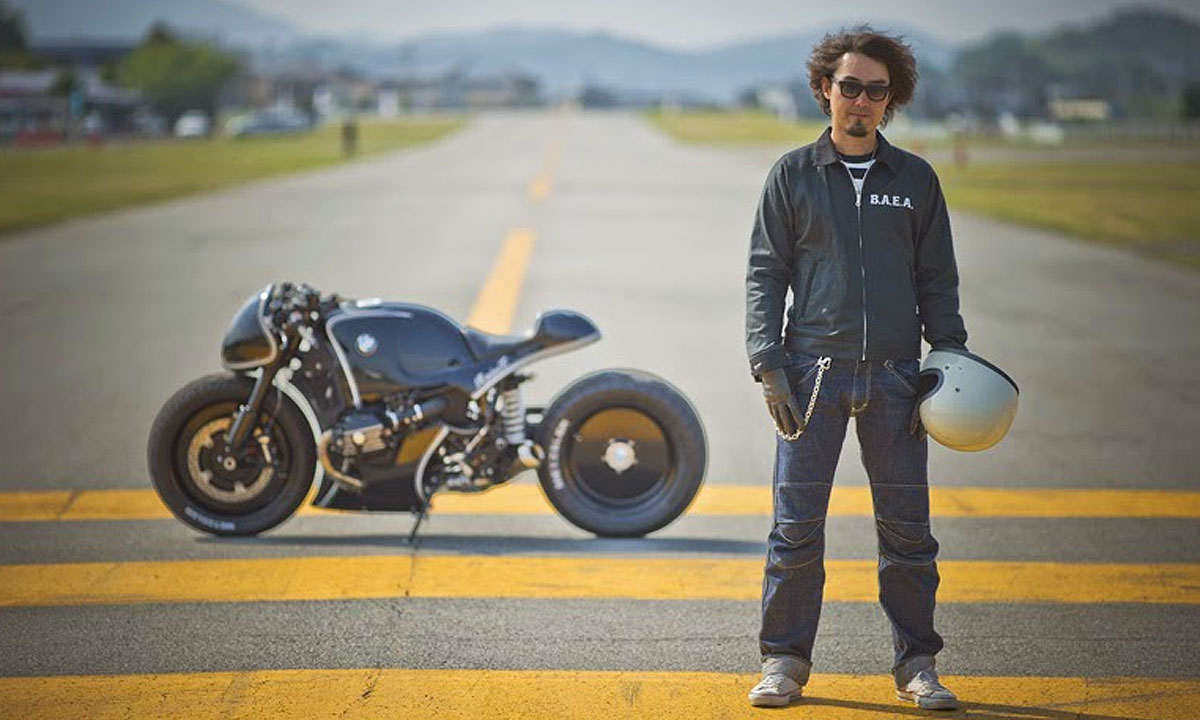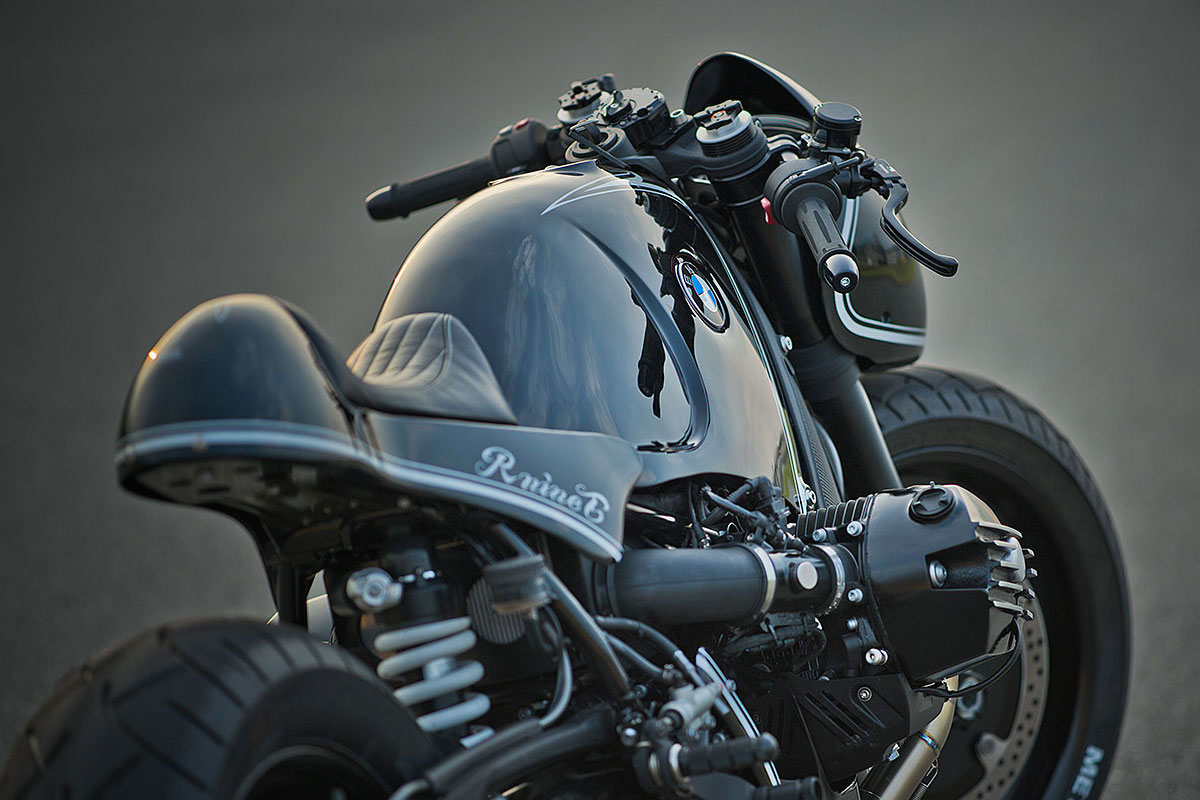 All of the custom BMW R Nine T's built for this project demonstrate a level of workmanship and eye for detail that is typical of Japanese builders. Opting to hand fabricate parts rather than reusing old ones or buying new ones is definitely the harder way to go, but to get results as unique as these it's the only way to go. You can check out the other builder's bikes, their bios, and cool videos at the R Nine T Custom Project website.
Images via Street Ride Japan