The bar has definitely been raised in the custom motorcycle scene. If you're planning on impressing anyone a bolt-on seat, clip-on handlebars and a set of Firestones aren't going to cut it anymore. If you want your custom creation to get you invited to display at a custom show or to win you any prizes you'll need to pull out all the stops.
Last week Roland Sands Designs announced the winners of their Dream Build Off. The competition offered people the chance to win some incredible prizes including 3 brand new motorcycles. As you'd expect there were plenty of people eager to win and the competition was fierce. Amongst the hopefuls was Mitch Witkamp, a custom enthusiast with a handful of bike builds under his belt. Spurred on by the prize offering he pieced together an incredible K1100LT Cafe Racer that very deservingly took out first place in the 750cc to 1199cc class. After being as impressed by the bike as the RSD team clearly was, we contacted Mitch to talk about his two-wheeled obsession and the build of this incredible BMW cafe racer.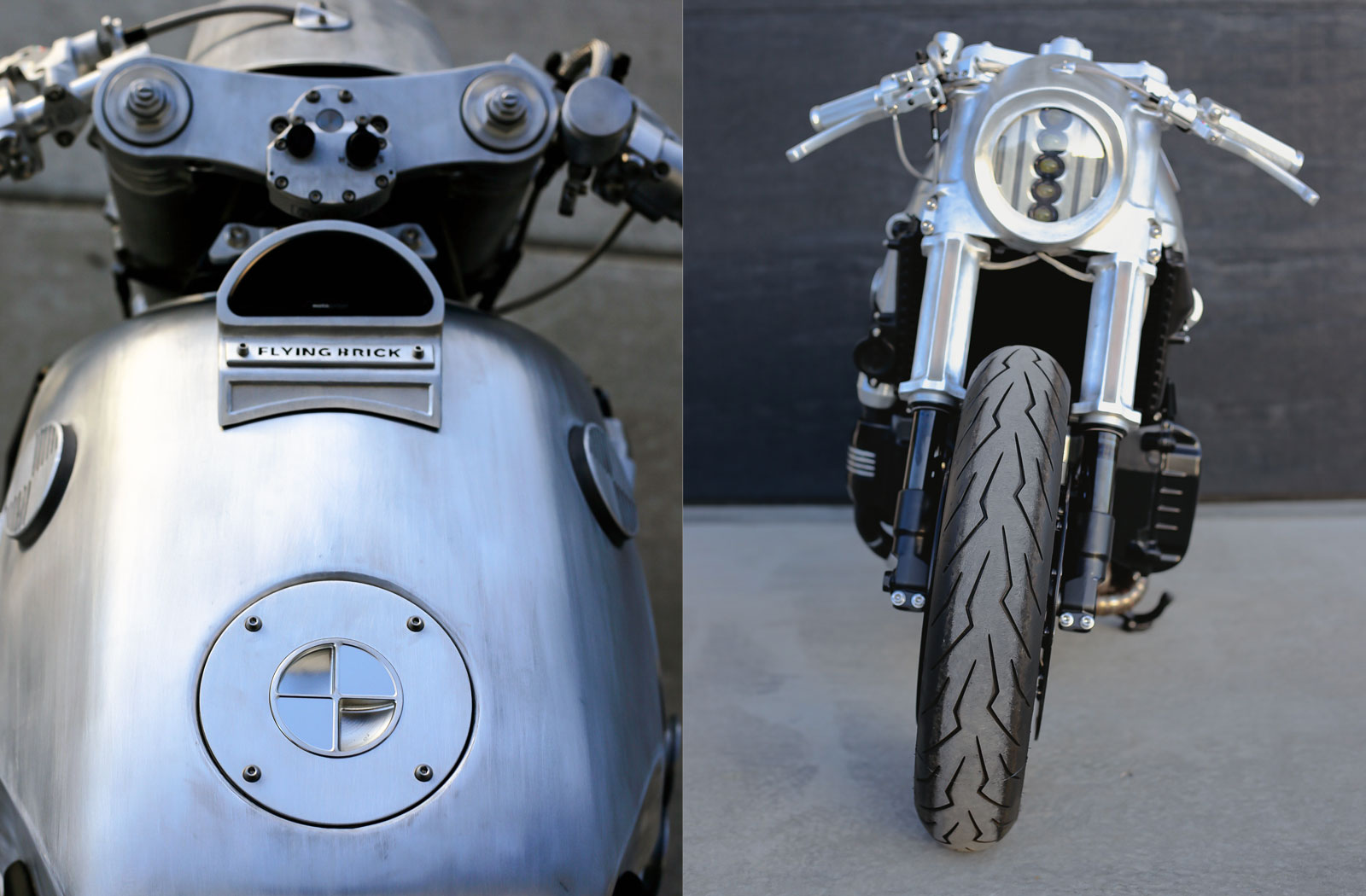 "I grew up in Utah surrounded by 4-wheelers and dirt bikes," says Mitch. "My first real love for motorcycles started when I was in college in 2012 when I bought my first motorcycle. It was a 2006 Honda Shadow 600. I rode the bike for 6 months and then wanted to sell it because I was kinda over it. I called up my brother and told him I was going to sell the bike and he told me I needed to first check out a 'bobber'. My response was, 'what is a bobber?' He sent me a few pictures and I was hooked."
Although Mitch was new to the custom motorcycle scene he'd grown up working on cars. So with a well-stocked garage and a capable skill set, he tore the Honda down to build his very first bobber. In the years that followed, Mitch modified the Shadow several times before putting together a '76 CB750F Cafe Racer and then a CX500 cafe/sport. He was well and truly hooked.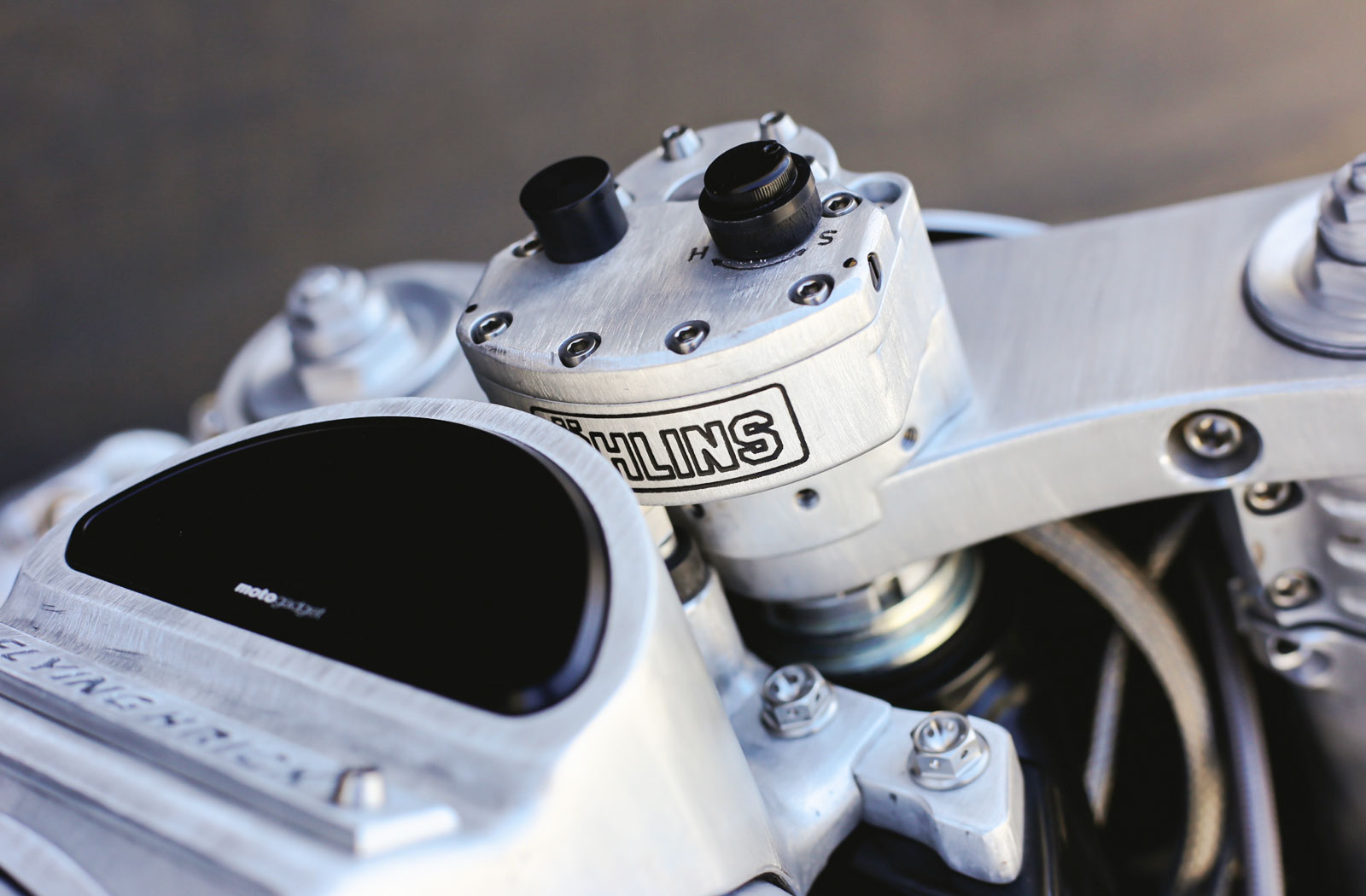 Mitch's 1995 BMW K1100LT cafe racer has been several years in the making. The original driving force behind the project came after helping a friend to build his custom K100. Soon afterwards Mitch purchased the '95 K1100LT from a fastidious owner who had kept the bike in pristine condition. But the pandemic and all the challenges it presented slowed the progress of the build. But when RSD announced the 2022 Dream Build Off it gave him the motivation he needed to get the bike finished.
Like many custom enthusiasts, Mitch finds inspiration in the work of others. His builds tend to be a mix of styles and details he's discovered online. With the BMW however, he decided to do things a little differently.
"I wanted to push my fabrication abilities all while adding a few details that I've never really seen on a bike," he says. "I knew I wanted to introduce some LEDs and acrylic panels. Having the bike transform at night was always a goal."
We've all seen those banal neon glow kits that were popular in the mid-nineties. These days they're about as appealing as exhaust wrap and handlebar tassels. Thankfully Mitch's LED idea was in a whole other league.
During the day the acrylic panels in the bike's tail, subframe, side panels, fork shrouds and beneath the BMW roundels blend seamlessly into the raw aluminium bodywork. But when the sun goes down they illuminate to transform the bike into a real-life light cycle. To add to the spectacle the panels also double as turn signals making it very easy for other motorists to anticipate Mitch's next move. Of course building this functionality into a motorcycle takes a fair bit of electronic wizardry but it was only one element of an extensive electrical overhaul.
"I cut away 95% of the stock harness and paired what was left with a Motogadget M-unit. This seemed easy on paper but was pretty challenging for my abilities.  I needed to make sure everything still functioned properly which included the Motronics injections system, oxygen sensor, intake temperature sensor, coolant temp, oil pressure switch, etc. The blessing of forums and the internet helped me to troubleshoot everything. I can tell you I was pretty happy when the bike fired up and all of the warning lights on the Motogadget Motoscope Pro worked!"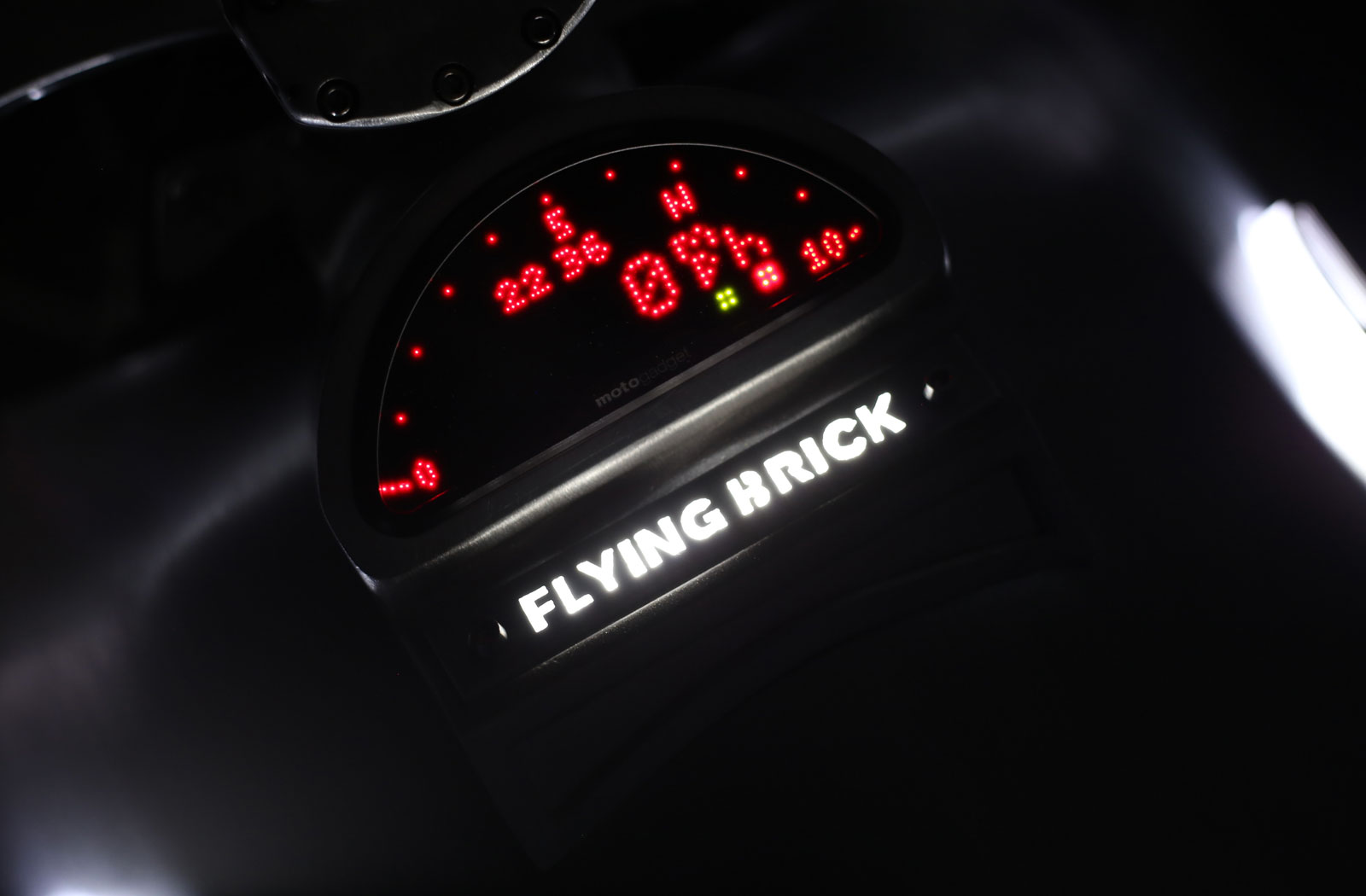 "A big goal with the wiring on this bike was to hide the wiring harness," Mitch adds. "From the front of the bike to the back, you only see a few wires here and there. When you do see them, they are housed in a stainless braided line. You don't see the battery, the coils, the coolant reservoir, and the majority of the wires. I think doing this really helps clean up a bike."
There is, of course, a lot more to this build than just the LED lighting effects. To house all of the acrylic details Mitch had to fabricate all-new bodywork. Using aluminium sheet he shaped his own fork covers, headlight cowl, side panels for beneath the tank, seat pan and a tail unit with integrated lighting. The list doesn't end there though. Mitch machined his own BMW roundels and mounted them by modifying the tank so the wiring could be hidden. There's also a custom choke pull, injection cover, coolant reservoir with a built-in sight glass, radiator caps, battery/electronics tray, and a billet subframe of his own design all machined from aluminium. Oh, and we better not forget the custom fuel cap, shock reservoir and velocity stacks which he's mounted on an angle to match the lines of the fuel tank.
Despite the obvious complexity of the work that's gone into the alloy Mitch says, "I've never really welded aluminium before this bike. Going into this build I knew I would make a lot of mistakes and I sure did make a lot of mistakes! But I was learning and am still learning. I had to re do a lot of pieces, but I was able to get a little better as I progressed with the build."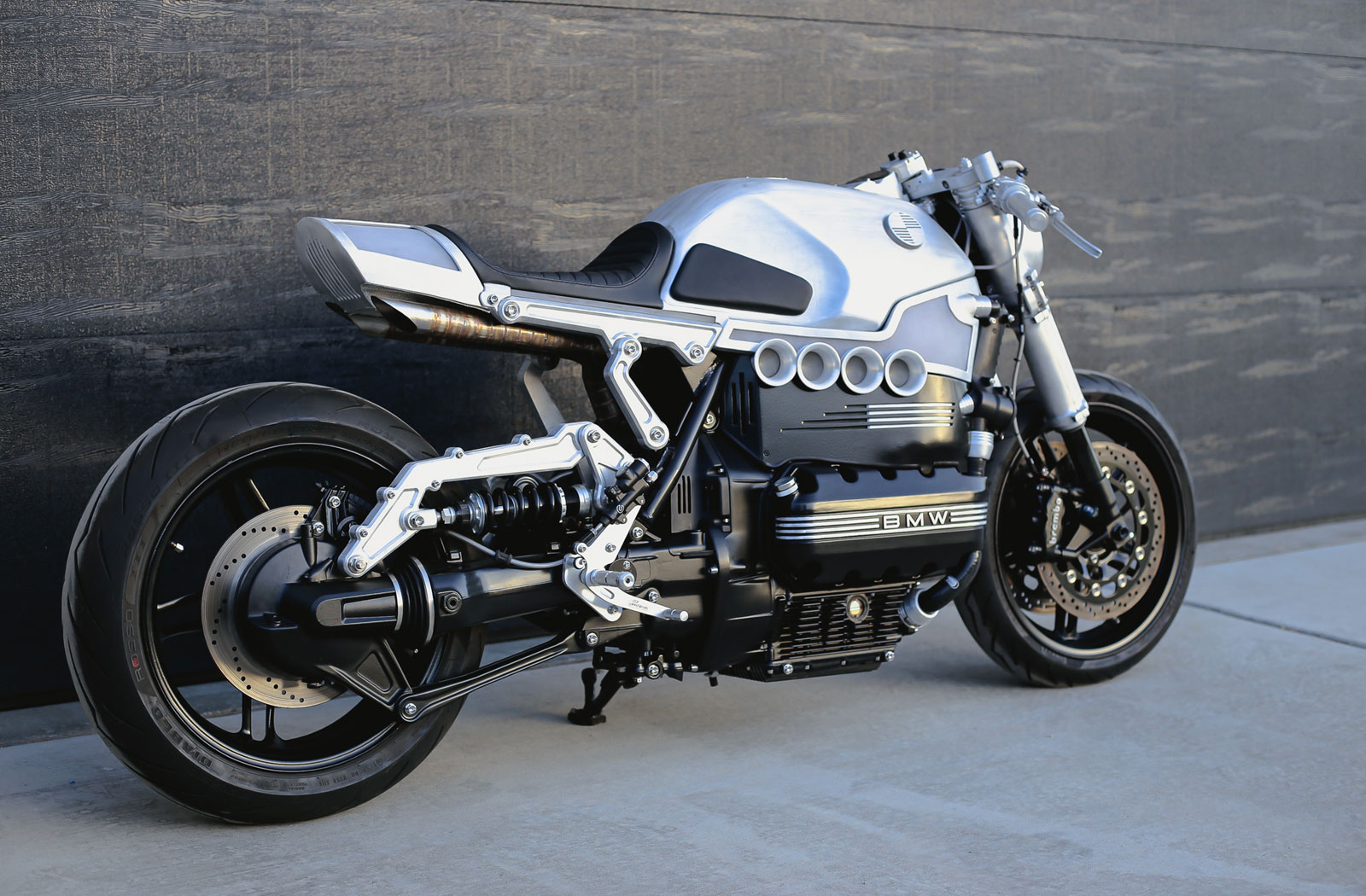 Then there are the components that Mitch has retrofit from other bikes to achieve the stance and performance he was after.
At the pointy end of the bike, you'll find a Triumph Speed Triple wheel held in place by custom spacers. The forks are of Suzuki GSXR 1000 pedigree and are sitting in a custom triple clamp. They also came equipped with brake hardware by Brembo. In the rear is a BMW K1200 rear wheel with more Brembo gear. Alloy clip-on handlebars hang off the fork stanchions and they wear silver Motogadget m.button switches, stripped and sanded Brembo levers and knurled alloy grips. Sitting atop the modified clamp is a trick looking Scotts/Ohlins steering damper and a Motogadget Motoscope digital gauge. The gauge sits in a custom made aluminium housing and alloy BSK rear sets complete the revised riding position.
When it came to the engine Mitch invested most of his time into cleaning up the exterior and putting together a custom intake and exhaust system. Viewing the bike from the left side reveals an astoundingly complex exhaust system which is made up of an eye-watering 204 individually cut and welded pieces of stainless steel pipe. Hearing that Mitch hadn't had any previous experience welding stainless before was quite astounding. But as he explains, the journey to this outcome was no walk in the park.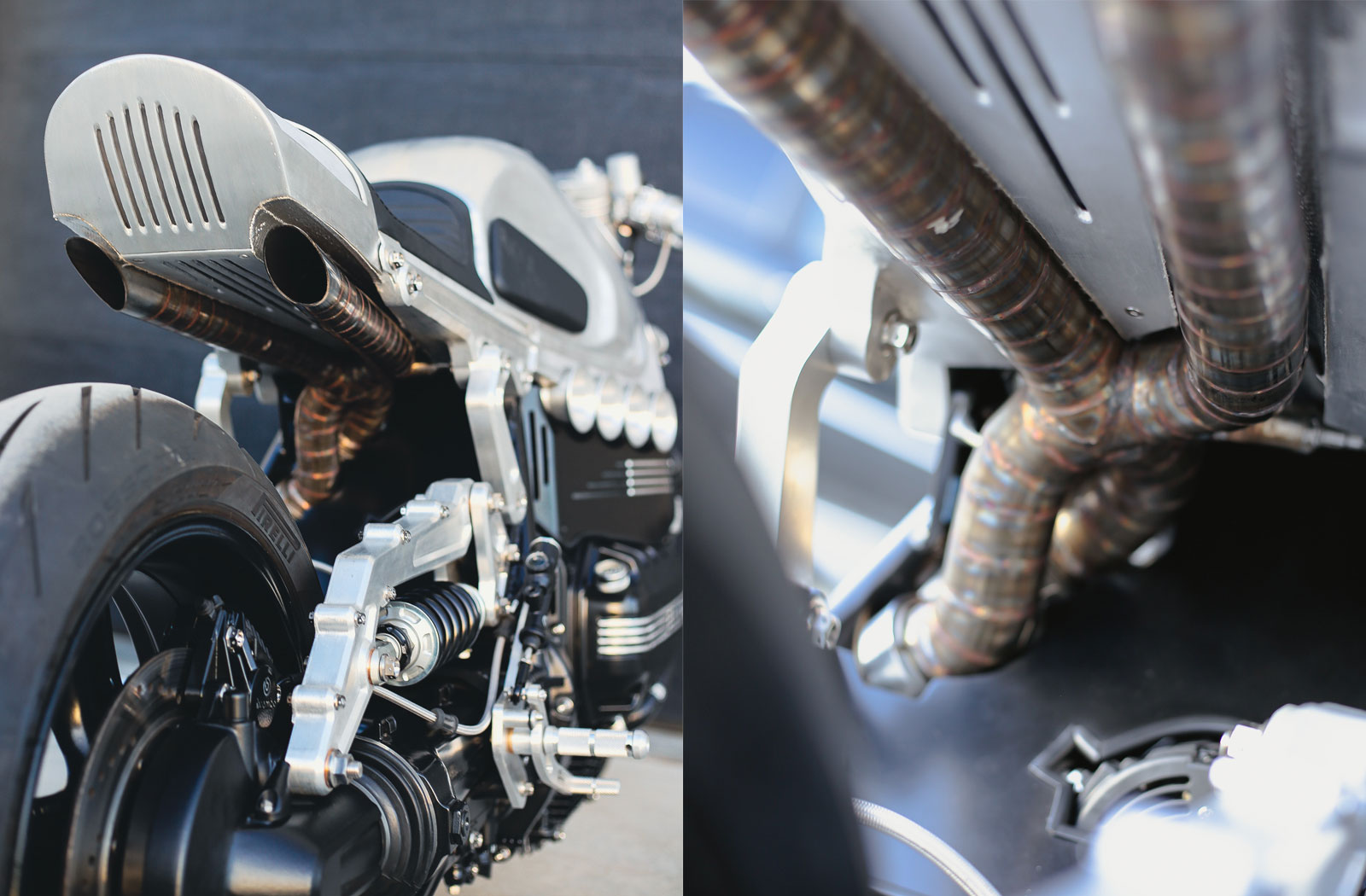 "I've always wanted to learn how to weld stainless, specifically making a pie cut exhaust. I decided to take on the challenge with this bike." Mitch says. "I bought some stainless tube and started cutting and welding. 60 hours later, the exhaust was done, but it wasn't pretty. I knew it didn't look very good but I was okay with it. I posted a few pictures and had one gentleman make an interesting comment online. The comment was, 'That BMW's exhaust looks like 🦆💩!' I laughed at the comment because calling someone's welds bird poop is just slang for bad welds. I responded to his comment by telling him "LOL I'm learning" and he actually reached out to me and offered to help. He gave me a ton of advice and showed me what I was doing wrong. Then I was at a cross-road with the build. Should I throw away the exhaust and start over or keep the bad exhaust and just be okay with the welds?"
"After thinking about it for a long time I decided to start over. My goal with every bike I build is to build it the way I want, build it the right way, no matter the cost. My cost was losing a lot of time and some money, but I knew it had to be done. If I didn't redo the exhaust, all the attention would be drawn to it, especially since it is such a focal point. So I started over, changed a few of the design features, and was able to weld up a pretty decent looking system."
Mitch's new setup is a 4-into-2 system with an x-pipe to balance them out. The whole system is an absolute work which is made even better by how he's tucked the mufflers up into channels underneath the tail unit.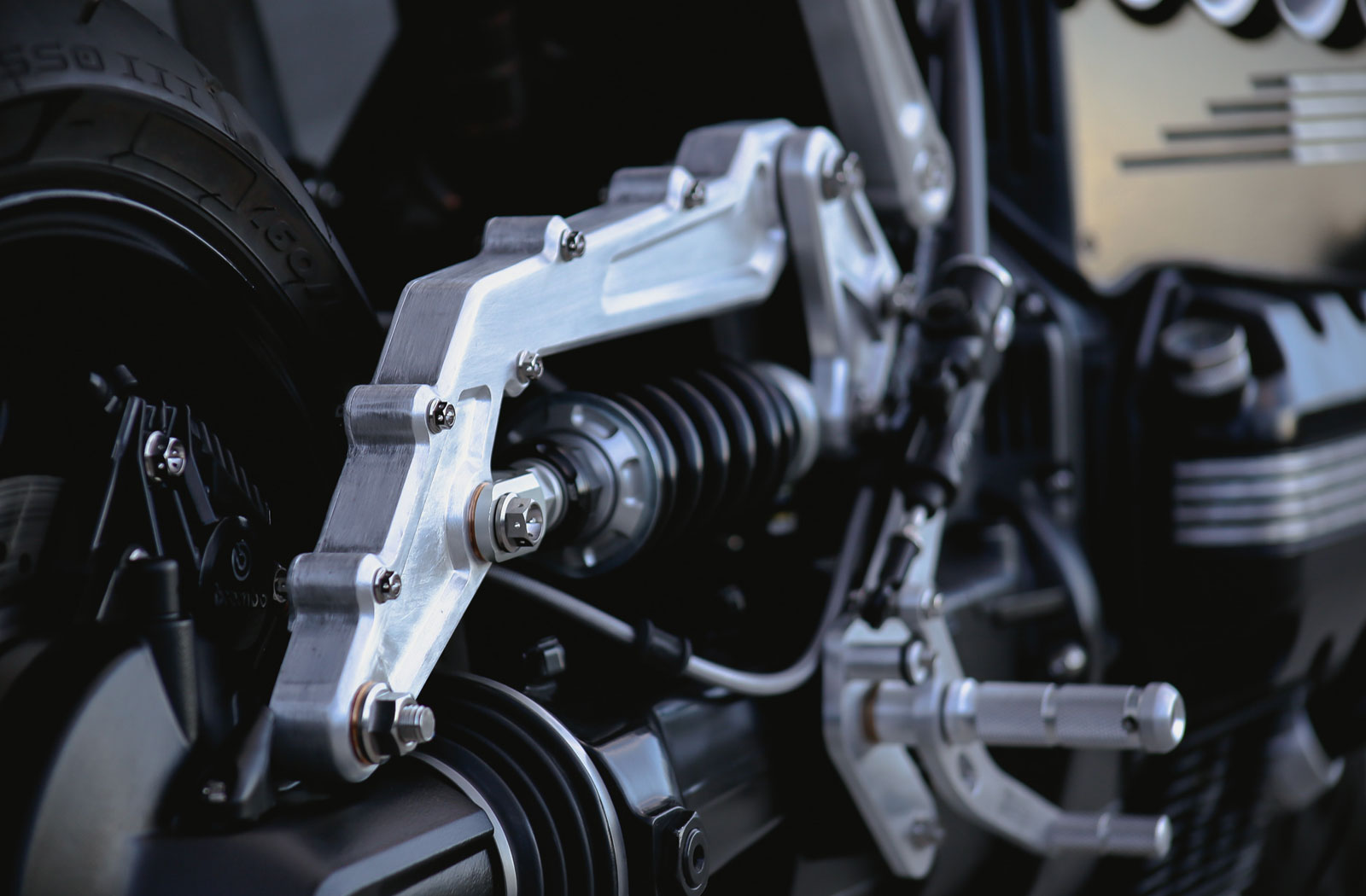 For the finished appearance of his BMW K1100LT Mitch went with a black and raw alloy theme. Almost the entire lower half of the bike is black while the upper section is all brushed alloy. Mitch has a strict rule with his bikes that the colour palette should be no more than 2 colours so the only colour you'll find here are a few blue LED accents. For an even cleaner finish and to shed a little more weight he's also swapped all the fasteners with titanium examples. After all, it's the little details that count.
In regard to the bike's performance, Mitch is very happy with the outcome. He says that with his builds he always aims to create a bike he can jump on a ride whenever he wants and it must be reliable. According to him his K1100LT cafe racer rides "like a dream" and is "super light and nimble".
We've seen a lot of modified flying bricks popping up lately but few have been as impressive as this one. Could this be a contender for this year's top 10 cafe racers? We think so.