New York City is arguably the planets most influential style and culture mecca. Whatever you're into you're sure to find a community of New Yorkers who share that passion. This of course extends to the cities motorcycling community where you'll find a thriving cafe racer scene.
For custom workshops to make their mark in NYC they need to be at the top of their game – and there's no better way to prove it than to build a bike of their own. A motorcycle that has not been influenced or affected by a customer's requests or budget. The pièce de résistance of their two wheeled portfolio.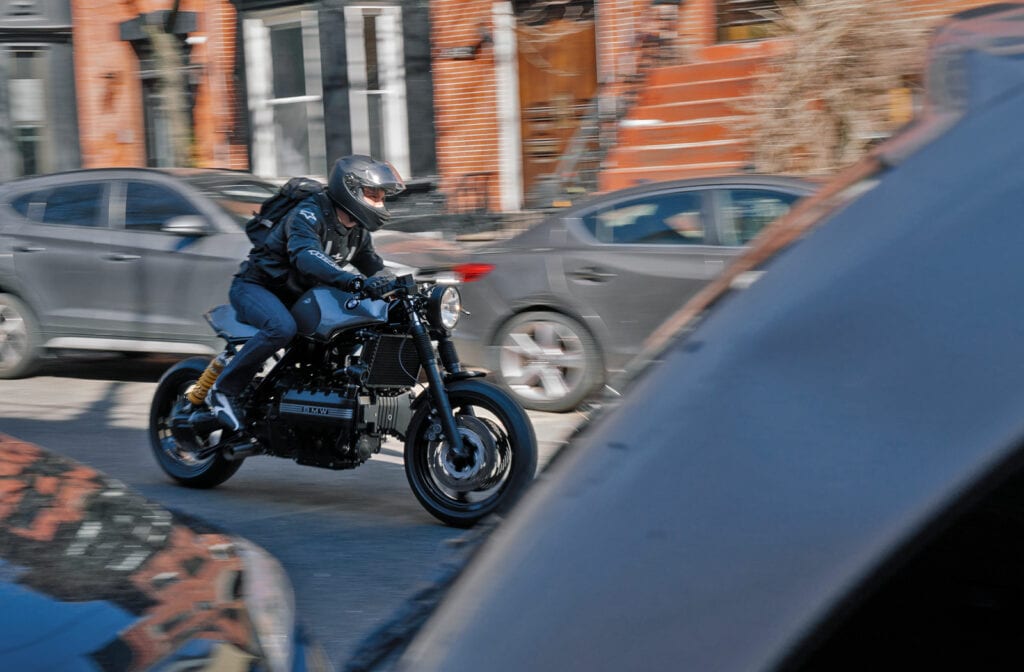 In NYC's largest borough, Queens, sitting in the shadow of the Hell Gate Bridge in Astoria you'll find the workshop of Anthony LoGalbo and Nick Rovello. Now in its second year of operation, the aptly named HellGate Moto specialises in cafe racers built using BMW airhead and K-bike donors.
After putting in the hard yards establishing their business the time to build something for themselves finally arrived. But 1 bike for 2 owners simply didn't make sense. So rather than compromise, they have created 2 bespoke Bavarian cafe racers.
This bike, which is based on a '95 BMW K1100 LT is Anthony LoGalbo's personal steed. It was designed and built from the frame up by Anthony, Nick and a handful of skilled builders from within the NYC custom motorcycle community.
"The concept for the bike began with a traditional Cafe Racer design. Removal of all but the most necessary components," says Anthony. "We believe that the beauty of the BMW K1100 LT is in the bones of the bike: its frame, fuel tank and engine. Therefore, minimalism is at the centre of this bike's design."
Once the K1100 LT was torn down attention was focused on improvements to the chassis. Starting with the rear end they removed the ability to carry a passenger in favour of tighter proportions. Brooklyn's Tim Harney Motorcycles completed the fabrication work which involved the addition of a plug welded custom made rear loop. Redundant tabs and mounts were also dispensed with and all evidence of their existence machined away. For a stiffer setup and more consistent look, the frames stamped steel cross-member has been cut away and a tubular steel alternative welded in place. The whole assembly was also stripped bare before it received a fresh coat of gloss black powder coat.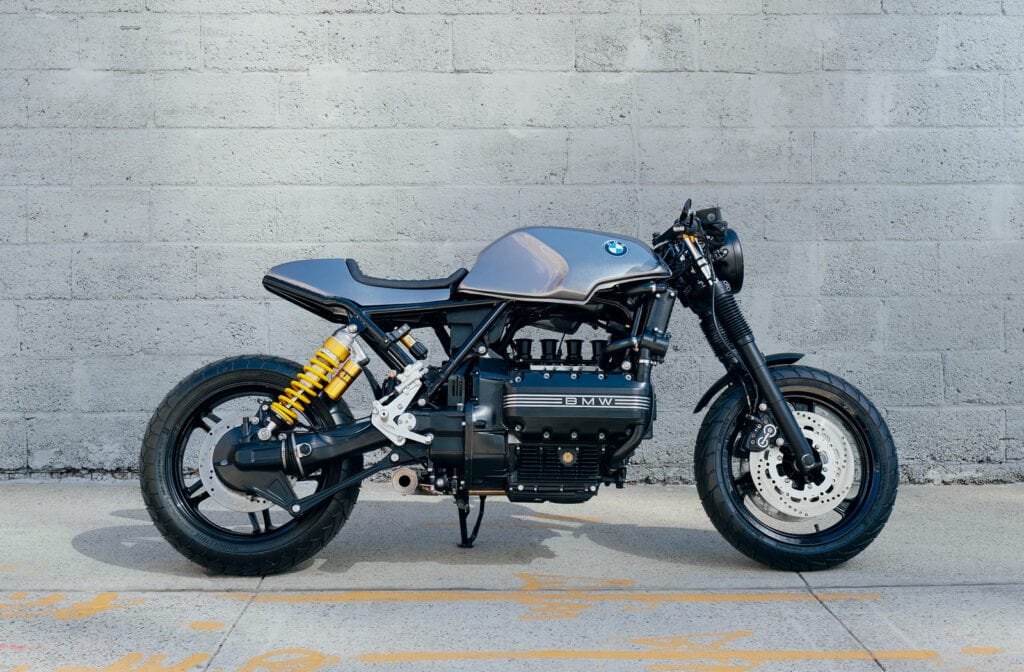 The thoroughly cleaned and freshly painted inline-four looks as fresh as the day it rolled out of BMW Motorrad's Berlin plant, but there was a lot more work put into it than a simple aesthetic overhaul. During the comprehensive rebuild, a transmission swap was performed for better urban gearing. To freshen things up internally they installed new seals and gaskets and gave the bikes drive shaft a complete overhaul.
As for power, they've bumped the output to well above the factory 100hp rating. This was done by deleting the airbox and installing velocity stacks, retrofitting shortened K100 headers and mounting a Twisted Brothers Tig Welded Stainless Steel Muffler. The new exhaust system features hidden O2 sensor hardware for a clean finish and exits under the belly of the bike where the centre stand previously sat. Everything was of course re-installed using top quality stainless fasteners.
"Deleting the airbox opened previously covered portions of the bike's frame and accentuates the 41mm billet aluminium velocity stacks," Anthony points out. "The visual weight of the bike was transferred down to the iconic 'Flying Brick' engine, a signature of the K-bike line."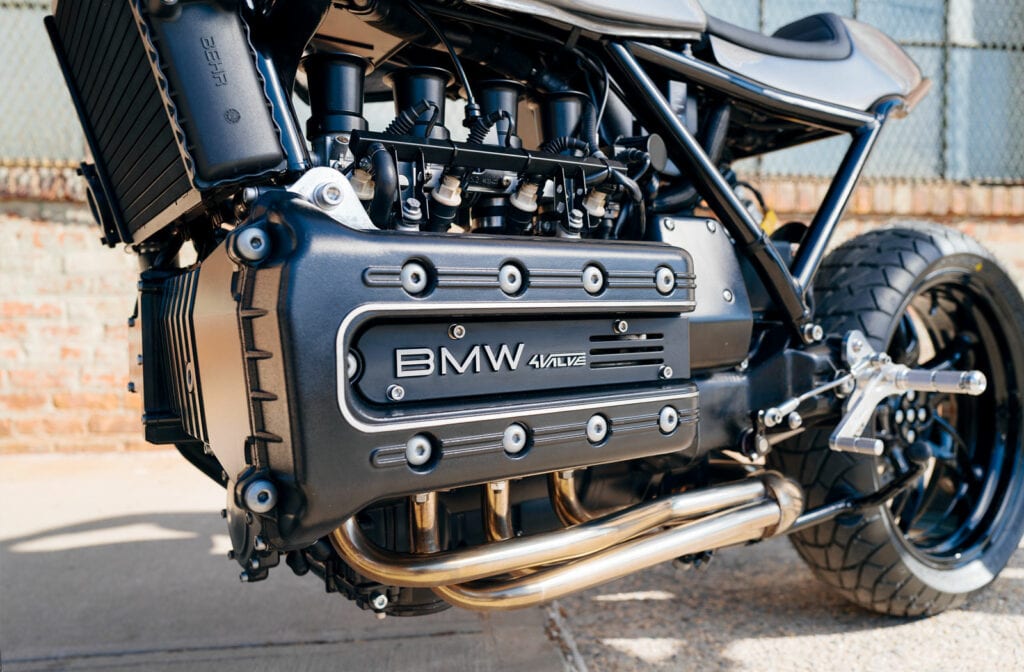 Any increase in power should always be accompanied by improvements to handling and brakes and HellGate Moto hasn't cut any corners here.
Taking pride of place on the rear end is an Öhlins Type 4 Rear Shock with External Piggy-Back Reservoir. It offers complete adjustability via a remote hydraulic spring pre-loader which sits in a custom bracket mounted to the frame. A key element of this build for Anthony was retaining the original front end for a period-correct appearance. So to ensure they were up to the task the K1100 LT forks were fully rebuilt. For a clean finish, the forks sit in a machined billet top clamp that's been anodised black and fitted with a flush-mounted Motogadget Motoscope Mini digital gauge.
For improved braking performance the bike is running EBC pads and cross-drilled rotors. The lines are all custom made stainless Venhill items and the callipers and master cylinder have all been meticulously rebuilt. As for the wheel and tire package, the bike now wears matching 17-inch rims lifted from a K1100 RS. The rebuilt rims are wrapped in aggressive looking Bridgestone Battlax AdventureCross Scrambler AX41S rubber.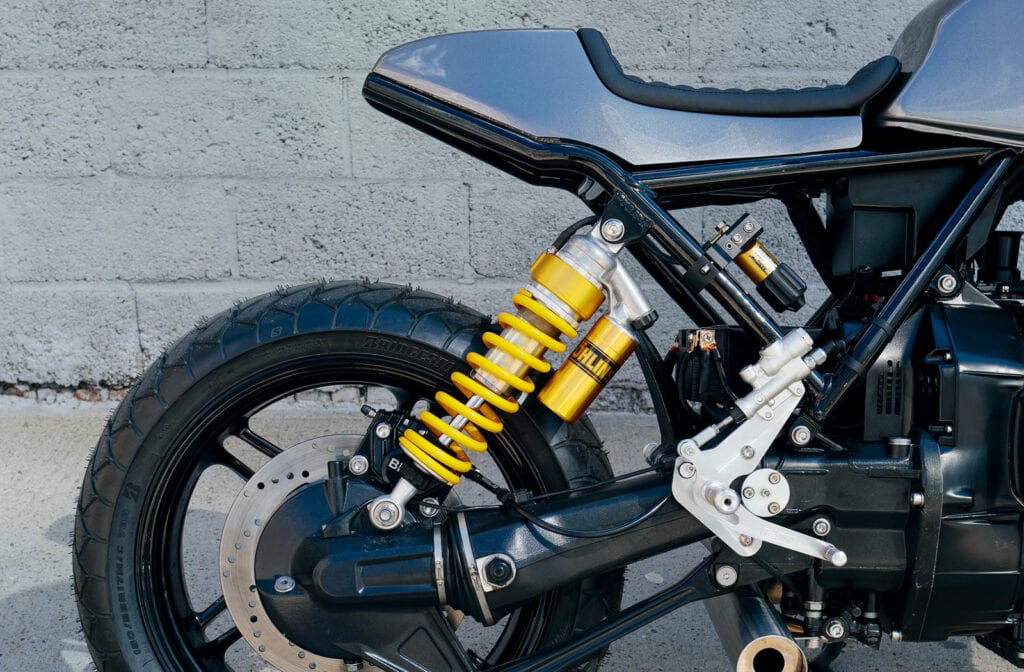 Transforming a K1100 LT tourer into a naked cafe racer meant replacing most of the bike's standard bodywork. The best-looking part of the whole K1100 package is without question the fuel tank, which is why Anthony chose to retain it. To complement the angular lines of the tank he's installed a Twisted Brothers fibreglass tail unit and black leather seat. A 3D printed rear fender protects the battery from road grime and the tank wears a power brick pin-lock alloy cap.
At the front end the behemoth touring plastics have been replaced by a svelte fender finished in satin black and the headlight is a Motodemic 7 inch low-profile unit. To finish the revised bodywork off Anthony picked out a suitably stylish paint colour and had it applied by Alex of Coach Autobody in Syosset.
"The fuel tank and rear fairing are finished in a Tungsten Silver Metallic. The paint was Borrowed from an Aston Martin Vantage," he says. "It's a dynamic silver grey with ample metal flake that appears deep grey in low light and true silver in bright light environments. The paint accents the lines of both the fairing and fuel tank in all light conditions."
"Not one nut or washer was overlooked," says Anthony, and it's clear he means what he says looking over the rest of this bike's extensive build sheet.
The revised riding position has been set up using a combination of BSK SpeedWorks rear sets and Vortex 7 Degree clip-on handlebars. The bars wear rebuilt factory controls, Motogadget m.View Spy glassless mirrors, diamond pattern grips and Rizoma Sguardo LED bar-end turn signals. Motogadget also supplied a Motosign Mini LED indicator light array for the dash. Rear end lighting is managed by a single LED strip that performs brake, running and turn signal duties.
As far as making your mark on a scene goes, HellGate Moto has done just that with this top-notch build. If you live in NYC and have been yearning to own a custom BMW we'd suggest you pay them a visit.