Last week we featured a very tidy BMW K1100 LT cafe racer by Anthony LoGalbo of New York based workshop HellGate Moto. Today we're looking at another Bavarian cafe racer build belonging to Anthony's good friend and HellGate Moto business partner Nick Rovello.
Similar to Anthony's K1100 LT this bike, a '91 BMW K75S, is Nick's personal ride. Completed during the 2020 NY COVID lockdowns it started out as a basic custom overhaul but as the lockdown escalated so did the complexity of this project.
This BMW K75S is Nick's first comprehensive custom build. While working as a shop foreman at a BMW dealer in Queens NY he and a friend visited another of New York's custom workshops. It was then that he realised he was more than capable of doing similar work himself. One thing led to another and soon a garage space was rented and HellGate Moto was formed.
"I acquired the bike from a seller in Connecticut who has an eBay store that does quick flips," recalls Nick. "We trailered the bike back to NY and started the teardown that same day."
During the teardown, Nick came up with a concept for how the finished bike would look. "BMW Motorrad designed the K series to be a touring bike with extra storage and added fairings for additional comfort at speed," he says. "Since the goal was to create a sportier more spirited riding experience a lot of the performance improvement came from weight reduction."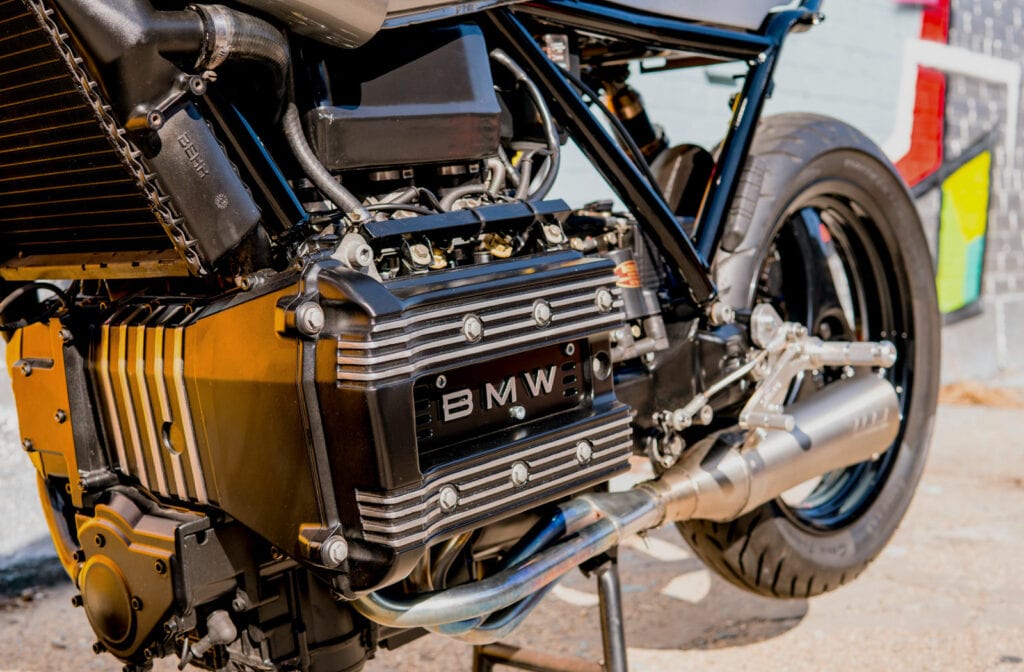 To achieve the sportier aesthetic he was after Nick had has tightened the K75's proportions. After some research, he settled on a Twisted Brothers seat and tail unit. To fit the new tail he cut away the factory subframe and enlisted the help of his friend Dean Schantz a local gym equipment fabricator going by the name of Black Widow Training Gear. Together they shaped a new rear loop that mirrored the lines of the Twisted Brothers tail unit. The rest of the frame was also cleaned to remove any unwanted brackets and machined smooth.
"After scrubbing the engine and driveline we built a paint booth and repainted the entire engine, transmission and final drive. At this point, all the basic maintenance was performed on the bike since there was nothing in the way." This stage also involved some minor improvements in engine performance. Internally everything remains untouched, but the exhaust has been freed up by installing a Supertrapp 443-1717 Stainless Steel Muffler.
As for the front end of his K75S cafe racer, Nick set his sights on fitting a half fairing akin to those seen on classic BMW airheads and Ducatis. He found the solution in Europe at retro composite bodywork supplier Motoforza Fairings. Fitting the fairing to the BMW K75S proved challenging, but once Nick had it sitting right he was able to fabricate the bespoke support bracket which secures it to the frame.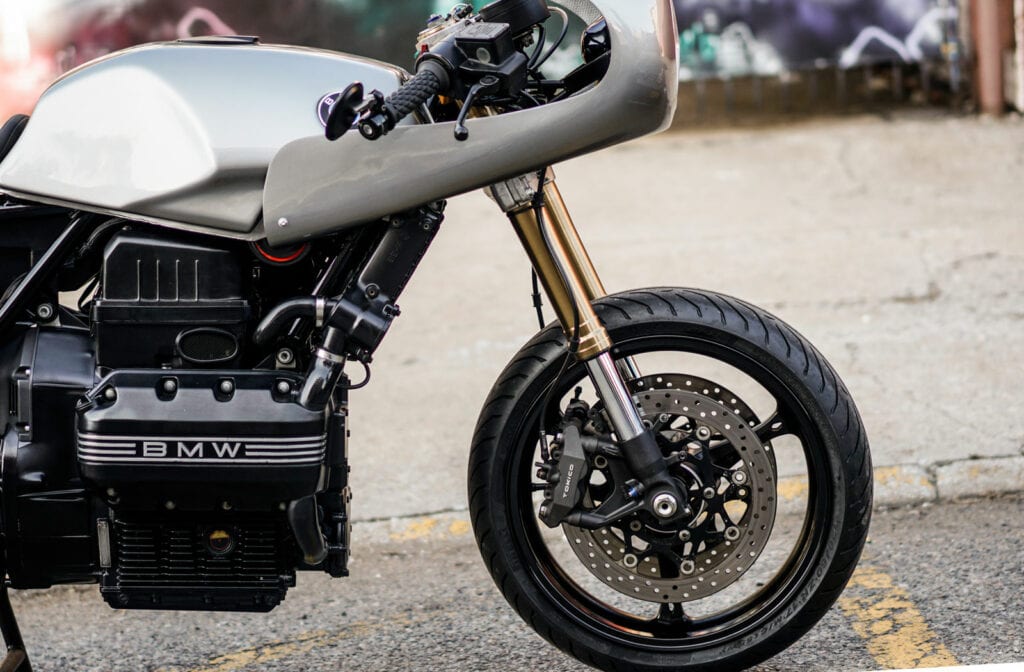 Content with how things were looking aesthetically, Nick turned his attention to handling improvements. "The outdated suspension has been replaced with modern upgrades and controls creating a sport-oriented riding experience with the grip and predictability required to fully trust your machine," he says.
The bikes new front end is a rebuilt '07 Suzuki GSX-R 750 assembly. Nick fit it to the bike using Cognito Moto fork conversion components including a new steering stem and billet top clamp. Sitting between the forks is a 17 inch GSX-R 3 spoke rim that matches both the look and diameter of the K75 rear wheel. To round out the suspension upgrades a Progressive 465 mono-shock replaces the original K75S item and each wheel has also been wrapped in performance-focused Pirelli Angel GT2 rubber.
The K75S riding position has also been suitably revised. A set of GSX-R clip ons are clamped to the fork legs and they're wearing Morimoto bar-end turn signals and CRG lane splitter mirrors. The mid-mounted foot controls are gone in favour of rear set BSK units that feature an integrated Brembo Rear Master Cylinder and reservoir. As you'd expect the rest of the brakes have been hopped up too. The front end uses the GSX-R discs, 4 piston Tokiko callipers and a BMW K1100RS master to set things up everything set up correctly. Venhill braided brake lines and EBC brake pads complete the package.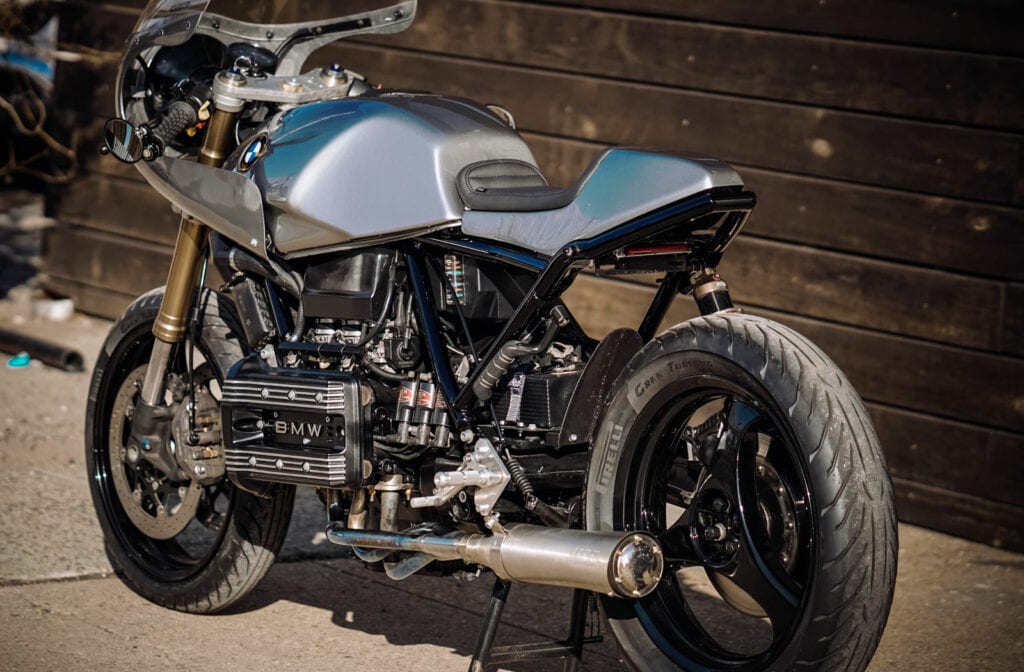 "Once all the fairing work was finished and the bike was mocked up and proven to be reliable it was torn down for paint and final bodywork," says Nick.  "The panels are finished in BMW Donnington grey metallic and the frame in gloss black." During this phase of the build, Nick also freshened up the BMW's faded plastics using a Cerakote treatment.
"With each part I pulled off the BMW K75S I found upgraded replacements or fabricated custom parts to enhance the performance and aesthetics of the bike," says Nick. Other modifications to note include the move to a lightweight UA Shorai lithium battery housed in a handmade carbon fibre box. The rear fender is a 3D printed item designed by HellGate Moto and rear end lighting consists of an LED brake light strip and Motogadget m.Blaze turn signals. Mounted behind the perspex windscreen is a Tenet Café Racer Instrument Cluster and it's hooked up to a Tenet Control Box and modified wiring loom.
Nick now says that "The bike rides 100% different compared to stock. It's more planted in the corners and the exhaust tone is fantastic. The overall riding position is more aggressive and really gives you a different experience as compared to the more upright touring posture of the stock BMW K75S."
Taking a touch over a year to complete Nick says things drew out a bit due to extended shipping times during the lockdowns. The result however was definitely worth the wait and we're looking forward to seeing what Nick and Anthony have in store for us next.
Photography by Kal Dellaportas & George Katechis