Although the 1978 Z1 successor didn't live up to Kawasaki's expectations in showrooms, the Z1-R is an iconic motorcycle and an intriguing machine to behold from any angle.
After my recent feature on the Doremi Collection Kawasaki Z900RS heritage body kits, I found myself tumbling down a Z1-R-shaped rabbit hole. As I doomscrolled through countless pages of Z1-R photos online I stumbled across a bike that stood out from the rest. I recalled seeing this same Z1-R a while back when I installed a Nitron NTR R2 rear shock on a Z900RS. At the time I never bothered to research it any further because my first thought was that it was just a tatted up resto-mod. After digging deeper I now know that this custom Kawasaki Z1-R is a cut above the rest.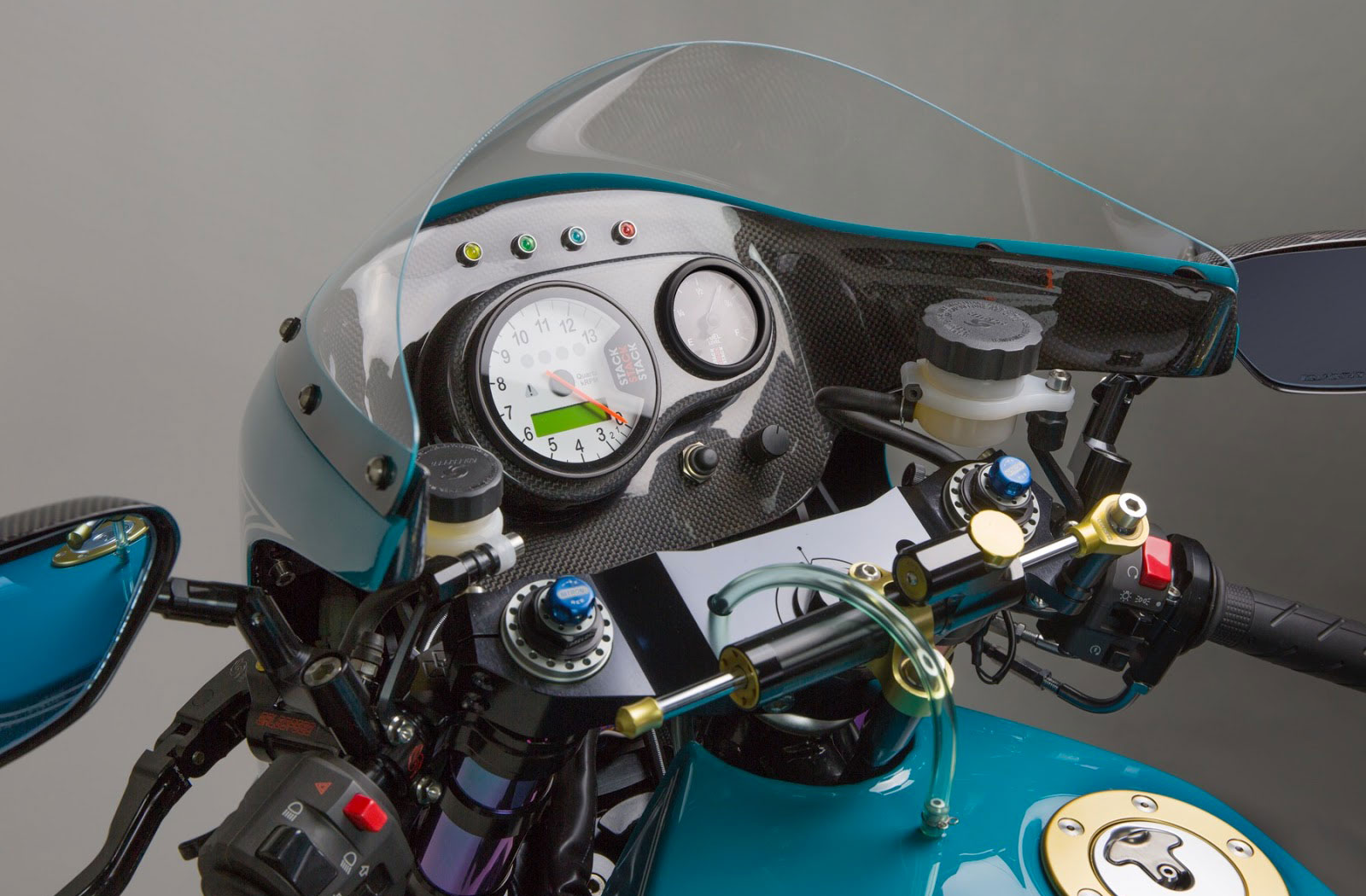 This Kawasaki Z1-R was built through a collaboration between UK suspension experts Nitron and the Japanese workshop Bull Dock. Christened the 1230R GT-M it is by far one of the coolest marketing exercises I've ever come across.
Bull Dock is located around 1.5 hours north of Tokyo. The workshop is owned and operated by ex-engineer Masashuiko Waiku who launched the brand in 2001. His workshop specialises in motorcycle customisation, repair, tuning and restoration and it is one of the largest workshops of its kind in Japan.
Masashuiko's approach to motorcycle customisation is to build "an engine that can be ridden comfortably for a long time" but it's not just finely tuned engines that are his focus. Upon request Bull Dock will rebuild an entire motorcycle from the ground up, modifying the frame, altering the bodywork and increasing performance to achieve the best possible result. They call these motorcycles GT-M which is short for 'Genuine Tuning Machine' and their favourite subject for such a transformation is a classic Z series Kawasaki.
The 1230R GT-M project began when Nitron's Japan office approached Bull Dock about creating a motorcycle that showcased their products. Recognising Nitron's dedication to the motorsport industry Masashuiko hatched a plan to build a motorcycle that would be capable of dominating both the street and the track. As for the donor, they agreed it should be a motorcycle of significant importance and eye-catching. Kawasaki's 1978 Z1-R was the perfect candidate.
After a suitable donor was sourced the bike was completely torn down so the GT-M process could begin.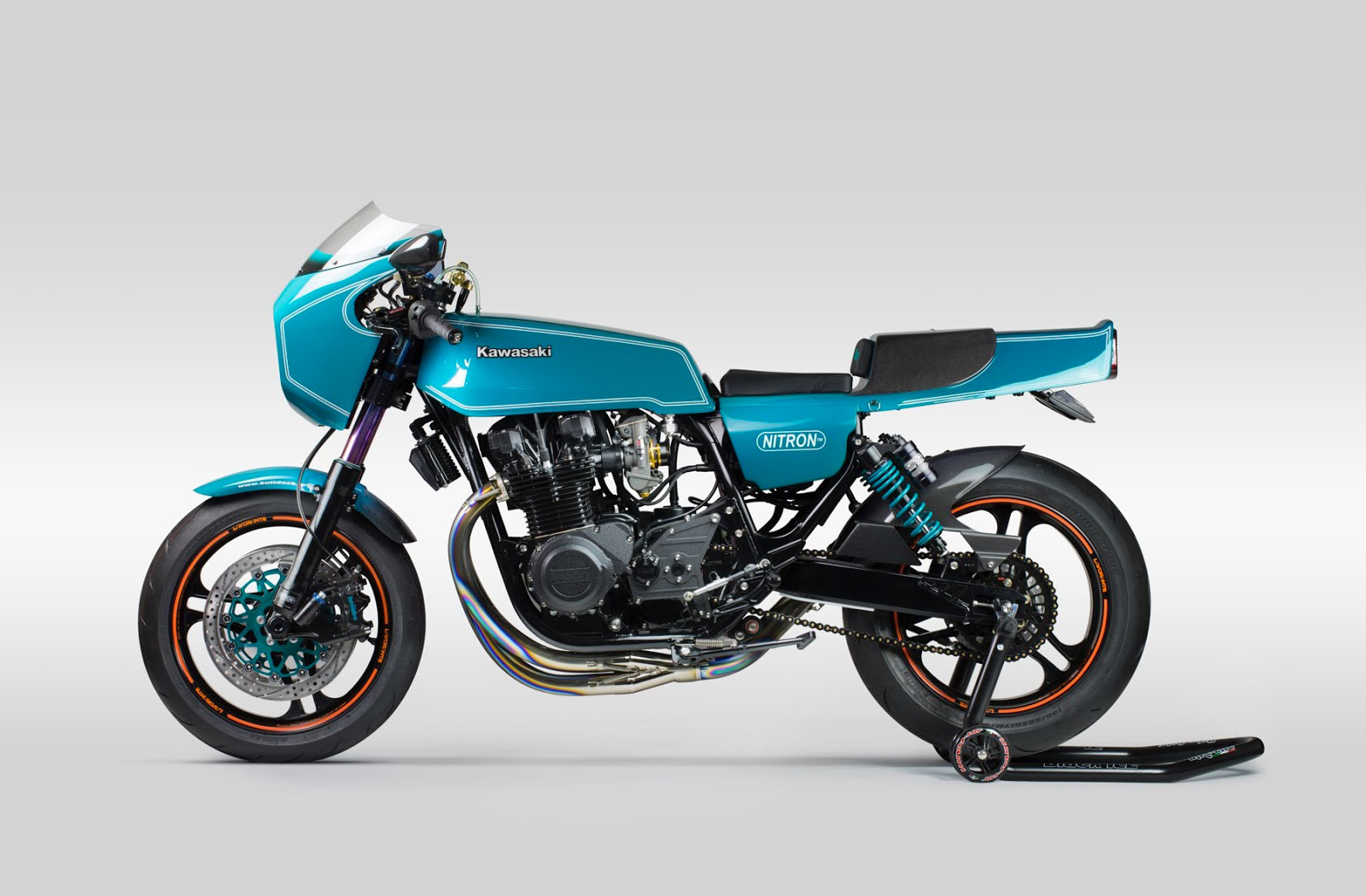 Starting with the bike's chassis Bull Dock uses its own jigs to re-engineer each frame. After checking for any distortion a dummy engine is installed into the chassis prior to any welding taking place.
Once satisfied this bike's frame was true its underwent significant modification. This Z1-R frame now features a raft of gussets and reinforcements to stiffen things up. The subframe has also been heavily revised and the swingarm axle modified to accept a wider and 15mm longer boxed aluminium unit. After the modifications had been made the frame was sealed and wrapped in a carbon fibre film.
Next came the all-new suspension, brake and wheel package. Under Nitron's guidance, the Z1-R was fitted with a set of conventional 43mm black chrome forks with specially tuned Nitron internals. In the rear are a pair of range-topping Nitron NTR R3 piggyback shocks which sit in adjustable brackets that allow the handling of the bike to be adjusted to suit the occasion. For stopping power Bull Dock went with a complete Brembo system with twin radial callipers at the front. The drilled disks are floating units and all the fluids run through braided hoses. The use of premium handling components didn't stop there. For the wheels, Masashuiko opted for twin 17-inch carbon fibre racing hoops by Lavorante. Along with looking the part, the carbon rims shed both overall weight and unsprung mass which are sure fire ways to upgrade performance.
From the factory, the Kawasaki Z1-R was powered by a 1015cc inline-four adopted from the Z1000. It produced 94hp and 63Nm of torque. Those numbers may look small compared to today's sport bikes but the Z1-R was by no means a slouch. Twisting the throttle wide open and smashing through the 5 speed gear box would see you completing a 1/4 mile pass in a shade under 12 seconds and if you kept it pinned you'd eventually reach 136mph (220km) on the speedo. But once again Nitron and Bull Dock knew they could do better.
This bike's engine is a carefully curated cocktail of high-performance tweaks and components. Internally you'll find a GPZX head fitted with larger valves. The valves themselves and the springs are titanium and the intake and exhaust ports have all been polished. The stock cams have been replaced by race performance alternatives and the pistons are JE domed items. The cylinders have been bored as well, up to a capacity of 1203cc, hence the bike's name.
Fuel is delivered to the engine by a quartet of Mikuni TMR carbs wearing velocity stacks. There's a multifunction computer onboard that manages the whole setup and a dual ignition system. For improved gearing, the original 5-speed box has been swapped for a 6-speed system and it's operated by a quick shifter and performance clutch. Keeping the whole system cool is a higher capacity trochoid oil pump and there's a larger oil cooler sitting behind the front end. To complete the engine package in style Bull Dock opted for a full titanium 4-into-1 system by Win McCoy.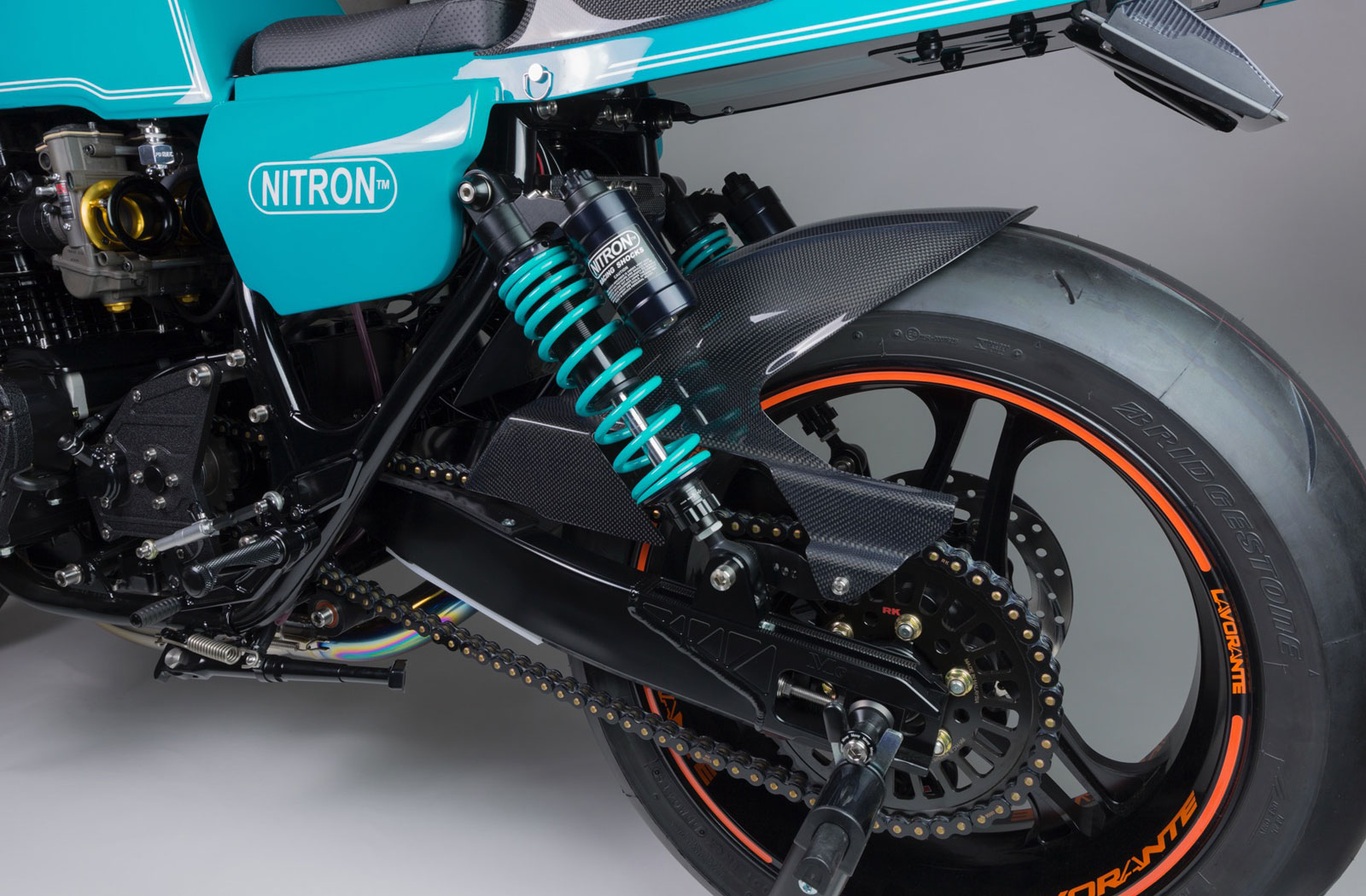 Although it bears a close resemblance to the Z1-R factory bodywork, everything on this bike is bespoke. For the fuel tank Bull Dock hand-built a lightweight aluminium replica of Kawasaki's original design. The weight-saving theme continued with the creation of a monocoque FRP tail, seat and side cover assembly. Both the front and rear fenders have been formed from carbon fibre as is the cockpit surround that houses a Stack ST 200 Clubman Tachometer, fuel gauge and warning light array.
Originally the Z1-R was finished in a metallic silver blue but the 1203R GT-M is much more eye-catching in Nitron turquoise blue/green with white pinstripes, decals and badges.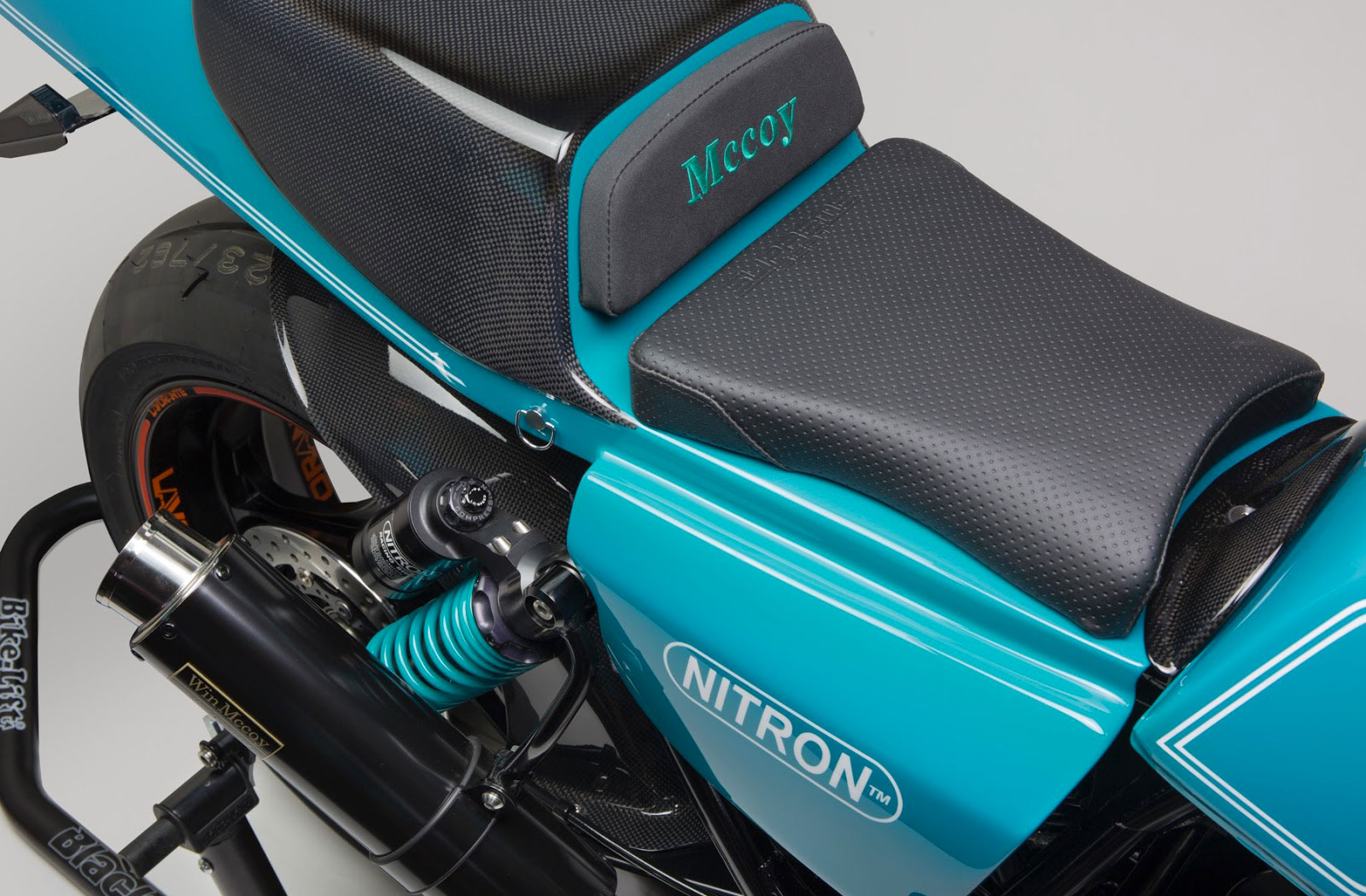 Finally came all of the finishing touches and the list is too long to catalogue in its entirety. Some highlights include machined alloy rear sets, clip-on handlebars, Galespeed master cylinders, switch blocks from a modern Kawasaki, a steering damper and a custom machined top clamp.
The finished result of Bull Dock's exhaustive work with this Kawasaki Z1-R is nothing short of amazing. The Nitron 1203R GT-M weighs a mere 190kg, down from 238kg, and its engine produces a very respectable 150hp. Combine those numbers with the benefits of premium Nitron suspension, Brembo brakes and those  sweet carbon wheels and you've got a classic Kwaka that could easily  put many modern sports bikes to shame.
NITRON SUSPENSION  /  BULL DOCK JAPAN