Back in 2006 one of the first motorcycles that really got me excited about the custom scene was a Yamaha SR400 built by Sydney's Deus Ex Machina. At the time I had no idea that its creation was heavily influenced by what was going on over in Japan. But that bike sparked an obsession that eventually lead to me discovering a thriving world of custom motorcycles in the land of the rising sun, and the SR400 was its frontman.
In the cubic inch obsessed west, the Yamaha SR400 wasn't a motorcycle that would get many hearts racing. Its 400cc single-cylinder engine produced a modest 32bhp and it would top out just shy of the ton at 91mph. During its 43-year production run, there were few changes to its technological features and the same goes for its styling. Considered a small or learner's motorcycle by most the SR simply didn't offer the street cred many western riders yearned for. Over in Japan, however, the SR's reputation was distinctly different.
Similar to how Honda popularised their motorcycles in the US with the "You meet the nicest people on a Honda" slogan, Yamaha enticed young Japanese riders to the SR400 platform with an "easy to use" ethos. The SR was an affordable, no-fuss and timelessly cool motorcycle that offered freedom to generations of Japanese youth. Unsurprisingly in a country where style and fashion are of great importance to youth social status, it wasn't long before they started modifying the SR.
So popular was Yamaha's SR400 that it spawned a huge aftermarket industry that offered infinite customisation possibilities. The SR's behemoth fan base also led to the formation of custom workshops that specialised exclusively in SR modification, many of which still operate today.
Although I've never ventured into the world of SR400 ownership (despite considering it many times), my interest in the iconic little 'thumper' hasn't waned. I've featured many a custom Yamaha SR400 over the years and I'm often trawling the internet and social media in search of my next SR fix; as it happens, that's precisely how I stumbled upon this little gem from Japanese SR400 enthusiast, Makato Endo – otherwise known as Mac.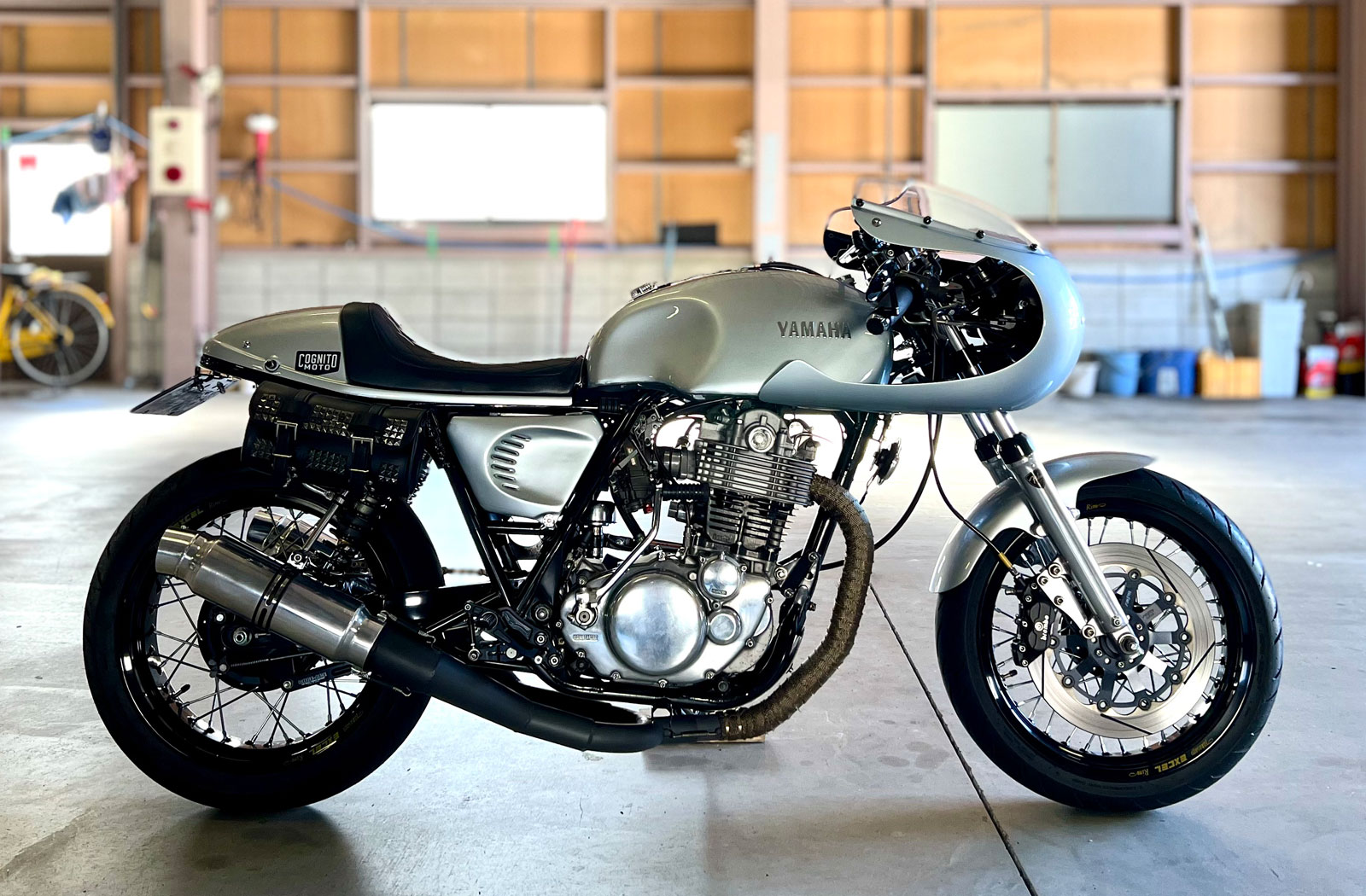 "It's been 23 years since I became the owner of this vehicle," says Mac, but this latest iteration of his beloved '96 Yamaha SR400 was realised during the past 7 months. "I've been warming up my ideas for the bike for several years. I was looking at something close to the ideal cafe racer by researching what was happening overseas on the internet."
Mac's vision for his SR400 was to create a neo-cafe racer. He'd already completed several of the modifications to get it there, but he was chasing something entirely unique. Styling would be the customary cafe racer affair but many of the individual components were destined to be replaced by modern alternatives. The process began with a few sketches and a list of must-have parts which he took to local SR aficionados, Flakes Customcycles.
At the heart of the transformation is an aluminium BSA Brooklands replica tank that sits level on the frame. Adding to the classic aesthetic, the tank is perched on frame-mounted ribbed tank rubbers and held secure by a chrome tank strap. To complete the look there's even a retro Pingel petcock delivering fuel to the engine.
Heading northward you'll find a Peyton Place half cowl that gives Mac's SR a classic racer vibe, and sitting over the front wheel is a modified Yamaha XJR fender. Mounted behind the tank is a Motoko tail unit made from FRP and a diamond-stitched leather saddle. The bike's registration plate doubles as the rear fender and it sits on a custom-made tail tidy assembly. Completing the classic racer bodywork is a set of Imola-style side covers by Japanese aftermarket supplier, Posh.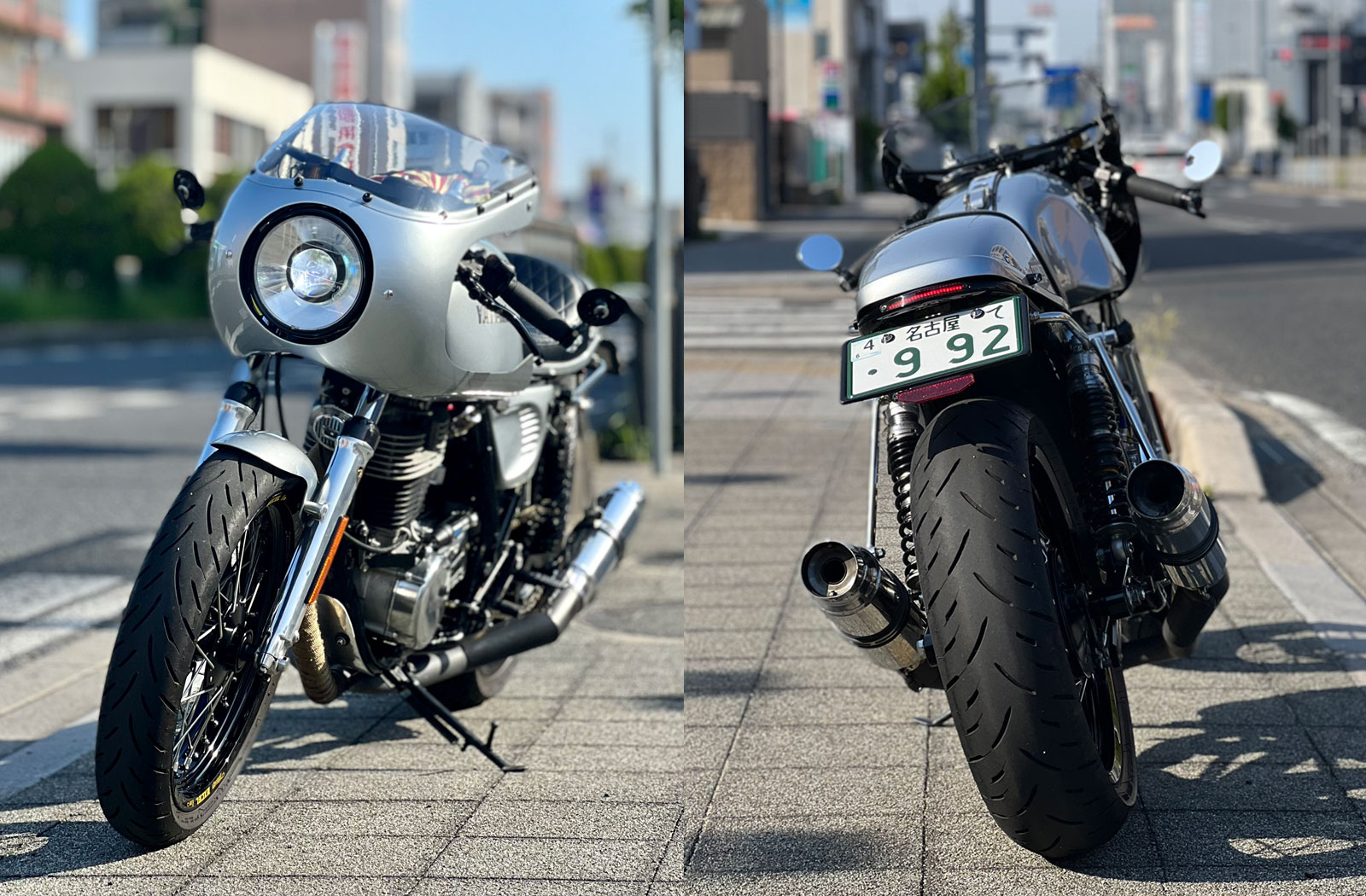 For the lighting, Mac went with a decidedly modern arrangement. Starting with the headlight it's a Cognito Moto Clubman 6.5-inch LED projector. Despite its non-traditional appearance, it looks right at home amongst the retro bodywork. To keep things clean, the front-end turn signals were relocated to the bar ends using Motogadget's M-Disc indicators. In the rear, signalling duties are carried out by tiny Motogadget M.Blaze pins and the brake light is a flush-mounted tail loop LED strip.
The new handlebars are a set of Battle Factory clip ons and along with the turn signals they are sporting Motogadget M.View bar end mirrors and Biltwell grips. Between them sits a custom dashboard assembly designed and built by the Flakes team. It sits neatly beneath the perspex windscreen and houses a large Cognito Moto GPS Multimeter. To the right sits a Motogadget Motoscope Mini digital speedometer while on the left are the warning lights. The missing ignition barrel can now be found beside the lefthand side cover. To complete the revised riding position the stock pegs have been swapped out with Bore-Ace BBS1016 rear sets.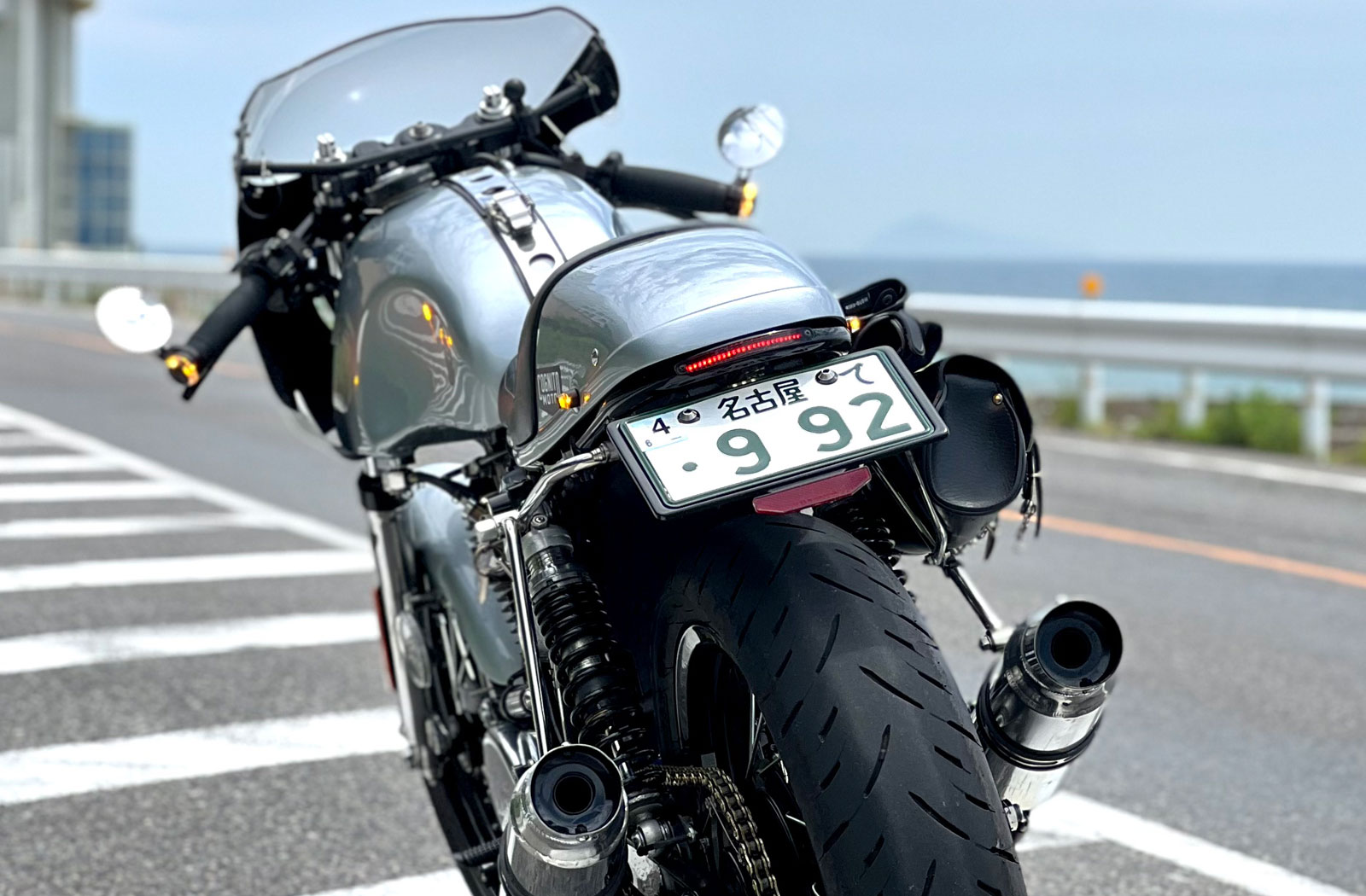 Wanting his SR400 to not just appear like a race bike – Mac has gone all out with handling upgrades. Starting with the suspension you'll find WP performance internals hidden within the original shocks. For ease of adjustment, the forks are capped with Posh preload adjusters. The rear-end suspension is all new boasting a pair of range-topping, fully adjustable Nitron NTR R3 piggyback shocks (added after this photoshoot) in a sleek stealth black finish. Up top, they secure the original frame mounts while down below they are bolted to a lightweight, 30mm longer Craftsman alloy swingarm.
Leaving no stone unturned Mac had Flakes fit the Yamaha with a new wheel and brake package too. Both wheels consist of Excel rims wrapped in high-performance Dunlop Sportmax GPR300 rubber. The rear wheel is laced to the original hub while up front there's an Antlion billet hub to help reduce unsprung weight. The more than capable front-end brake package consists of a Brembo 4-pot calliper on a 320mm slotted Sunstar disc.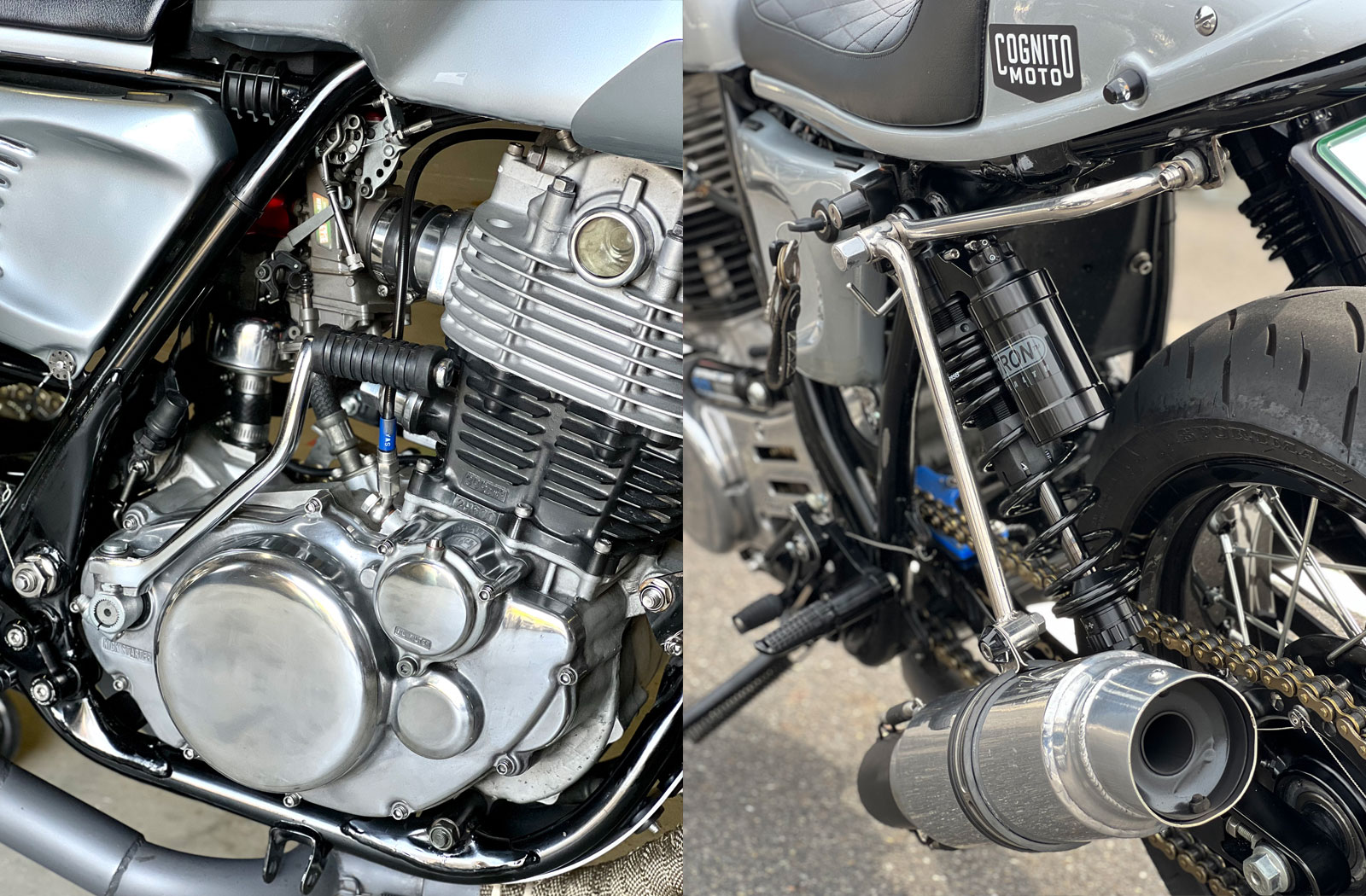 To wrap things up Mac and the Flakes team put their heads together to come up with some suitable power improvements for the engine. Internally the thumper is running an SR500 crank that lengthens the stroke. Working in conjunction with the larger crank is a 90mm SOHC Engineering lightweight piston and together they increase the capacity of the engine to around 500cc. To feed the hungrier cylinder the stock carb has been swapped out with a Yoshimura Keihin FCR-MJN39 Carburetor wearing a K&N filter.
Of all the excellent mods made to this SR400 cafe racer, the crowning achievement would have to be the exhaust. Twin pipes on an SR are a rarity and this bike's 1-into-2 system is inspired. To make it possible Flakes built the headers from scratch before fitting the ends with Over Racing Type 2 mufflers. Each muffler hangs from custom made round bar supports anchored to the rear shock mounts.
Unfortunately, Yamaha ceased production of the SR400 in 2021. Despite this, enthusiasts like Mac and his SR400 cafe racer will ensure that the little thumpers' popularity continues well into the next decade. Infact I wouldn't be surprised if secondhand examples start going up in value in the next 5 years…maybe it's time I jumped on the SR400 wagon too?