While Yamaha has previously focused on customising bikes from their Sports Heritage range during the Yardbuilt series, Faster Sons will utilise "modern" motorcycles from their range such as the MT series. The aim of the new series is to take motorcycles that utilise the latest technology and perfectly blend them with a timeless, vintage style that pays tribute to Yamaha's production motorcycles of the past. 


Shinya's MT07 is primarily an aesthetic modification with the 700cc, liquid cooled twin engine, suspension and brakes all remaining stock. "I thought that someone who really loved motorbikes made this engine. Not only do the numbers show its efficiency, but also the feeling of the engine, the way it spins up and the sound it makes appeals to all the biker's senses."
Shinya's Faster Son is his own recipe of modern-day technology meets retro styling. "To me the XS1 and XS650 are very symbolic, they represent Yamaha's design philosophy, they are bikes that never look dated, and continue to look beautiful in everyone's eyes. I was aiming to create a line for this bike that flows. A harmony, just like the XS1."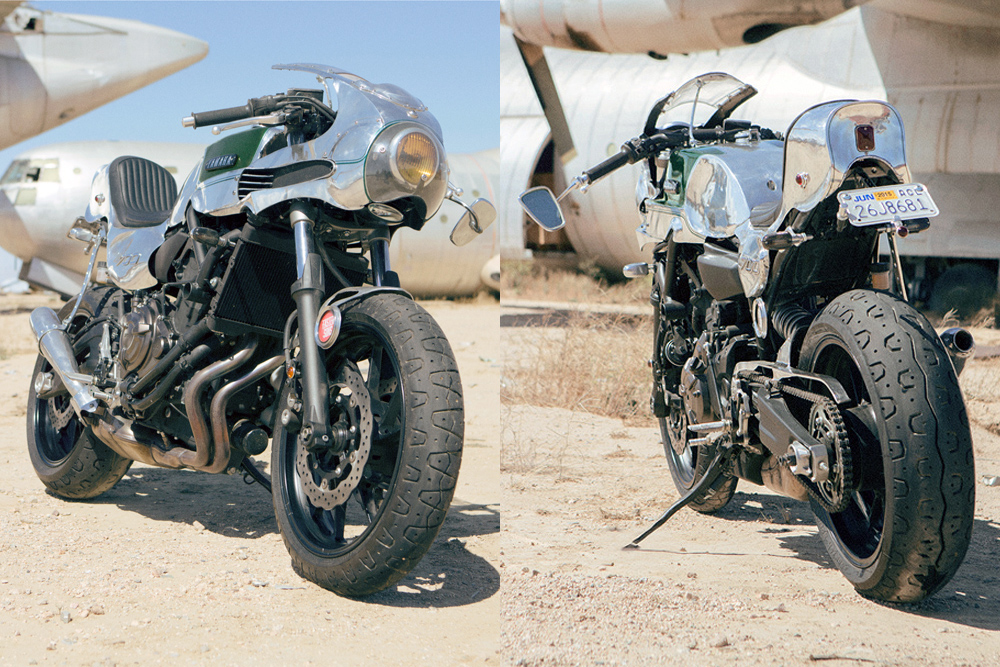 The Faster Son wears Shinya's signature hand formed alloy bodywork and is held together using pop rivets like those you'd find on vintage fighter planes. Finned ducts feed air into the bikes intake and the half-fairings perspex dome helps minimise drag around the bikes headlight. Under the windscreen you'll find the bikes original digital instrument cluster along with a custom FS key forged from bronze and, as a final nod to those classic Yamaha's he loved so much, the Faster Son wears a green paint scheme reminiscent of Yamaha's XS1.
I've been a big fan of the Yardbuilt series so far and the Faster Sons series is gearing up to be just as impressive. The only problem they'll have to face now is finding a builder who can follow up Shinya's impressive first act.
Wheels &amp; Waves has quickly become one of the best custom motorcycle events happening around the globe and it's captured the attention and imagination of some of the world's top motorcycle manufacturers. Unveilings seem to have become all the rage and this year there was a record number of new commissioned custom builds on display. Ducati had some new custom <a href="https://www.returnofthecaferacers.com/2015/06/holographic-hammer-ducati-scrambler.html" target="_blank" rel="noopener">Scramblers</a>, BMW their latest <a href="https://www.returnofthecaferacers.com/2015/05/bmw-r9t-heinrich-maneuver-executed-in.html" target="_blank" rel="noopener">R Nine T</a> builds and Yamaha were there to introduce their new custom series titled 'Faster Sons'; and what better way to do it than with legendary custom builder, <a href="https://www.returnofthecaferacers.com/lifestyle-motorcycle-cafe-racer/interview-with-shinya-kimura/?w3tc_note=pgcache_purge_post">Shinya Kimura</a>.