As anyone starting up a new company should do the pair decided to launch their brand with a bang. So, using the knowledge gained from years of racing they set their sights on competing in the Glemseck 101 1/8th mile drags.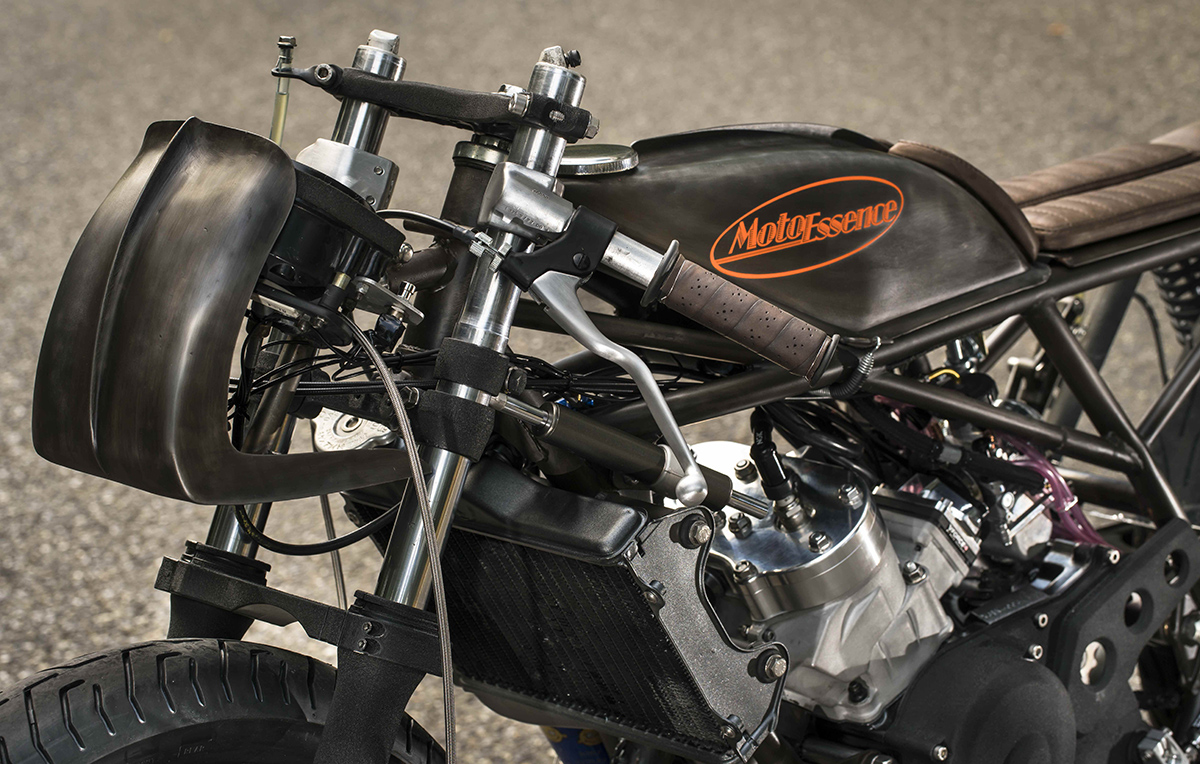 "I called Glemseck101 organiser Jörg Litzenburger in order to get some information about the 1/8mile races in the beginning of Sept." recalls Havana. "We'd thought of building a lightweight big-bore CB550 for the sprints. Jörg, however, stated that these races were for amateurs and he considered us professionals".
Not wanting to step on any toes the boys agreed to instead take part in the 'Essenza' class, a new category designed for professional builders and manufacturer teams. With 16 bikes entered into the category, 11 of which were factory teams (BMW, Triumph, Ducati, etc), the Essenza class was governed by a simple set of rules; nothing bigger than 1200cc, only 2 cylinders and no dragsters. And so the Yamaha RD350 Faucon project was born.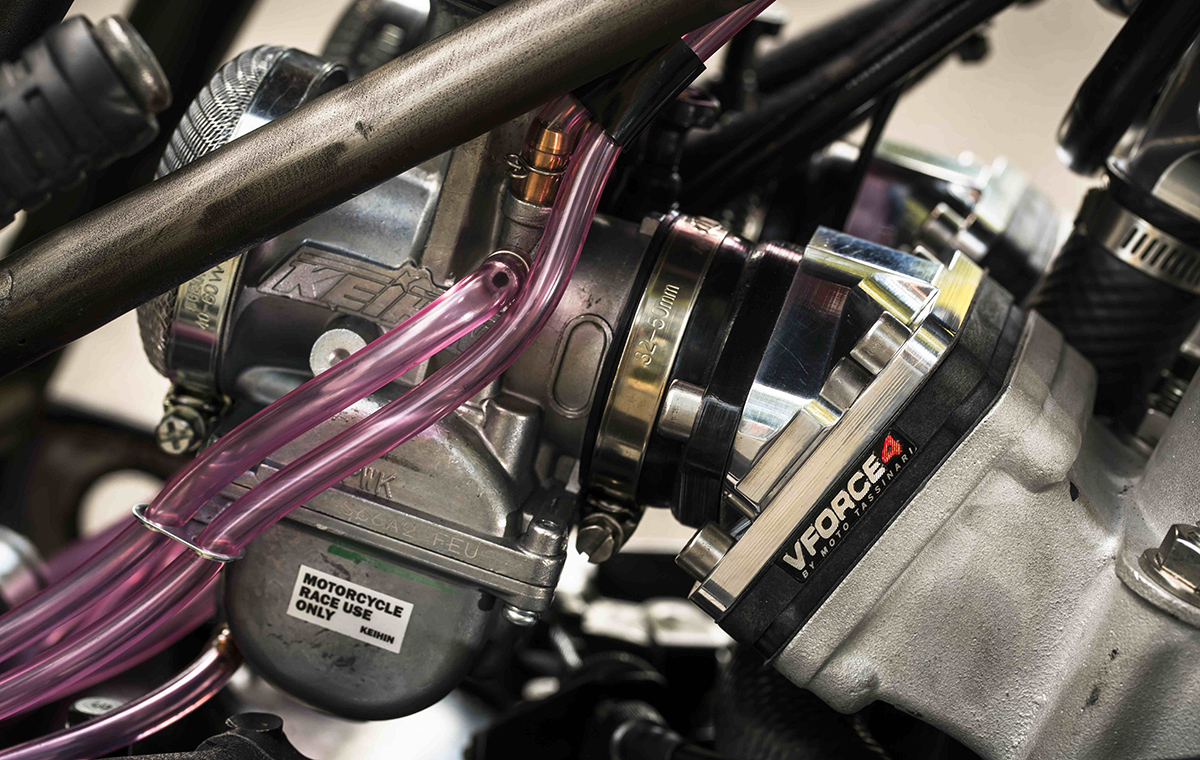 "All our builds are named after animals," Havana explains "and one animal suited this bike like nothing else: Extremely lightweight and extraordinarily fast – the falcon."
The goal was to source an outstanding frame, build a high powered motor and reduce weight to the bare minimum without the use of plastics, CNC parts or resin covered composites. Havana and Dominik wanted to create a motorcycle that was the "antipode" of your average show bike, a completely purpose built race machine devoid of polish and built with one goal in mind, to win races.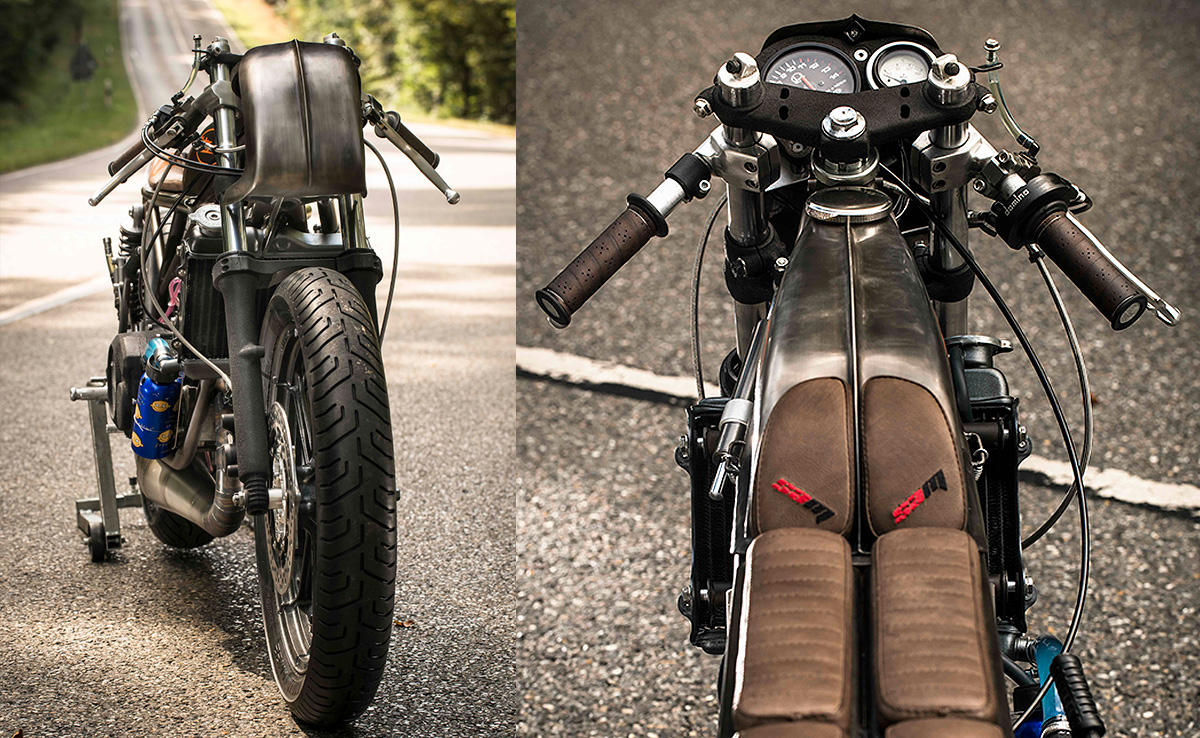 "Building a motorcycle with 90hp and 100kgs brings the major part of design necessities with it."
After several months of searching, the chassis for the build was found in the form of a Parenti GP frame from the mid-'70s. Bodywork was kept to a bare minimum with a repurposed fender forming the front cowl and seat pan and a custom made fuel tank, sized appropriately for the bikes sole purpose. During the search for the frame, the boys also sourced a cocktail of performance parts for getting the most out of their Yamaha RD350 YPVS engine. Not having anything to compare their design to everything was theoretical leaving them very little time to iron out any bugs.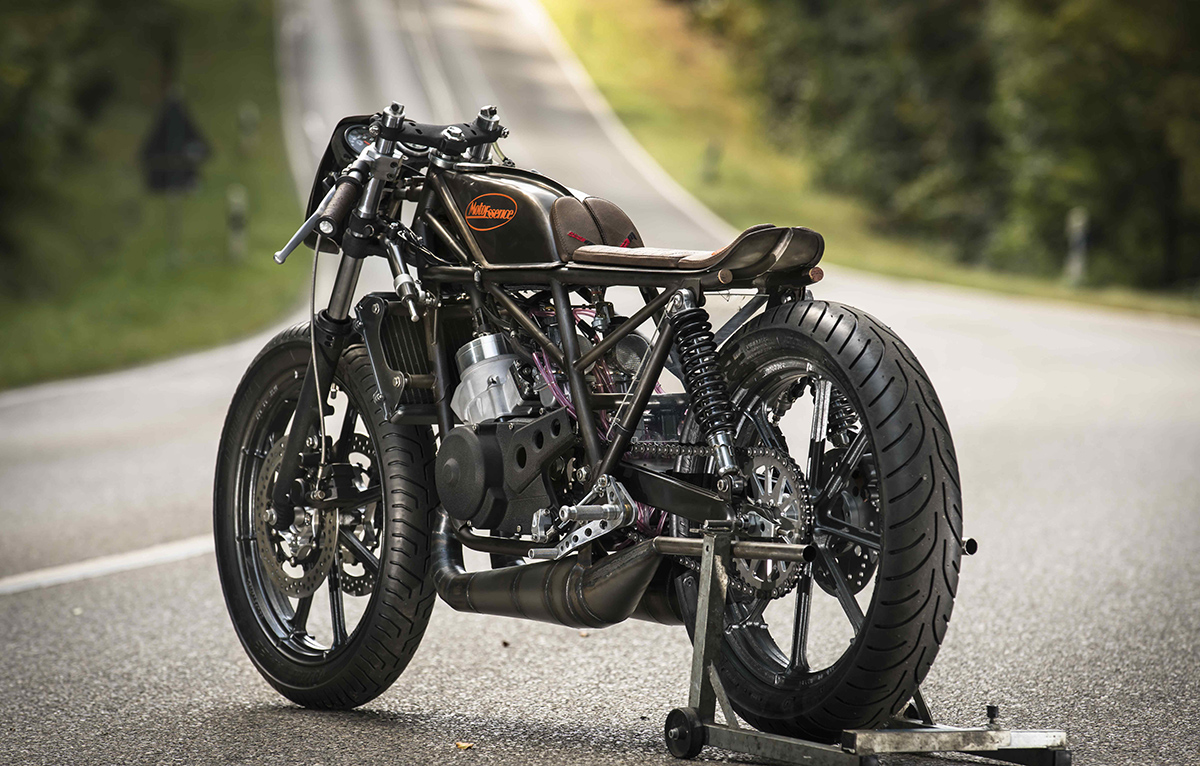 Once the frame and all the parts arrived building the Faucon took a mere 8 weeks to complete. For suspension, they repurposed parts from the donor RD350. A set of mag rims (donor bike unknown) wrapped in Avon rubber had the frame rolling again and a basic seat was upholstered by their friend Sam in Munich.
To boost power figures the engine was rebuilt using customised CPI cylinders that up its capacity to 420cc. High-performance Wiseco pistons and rods, a hotrod crank and 38mm Keihin Air Striker carbs then work in harmony to generate a respectable 90bhp out of the 2 stroke twin. To prevent catastrophic starting line failures the bike also runs a reinforced clutch and a quick shifter allows split second gear changes. Everything else on the Faucon from its bloated exhaust chambers to its clip-on handlebars were custom made or modified to fit.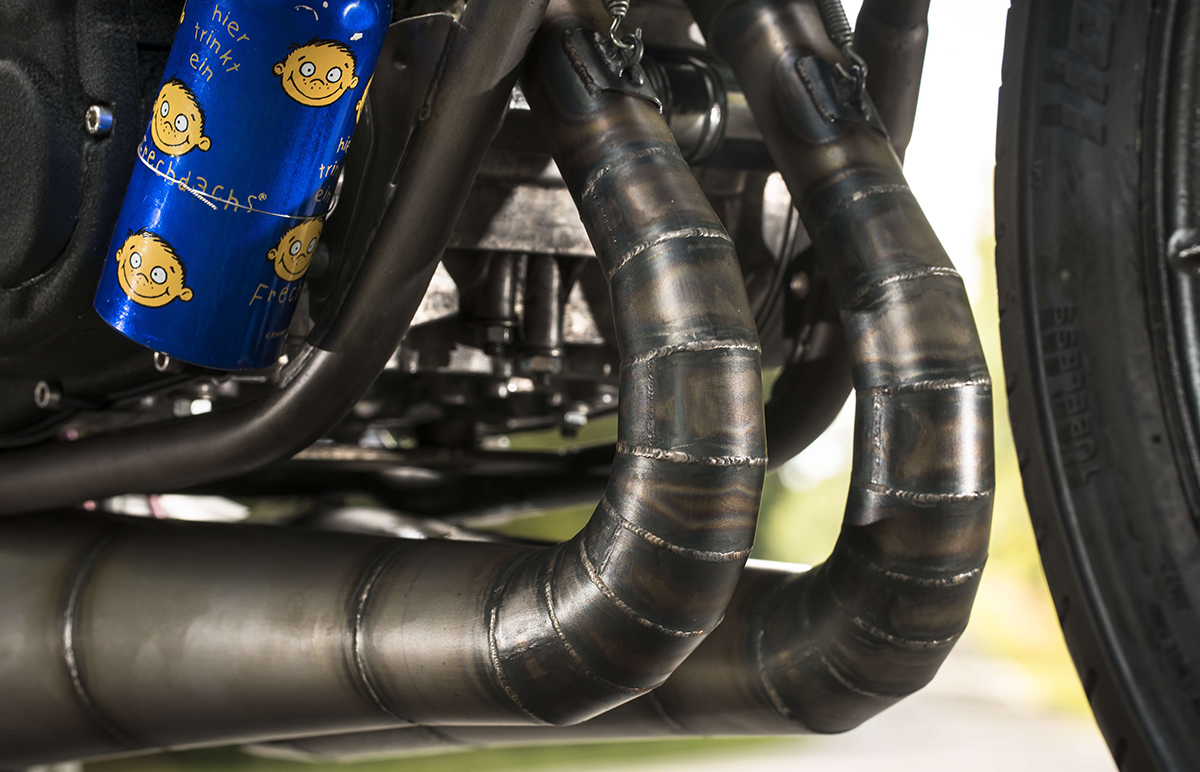 On the final day of the second round of races, when all the dust had settled, the Faucon had stood its ground. It didn't finish in first place, but it held a respectable position in the ranks. Positioned closely behind modern factory bikes boasting bigger horsepower figures, modern electronics and traction control, the tiny little two-stroke had proved its worth. Not bad for an experimental mix of engine components and running gear that was first tested a mere 36 hours before the first race!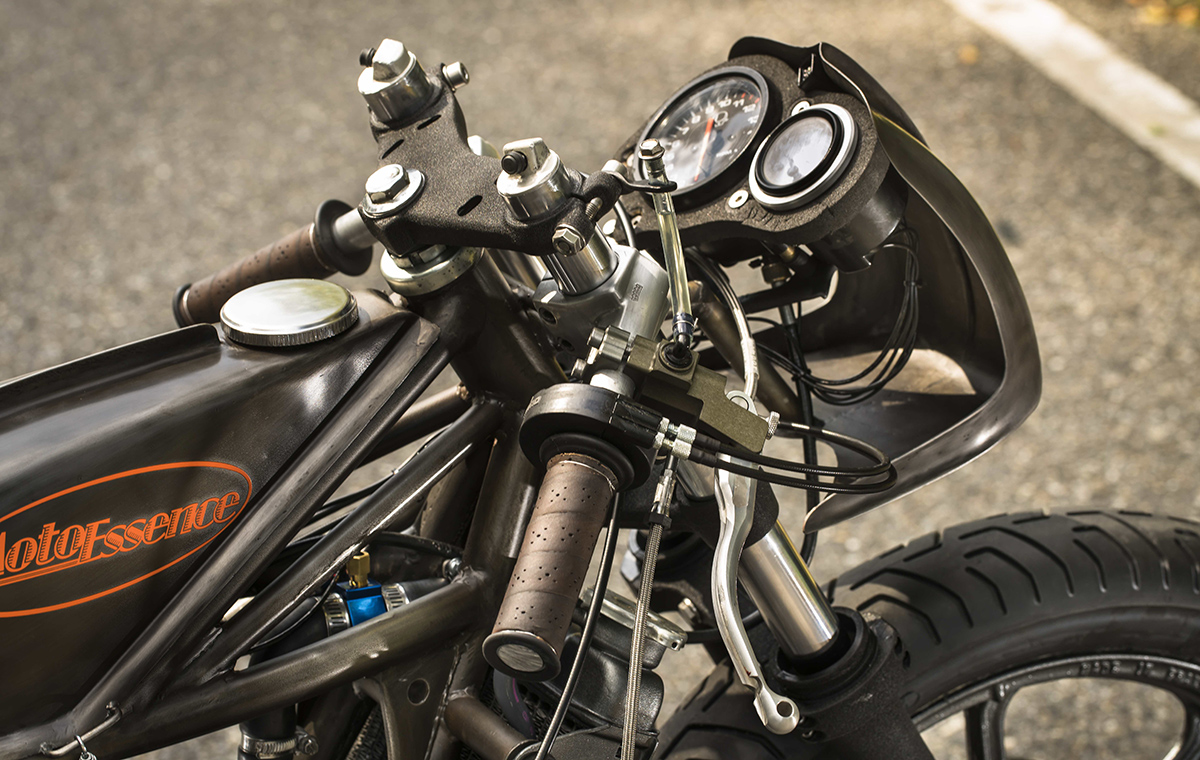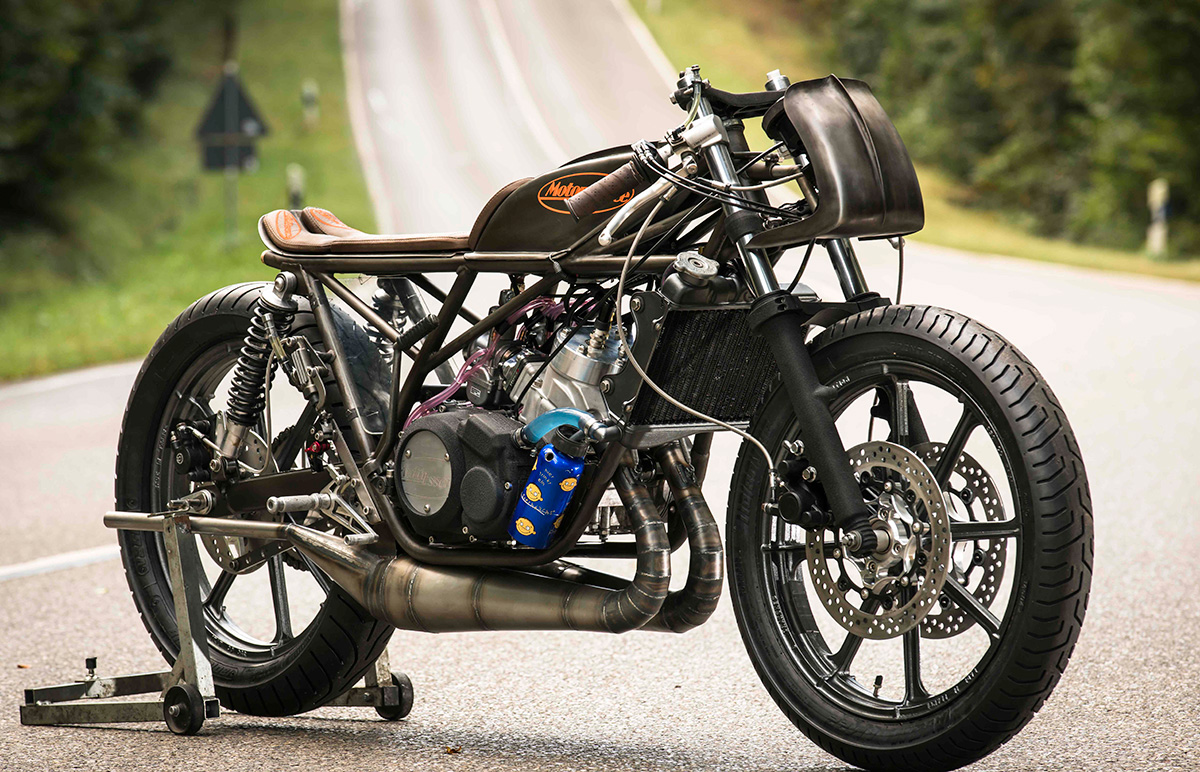 Friends Havana and Dominik have been riding motorcycles together for longer than many of our readers have had a drivers license. Over the past 25 years, they've clocked up hundreds of thousands of miles riding in almost every discipline of off-road and on-road racing as well as being avid classic motorcycle enthusiasts. Havana gained his skills in motorcycle mechanics while racing bikes, Dominik developed his restoring collectable motorcycles. After building and customising motorcycles together for most of those 25 years they decided it was time to established their own workshop in 2015 and 'Moto Essence' was born.