Bernhard Naumann, aka Blechmann, grew up in Burgenland, a federal state of Austria in central Europe. Growing up in a family without much money he didn't have access to videogames or expensive toys. Instead, he built his toys from things he could find. Over time his projects increased in size and complexity until he was able to build intricate things by hand, including his beloved motorcycles. After spying his impressive custom BMW R18 on the venerable BikeExif we contacted Bernhard to see what other gems his portfolio contained. Amongst them, we spied this striking Yamaha RD530 YPVS cafe racer.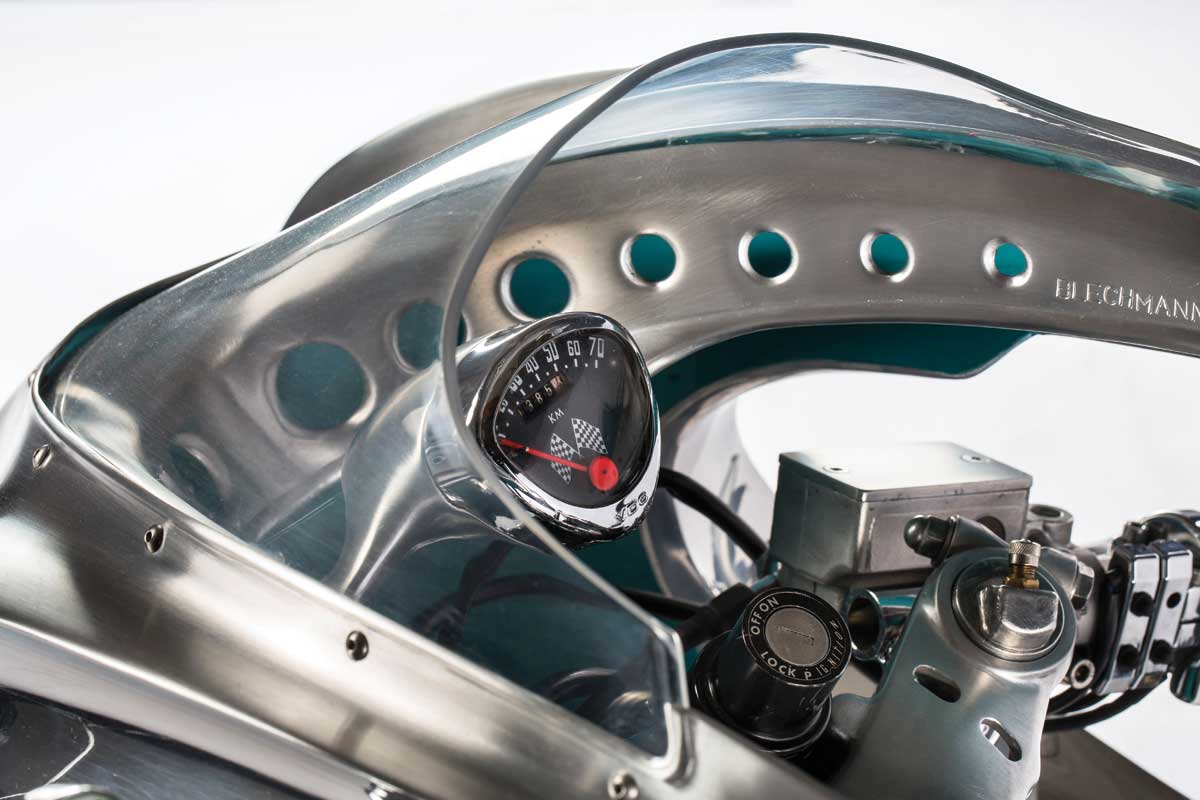 For Bernhard the term 'built not bought' is overused and ill-defined. In his opinion, the inclusion of any aftermarket parts detracts from the authenticity of the statement. As a result, he avoids the use of any off-the-shelf parts in favour of refurbished or hand-built components. So the only items you'll find on this '85 RD350 that weren't made by his hands are original or recycled.
"I never use clay. I have a very special approach to get my shapes. I start off very rough with cardboard to get a feeling for the proportions. Then I work on with the final material, the sheet metal." says Bernhard. " When I discovered what I could do with sheet metal, I realized that it was 'my material'. Working this way allows me to oversee the whole object from any angle and I can sculpt easily."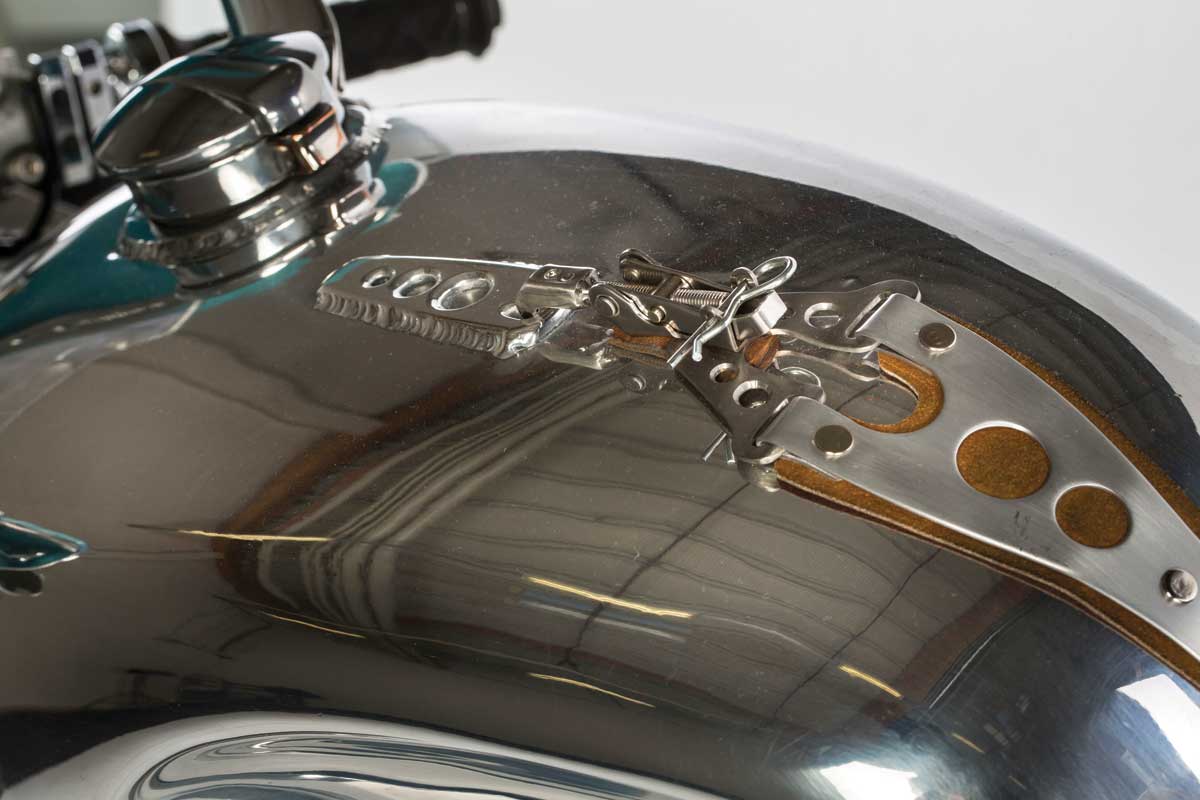 Taking around 300 hours to complete 'Der Kosmische Reiter' or the Space Traveler was built for a customer who wanted a unique cafe racer boasting signature Blechmann bodywork. Clearly none of the Yamaha's factory bodywork remains. In its place is a collection of custom alloy body panels all scrupulously shaped by hand.
Bernhard kicked things off with a classic cafe racer styled fuel tank complete with a Monza style filler cap, deep knee dents and a leather-backed tank strap. He then shaped a matching seat pan and upholstered it using cross-stitched suede leather. To add visual lightness to the bike, the Autolube tank is now built into the tail rather than sitting within the frame. One half of the alloy tail houses miscellaneous electrics while the other functions as the oil tank complete with a custom made sight level.
The RD350 frame was modified using drilled bracing which stiffens things up and sharpens the handling. Bernhard admits engine upgrades aren't his forte, but this Yamaha RD350 YPVS is anything but stock. While Bernhard was working his magic his customer had the engine upgraded by a two-stroke performance shop. With the airbox gone the carbs have been jetted to run velocity stacks and the stunning 2-into-2 expansion chambered exhausts are race spec. The result is an increase in the two-stroke twins power from the factory 59 hp to an impressive 75 hp. A figure that's sure to guarantee plenty of powerband thrills.
Bernhard finished things off by polishing his panel work to a mirror finish and coating the frame in a vivid turquoise. At that point, the Yamaha left Bernhard's workshop as a naked cafe racer. Two years later, the RD350 YPVS returned to Blechmann HQ. The owner was back with more cash in his pocket and the desire to add a fairing and some additional stability to the bike.
"To rework a motorcycle I already consider a finished project was to me very challenging," says Bernhard, but there's nothing half-cocked about the outcome. The all-alloy fairing blends with the tank perfectly wrapping up onto its sides for an integrated appearance. A drilled brace running inside the cockpit ties everything together by complementing the frame bracing and tank strap. Amusingly Bernhard's installed a vintage VDO bicycle speedometer that tops out at an unrealistic 70kmh and it sits suspended in a custom made bracket. Finally, to meet his client's request for more stability he installed an extended swingarm that helps keep the front wheel planted.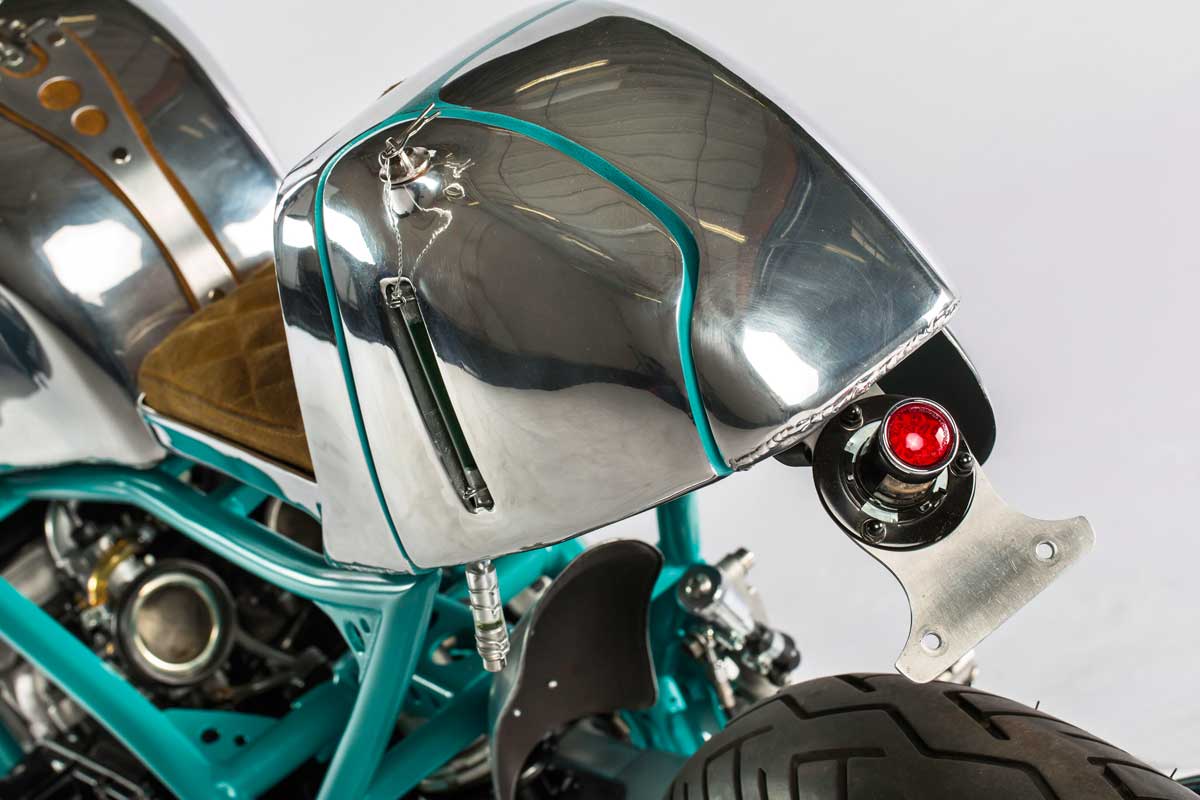 Bernhard is now selling his customers beloved Yamaha RD350 cafe racer to make way for his next purchase. At €14.500 it's a bespoke bargain not to be missed. So, if you're on the lookout for a unique two-stroke cafe racer, we'd suggest you get in touch quick!