Repeat customers are the bread and butter of every business. Unfortunately, for some businesses, such as custom motorcycle builders, most customers are single serving. Every so often though a workshop can leave such an impression on a customer they are left itching for another excuse to engage their services.
Oliver Werner and Dominik Hermes run the German workshop Moto Essence. When they were given the opportunity to build a custom for Andi, one of the countries Michelin award-winning chefs, they made sure it met his exacting standards. And it clearly paid off. No sooner had he taken delivery of the bike than he was back at Moto Essence HQ ready for his second course.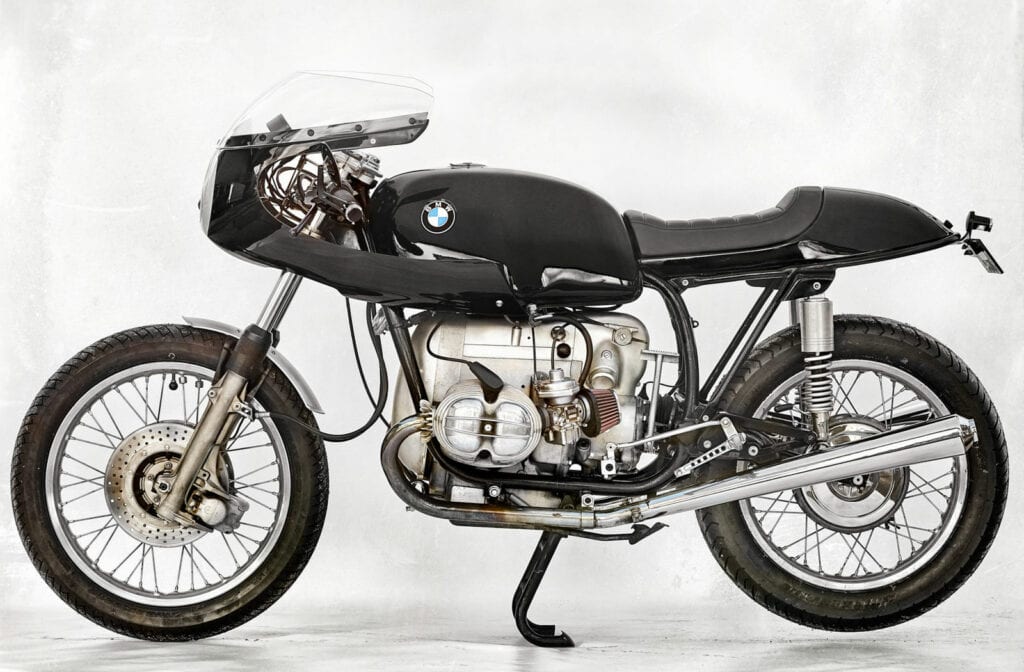 "He said he had an old BMW that doesn't work and he's not quite sure what to do with it." recalls Oliver. "Well… you can't state things like that in our workshop!" Shortly after floating the idea of a rebuild, Andi returned to Moto Essence with his '71 BMW R75/5.
"Apart from customizing our business is focused on restoring. Hence our first idea was to restore the BMW," says Oliver. "We would never mess up a good original R75/5. However, when we saw the bike we changed our mind. It was far from original condition. So we decided to customize it conservatively and retain any original parts that were left on the bike."
Andi's R75/5 had, prior to his ownership, undergone a mild cafe racer conversion. Although a decent home-built effort the bike's proportions were out of whack. The rear end was bulbous and heavy looking. While at the front the headlight sat too high and protruded too far forward. It also wore a spattering of budget aftermarket components that did little for the bikes aesthetic appeal.
"It took us a while to start the project. Mainly due to the workshop being crowded – but then, when we had the Beemer on the lift, we suffered a lack of inspiration!" Oliver confesses. "Andi was leaning towards a naked build since he rides Harleys and Supermotos. But we weren't quite convinced."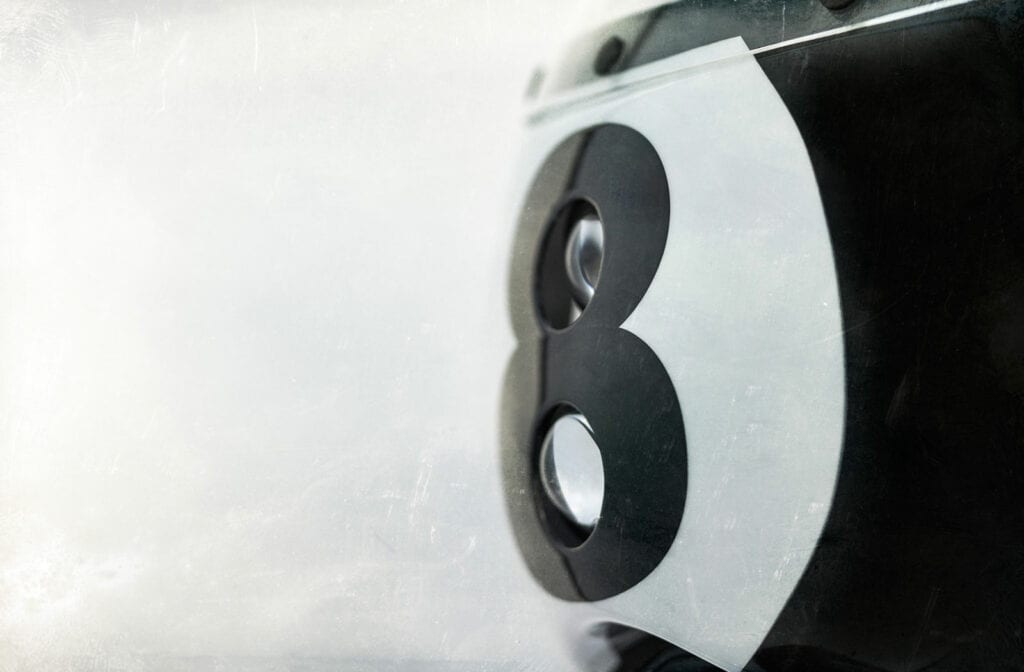 "The decisive idea came to me one late evening when I sat in front of the bike lift with a cold beer in my hand. I noticed the eight-ball on the bike's key chain and the tyre valve caps. I'd seen them every day but somehow they hadn't caught my attention. It was one of these rare moments when all of a sudden you get a crystal clear picture in your head." says Oliver.
"My very first race bike was an air-cooled 250cc MZ with a black fairing and, by coincidence, its start number was 8. The first race of my life took place on that bike at the Österreichring (today Red-Bull-Ring). It rained cats and dogs and I was in 2nd place when I attacked the race leader into the Jochen Rindt-turn. I destroyed the bike completely. So when it came to how to style this bike it had to be a classic racer!"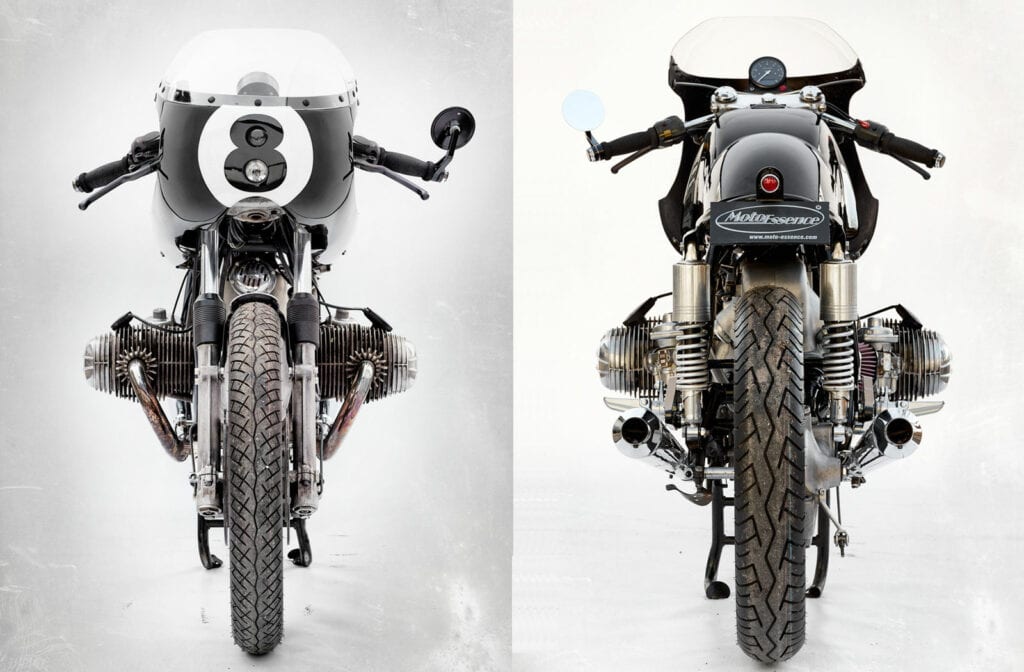 After floating the idea with Andi, who loved the concept, it was full steam ahead. They also discussed the extent of the restoration work to be done and Andi expressed he wanted to retain some of the bikes hard-earned patina which worked well with the classic racer theme.
In defence of the previous owner's efforts, not everything done to the R75/5 had to be undone. It already wore a set of racing-style Hoske mufflers and drilled brake discs which worked perfectly with the new theme. The original R75/5 tank was also in decent condition aside from some cosmetic wear. It too remains on the bike, patina and all.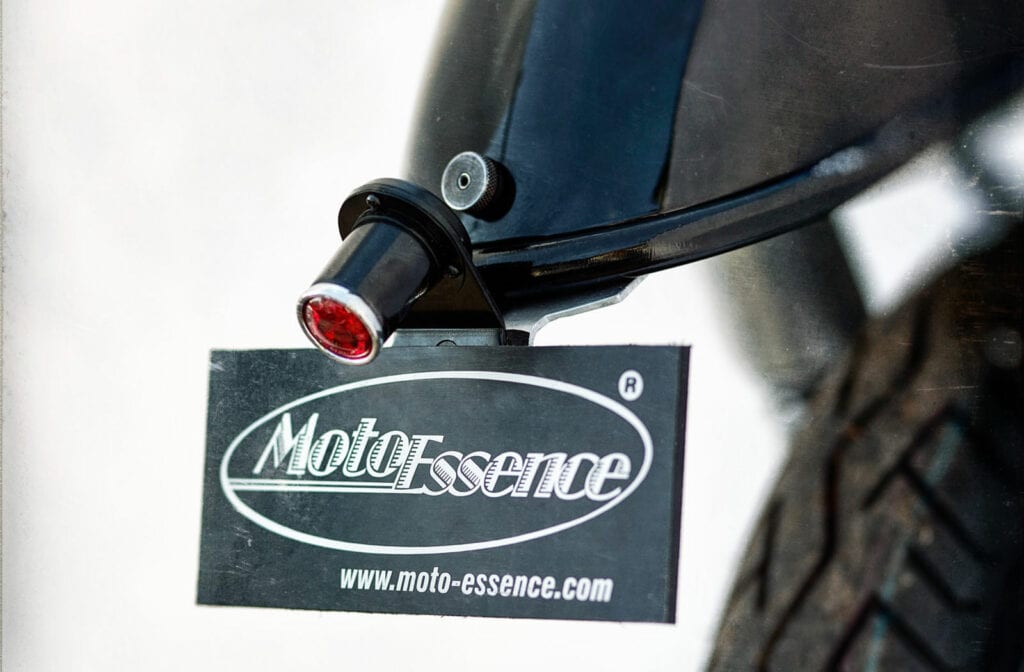 The BMW's new bodywork was repurposed from other machines rather than opting for bolt-on aftermarket bits. This meant a little more work to make it fit right, but the pay off has certainly been worth the effort.
"The fairing is from an old Guzzi Le Mans racer and the rear end from a Bultaco," Oliver explains. "The whole seat can be taken off by opening the knurled screw in front of the tail light. The fairing is fixed by a frame of bent, thin steel rods. Neither of these nor the hand-made alloy front fender is painted. We wanted a rather old-school look."
As for the tightly upholstered seat, it's one of the only outsourced aspects of this build. It was completed by Moto Essence go-to guy Ralf Richter in Munich. As for paint, only the front fairing and rear cowl were treated to match the scheme. The icing on the cake is of course the number 8, eight ball graphic which sits over a pair of cleverly positioned halogen headlamps.
One of the more difficult aspects of the build came when it was time to wire everything up. The old harness had seen its fair share of edits and additions so the guys sourced and installed an OEM harness. Rather than opting to slim things down though they have retained the original wiring set up so as to allow the use of the R75/5 Telefix handlebars and its controls. The only major change was the relocation of the battery which now resides in the tail.
Despite this bike's track-ready appearance it was always destined for street use. So to make it legally compliant the guys installed a few modern components. Nestled behind the cowl is a Motogadget Chronoclassic gauge and the indicators are all from the Motogadget catalogue too. The single bar end mirror is a Motogadget glasses number and other finishing touches include RAASK rear-set footpegs, Magura controls, K&N pod filters and a set of Bridgestone Battalax tyres.
The overall result has definitely paid off for Moto Essence with this timeless BMW build. The decision to retain its patina and opting to repurpose parts from other bike gives it a genuine feel which will undoubtedly earn it bucketloads of street cred. Now the only question remaining is what will Andi be ordering for desserts?
Photography by Stefan Höck