Neo-retro cafe racers have certainly become "a thing". Merging retro styling with modern engineering is a very appealing proposition for riders who want a classic-looking motorcycle that's devoid of any maintenance hassles. As a result many of the big motorcycle manufacturers now offer at least one retro-styled, modern classic in their range. Take for example the BMW R nineT, Kawasaki Z900RS and the Yamaha XSR700.
Many backyard custom motorcycle builders have also adopted the neo-retro approach. Buying a secondhand motorcycle can be a lot more economically viable. And for those who know the right places to look, sourcing late-model parts and accessories which can be cannibalised and retrofitted isn't all that difficult. Enter Youziro, a Japanese motorcycle enthusiast with a passion for customization and a love for the classic aesthetic. His masterpiece, a highly modified neo-retro 1998 Yamaha SR400 cafe racer, is a testament to his dedication and style.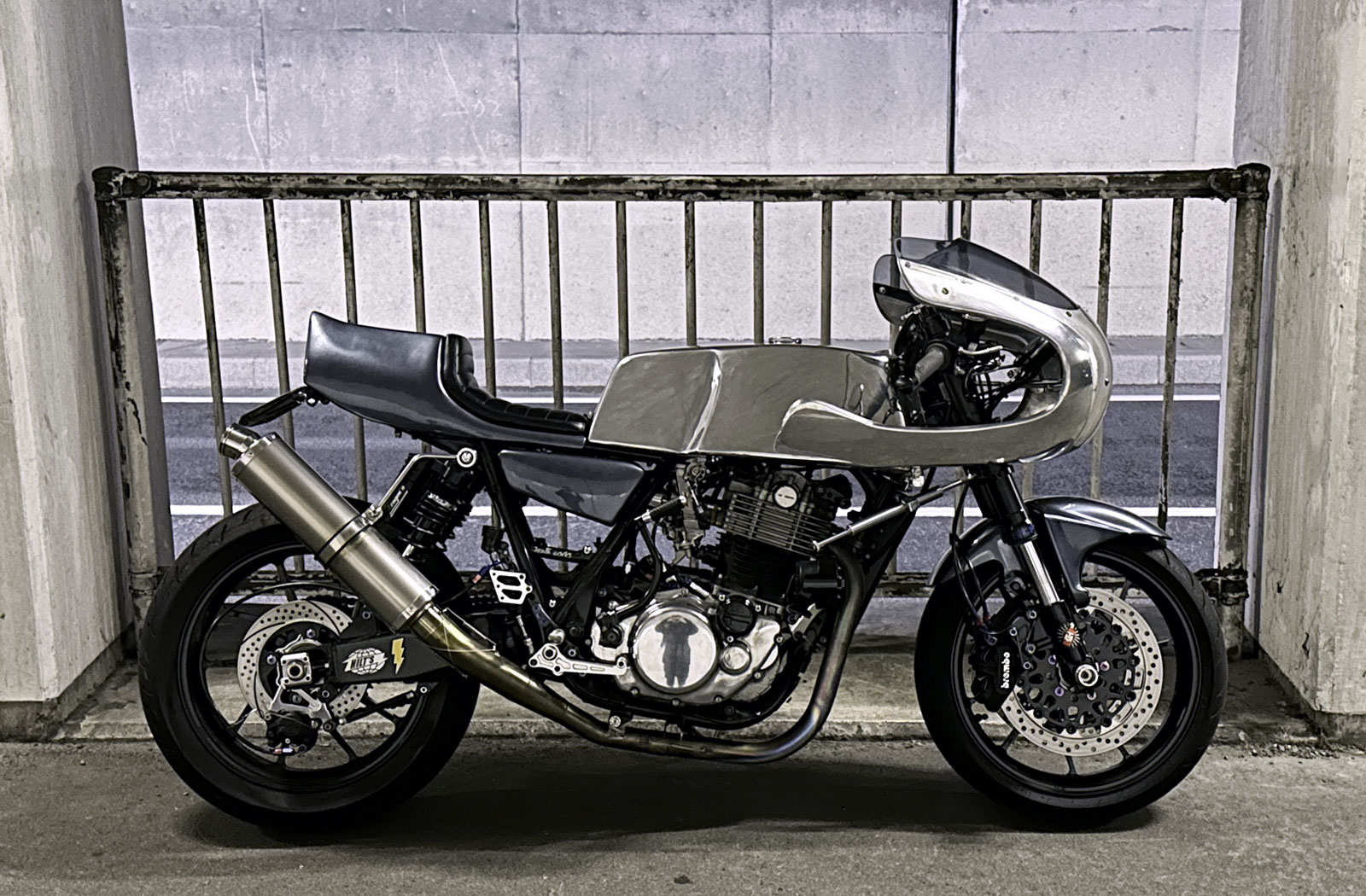 Youziro's neo-retro journey with his SR400 began in 2016 when he stumbled upon the bike at an auction. After the purchase, he wasted no time making his mark on the SR, customizing it in stages with the help of the Hiroshima-based workshop, Hilt's Chopper'z.
The concept behind the project was rooted in cafe racer heritage. Following in the footsteps of the Rockers of the 1950s, Youziro's goal was to transform the Yamaha into a sleek and lightweight machine, built for speed and agility and stripped down to the bare essentials. The major difference though was that he wanted to incorporate modern components into the formula.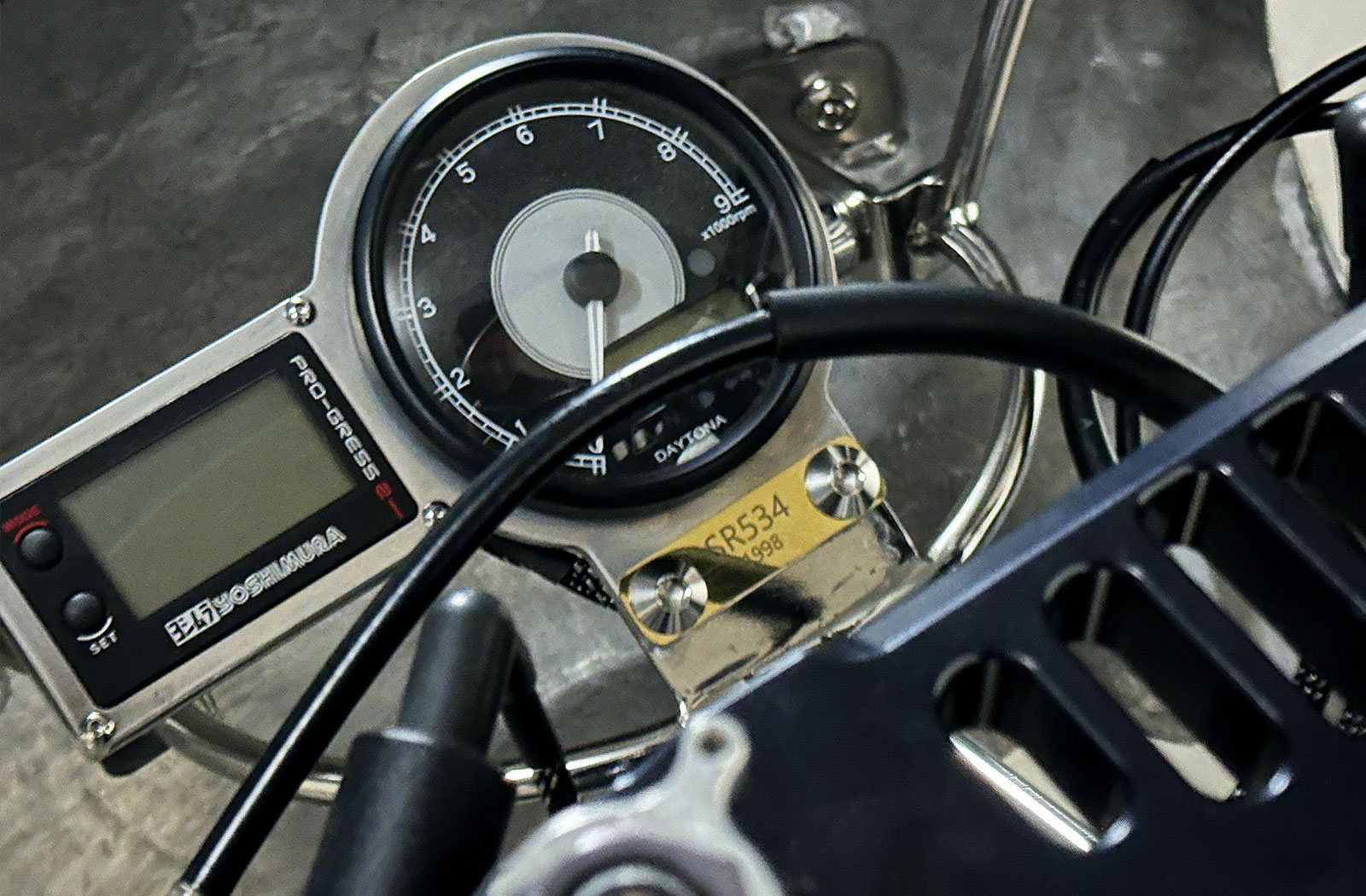 At the heart of the bike is a heavily modified version of Yamaha's bulletproof single-cylinder, air-cooled, SOHC, 2-valve power plant. It's been upgraded using a 534cc piston and cylinder kit, Yoshimura ST-1 camshaft, an active oil cooler kit, and an enhanced oil-line kit. These modifications work twofold by improving the overall performance and adding a touch of modern reliability.
Fuel delivery has also seen some improvement thanks to the addition of a Keihin FCR 39 carb. Air is added to the mix via a mesh-covered velocity stack and as for the exhaust, it's a lightweight Thruxton titanium system which undoubtedly makes the little thumper sing like a tenor.
One of the biggest challenges Youziro faced during the build was retrofitting parts from other motorcycles, or as he puts it "cannibalizing and modifying them".
To improve the handling, he's integrated sportbike components such as the cannibalized and modified front fork and triple tree assembly from a late model Kawasaki ZXR400. The same donor provided a pair of Brembo 65mm 4-pot double calliper front brakes to which Youziro has added modern Sunstar 310mm premium racing discs. The rear end of the SR features the cannibalized and modified swing arm from a Yamaha FZR400R SP. It's supported by modern Aragosta piggyback twin shocks. In addition, both the front and rear wheels have been upgraded using Gale Speed Type-R rims and Dunlop GPR300 rubber. These upgrades ensure this Yamaha cafe racer not only looks the part but also delivers a thrilling ride.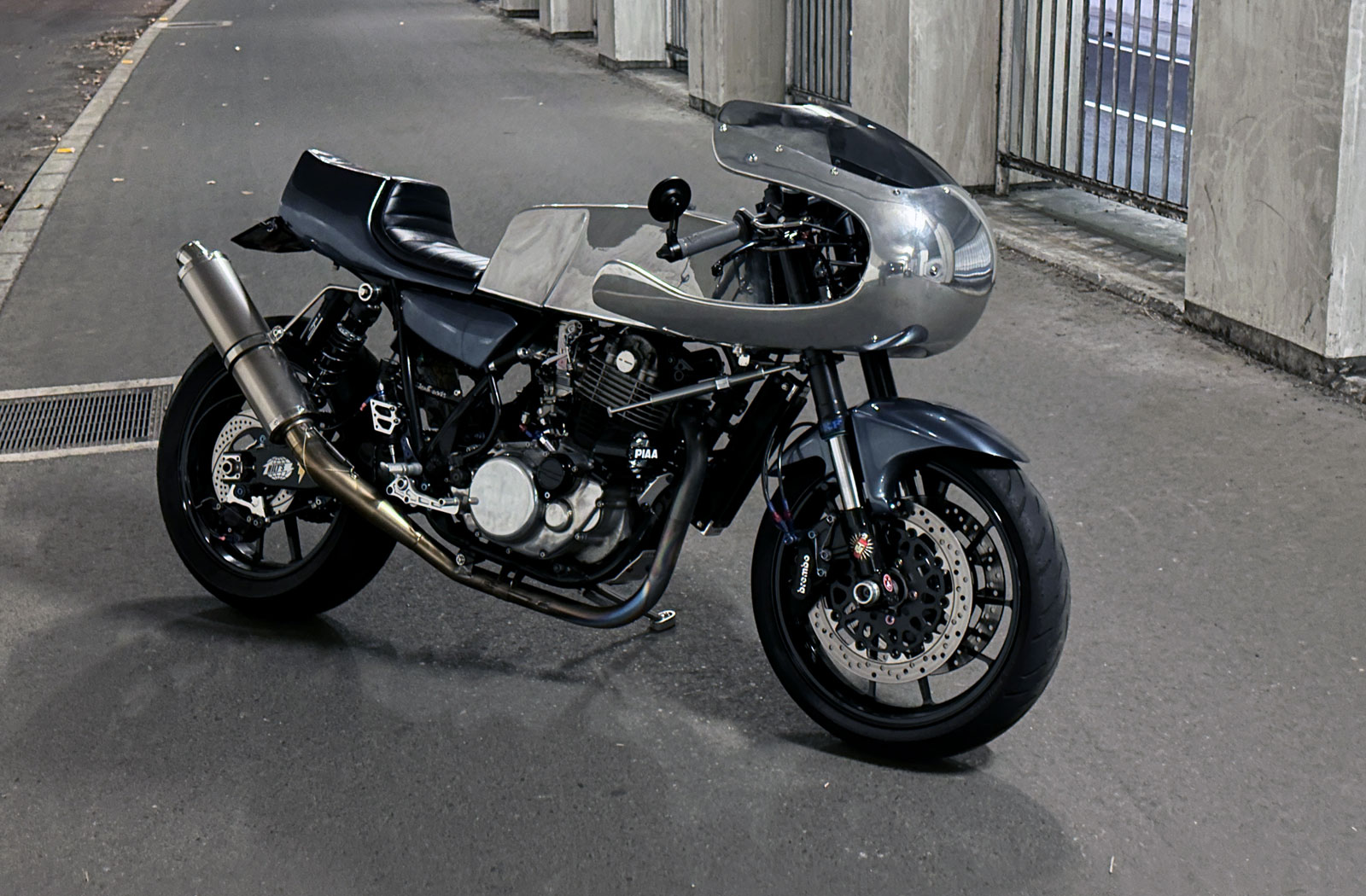 The finishing modern touches on Youziro's masterpiece include a Daytona Velona speedometer and Yoshimura Pro-Gress2 gauge which displays oil/water temp, voltage and time information. An NHK ODM-2000 steering damper keeps the front end in check. Bore-Ace rear sets position his feet appropriately for aggressive corner attacks and the stock Roadster handlebars have been swapped with sportier clip-on alternatives.
For the aesthetics, Youziro has amped up the bike's classic vibe with the fitment of a handmade alloy fuel tank, a MASUMI original seat and FRP tail unit, side covers by Dayton and an Omega Racer aluminium cafe racer fairing. The lack of obvious lighting amps the bike's racer feel up another notch but for practicality, there's a PIAA headlight perched on the side of the frame and bar end-mounted turn signals.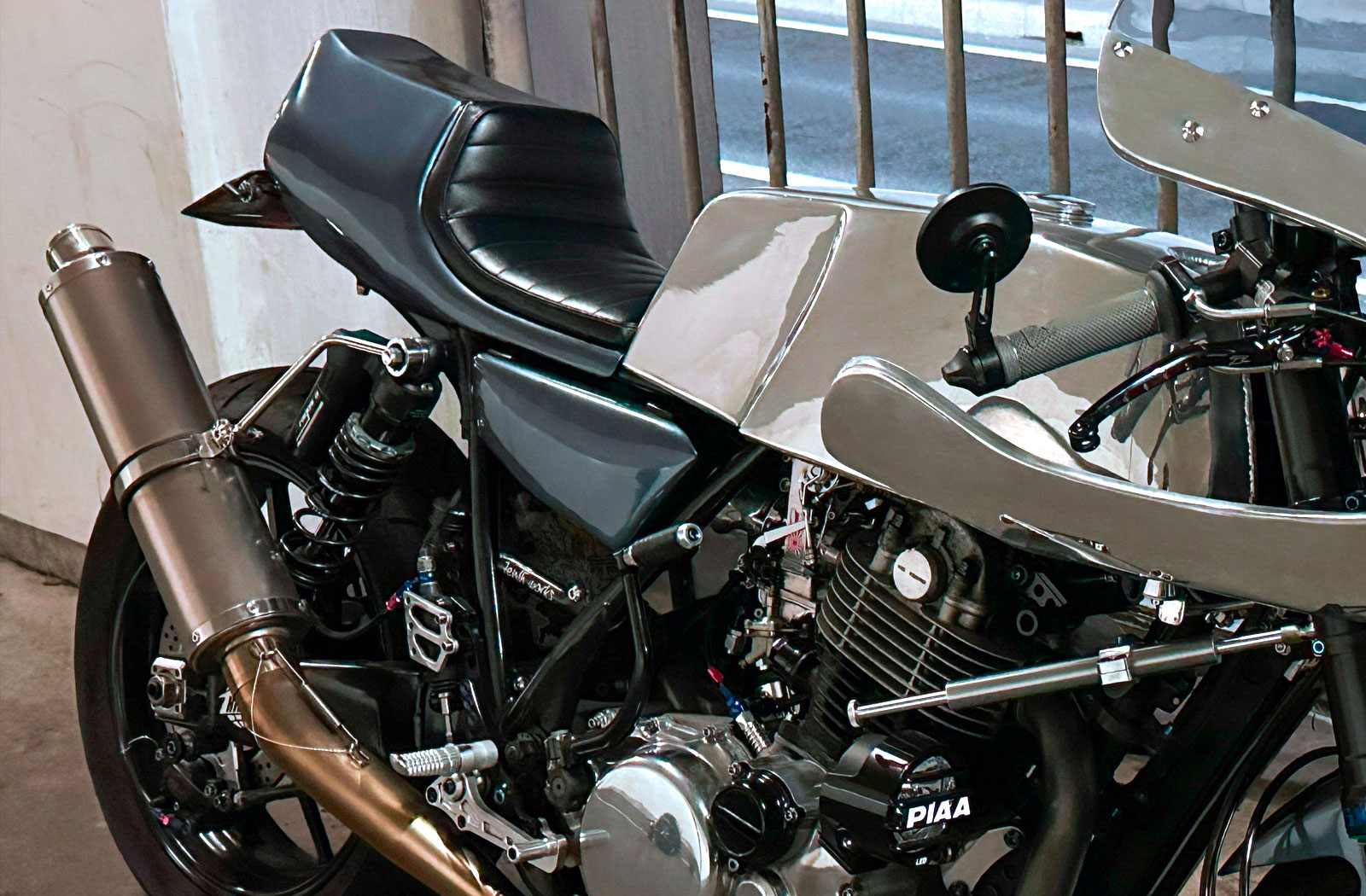 Youziro's neo-retro Yamaha SR400 cafe racer is a well-balanced blend of classic design elements and modern performance upgrades. His attention to detail is a reflection of his love for the legendary Yamaha thumper. With every twist of the throttle, he pays homage to the SR's rich history and its undying fan base in Japan.