In 2020 Norton motorcycles announced the shocking news that it was going into administration. Then, seemingly out of nowhere, a company from India purchased the rights and secured the brand's future. To many westerners, TVS Motor Company Limited may not ring any bells, but any Indian moto enthusiast will tell you they're kind of a big deal. As the 3rd largest Indian motorcycle manufacturer and second largest exporter, TVS produce 4+ million motorcycles a year.
In 2022, with the goal of attracting more customers both locally and internationally, TVS developed the Ronin. The 225cc single is the brand's venture into the modern-retro motorcycle segment. Packed with modern tech and boasting classic styling it's an approach we've seen other manufacturers take in recent years. And similar to the other brands, TVS are eager to show the world how flexible the bike can be as a subject for customisation.
For this particular project, TVS Motorcycles teamed up with local hero Vijay Singh Ajairajpura and the crew at Rajputana Custom Motorcycles (RCM). Based out of Jaipur, Rajasthan in the north of India, RCM is one of the country's longest-running custom workshops with 13 years of experience under its belt. Known for their elegant craftsmanship they've produced customs for a wide range of customers including some of the biggest names in Bollywood.
Earlier this year TVS approached RCM eager to see what they would make of the Ronin. Inspired by the motorcycle's name, RCM devised a plan to convert the standard cruiser into a sleek cafe racer. "The bike is named after a Japanese short-blade weapon, Wakizashi. It is our timeless take on the modern-day cafe racer," says RCM manager Bhupendra Singh Danta.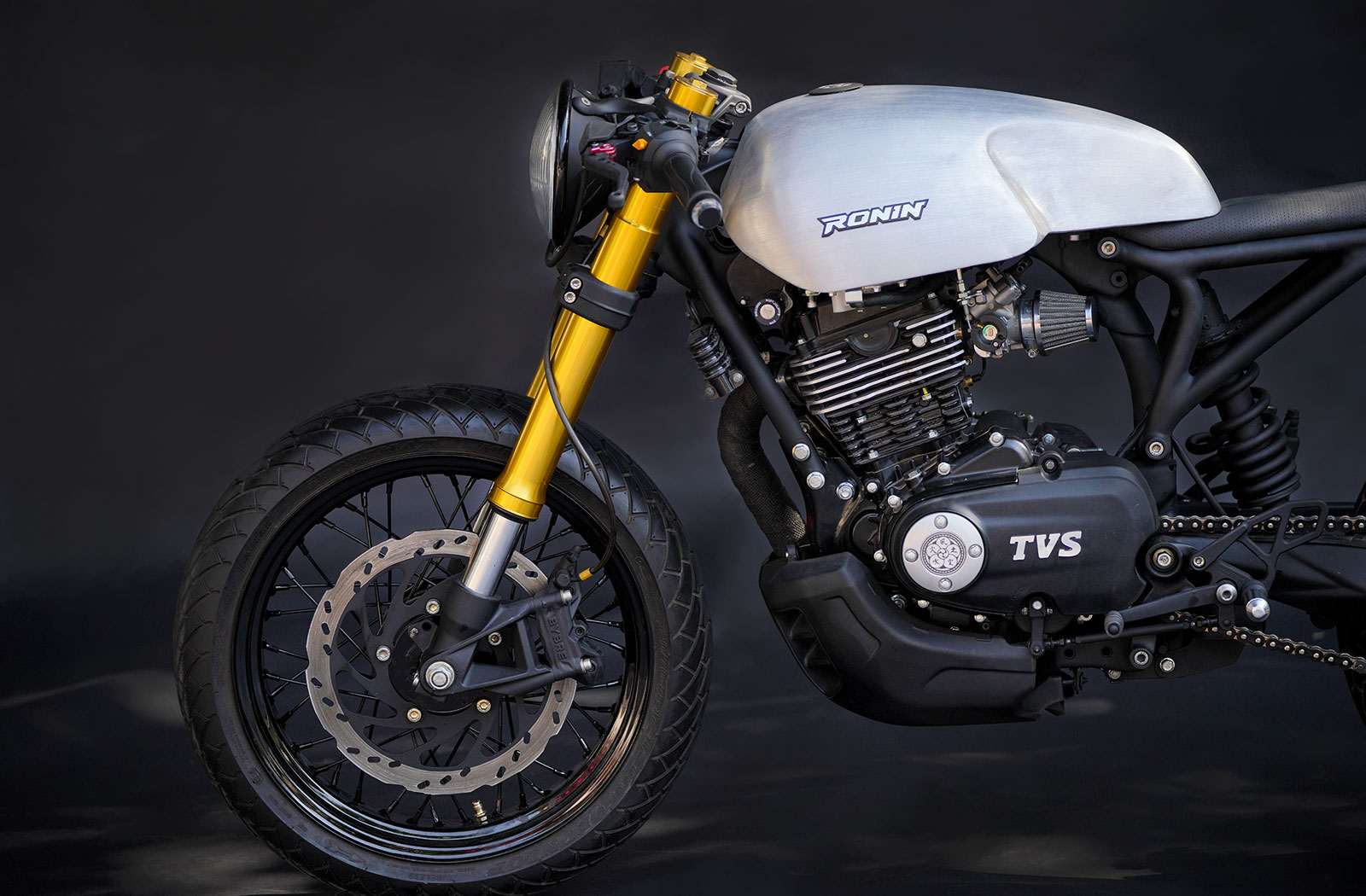 Before we delve into this build, it's important to mention that RCM built this bike in an astounding 8-day timeframe. That includes 1 day of planning and 1 day of assembly and test riding; so 6 days to be precise! Just the thought of such a deadline is enough to induce anxiety, but the well-oiled machine that is RCM took it in its stride and the result speaks volumes of the Indian workshop's ability.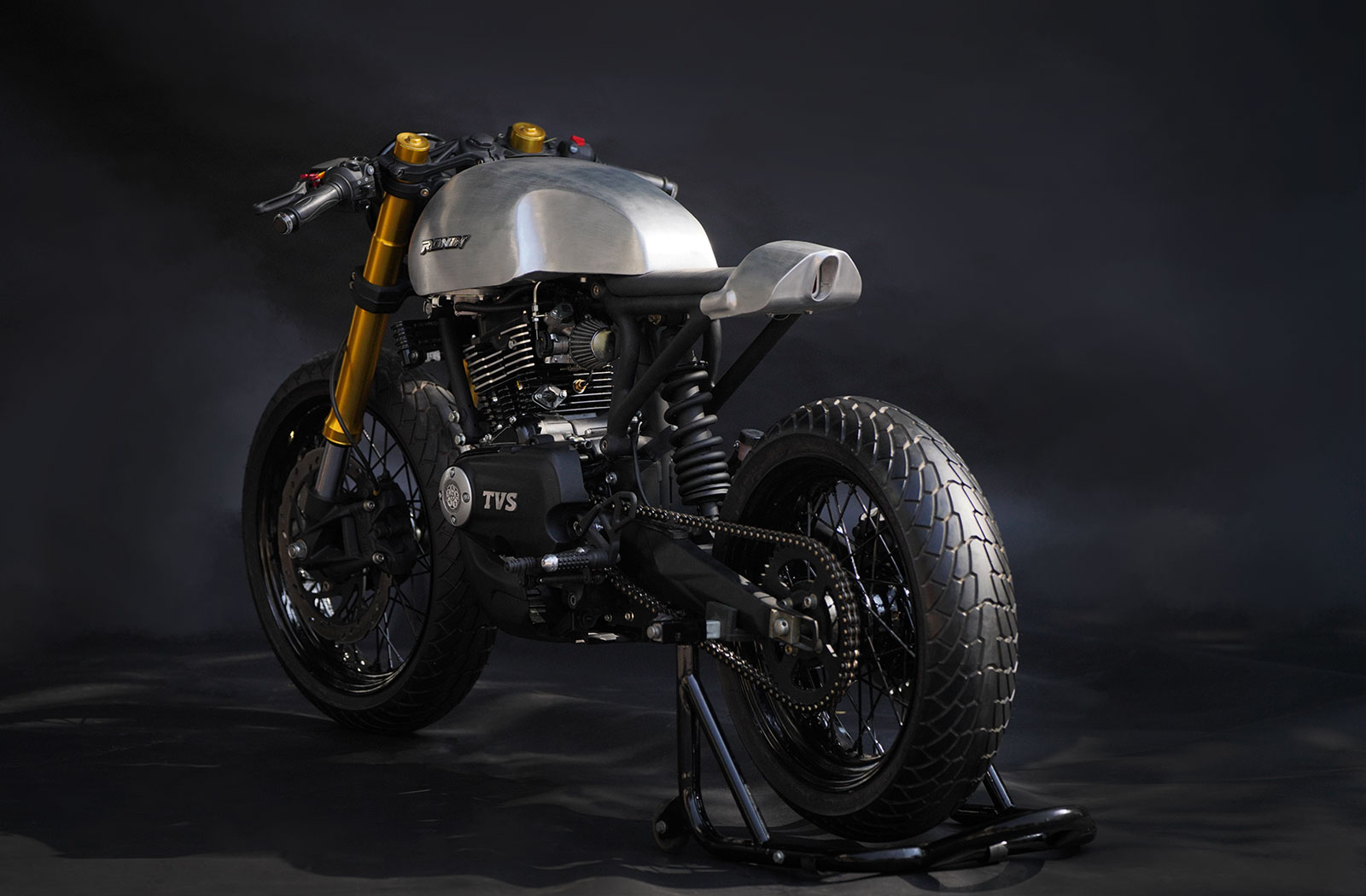 As is customary with any build of this calibre, RCM kicked things off with a complete teardown of the 2022 TVS Ronin. With the bike disrobed, they got to work modifying the frame.
To establish an orthodox cafe racer stance the Ronin has received a custom subframe. The front end also sits lower on the fork legs which levelled out the bone line. In keeping with the bike's new sportier demeanour, RCM has also added a custom swingarm which allowed the fitment of wider Dunlop Mutant rubber and spoked aftermarket wheels.
RCM also took a classic cafe racer approach with the Ronin's new clothes. Hand-formed from aluminium sheet, the fuel tank cuts a fine figure with its deep knee recesses and sleek silhouette.  In the rear is an equally appealing tail unit that's a modern take on a classic wasps tail.  Moulded to the rails of the subframe, the tiny tail is a work of art and it's finished off with an LED brake light that sits in its own recessed housing. To finish things off RCM has painstakingly brushed the aluminium which adds another crossover of old and new styles to this modern cafe racer.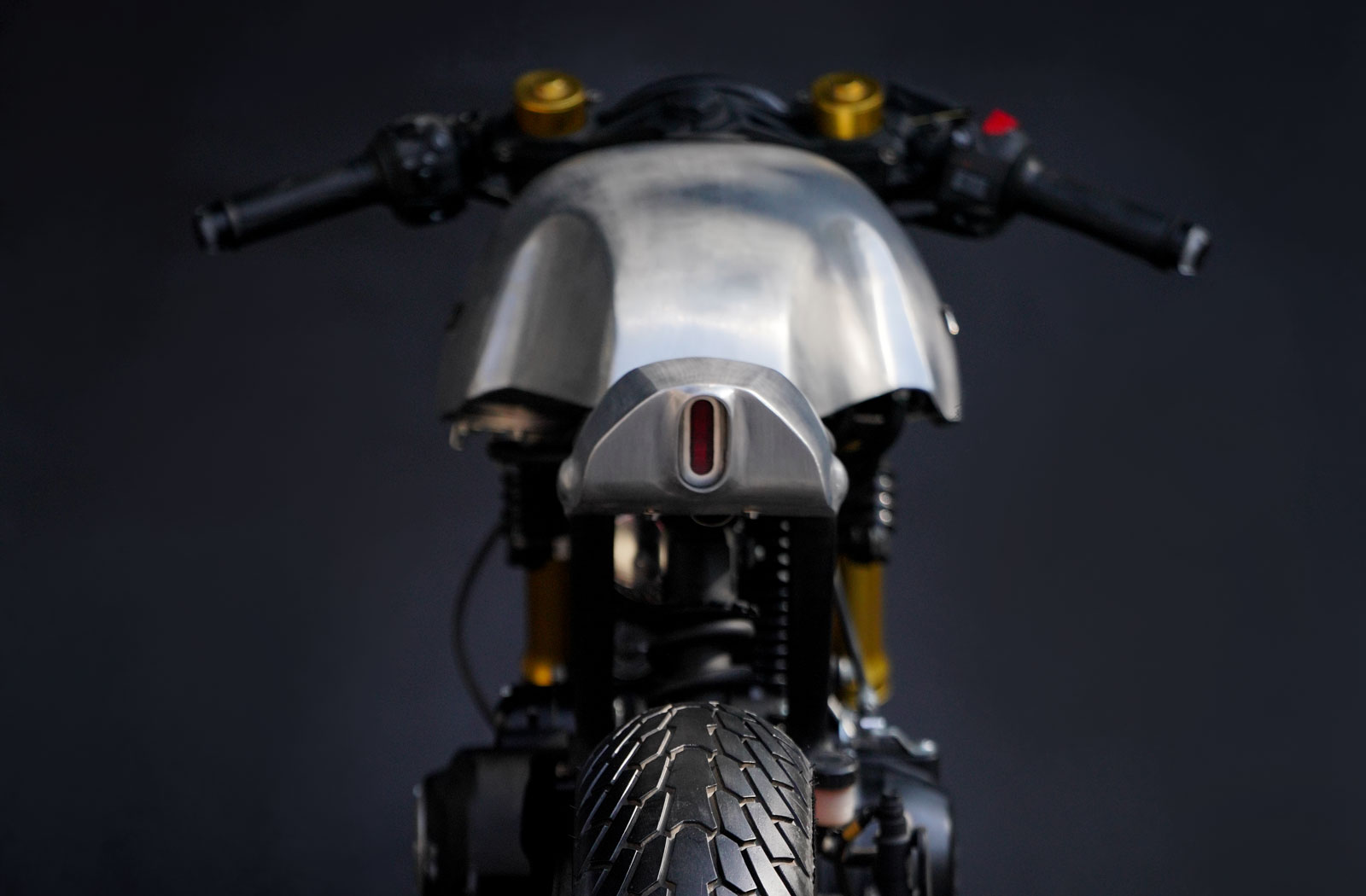 Other changes that contributed to this cafe racer transformation include a complete riding position revision. The new setup uses rear set footpegs for improved ground clearance, clip-on handlebars for more direct steering and a low custom seat to let the rider tuck in tight.
Bar end indicators and a tiny Motogadget speedometer complement Wakizashi's pared-back appearance. The gold USD forks in the front and complemented by a black and gold chain. And a classic headlight adds yet another retro touch. RCM opted to retain the Ronin branding on the motorcycle's tank, but to tie the creation back to their workshop they've added a branded, laser-etched fuel and swing arm cap which feature their twin Katar dagger emblem.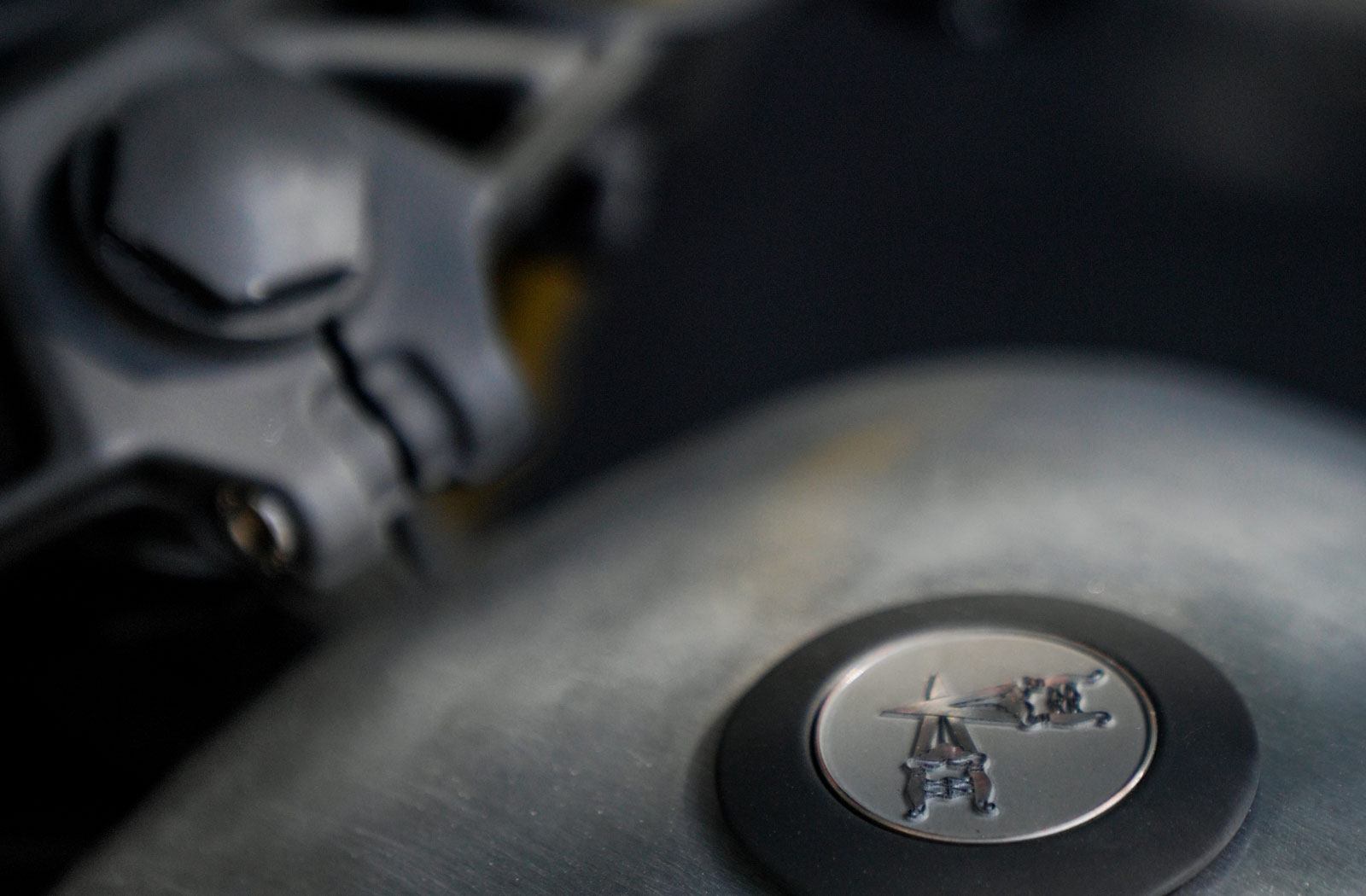 Rounding out the spec list on this project is some modest performance improvements in the form of a custom exhaust system and K&N filters. While it's unlikely this would have made a big difference to the engine's output the substantial drop in weight certainly would. It's been said that "it's more fun to ride a slow bike fast" and we have no doubt this lithe cafe racer could confidently prove that point.
Photography by TAP Films