Whether you like to call them modern classics, sport heritage, Neo Sports, retro sport or modern-retro motorcycles, the market for classically styled motorcycles continues to thrive in 2022. Brands like Ducati with their Scrambler range and BMW with the R nine T have experienced huge success with their modern interpretations of classic styles. Infact we've now seen modern-retro models from almost every mainstream manufacturer.
As we head full throttle into 2022 most manufacturers have already announced what changes they'll be making to their existing modern-retro offering. Today we're taking a closer look at some of them to see what's changed and why you may consider handing over your hard-earned for one.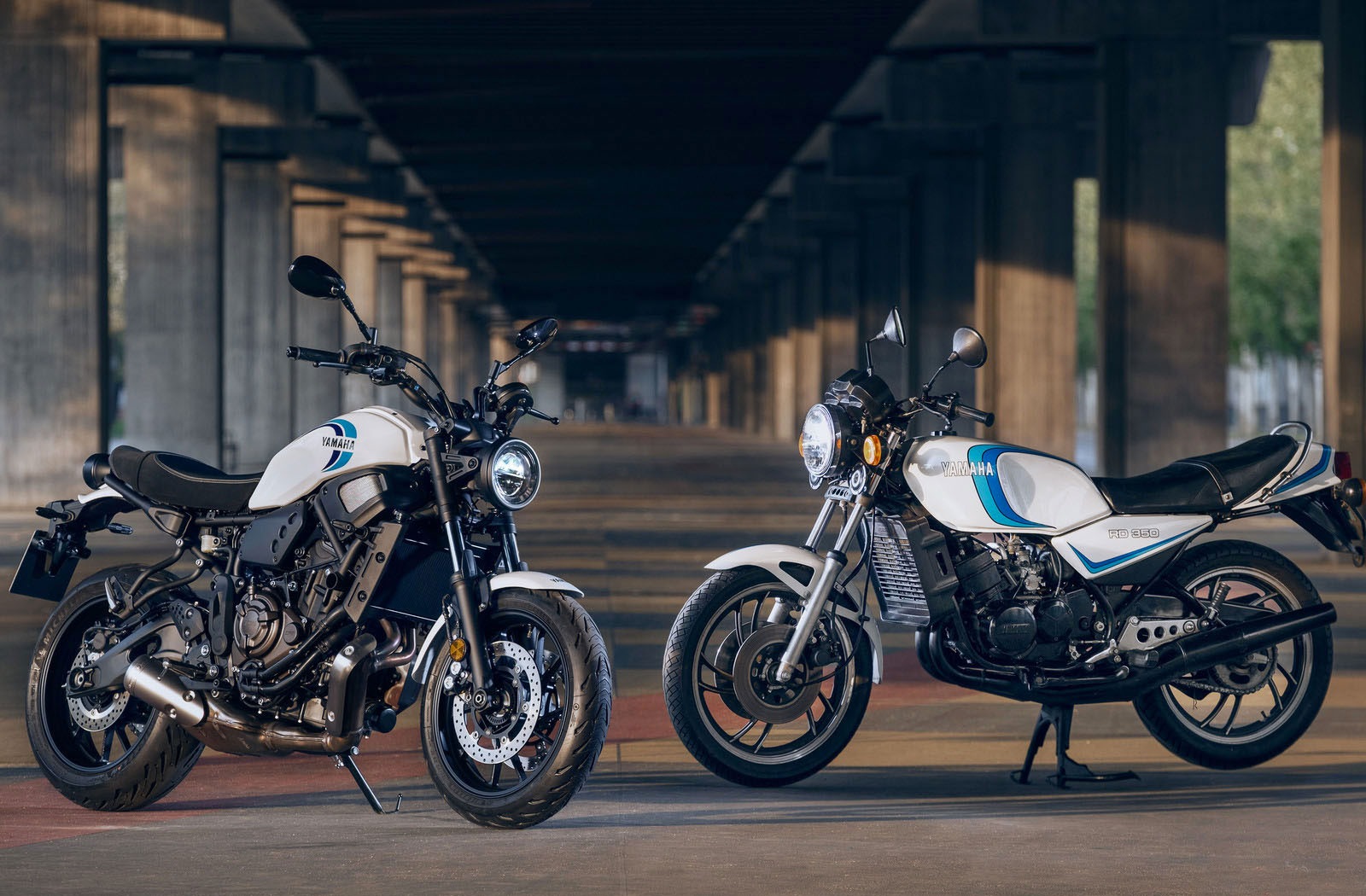 2022 Yamaha XSR700
In my humble opinion, the Yamaha XSR700 is one of the best modern-retro bikes available under the Australian Learner Approved Motorcycle Scheme. It's got more than enough power, even in the restricted LAMS configuration to effortlessly induce grins. For 2022 Yamaha has left things almost entirely untouched in the XSR700 performance department but they've made a few tasteful styling tweaks.
First up, the 2022 Yamaha XSR700 gets a new LED headlight but they've retained the classic round headlight bucket. A pair of larger front disks boasting ABS step up the stopping power and they've slightly revised the gauge layout for a cleaner finish. Yamaha is also now offering the XSR700 in 2 inspired new colour schemes. For 2022 the XSR700 will be available in either heritage white or heritage black with scalloped pinstripes inspired by the 80s two-stroke legend, the RD350 LC.
For 2022 the larger capacity XSR900 is getting more significant upgrades compared to its smaller sibling.
2022 Yamaha XSR900
The Yamaha XSR900 was already considered by some as the most aggressive modern retro on the market. When it was released back in 2015 it was powered by the same 847cc inline-triple motor as Yamaha's MT-09 roadster. That engine produced a stonking 115hp and 87.5Nm of torque. Combine that with a measly 195kg kerb weight, excellent brakes, a sharp chassis and capable suspension and you've got yourself an impressive all-rounder.
Similar to all of the previous XSR900 editions the 2022 model is based on the latest Yamaha MT-09. However, this year that has resulted in some big changes thanks to a dramatic revision of the MT. The changes translate to more power, less weight and an even more refined chassis. The new 119hp/93Nm power figures are attributed to an increased capacity of 889cc and a revised, more "evocative" exhaust tune.
Yamaha has also tweaked the frame and swingarm dimensions of 2022 XSR900 to further improve its handling. Additionally, they've stepped up the suspension using KYB components, added a premium Brembo brake master cylinder and fitted new spin-forged wheels which have helped to shave some weight.
In terms of styling, the XSR has never been the most retro-looking modern-retro on the market. For 2022 Yamaha have said they've given the bike an 80's GP racer facelift with scalloped vents in the front of the tank cover and a race-style filler. The chunkier seat is another offshoot of this approach and we're big fans of it. The 2022 XSR900 colourways include a black/red and blue/yellow scheme the latter of which is a nod to the livery of '80s/90s racer Christian Sarron.
Despite the XSR900's retro facade it also boasts the latest in Yamaha performance and safety tech. That translates to a 6 axis IMU that offers 3-way lean-sensitive traction and slide control. There's an inbuilt anti-wheelie system, cornering ABS, 4 riding modes, a quick-shifter as standard and a slick 3.5-inch full-colour TFT dash. What more could you want (or need!)?
More details: Yamaha Motors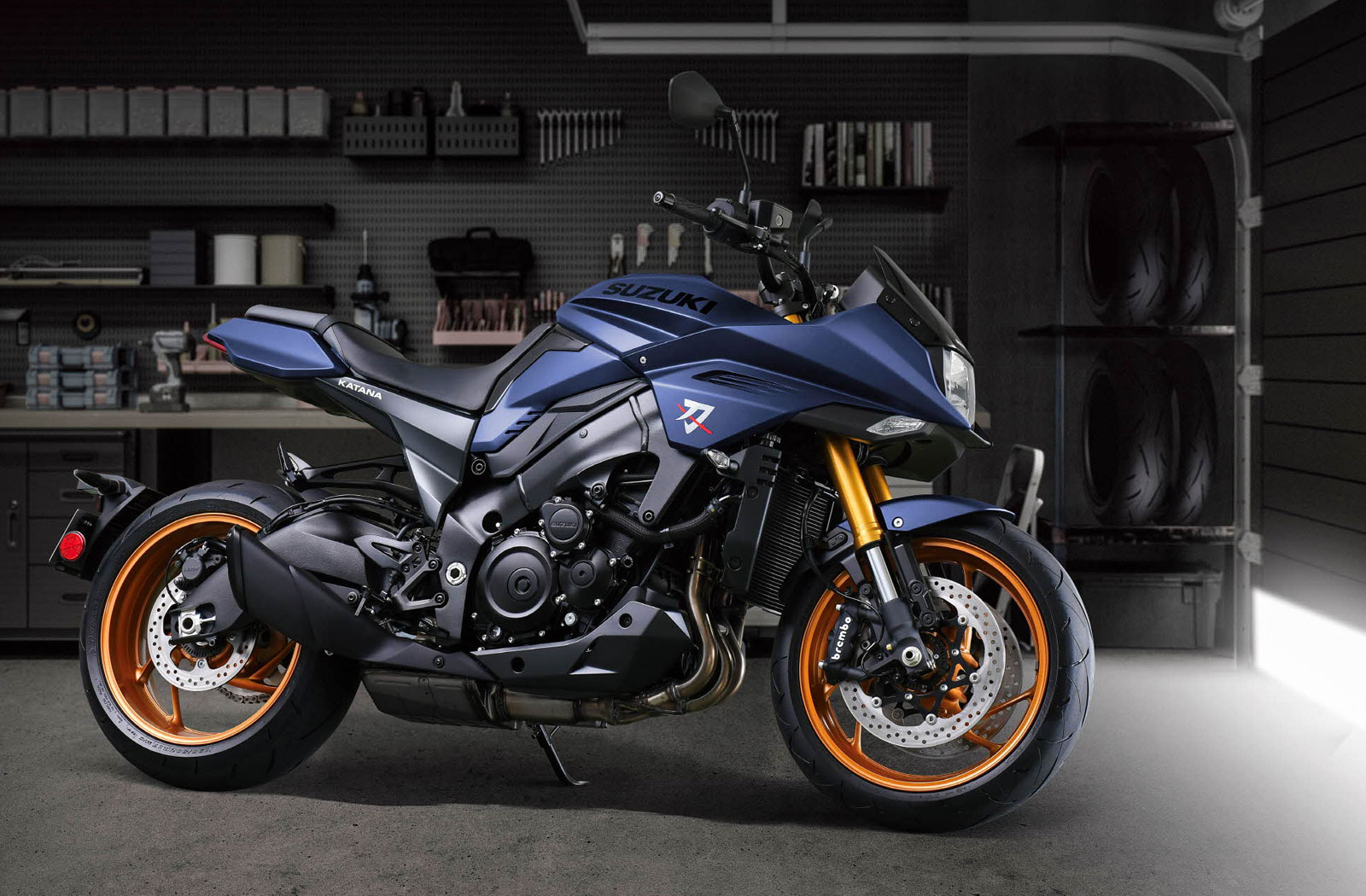 2022 Suzuki Katana
While many of the current modern-retro motorcycles use classic styling cues to get their point across there are a handful who have based theirs on real classics. The 'Neo Street Sport' Suzuki Katana released in 2019 is of course one of them. Featuring the same angular bodywork that made the original Katana a hit, this modern interpretation pays tribute to the brand's 1980s cult classic. Beyond the styling, however, the similarities are few. Essentially the new Katana is a thoroughly modern bike wrapped in retro attire.
For 2022 Suzuki has introduced the most significant changes to the Katana since its release in 2019. Stylistically not much has changed but beyond the bodywork, there have been some significant upgrades. The bulk of the new changes are the result of the changes that Suzuki made to the GSX-1000 upon which this bike is based. These include improvements to the exhaust, camshaft, air intake system, clutch and valve springs. The resulting performance improvement from these changes is a jump up to 150hp vs the 145hp of the previous model. The updates have also resulted in changes in power and torque delivery which are designed to further enhance the Katana riding experience. Other improvements include updated electronics that offer 3 different riding modes, an up/down quickshifter and a trick new red 'night mode' display on the LCD dash.
Suzuki has also added 2 new colourways for 2022. The outgoing silver and black editions will be replaced by a sleek metallic matte steller blue and a solid iron grey. The only downside of all these changes is that they come at a slight price increase but that probably won't phase those who still appreciate how special the original Katana was.
More details: Suzuki Motorcycles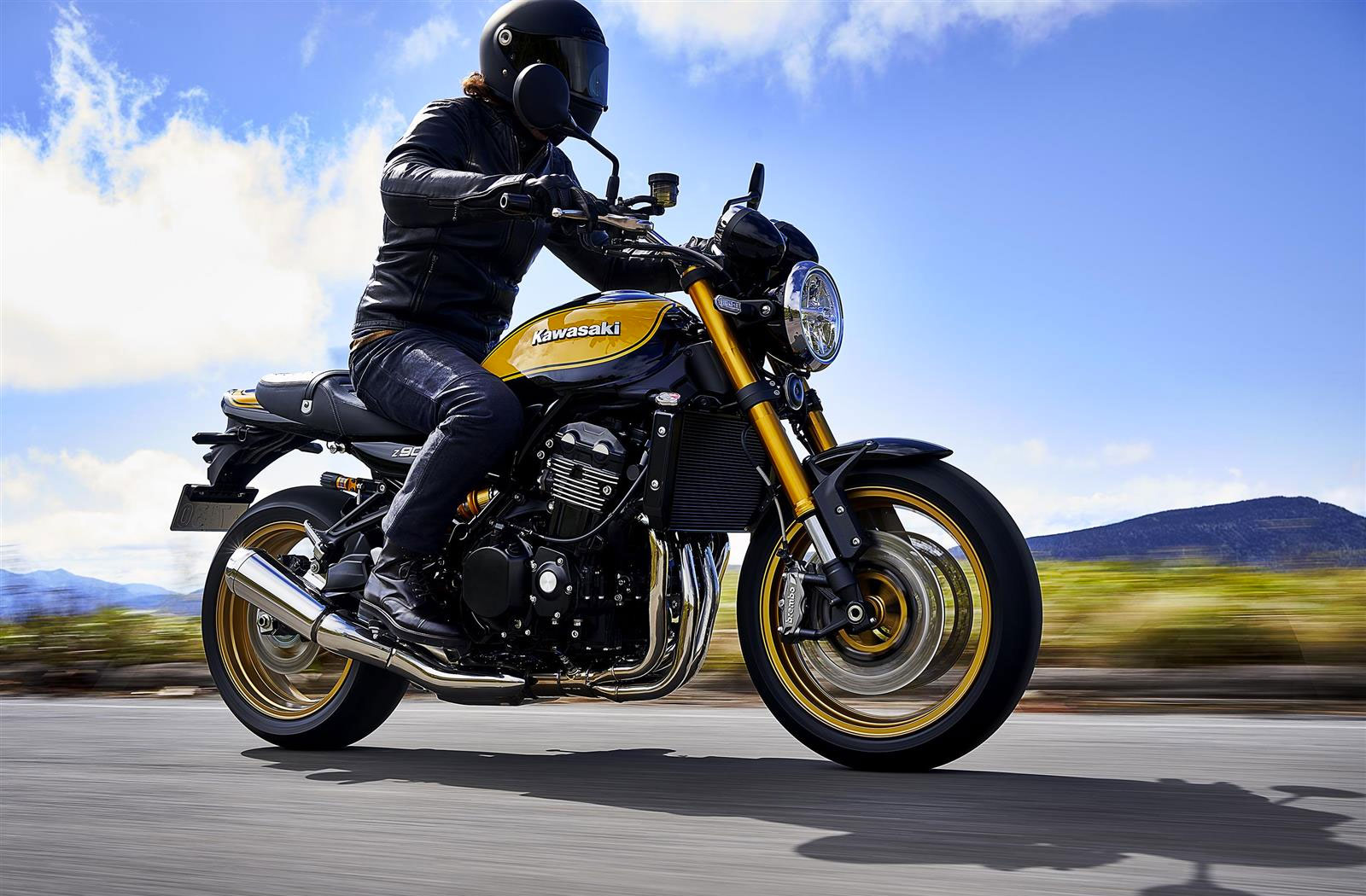 2022 Kawasaki Z900RS SE
There's no disguising that Team Green's Z900RS is a hot favourite around these parts so we're very happy to see the brand expanding on the range in 2022. As with Suzuki's Katana the Kawasaki Z900RS has true classic appeal. It was designed as a homage to the legendary Kawasaki Z1 but like all of these modern-retro motorcycles, it's powered by the latest Kawasaki engineering and technology.
First up is the 2022 Z900RS SE. This new Special Edition model adds upgraded suspension and brakes to the Retro Sports model as well as an all-new colourway. The upgraded suspension package includes a set of fully adjustable gold anodised USD forks at the front and a fully adjustable Öhlins S46 rear shock with a remote preload adjuster. The improvement in stopping power can be attributed to Brembo radial-mounted monoblock M4.32 callipers.
The Z900RS SE Yellow Ball paint uses a metallic diablo black base under bold yellow details. To tie the whole look together the SE also comes with a set of premium looking gold anodised rims. As you'd expect this version of the Z900RS comes at a higher price than the standard version.
2022 Kawasaki Z900RS 50th Anniversary
With the advent of the 50th anniversary of Kawasaki's Z series of motorcycles, they've also created a special anniversary edition of the Z900RS. The befittingly named Kawasaki Z900RS 50th Anniversary is primarily a styling exercise with a focus on recreating an even more convincing modern interpretation of the 1972 Kawasaki Z1.
Accessories exclusive to the Z900RS 50th Anniversary include gold anodised wheels, a textured tuck and roll seat and Z1 inspired branding. Kawasaki has fitted retro badges to the bike's fuel tank and engine cases styled after those found on the original Zed. You'll also get a set of '900 Double Overhead Camshaft' badges on the side covers that are identical to the Z1 examples from 1972.
The Z900RS 50th Anniversary also features a very special paint application that needs to be seen to be appreciated. Using a special multi-layer painting process the Japanese manufacturer has strived to recreate the look of the iconic Z1 deep brown and burnt orange candy tone paintwork. It was by far the most iconic of all the Zed's colour schemes over the years and a fitting finish to this special 2022 model.
More details: Kawasaki Motors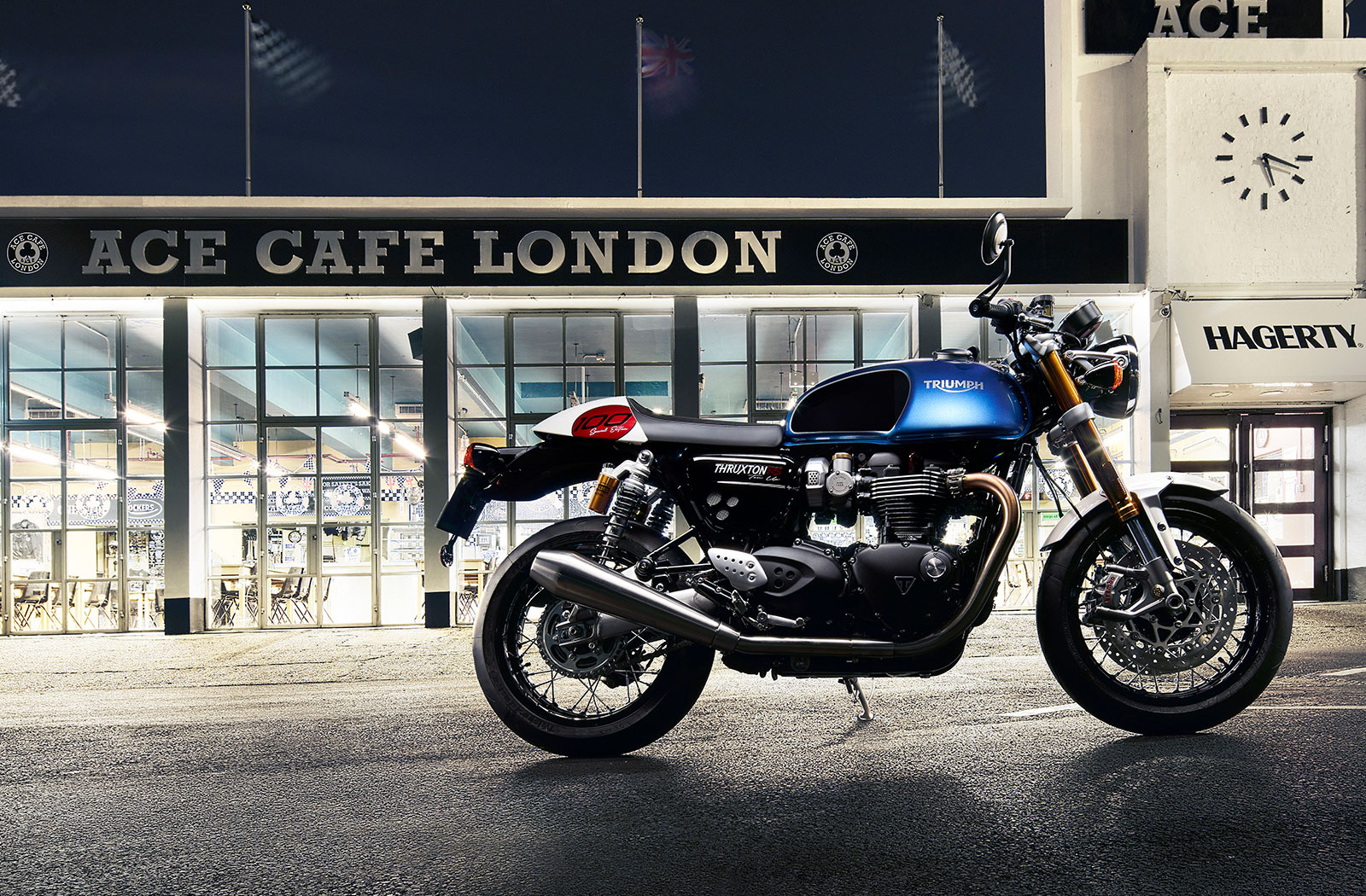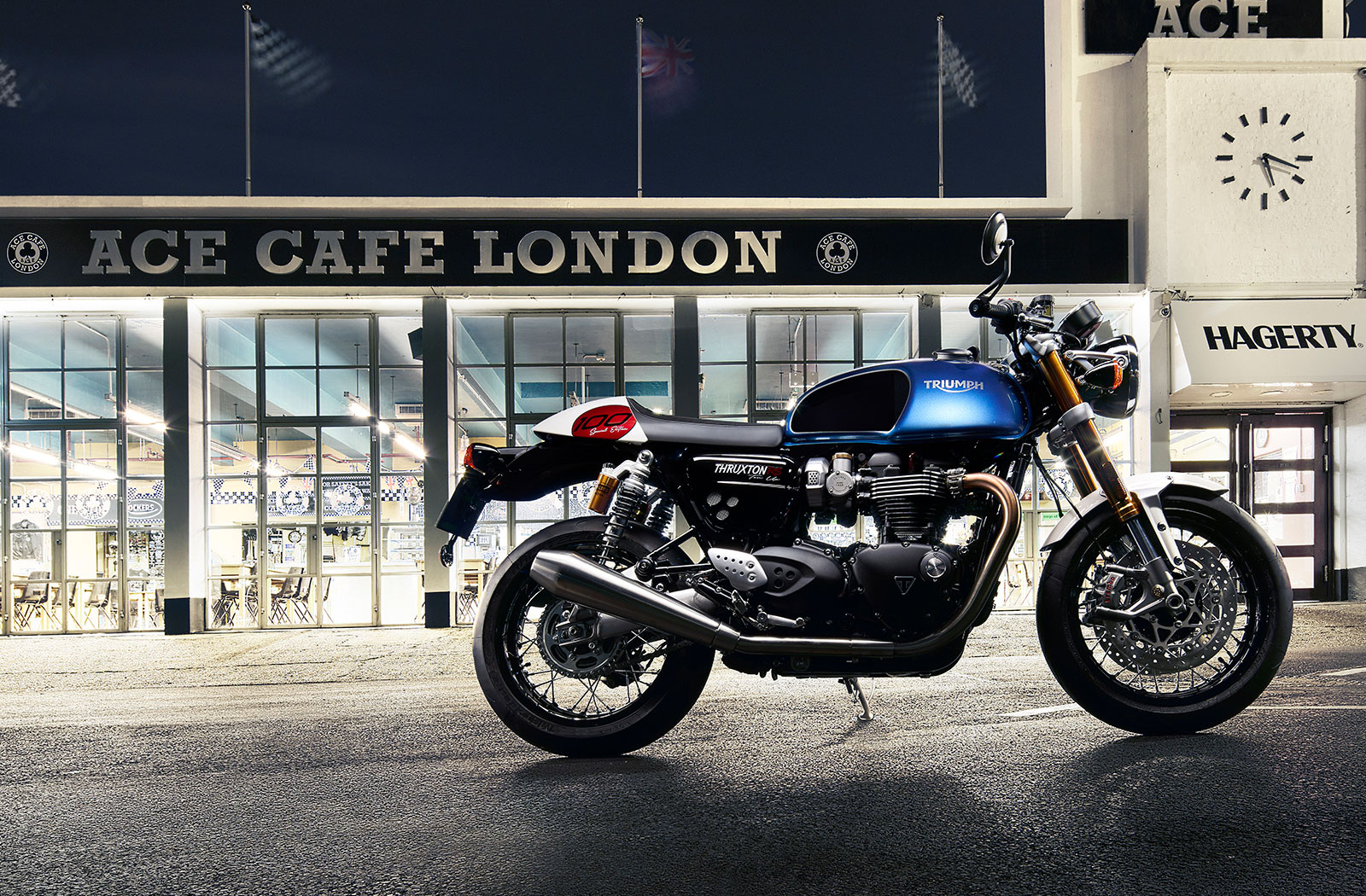 Of all the mainstream manufacturers Triumph Motorcycles offer the largest range of modern-retro motorcycles. In 2022 they are continuing to expand on that offering with a few all-new models and some special editions and updates of existing ones.
2022 Triumph Thruxton RS Ton Up
For 2022 the flagship of the Triumph Modern Classic range, the Thruxton RS, will be available as a special edition Ton Up variant. Inspired by the brand's own racing past and its involvement in the 1950s cafe racer movement, the Thruxton RS Ton Up (pictured above) will only be available to purchase new in 2022.
The differences that set the Thruxton RS Ton Up apart from the standard model are essentially skin deep. The extra spend this model demands will get you an exclusive Aegean Blue fuel tank and a Fusion white front fender and tail unit. The styling is a homage to Welsh motorcycle racer Malcolm Uphill and is completed with Ton Up graphics and special edition livery.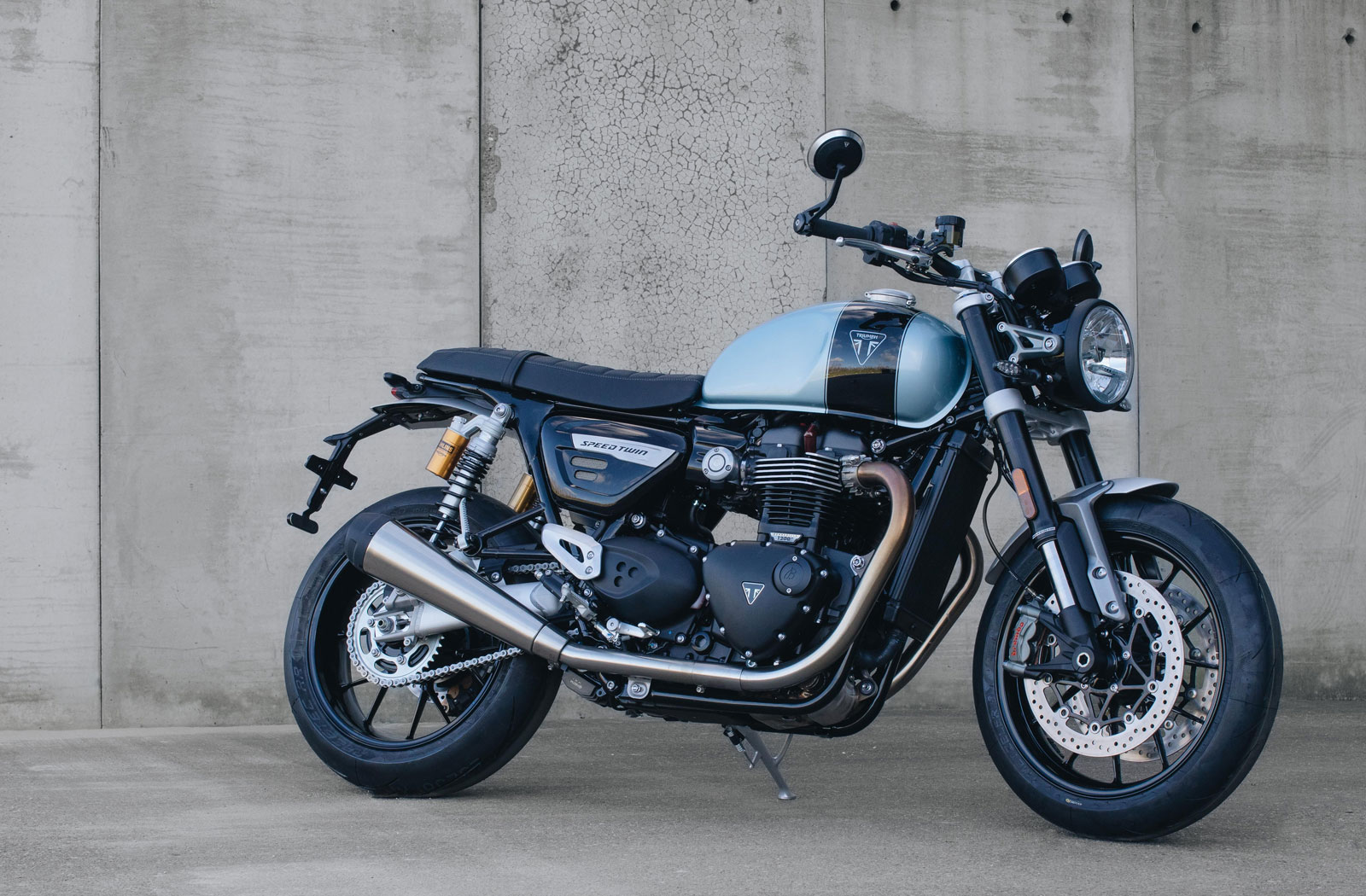 2022 Speed Twin Breitling Limited Edition
If you're into high-end timepieces the name Breitling is sure to ring a bell. Through an exclusive collaboration, the British watch manufacturer has teamed up with Triumph Motorcycles to create a limited edition version of the  Triumph Speed Twin.  Named the Triumph Speed Twin Breitling Special Edition this very exclusive model is limited to a mere 270 units and unfortunately, they've already all been sold.
The limited-edition Breitling Speed Twin came with hand-laid co-branded paintwork on a basecoat of the same blue used on the 1951 Triumph Thunderbird. Each bike also featured a numbered plaque on the top clamp stating its position in the production run, a custom seat embroidered with the Breitling emblem, custom dials on the twin gauge cluster and billet Breitling branded detailing on the engine. Each bike wore a premium Ohlins rear suspension setup and Brembo M50 brake callipers.
Customers who purchased a Speed Twin Breitling edition bike were also given the option to purchase a matching Breitling Chronometer watch. Adding the watch to your cart required an additional $7,700 USD spend so going home with the matching set required some rather deep pockets.

2022 Triumph Bonneville Gold Line Edition
Another single year production series from Triumph Motorcycles for 2022 is the brand's Gold Line Edition. The first Gold Line motorcycle released by the UK manufacturer was the 2021 Street Twin Gold Line. So positive was the response to that model that Triumph has now created a whole new series of gold line motorcycles that are based on 8 different models from the Triumph Modern Classic range.
The Triumph Gold Line series offers unique paint schemes and colourways that are hand finished by their own in-house pinstriping expert. Each model comes with a 2 tone colour scheme that is finished using hand-laid gold pinstripes where the 2 colours meet. These exclusive models also feature a gold line text on the fuel tank and gold decals.
The Triumph Gold Line Edition series includes the Bonneville T120, T100, T120 Black, Bobber, Street Scrambler, Scrambler 1200 XE and XC and the Bonneville Speedmaster.
More details: Triumph Motorcycles