Triumph has well and truly hit the nail on the head with their new Modern Classics range. The British manufacturer has a significant growth in sales since the bikes were released and they've received a unanimous thumbs-up from the world's motorcycle press. I've already had the pleasure of getting to know the 900cc Street Twin and the Bonneville T120. As much as I was excited to experience those models it was the Triumph Thruxton R that had me, and it seems everyone else, most excited.
As you would have probably read by now Triumph CEO Nick Bloor gave his design team the somewhat straight to the point brief of "Don't f#ck it up!" when redesigning the Bonnevilles. Although I haven't had the chance to ask him myself, I'm pretty sure John would be rather pleased with the results. It seems that all departments from engineering through to design at the Hinkley factory worked in harmony together to create a new Modern Classics range that was better than its predecessors in pretty much every aspect.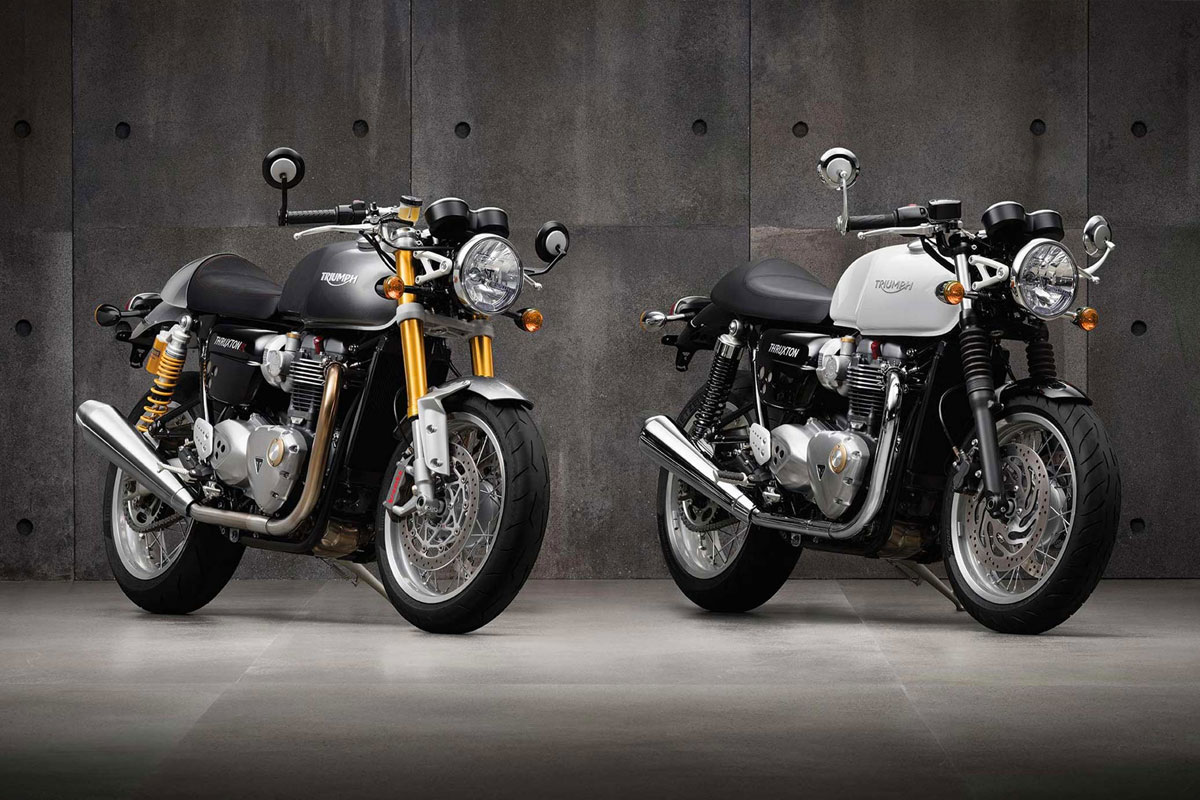 Unfortunately, due to the overwhelming popularity of the Triumph Thruxton R in Australia, the press launch was delayed. It seemed that there simply weren't enough left in the country for us to test ride. As frustrating as that sounds it's the best kind of problem for a manufacturer to have and a testament to just how well this bike has been received. The hype surrounding its release, its jaw-dropping good looks, and its spec sheet was enough to convince punters to preorder their Thruxton R months before they had even landed on Aussie shores. With such an incredibly good response to the Triumph Thruxton R, it almost seems redundant to be reviewing the bike, but I wasn't about to pass up the opportunity to try one out myself.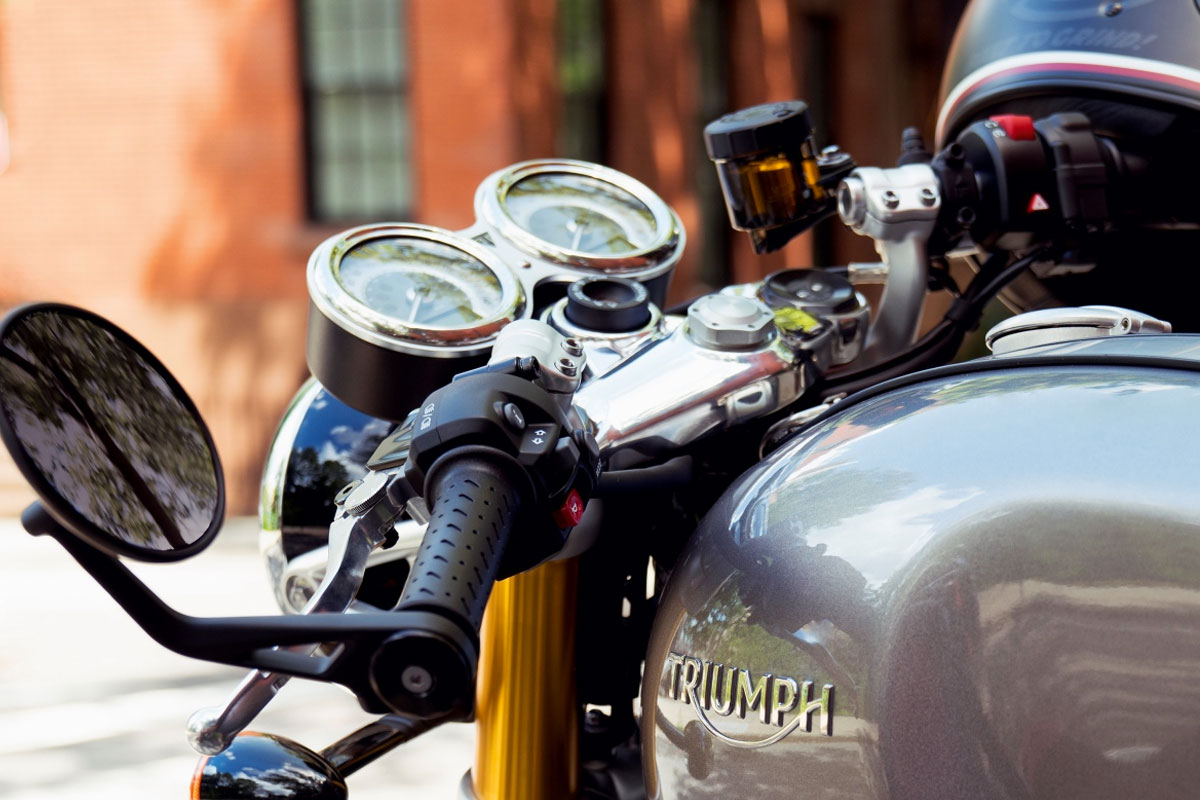 To attend the 2 day Thruxton R launch I rode a Bonneville T120 4 hours north of Melbourne to the Victorian border. After the customary press briefing session, we were shuttled off to the Murray Valley Training Center in Albury, NSW for some time on a track. I'm embarrassed to admit it, but until that day I'd never spent any time riding a motorcycle on a dedicated track before. I've been a daily motorcycle commuter for well over a decade, but racing has never been my thing, so this new experience had me feeling a little uneasy, especially since several of my fellow moto-journalists were ex-pro racers.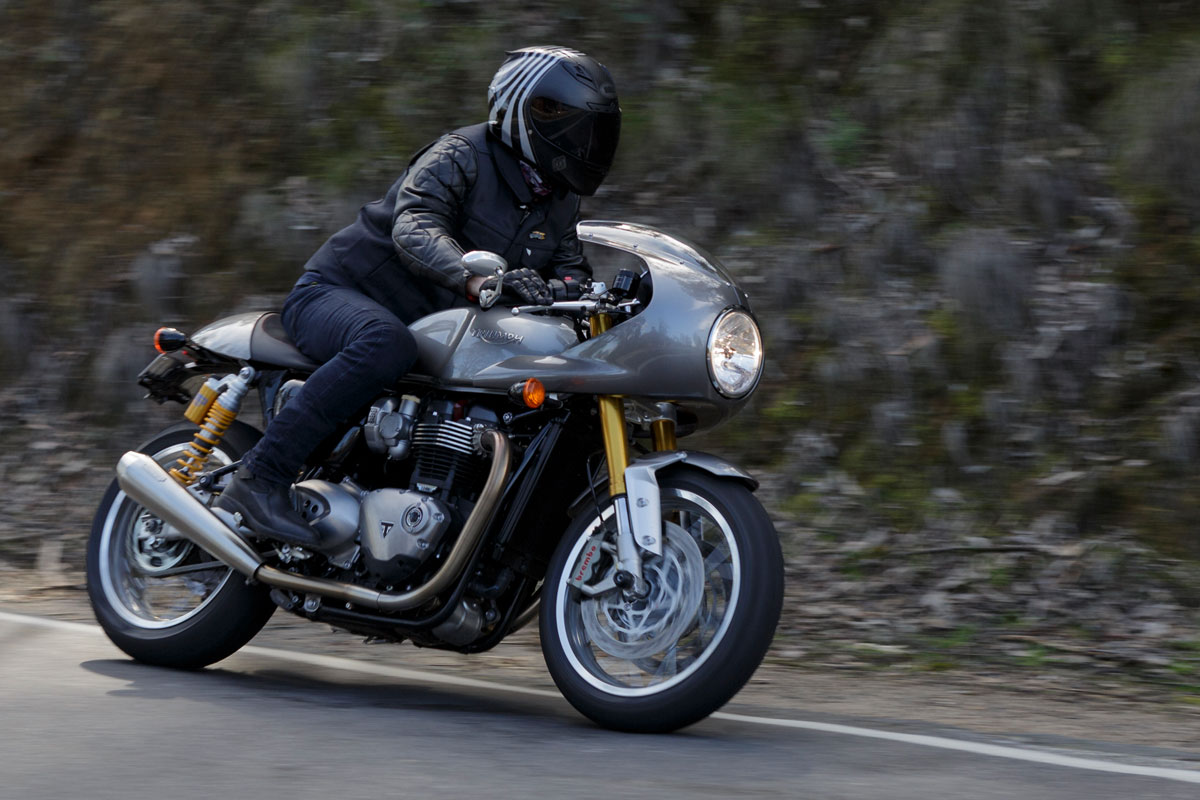 I donned a set of leathers and completed a couple of warm-up laps behind our group leader, taking note of braking and turning markers. My first few laps were then spent getting accustomed to the bike. The Thruxton R is a wildly different ride to the Bonneville T120. From the seating position through to the engines power delivery this was a much sportier beast. Clip-on bars and rearward set foot pegs positioned me well for more spirited riding but weren't so aggressive that I felt it was going to get uncomfortable. The handling was also dramatically more responsive thanks to a revised front end rake, Showa USD forks, Öhlins rear shocks and a beefy set of Brembo brakes. There was also a noticeable jump in power, but its delivery was silky smooth.
As I got into the groove of the track the Thruxton R instilled me with the confidence to pick up the pace. Soon I was scraping the pegs corner after corner despite their rear set position. After a few pointers from my fellow riders, I was ready to get my bum out of the seat and get my knees down. Thanks to the Thruxton R's smooth throttle response and awesome handling I was feeling comfortable on the track at speed so it was just a matter of technique. Lap after lap I slid hung further and further out of the comfort of the bike's seat until it happened, I popped my knee puck cherry. As our track day came to an end I had earned the respect of the more experienced track riders and was chuffed that it had happened on a Modern Classic. I'd like to claim it was all me, but it would be wrong to say that the Triumph Thruxton R didn't deserve at least some of the credit.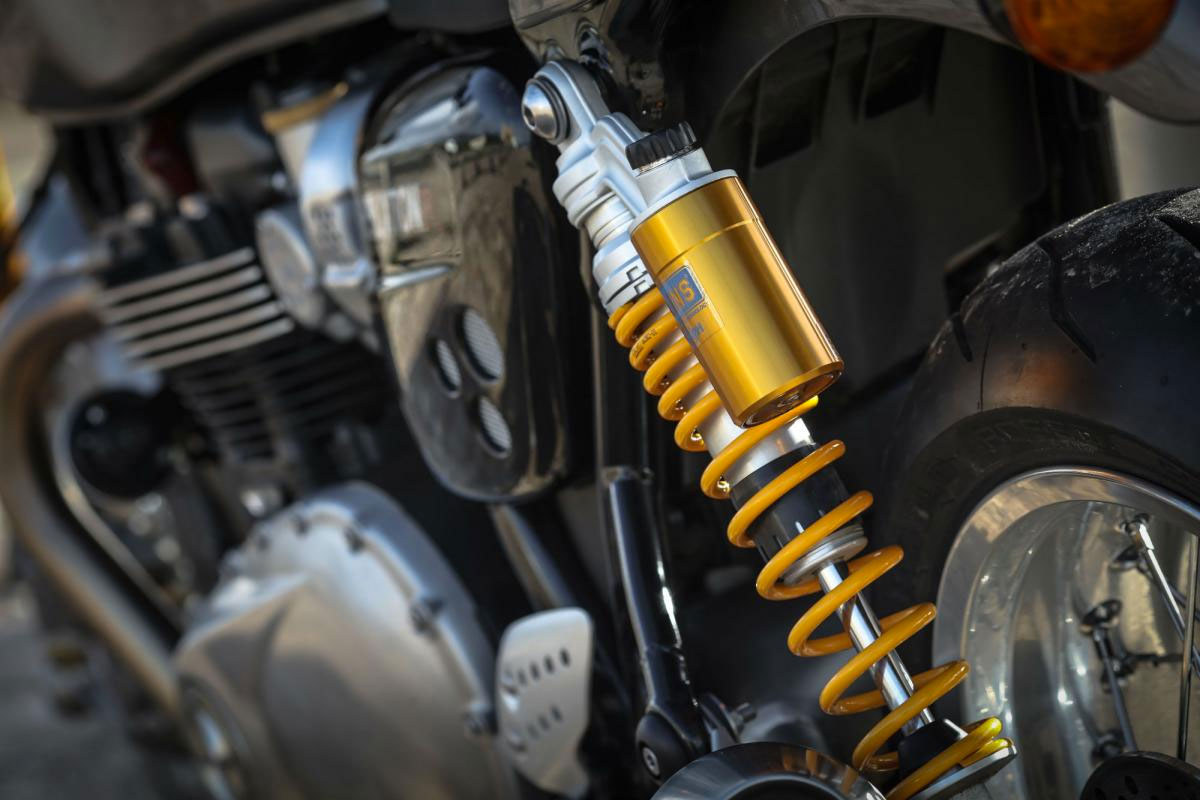 Our second day of riding was a fast-paced, rip-snorting journey through the valleys, mountains and towns bordering Victoria and New South Wales. We set off in the morning, got back just before dusk and I could have happily kept on riding the Thruxton R through the night. It was a great day, but my personal highlight happened when a rider at the back of the pack missed a turn and burnt off in the wrong direction. As he disappeared up the road I was the first to spin around and take off after him. Due to the fact that he'd lost sight of the rest of us he wasn't slowing down so I had to better his pace to catch him. It made for a rather exhilarating couple of minutes that left me with a huge grin on my face and even more impressed by the bikes ability.
I feel it is important to point out that unlike the previous Hinkley Thruxton, which was definitely more show than go, this new iteration packs plenty of punch. While I wouldn't categorise the Thruxton R as a sports bike it can definitely hold its own through the twisties. However, unlike most sports bikes you can comfortably ride this motorcycle all day long in any kind of traffic conditions. Triumph has taken the already impressive, 2016 Bonneville 1200cc parallel twin and modified it with higher compression, performance cams and revised mapping to create what they have coined the HP (high power) version of their all-new, water cooled engine design. These changes have increased the power figure from 79bhp to 96bhp and max torque from 105Nm up to 112Nm; and it's all available in the low to mid rev range making it loads of fun during your average, everyday road riding conditions.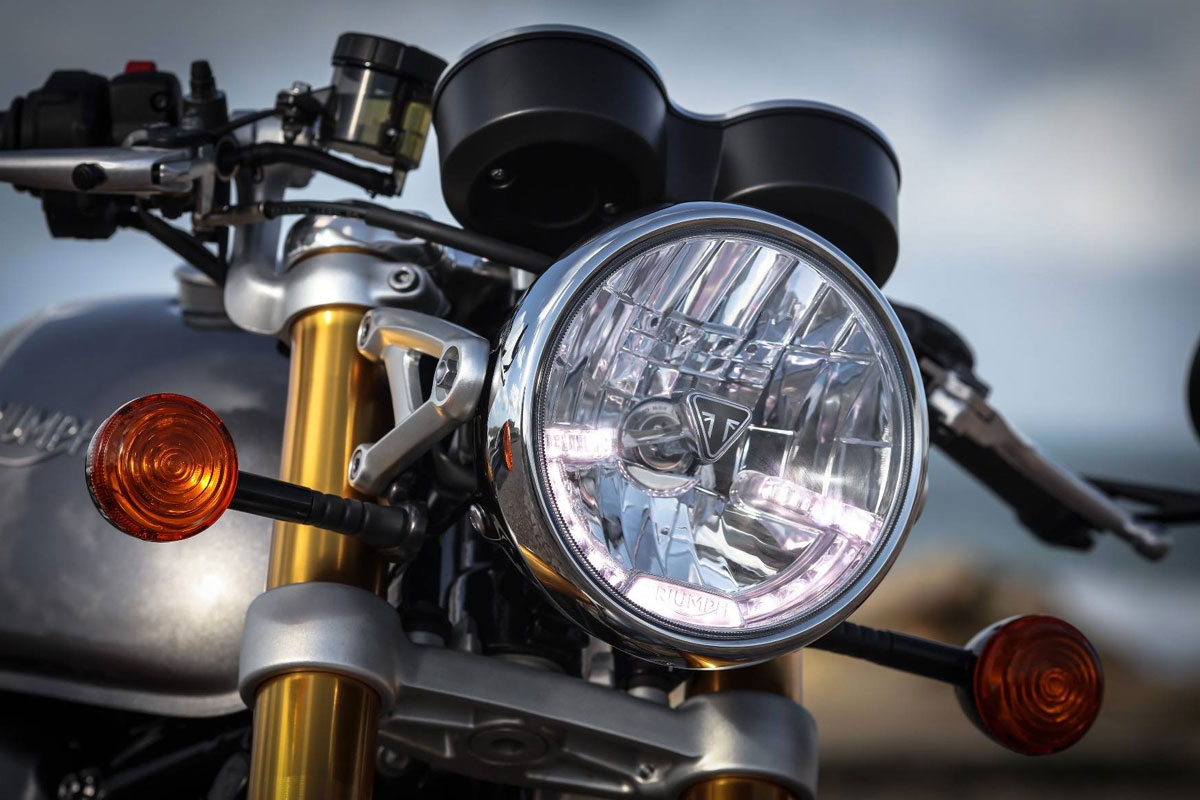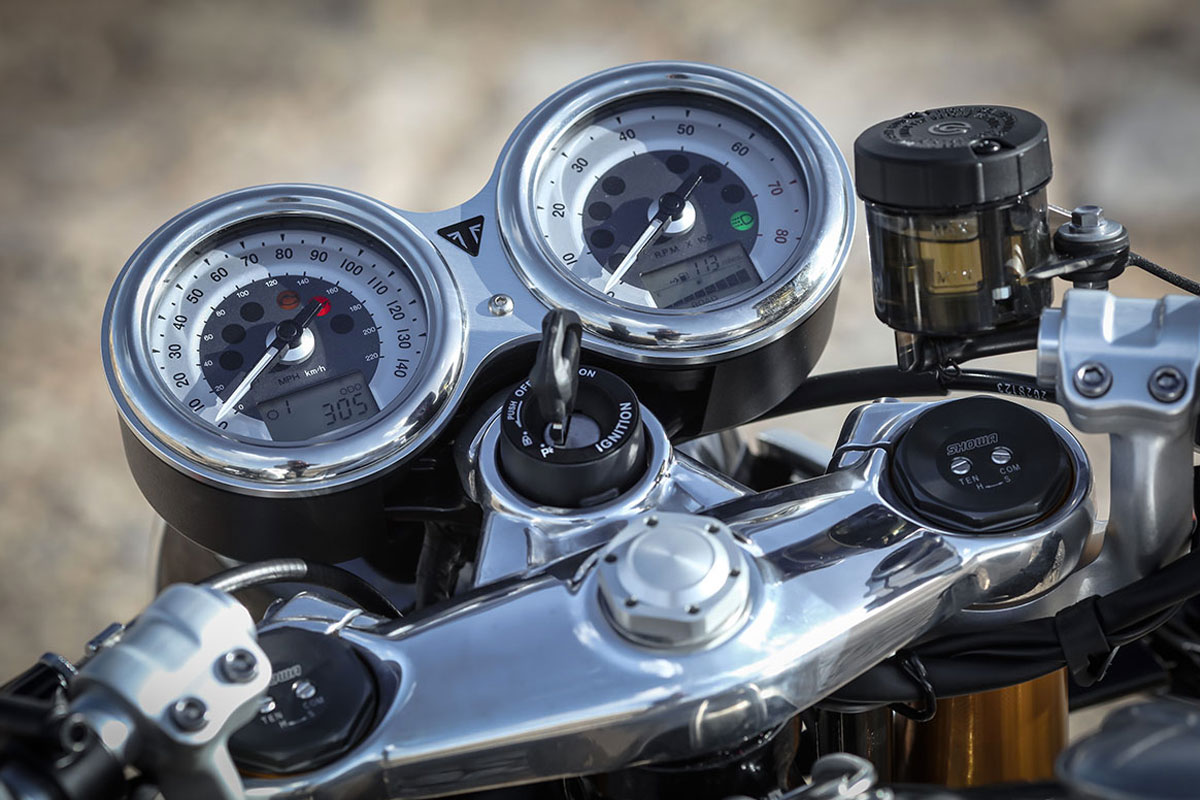 Like the T120 the Thruxton R is packed with smart tech like ABS, traction control, 3 riding modes (road/rain/sport) and a ride by wire throttle, but you don't get the heated grips you'll find on the Bonnie. The bike also wears grippy Pirelli Diablo Rosso Corsa rubber, which we thoroughly put through its paces and it didn't show any significant signs of wear (except the one of two that were subjected to burnouts). Front and rear suspension is fully adjustable and the twin, megaphone style mufflers sound great despite being within legal decibel limits.
Aesthetically I feel that the Thruxton R suffers from a slight identity crisis. There's no denying that it's a beautiful looking bike, but those gold forks and Öhlins rear shocks look a little bit out of place on a bike that's categorised as a Modern Classic. The Thruxton's narrow tank with its deep knee dents, Monza style cap, spoked wheels and polished alloy components are an awesome nod to the original 1965 Thruxton, but the gold bits simply don't follow suit. There is, however, a non-R version of the Thruxton that features less modern looking rear shocks, traditional forks wearing retro rubber gaiters and Nissin brakes. You will also save a couple of grand opting for the non-R version, but you'll be sacrificing some of the awesome handling performance you get with the R. So at the end of the day, the decision between one or the other would come down to personal preference and priority.
Compared to any other manufacturers "retro-styled" bikes the Triumph Thruxton R and it's Bonneville counterparts are still the best interpretation of classic styling currently available, and quite possibly the best to ride. The Thruxton R is priced at $21,000AUD while the standard Thruxton sits at $18,700. Over 160 Triumph aftermarket parts are available for both versions of the Thruxton including the very sexy "Café Racer fairing" and Vance & Hines slip-on mufflers to get more growl out of that lovely parallel twin.
Images by Ben Galli and Dean Walters