If you frequent these pages you'll be familiar with the work of Kyohey Sugimoto of Berrybads Motorcycles. The Japanese builder has been a hot favourite of mine for many years. This is due, in part, to an incredible Kawasaki W650 cafe racer he built back in 2016. But since then Sugimoto-san has built plenty of other impressive custom motorcycles that are worth a closer look.
Along with building impressive custom motorcycles, Sugimoto-san has a soft spot for classic racing. And I don't just mean as a spectator. Sugimoto-san is an avid participant too. Leveraging his wealth of knowledge and some very capable hand skills he's built a race bike that is sure to be the envy of many of his competitors. It's dripping with hard to find go-fast bits, wears attractive one-off bodywork, and most importantly, wins races.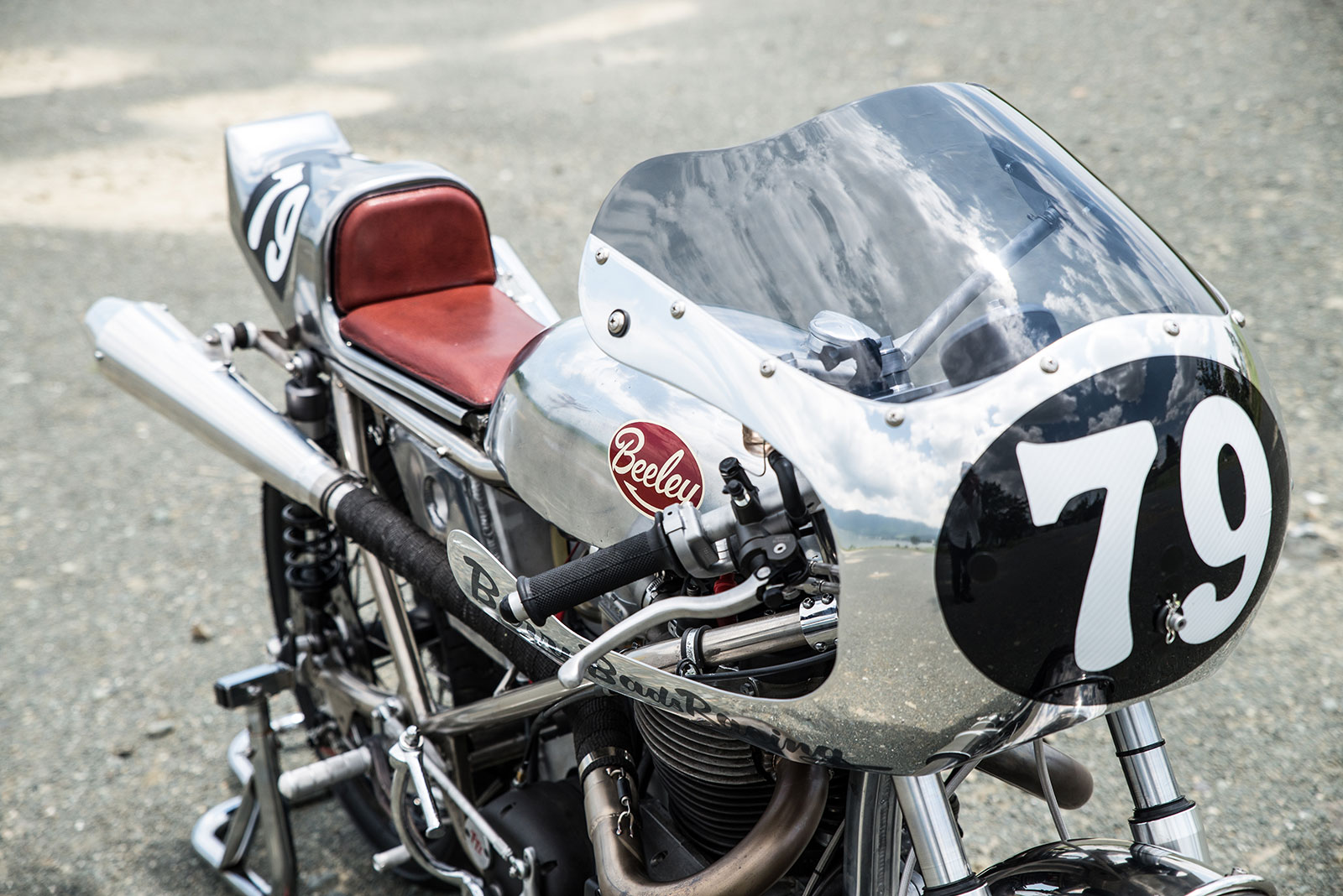 "The motorcycle's name is Beeley Westlake," says Sugimoto-san. "This is a parody of Seeley, who made the frame, and Weslake Nourish who produced the engine. The B of Beeley is also B for Berrybads. Westlake is a reference to my beloved hometown is on the west side of Lake Biwa, which is the largest in Japan."
Built to compete in pre-1972 classic race events, Sugimoto-san pieced the Beeley Westlake together during the Covid Lockdowns. With the goal of competing and hopefully winning races, he poured countless hours into Beeley and its motor.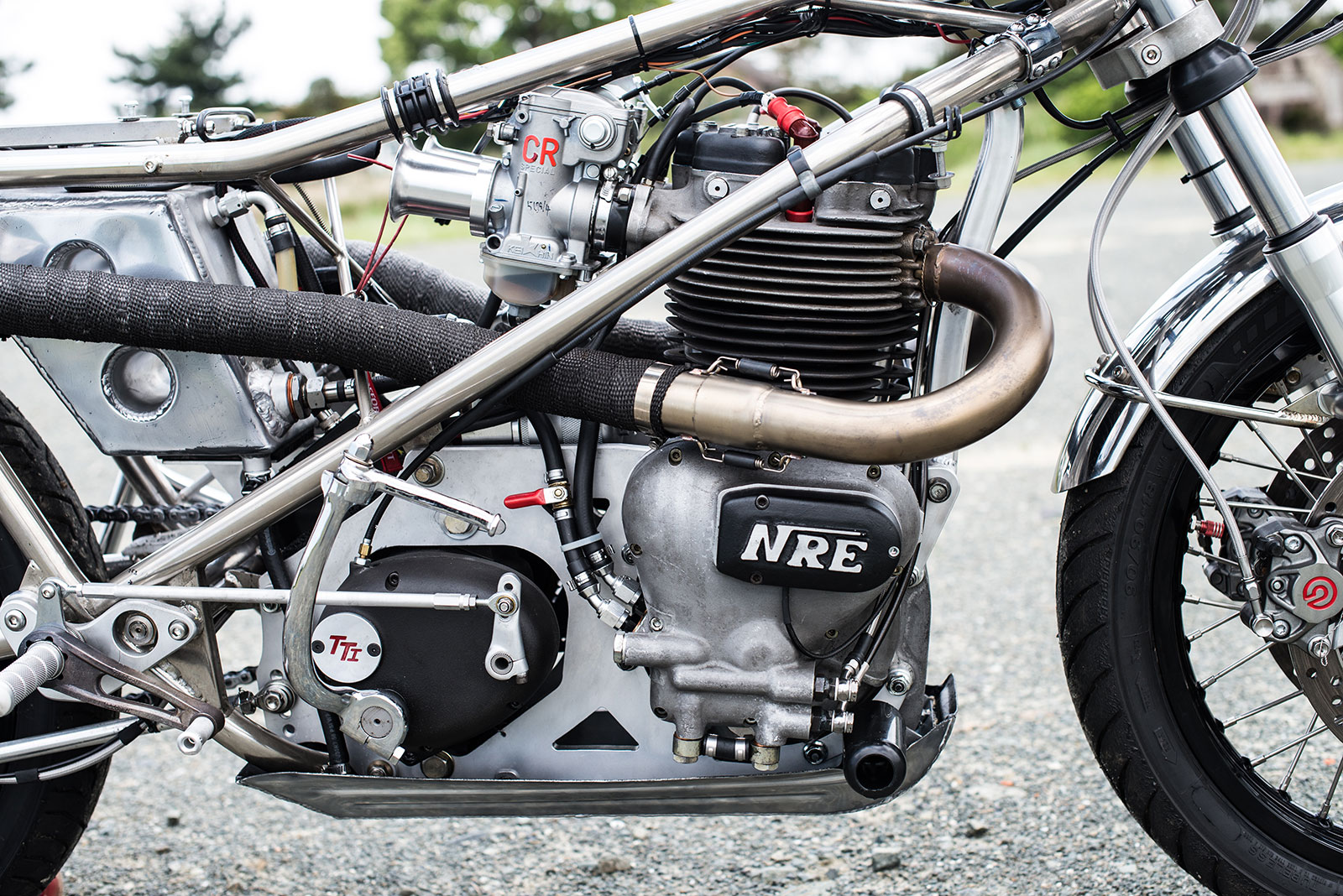 At the heart of this build is an 8-valve Weslake Nourish engine based on a design by Weslake R&D. Harry Weslake was an English engineer considered to be the country's foremost expert on cylinder head design. Working with Norton Motorcycles he helped to improve the flow of gas in their Manx engine and was commissioned by many other British manufacturers to rework their engine designs. He even contributed to Ferrari's 1960s Formula 1 endeavours by developing new heads for their race cars.
During the 1970s Weslake R&D produced motorcycle engines that were highly regarded in racing circles. After his death, the Weslake eight-valve head design for twin-cylinder engines was sold to Nourish Racing. This engine is a product of that passing on of knowledge.
Although the engine was very capable when Sugimoto-san acquired it, he wanted to build it to his own specification. This way he'd become more familiar with the engine, making trackside maintenance easier, and also so he could build it as resilient to the stresses of racing as possible.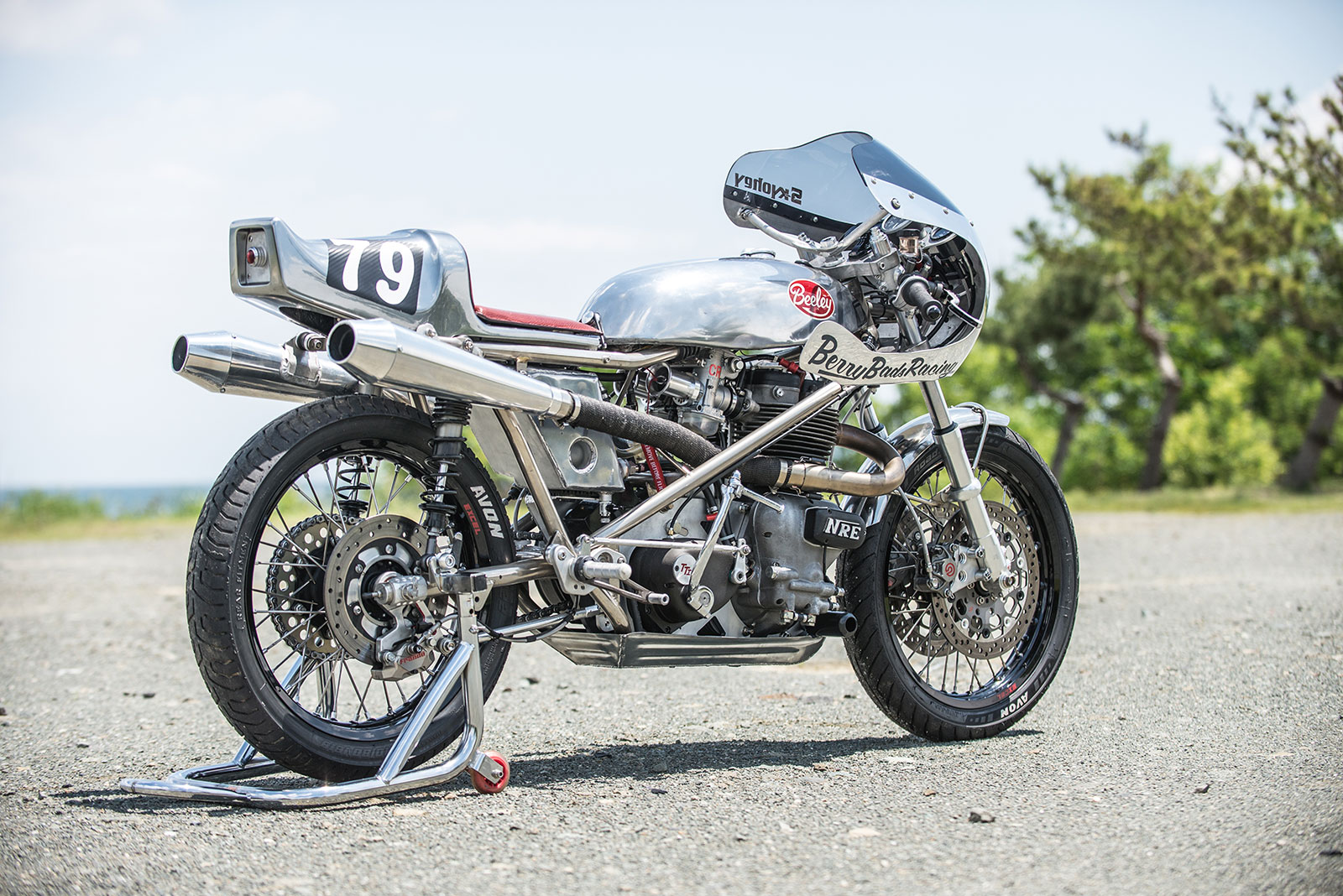 Internally the Nourish engine received a complete rebuild. Along with giving everything a refresh, Sugimoto-san installed Carillo Forged connecting rods. The primary drive has been replaced using a Bob Newby racing setup and the gearbox is a TTI 6-speed cross-ratio system. The custom exhaust headers are capped with alloy megaphone mufflers and are purposefully heat wrapped to avoid nasty inner thigh burns. Fueling is managed by a pair of Keihin CRS37 Special Racing Carburetors and strategically positioned oil filters and coolers keep operating temperatures within safe parameters. An Interspan ignition manages the spark and the whole arrangement has been tuned using Sugimoto-sans' own secret recipe.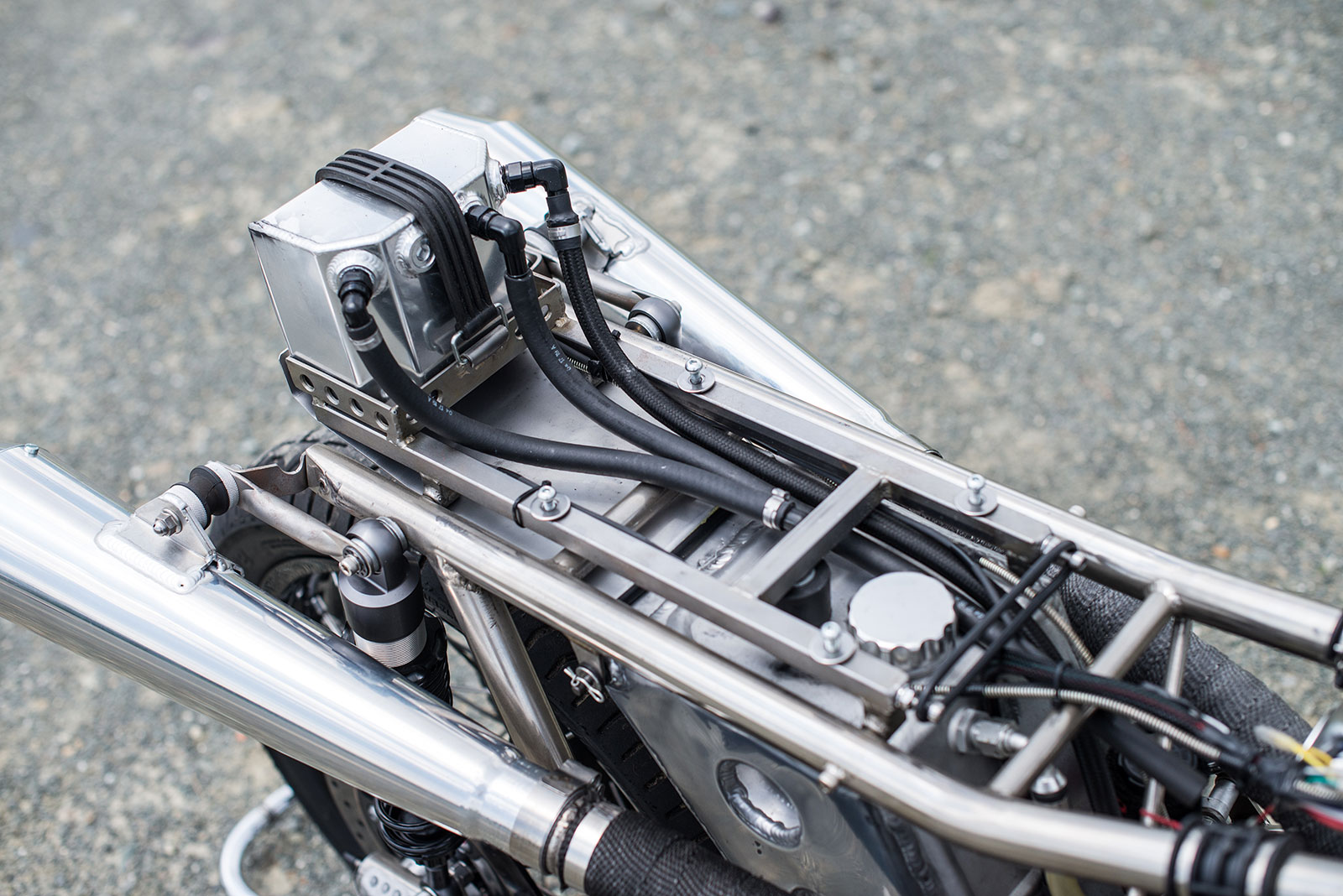 Another highly desirable aspect of this classic race bike is its frame. The tubular chassis was designed by none other than British motorcycle designer Colin Seeley. This MK4 style frame was arguably one of Seeley's best designs for the track. The frame uses the Nourish engine as a stressed member which reduces weight due to the lack of a frame cradle. The frame also boasts excellent rigidity and optimised handling geometry.
In keeping with his comprehensive approach to this build, Sugimoto-san carefully inspected the frame prior to the rebuild. To ensure its longevity the entire structure has been electroplated with nickel.
A good frame deserves a good suspension and brake package. So Sugimoto-san did his utmost to respect Seeley's design while adhering to classic racing regulations.
Starting with the wheels they're a cocktail of parts from different brands which have been retrofitted to achieve the best result. "The hub was the early days of Yamaha SR. The back uses the current motocrosser YZ, and the back is also a disc brake." says Sugimoto-san. The front brakes utilise twin Sunstar 298mm rotors and Brembo 2 pot callipers. The rims are by Excel and they're wrapped in Avon racing bias tires.
As for the suspension he's used a new set of classically styled 35mm Ceriani forks while the rear end is managed by a pair of Nitron NTR R1 classic shocks.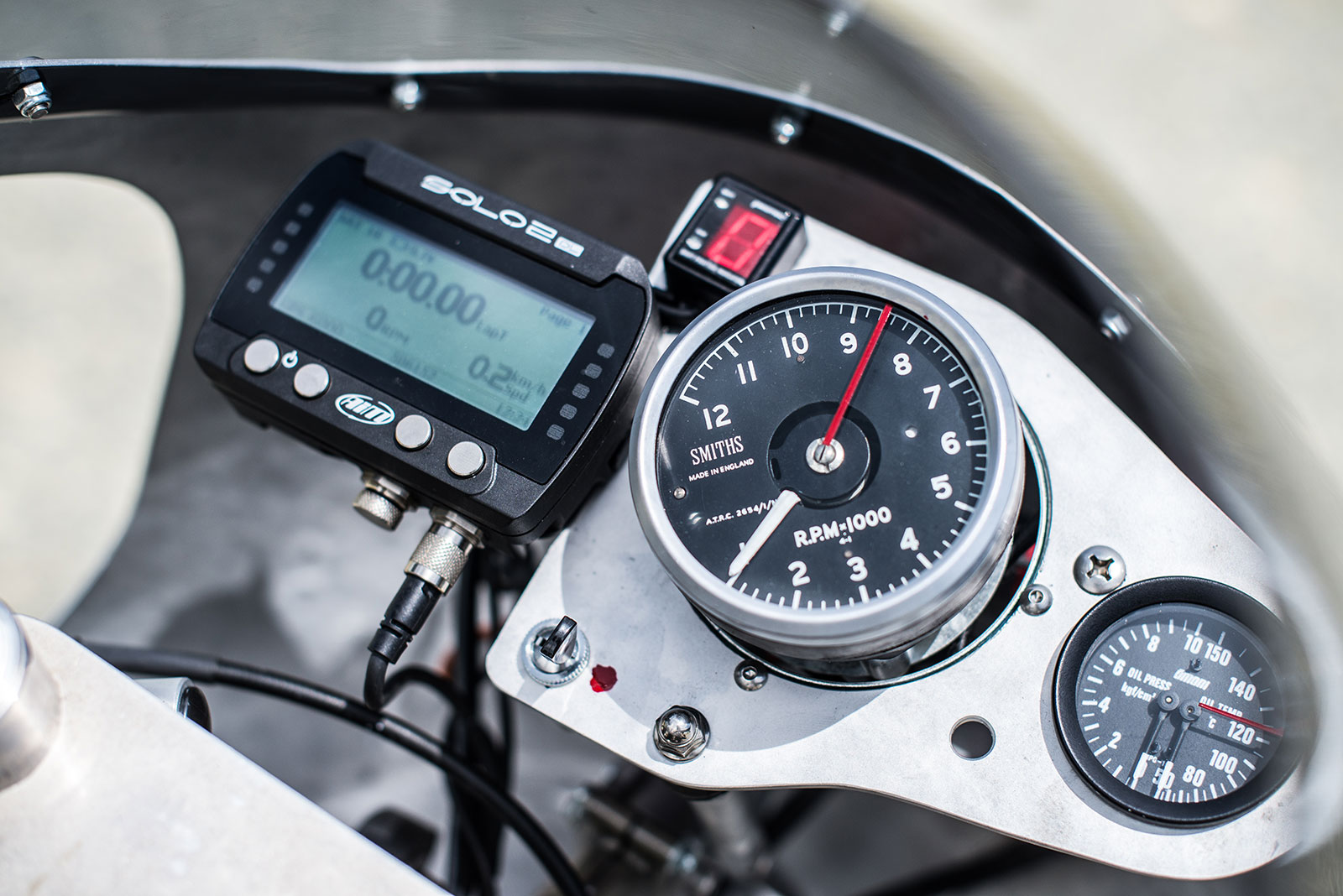 As you'd expect Beeley Westlake's cockpit is all business. A Smith's ATRC left-handed tachometer holds pride of place at the centre of the custom alloy dash. It's joined by an all-important Omoni oil temperature and pressure gauge. A digital gear indicator and Solo 2 lap timer complete the setup and are also the 2 most modern components you'll find on this classic build.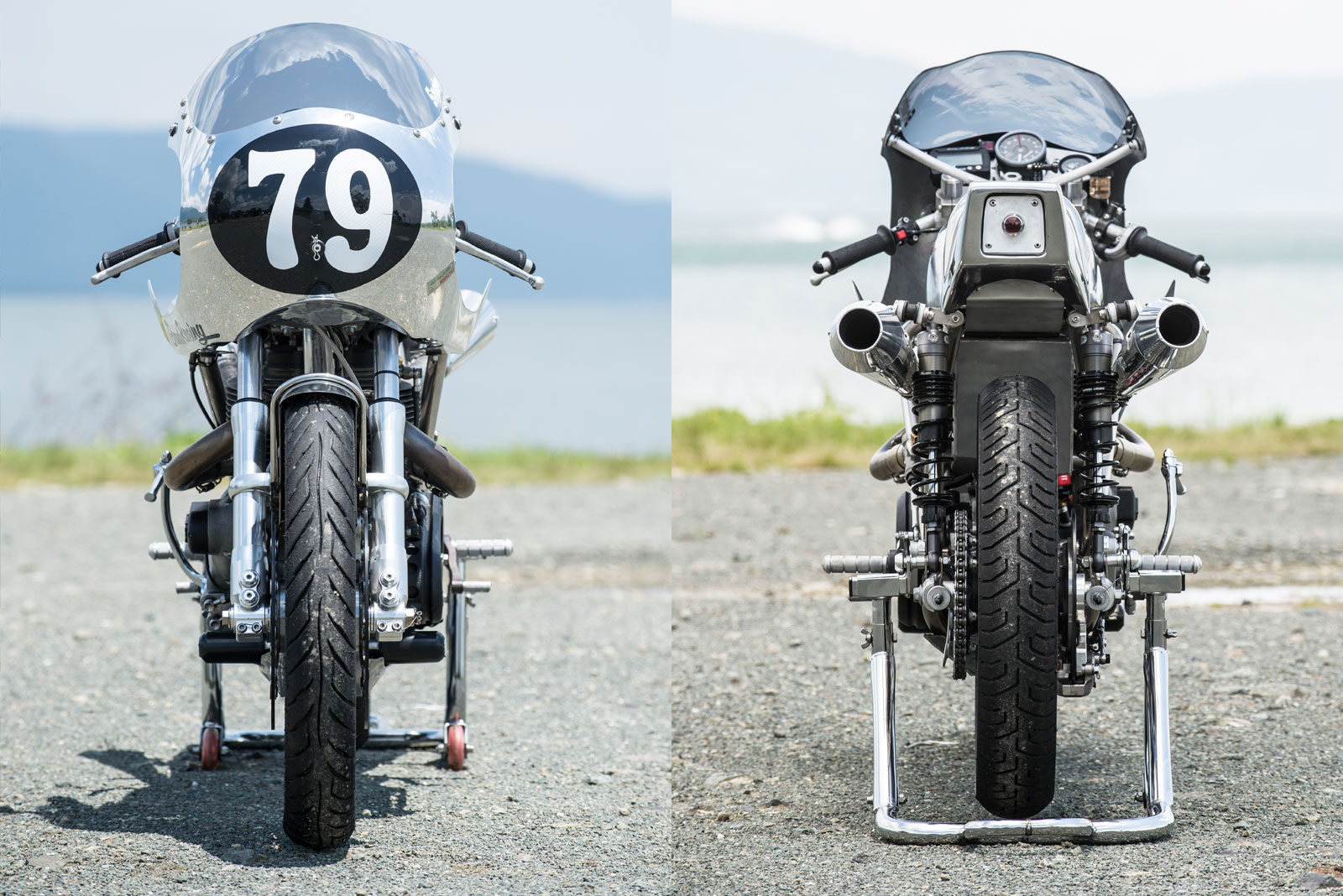 The icing on this rolling cake is its imposing handmade bodywork. At the pointy end sits a rocket style cowl meticulously formed from aluminium. Straddling the top rails of the Seeley frame is a sleek aluminium fuel tank wearing a Monza style filler. Sitting within the triangle at the rear of the frame is a custom alloy oil tank and hidden inside the rear cowl is an alloy catch can. Although very well disguised the tail unit is the odd one out. The ducktail styled cowl is in fact made from fibre-reinforced plastic. However, Sugimoto-san has disguised the fact by finishing it with chrome paint which he's polished to match the rest of the bodywork.
To complete the look the bike wears asymmetrical branding. On one side of the tank is a Westlake logo, on the other a Beeley one. Sugimoto-san's 79 race number on the tail and the front end completes the look.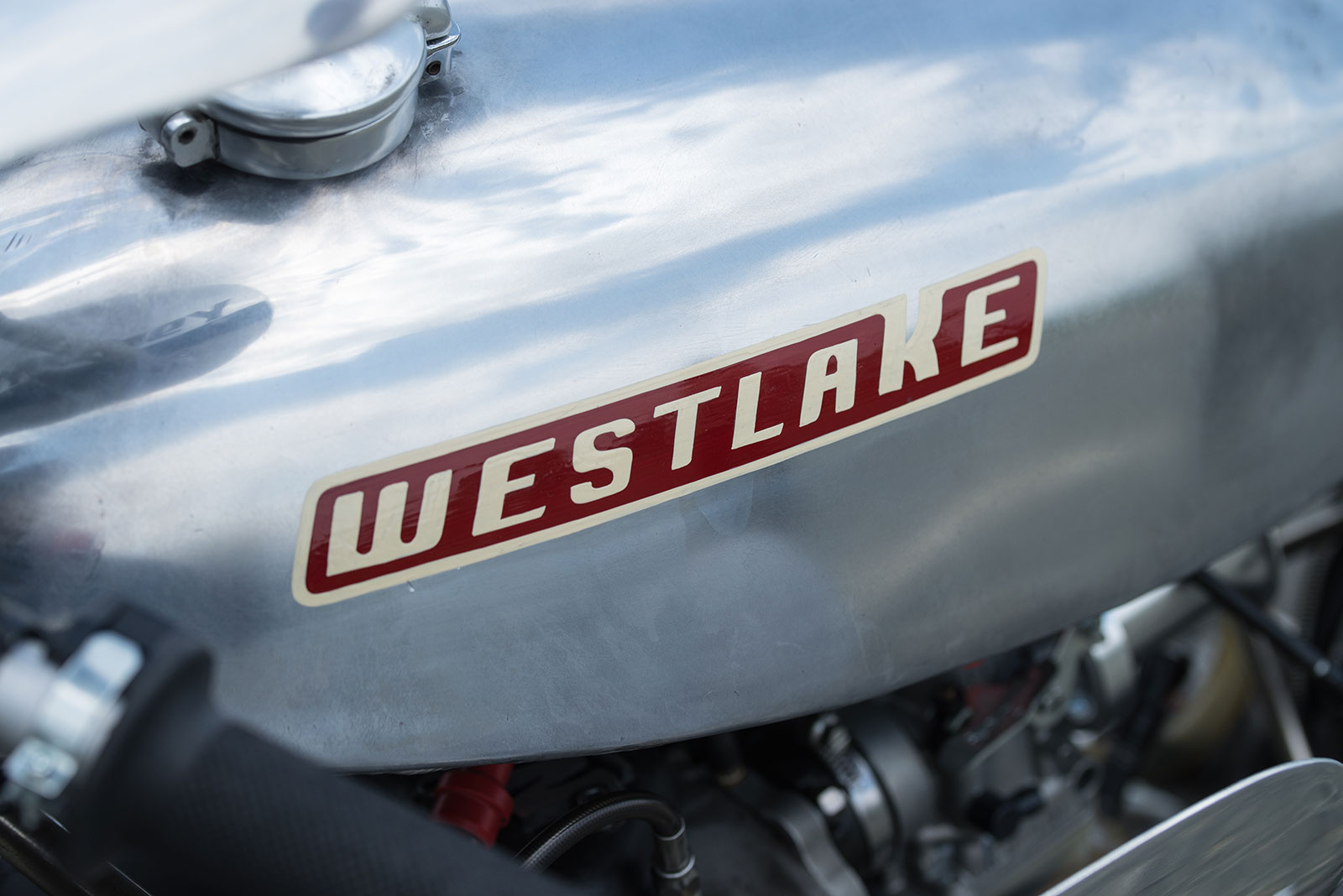 Of course, all this work would be for nothing if the motorcycle was never to be raced, but Sugimoto-san has well and truly put those concerns to bed. For its debut race appearance, the Beeley Westlake was entered into the 2021 Fuji Speedway 'Legend of Classic Championships'. Much to his surprise, the bike outperformed Sugimoto-san's expectations.
"The assembled Beeley was faster than I imagined," he says. "Probably more than 90 horsepower. It reached 230km/h in the first race!" But it wasn't just outright speed that the bike benefitted from. Thanks to the Seeley frame, optimised suspension and capable brakes, Sugimoto-san secured pole position during qualifying. Then, with the race champion Team 46 Works hot on his heels he took out first place.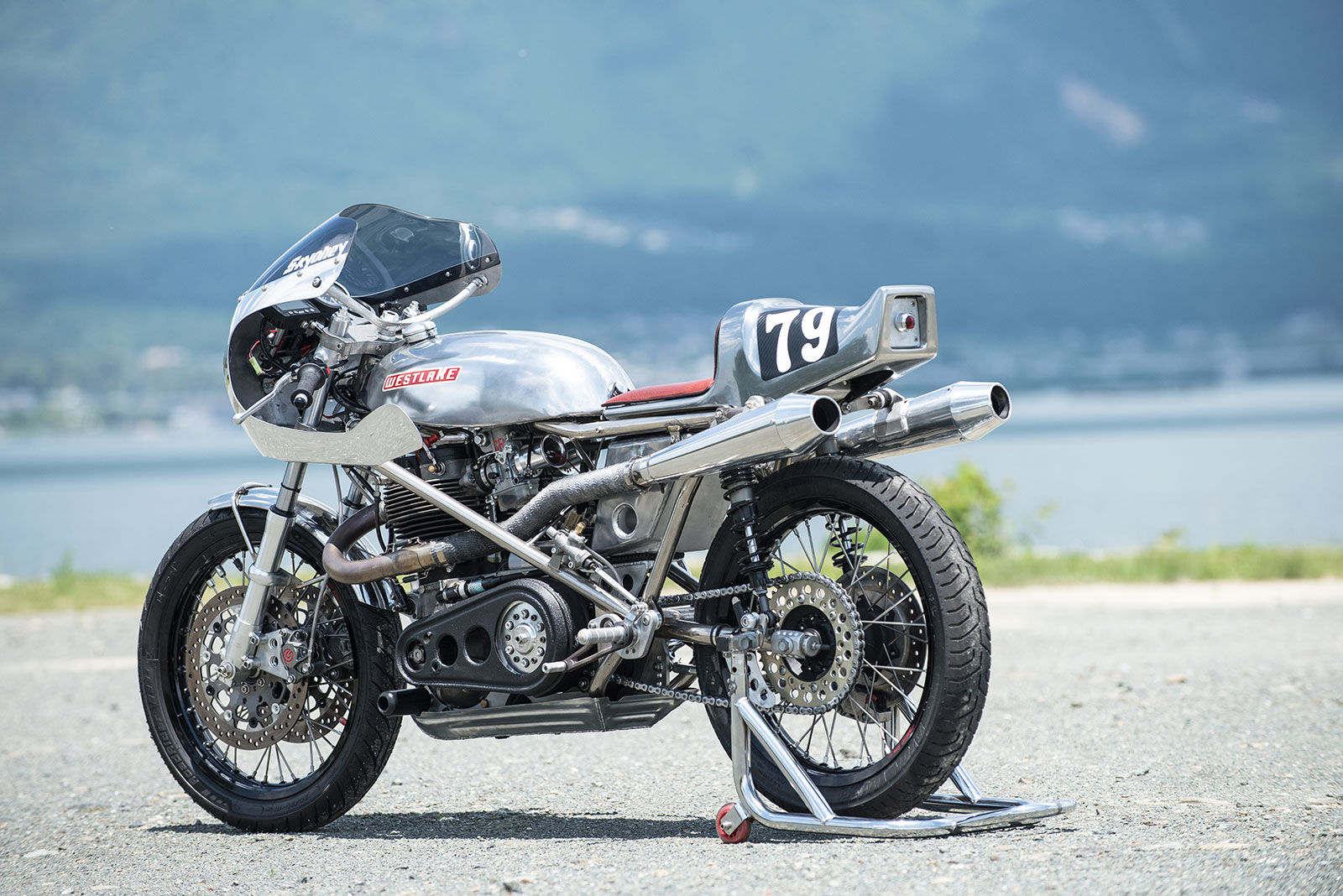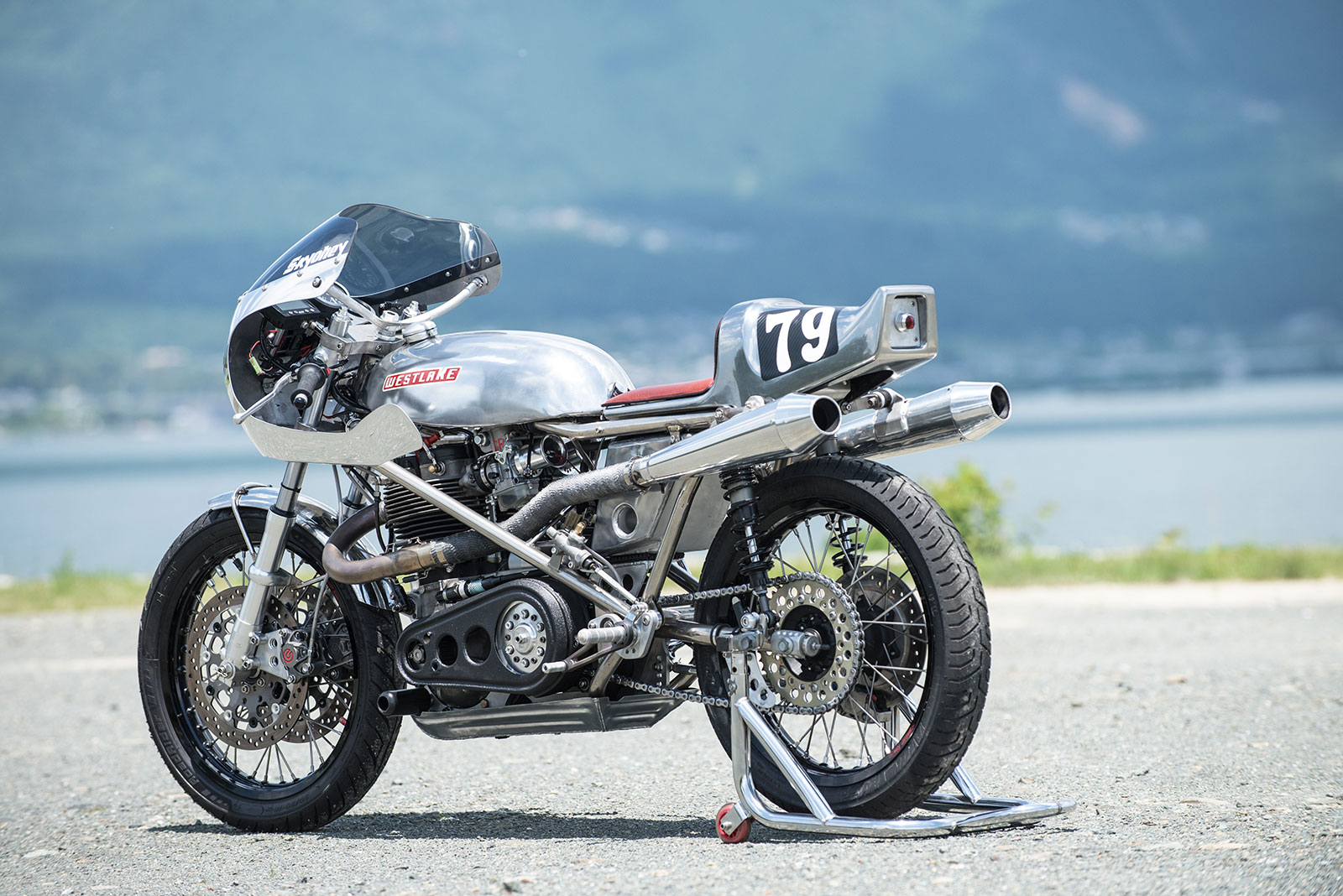 Unfortunately, as is the way in motorsport, Sugimoto-san's last race meet with Beeley Westlake didn't go as planned.
"At Tsukuba Circuit for the opening round of the year on the unfamiliar course, I qualified 7th. But in the final race, I was up to 2nd place after the first lap. Then, when I chased the 1st place, I fell down…but I took the fastest lap!"
After sustaining some minor damage Beeley Westlake is being prepped for a return to racing. With such an impressive first effort, we're confident this bike will be winning Sugimoto-san many more trophies.