Back in 2005, when I first became interested in the Japanese custom motorcycle scene, finding insights into their world took some serious digging. At the time Google translate didn't exist and I was relying on the handful of Japanese words I knew to find anything I could online. When I did manage to find a workshop website or gain access to a Japanese bike forum there was one motorcycle that always made an appearance, the Yamaha SR400.
I discovered that the Japanese were modifying the SR400 in all manner of custom styles. From hardtail bobbers to choppers, flat trackers and cafe racers. It seemed the only thing limiting what you could do with an SR400 was your imagination. Of course, the SR400's history spans much farther back than 2005.
The first SR400 hit the streets of Tokyo back in 1978. It was designed to be an "easy to use" motorcycle and was an instant hit with the countries youth. And it was certainly easy to ride (once you got the hang of kick-starting it), it was also affordable and had the kind of classic British styling that appeals to pretty much everyone. What's most impressive though is that you can still buy an SR400 from a showroom floor today. That's more than 40 years of production, which only a handful of other motorcycles can lay claim to.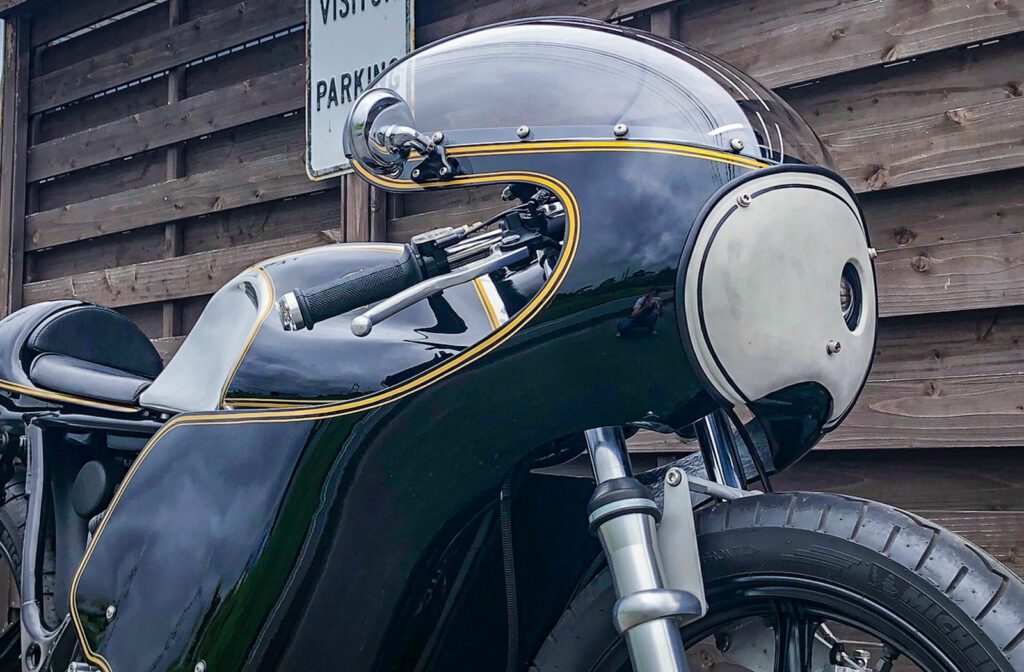 Despite its lengthy production run, the SR400 has remained relatively unchanged. One of the most significant developments in the SR's 40+ year run came only a few years ago with the move to fuel injection. A decision Yamaha made only to meet stricter emission laws.
With its kick-starter setup, oil in frame chassis, dry sump and air-cooled single-cylinder engine, the SR400 is about as basic as motorcycles come. So why is it, when there are so many more technically advanced, powerful and easier to start bikes out there has the SR400 retained its popularity? Our guess is because that's what 40+ years of reliable service earns you. As for its popularity amongst custom builders what better starting point could you get than a motorcycle as bare-bones as the Yamaha SR400?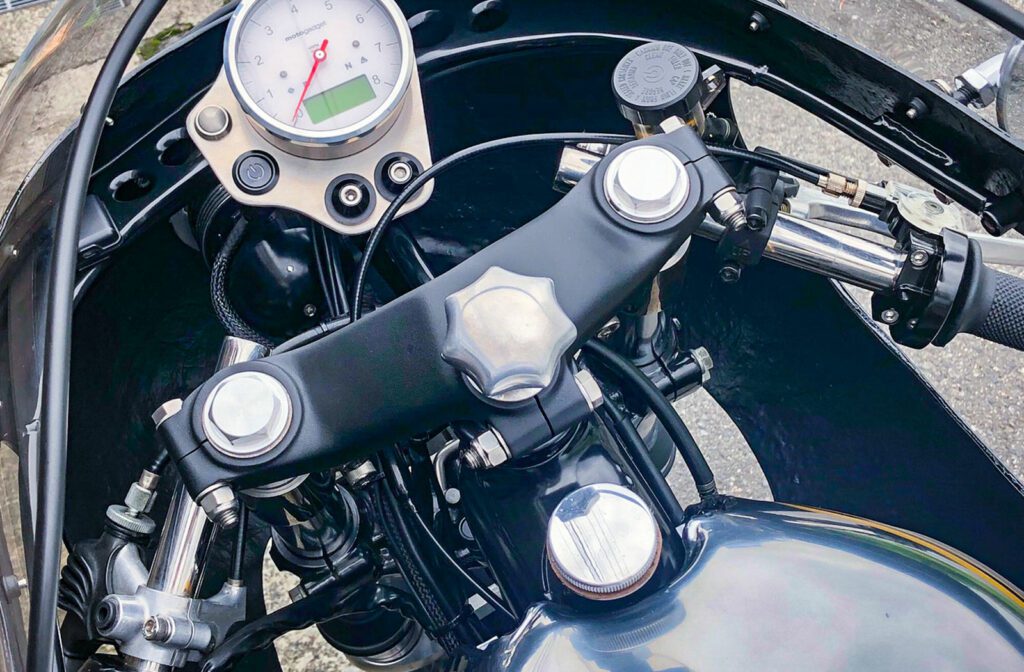 One builder who has modified more than his fair share of Yamaha SR400s is Kyohey Sugimoto, owner of Berry Bads Motorcycles. Despite Sugimoto-san focusing his efforts on classic British racers, he still welcomes projects based on Japanese classics, especially when they offer as much creative freedom as this one.
As the story goes Sugimoto-san was approached by a customer who had not 1 but 3 SR400 donor bikes. After purchasing them he took all 3 to Berrybads workshop and offered them up for the project. He requested that Sugimoto-san take the best parts from the 3 to create one bike along with providing a budget for custom work and trick parts. As for how the finished bike should look, that was left entirely up to the builder.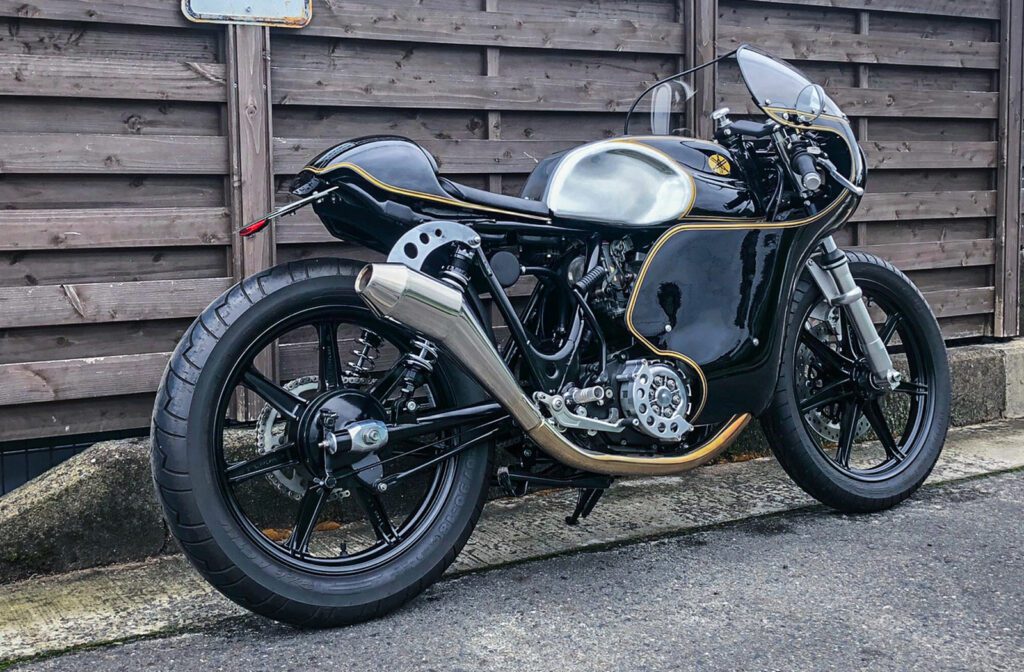 When it came to deciding on a style for the SR the direction Sugimoto-san took was an obvious one – if you're familiar with his work. Sugimoto-san is an avid classic racer, frequently taking part in Japanese race events like the "Legend of Classic". So when given the opportunity to create something that appealed to his own aesthetic, a race-inspired creation is always on the cards.
After dismantling the 3 donors Sugimoto-san gathered the best bits together to form the groundwork for the new bike. He then began putting together a list of additional parts to help create his vision. Since the bike was going to have the look of a racer Sugimoto-san wanted to be sure it could handle like one so he started the rebuild with a complete suspension and brake overhaul.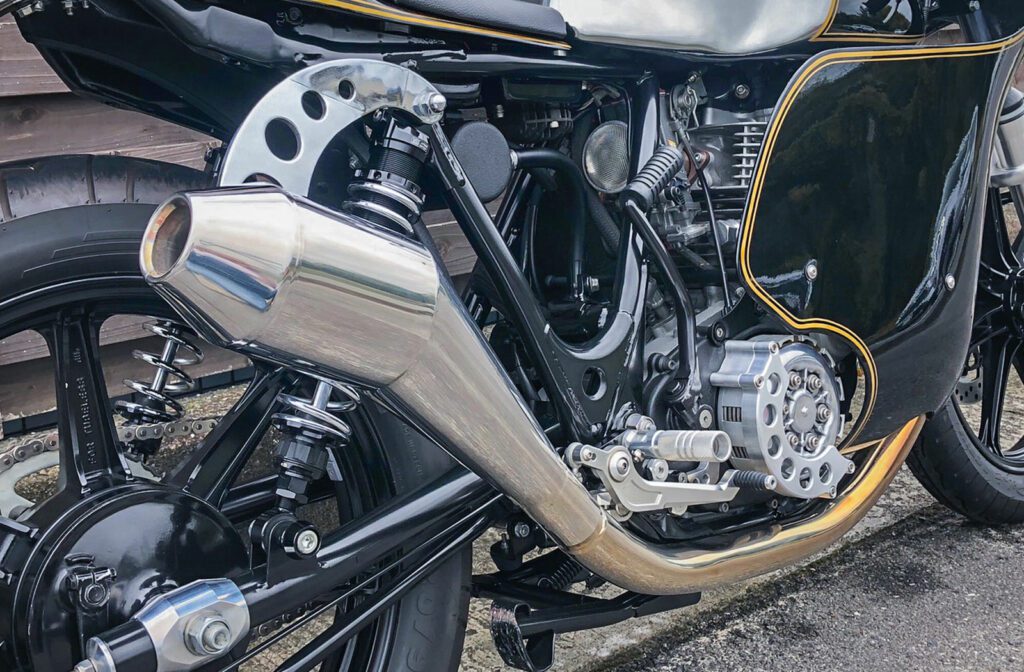 Starting at the pointy end of the bike Sugimoto-san has installed a  set of Ceriani 35mm forks. In the back, you'll find YSS aftermarket shocks that raise the rear by 15mm to sit the tail a fraction higher for a more aggressive-looking stance. For the wheels, he's opted for matching 18-inch rims from Japanese manufacturer Wise Gear.
One of Sugimoto-san's signature additions on his SR400 builds is the fitment of a Ducati Imola swingarm. The setup adds a bit of length and a cleaner finish to the rear. Stopping power is provided by a rebuilt drum in the rear while a retrofit Harley calliper and Sunstar disc manage the front.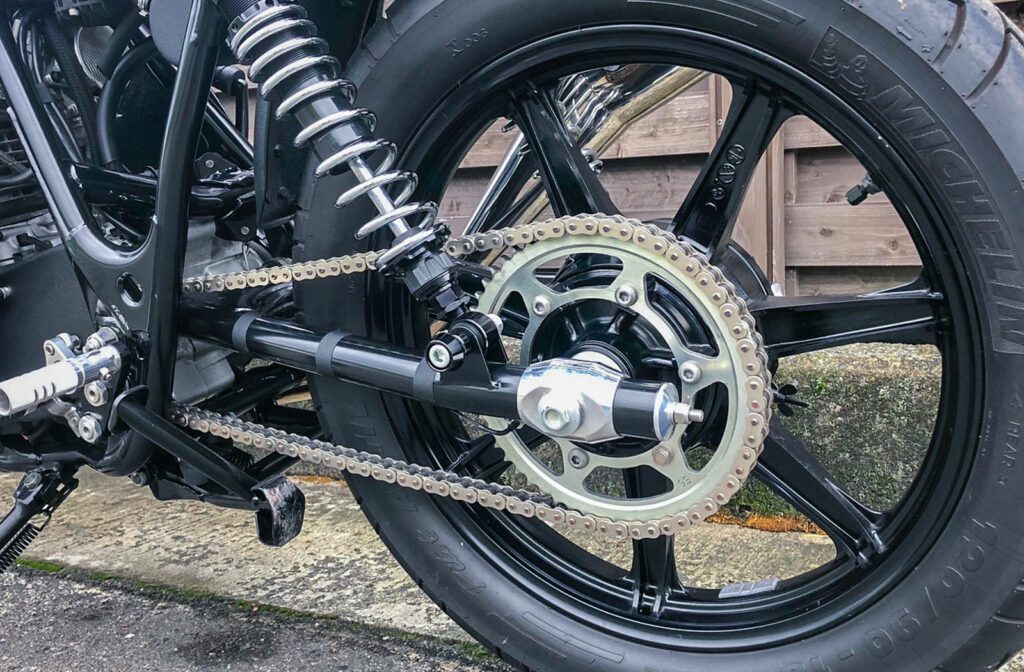 Since this SR400 is destined for more street use than track appearances, the engine modifications were kept to intake and exhaust changes. For the intake, Sugimoto-san replaced the factory unit with an FCR carburettor. It's another of his go-to modifications and this one inhales through a mesh-covered velocity stack. The exhaust is a one-off that Sugimoto-san fabricated himself. Featuring a megaphone style muffler and a swooping header pipe it's one of the standout features of the finished bike. For an additional touch of Ducati style (and sound), he's also installed an Araki F Machine dry clutch.
When it came to putting together the new bodywork, Sugimoto-san opted to build the front fairing himself. His design was heavily influenced by the look of Yamaha's iconic TZ race bikes. To get the fairing to hug the chassis tight he hand shaped each side to follow the forms of the engine and frame, adding in a cutout for the dry clutch assembly. He admits this was the most challenging task of the entire project due to its asymmetrical design, but his hard work clearly paid off.
Taking pride of place atop the SR's chassis is an MV Agusta style aluminium tank that's been left partially bare to honour the workmanship that went into building it. The rear cowl and seat are an aftermarket accessory by Mototipo B and beneath them, you'll find the bikes electrics.
To finish off the SR's racer vibe Sugimoto-san fit a set of Chuck Box clip-on handlebars and Boa Ace rear-set footpegs. A quick throttle gets the go-juice flowing faster and to keep it street legal the bars wear M.Blaze Disc indicators by Motogadget and a purposeful Motoscope Classic gauge.
Finished in timeless black and gold livery, Sugimoto-san's latest Yamaha SR400 is a shining example of how good the legendary single scrubs up. It may have been over 40 years since the little thumper made its debut, but we think it'll be at least another 40 before it's done its dash.