I think the term 'patina' is often misused in the custom world. Nowadays it seems to be applied to any old rust bucket that's been left to rot in a barn. We probably have the whole rat bike scene to blame for that. Stating that a motorcycle had patina used to be a compliment. A hat tip of sorts to a bike that was showing its age due to years of dedicated use. It was something that was earned and not just evolved through a lack of use. As a result, it's not a term I use often, but today's featured build is an exception.
Recently we published a story on a BMW R NineT cafe racer project by Japanese workshop Berry Bad Motorcycles. When workshop owner Kyohey Sugimoto sent through that bike he teased us with a few shots of a second machine. It was a motorcycle with a much longer history than the twentieth century Bavarian. A British born bike with a patina that told the story of years of competitive racing and evolving engineering. The bike in question was Berry Bad Motorcycles 'Nourish' Triton cafe racer.
Sugimoto-san built the bike over a 12 month period for a customer with one clear goal in mind – to win at the Japanese classic races. It's a simple statement to make, but not an easy one to achieve. Luckily he took the bike to the right place. Sugimoto-san is a skilled mechanic when it comes to old British bikes. As an avid Classic racer himself, he also has tried and tested know-how when it comes to extracting more power from vintage engines.
Listing all of the modifications on this Featherbed framed, pre-unit Triton would be near impossible. Before Sugimoto-san had even laid a hand on the bike it had 60+ years of previous maintenance and modifications made to it. This also meant he had to familiarise himself with the motorcycle before he could begin thinking about ways of making it faster. The most evident and significant modification on the Triumph twin was the presence of a Nourish 8 valve head and a 750cc top end. Nourish Engineering Limited is a UK based company specialising in performance and racing parts. This let Sugimoto-san know straight away that he was dealing with a serious machine.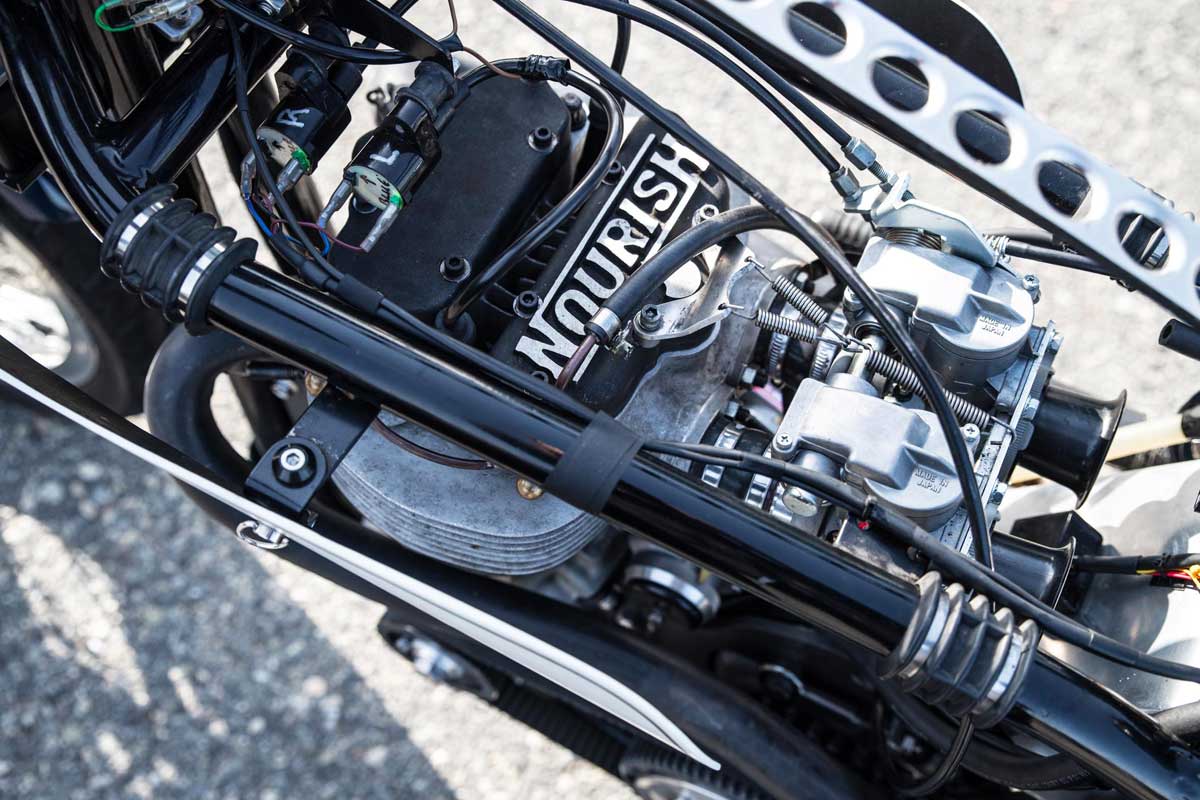 To complement the Nourish setup and allow the parallel-twin to rev higher to the Triton is running a Megacycle cam and Puma crankcase. A Bob Newby clutch and belt drive handles hard gear changes and temperatures are kept in check by an uprated oil cooling system. To introduce a bit of 21st-century performance to the engine, without sacrificing classic looks, Sugimoto-san has also installed a BTH Components K2F Lucas Replica Flange Magneto. Tapping into the local British motorcycle enthusiast industry the engine also contains a Japanese made Gamble Race crank and the fueling is managed by a pair of Keihin CR special 35mm carbs. As for the exhaust its clearly been on the bike for quite some time. Sugimoto-san saw no reason to swap out the hand bent system so it remains in place, complete with its hard-earned scratches, dings and tattered pipe wrap – aka patina.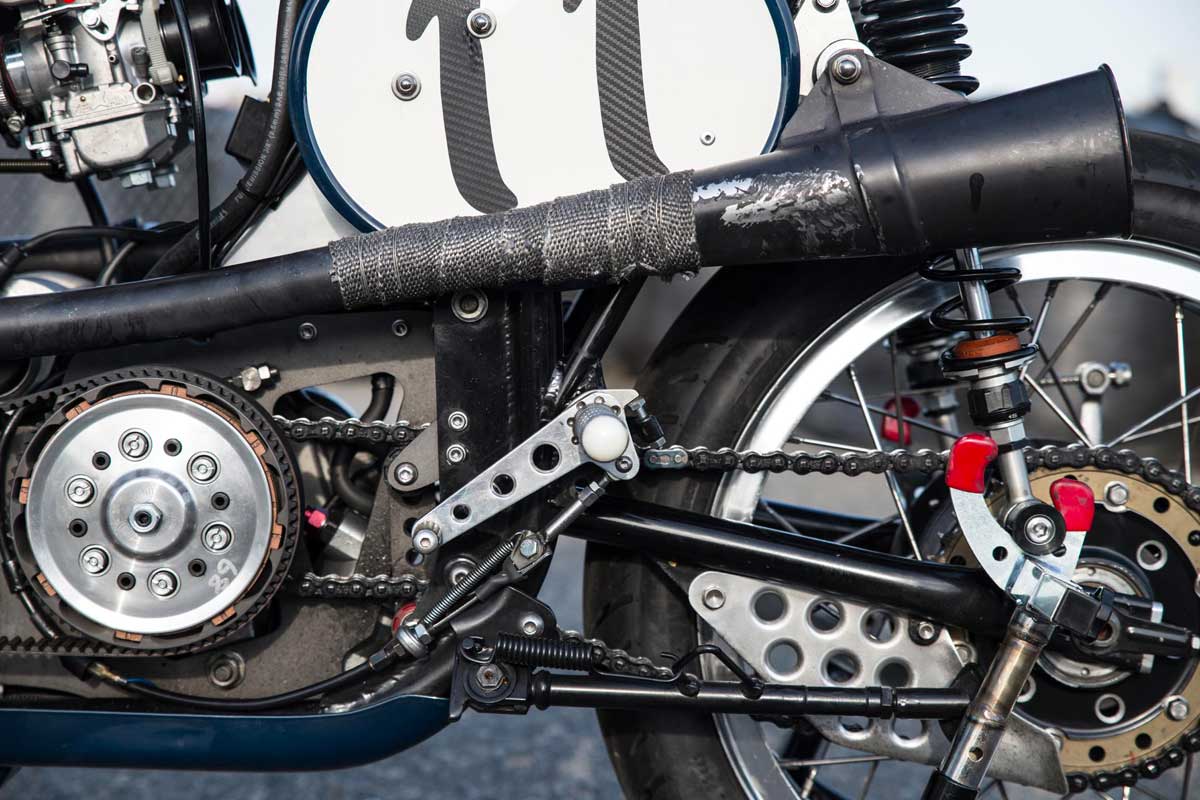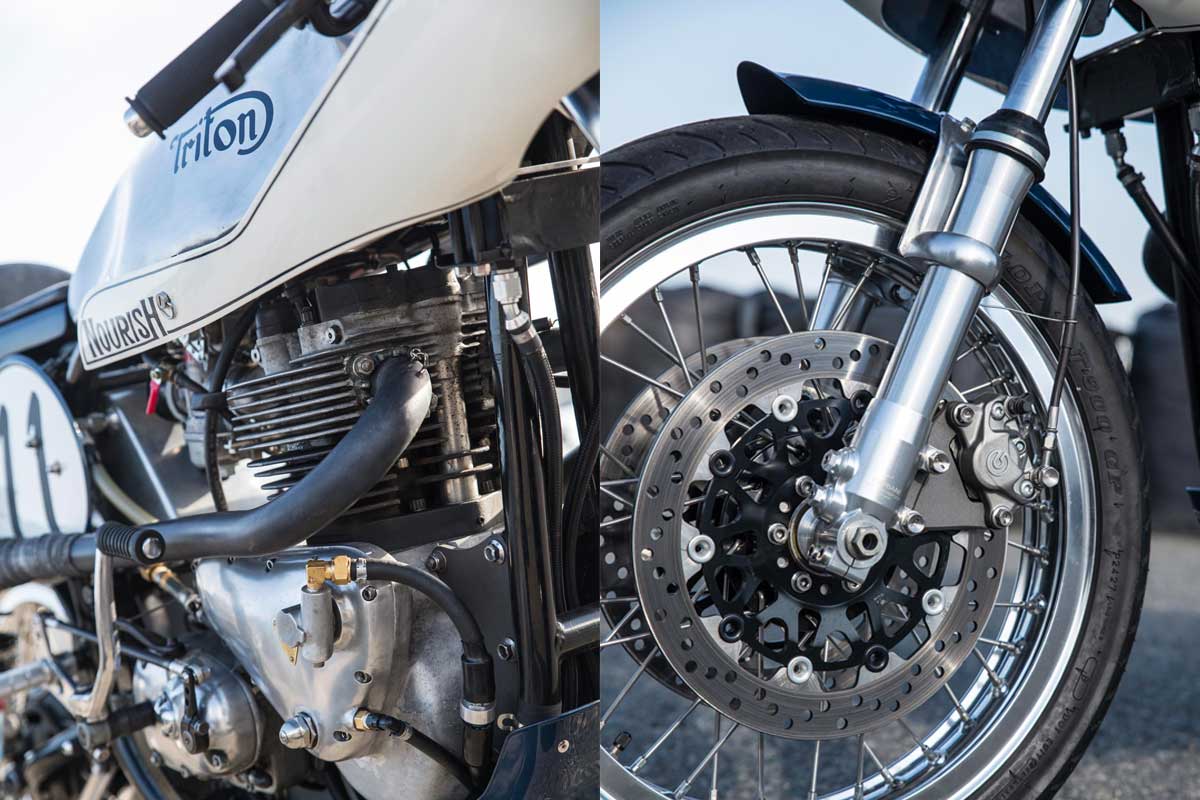 Increased power was only half of Sugimoto-san's race-winning formula. The other half was squarely focused on handling. The iconic Chromoly Featherbed is now perched on a spanking new set of Cerani GP35RD racing forks and YSS RZ362 twin shocks. The Cerani forks are specially set up to accept disc brakes so they've been paired with a twin-disc set up using Sunstar and Brembo components. Shouldered Excel alloy rims help to keep unsprung weight to a minimum.
There's very little in the way of obvious modern componentry on Berry Bad's Triton. In fact, the only place you're likely to notice it is in the cockpit. A single Scitsu tacho sits under the windscreen, but it's accompanied by a pair of digital gauges. The first, a Yoshimura Pro-Gress 2 displays critical engine temperature information, the second, a Solo 2, is a purposeful GPS lap timer.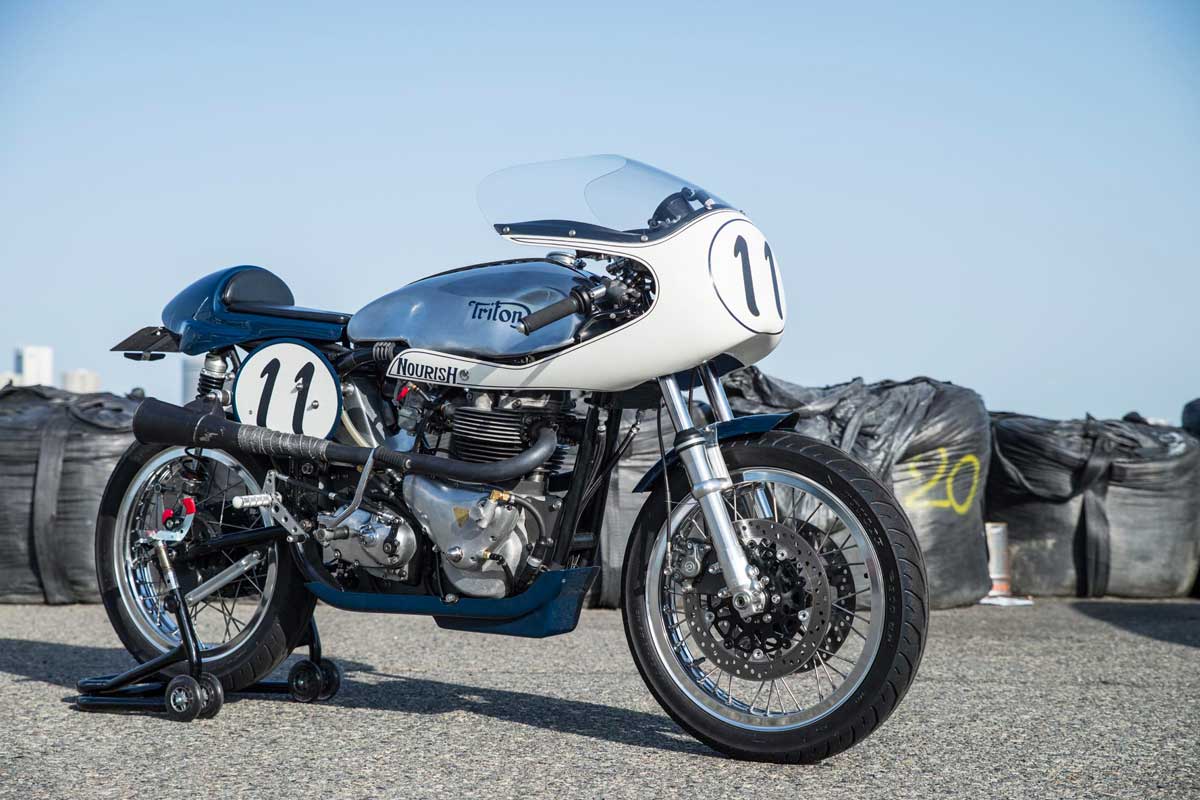 The Triton's bodywork is race-ready so lighting is limited to the rear end. The bikes fairing, tail and belly pan are all made from lightweight composites while the fuel tank is a handmade Norton wideline item secured with a strap and filled via a Monza cap. The result of Sugimoto-sans weight-saving strategy is a bike that tips the scales at a mere 150kg. He estimates the top speed is 230km/h and although it hasn't yet competed in a full race yet, the Triton has pulled some impressive figures at local speed trials.
Sugimoto-san tells us all that's left to finish the Triton off is a close-ratio 5 or 6 speed gearbox, a set of Avon race tyres and some final tuning to the cam profile. We'll be waiting with bated breath to hear how the bike goes once racing resumes. I'm putting my money on nothing less than a podium finish.
Photography by Rustless Hiro