So, you want to build a cafe racer. How do you craft a stock motorcycle into a machine worthy of the cafe racer name? To help demystify the process, we've broken it into 10 essential styling and performance modifications.
These 10 cafe racer tips are the key ingredients of any build that sets out to pay homage to the fabled cafe racer ethos. From simple bolt-on parts to coaxing more horsepower out of your engine, perform these mods to get that old clunker ready to rip.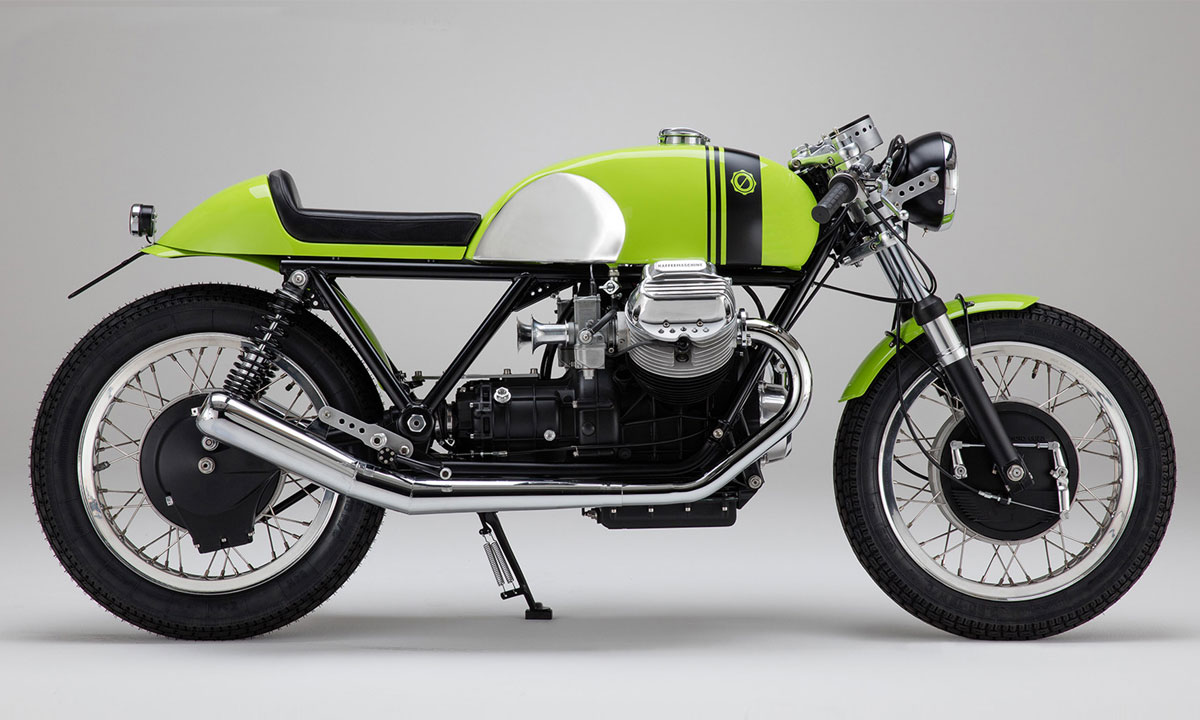 1. Reduced Weight (Added Lightness)
Shedding weight from your motorcycle was essential if you wanted to break the revered "ton" (100mph) back in the 50s. Achieving featherweight status is still indispensable for speed today, plus it will improve your motorcycles stopping power, steering response, and fuel economy. However, not all weight is equally important regarding this uptick in handling.
Unsprung weight, including the wheels, brakes, and anything not supported by the suspension is the most lucrative to diminish. This is because it makes it easier for your forks and shocks to keep the tires on the ground. In fact, it has been shown that losing 1 pound of unsprung weight is equivalent to lopping 6-10 pounds of sprung weight.
We suggest buying the lightest rims you can afford, swapping out your steel sprocket and chain guard for aluminum, and trimming your fenders—but whatever you do, keep it practical. Ditching the fenders altogether might seem like an easy target to lose weight, but you'll regret it when you're wearing the weather after every ride.
Moving to sprung weight, the whole bike is your oyster when you build a cafe racer. Going full retro? Cut out the battery and starter motor for a kick only set up. Replace steel OEM parts with aluminum alternatives. Ditch the airbox in favor of pod filters. You'll get the biggest bang for your buck by trading that lead-acid battery for a lithium-ion juice box and dropping the stock muffler for an aftermarket can. You'll also purge weight while chasing that classic cafe silhouette—clip-ons and a low-profile custom seat are substantially lighter than touring bars and that factory-made slab of foam.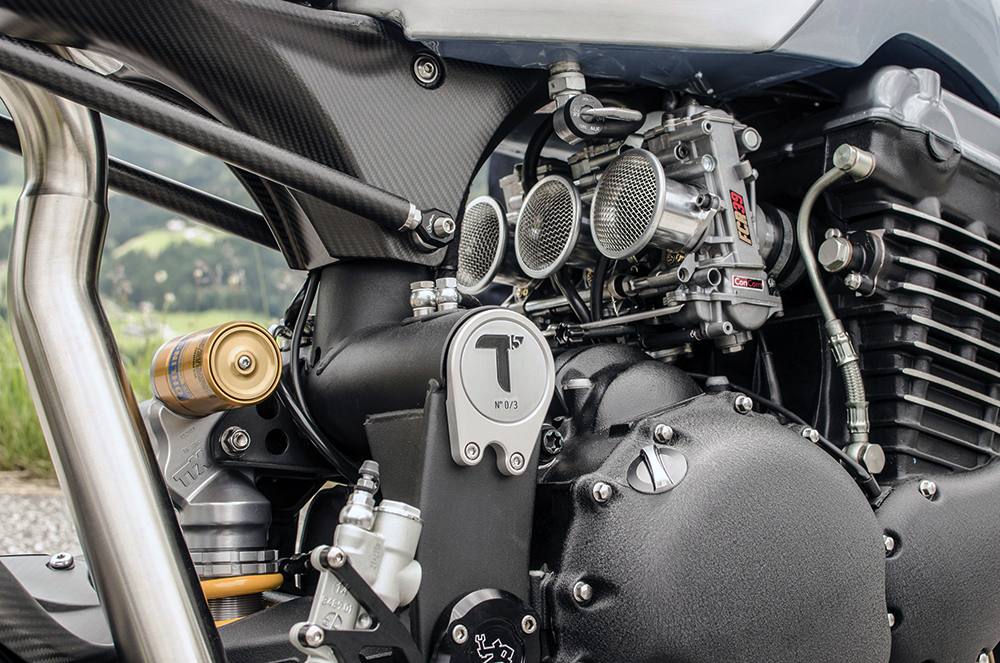 2. Increased Power
Eking more power out of a bike's engine is another great way to ton-up. Sure, most bikes these days can achieve 100mph with relative ease, but that doesn't mean you should ignore this potent ingredient. If you think your bike is fun now, wait until you've unlocked another 10 horses from its heavily restricted powerplant.
Modifying an engine can be an expensive undertaking, so it's best to start with the changes that yield the biggest return on your investment. Your search for more power should always begin with addressing how well your engine breathes. This means modifying the intake system (where air flows into the engine) and the exhaust system.
Start with the air intake, where your bike gulps fuel and air and converts it into pure thrills at the twist of the throttle. Stock systems are usually constrained due to stringent emissions regulations, leaving gobs of unused power on the workbench. Luckily, a relatively cheap, free-flowing air filter will take your bike's intake from haggard to Hoover.
Your motor needs to exhale too, and that's where the exhaust comes into play. With exhaust gases flowing more efficiently through an aftermarket pipe, you'll unleash even more power. You'll likely see the most gains (and weight reduction) from a full custom system, but even slip-on mufflers will give a little kick. We go into more detail on this subject further down this list.
Just remember that modifying the amount of air your bike quaffs also modifies its fuel and air mixture. Depending on your changes, you might find your bike is guzzling more gas or running rough. That's your cue to tune your carbs with a jet kit or you could save some time by installing a completely new set of performance carbs. If you've set out to build a cafe racer using a more modern donor, you may need to get the electronic fueling remapped. This may require the fitment of an aftermarket controller like a Dynojet Power Commander. Either way, seek professional help if you're unsure exactly how to work with your bike's fueling. Getting it wrong can be a rather costly mistake.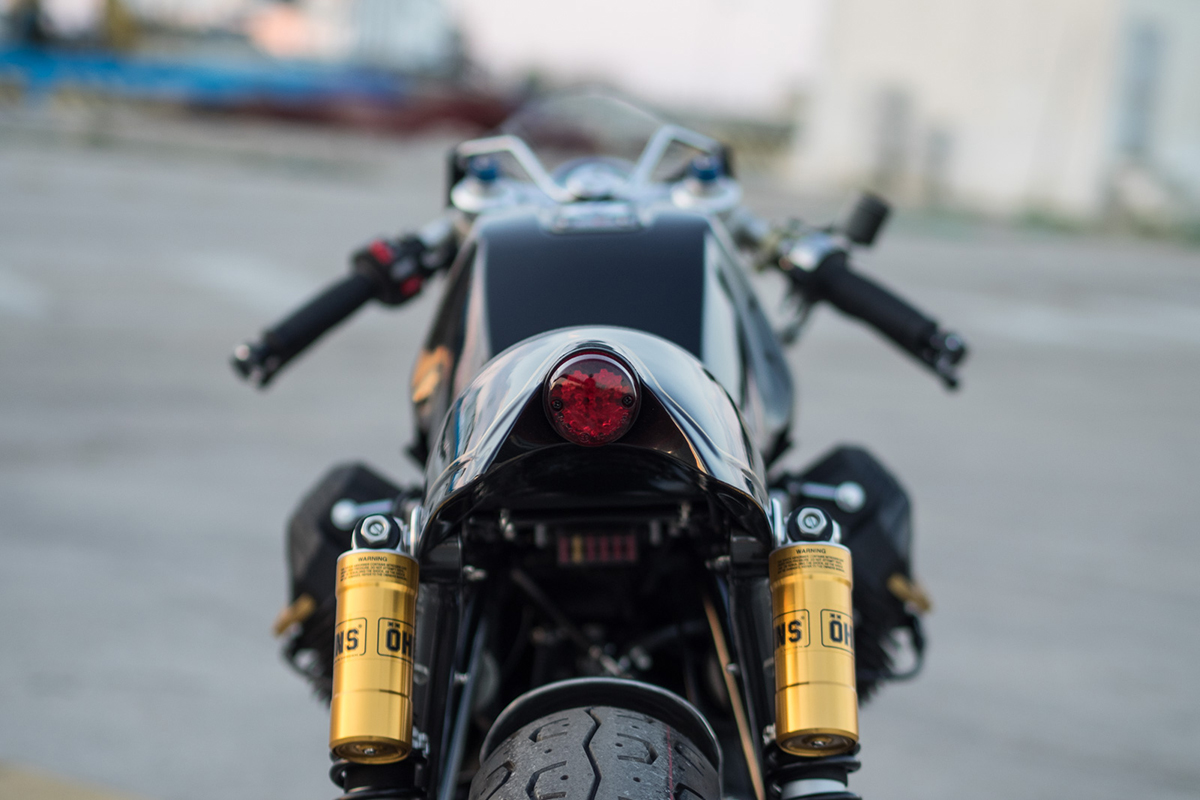 3. Improved Handling
The original Rockers at Ace Cafe weren't necessarily after looks that could kill, instead they were chasing speed that … well … wouldn't. To keep their high-performance machines rubber-side down, pinpoint handling became integral to the cafe racer code. To that end, the 70s bathtub you bought will need some souped-up suspension.
Lightweight rims are perhaps the most important mod you can make to your bike's handling. Minimizing the weight supported by the suspension reduces the upward momentum of your wheels and keeps your donuts on the asphalt where they belong. Think of it as a universal upgrade to the suspension. But that doesn't mean you should slouch on the suspension itself.
On the front end, your OEM forks can benefit from modern damping technology. Consider cartridge emulators, which simulate modern sportbike forks or progressive springs for better traction over a variety of bumps. If you're going all-in, you may go with a complete front-end swap. You'll have your work cut out for you, but installing a modern USD front end can be made easier thanks to the folks at Cognito Moto and will offer huge benefits. Finally, if you decided to remove the front fender in your quest for lightness, recover that lost stability with an aftermarket fork brace.
Out the back, the obvious upgrade is your shocks. Suspension technology has progressed dramatically over the years, so this isn't an area to nickel and dime. Go for some mid-tier shocks at least, which will set you back around $200 USD. If you're willing to spend a bit more, go for the well-known brands like Ohlins or Hagon and get an adjustable set so you can fine-tune it to your preference. Or, contact a suspension manufacturer and go all-in on a set of custom shocks tailored to you and your bike's weight and dimensions.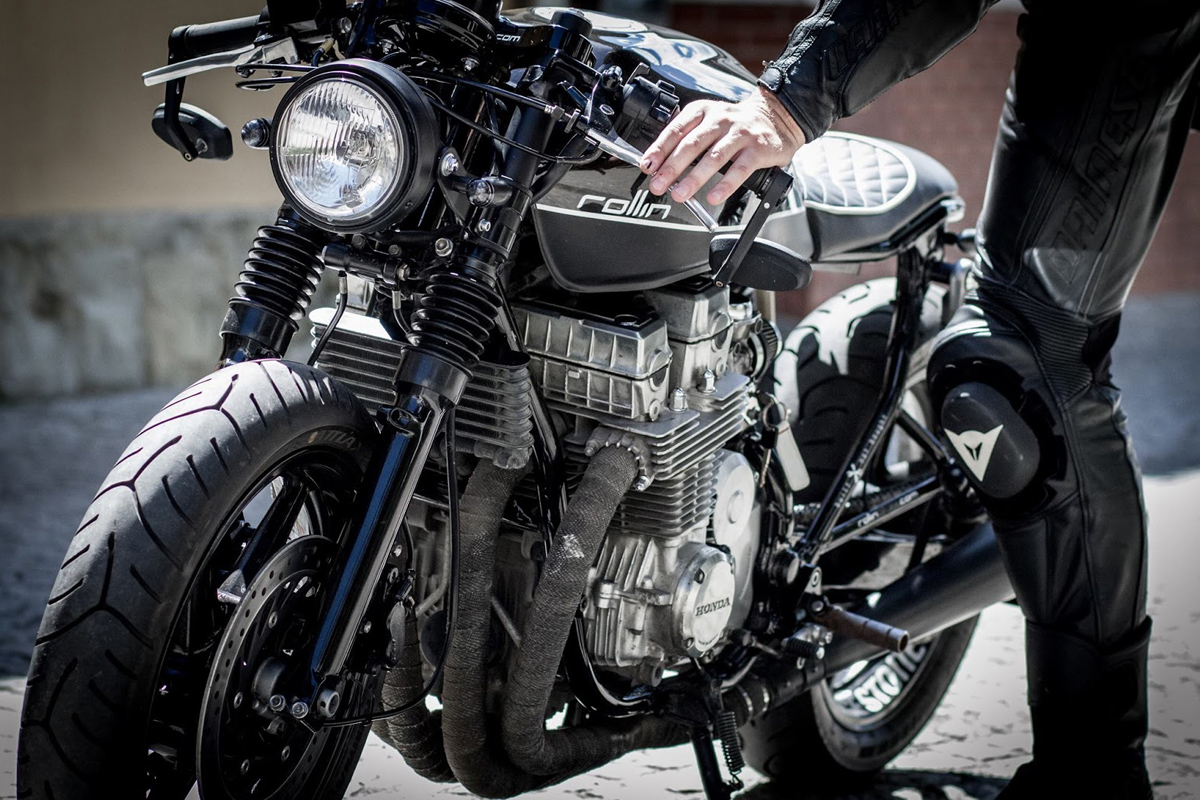 4. Clip-on Handlebars & Mirrors
One of the most notorious pieces of functional cafe racer styling is a set of low, narrow clip-on handlebars—the kind you'll find en masse on today's super sportbikes. That's because the low mounting point and downward angle of these bars force the rider into an aggressive tuck for better aerodynamics and more responsive control.
You will find, however, that comfort is traded for style and speed. That crunched-over riding position afforded by clip-ons is not exactly comfortable on long rides. But you're building a cafe racer, not a sport tourer, and in some respects, function follows form in this endeavor. Cafe racers are not designed to be the Swiss army knife of motorcycles, they are hyper-tuned to a singular purpose. To achieve that goal, you must sacrifice a few creature comforts along the way.
If your spine simply isn't as trapezoidal as this riding position demands, the silver lining is that clip-ons are easily adjustable. If your back starts to creak after 15 minutes, readjust and try again. Alternatively, you could try a set of less aggressive Clubman handlebars. These attach using standard top Yoke clamps and recreate the look of clip-ons. Once you have your handlebars dialed in, complete the stripped-down look with some minimalist bar-end mirrors in favor of those ugly stalks that make your ride look like a prop from the set of Ant-Man.

5. Rearset Footpegs
A cafe racer's distinct ergonomics aren't complete without rearsets. Rearsets are "rear set" footpegs and controls that mount farther back on your motorcycle's frame. They are designed to allow the rider to lean the motorcycle further over when cornering aggressively. Installing rearsets is trickier than swapping out a pair of handlebars, so do your research and explore your options before executing a plan. Shifting and braking are useful actions while operating any motorcycle, so you don't want to get in over your head on this one.
You could get lucky and find a bolt-on rearset assembly for your specific model, but more likely you'll settle for a universal kit. The latter usually requires some fabrication or high-end tools to install properly and safely. Maybe you'll get away with using your frame's exhaust mount, or maybe you'll resort to fabbing up brackets of your own design. Whatever the case, you can make anything fit—as shown by Krank Engineering when installing rearset footpegs on our editor's Kawasaki W650.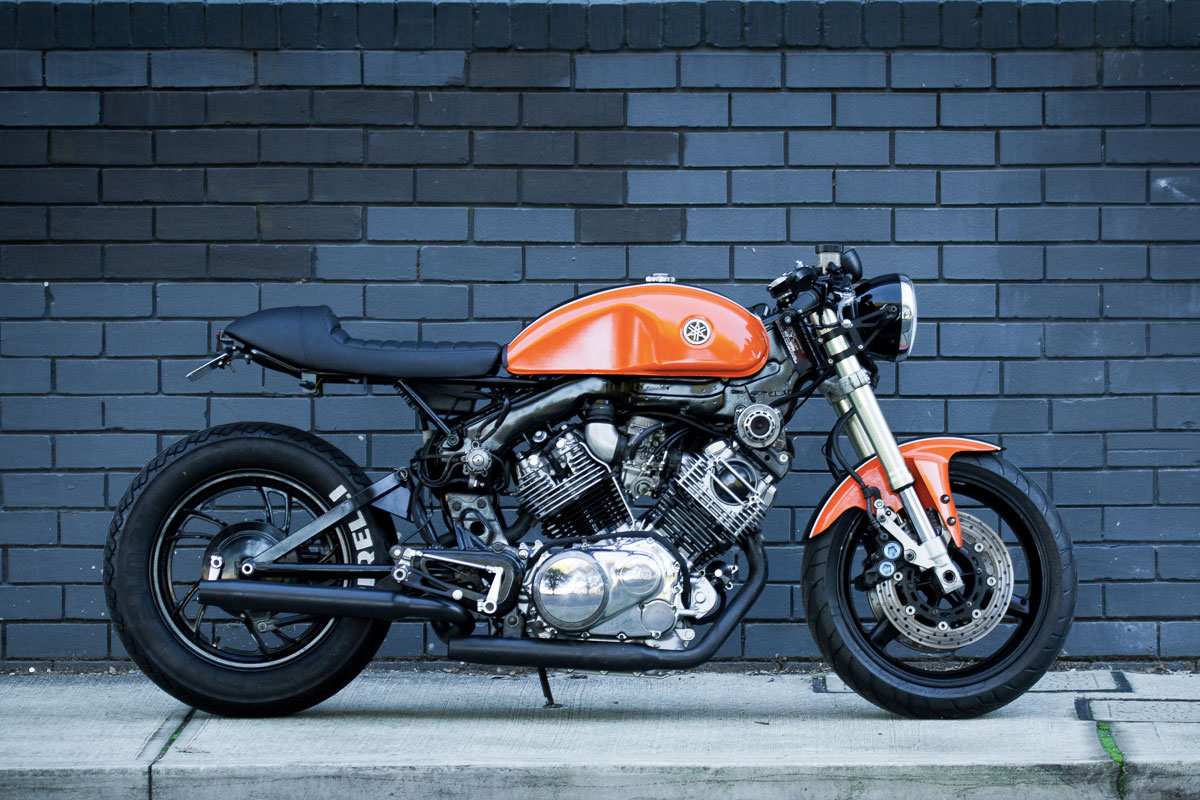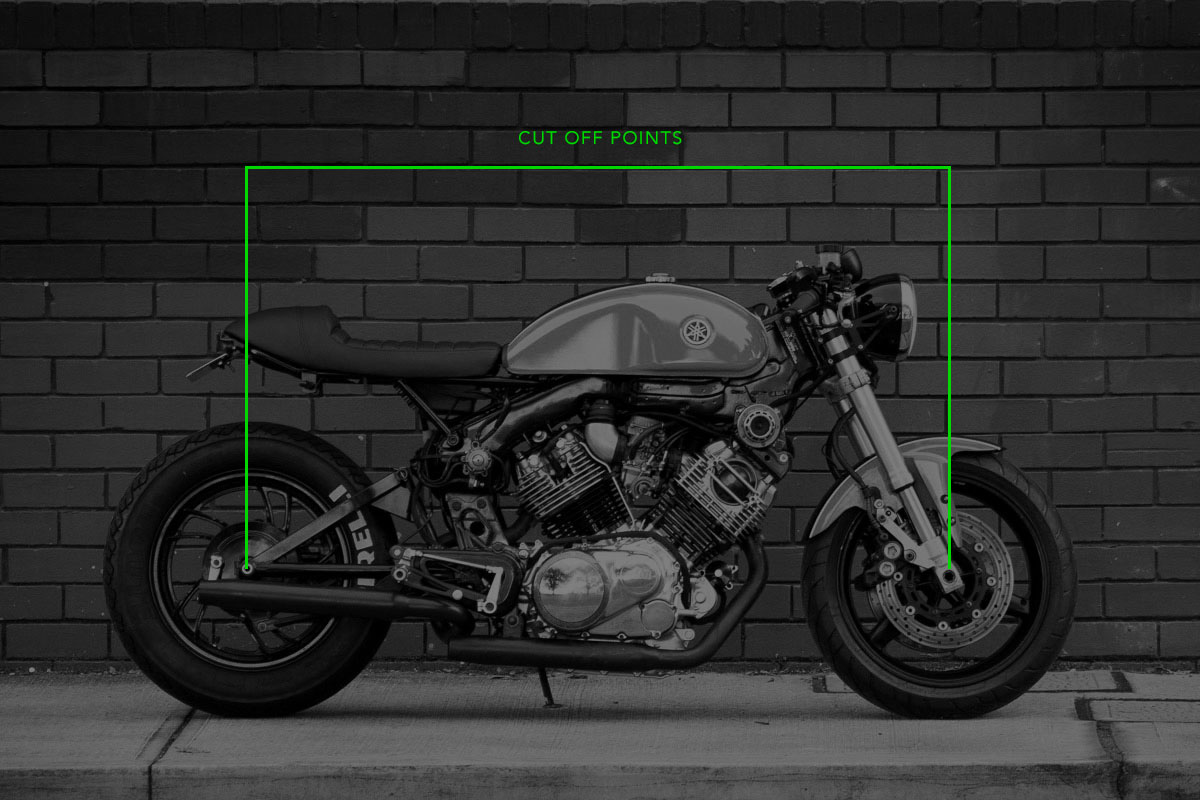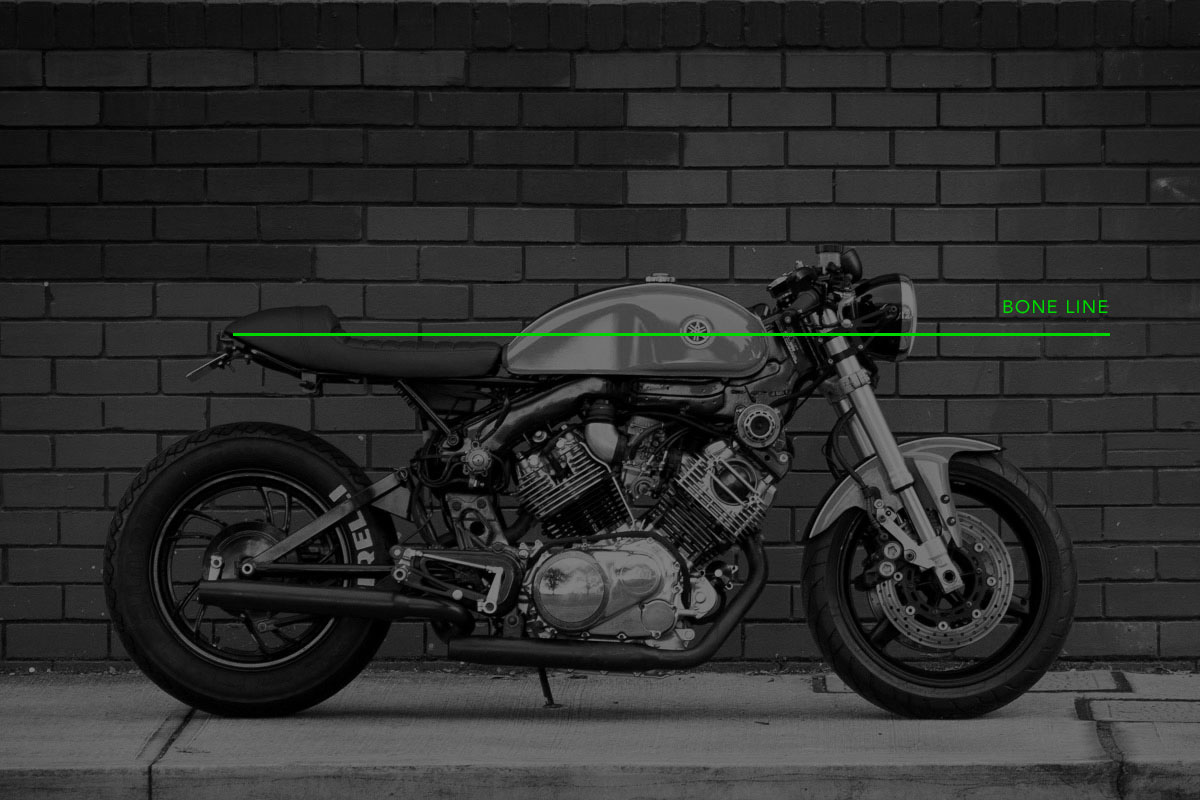 6. Cafe Racer Proportions
No one has ever looked at a stock Honda CB and thought "Wow, what a lean, mean machine!" So even if your donor bike runs like a top, you'll want to make some major visual changes to achieve that iconic cafe racer character. But don't start grinding willy-nilly. These general style guidelines will help you to build a cafe racer with a cohesive design.
First, the visual weight of your bike (where it draws your eye) should consist of the fuel tank and engine block. To set this off from the rest of the frame, swap the bulky stock airboxes for sleek pod filters, slim down the rear fender, and trade the OEM seat for a custom low-profile unit.
Then imagine two vertical lines extending from each axle—nothing should protrude beyond these lines. Adding a cowl that terminates over the axle will lend continuity to the entire form and serve as an extension of the fuel tank. The fuel tank should transition into the cowl on a single-radius curve as though they were once one unit that had a place for your butt carved out of it. If you have welding skills, lop off the back of the frame and install an aftermarket or custom hoop for your cowl. If not, have an experienced fabricator do it for you.
Another visual cue, called the bone line, marks the widest point of your bodywork. On a cafe bike, it's where the headlight, fuel tank, and seat cowl align. You'll want to drop the headlight in line with the tank to make the front end look poised for speed. The more level your bone line the better the result.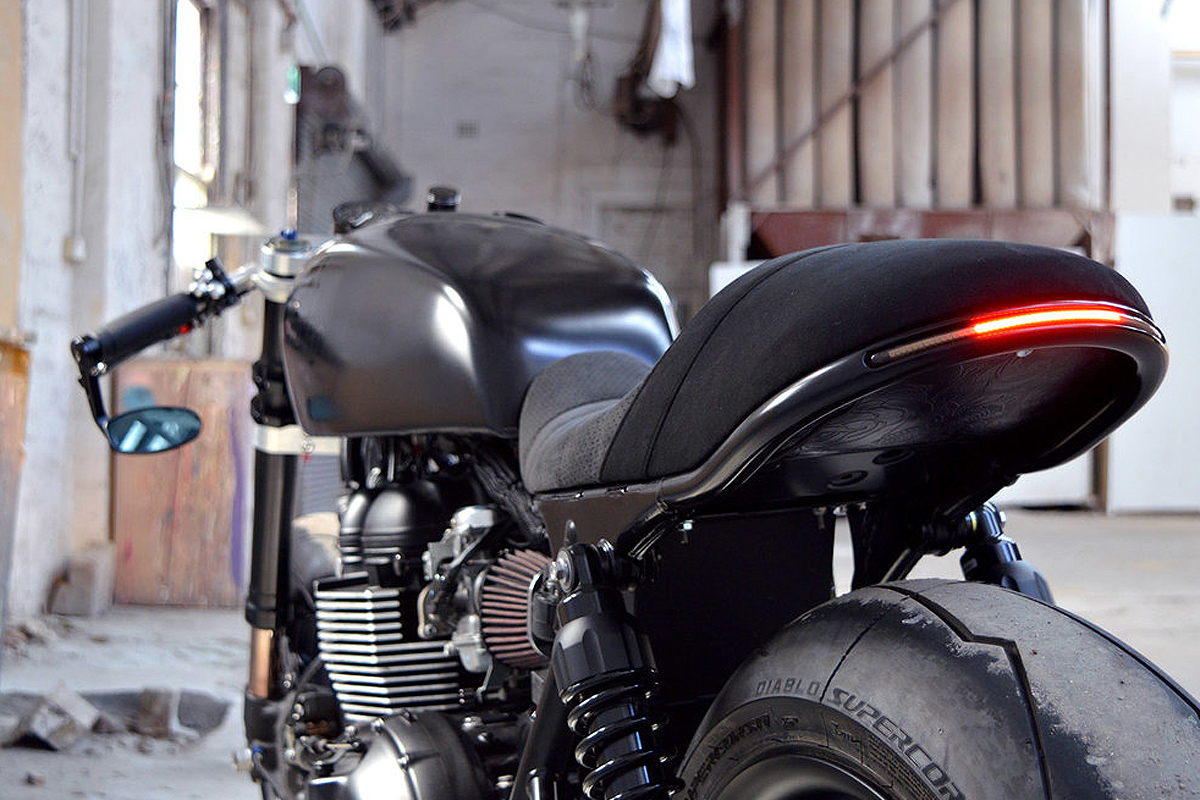 7. Spoked Wheels
Ok, yes, spoked wheels do actually confer tangible benefits to the machine they carry. They can absorb higher impact than forged or cast rims, bend back to shape when exposed to insurmountable force (instead of fracturing irreparably), and are lighter for the money than one-piece options. But these benefits apply mostly to off-road riding. So, what's the real reason they are affixed to so many cafe racers?
Honestly…because of their timeless classic look. Factories didn't start pumping out machines with cast or forged wheels until the mid-70s, so laced rims are a great way to capture the Rockers' bygone era. While some builders have pulled off amazing machines with alloy wheels, we think laced hoops are generally better for bottling old-school cafe racer charm.
8. Unobtrusive Lighting
It's no use doing all the above to make your bike pretty if you're still going to bounce satellite signals off those giant indicators and bulbous tail light. Instead, blend retro bodywork with modern lighting for sleek curb appeal. Usher your bike into the 21st century with unobtrusive lighting like fork-mounted bullet indicators, a halo LED headlight, and an LED strip in the back.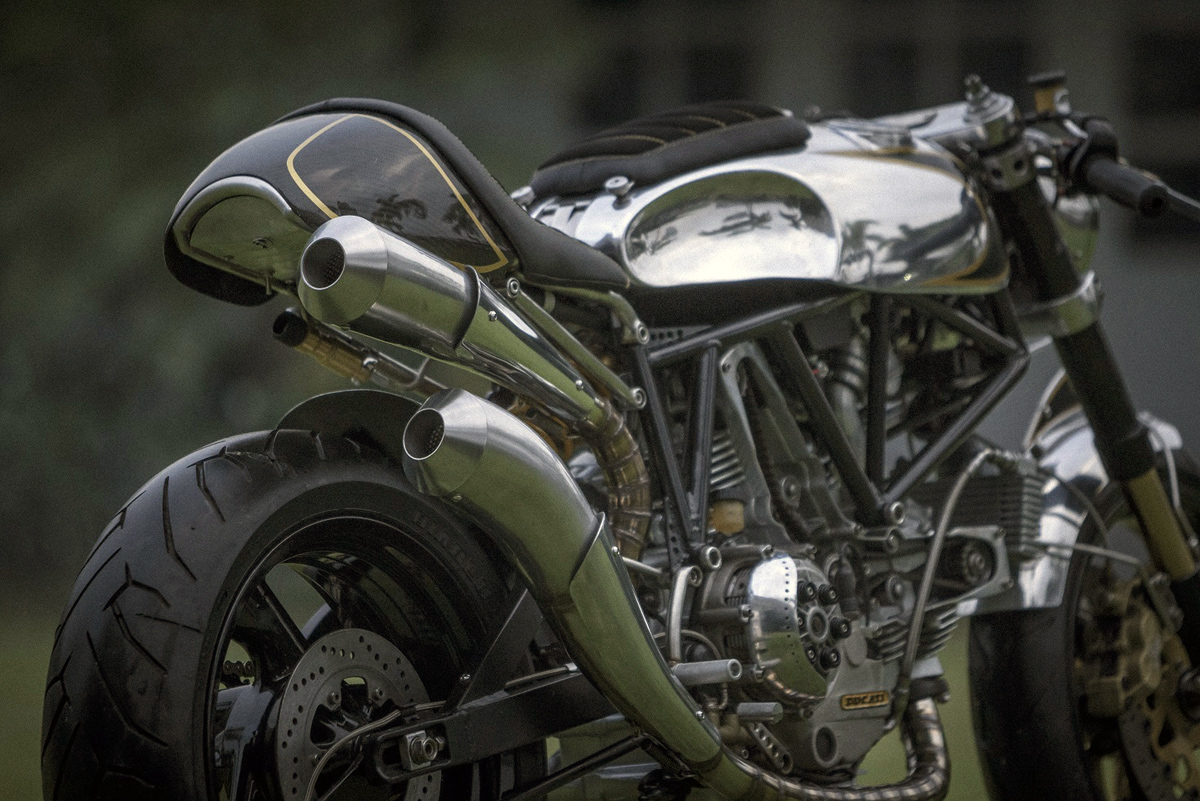 9. Performance Exhaust
The first thing most riders do when they take delivery of a shiny new motorcycle is rip off the exhaust. This isn't a symptom of buyer's remorse, it's because there is a booming aftermarket of better-looking, higher-performing pipes that sound vastly better than the stock unit. Apart from looking and sounding sweet, modding your exhaust system unclogs the escape route for outgoing gases. This is ideal for matching power mods like upgraded air/fuel flow, higher compression, or overbored cylinders. You won't see much of a benefit from all those power mods on the input side if your output is strangled.
There are a few ways you can go about this. On a shoestring, install a set of retro-looking aftermarket mufflers. More expensive mufflers will feature a dual-tube design packed with fiberglass or steel wool for better flow and a smoother growl. Whatever you go for, size it correctly to your bike for appropriate backpressure. But if you radically improved power and inflow, you'll want to consider a full custom stainless exhaust system for easier outflow. Plenty of exhaust builders would be peachy to churn out a one-of-a-kind system tailored to your specific bike and its modifications. More likely though, you'll only want to have headers fabbed up that will accept the slip-on muffler of your choice. Going down this route will provide big gains in both power and lightness.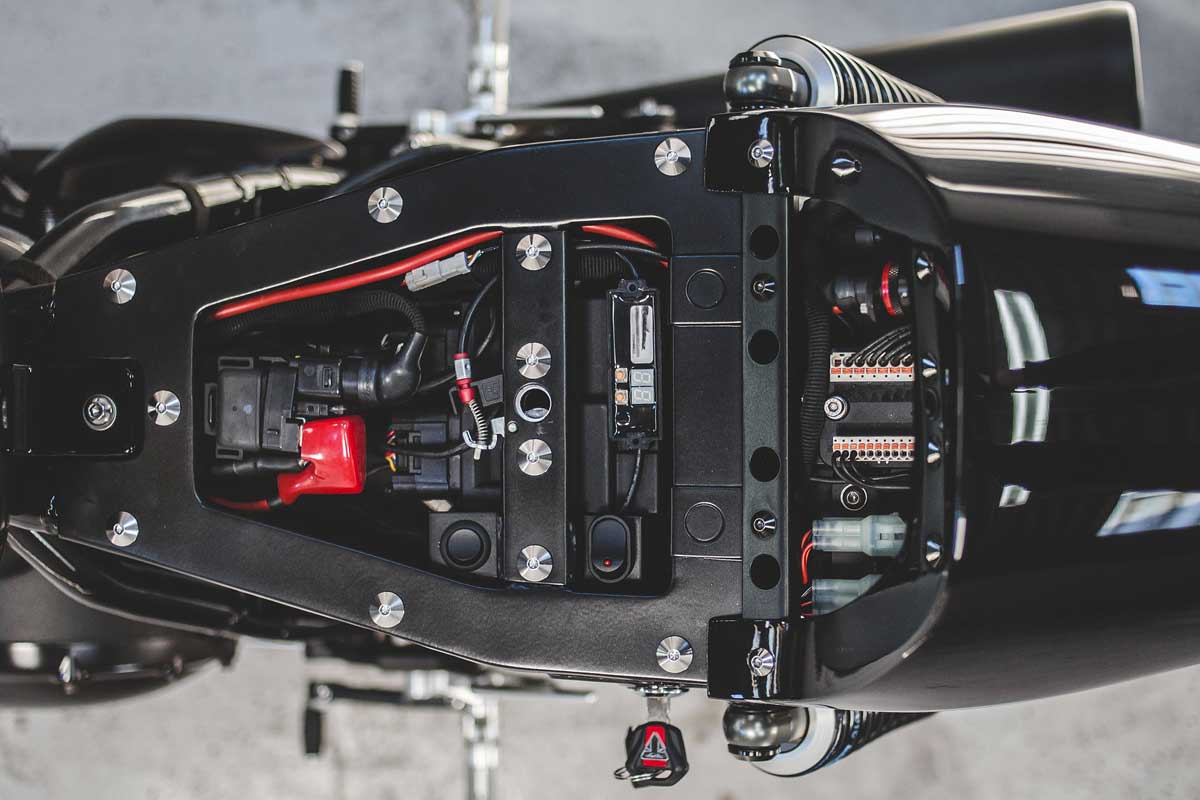 10. Simplifyied Electronics
The final frontier for stripping down your bike is removing any unnecessary or outdated wiring and electronics. Depending on how far you want to go with this, most 70s and 80s bikes have a lot of bulk that you can discard during your cafe racer build. You don't need many of the gauges, switches, relays, or even the battery (for kickstart-only builds) to keep your ride humming happily down the road.
Wiring is often one of the most feared tasks by amateur builders, and if you've ever encountered a wiring diagram, we're sure you'll agree. But trimming the electronic fat will reduce room for error, save weight, and streamline your bike's appearance. It also helps that there is a vast aftermarket of amazing modern electrical components available today.
The Motogadget Mo.unit, for example, is a slick piece of kit that acts as the brain of your bike's nervous system (you can read all about it here). This playing-card sized digital command center controls all necessary electrical components of the motorcycle while also performing digital fuse functions. Motogadget also offers a bevy of other electronic godsends like relays, wireless ignition systems, or the innovative M.button, which further reduces cable clutter and simplifies your wiring harness. Nesting in your handlebar, it connects all handlebar instruments, switches, and buttons, then transmits the signals digitally to the Mo.unit via a single wire.
Another way to maximize your cafe racer's efficiency is by installing an electronic ignition module. Replacing the mechanical contact breaker "points" system, it charges the coil with an optical sensor, allowing for a stronger spark and smoother performance at any speed. Besides improved starting and increased power, the electronic module's lack of moving parts means you can spend time with your family instead of setting and resetting points until zero hour every Saturday night. Just note that the Mo.unit is not inherently designed to function with true capacitive discharge ignition (CDI) modules, but you can get it functioning similar to other ignitions with this simple wiring solution by Revival Cycles.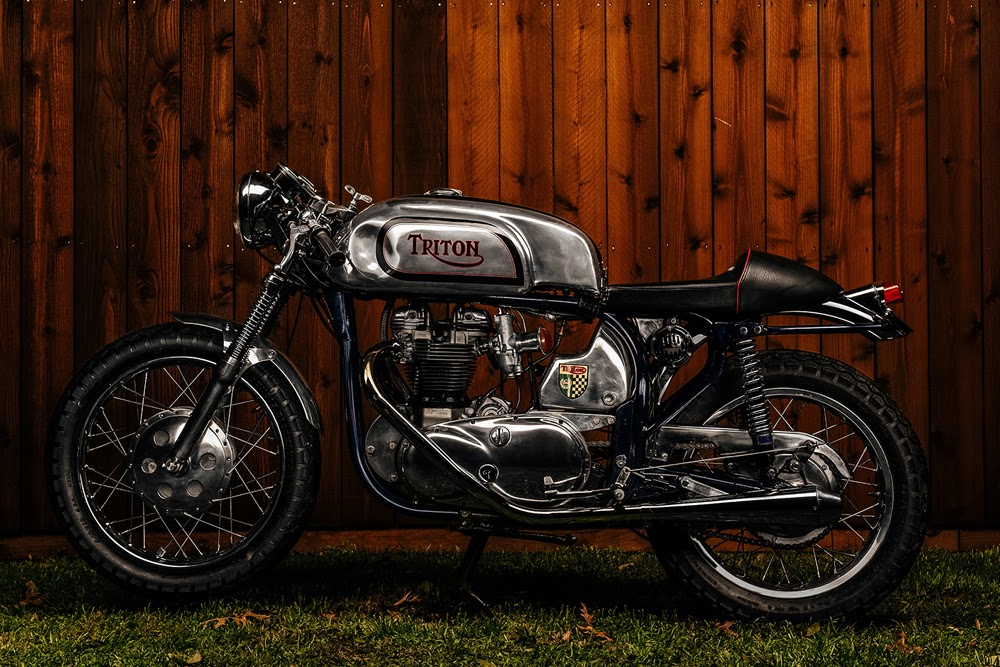 A thick layer of lore and romance veils the true nature of the cafe racer, making it difficult to separate myth from machine. Some say today's cafe racers drive a resurgent motorcycle subculture obsessed with superficial styling and pinkie-out latte-drinking, but for us, true cafe bikes are carefully curated machines that ooze power and beauty. They are a love letter to the percolated performance obtained from stripping a motorcycle to its barest form.
In the end, these are just guidelines to inspire what works for you. Motorcycling, and especially motorcycle building, is about expressing individualism and the freedom to create what you desire. When you build a cafe racer it should be an extension of your personality—so it should ultimately look and ride like whatever moves your soul.
---
Story by Michael A. Miller // Instagram
With a Panigale and a CL350 project bike in the stable, Mike loves anything with two wheels. Drop him a line with an interesting story idea or just to commiserate about having to winterize your bikes.