Similar to motorcycle riding gear, workwear has seen an increase in demand for stylish apparel. But simply looking good isn't enough to cut the mustard in this highly competitive industry. In order to be really competitive, workwear brands need to be aware of the day to day dangers workers encounter. Just like motorcycle gear, standard denim or other run-of-the-mill fabrics simply won't do. Nigel Petrie of Earnest workwear is well aware of this. Along with producing Earnest apparel, he is both a motorcyclist and fitter and turner. Nigel spends most of his waking hours fabricating everything from exhausts to ground-up race car builds so he's well aware of the rigours workwear needs to withstand. To follow up on our recent review of the Earnest Smiths Jacket, today we're taking a closer look at the new Earnest Tasker Work Pants and Squire Shop Apron.
Earnest Tasker Pant
Continuing in the same ilk as the Smiths Jacket, Earnest workwear have your lower half covered too! The Earnest Tasker Pant, constructed with their tried and true K-CANVAS, will be the toughest work pants you'll ever wear.
Single-layer, abrasion-resistant jeans are becoming more and more popular and this kind of technology translates well into the workshop. Just like the Smiths Jacket, the Tasker Pants will get you through the toughest work conditions. Triple stitched seams bolster the K-CANVAS construction making them undeniably tough. And, since the Tasker Pants are CE Approved they can pass muster as casual motorcycle attire too.
The single-layer aspect of the Earnest Tasker pants makes them perfect for the work commute in all kinds of weather. There are no armour pockets present like you'll find in dedicated motorcycle jeans, but these are work pants, first and foremost. The first time you slide into the Tasker Pants you will notice how strong the material is, mostly due to there being little to no stretch. This can get slightly uncomfortable around the waist and knees in a riding position, but once worn in they get infinitely more comfortable, just like high-end denim.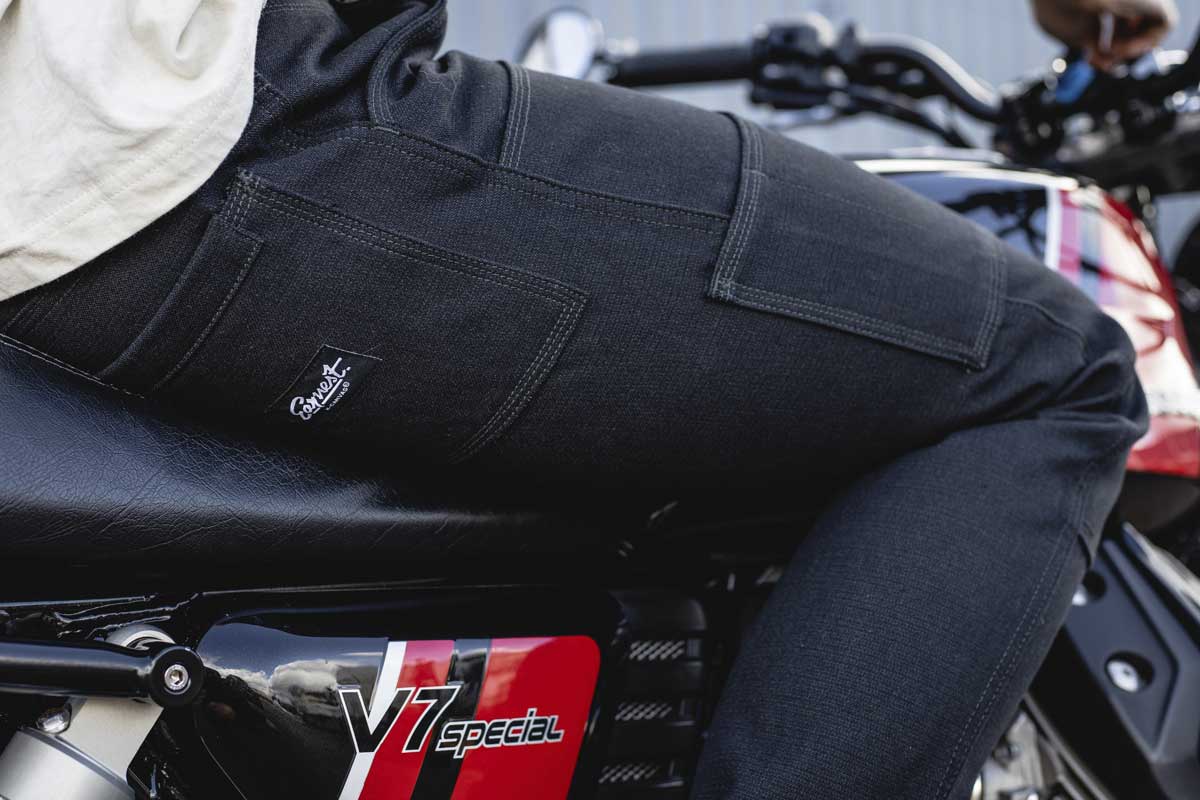 The Tasker Pants are finished in a workshop appropriate charcoal black. They're cut slim so there are no worries of excess material getting snagged and the K-CANVAS provides a slash, rip and spark resistant barrier for your flesh. In fact, these pants offer 20 times the strength of regular work pants. You also get extra deep pockets at the front, 3 tool pockets, 2 rear pockets and a padded gadget pocket that'll hold an iPhone 11 Pro Max. To ensure they'll stand the test of time all pockets feature triple-reinforced openings.
I have to admit living with my old Earnest Hardin Overalls has made me a bit of a workwear snob. I have a hard time considering other brands because of Earnest's myriad pockets, the extra reinforcement in high wear areas and the previously mentioned "goldilocks" fit. A padded phone pocket to me is now a workshop necessity, all thanks to Earnest.
I'm not going to lie, at $189-USD the Tasker pant is quite expensive for workwear. However, compared to the same style and protection in the motorcycling world they are a bargain. Especially when other brands making similar garments are charging over double that figure. If you're looking for some casual riding jeans that double as the toughest pair of work pants you'll ever own, be sure to consider the Earnest Tasker Pants.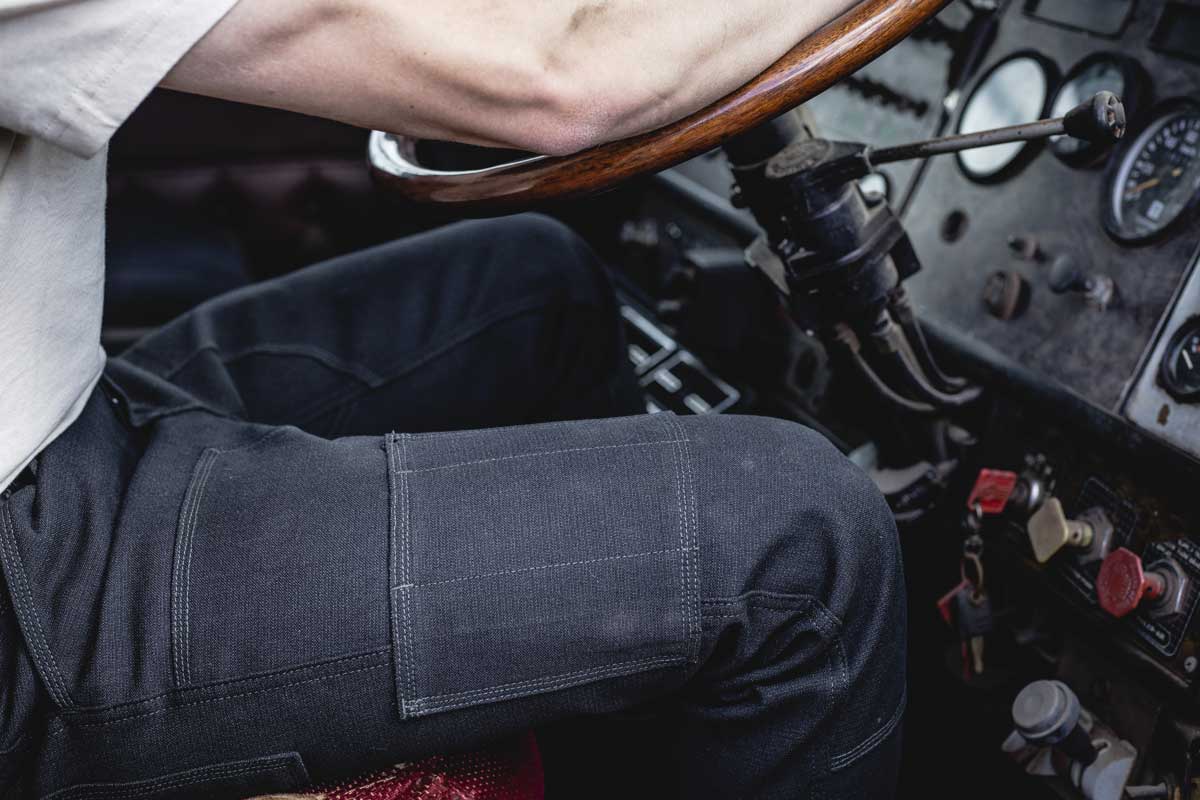 Earnest Squire Apron
Do you like to keep things free and breezy around the workshop? Don't like sleeves getting in the way but still want some solid protection? Well, you are in luck, thanks again to Earnest.
The Earnest Squire Apron is available in both a K-CANVAS and double-layer waxed cotton option. Both variants will guard against stray welding and grinding sparks but the K-CANVAS offers all-round improved durability. Just like everything else in Earnest's lineup a multitude of pockets places essential items in close reach so you can smash through work faster than ever before. There's even a long, zippered pocket towards the end of the apron and it's big enough to put almost whatever tool you want in there. Personally, I have found filling it to the brim with 10mm sockets is the best thing to do.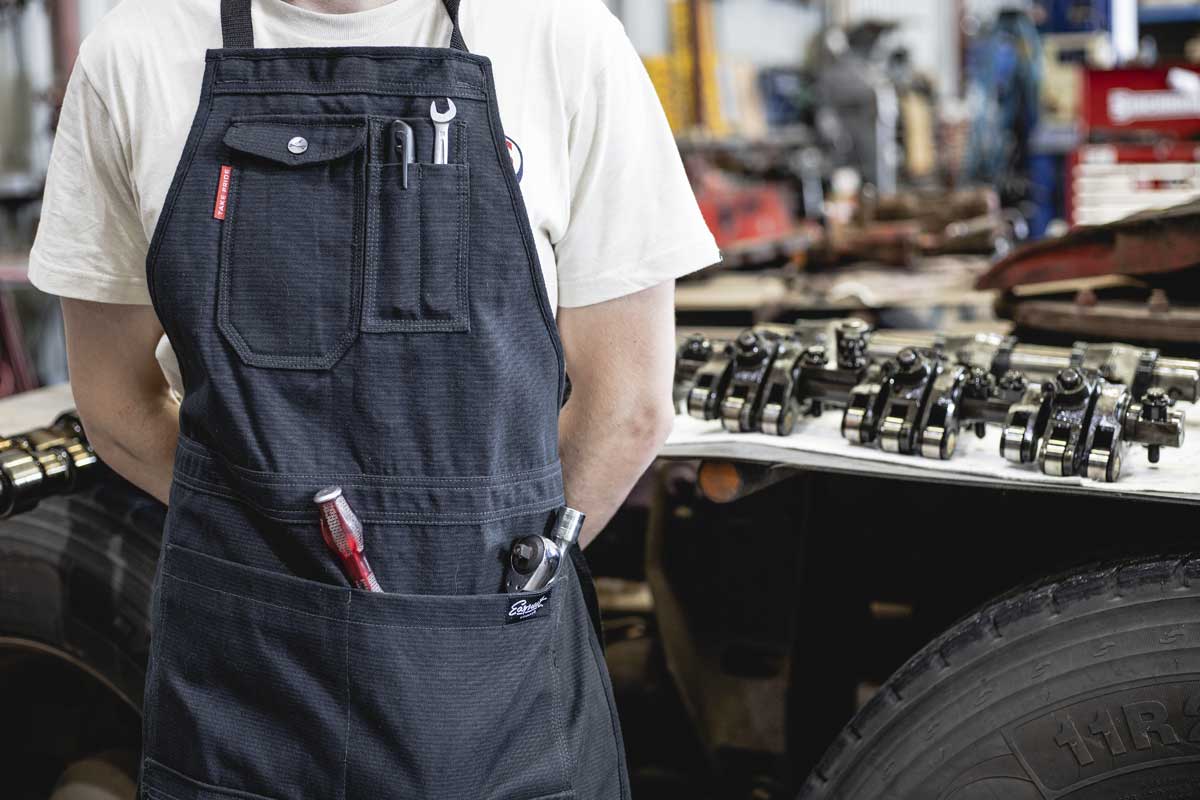 The padded phone pocket, an Earnest staple, makes another appearance on the Squire Apron. It's the closest pocket to your ears so you're more likely to hear it when you're on the tools which you can interpret as either a good or bad thing. It's also designed to fit larger phones (think iPhone 11 Pro Max or similar).
The apron itself has decently sized "one size fits most" geometry. Putting it on is a cinch thanks to clips on the straps and a cross strap back design stops it from moving around. The strap clips are plastic making them the least durable part of the design, but they're on the back out of harm's way. There is a lot of adjustability in the strapping (up to 38 inches) and it safely sits over both shoulders, crossing over each other on the back for maximum comfort.
The more I think about and use the Squire Apron the more I like it. It makes a whole lot of sense for quick jobs and when you're just pottering around in the garage. It is especially useful in hot environments, like down here in Australia. On summer days temperatures in the garage can reach over 45ºC. Throw-over protection like the Squire Apron is a lot more attractive on those days than full-length overalls.
Priced at either $55-USD for the waxed cotton or $89-USD for the K-CANVAS it's not a lot of money for a feature-packed shop apron.
Save 15% off your Earnest purchase. Use the code 15CAFERACER during checkout.
Story and photos by Ben Pilatti