According to my wife, these Saint Force Armoured Jeans are the best-looking motorcycle jeans she's seen me in. Granted she's no fashionista, but she never pulls punches regarding my wardrobe choices, so this comment was rather unexpected. After wearing the jeans on a few rides, I'd have to agree they certainly do look good, but the positives don't stop there.
During 2023 Saint has been making upgrades to their existing products and introduced a raft of new models to their riding gear range. Amongst the latest new releases are the Force Armoured Motorcycle Jeans, and today we're taking a closer look at what they have to offer.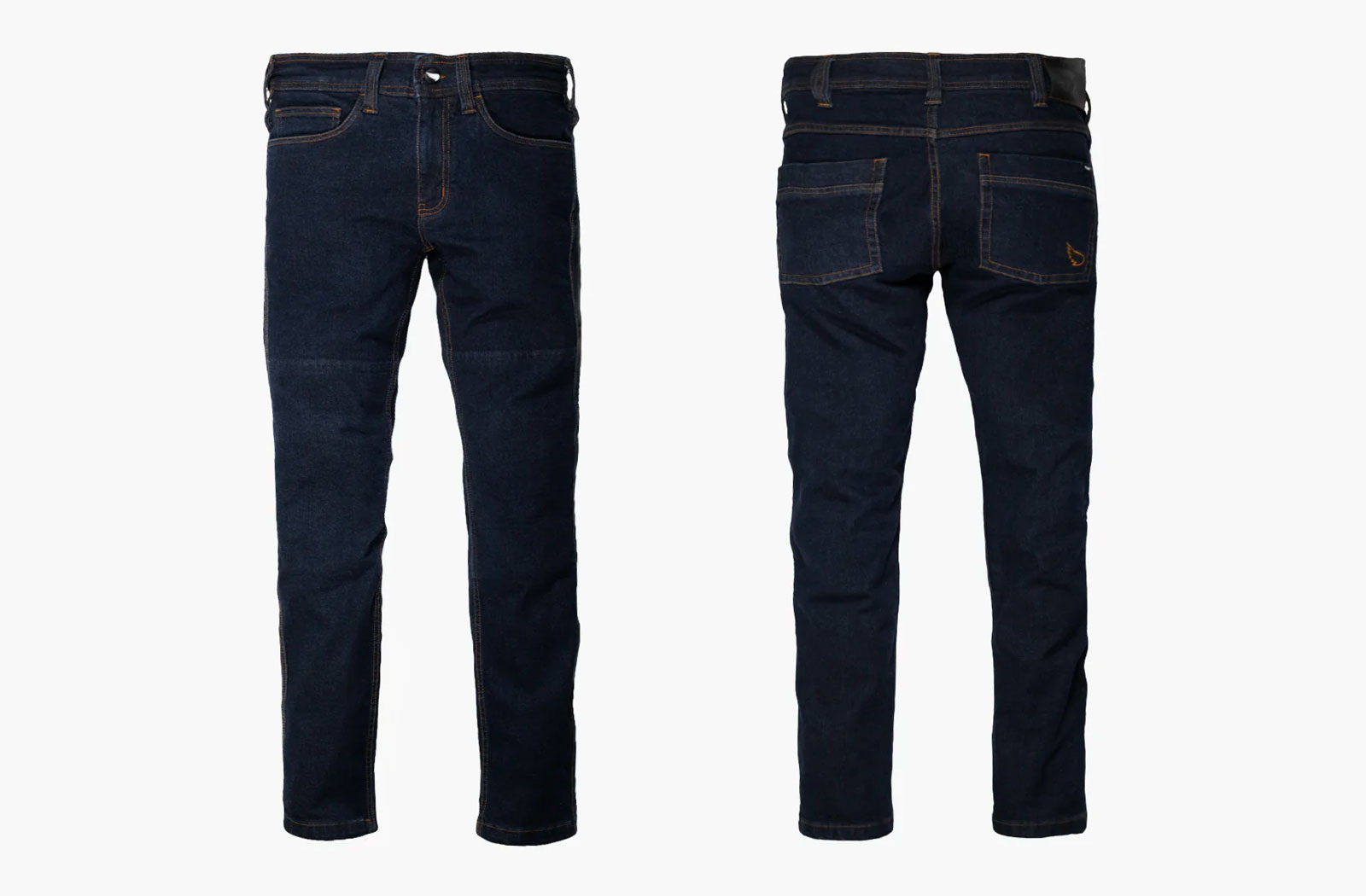 From the outside the Saint Force Jeans present as regular streetwear. They come in classic indigo blue denim with orange stitching and they're available in either a straight or slim cut. For the purpose of this review, I acquired the slim cut, which, as the name says, are a rather slim fit. The jeans feature a 5-pocket design and a zippered fly with a button on the waist. Branding has been kept subtle and is made up of an embossed leather patch on the waistline, and an embroidered Saint patch and winged emblem on the rear righthand pocket. To top it all off, these jeans will fade with age just like your Levis, so over time they will become unique to you.
The only thing giving away the fact that these jeans go beyond everyday duties are the horizontal seams above each knee which secure the internal armour pockets in place. While they are subtle they are probably my only gripe about the look of these jeans. However without them, your feet would likely get stuck in the pockets every time you went to put them on, so I consider the seams a necessary evil.
On the inside things continue to look pretty standard. These are single-layer riding jeans so they wear just like a pair of Levis. The only out-of-the-ordinary feature is the inclusion of armor pockets. The 4 pockets sit on the knees and hips and don't offer any adjustment. On me, the bulk of the knee armor sat above my knee where my leg would be more susceptible to impact if I came off the bike. I'm sure Saint invested countless hours calculating the best positioning, but I'd like it if they sat a little lower over my knee. I stand at a touch under 6 feet and wear a 32 waist, at this size, the Force Jeans have a 34-inch leg so if you like to roll your cuffs there's enough here to do it.
In this instance, Saint has used Nylon 66 to bolster the denim used on the Force jeans. Nylon 66 is a high mechanical strength polyimide that is rigid and can withstand exposure to heat. It is also extremely strong making it burst-resistant and it is commonly used in airbag construction.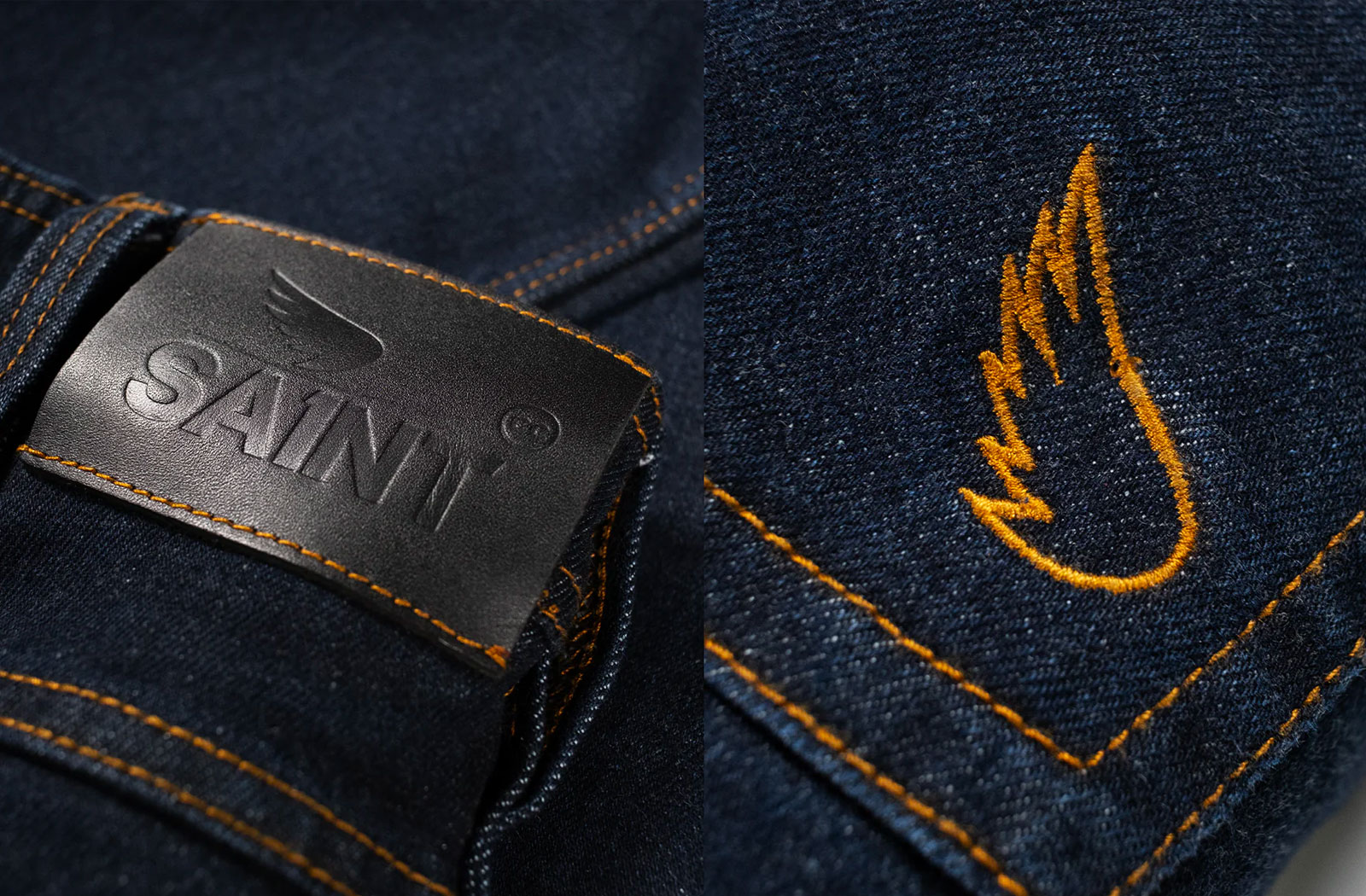 When I got these jeans I was dubious about how they would fit with the armor installed. Saint has managed to include a good amount of stretch into the Force Armoured Jeans but the slim cut already had them fitting quite snug. The armor, which comes included with these jeans, is CE level 2 hip and knee Lite Pro armor by FlyngBals . Despite being very thin the armor definitely made the jeans tighter on the knees and the waist. This is exacerbated slightly when in a riding position, but as with other Saint jeans I've tested, I'm expecting this to ease up once they break in. Aesthetically the FlyngBals armor is hard to detect. During the fashion show I put on for my wife, she asked how they'd look with the armor in, as it turned out I'd already installed it. So that's a big plus if you want to wear these jeans both on and off the bike. The armor can of course be removed, but getting to the knee pockets necessitates the removal of the jeans.
The Saint Force Armoured Jeans boast a CE EN17092-3:2020 CLASS AA safety rating making them an ideal companion for riders of all kinds. The jeans retail for a touch over $250 USD and are available in waist sizes from 28 to 40 inches.