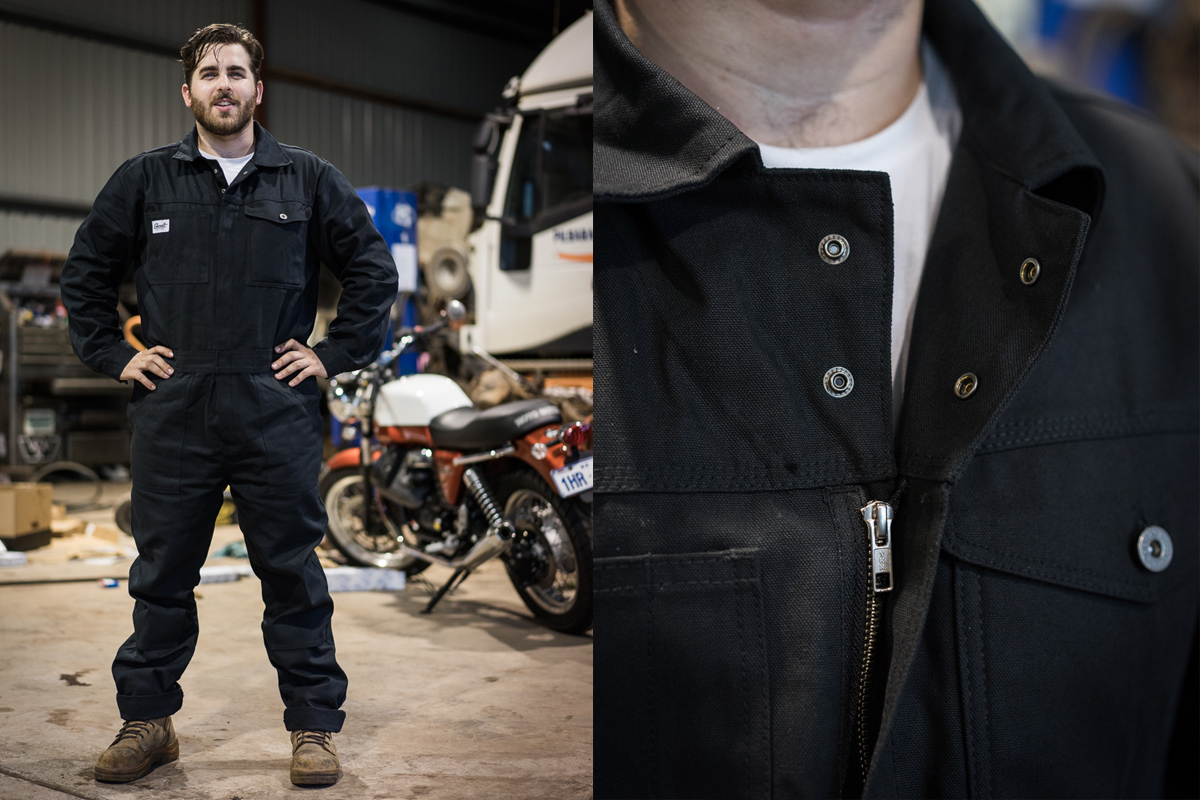 First impressions of the overalls are very positive. All Earnest's overalls come with a matching duck canvas pouch that you can hang up in your workshop so you have a place to store them. I know most people would just hang them on a hook but regardless, it's a nice touch. Another thing I noticed was the unique smell which I assume is to do with the dyeing process. The fabric feels strong and sturdy, most likely due to the fine weave of the canvas. All metal fasteners on the garment are either placed up high or are behind flaps of fabric in order to protect any precious paintwork you happen to be leaning across or sitting on whilst working. This one detail proves some very smart and considerate person sat down and really thought about what they were designing – something that is becoming rarer and rarer.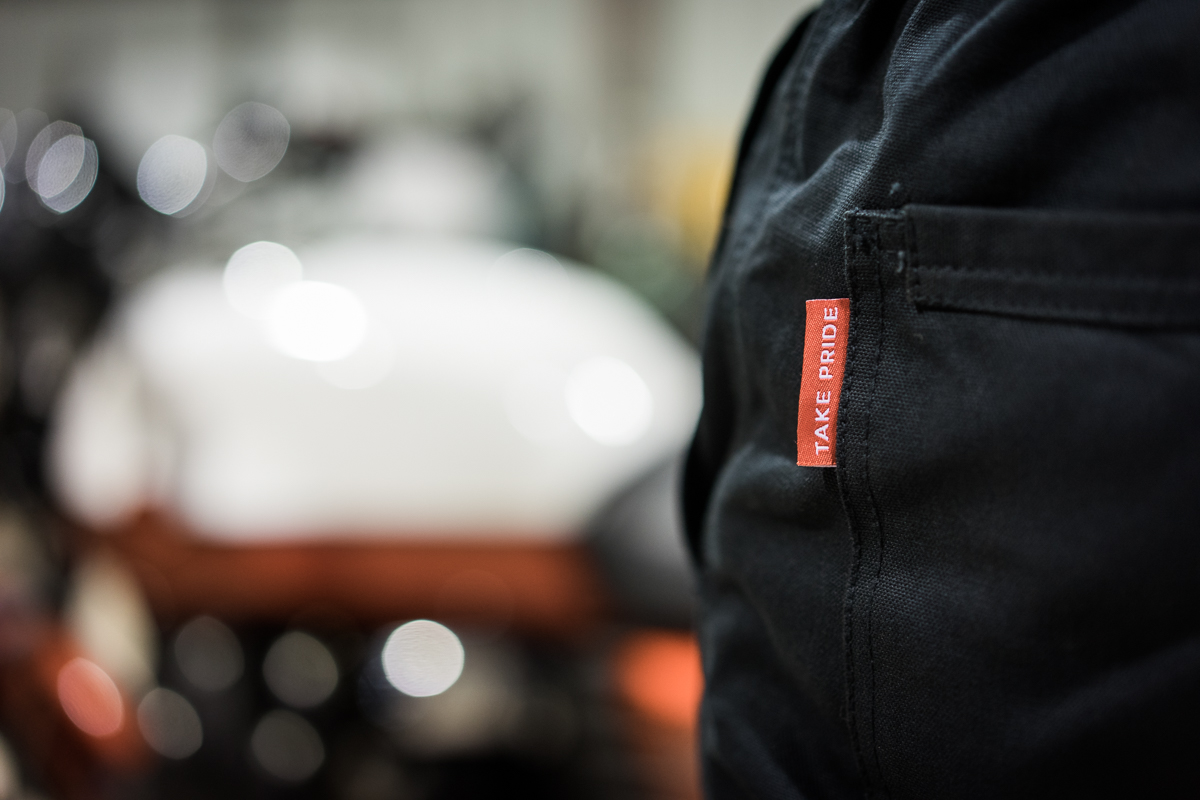 The back panel features bi-fold shoulder panels to allow more flexibility and come to think of it, the overalls barely interfered with my movement at all (more on that later), a testament to the number of hours the Earnest team have sunk into these workshop essentials. The duck canvas itself has a tiny bit of flex but it is fairly rigid. However, it seems the Earnest lads have opted for a more of a Goldilocks approach with the cut – not too tight, not too baggy, just right. I'm very vertically challenged and a little rotund so trying on clothing usually makes me anxious but my fears were soon alleviated after Joel, Earnest's workshop manager, informed me of their choice to offer short, regular and long sizing! Perfecto! One pair of long short overalls, please!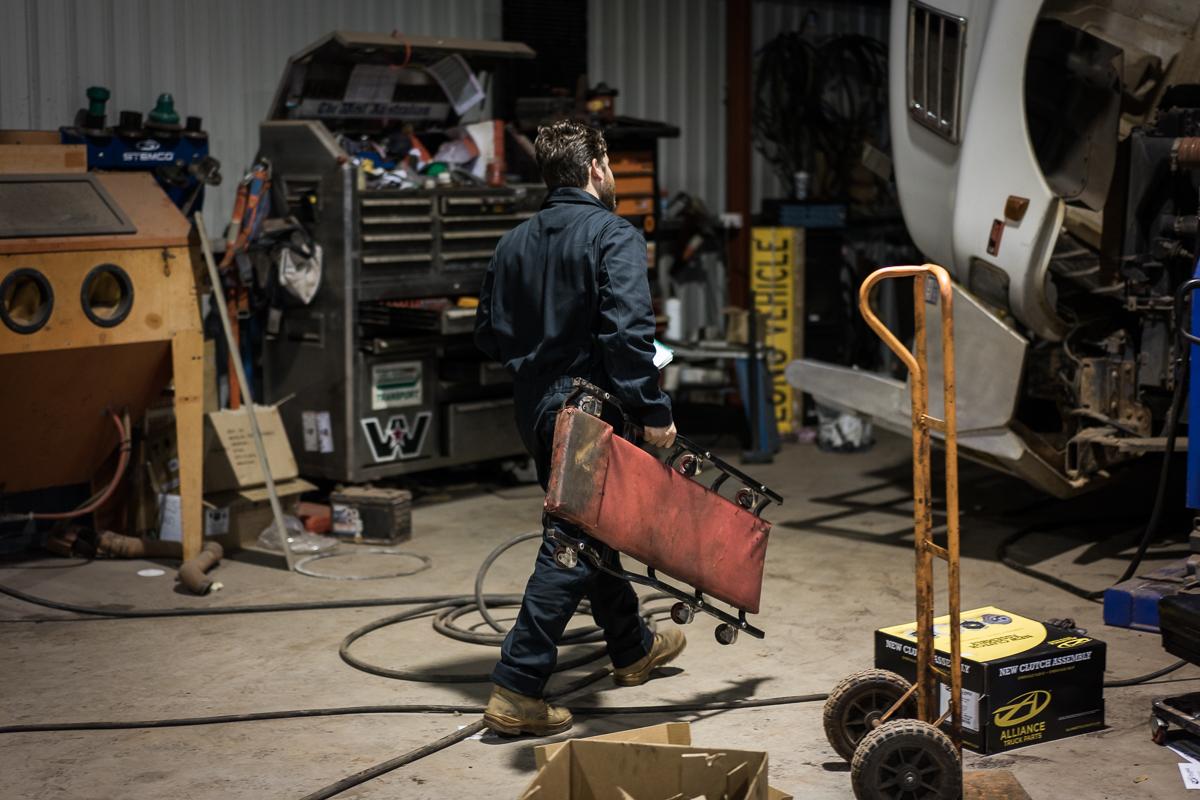 The "fully fitted cut" does not mean "skinny jean" which is a blessing when you're continuously getting up off the ground or swinging a leg over your bike. Mounting and dismounting my bike is the only time I feel the rigidity of the duck canvas. A flex panel in the crotch might solve this but realistically, how many times are you basically doing the splits when you're at work? Exactly.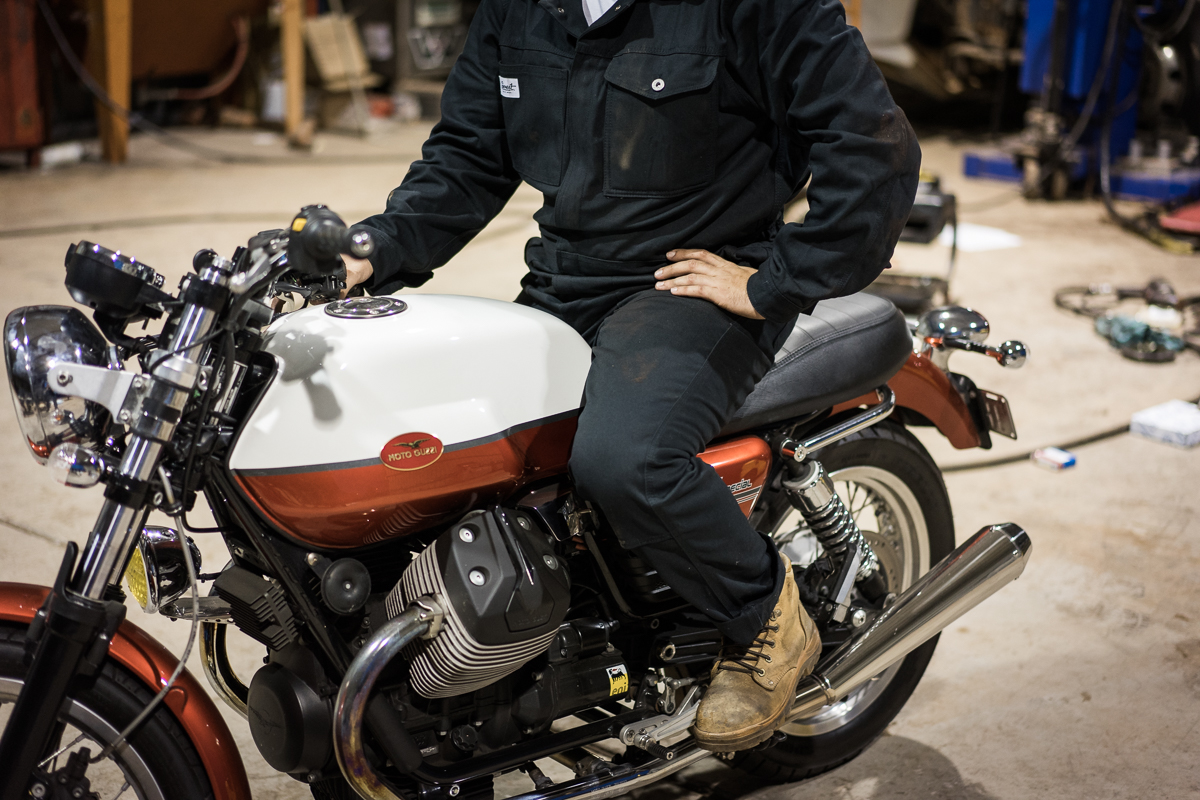 The elasticized waistband is again, more of a Goldilocks arrangement and is very comfortable. The myriad of pockets come in handy and there are two magical slits on either side of the overalls so you can get into the pockets of the pants or whatever you have on underneath. The back pockets are generous, as are the chest pockets – one of which is the aforementioned phone pocket with a padded liner.
The sleeves have buttoned cuffs and are generously sized so you'll have no problem slipping your arm in, even in a full-sleeved work shirt or even a jumper. Yes, these things would be amazing in winter. You do have to take your boots off to get your legs into the bottoms but who wants to drag potentially greasy, muddy work boots through your pants before you put them on? Not me. I haven't had a chance to test out the spark-proof aspect of the Hardin so I'll take Earnest's word for it.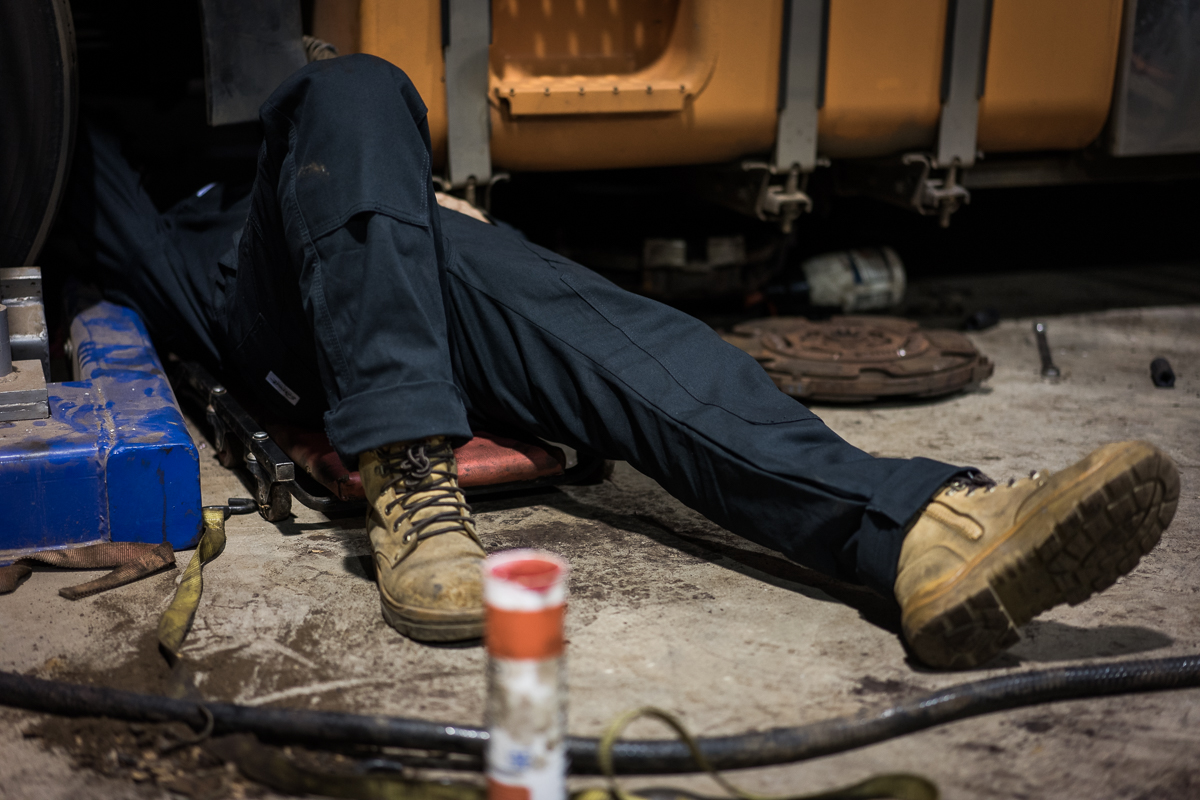 If you can imagine yourself blasting around the neighborhood on your project bike on a shakedown ride then I have great news for you. These overalls are fantastic to ride in! Joel assured me that I'd love them on the bike and he was 100% right. They are weightless on the shoulders and there's enough room in the arms to reach the bars without them riding up. The waist is comfortable and there's room plenty in the legs, from calf to quad. Pretty good considering this is workwear, not rider wear.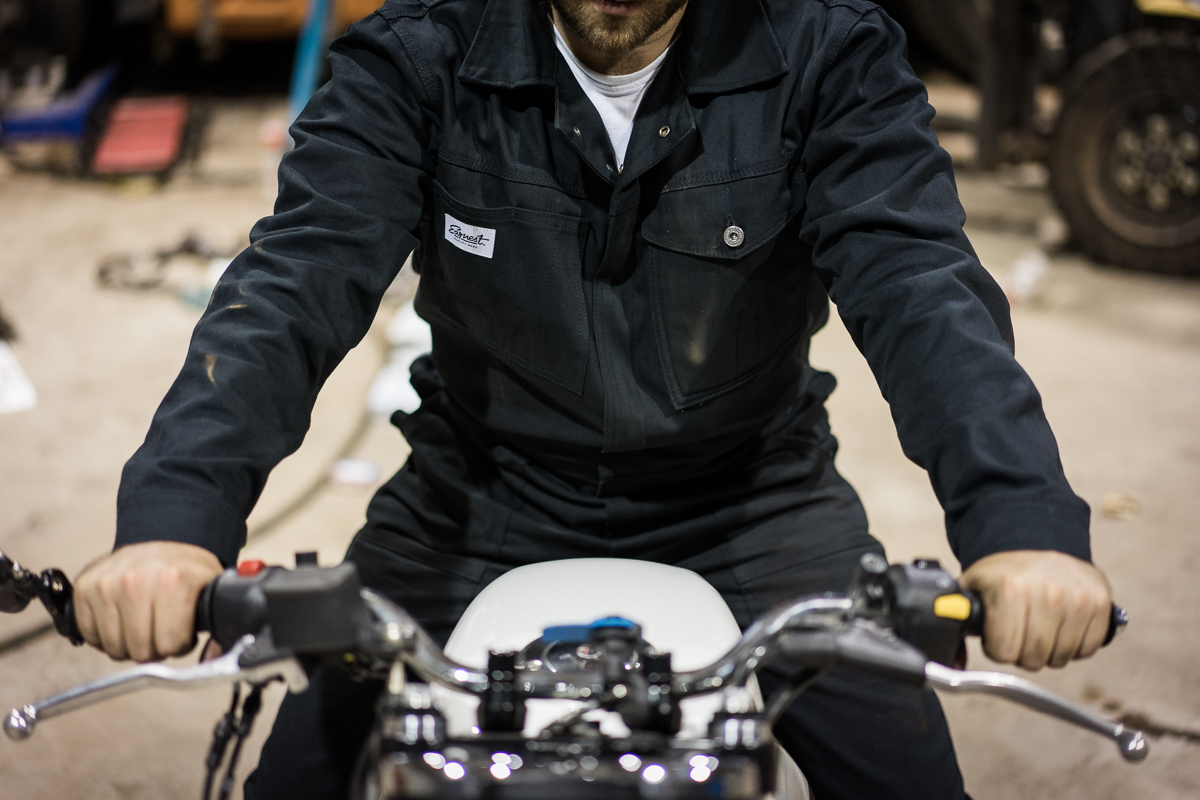 If you're sick of coming home or leaving the shed covered in detritus then do yourself (and your washing machine) a favor and visit the Earnest Co. website. They have the potential to last a lifetime and even if they don't, they'll be able to take one hell of a beating.
Words by Ben Pilatti / Photography by Harley Loffler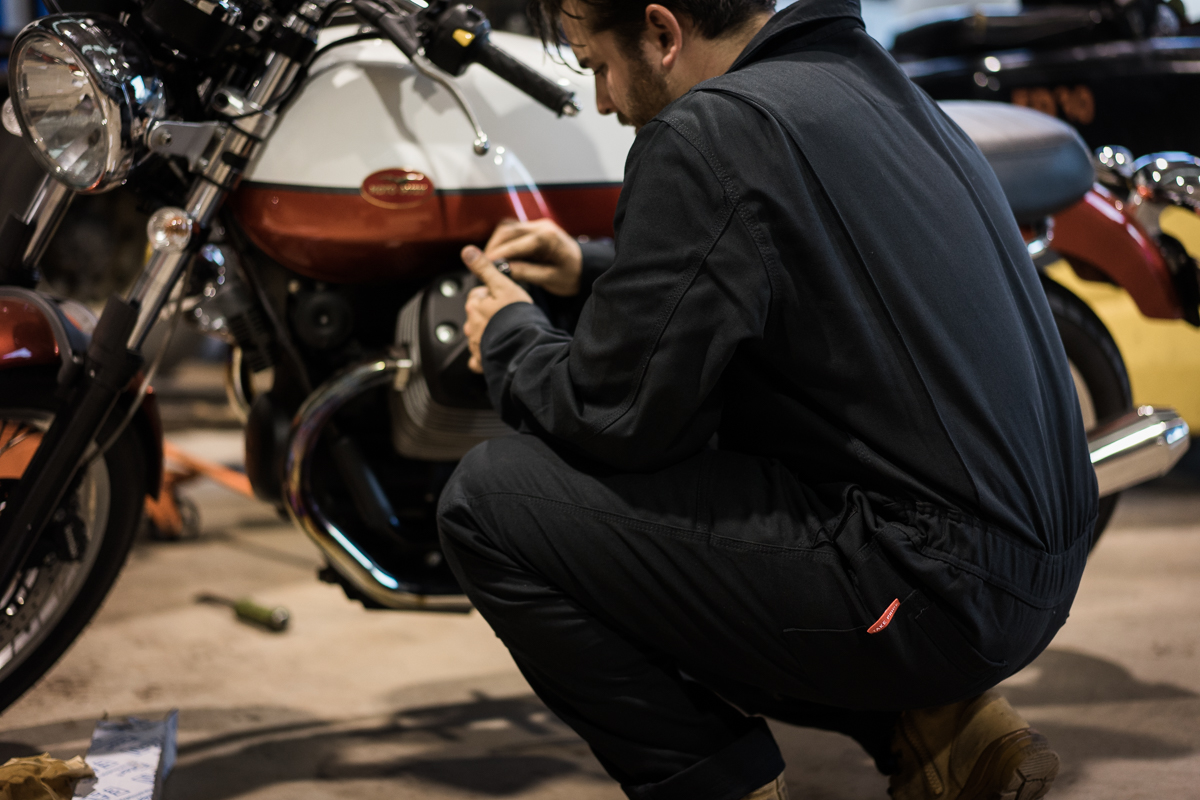 The Hardin Overall is constructed from Earnest's tightly woven 100% cotton 12-ounce duck canvas and it's as good as it sounds. With triple-reinforced seam work, double-layer reinforced panels in high wear areas and even a padded breast pocket for your phone it sounds like the perfect pair of overalls (or "coveralls" as our photographer is quick to point out) that have been updated to satisfy the demands of 21st Century customers